Fries are the ultimate pairing with burgers, but how about stepping it up a notch? No, I'm not talking about adding ketchup or making it poutine, I'm talking about adding a little bit of Mediterranean flavor. On every trip to Greece, I consumed pounds of delicious homemade fries. However, these are not fried in canola oil, sunflower oil or vegetable oil…they are fried in 100% pure, delicious, cold-pressed extra virgin olive oil.
Now, what would be the Greek equivalent to poutine? Well, if you had to add a cheese, it would most obviously be feta, spice would be oregano, and vinegar would be red wine vinegar…no gravy in sight!
Mouth watering yet?
Remember, you can use the oil more than once. After the oil has cooled, just use a coffee filter or cheesecloth to strain out any remnants and store it in an airtight glass or plastic container for the next use. I would say three times is the maximum number of uses for the oil.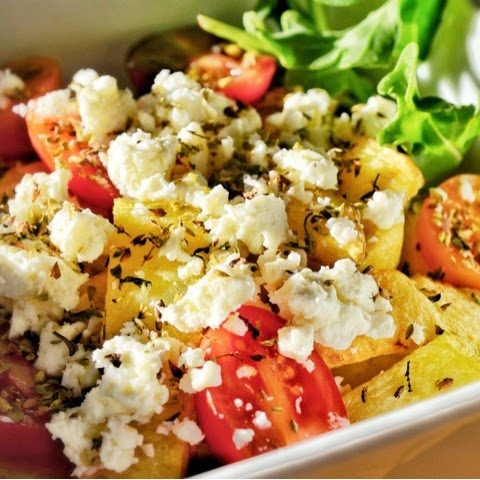 Greek Fries
Fresh cut fries paired with red wine vinegar, feta cheese, oregano and cherry tomatoes.
Ingredients
2-3 cups extra virgin olive oil cold pressed (use your judgment based on pot size)
2 large yellow potatoes
1/2 cup crumbled feta cheese
8 cherry or grape tomatoes, halved
2 tbsp oregano
4 tbsp red wine vinegar
Salt and pepper to taste
Instructions
Cut potatoes lengthwise into 1/4-1/2" thick fries.
Heat olive oil in a deep frying pan, pot, or deep fryer (I did this on the side burner of our BBQ which meant no smell lingering in the house afterward.
Deep fry potatoes in small batches for approximately 7 minutes or until potatoes float in the oil.
Remove fries from oil and place on a paper towel-lined bowl to absorb excess oil.
Transfer to serving dish and top with red wine vinegar, feta cheese, oregano, tomatoes, salt and pepper and serve immediately.
Nutrition Information:
Yield:

4
Serving Size:

1
Amount Per Serving:
Calories:

208
Total Fat:

14g
Saturated Fat:

3g
Trans Fat:

0g
Unsaturated Fat:

11g
Cholesterol:

17mg
Sodium:

263mg
Carbohydrates:

37g
Fiber:

5g
Sugar:

5g
Protein:

7g