A lot of people believe risotto is a difficult recipe to master and not to mention time-consuming (all of that stirring!). But this Italian classic is really quite easy once you've cooked it a few times. The best part is it's so versatile! There are so many great risotto recipes out there, once you find one you love you can experiment with different combinations to suit your mood or substitute in seasonal vegetables for a really flavourful dinner.
I usually make an asparagus and mushroom risotto, however, tonight I felt like making something a little more hearty to suit the changing seasons. I decided on a mushroom and caramelized onion combination. It was my first time trying this combo, and we absolutely loved it. It was creamy and earthy and definite comfort food!
Pair it with a crusty loaf of fresh bread and a mixed green salad for a complete meal. Enjoy!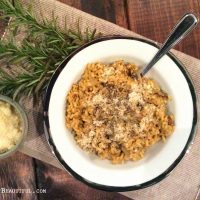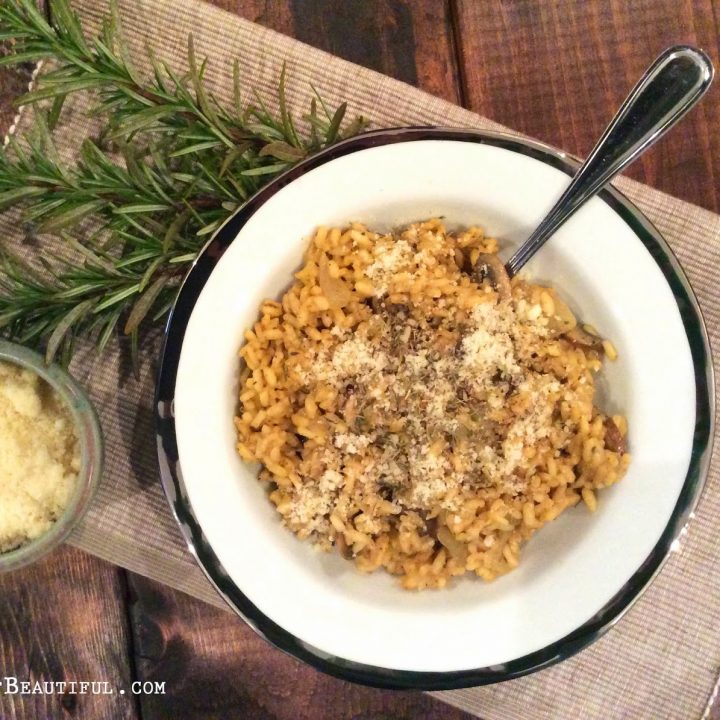 Mushroom and Caramelized Onion Risotto
Ingredients
2 cups cremini mushrooms, sliced
6 cups chicken or vegetable stock
2 tablespoon unsalted butter
2 tablespoon olive oil
1 yellow onion, quartered lengthwise and sliced crosswise
2 cups Arborio rice
3/4 cup dry white wine
1 tablespoon finely chopped fresh sage
1 1/2 cups freshly grated Parmigiano-Reggiano cheese
Salt and pepper to taste
Instructions
In a small saucepan over high heat, bring the stock to a simmer, reduce the heat to low and keep the liquid hot.
In another heavy saucepan over medium-high heat, melt the butter with the olive oil. Add the onions and sauté, stirring frequently, until brown, about 10 minutes. Then add the mushrooms and sauté another 5 minutes.
Add the rice and stir until coated for about 1 minute. Add the wine and stir until it is absorbed.
Add the chopped sage and 1/2 cup of the stock and simmer until the liquid is absorbed, stirring frequently.
Continue adding the liquid 1/2 cup at a time and stirring frequently until you have used all 6 cups of broth. You'll know the risotto is finished when the rice is tender and risotto looks creamy.
Add the cheese and season with salt and pepper. Stir to mix well.