This is a mix of traditional Greek lentil soup, with some additional ingredients for a twist and is a great meal on a cold winter night. This soup is very healthy as it is high in iron and fiber!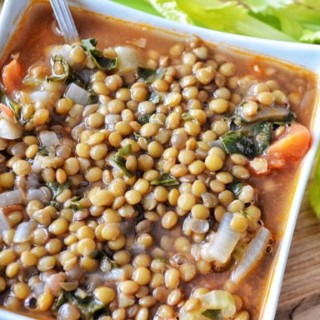 Greek Lentil Soup
Total Time:
1 hour
5 minutes
Ingredients
1/4 cup olive oil
1 medium onion, diced
3 cloves garlic, minced
2 stalks celery, thinly chopped
10 cups water
2 cups dry brown lentils, washed and picked over
1 1/2 cups canned tomatoes, drained well
3 tbsp tomato paste
3 bay leaves
1/4 tsp curry powder
Salt & pepper to taste
2 cups chopped spinach
Red wine vinegar
Instructions
Spread the lentils out on a plate and pick over. Sometimes you will find a few small stones. They will be easy to spot. Then wash the lentils well, if you don't, the soup will foam up during boiling.
In a large pot, sauté onions, garlic and celery for 5 minutes.
Pour in water, lentils, bay leaves, curry, olive oil, salt and pepper, bring to a boil and let cook for 20 minutes over medium heat.
Add in tomatoes and tomato paste and continue cooking for 25 minutes.
Add in chopped spinach and cook for 5 more minutes.
When serving soup, add 1 tbsp red wine vinegar to the top of each soup bowl (or more to taste). This is what MAKES the dish! You can also top this with feta cheese if you want to add a bit more saltiness.