Believe it or not, I just recently tried Nutella for the first time and now I see what all the hype is about. As much as I like standard baklava, I like to experiment with the fillings to create a new flavor.
Every Thanksgiving I make Pumpkin Pie Baklava, so for Christmas, I thought I would try something new again. Everyone who tried it liked it even better than the standard Baklava!
Go ahead, make it yourself…it's not as difficult as you may think!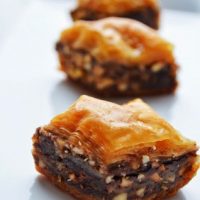 Nutella and Peanut Butter Baklava
Total Time:
1 hour
15 minutes
A clever twist on a Greek classic. Combine Peanut Butter and Nutella...need we say more?
Ingredients
Baklava
1 pack phyllo pastry, defrosted
1 cup unsalted butter, melted
1 cup Nutella
1/2 cup Kraft Peanut Butter
1/2 tsp cinnamon
1 cup chopped peanuts (or 1/2 cup almonds, 1/2 cup pistachios)
Syrup
1 cup white sugar
1 cup water
1/2 cup honey
1 teaspoon vanilla
1 cinnamon stick
Instructions
Melt butter in a microwave-safe bowl for 3 minutes at 50% power. If using salted butter, allow the salt to settle before using and then only use the top of the butter liquid.
In a medium bowl, mix Nutella and Peanut Butter in microwave safe bowl. Heat for 40 seconds.
In mixing bowl, combine nuts and cinnamon.
Preheat oven to 350°F and butter all sides and bottom of your 9" x 13" glass baking dish.
Unwrap the roll of phyllo dough and cut in half so that it fits the pan. Cover with a damp kitchen towel to keep it from drying out.
Brush bottom of the pan with melted butter using a pastry brush and lay a single sheet down in the pan. Butter top of the sheet and place another over top and butter as well. Continue layering with 8 more sheets, applying butter between each one.
Once you lay down the 10th sheet, spread 1/3 of the Nutella/Peanut Butter mixture onto the phyllo evenly. Add 1/3 of the nuts.
Continue layering 10 sheets of phyllo pastry, buttering in between layers.
Spread another 1/3 of the Nutella/Peanut Butter mixture evenly. Add 1/3 of the nuts.
Continue this cycle one more time until you have 3 Nutella/Peanut Butter layers.
The final top layers of phyllo should have 10 sheets of phyllo, buttering in between.
Using a sharp knife, cut all the way through the layers of the baklava in 4 long rows and 6-8 diagonal cross-wise.
Bake 45-50 minutes or until the top of the baklava is golden brown.
While the baklava is baking, heat the water, sugar, honey, vanilla, and cinnamon sticks in a medium saucepan. Bring to a boil and then reduce the heat to a low setting until the baklava comes out of the oven.
When the baklava is done pour the hot honey mixture over the top evenly. Let cool completely before covering. Store in the refrigerator for up to a week, freeze up to a month.
Nutrition Information:
Yield:

30
Serving Size:

1
Amount Per Serving:
Calories:

203
Total Fat:

13g
Saturated Fat:

7g
Trans Fat:

0g
Unsaturated Fat:

5g
Cholesterol:

18mg
Sodium:

55mg
Carbohydrates:

19g
Fiber:

1g
Sugar:

16g
Protein:

3g