If you're anything like us we always have bananas sitting around until they are too ripe to eat. I hate wasting food, so they usually end up in the freezer with good intentions of using them to whip up a batch of banana chocolate chip muffins or a loaf.
Banana bread is a great way to use up those bananas in your freezer! Quick and easy, you'll be enjoying this sweet treat in no time.
I gave our classic banana bread recipe a twist by adding real maple syrup as a sweetener instead of sugar. This is the perfect treat if you're looking for something moist and sweet without being too sugary.
For even more flavor try topping with different spreads like peanut butter, Nutella, jams or butter. But it tastes just as good plain.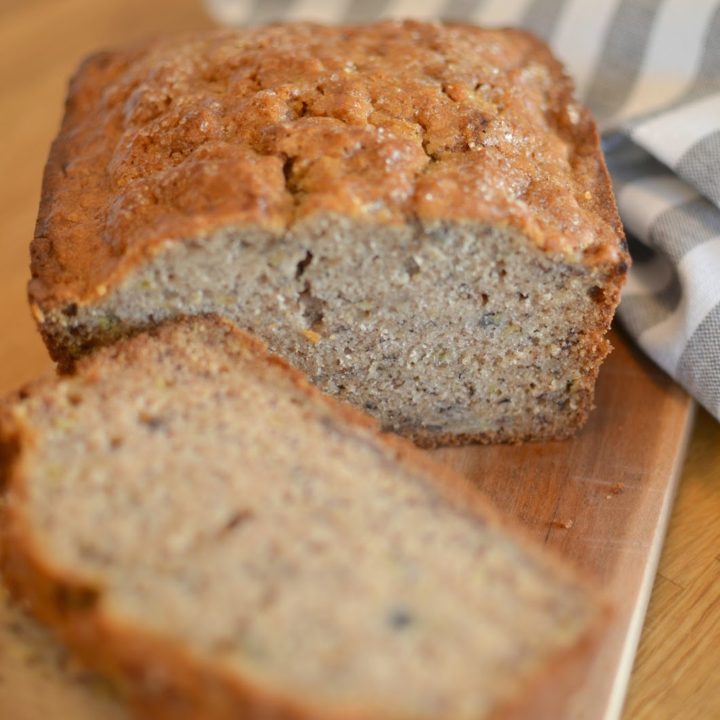 Maple Banana Bread
Total Time:
1 hour
10 minutes
Ingredients
1 2/3 cups all-purpose flour
1 tsp baking soda
1 tsp pumpkin spice (or cinnamon)
1/2 tsp salt
3 ripe bananas
2 eggs
1/3 cup real maple syrup
2 tbsp sour cream
1/2 cup vegetable oil
Coarse sugar (or regular sugar will work too)
Instructions
Preheat oven to 350°F. Grease loaf pan and sprinkle some of the coarse sugar in the bottom.
Mash bananas in a separate bowl. In a medium mixing bowl, whisk together dry ingredients; flour, baking soda, pumpkin spice and salt.
Using a stand mixer or hand mixer, whisk the eggs and maple syrup on medium speed for 10 minutes. I know this part sounds strange, but the egg and maple syrup mixture will grow in size. Drizzle in the vegetable oil. Stir in mashed bananas and sour cream; fold in the dry mixture but do not over-mix. Spread into loaf pan and top with a layer of course sugar.
Bake for 50-60 minutes, or until a toothpick inserted in the middle comes out clean. Cool for 20 minutes and remove from pan and enjoy.