In our household, we have a lot of roasted potatoes seasoned with lemon, garlic and onion, so one night we decided it was time for a change. We like to barbecue our potatoes in the summer and typically cook them wrapped in a tinfoil pouch to let the steam do most of the work. We both love chunky mashed potatoes and so I looked in the refrigerator to see if we had ingredients on standby that I could use to quickly whip something up.
I like to use tin trays that you can purchase at your local dollar store as they make cooking the potatoes much easier. It can be frustrating when you're trying to wrap up the foil around the potatoes and they are rolling around and your oil and water is leaking out. When using baby (new) potatoes, you don't even have to cut them in half. It's as easy as washing and tossing in the pan, adding the first five elements of the recipe below, wrapping them up and letting them cook.
These potatoes turned out rich and flavourful. Give this recipe a try and let us know what you think! You can easily adapt it to work with boiled or oven roasted potatoes as well.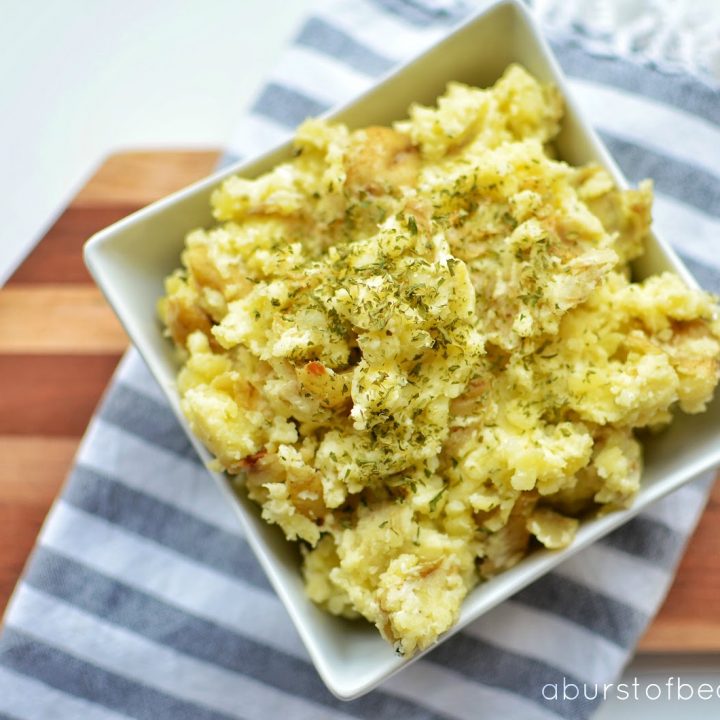 Barbecue Smashed Potatoes
Ingredients
2 lbs baby (new) potatoes
4 tbsp olive oil
1 tsp onion powder
1 tsp garlic powder
1/4 cup water
2 heaping tbsp butter
2 heaping tbsp sour cream
2 heaping tbsp herb and garlic cream cheese
2 tbsp dried parsley
1/4 cup Parmesan cheese, grated
Salt and pepper to taste
Instructions
Wash potatoes and add to tinfoil tray. Preheat BBQ to medium heat.
Add olive oil, onion powder, garlic powder and water.
Close tinfoil around the tray to create a pouch.
Place on BBQ until potatoes are tender (about 20 minutes). Check by carefully opening the pouch using two BBQ tongs or cut tinfoil open. Potatoes are ready if you can pierce all the way through them with a knife or fork.
Place cooked potatoes in a heat safe bowl or pot. Add butter, sour cream, herb and garlic cream cheese, dried parsley and Parmesan cheese.
Using a potato masher, smash until mixed well but still chunky.
Serve warm. For extra flavor, you can include chopped chives or green onions.
Nutrition Information:
Yield:

4
Serving Size:

1
Amount Per Serving:
Calories:

244
Total Fat:

25g
Saturated Fat:

9g
Trans Fat:

0g
Unsaturated Fat:

15g
Cholesterol:

32mg
Sodium:

264mg
Carbohydrates:

4g
Fiber:

1g
Sugar:

1g
Protein:

3g
Please keep in mind that nutritional information is an estimate and can vary greatly based on products used.