Coming up with new recipes can be a challenge sometimes. One of the things I like to do to spark a little forced creativity and improvisation is to go to the grocery store, purchase one main element and try to use what you already have at home to create the meal. The odd time, it just doesn't work because the flavours don't jive, but this recipe hit the mark. Pair it with some roasted potatoes or a fresh salad for a great summer barbecue dinner.
These delicious, meaty mushrooms are very filling and can be cooked in many different ways. They can be roasted in the oven, marinated and grilled on the barbecue, added to a stir-fry, used as a topping on a burger, or even as a substitute to the burger itself.
We've used them in all these ways, but this topped all of them. We started by gently wiping down the top of the mushroom with a damp cloth or paper towel to get any lingering dirt. Do not run these underwater as they will absorb water and not absorb any flavor on the grill. Then we removed the stem and carefully scraped out the gills using a soup spoon.
Then it was time to raid the pantry and fridge and decide what flavors may work together. In a lot of our recipes, we use rice or spinach and cheese to fill the mushroom caps, but we wanted something heartier.
We chose quinoa as the main filler and added onion, garlic, sundried tomatoes, chopped cherry tomatoes, shredded zucchini, chickpeas, Pecorino Romano cheese, Italian seasoning and salt and pepper
Before we placed these on the grill, we topped them with Italian cheeses and panko breadcrumbs and finished them off with a drizzle of lemon juice after they were cooked.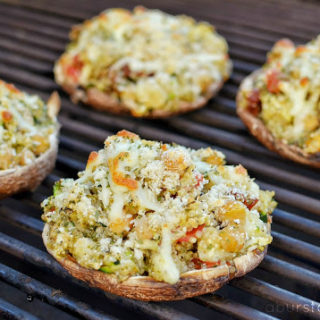 Grilled Stuffed Portobello Mushrooms
Ingredients
4 portobello mushrooms, de-gilled, wiped
1 cup quinoa
2 cups water
Olive oil
1/4 cup yellow or red onion, diced
1 clove garlic, minced
1/4 cup zucchini, grated
1/4 cup Romano, Parmesan or feta chunks
1/4 cup canned chickpeas, drained and rinsed
8 cherry tomatoes, quartered
2 oz sundried tomatoes packed in oil, drained
2 tbsp dried Italian seasoning
1/4 cup shredded mozzarella or Italian cheese mix
4 tbsp panko breadcrumbs
Salt & pepper to taste
Parsley
Juice of half a lemon
Instructions
Rinse quinoa well. Bring 2 cups of water to a boil, add quinoa. Cook for 15-17 minutes or until all water is absorbed.
Preheat the grill to medium heat.
Remove stems and gills from the inside of mushrooms using a spoon. Wipe down outside of the mushroom caps with a damp paper towel to remove any remaining dirt.
Oil the entire mushroom using olive oil.
In a medium bowl, combine onion, garlic, zucchini, quinoa, chickpeas, tomatoes, sundried tomatoes, cheese, Italian seasoning and salt and pepper - mix well.
Scoop the mix into the mushroom caps and top with shredded mozzarella or Italian cheese mix.
Sprinkle panko bread crumbs over the top of each prepared cap and sprinkle with dried parsley.
Carefully wipe down the grill with grape seed oil or olive oil on a paper towel right before cooking to prevent sticking.
Place caps on the grill and close lid. Cook for 15 minutes on medium heat or until mushroom is tender.
Once removed from heat, squeeze a bit of lemon juice over the top. Not too much, just enough to give it a little taste!
Shared at: Just a Girl and her Blog, Craftberry Bush