Just popping in today for a quick hello and to share one of our favourite muffin recipes!
I think I've mentioned before about our fruit problem? At the grocery store, I always fill my basket full of fresh produce with the good intentions of ensuring we reach our daily quota of fruits and veggies. But the fruit usually ends up getting a little too ripe for our liking before we can eat all of it.
Instead of tossing it in the trash we use it up in different recipes. Recipes that don't mind if the ingredients aren't as fresh as they could be. Like smoothies, loaves, ice cream (the Mister makes the most amazing home-made ice cream, we'll be sharing a few of his recipes soon!), popsicles and muffins.
Do you remember our Maple Banana Bread from months ago? Well here's another delicious banana recipe, Banana Chocolate Chip Muffins. It is a fairly healthy recipe since it does not have any butter or oil in the recipe, instead, it contains applesauce!

There's something so comforting about warm banana chocolate chip muffins, straight from the oven with melting butter and gooey chocolate chips. One of my favorite comfort foods.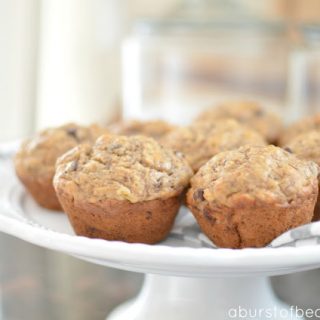 Banana Chocolate Chip Muffins
Yield: 12

Prep Time: 15 minutes

Cook Time: 20 minutes

Total Time: 35 minutes
Ingredients
4 ripe bananas
1 cup brown sugar
1/2 cup apple sauce
2 cups all-purpose flour
1 tbsp baking powder
1 tsp baking soda
1 tsp salt
1 tsp cinnamon
2 tsp vanilla extract
2 eggs
1/3 cup semi-sweet chocolate chips
Instructions
Preheat the oven to 350°F.
Mash bananas and mix in brown sugar and cinnamon.
Stir in the remaining ingredients, until the flour is just incorporated - don't overmix.
Pour muffin batter into lined or greased muffin tins and bake for approximately twenty minutes, until a toothpick comes out clean.