Have I mentioned before that I'm a salad addict? I love that there are so many variations you can make. Crunchy fresh veggies, sweet ripe fruit or wholesome beans….the possibilities are endless. Top it off with a homemade dressing (an easy vinaigrette is always my favorite) and you have a healthy, tasty meal.
During the spring and summer months, salads become a staple in our house. We make a habit of buying fresh produce from our local farmer's markets, I love knowing where our food is coming from. And on those long hot summer days a light, crisp salad is the perfect addition to any meal.
In an effort to eat healthy during the week when the days are busy and hectic, I like to make my favorite salad and pre-pack it in mason jars. It's a convenient way to make eating healthy easy. Just grab one from the fridge, give it a shake and you've got lunch on the go.
This Layered Greek Chickpea Salad is one of my favorite recipes. It's healthy (chickpeas are full of fiber) and brimming with flavor. I love to make a bunch of these jars on a Sunday to have on hand as easy lunches through the week. Just make sure you don't add the spinach if you plan on keeping these in the fridge more than a day or two.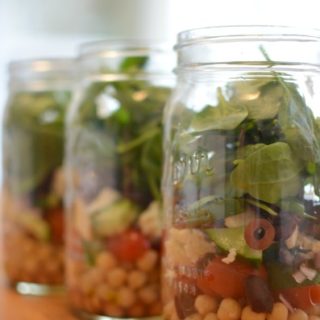 Layered Greek Chickpea Salad
Ingredients
Canned chickpeas, drained and rinsed
Cherry tomatoes, chopped
Cucumber, diced
Red onion, diced
Black olives, sliced
Feta, crumbled
Baby spinach
Olive oil
Red wine vinegar
Dried oregano
Salt and pepper, to taste
Instructions
Layer chickpeas, tomatoes, cucumber, red onion, black olives and feta in a mason jar.
Add 1-2 tablespoons of olive oil and red wine vinegar and sprinkle with dried oregano.
Top with spinach.