Today I'm sharing a simple and quick recipe for one of my favorite summertime treats – Popsicles!
I can remember walking to the corner store as a kid with my little sister during summer break and always coming back with the same treat – Popsicles. There was nothing better than cooling down on a hot summer day with the sweet, refreshing treat.
This recipe is so easy and simple you'll be making these all summer long. It's only three ingredients, it doesn't get much easier than that. And I use real fruit to make these Popsicles, so you (or your kiddos) can indulge in this fun treat guilt-free! And they really are so good you'll be eating these all summer long!

I made Pineapple Raspberry Popsicles because I love the tangy combination of these two fruits. They are summery, tropical and just plain pretty! You can use any fruit combination to make this recipe though – banana strawberry, peach pineapple, mango raspberry, there are so many possibilities.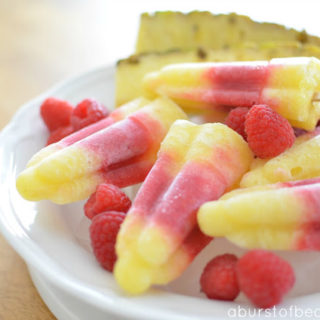 Pineapple Raspberry Popsicles
Ingredients
2 1/2 cups pineapple, diced
2 cups raspberries
Pineapple juice (or your favorite juice of choice)
Instructions
In a food processor, blend pineapple with juice (start with 1 tablespoon and increase until you reach your desired consistency) until you get a smooth puree.
Move pineapple puree to a measuring cup with a spout (this will make it easier for pouring).
Blend raspberries with juice, until you get a smooth puree.
Layer pineapple and raspberry purees in a Popsicle mold, starting with the pineapple puree.
Freeze overnight.
This post is shared on:
Totally Terrific Tuesdays, Show and Tell Link Party, Share your Creativity, That DIY Party, Your Designs This Time, Monday Funday, Inspire Me Monday, Inspiration Exchange, Hit Me With Your Best Shot, The Winthrop Chronicles, Moonlight and Mason Jars, Creative Spark, Inspiration 2, Lovely Little Link Party, Work it Wednesdays, Inspiration Gallery, Weekend Retreat Link Party, The Feathered Nest, Frugal Friday, The Creative Circle, The Handmade Hangout, Your Turn to Shine, Link Party Palooza, The Creative Collection, Living With Style, Sundays at Home, Silver Pennies Sundays, The Party Bunch