So when you have a newborn in the house like we do, there isn't much time to make a meal like stuffed peppers. Making these can be time consuming; from blanching the peppers, cooking the rice and vegetables, then baking the whole thing. Here's a short-cut to the same delicious meal, but done in one skillet in a fraction of the time and cleanup!
This is another one of those recipes where I don't always add the same ingredients. I like to use whatever we have in the house at the time as it makes things more interesting. On this particular day, we had peppers, onions, garlic, mushrooms, flavoured rice, canned tomatoes, and canned black beans on hand.
It's a simple as throwing all the vegetables in the skillet and sauté while the rice cooks separately in the pot. Once both are done, combine and serve. It's as easy as that!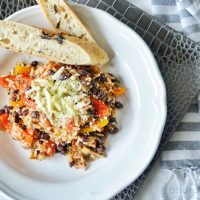 Unstuffed Peppers
Yield: 4

Prep Time: 15 minutes

Cook Time: 15 minutes

Total Time: 30 minutes
Ingredients
RICE
1 cup flavored rice
2 cups water
2 tsp butter
VEGETABLES
Olive Oil
2 cloves garlic, minced
1 small yellow onion, diced
1 can diced tomatoes, drained
1 cup canned black beans, drained
3 peppers, sliced into strips
1 cup mushrooms, sliced
Pecorino Romano Cheese
3 tbsp dried mint
Salt and Pepper to taste
Instructions
Prepare the rice by combining rice, water and butter in a medium saucepan. Bring to a boil, stir, cover and simmer on medium heat for 10 minutes. Remove from heat and let stand covered for 5 minutes. Then fluff with a fork.
In a large sauté pan add olive oil and onion and cook for several minutes then add the rest of the vegetable ingredients, mint, and cook until vegetables are tender.
Add cooked rice and combine until well mixed.
Serve and top with cheese, if desired.