When I think of summer I think of relaxing on the porch, the sun warming my skin while I sip a cold, refreshing lemonade.
Lemonade is the perfect summer drink. It's light, refreshing and oh so pretty. Add a few slices of lemon to a tall pitcher of lemonade and you have the perfect beverage for your next summer BBQ, bridal shower or backyard party.
It's a sweet treat for kids, or you can add a few splashes of your favorite vodka for a grown-up version.
This lemonade recipe is quick and easy, so you don't have any excuse not to give it a try. I mixed up this tangy little blend using just a few simple ingredients, ingredients you probably already have at home. And to give this drink an extra little kick, I added club soda. The fizziness
makes it even more thirst-quenching on those hot and humid summer days.
The best part about making your own homemade lemonade? You get to control the ingredients. Store-bought lemonade is often full of sugar and added sweeteners. But when you mix up a batch of your own, you get to control how much sugar to add. So you can have one glass or the whole pitcher!
Adding the cranberry juice is what makes this lemonade pink. You can omit the cranberry juice if you prefer the original recipe.
If you give our Sparkling Pink Lemonade a try, please let us know what you think in the comments below!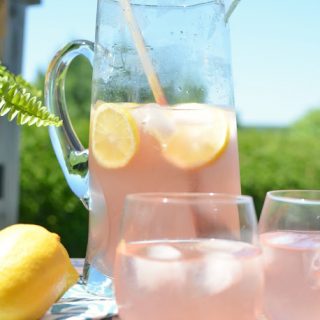 Sparkling Pink Lemonade
Ingredients
1 cup filtered water
1 cup freshly squeezed lemon juice
1 cup sugar (you can adjust the amount of sugar depending on sweet you like it)
3 cups club soda
1/2 cup cranberry juice
Instructions
Mix all ingredients into a large pitcher, mix well.
Add lemon slices and chill.