We could live on salads during the summer months. They make the perfect dinner on those hot and humid days when you don't feel like a heavy meal, plus they make a great addition to any summer BBQ.
There are so many different varieties of salads – pasta, lettuce, bean, coleslaw – the list goes on and on. You could make a different salad every day for the entire summer and never eat the same one twice.
Another benefit of summer salads is the delicious ingredients. Salads are so packed full of nutrients (most of the time), especially during the summer when you can use fresh, local vegetables, fruits, and herbs. You can definitely taste the difference.

Today I'm popping in to share this creamy pasta salad Nick whipped up over the weekend. It's so full of flavor and has the best creamy dressing. You have to give it a try!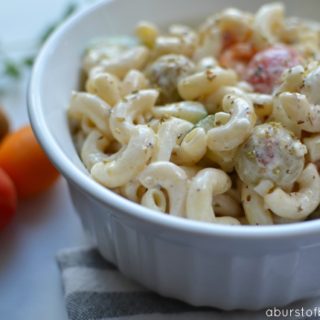 Creamy Pasta Salad
Ingredients
1 package elbow macaroni
1/2 red onion; diced
1 zucchini; chopped
1 cup cherry tomatoes; halved
1 cup green olives; sliced
1 cup shredded cheese
1/2 cup mayonnaise
2 tablespoons olive oil
5 tablespoons red wine vinegar
3 tablespoons dried oregano
2 tablespoons sugar
Salt and pepper (to taste)
Instructions
Cook macaroni according to package instructions.
Once macaroni has cooled, combine all ingredients and mix thoroughly.
Chill before serving.