One of the best things about this time of the year is all of the wonderful holiday get-togethers. From Thanksgiving dinners with family to Christmas potlucks with friends, there are always so many gatherings and special occasions. It's a time to spend with your loved ones, indulge in delicious meals and take advantage of staying cozy and warm inside while the weather turns crisp and cool outdoors. So with the holiday season approaching I thought I'd take the time today to share my favourite holiday side dish – Cheesy Green Bean Casserole. I love making this classic holiday recipe, it's warm, rich and satisfying. It is comfort food at it's best!
I usually make this side dish for Thanksgiving dinner, but this year I added cheddar cheese and it made it just that much better. I promise it will be a hit at your next holiday gathering!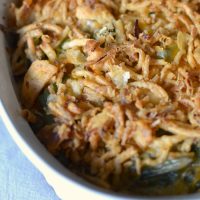 Cheesy Green Bean Casserole
Ingredients
8 cups fresh green beans, washed and trimmed
4 cups chicken broth (I use Campbell's Organic Free Range Chicken Broth)
2 cups mushrooms, sliced
2 tablespoons butter
2 cups mushroom soup (I use Campbell's Harvest Mushroom White Wine)
2 cups shredded cheddar cheese
1 package of French's French Fried Onions
Salt and pepper
Instructions
Preheat oven to 350°F.
Bring beans and chicken broth to a boil (if beans are not covered by chicken stock, add a few cups of water) and simmer for 10 to 15 minutes. Drain and set aside.
Melt butter in a large skillet and add mushrooms, frying until golden brown.
In a large bowl mix together beans, mushrooms, mushroom soup and shredded cheese. Season with salt and pepper.
Transfer the mixture to a greased baking dish and top with French's French Fried Onions.
Bake for 20 to 25 minutes, until the top is golden brown.