My husband loves ice cream. Actually, I think loves is an understatement. It's probably his favorite thing to eat. So you can imagine his sheer happiness when he finally purchased an ice cream maker, now he can make ice cream until his heart's content (and our freezer is full!).
He has been testing out all different kinds of flavors and combinations. My personal favorite was his raspberry and mint gelato. Yum!
But now that the colder weather has hit and fall is upon us he has been incorporating seasonal ingredients into his ice cream recipes. We live near a little town known for its apple orchards. So every October we make sure we plan a visit to one of the many orchards and stock up on freshly picked apples, apple cider and pumpkins (I think that pretty much sums up fall, don't you think?).
There is something so wonderful about the mix of apples and cinnamon, it's aroma is comforting and heartening. Not to mention, it's the perfect combination for fall. So Harvest Spice Apple Ice Cream was born.
It's so creamy, sweet and delicious you'll be making batch after batch. I think it would make the perfect companion for a slice of warm apple pie this Thanksgiving.

Watch our video to help you along with the process!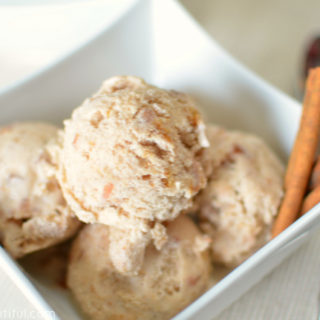 Harvest Spice Apple Ice Cream
Ingredients
Ice Cream Base
2 cups whole milk
3/4 cups white sugar
2 cups heavy/whipping cream
Pinch salt
1 tsp vanilla extract
Spiced Apples
2 sweet apples (like Fuji or Gala) peeled, cored and chopped into 1/4" - 1/2" pieces
1 tsp lemon juice
1/3 cup brown sugar
1 1/2 tsp ground cinnamon
1/4 tsp allspice
1/4 tsp nutmeg
2 tbsp butter
1 cup crushed ginger snap cookies
Instructions
Preheat oven to 350°F. Line 8" x 8" baking pan with parchment paper or use butter to grease all sides and bottom.
Peel apples and cut into 1/4" - 1/2" cubes. Place in a large mixing bowl and add lemon juice, brown sugar, and spices. Mix to coat thoroughly. Pour into prepared baking pan and add 2 tbsp butter. Cover with tin foil and bake in the oven for 30 minutes so that the apple pieces become soft and absorb the spices.
While the apples are cooking, combine the whole milk and white sugar in a glass mixing bowl. Use electric beater on low speed for approximately 1-2 minutes or until sugar is dissolved. Add cream, salt and vanilla and place in the refrigerator for 2 hours.
Once apples are cooked, remove from the oven and let them cool completely in the refrigerator.
After the ice cream base has been in the refrigerator for 2 hours, turn your ice cream maker on and add the cream mixture slowly and allow to churn for approximately 20 minutes.
Then add the apples and crushed gingersnaps and churn for an additional 5 minutes. Serve immediately or put in a freezer safe container for at least two hours if you like harder ice cream.