One of the first posts we ever published on this blog was about our kitchen facelift. That post has garnered so much attention that we felt we should update it to better reflect the changes we made along the way and give you a tutorial on how to paint kitchen cabinet doors based on our experience!
When we moved into our home, the kitchen was the very first big project we tackled. It was spacious, but dated and lacking any character. I truly believe the kitchen is the heart of the home. It's a gathering place for family and friends to savour delicious meals while spending time together. We knew our kitchen had potential and we wanted to create a space we would love, and truly enjoy spending time in.
The bones of the kitchen were in great shape. The cabinets had recently been refinished and there were newly installed backsplash and granite countertops. But the overall feel of the kitchen was dark and dull, exactly what we didn't want. The peachy oak tone of the cabinets didn't flow well with the dark stained oak floors.
Here are a couple of before pictures.
We gravitate towards bright, light and airy spaces and love decorating with neutrals, so we knew for certain our kitchen must encompass that feeling. We also wanted to create a custom look at a fraction of the cost. Everyone knows that a custom kitchen can 'make' a house. When cabinetry and furniture are built custom to fit a particular space it creates a more cohesive and luxurious look. Everything feels like it belongs and becomes an integrated part of the home.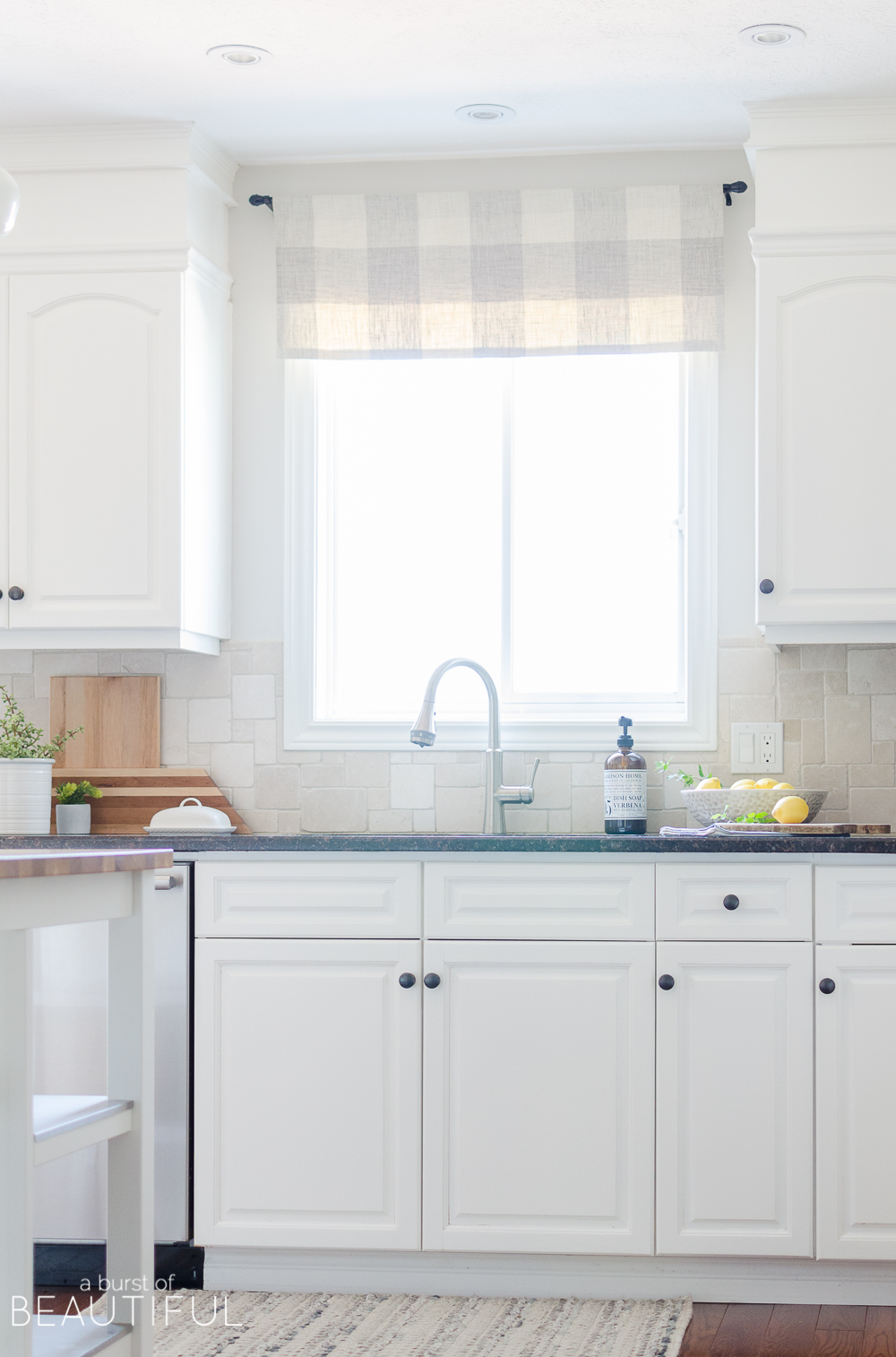 The other issue we faced in the kitchen was an awkward layout. There was a bank of cabinets, along with our fridge on the back wall. It seemed ill-placed and inconvenient, so we knew it had to be moved (the second before picture shows where we moved them to, they were originally along the wall with the door to the garage entry).
With all of this in mind, we got to work. My incredibly talented husband did everything himself and I am so proud of the beautiful kitchen we created.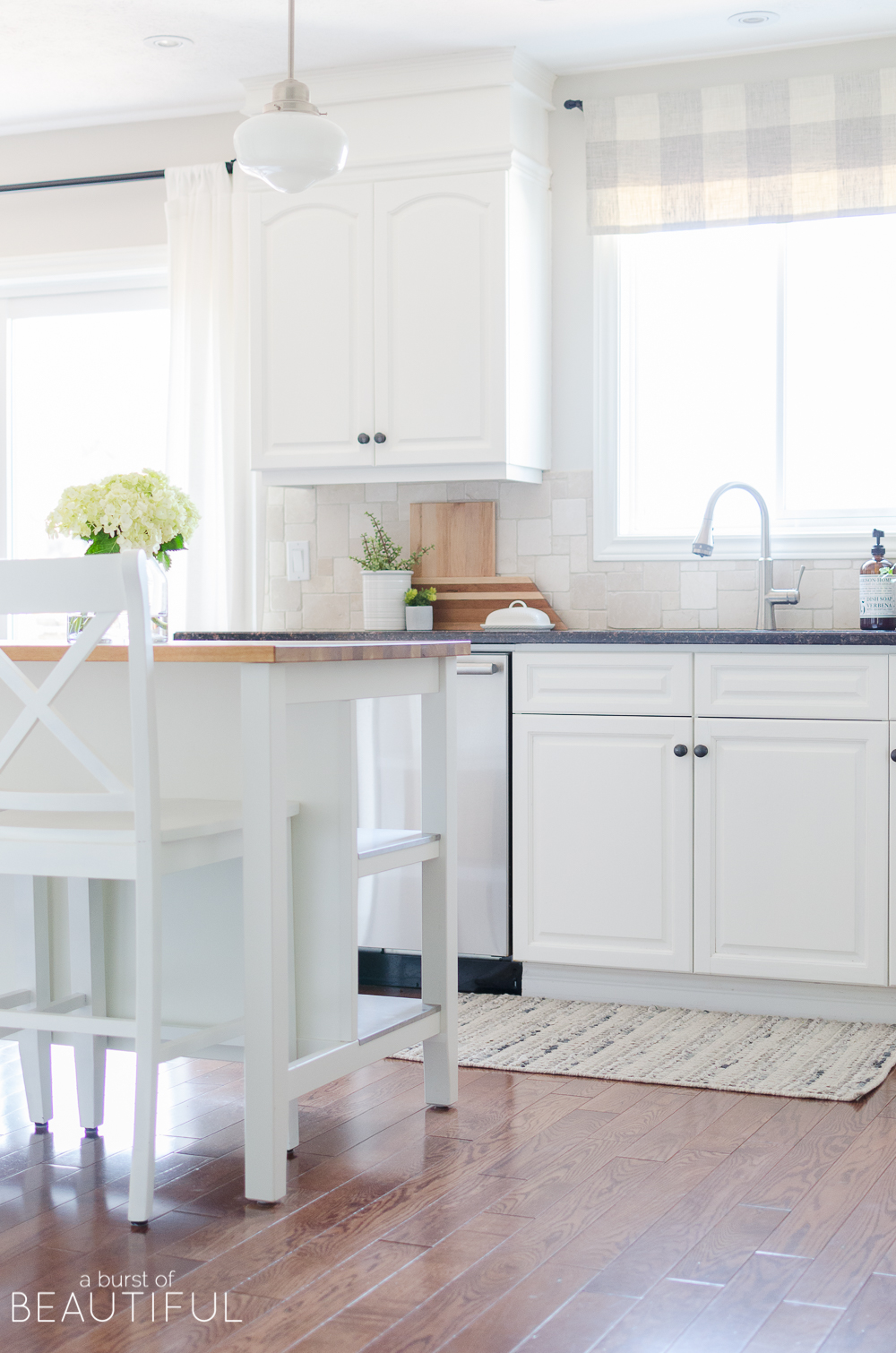 Let's face it. Not many of us have the budget to install a brand new kitchen when we buy a new house. I'm going to show you how you can take your existing cabinets and give them a new life. Your kitchen will look like a million bucks after you're done.
When we moved into our house the kitchen had two separate areas; the main prep area, and a space for a kitchen table. We determined that we didn't need a sit-down dining area in the kitchen as we had a large dining room that we were going to use. Instead, we decided to add an island that would allow us to have additional counter space as well as a place to sit down for a quick bite to eat. We moved the pantry and fridge to the wall where the seating area was originally located. This provided a more open feel to the entire kitchen, created a better workflow and allowed us to accommodate the island we wanted.
Once we had moved the cabinetry, it was time to prep the kitchen for the rest of the work. Just like any project, this is probably the most tedious. But believe me, if you prep properly it will make the process go much smoother.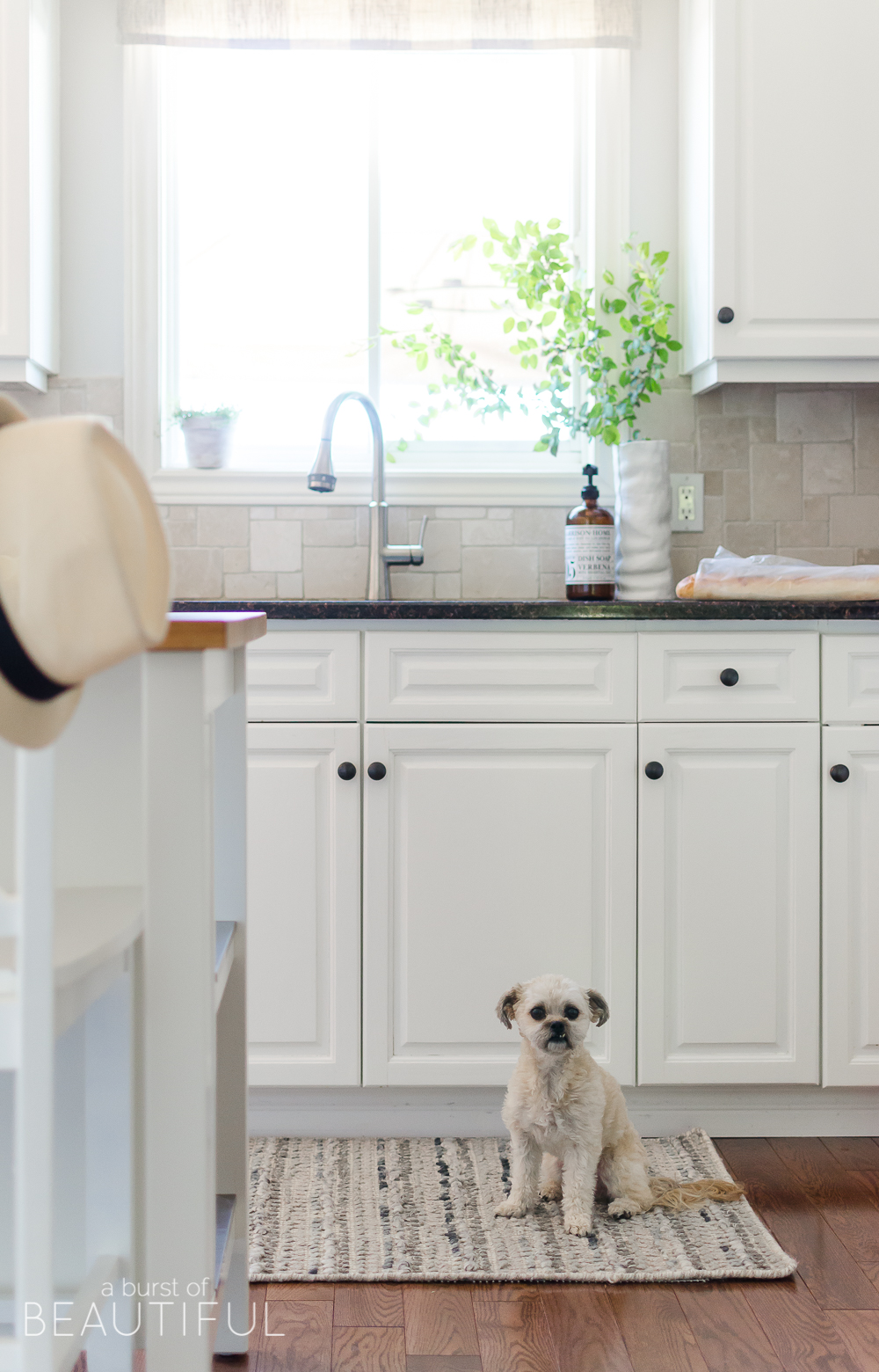 How to Paint Kitchen Cabinet Doors
Prep
The first step is to carefully remove your cabinet doors, drawers, and hardware. Give them a good cleaning with a solution of TSP, which can be found at your local hardware or big box stores. It is important to remove the cabinet doors, drawers, and hardware, including the knobs and hinges before you clean to ensure you have proper access to clean all surfaces.
Here is an important tip before you begin removing the doors and drawers! All of your doors, drawers and hinges are going to be slightly different. So to make the re-install much easier, you'll want to make sure you know which door goes on which cabinet and the mounting hardware that goes along with it.
Mark the inside of each cabinet where there is a door or drawer with a number on painter's tape.

Once you have done this you can remove your door and hardware. Mark the same number on the door with the marker in the hole the hinge was sitting in (you won't need to paint this spot so it will allow you to still see the number once you are finished painting and re-installing the cabinetry).
Label the Ziploc bag with the door number and add all hardware. Believe me, this may have been the most important step of the whole job!
You will need a large space that you can spread out all of the doors and drawers, it's important to remember to keep the temperature consistent, and not too cold or too hot. I did this project in the fall, so I put a heater in the garage for the nights when the temperature would drop. We got creative and used 2×4's propped on ladders or bins to keep the cabinets off the ground, it's much easier on your back when painting.
Before you begin painting the cabinets, clean both sides of the doors and drawers with the same TSP solution you used for cleaning the hardware. You want to make sure there is no residual dirt or grease leftover or else the paint will not adhere as well.
Once the doors and drawers are completely dry you can begin to prepare them for paint. Lightly sand them in the direction of the grain using a fine-grit sandpaper. The goal is to remove any gloss and create a texture that will allow the paint to adhere. When you are finished vacuum the dust from them and a wipe them down with damp cloth (you may need to do this twice to really get the dust off).
Priming
I have never liked painting. Maybe I'm just not patient enough. Since the kitchen is the centrepiece of our house I knew I couldn't rush through it. From my experience, the key to outstanding results are patience and using quality products. I went to our local Benjamin Moore retailer and asked for their advice. They recommended applying a base product called STIX Waterborne BondingPrimer. This product adheres very well to all surfaces, including the laminate ends of the cabinets.
To apply the primer coat I used a standard mini foam roller and paintbrush. I found the ideal method was to hold the door in one hand, coat all of the edges first and then lay it down on the 2 x 4's and coat the rest of the surface. You want to ensure you apply a thin layer of primer to avoid drips, and you only need a thin coat to create a bondable surface. Start by priming the backs of each door and drawer, allow the primer to dry as per the supplier's instructions and then repeat the same process on the front sides.
If you notice that any drip marks have made their way to the front, now is the time to sand them off.
And finally, you can move back to the kitchen and prime the cabinet boxes. I allowed the primed doors, drawers and cabinet boxes to cure for a full seven days before painting.
Painting
Use small mohair rollers and a good quality brush to paint your cabinets. Use the same method you did while priming to paint the cabinets. I applied very light coats to avoid any drip marks. In total, I applied three coats on the back of each door and drawer and four coats on the front. Apply three of four coats of paint to your cabinet boxes to ensure an even and full coverage.
Allow the painted cabinets to cure for four to five days before re-installing them in your kitchen. This is when you will be grateful you numbered each one!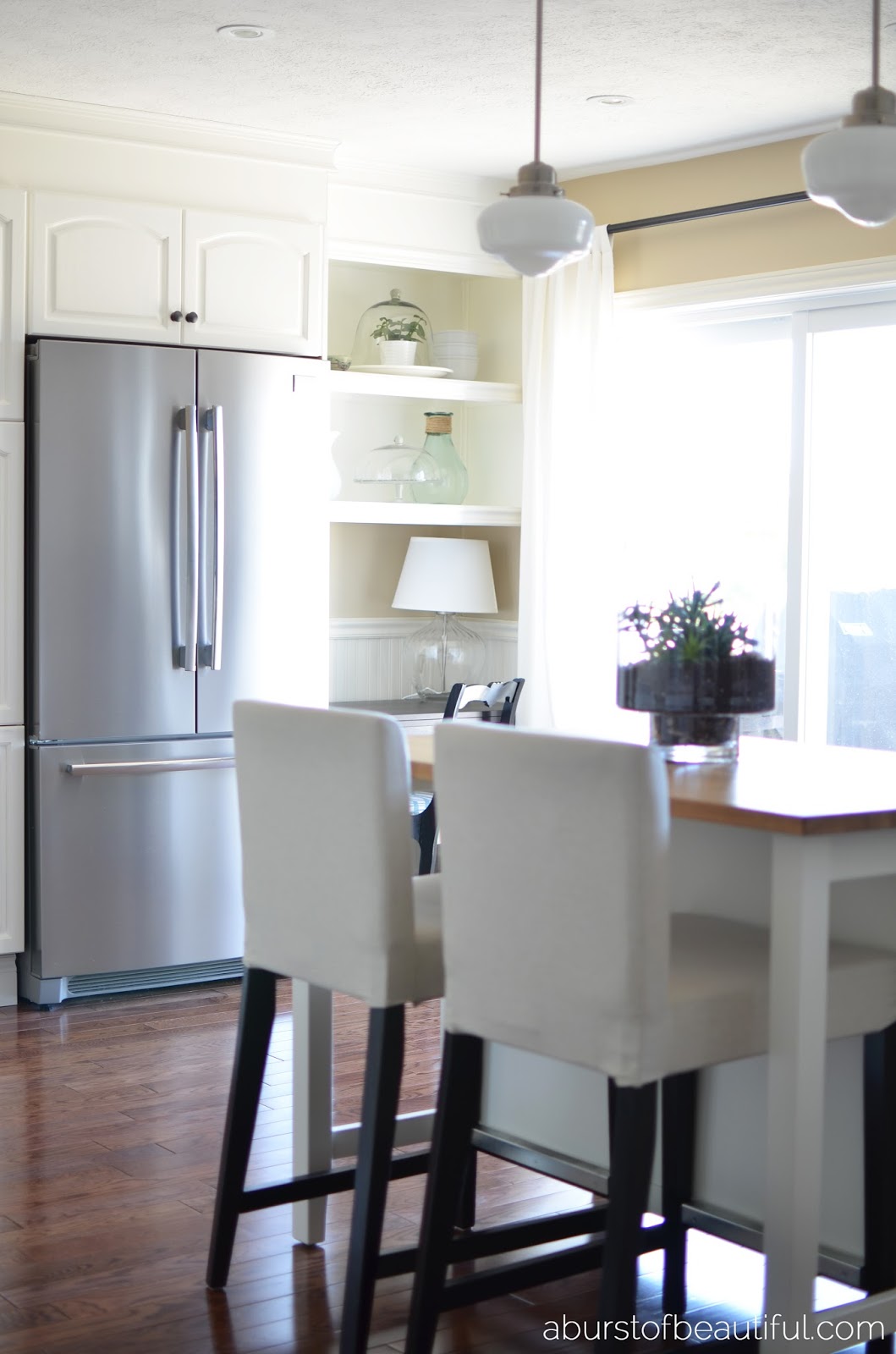 I want to offer a word of caution to anyone considering painting their kitchen cabinets. This is not a weekend project! Be prepared to work mornings, nights and weekends for a significant period of time.
It took me at least six weeks to complete our kitchen because I also enclosed the empty space above the cabinets to make it look like they go to the ceiling and built in some shelving on either side of the fridge and pantry so Alicia can create display areas.
It is so important to take your time and do it right. Do not rush through it, you will end up with mistakes and you will be unhappy with the end result. I typically don't have a lot of patience because I like to see results right away, but I knew I had to take my time with this project and the payoff was well worth it.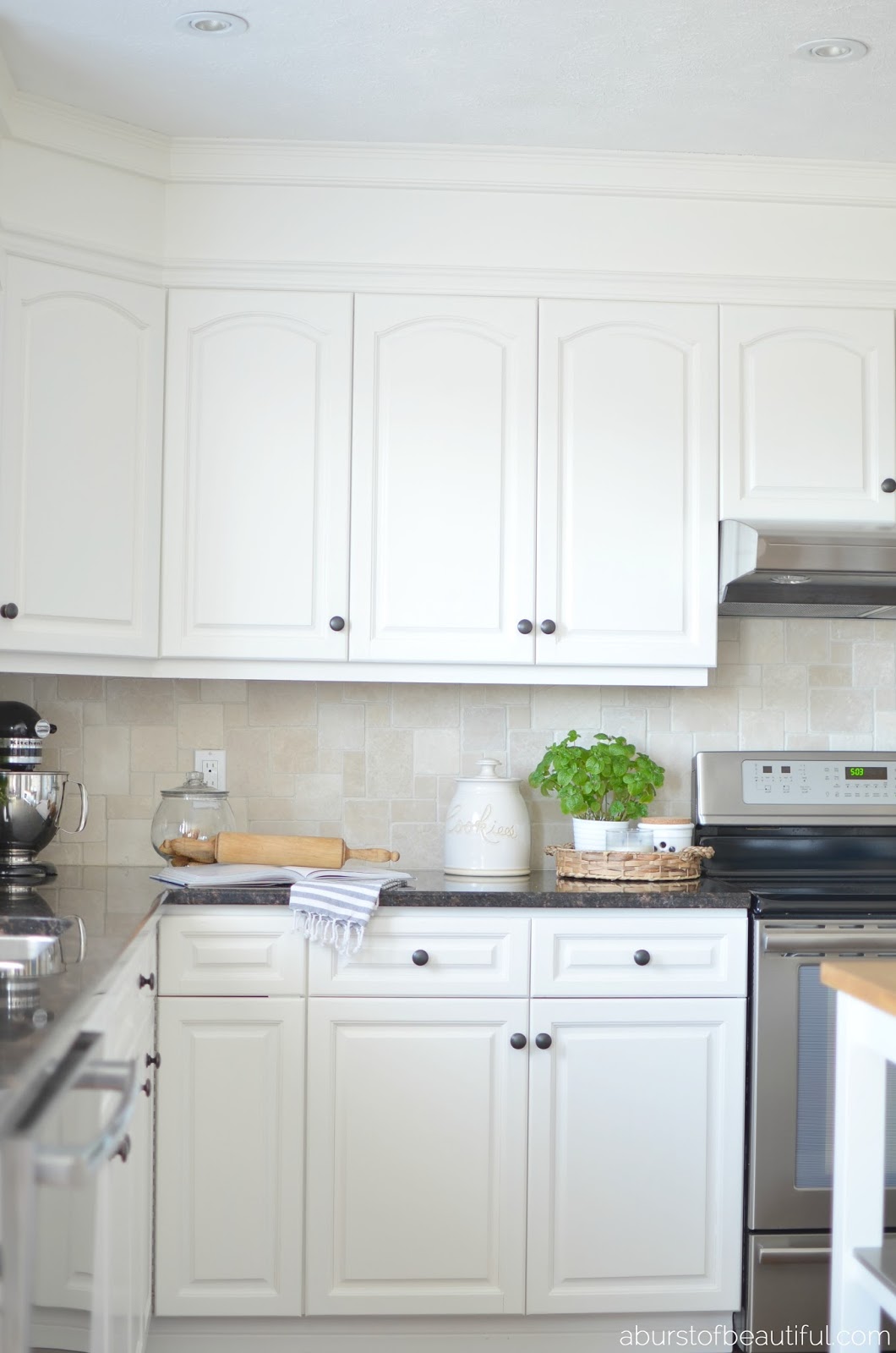 I encourage you not to feel overwhelmed or daunted by this project. It simply takes patience and a time commitment, but the end results are absolutely beautiful.
It's been over three years and we still love our kitchen, and it has held up incredibly. Not one chip, scratch or peel on any of the doors or cabinet boxes.
We now
have
a toddler, four year old, and two pets, and none of them have been able to do any damage which is a miracle and a testament to how durable you can make your cabinets when you take the time to do it right.
It is the light, bright airy space we dreamed of. If you enjoyed our kitchen we would love for you to
tour the rest of our home
.
If you found our tutorial on how to paint kitchen cabinet doors helpful, let us know and send us your photos of the final result!