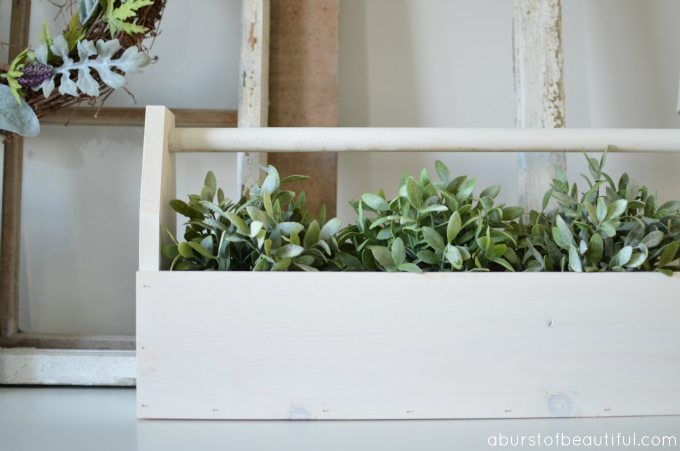 This summer I found a charming wooden toolbox at a local market, complete with the patina of a well-worn piece. I scooped it up knowing I would have so many uses for it. I've used it as a herb planter, a garden caddy and it's the perfect vessel to hold all of your entertaining needs for impromptu company.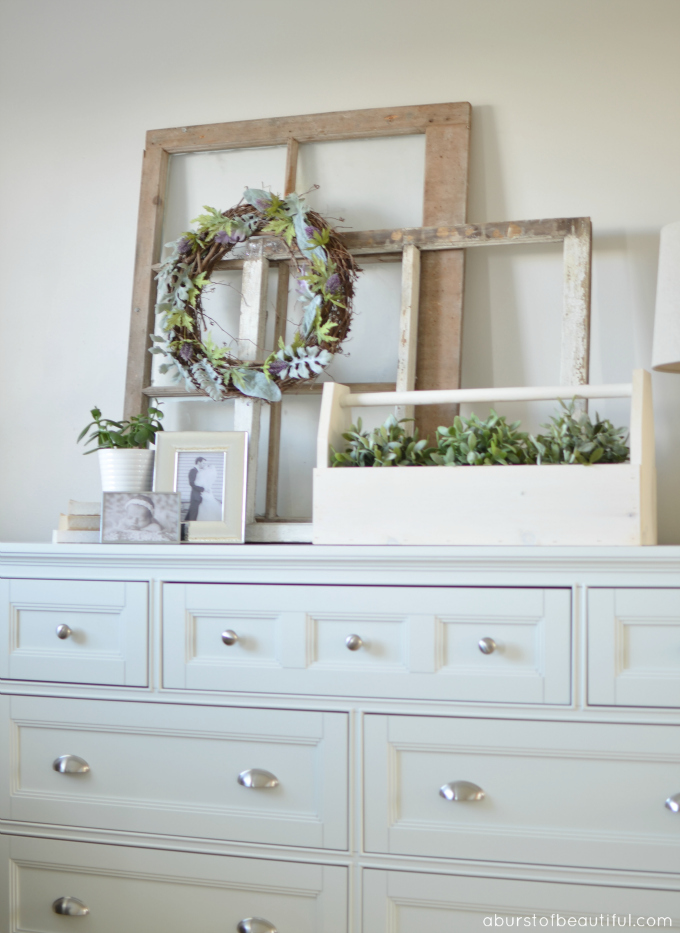 I've used it so much and moved it from room to room in our home, it got my husband thinking. He knew he could easily build me a few extra vintage-inspired toolboxes so I wouldn't have to keep swapping out the one we have. I love this project because it's so versatile. You can change the size of the toolbox to suit your needs, depending on what you are using it for and where you are displaying it. And you can have so much fun with the way it looks – you can give it a white-wash, stain it or paint it a bright bold color. There are so many possibilities.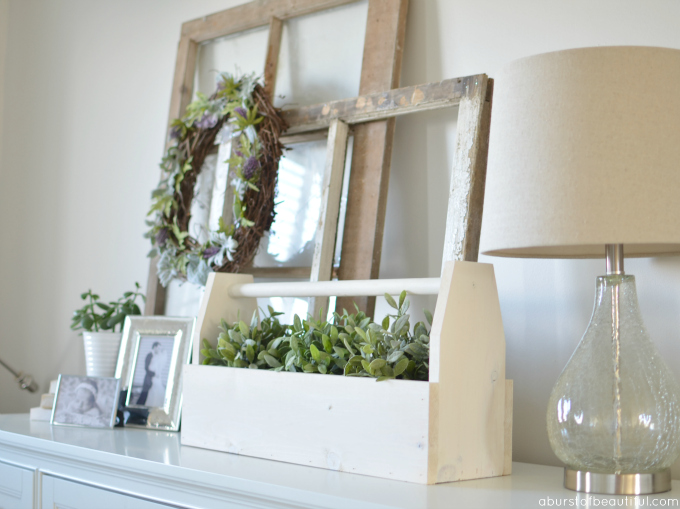 And because you've built it you don't need to worry about the condition it is in, like so many vintage pieces there is always concern about lead paint or mold. It's safe to use in your kitchen to store seasonal fruit and veggies or as storage in the playroom for books or arts and craft supplies.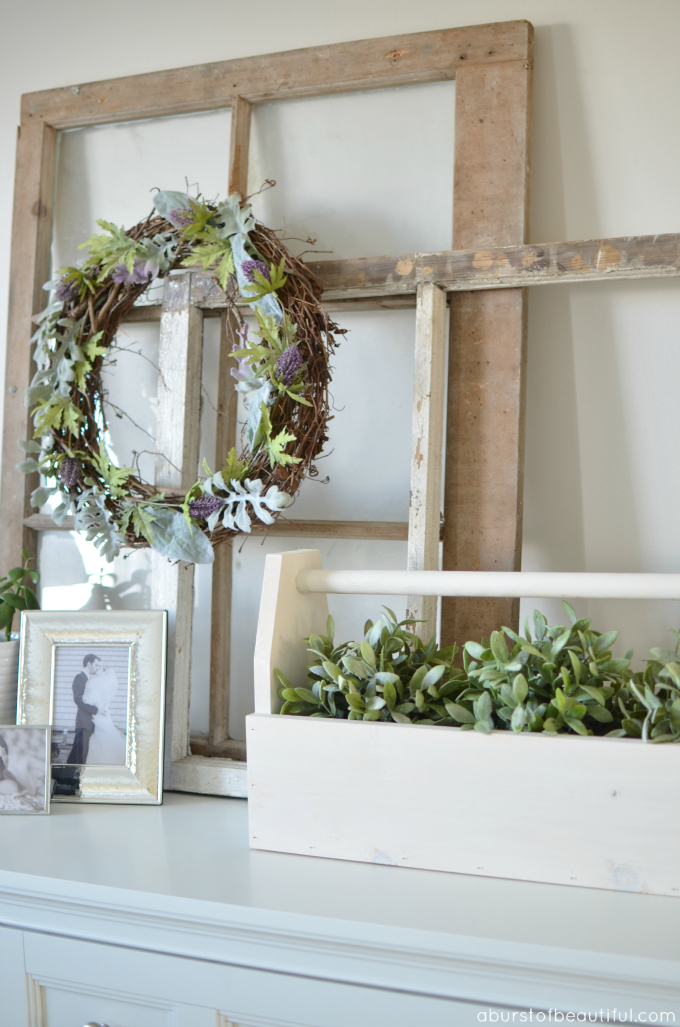 The original vintage toolbox we purchased was fairly big so there are only a few spots in the house we could display it. So Nick set out to make a smaller one. You can adjust these plans to make any size that fits your space simply by adding to the length of the boards and the dowel.
This plan uses only one piece of 1″ x 6″ x 8′ wood and one dowel, which makes it a very efficient project.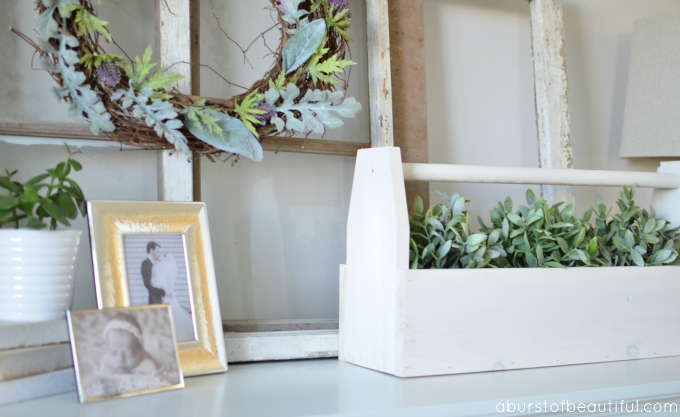 Vintage-Inspired Toolbox DIY Tutorial
Supplies & Tools:
1″ x 6″ x 8′ piece of wood (we used pine)
24″ dowel (1″ diameter)
Mitre saw
Nail gun and nails
Carpenters glue
Drill with 3/32 bit
2 – 8 x 1 3/4 screws
Paint or stain
Instructions:
Cut the 8′ piece of wood into the following lengths: 2 x 24″, 1 x 22.5″, 2 x 12.75 (See Figure 'A' below).
To create the angles on pieces 4 and 5, mark your wood 1″ in on either side. Adjust your miter saw to a 15-degree angle and cut each side of the plank from the 1″ point at the top down to the side.
Lay the 22.5″ plank on a flat level surface. Apply a small amount of carpenters glue to the end piece and using a compressed nail gun attach your end pieces to the base.
Lay the box on its side and line up one side piece and attach to base and end pieces using carpenters glue and nail gun. Repeat for the other side.

Pre-drill using a 3/32 bit 1.25″ from the top of the end piece and in the center. Also, pre-drill the end of the dowel in the very center, making sure that you keep the drill bit going in straight.

While holding the dowel in place, screw from the outside of the end piece into the dowel on each side.
Paint or stain it any color you wish.
FIGURE 'A'
I hope you enjoy this DIY project as much as we did. I'd love to hear how you plan to use your own vintage-inspired toolbox around your home.