This post was sponsored by Tonic Living. All opinions are my own, we only work with companies we love and trust.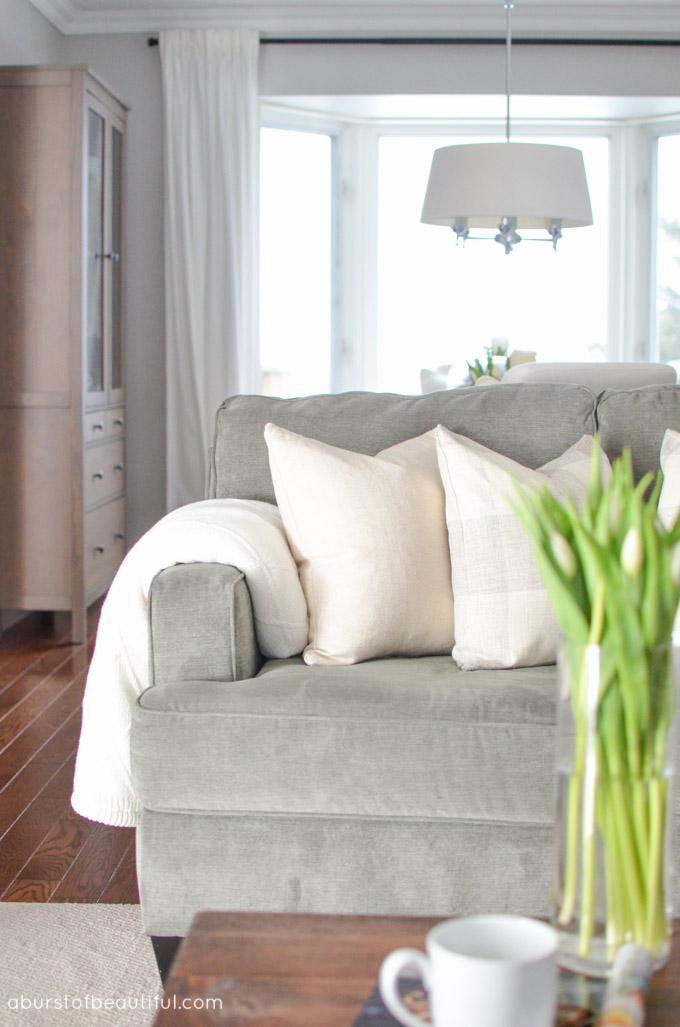 Last week I revealed our completely refreshed living room and dining room (and our newly painted kitchen), and we received so many sweet and thoughtful comments, I was (and still am) completely overwhelmed. I am always so touched by this wonderful and supportive community we are so lucky to be a part of.
Of all the sweet comments and questions about our space, our new pillows were definitely the most talked about.
Creating a space that is welcoming and comfortable is always at the forefront of my mind when I am designing a room, especially a room that is meant for relaxing and entertaining, like our living room. I want our family and friends to feel like they could curl up on our couch and sink into a bunch of soft pillows for a cozy afternoon nap or to enjoy family movie night.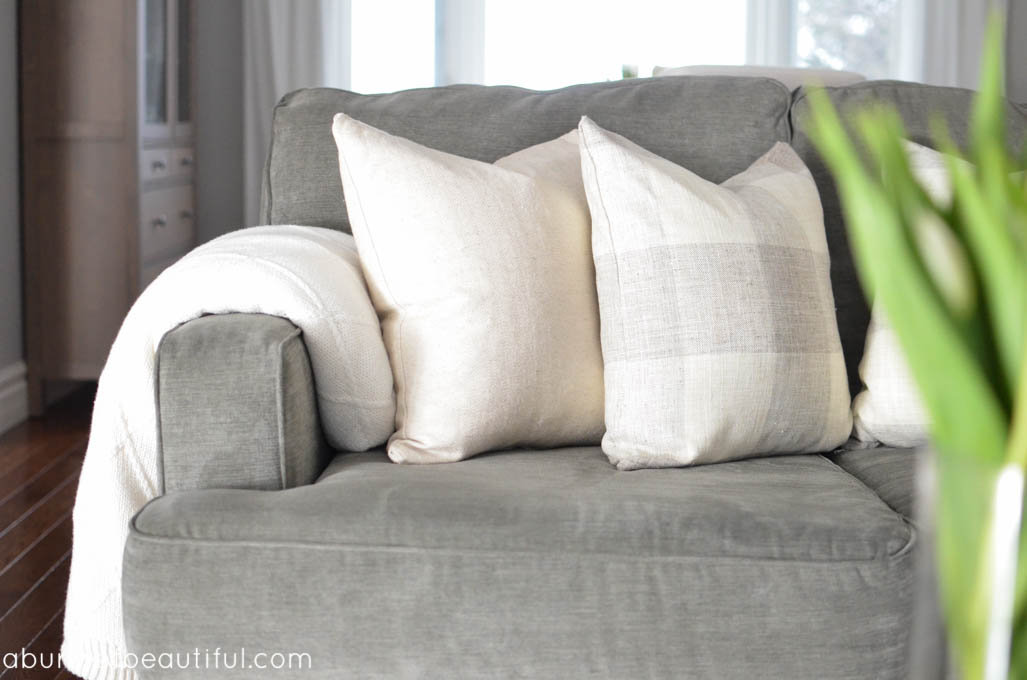 So, it was important to me to find just the right pillows. I had two specific requirements of our new pillows. First, they needed to be family-friendly, that meant comfortable, sturdy and easy to clean, and secondly, they had to look beautiful too. They had to work for our family and appeal to our modern farmhouse aesthetic.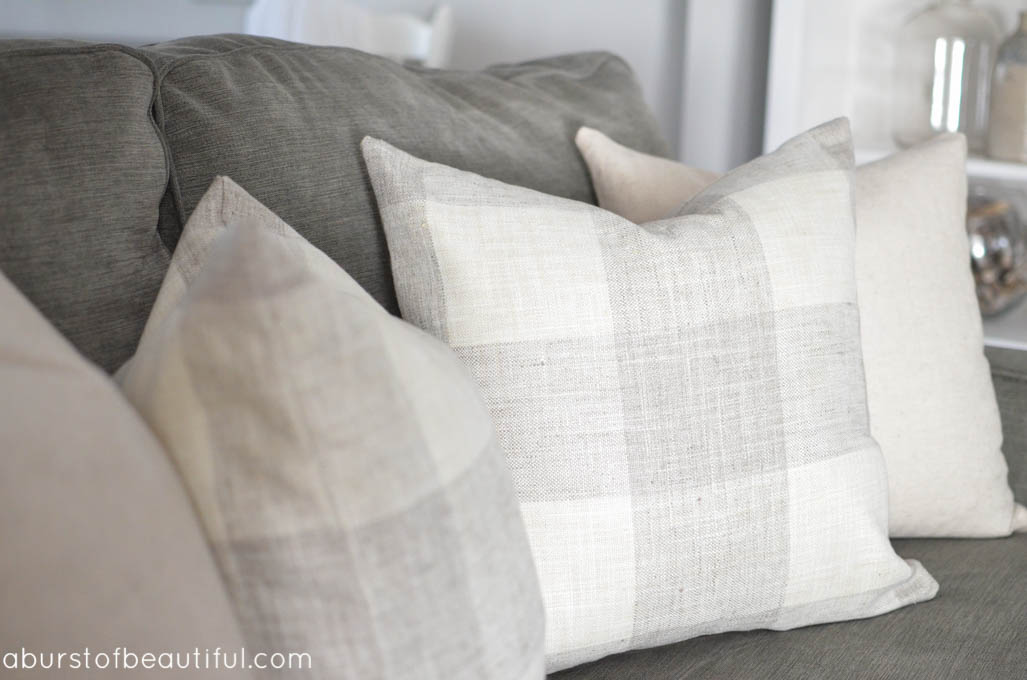 I knew I wasn't going to find what I was looking for in a big box store, so I turned to my favorite fabric store, Tonic Living. If you pop on over to their site, you'll see why they are my favorite. They carry the most exquisite designer fabrics, I truly could spend hours browsing through each one, and they also offer pre-made pillows and custom orders too. It gets even better, if you're from Ontario, Tonic Living offers FREE shipping on orders over $50 (if your postal code begins with L, M or N). And don't despair my American friends, Tonic Living ships worldwide, and you can even shop in USD on their site.
I finally settled on two subtle and neutral fabrics that I knew would look beautiful in our living room – Beach Buffalo Check in Moonstone Grey and Ashton Herringbone in Natural. As usual, I am drawn to soft, neutral colors (I have even dedicated a post to How to Decorate with Neutrals). I think they really help to cultivate a soothing and inviting space, and I love that they can be easily paired with pops of color depending on the season or holiday.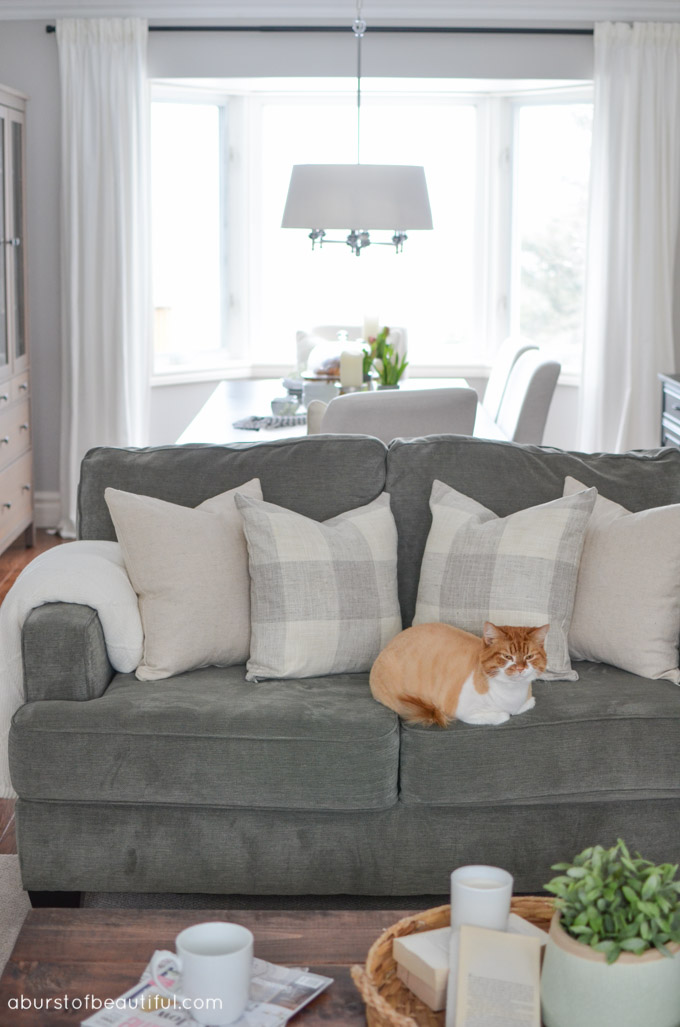 I know a lot of people shy away from incorporating neutrals into their home because they feel they are difficult to keep clean. I can promise you this isn't always the case. Our house is busy – with a one-year-old and three pets, our home sees its share of messes. I knew these pillows wouldn't be exempt from the spills and stains that come with kids and pets, so removable pillow covers were a must.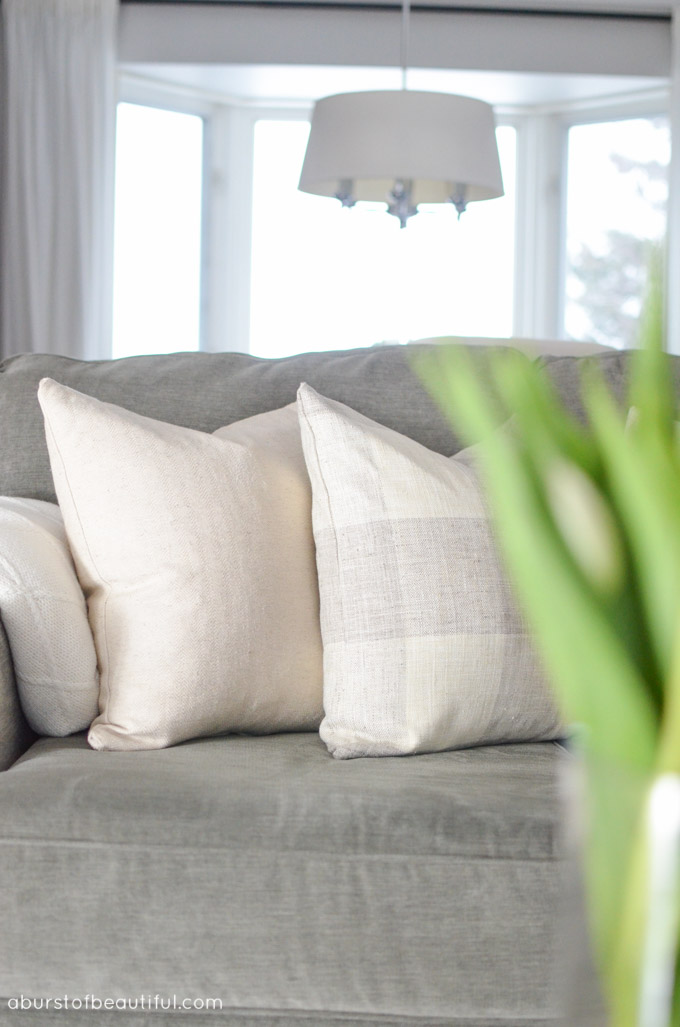 Being able to slip off a pillow cover and toss it in the wash or spot treat it will save you a lot of frustration down the road.
This was my first time sewing a zippered pillow cover, and I can truthfully say it wasn't nearly as difficult as I first thought it might be. So if you are intimidated by this tutorial, don't be!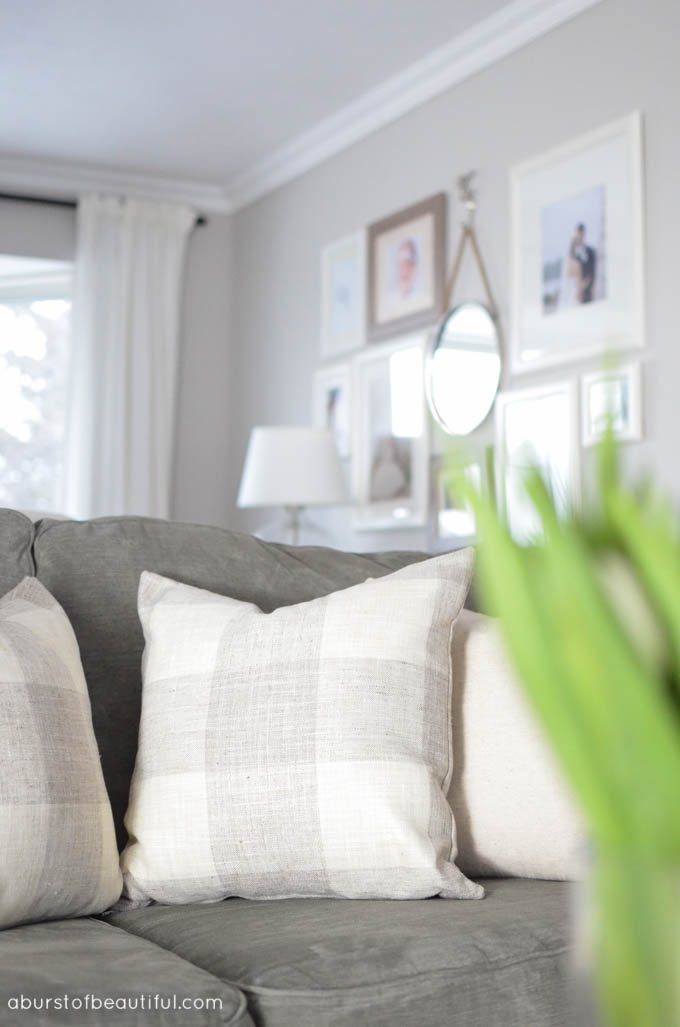 How to Sew a Zippered Pillow Cover
This tutorial is based on a 20 x 20 pillow
Supplies:
Pillow insert
Upholstery fabric
Thread (coordinating)
Zipper
Sewing machine (regular foot and zipper foot)
Pins
Scissors
Seam ripper
Measuring tape
Iron
Instructions:
Start by measuring your pillow insert from seam to seam. If your fabric has a print or pattern, be sure to carefully plan where the fabric will fit onto the pillow and cut accordingly. A little trick I have learned along the way is to cut my fabric to the exact size as my pillow insert (in this case 20 x 20), this will allow for a nice snug fit.
Place the fabric together, with the finished sides facing in and pin in place.
Sew a basting stitch (this is the longest stitch you can set on your sewing machine) along the bottom of your pillow, using a 1/2 inch seam allowance. A basting stitch will hold your fabric in place while you sew on the zipper, and will be easy to remove once the pillow is complete. Once you are finished be sure to change the stitch length back to 2.
Lay the zipper along the seam and mark where the zipper begins and ends.
Sew a few stitches where you just marked the beginning and end of the zipper, and remember to back stitch to reinforce your zipper.

Open your fabric face down and iron the seam you just made to help it lay flat.
Lay the zipper face down along the seam and pin in place.
Attach the zipper foot to the sewing machine.
Now it's time to sew your zipper in place. Start on the right side of the zipper and begin sewing along the zipper, remember to use a backstitch to anchor the zipper in place. Sew all four sides of the zipper.
Carefully remove the basting stitch with the seam ripper (make sure you are only cutting through the basting seam and not the zipper while you are doing this).
Unzip the zipper about half way and place the fabric together again (finished sides facing in) and pin in place.
Sew the remaining three sides of the pillow.
Turn the fabric inside out and iron.
Finally, insert the pillow form into your pillow cover.
It really was an easy sewing project, and the more pillow covers I made the easier it became. Next week I'll be sharing a closer look at the beautiful pillow, The Porter, from Tonic Living you'll have a chance to enter an exciting Tonic Living giveaway!