This post was sponsored by Benjamin Moore and Tonic Living. All opinions are my own, as always, we only work with companies we love and trust.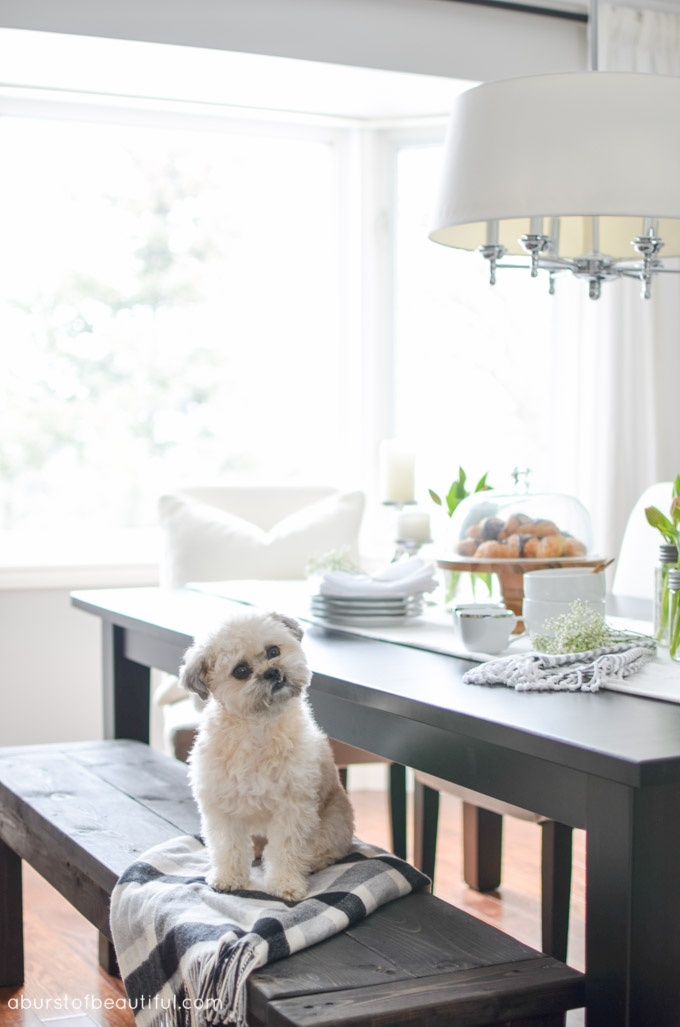 If I was excited to share yesterday's post with you, I am even more excited to share today's! Just before the snow started to fall last year I told you all about our plans to give our dining room and living room a little refresh (you can read all about it here and here). For a long time, well…ever since moving into our home, this open concept space has just felt unfinished and not quite right.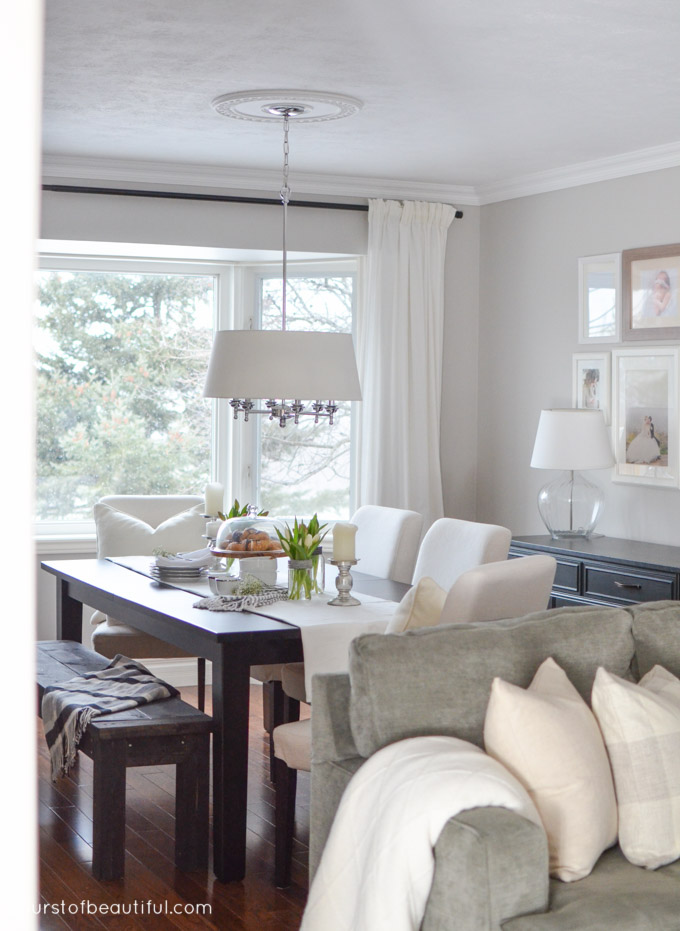 We've tried different furniture placement and a few new accessories, but I always struggled with the overall look. I am a firm believer in taking your time while creating a livable home. You want your space to feel cohesive and collected as if it was put together over time. You want it to consist of all of your favorite and most loved items – new and old. So as much as I wanted it to feel "done" I tried my best not to hurry the process.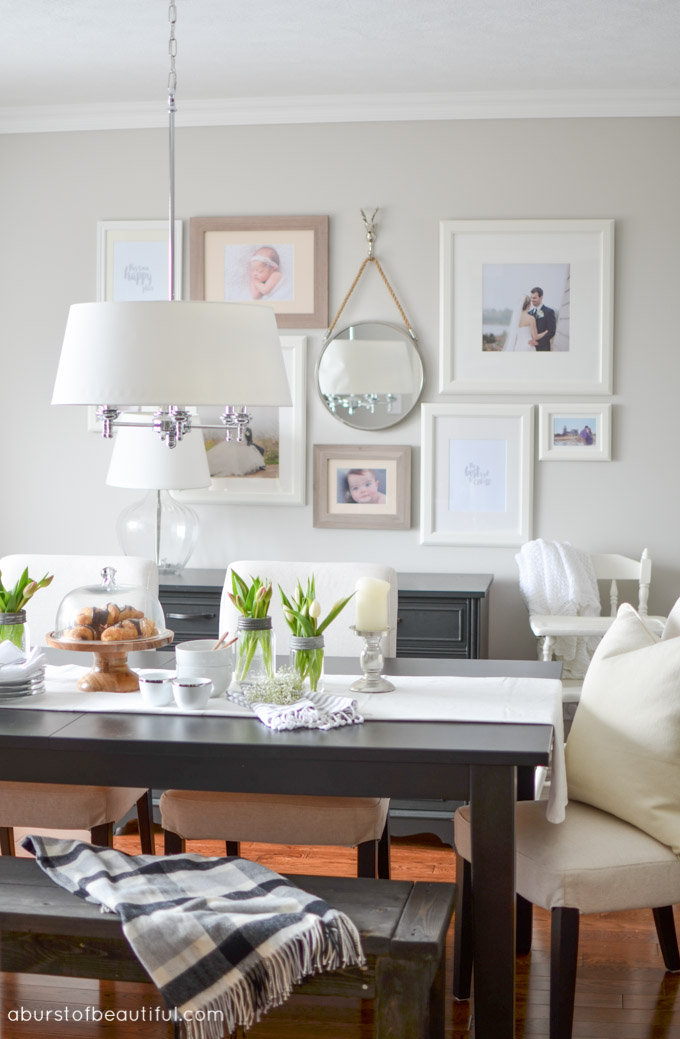 But I think I finally have it. That's not to say new pieces won't come and go over the months and years, but it finally feels cozy and comfortable and just right for our family (make sure you check out how it looked before here).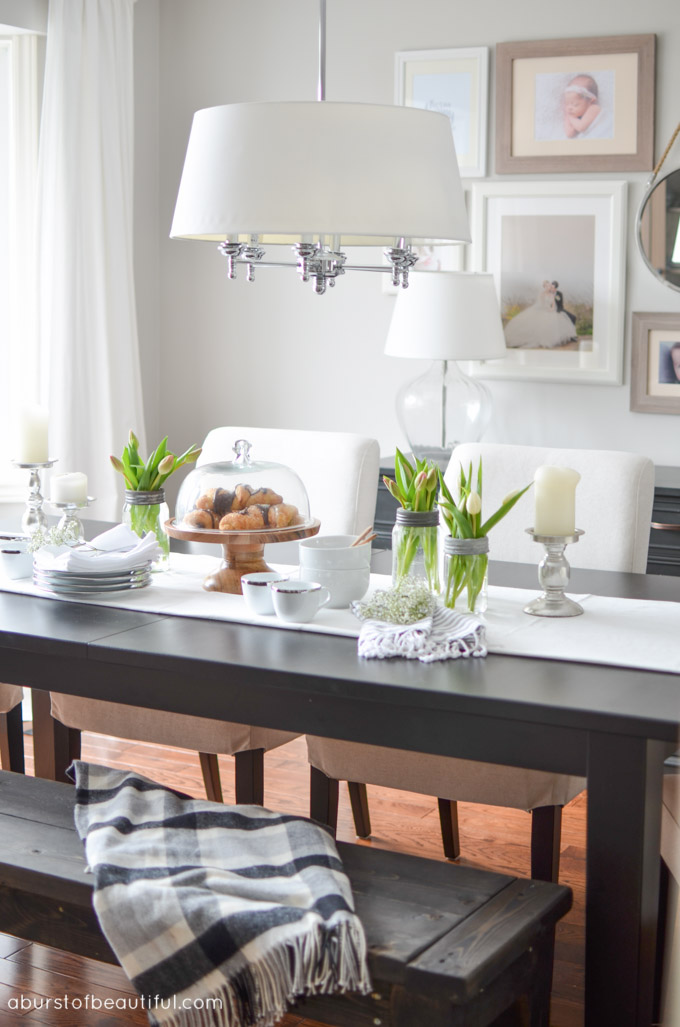 The biggest change we made was painting. I cannot stress enough the power of paint. If you are looking to make a big impact with minimal cost and effort, painting is the way to go.
I've mentioned before that we are slowly working our way through the house room by room painting. When we moved into our home the previous owner had painted each room Benjamin Moore's Shaker Beige, you will see it in many of our photos before now. It was a soft and warm neutral, but we were looking to create a bright and fresh new look. We wanted something a little more on-trend and modern in color.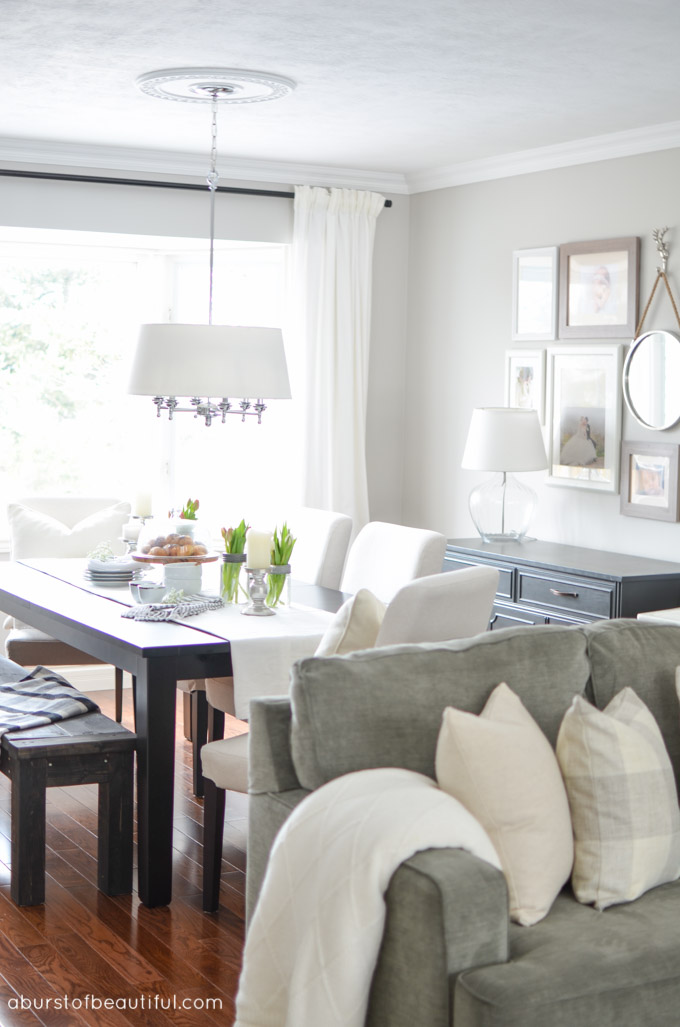 I love the idea of incorporating different paint colors throughout your home. It helps to keep your home feeling interesting and a little bit fun. However, the colors should seamlessly flow together and create a pleasing sightline from room to room. I kept this in mind while we were choosing new colors for our main living space.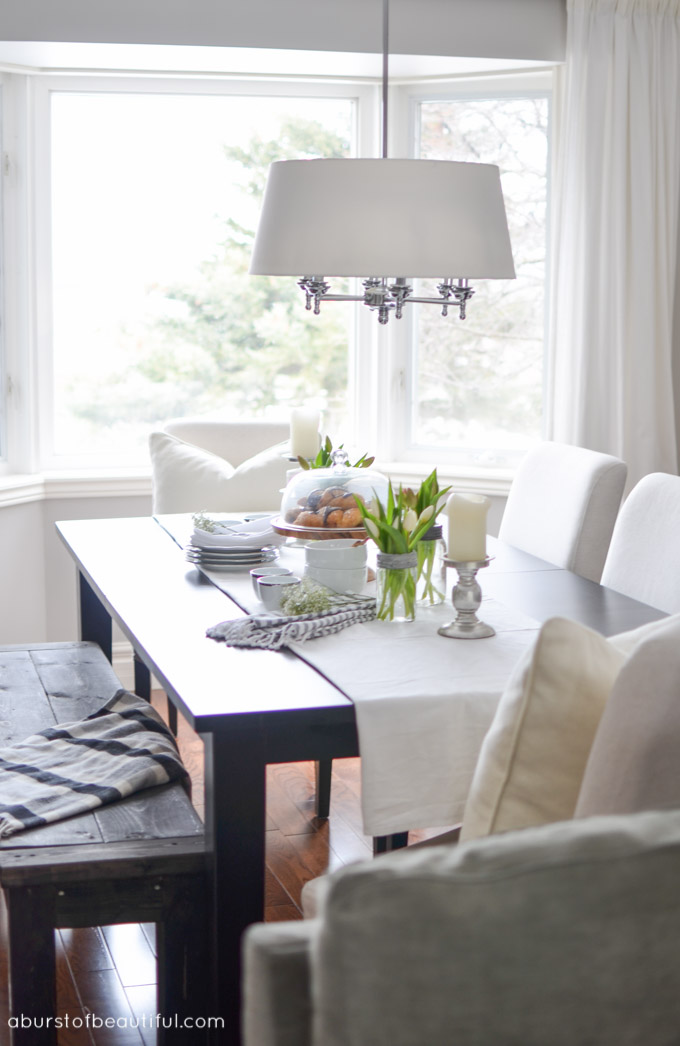 We had recently painted the nursery and our master bedroom, so I knew our new paint had to work with those existing colors. And even more so the colors I chose for the kitchen and hall must compliment the living room and dining room as it is such an open space.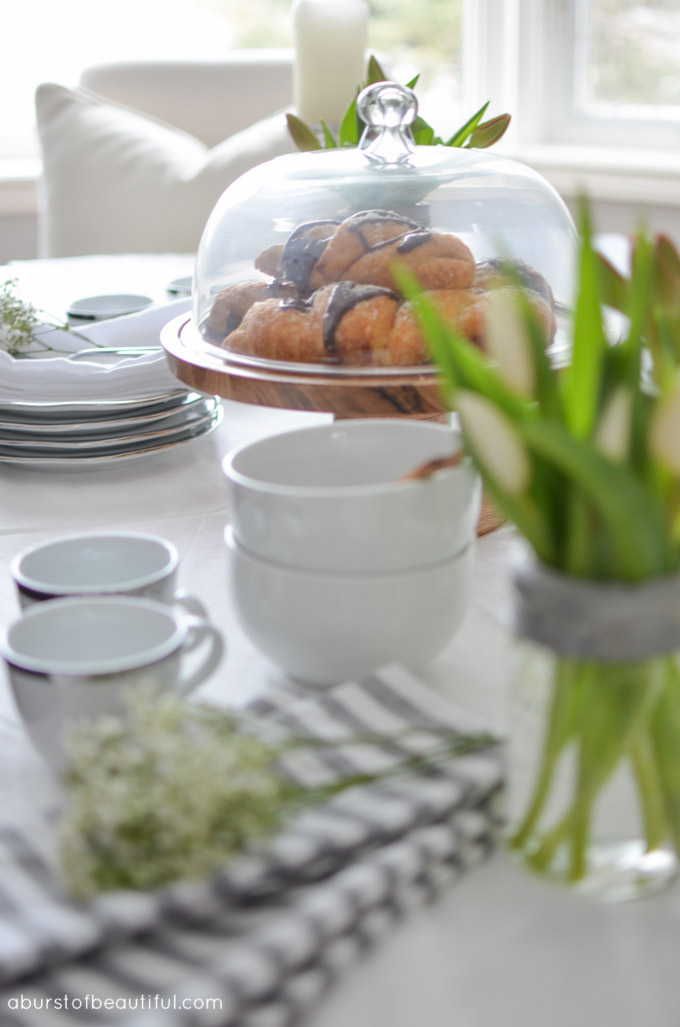 I contemplated painting it all one color, but in the end, I opted for a lighter, softer grey for the kitchen and hall. You can read all about it here.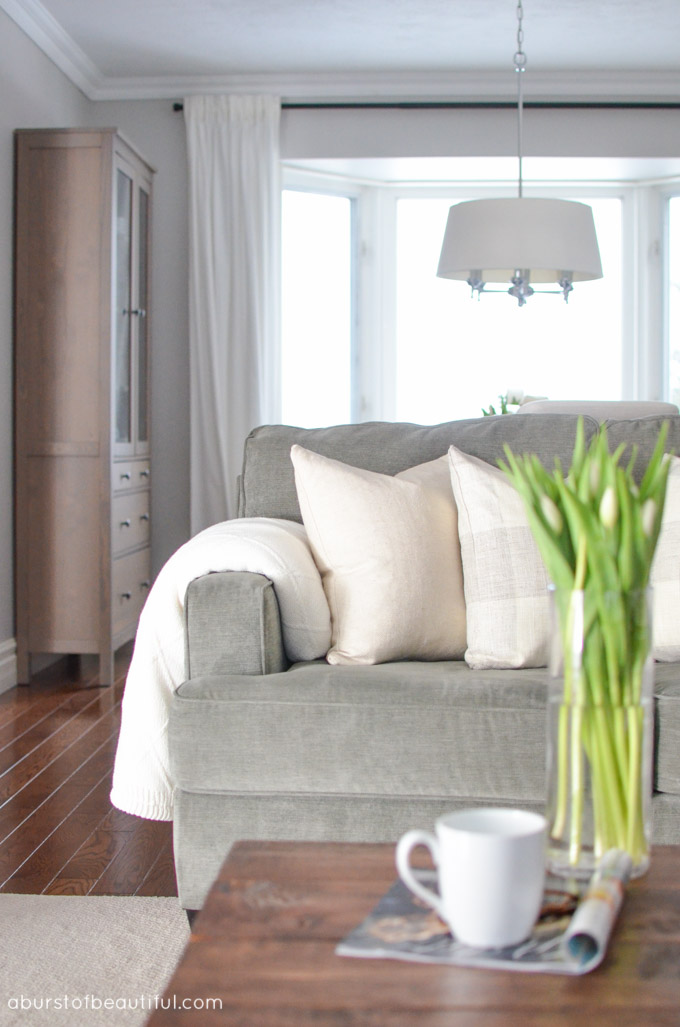 In the living room and dining room, I chose Collingwood by Benjamin Moore. It complements our kitchen beautifully, and I love the mix of grey tones with a hint of beige. What do you think?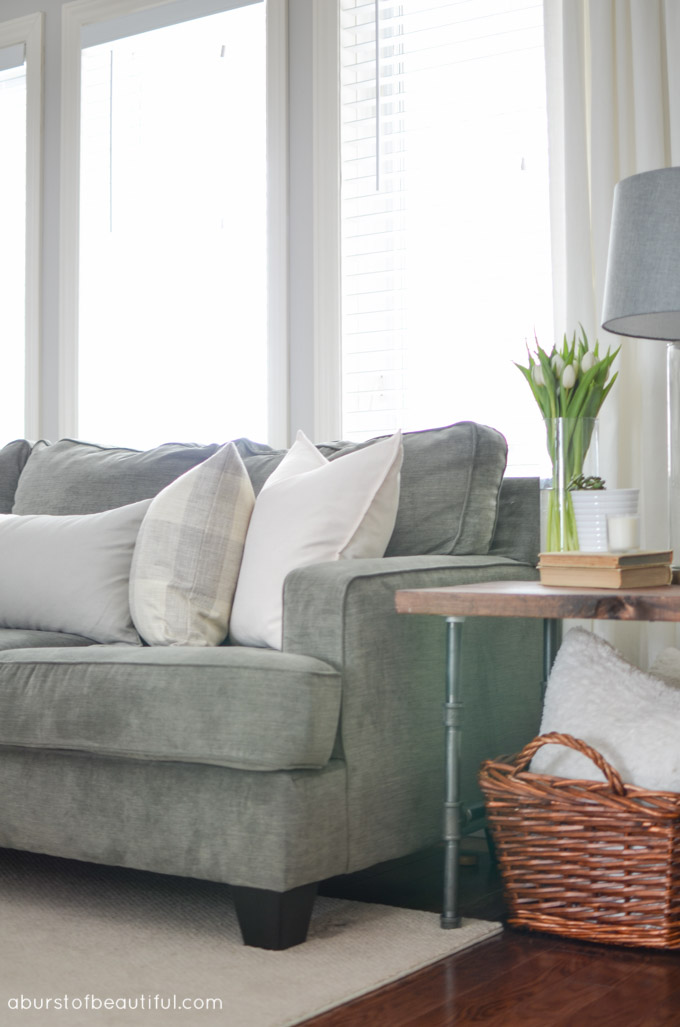 We kept all of our existing furniture, with the exception of a gorgeous new industrial side table my husband built (we will be sharing a tutorial on this in the coming weeks).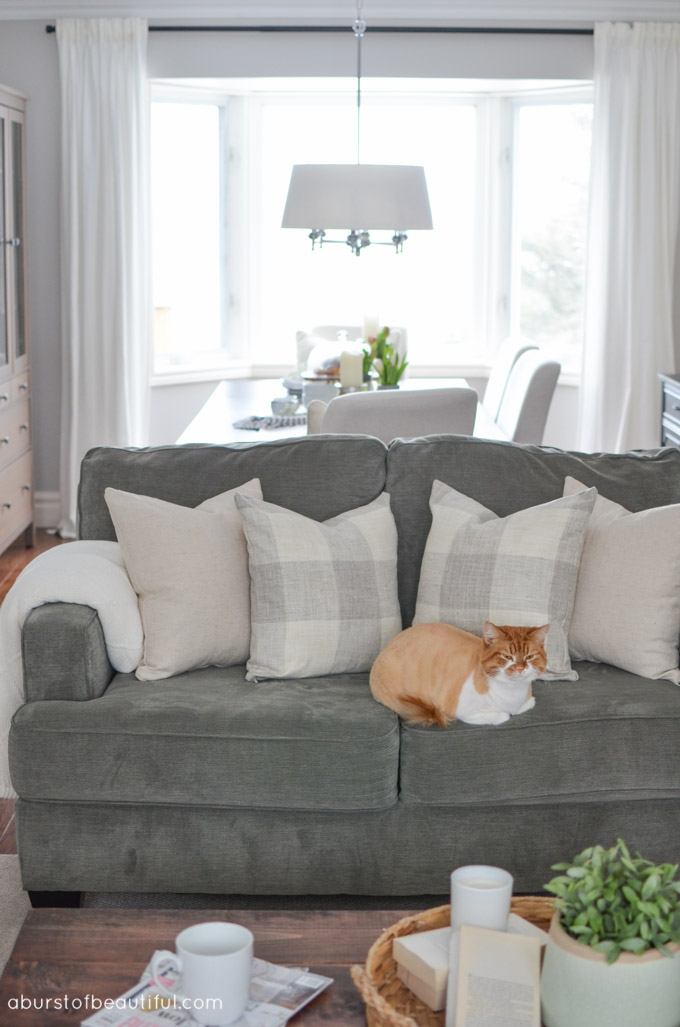 The other big change I made was incorporating a few new throw pillows in our living room. There is just something about adding fresh new fabrics to really change up a space and make it feel new. I searched and searched to find just the right pillows for our space, but nothing was the right fit. I had a particular idea in mind, I wanted something that was neutral, and family-friendly, but at the same time sophisticated and on-trend. I knew I wasn't going to find anything like this in a big box store, so I turned to my go-to fabric store, Tonic Living.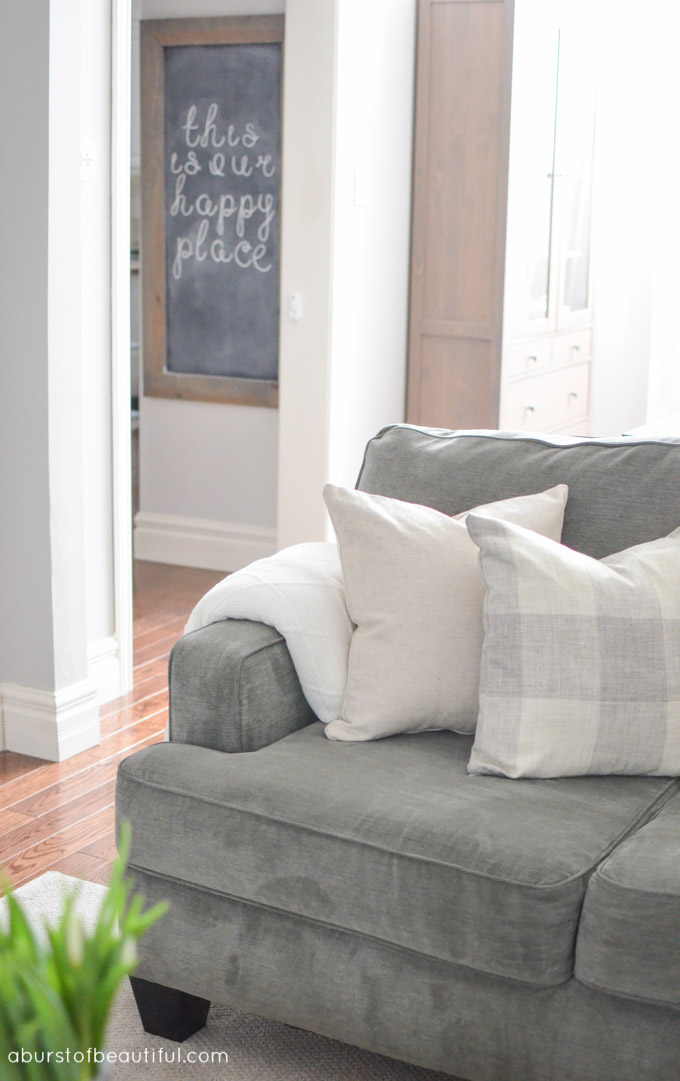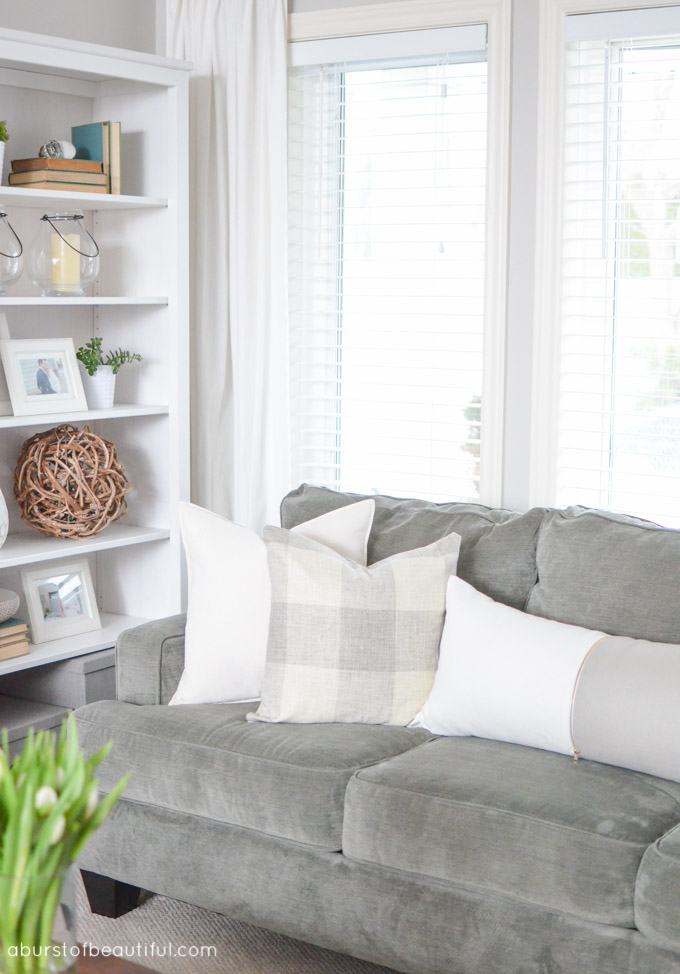 I immediately found the most beautiful fabric and knew it would make the most beautiful pillows. I absolutely love the buffalo check pattern, it's sophisticated and modern, with just the perfect mix of farmhouse style. I also picked up a subtle neutral fabric to compliment the grey and cream buffalo check. And finally, I came across this show-stopper. It is over-sized, sleek and dramatic and I love the little bit of glamour it adds to our living room. I'll be sharing more about Tonic Living's fabric and pillows later this month, with an amazing giveaway you won't want to miss out on!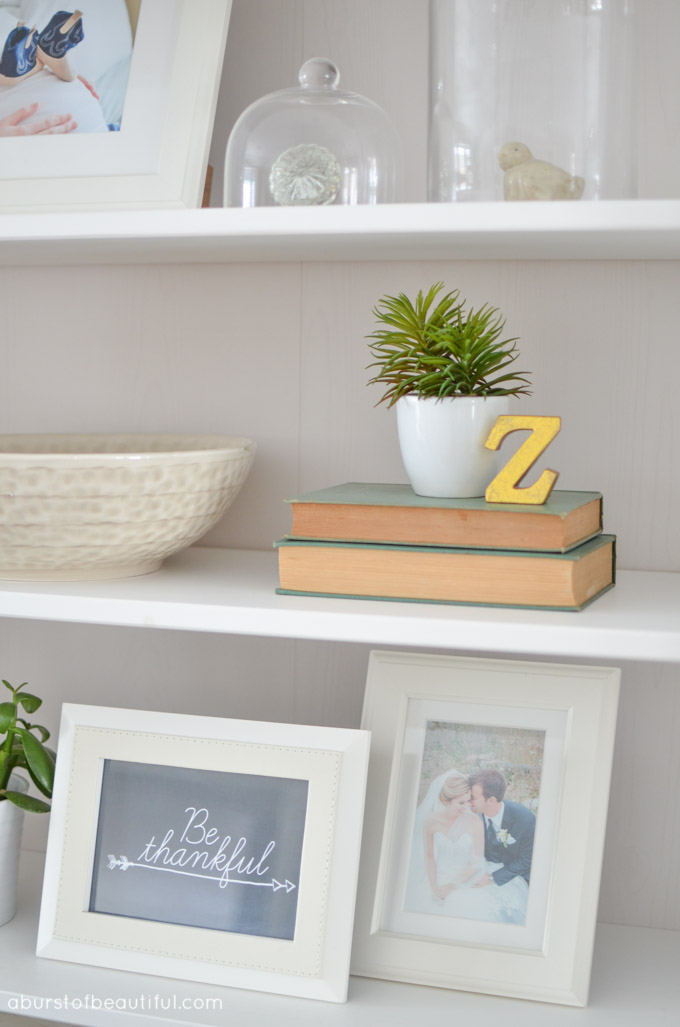 Finally, I changed out a few of our accessories and incorporated fresh flowers and potted greenery to add color and life into the space. I also added this beautiful gallery wall in our dining room to showcase some of our favorite family photos.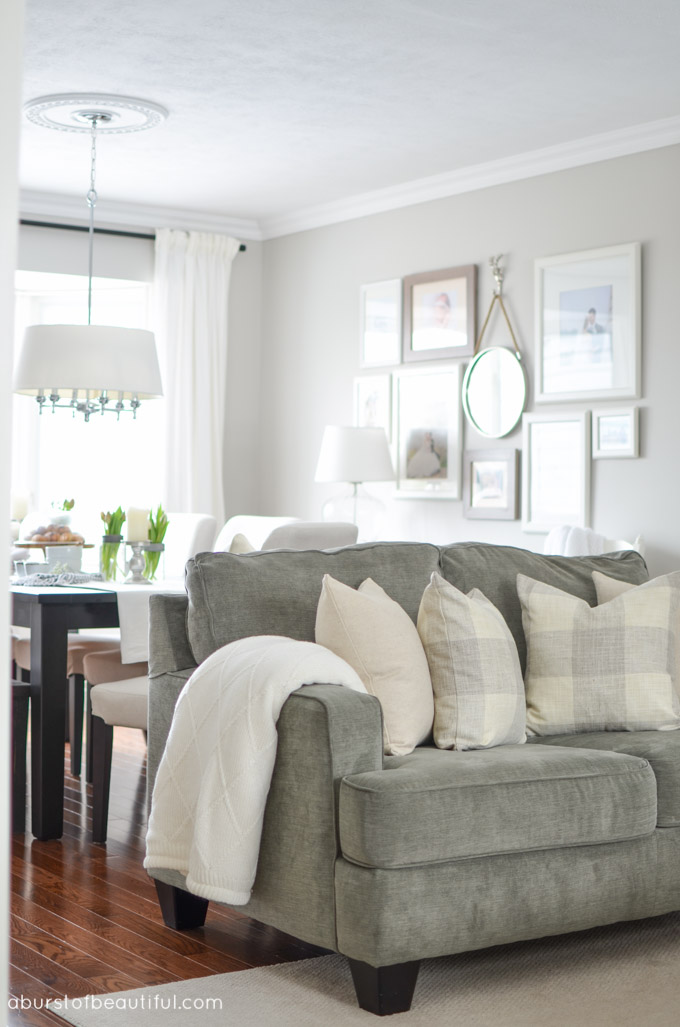 We now have a relaxing and comfortable space to spend time in. It is much more reflective of our style and taste, and I love curling up on the couch to read books to our little one and gather around the dining table for dinner every night. It truly is reflective of a livable and functional home.