One year ago, we welcomed our baby girl into the world and it was by far the best day of our lives. She arrived exactly three weeks early. The eight months leading up to delivery day were filled with plenty of ups and downs, plenty of worry and excitement. I'm an anxious person by nature, so as excited as I was for our baby to arrive, it wasn't without moments of panic.
Questions would race through my mind. Questions like: Will I be a good father? Will we be able to afford everything that comes along with having a baby? Will he or she be healthy? What if something bad happens to them someday? Will we ever get a good night sleep again? Will I ever stop worrying about them as they grow up? Will I have enough patience? How will we keep them safe? How can we raise them in a world that is so scary sometimes? And this is only a few of the questions that I attempted to answer for myself during the eight months leading up to the big day.

All of these questions didn't hit me until we found out we were expecting. Up until that point, we worried about whether we could get pregnant. The morning we found out that we were going to be parents was such a happy day. It took me at least twenty-four hours to fully process it. That's when those questions started to flow freely. I lost about ten pounds during Alicia's pregnancy, just from worrying!
As we got closer to the delivery date, each one of those questions was slowly answered and my worries were resolved. I figured that the fact that I was so concerned with all of these questions meant that it was because I wanted to be the best father possible, the best person possible, and really left myself no other alternative.
In the year that has passed, I have learned so much about being a father and husband. I've also learned a lot about myself. It has been an amazing experience.
There are a lot of articles written by first-time mom's about how their lives have changed and what they've learned about themselves during the first year of their first child's life. Rarely do I come across articles from the dad's point of view that explain what has changed for them and how they've grown.  So I decided that I would write a little bit about my first year as a dad because there's so much I've learned.
Love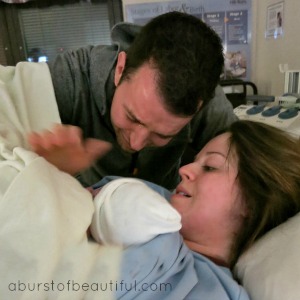 When I met Alicia, I discovered what love really is. When Alicia and I say I love you, we say it three times…or at least we used to. Since Zoe came along, we say hundred's of 'I love yous' to her each day. There was a moment just after Zoe was born when Alicia and I looked at each other and said, "Well, we thought we loved each other as much as you could love another person…", but we developed a new perspective on love when Zoe came into our world.
It is a love that you can't define or describe. It has no borders, no holding back. It is infinite and unconditional; a love that fills your heart, yet simultaneously makes it hurt because it is so full of joy.
It also makes you realize how much your parents love you as well.  You really don't understand the extent of it until you have a child of your own.
The emotion I felt the moment that Zoe came into the world is not something I can put into words. There really is no other love like the love of a parent for their child. The photo says it all…she is our little burst of beautiful.
Love for my Wife
As a couple and individuals, you change. You love each other even more because of what you have made. This beautiful little human being is a mirror of the two of you.
As wife and husband, there is a status transition that takes place immediately. It's not subtle, it's not gradual, but it is completely understandable. You have both descended to number two in each other's lives. Here's the ironic thing: it's where you should be. You can't expect to be number one anymore. For some couples, this unexpected twist presents a challenge from which their relationship never recovers.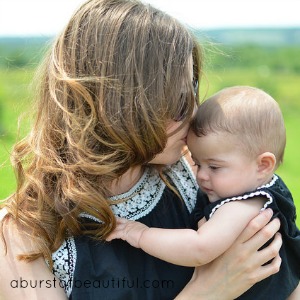 It is important to communicate with each other during this time to recognize and acknowledge these changes. It doesn't make you any less of a couple or change how much you love each other. It just allows you to grow together. You are still husband and wife, lovers and best friends, but you are also a team now. You tackle each day together, face new challenges and play your respective roles as co-captains to get your team through the day.
As I watch Alicia care for Zoe so patiently, it makes me love her even more. I am amazed at her strength and the natural instincts she has as a mother. This was the role she is meant for in life.
Even when she is covered in spit-up, baby food, dressed in sweatpants and tired from a long day, she is the most beautiful woman I have ever seen, even if she doesn't feel that way. That beauty radiates when she is in Zoe's presence or even when she's just thinking about her. What a lucky guy I am.
Patience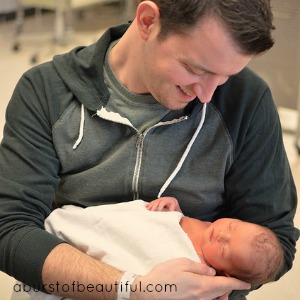 Not every day is a walk in the park, especially in the first few weeks when everything is brand new and you've only had a few hours of intermittent sleep. You're trying to figure it all out, establish some kind of routine, worrying about every little sound or lack of sound that she makes. Why is she crying? Is she getting enough milk? Is she getting enough sleep? Is something wrong? She can't answer you, so you are at the mercy of using a process of elimination to figure out what's bothering her.
As she grows, it becomes patience for reading the same books to her over and over again at her request or playing with the same toys or watching her favorite movie with her, over and over again. You realize that this is an important time and that there will be a day when she no longer wants you to read to her, or spend time with you at all. It's not that you develop more patience, it's that you come to the realization that every moment is precious.
'Things'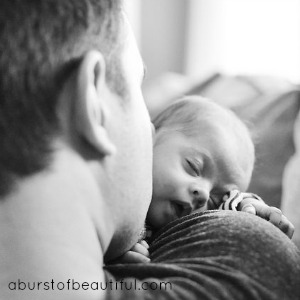 I used to like having the latest cell phone, TV, watches, a nice car and other new 'things'. Well, 'things' don't matter now.
When we found out we were pregnant, I sold an old BMW I had in the garage that I would constantly be working on. For so long, I said that I would never part with it, but as soon as we found out we were pregnant, I did, and here are some reasons why: We needed something safe and I was never going to drive with the baby in an unreliable car. We could use the money from the sale to buy the baby a crib and stroller. Probably the most important factor was that it was just a 'thing', and I would no longer need to spend time in the garage with this 'thing' to keep it in working order. I could spend that extra time with our baby.  
Since Zoe was born, I don't think about 'things' the same way. I don't need new clothes even if the ones I have are worn out or don't fit. I don't need a fancy watch, or car, or latest electronic device. I just need Zoe and Alicia and enough means to provide our basic necessities.
I don't need the BMW because it doesn't matter what kind of car I drive, it's who I'm driving with and where we're going that count. 'Things' give you a high and happiness for a short period of time and then it wears off and you go searching for the next. Zoe makes me smile each and every day, and I will never get tired of that high.
Worry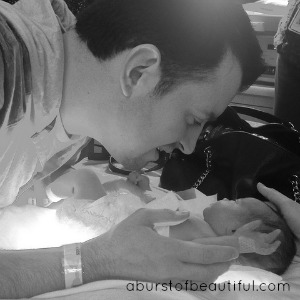 I've already mentioned that I'm an anxious person. Having Zoe decreases and increases this. On the one hand, when we're spending time cuddling together on the couch reading her favorite books or playing with her favorite toys, I'm as relaxed as can be. But that's because she's in our protective cocoon.
What happens as she grows up and she's at daycare, goes to school, out with her friends, on a date, driving at night, driving in the day, goes to university? Cue the anxiety…I could go on forever. There's already worry about the future and I'll just have to deal with it!
You wish you could just keep her at home, wrapped in bubble wrap to protect her, but I've been told that isn't advisable…or fashionable!
Time & Priorities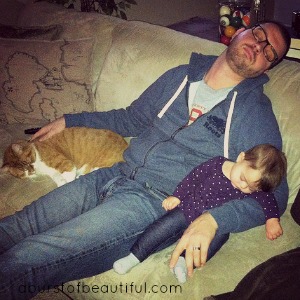 I remember when Alicia and I thought we were so busy before we had Zoe. Wrong…we were not busy at all, at least when you compare it to our life now. What did we do with all of that free time before?
People always told me that as you grow up time starts to go faster, but I think I've found the true source of this seemingly rapid acceleration of time. Kids. Once you have kids and establish your daily routine, time begins to fly.
Your time is no longer your own. Any free time you have belongs to your family. And this is okay, because, as a parent, your job is to parent! It's a full-time job that doesn't offer vacation days, sick days, or a paycheque. It does offer so many amazing benefits which are more than enough to make it fulfilling.
Don't get me wrong, you still need to make time for yourself and for your partner once you have a baby, but it's going to be less frequent. If you are used to going out more than once or twice a month, this will be a shock to you in the first year.
The other thing I've learned about time is that you can't get it back. Once it's gone, it's gone. Zoe will only be little for a very short period of time. Your choice of how you spend your time becomes infinitely more important. Do you watch the hockey game or read your little one her bedtime stories? Clean up the mess in the kitchen or play picnic in the living room? These are decisions you never had to make before, but they are more important now than ever before.
Sleep & Lack of Sleep
As you count down the weeks left before your little one is born, you also realize that you're also counting down your last uninterrupted sleeps and the last weekends that you can sleep in.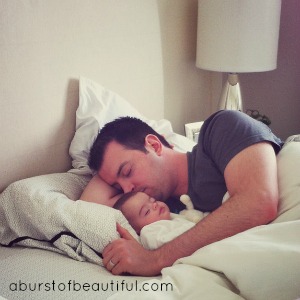 Here's the truth. You will never sleep the same again, but the good news is that you'll get used to it and it will become the new norm. There may even be a point where you realize that you love waking up in the middle of the night for diaper changings and feedings like I did.
The trick is to look at it in a positive light. It's more time that you get to spend with your little one. It's peaceful and an amazing opportunity to bond with your baby. As frustrating as it is to get an intermittent half night's sleep, I learned to love it.
I realized that Zoe was not going to do this forever, and any minute I can get with her is to be treasured. So value your sleep before hand, and see the value in the lack of sleep once your baby arrives.
Anything for Her
It's true when they say you would do anything for your kids. Period. Wipe snot off their nose with your bare fingers – sure. Get poop on your hands and not think anything of it – ok. Go to the ends of the earth to keep them safe – of course. Die for them – absolutely. There is no limit to this. You know that you will do anything for your kids.
Sacrifice is a big part of being a parent. Not in a negative way, but in a way that you would do anything to protect your kids and make sure they grow up happy and healthy. Every decision you make and everything that you do is based around your family and what's best for them. There is a complete paradigm shift from being partially selfish to complete unselfishness.
Pride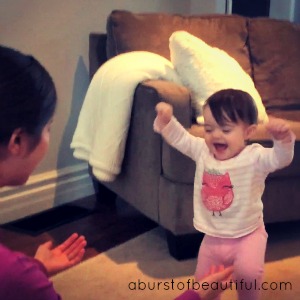 The pride you feel as a parent when your child reaches a milestone is unlike any pride you've ever felt for yourself.  I guess, in a way, you had a part in your child's accomplishment so that makes the pride a little bit about yourself.
Every new thing that they learn to do, whether it is rolling over, laughing, crawling, giving a high five, saying a word, understanding words, taking their first step, makes you proud.
The day Zoe took her first steps we were so proud of her, and she felt that and reacted with pride in herself as you can tell by the picture to the right.  It was amazing to see.  I'm looking forward to all of the moments in the future when I get to show my pride for her.
You feel like your own accomplishments, however big and important they are, pale in comparison to how you feel about your child's successes.
Grandparents, Great Grandparents & Family
One of the greatest gifts of having Zoe has been to watch her light up the faces of our parents and grandparents.
We grew up very close with our grandparents so we want the same for our kids. It is a very special bond that is developed. It is one of pure love and is incredible to watch, and such a gift to Zoe as well. We live close to all of our family and it really is priceless. Zoe will grow up having a great relationship with her family, the way we did. It's such a big part of who are today, so we believe that it is essential that Zoe has that in her life too.
You can tell how loved she was going to be by watching the video of us surprising our family with the news that we were expecting:
Fear of Not Being Here
I know this is a little morbid, but it's surprising how your feelings on this change. Before I met Alicia, I wasn't afraid of something happening to me. My family would be understandably sad, but would be able to eventually move on. Once Alicia and I were married, I felt the same way to a certain extent.
Now that we have Zoe, I can't stand the thought of leaving them behind for both selfish and unselfish reasons.  I don't want Zoe to grow up without me being there to tell her how much I love her every day. I don't want to miss her first words, first steps, the first day of school, all the firsts that come along in life. I want to be there to walk her down the aisle someday and to see my grandchildren. There is so much to live for and so much to look forward to and I don't want to miss a moment of it. I also don't want Zoe to feel like something's missing on these moments in her life if I'm not here.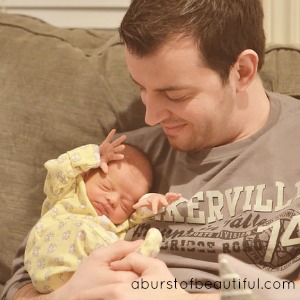 This is only a partial list of what I've learned and things that have changed in our lives. The first year of Zoe's life has gone by in a flash and I have loved every minute of it. I have also realized during this time that there are many promises I have made or will make to her over her lifetime, and I will try to live by all of them.  
I promise to always be there when she needs me; love her unconditionally; be by her side; tell her I love her every day; help her reach her full potential; let her be who she is, and not what I want her to be; protect her always; try and catch her when she falls, and help her up if she does.
I promise to let go when she is ready; be her friend, but always her father first; spend as much time as I can with her; never give up time with her for something less important; be understanding, even if I don't really understand; always do things in her best interest; never embarrass her, at least not on purpose, and never wear a fanny pack when we travel.  
I promise to walk her down the aisle when she finds someone who loves her as much as I do.
Simply, I promise to be the best dad I can.