This post was sponsored by Benjamin Moore. All opinions are my own, we only work with companies we love and trust.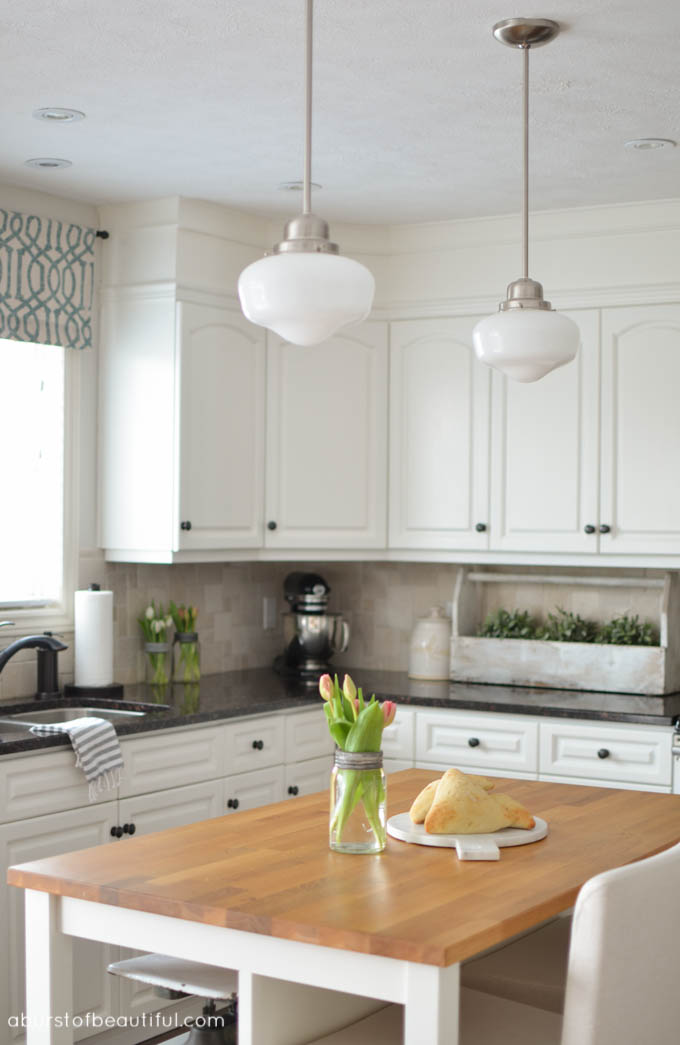 Today is a happy day! Today I am finally sharing with you our newly painted kitchen. It's been a long time coming, and you might recall seeing a little sneak peek during our Christmas home tour.
You may remember me telling you a few months ago that we were ready for a change. When we moved into our home, every single room was painted Shaker Beige by Benjamin Moore. It's a beautiful neutral, but we were craving a bit of variety. We started with the bedrooms. The nursery was painted Sweet Celadon by Benjamin Moore, you can see our gender neutral safari nursery here. Our bedroom (see our Romantic Farmhouse Bedroom here) was next, we chose a soft and soothing neutral called Balboa Mist, again by Benjamin Moore (truly, they are our favorite paint company).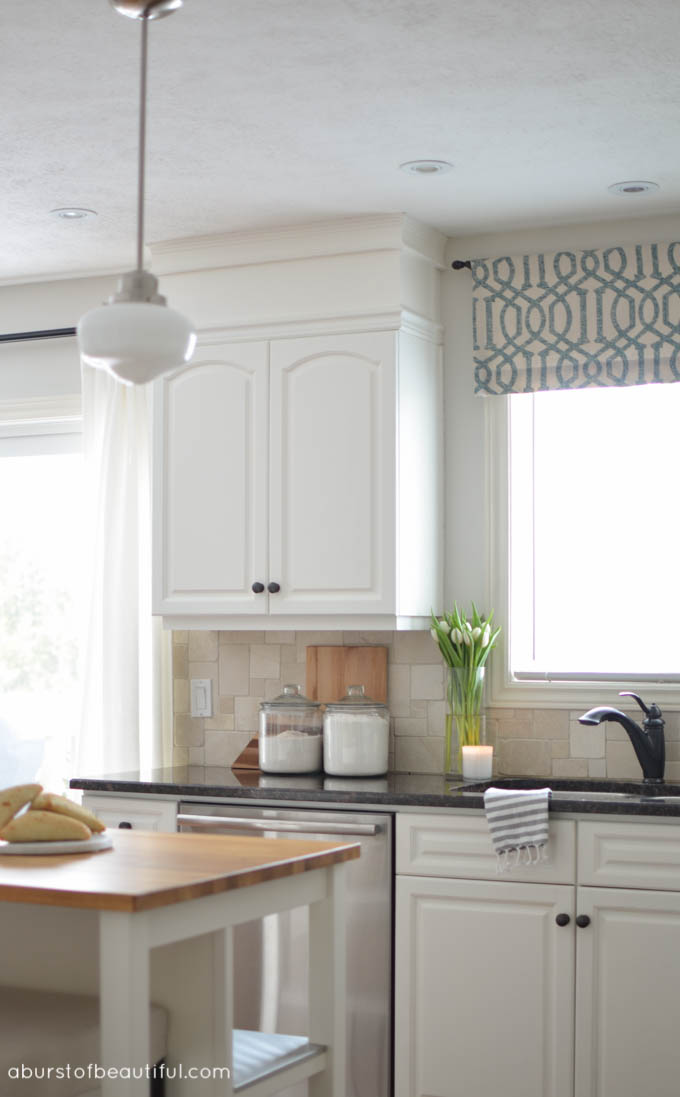 It was finally time to tackle our main living space, that includes our kitchen, upstairs and downstairs hallway, living room and dining room. I wanted a more modern feel, something that was bright and airy, yet still warm and inviting.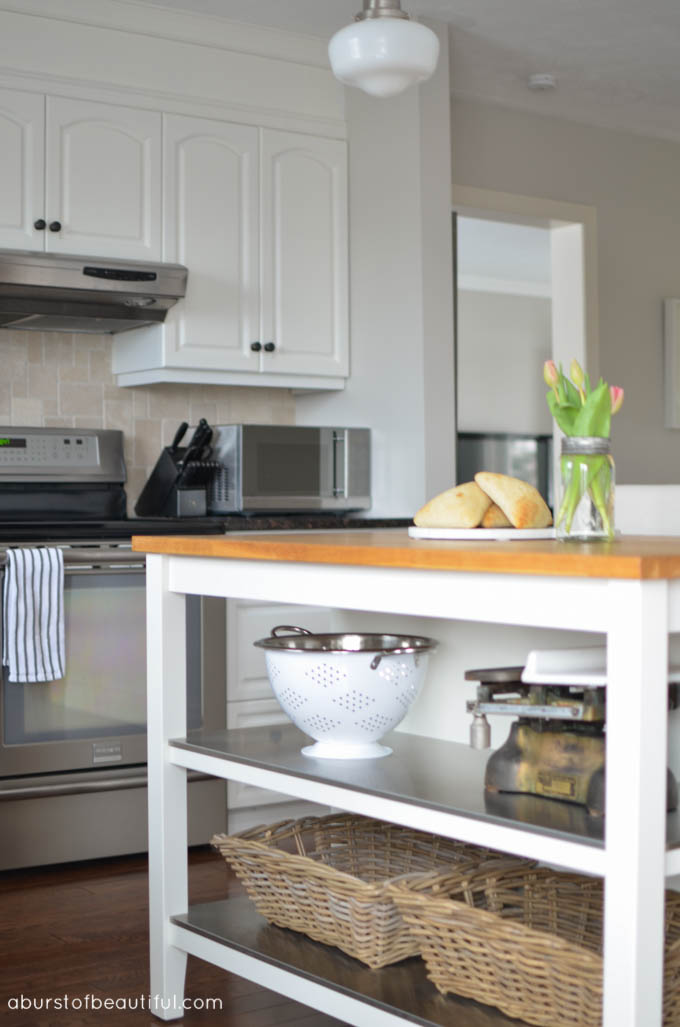 It took us a while to settle on the perfect shade of grey, but we finally decided on Benjamin Moore's Pale Oak. It is a beautiful neutral color, with just a hint of grey. It's classic and elegant, and completely brightens up the space. Our kitchen feels crisp, clean and a little bit modern now.
This is how our kitchen looked before.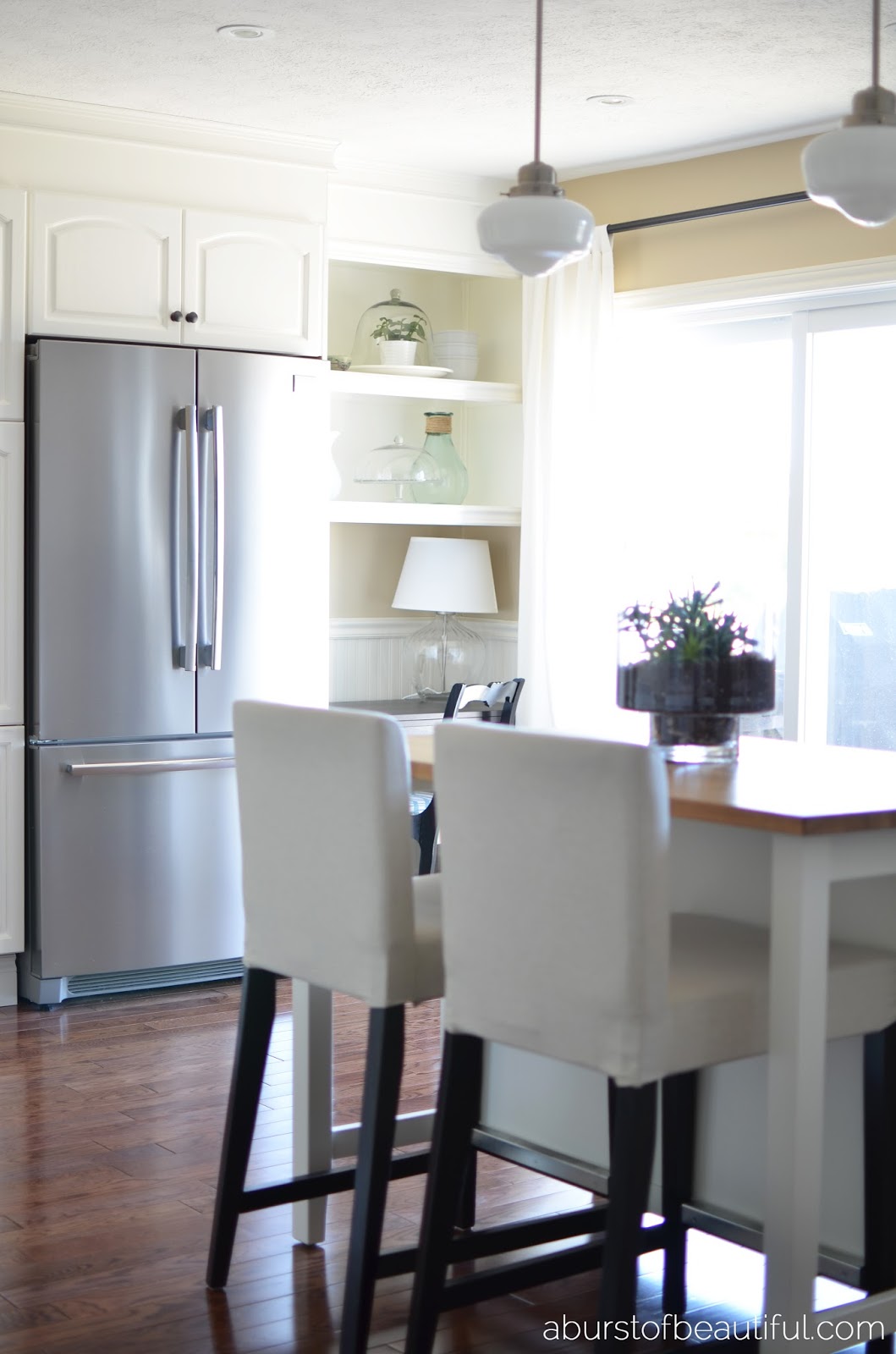 It felt a little tired. And this is how it looks today…bright and welcoming.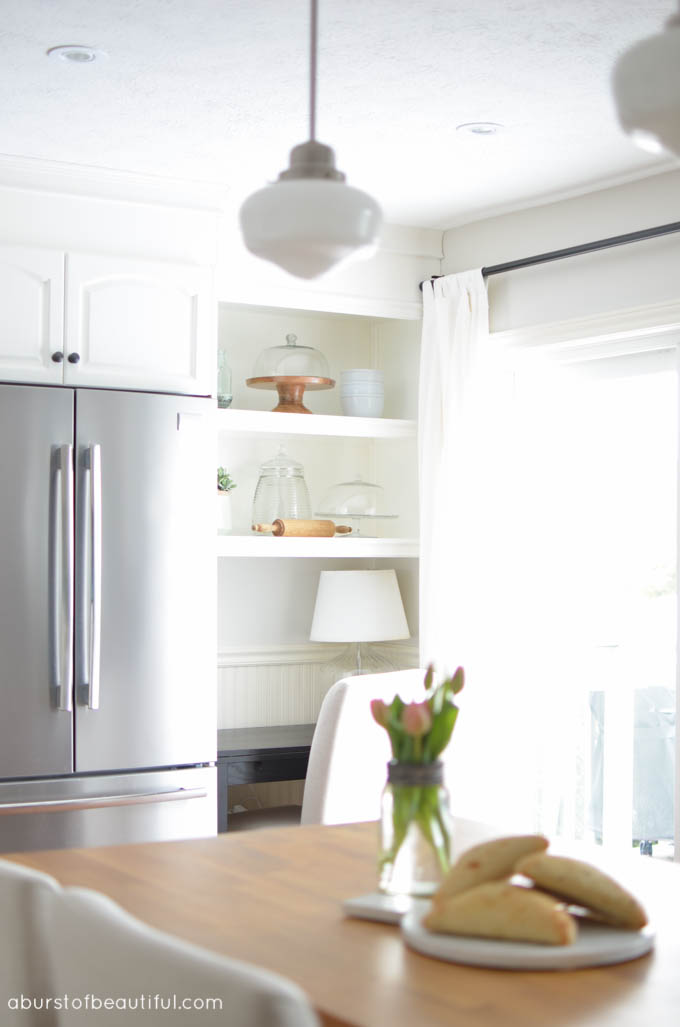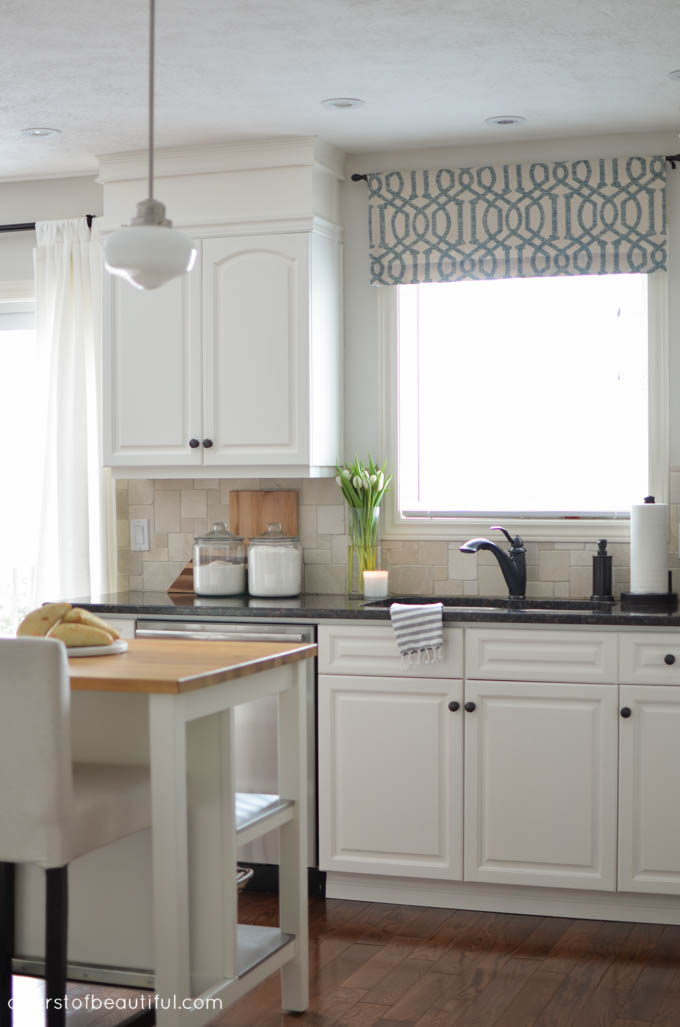 I've always loved our kitchen. It has come a long way since we moved in, shedding dated oak cabinets and an awkward layout. You can read all about the transformation here. It is now our favorite room in our home. It's where we share family meals, experiment with new recipes and simply hang out after a long day.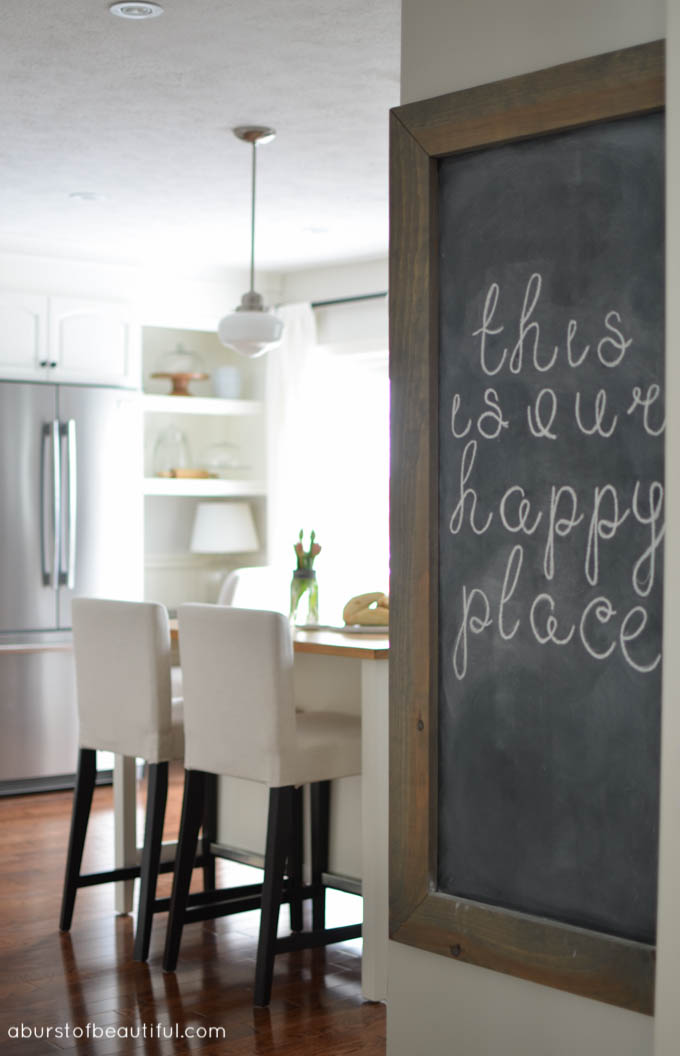 This picture pretty much sums it up…This is our happy place!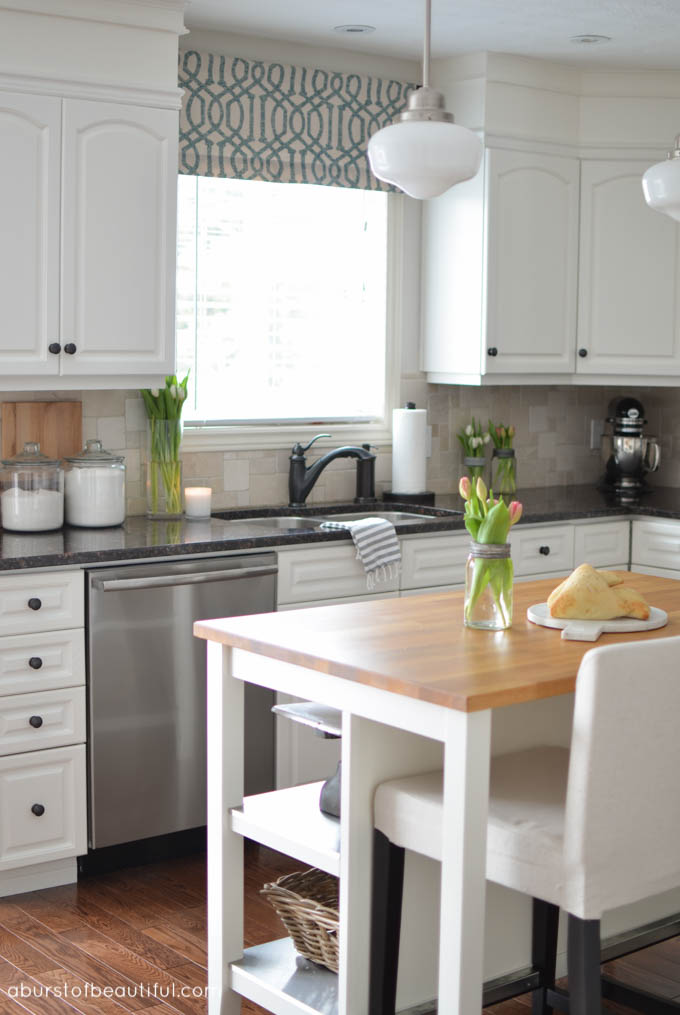 I am absolutely in love with Benjamin Moore's Pale Oak. In my opinion it is the perfect shade of grey. It's classic and timeless, and looks so beautiful next to our white cabinets.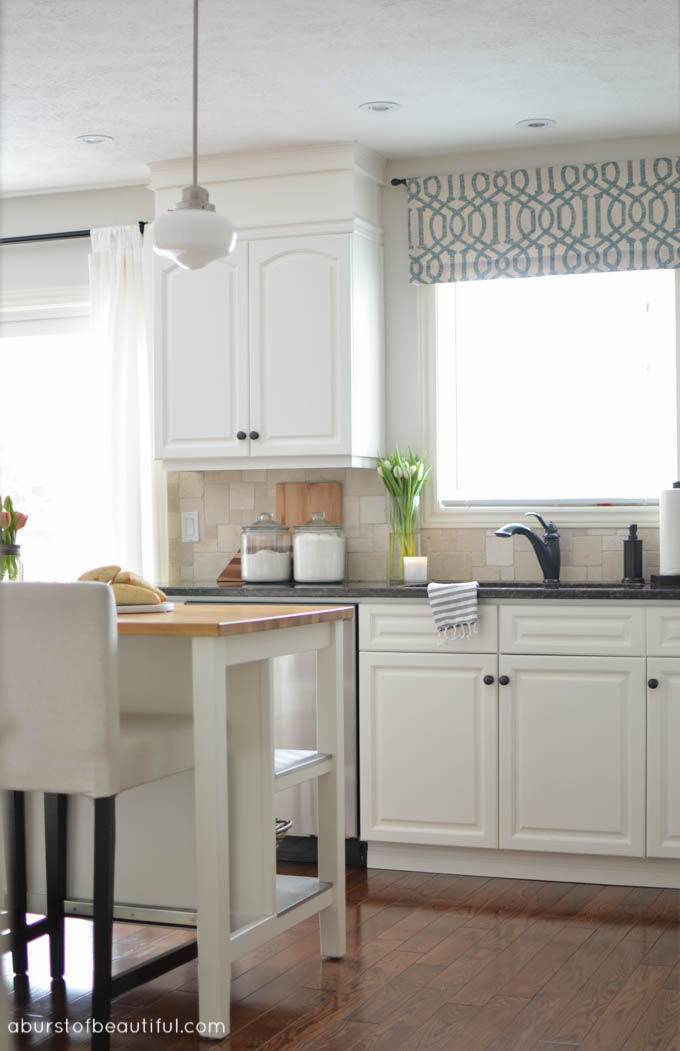 Around this time of the year, it always feels like the winter months are dragging on, but lately the sun has been shining and we have had unusually warm temperatures, it almost feels a little like spring is on it's way. With spring on my mind, I brought in a few bunches of fresh tulips to add a little pop of color. I love how sweet and cheerful they are.
This is a shot of our kitchen you don't normally see. It's a different angle to photograph, but I am so happy I captured it this time. My sweet friend painted this gorgeous scene and gave it to us as a wedding gift (if you are local I really encourage you to look into her paintings, they are all stunning!), it has proudly hung in our kitchen for two years now.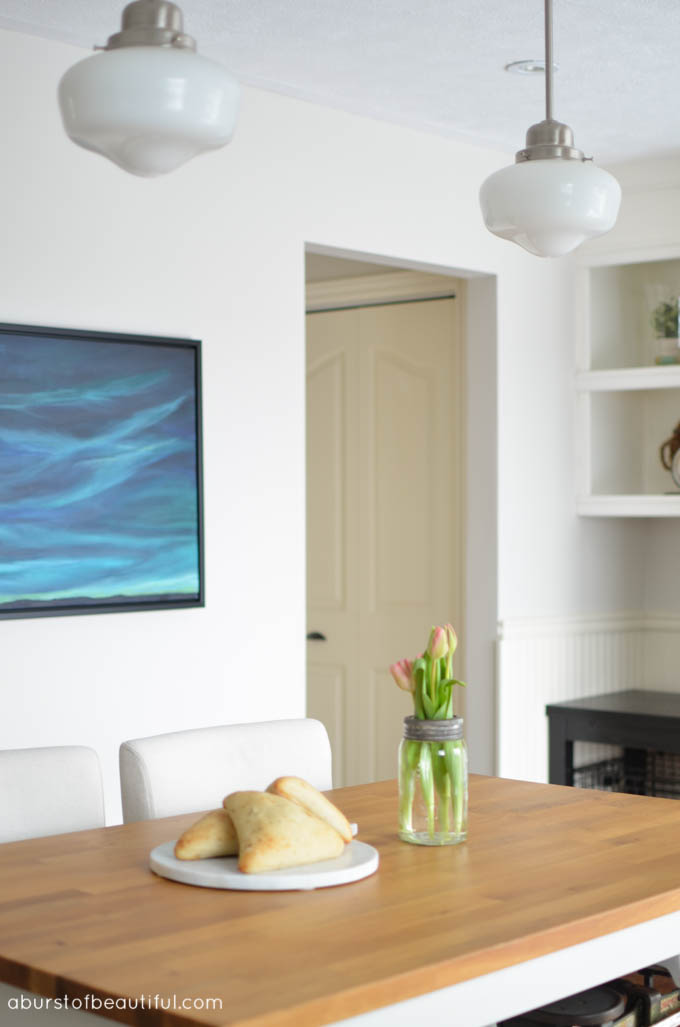 Painting a room isn't always an easy task, but it is the best way to make a dramatic difference with minimal cost. I share all of my tips for painting like a pro here.