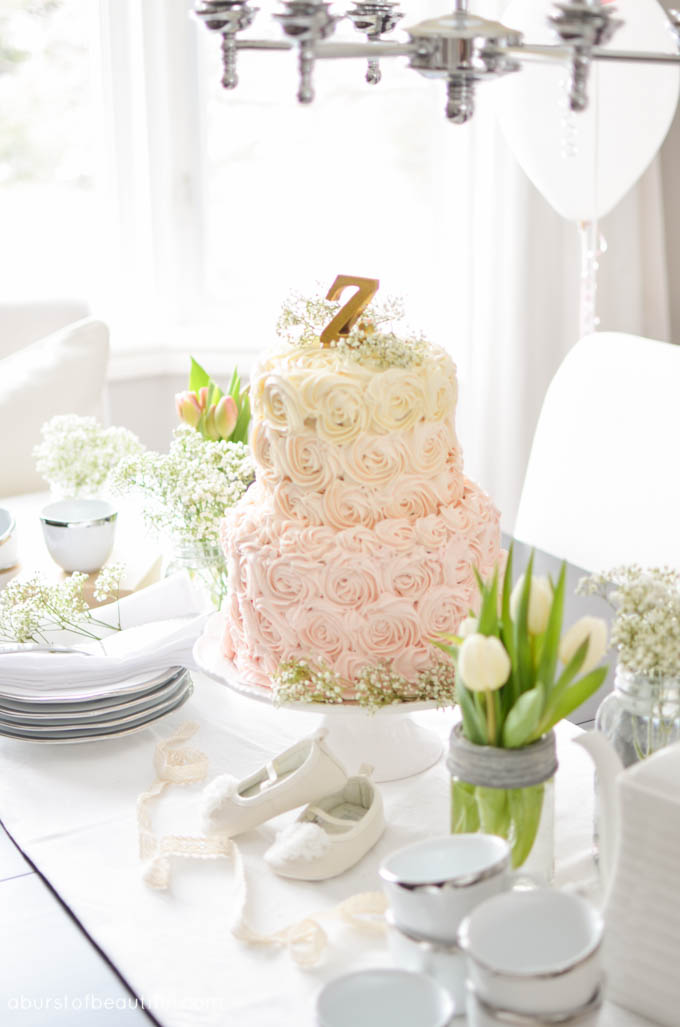 When planning our daughter's first birthday (you can read all about her party here), the pièce de résistance was going to be her cake. In fact, this wasn't the first cake that we tried to make. It was the third. We wanted it to be just right and contemplated what style would work best.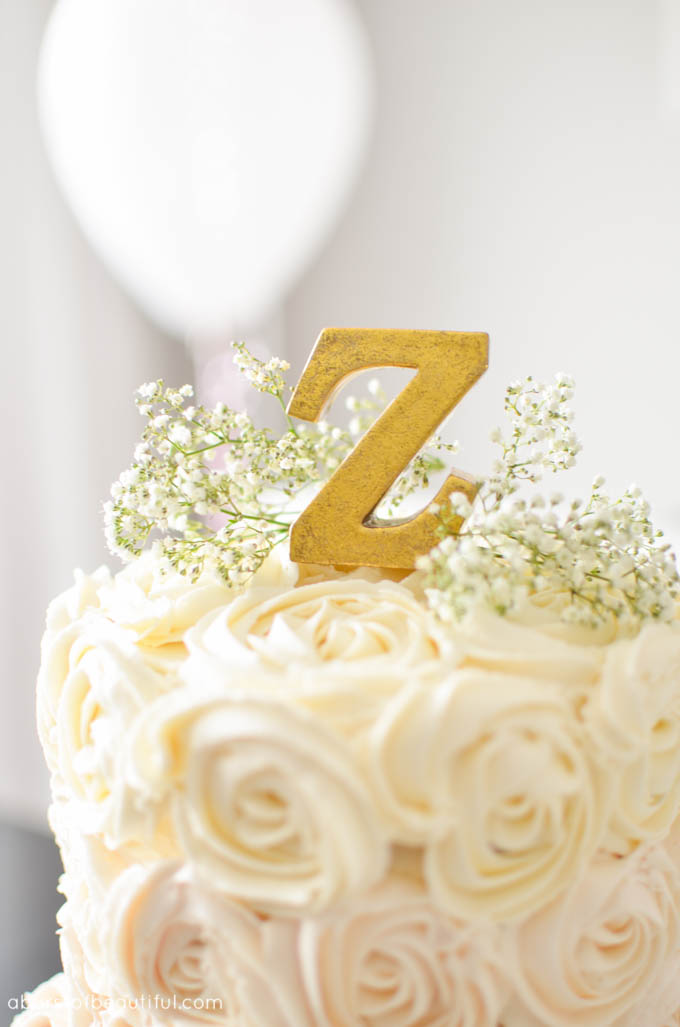 The first cake we tried making was similar to the final product but was made with a fondant coating and alternating layers of pink and white cake inside. It was nice, but it just didn't convey the whimsical theme we were trying to achieve. It was flat and too "wedding-ish" but still delicious. The second cake was covered with rosettes in a single pale pink color, and it worked but was still a bit lackluster.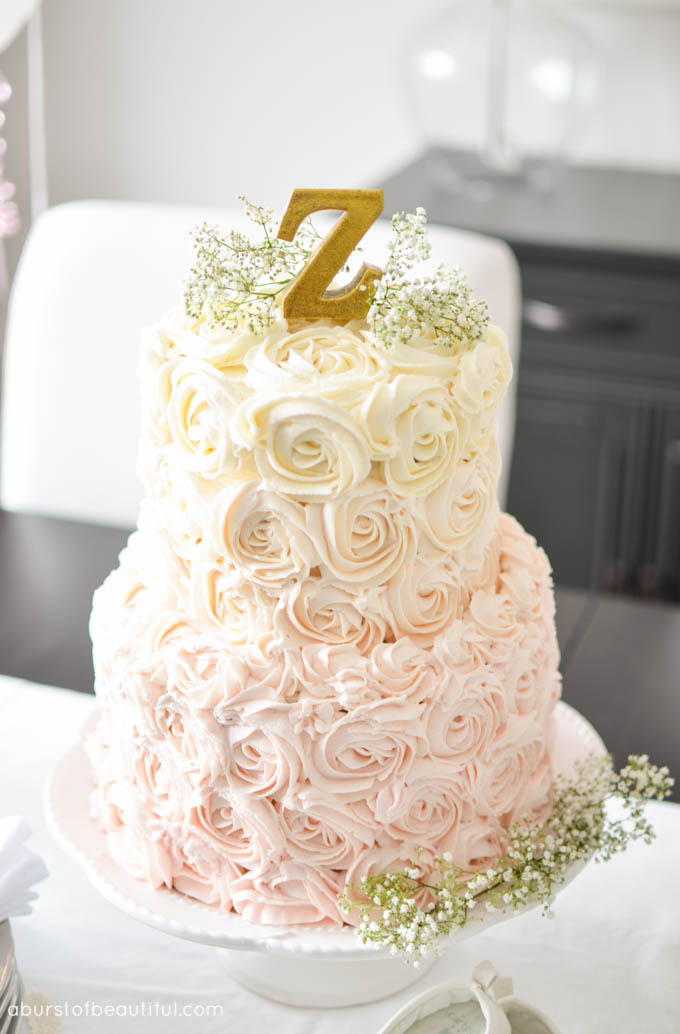 We knew that we were going to use a soft color palette and it was going to be a range of light pink and blush, so I got it in my head that we were going to try and do an ombré rosette cake. The only problem was, we had never done a cake like this before and it seemed a little intimidating.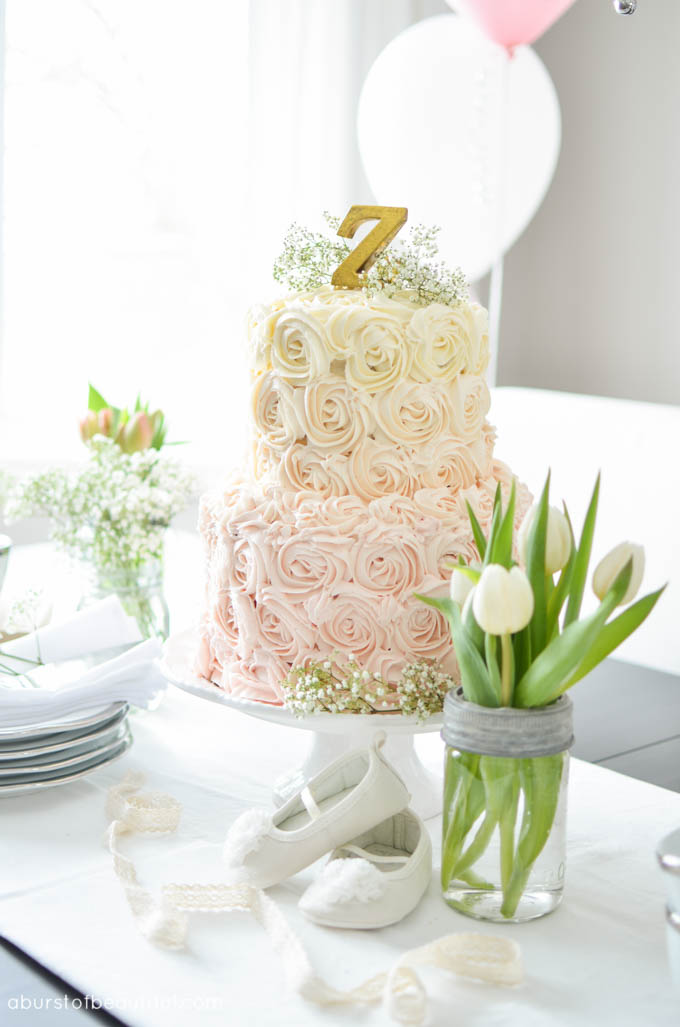 We didn't have a cake at our wedding but had we known it was this easy, we may have made one ourselves!
It didn't turn out perfect, but somehow that made it fit even more with the vintage party theme. And let's face it, no one is going to judge how a cake looks as long as it tastes delicious and comes with a side of ice cream!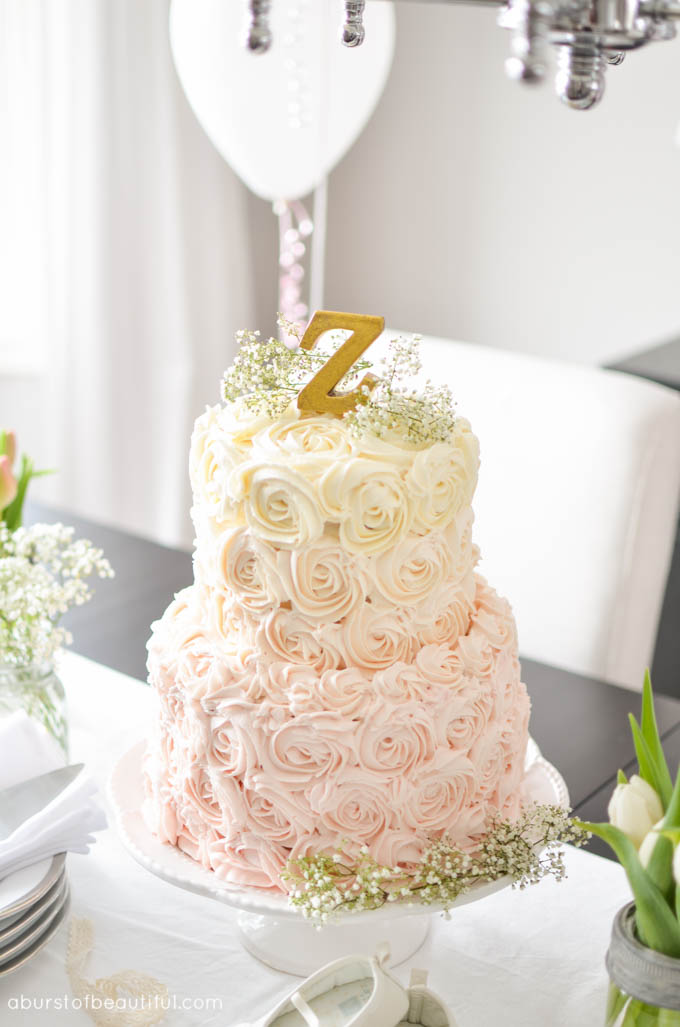 This cake is huge and will feed a lot of people. Instead of cutting it up into pie-shaped pieces, we cut it into squares and then cut each of those in half between layers two and three. That will give you approximately 30 decent size pieces on the bottom layer.
The Cakes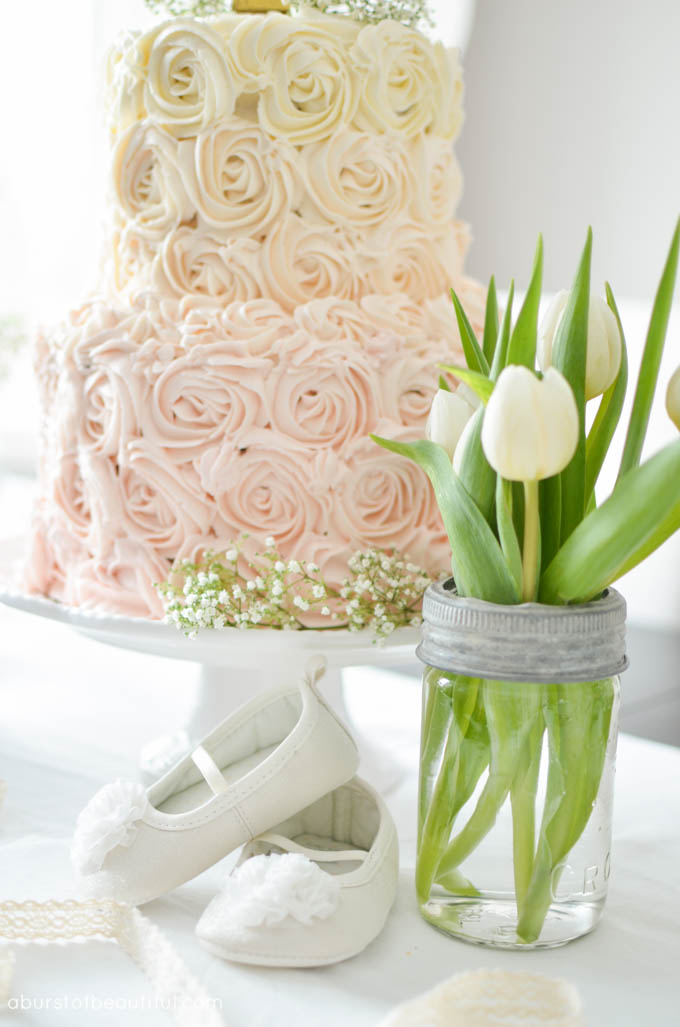 You can use any cake recipe you'd like, including boxed cake mixes (you can check out our tips on how to make a boxed cake taste homemade here). If you want to make the cake the same size as the one pictured (it's big), you'll want to triple the recipe you use because you will need four 9″ cakes and three 5″ cakes to replicate the one shown. If you're using a boxed cake mix, you will need three boxes. A favorite recipe of ours is The Best White Cake Recipe by Robyn at Add a Pinch. Sometimes all you need is a simple white cake!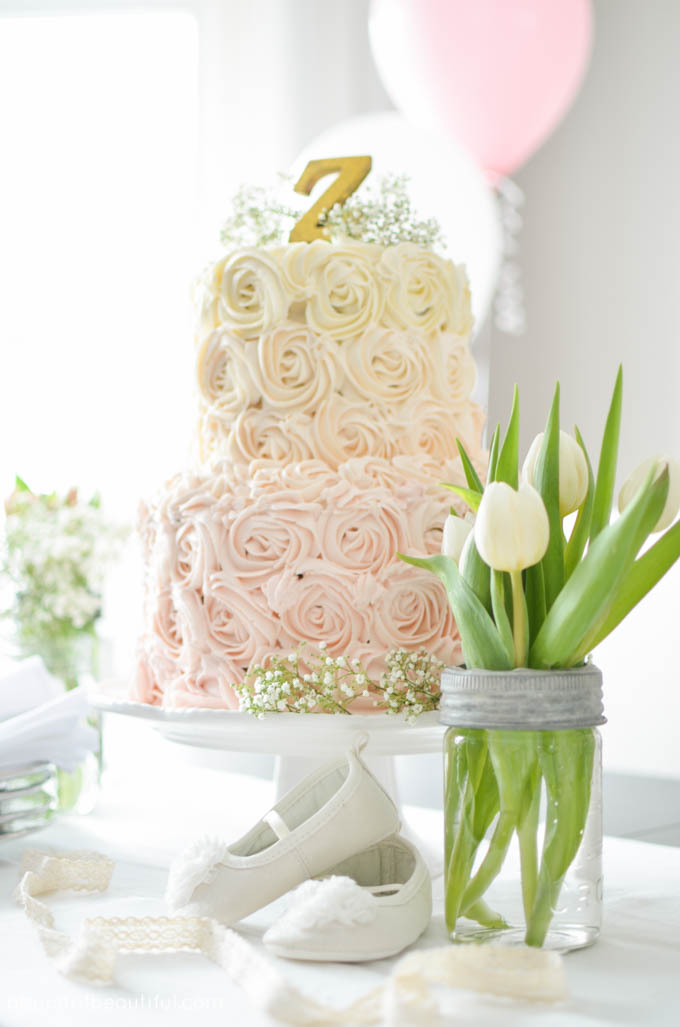 I baked the cakes, wrapped them in Saran Wrap and froze them a couple of days before I was going to assemble it. I did this for a few reasons. First, it would save time on the day I was going to prepare the cake. I thought about preparing the entire cake, frosting and all, and freezing it, but it's just not as good when you thaw it out after it's been frosted. Second, the cake is easier to put together when they are frozen. If you need to level the top of the cakes so that they stack together well, you can shave off the top with a bread knife very easily. Third, the cake is easier to frost and decorate because it is firmer as you spread the icing around.
The Frosting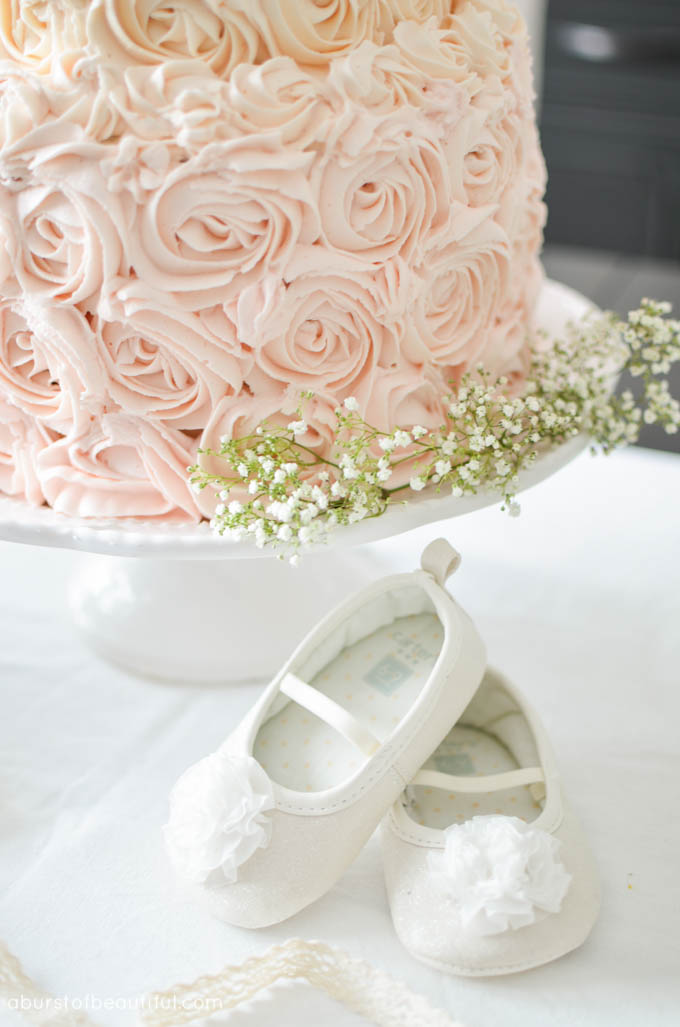 We came across an easy to follow recipe for Quick Buttercream Frosting Recipe by the Frugal Living Mom that we tripled to make sure we had enough frosting. It is perfect for any cake, but you can use your own or any other buttercream frosting recipe you may find. Just be sure to make enough! Having a lot of frosting helped us control the color as we added more drops of food coloring. The more frosting, the less impact each drop of color had so there was more leeway to adjust as we continued.
Once you've made sure that your cakes will stack evenly, put a dollop of frosting on the surface you will be serving the cake on to ensure that it won't slide off. Depending on what kind of cake you have chosen, you may decide to add an additional flavor between the layers as we did. We added a thin layer of seedless raspberry jam followed by 1/4″ layer of icing. We repeated this until we had all of the layers assembled.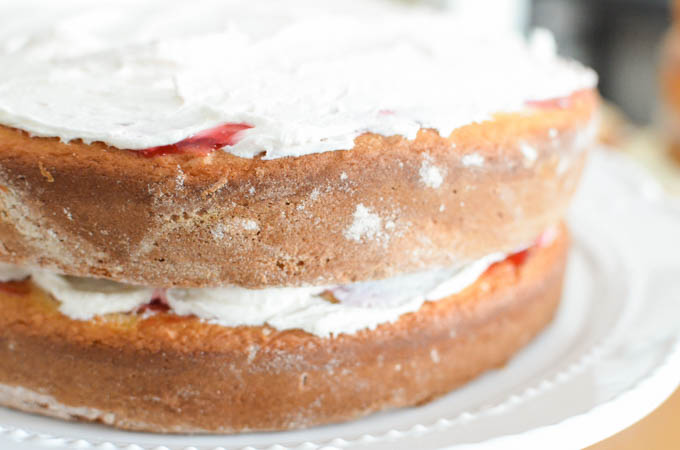 Next, base coat the cake with a thick layer of frosting and smooth as best as you can. Here's a good tip – If your rosettes are going to be a strong color (ie. blue), you will want to tint your base coat the lightest ombré shade of rosettes you are going to use. So if white is your lightest color, I would recommend doing your base white as well. If the rosettes are going to be baby blue, I would also do your base coat in baby blue. Sometimes there are small spaces that show through between rosettes so you don't want to be able to see the naked cake. We made the mistake of not putting a thick enough base coat on, so we encountered this problem.
Once your cake is fully coated and smoothed out, place it in the fridge for an hour or two and let the frosting harden a bit.
The Ombré Rosettes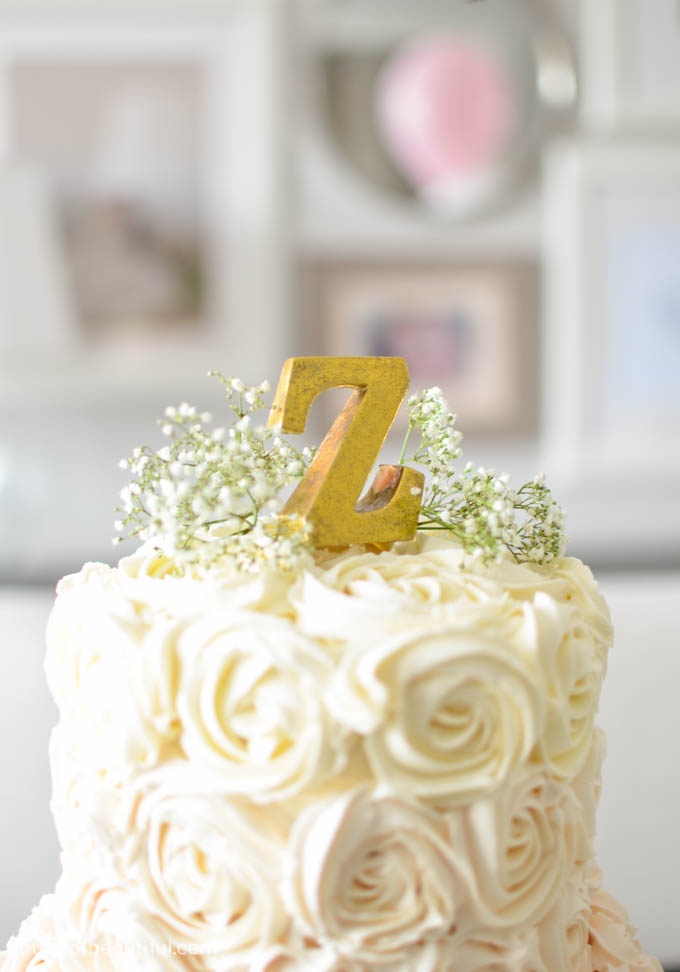 Attach a number 3 tip to your piping bag and fill it with frosting. Unlike decorating a cupcake, a rosette starts from the inside-out. Here's a great video tutorial by Simply Sweets by Honeybee.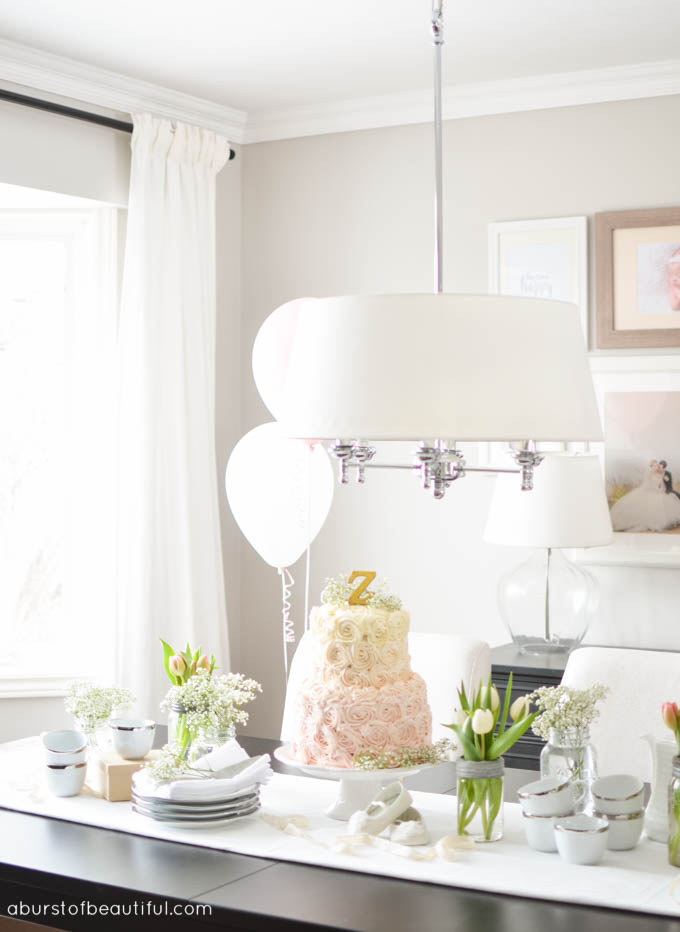 You'll want to practice your rosette making skills. It's actually easier than it looks. On a piece of waxed paper you can try your hand at it before actually decorating the cake. This way you won't waste any frosting because you can just scrape it back into your mixing bowl.
When you want to create an ombré effect that goes from the top-down we have an easy way to do this without mixing several shades of frosting separately.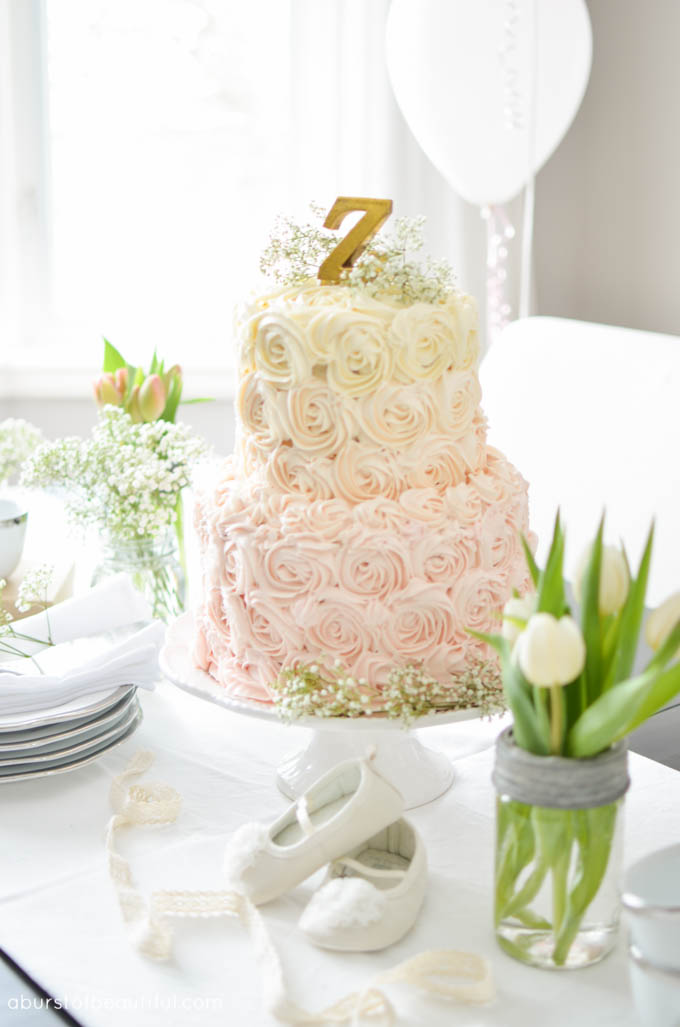 The first step is to plan how many rows of rosettes you will have on each of the tiers. We planned on three per tier with this size of cake, but you'll want to determine how many based on the size of your cake. While practicing your skills on the waxed paper, make several different sizes of rosettes and determine what size would look best.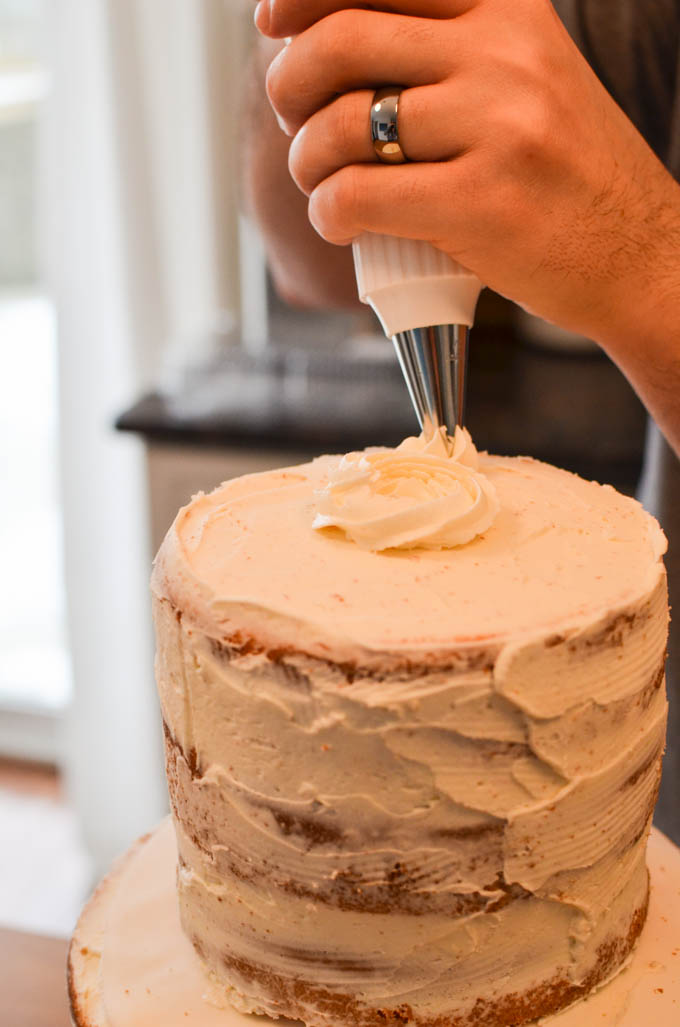 Start at the top of the cake with your lightest color and cover the top of the cake with rosettes. Then move on to the first layer on the side of your cake and do a layer all the way around in the same color as the top. Squeeze the remaining frosting in the piping bag back into your mixing bowl. Then add a drop or two of food coloring, mix thoroughly and fill your piping bag back up. Complete another row of rosettes. Repeat this process until you reach the bottom of your cake and you will have a beautiful ombré rosette cake that is sure to be the centerpiece of any special occasion.