This post contains affiliate links, see our full disclosure policy
here
.

Thank you for helping support our blog.
I'll start by saying this post is a long time coming. I built this rustic industrial pipe table months ago, and it's been in our living room for quite some time now (so you may have noticed it in some of our home tour posts), but today we are finally getting around to sharing our tutorial.
Our DIY Rustic Industrial Pipe Coffee Table quickly became one of our top posts and we received a lot of positive feedback from those who tried to follow our plans. Since then, Alicia has always hinted that it would be nice to have a similar side table. As a husband, you learn to read between the lines when your wife makes a not-so-subtle hint. I kept this idea in my back pocket, with plans to build it for her in the future.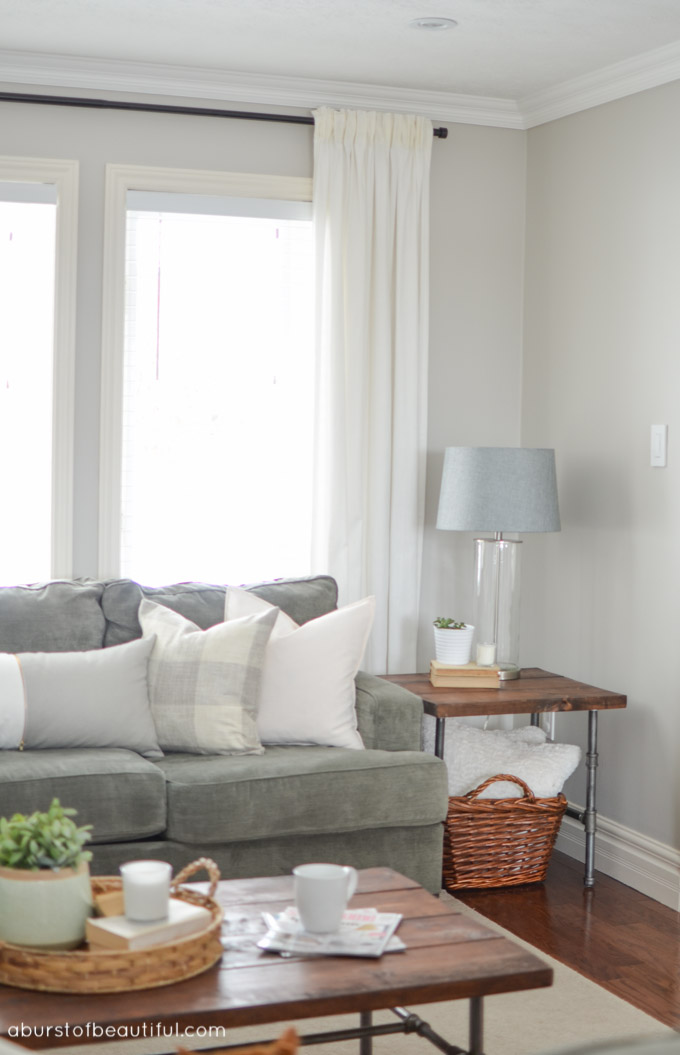 For our second anniversary, I was stuck for a gift idea. I wanted to do something personal and DIY (because that's what we like to do rather than buying something), but the second anniversary gift is cotton. I have no idea how to knit or sew, nor do I plan on learning, so I thought to myself, what can I build that is similar to working with cotton? The answer is: nothing. So she was getting a gift made of galvanized pipe and wood instead. At least I knew she would like it!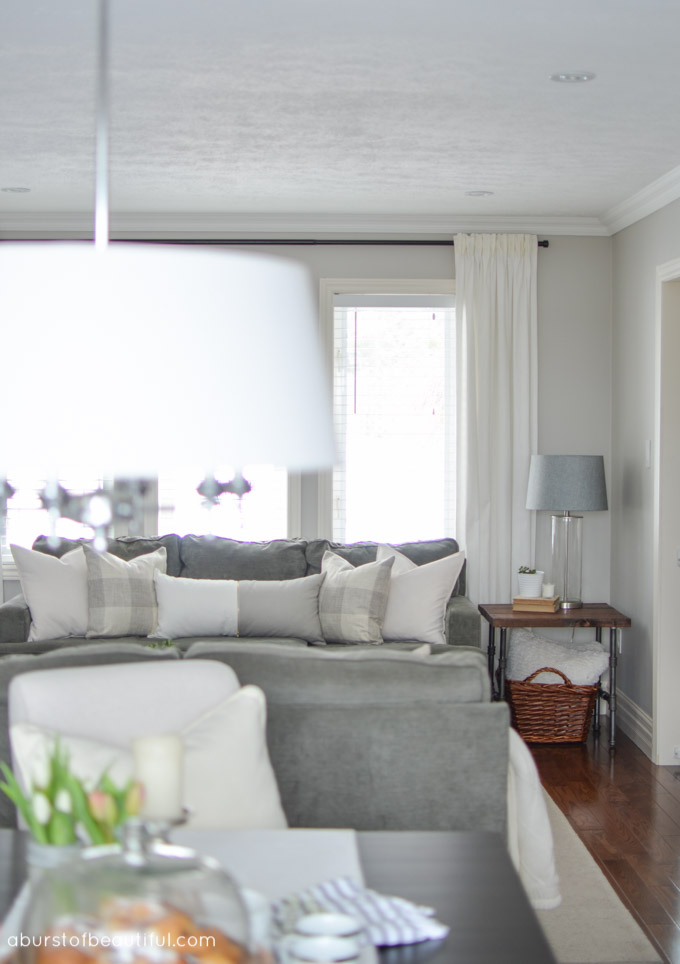 Just like our DIY Rustic Industrial Pipe Coffee Table, this plan is incredibly easy to assemble and inexpensive. It is such a great balance of rustic and industrial that it works in almost any decor. This smaller table can also be used as a bed-side table or adjusted in size to fit any space. Another great idea would be to add a shelf across the support bars for some additional display area or storage.
And if you like this rustic industrial look, you'll love our Rustic Industrial Shelf too.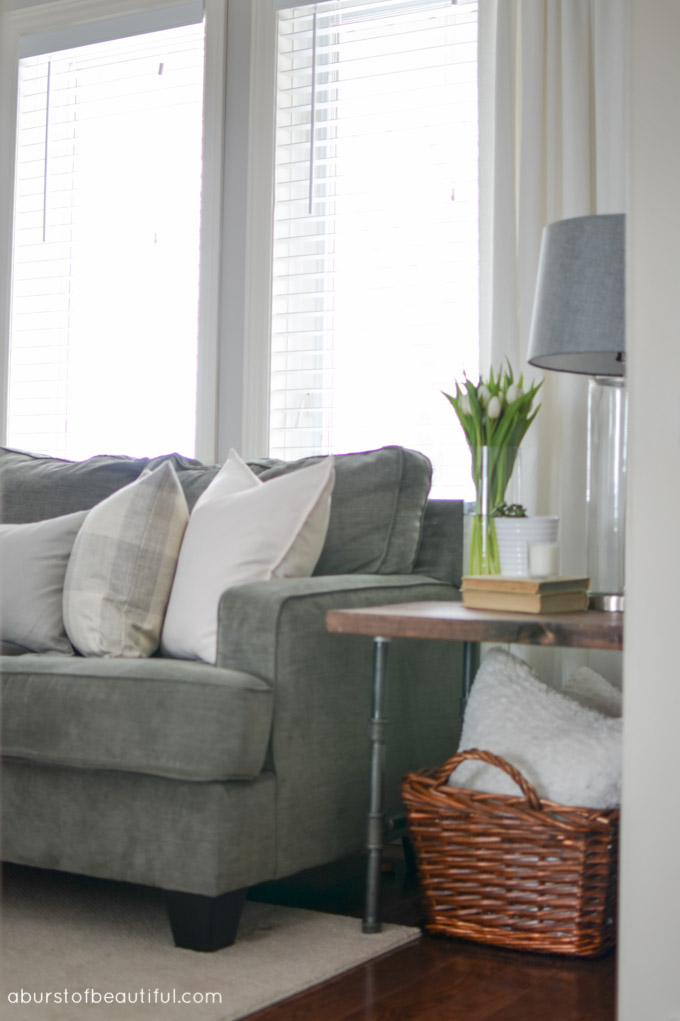 DIY Rustic Industrial Pipe End Table
Supplies
1 – 2″ x 8″ x 6′ wood plank cut into 2-foot lengths (I used spruce framing boards for a rough rustic look, but you can use pine, cedar, etc.)
4 – 3/4″ diameter flanges
4 – 3/4″ diameter end caps
16 – 3/4″ diameter 6″ length pipe
4 – 3/4″ diameter T shaped connectors
6 – 3/4″ diameter couplings
6 – 7/8″ x 8″ steel brackets
1 1/2″ screws
Wood Stain in your choice of color
11.5 oz. Satin Fast-Drying Polyurethane Aerosol Spray (6-Pack)
Instructions
Using the diagram above, attach the metal parts of the end frames together. You will need to do this diagram x2 since there are two ends.
Cut your wood planks into 3 x 24″ pieces. Lay the cut wood planks on a flat surface and attach together on the bottom using the 8″ steel brackets. Make sure you leave the area you plan to attach the flanges to free of brackets. Or you can use a Kreg Jig to create pocket holes and attach the boards together, eliminating the need for the brackets, and it creates a much stronger top.
Place frame upside-down on wood planks and attach to the metal flanges.
Once you have the frame attached to the wood top, flip the table over. The nice thing about using the threaded galvanized piping is that you can just twist various parts to adjust the level of each leg if you have uneven floors.
Feel free to distress the top for a more rustic look using a hammer, crowbar, golf club…whatever you have in your garage that will make a mark!
Sand top and all edges.
Stain in any color you choose and seal with polyurethane for protection from liquids.
Some of the tools we used and love…

Simple as that, you have a beautiful side table in no time at all!
Nick