These homemade raspberry muffins are a family favorite any time of the year. We absolutely love this recipe. I mean, why buy store made muffins when it is this easy to make your own fresh muffins at home? I like knowing what goes into our food that we feed our family. The store made muffins usually include some ingredients that we can't pronounce.
This post contains affiliate links, see our full disclosure policy

here

.

We love all muffin flavors at our house and this one definitely tops our list. The great thing with fruit muffins it that you don't need to get fresh berries that are in season. I find that frozen berries are actually better in baked goods. Did you now that fresh fruit isn't always best, especially in the winter months?
Think about it, would you rather eat something that has been flash-frozen as it is harvested at its peak freshness and flavor, or would you rather eat something that has traveled long distances in unknown conditions before it reaches your table? I know what my answer is to that question! And the great thing is that there's no difference in nutritional value.
This incredibly easy recipe results in moist, delicious raspberry muffins. I honestly can't just eat one at a time!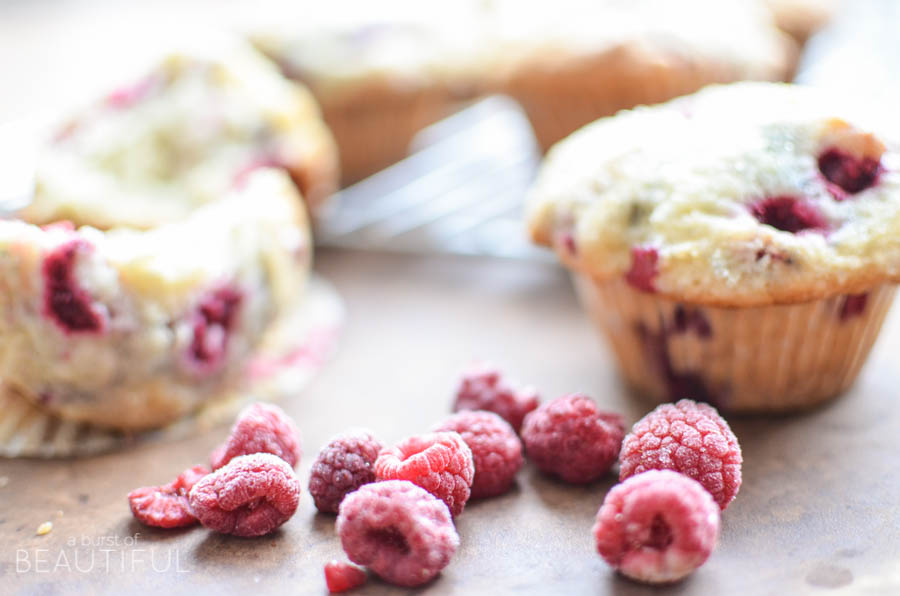 There's just enough sweetness in these muffins and the crusted coarse sugar on top is just an extra sweet treat!
Homemade muffins are a staple in our busy household. I always love having a fresh batch of muffins at the ready for a quick breakfast on the run or as a light afternoon snack when that midday hunger kicks in.
Nick usually grabs one on his way out the door for work in the morning when we're rushed getting the kids ready for the day, taking the dog for a walk, feeding the cats and there is no time for a sit-down breakfast. Sometimes he'll steal an extra one for a snack during the day!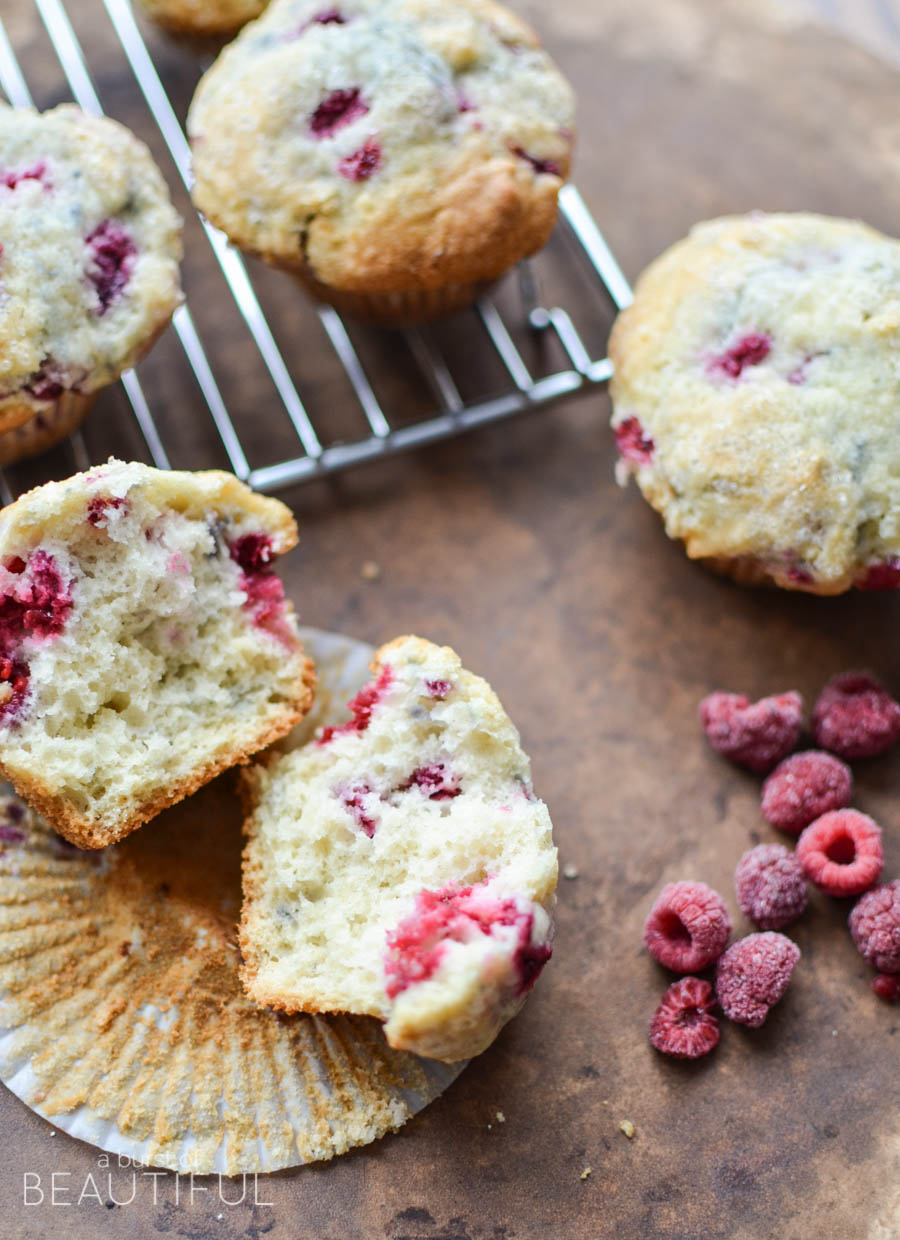 ---
get the look

---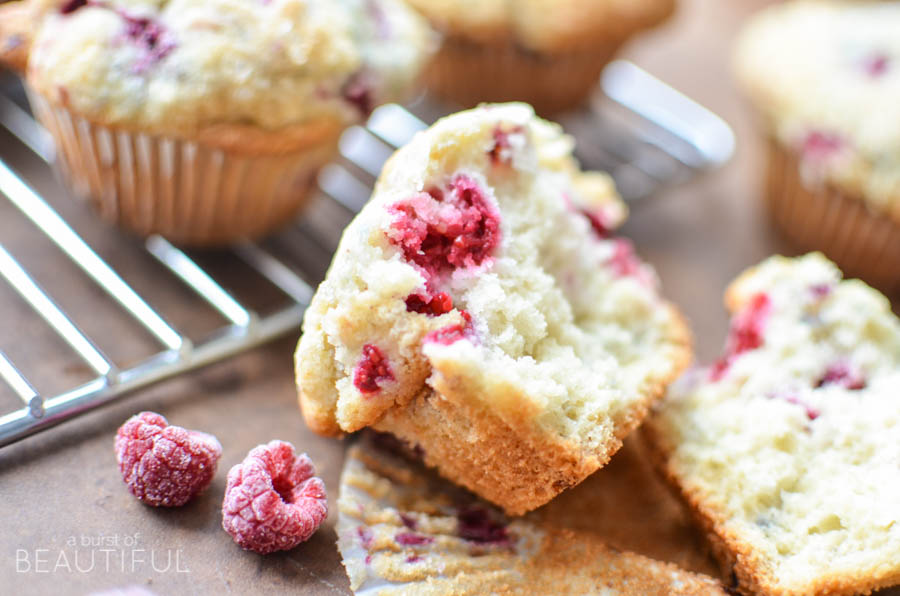 Blueberries and raspberries are my absolute favorites, but you could easily adapt this recipe with your favorite fruit, or toss in a bit of dried fruit and nuts for a completely different taste and texture.
You could combine fruits like blueberries or banana's with the raspberries, or even some lemon zest and lemon juice. Again, you can use the frozen variety to make it easier and more convenient.
I'm going to go out on a limb here and say that these will become one of the staple recipes in your home as well!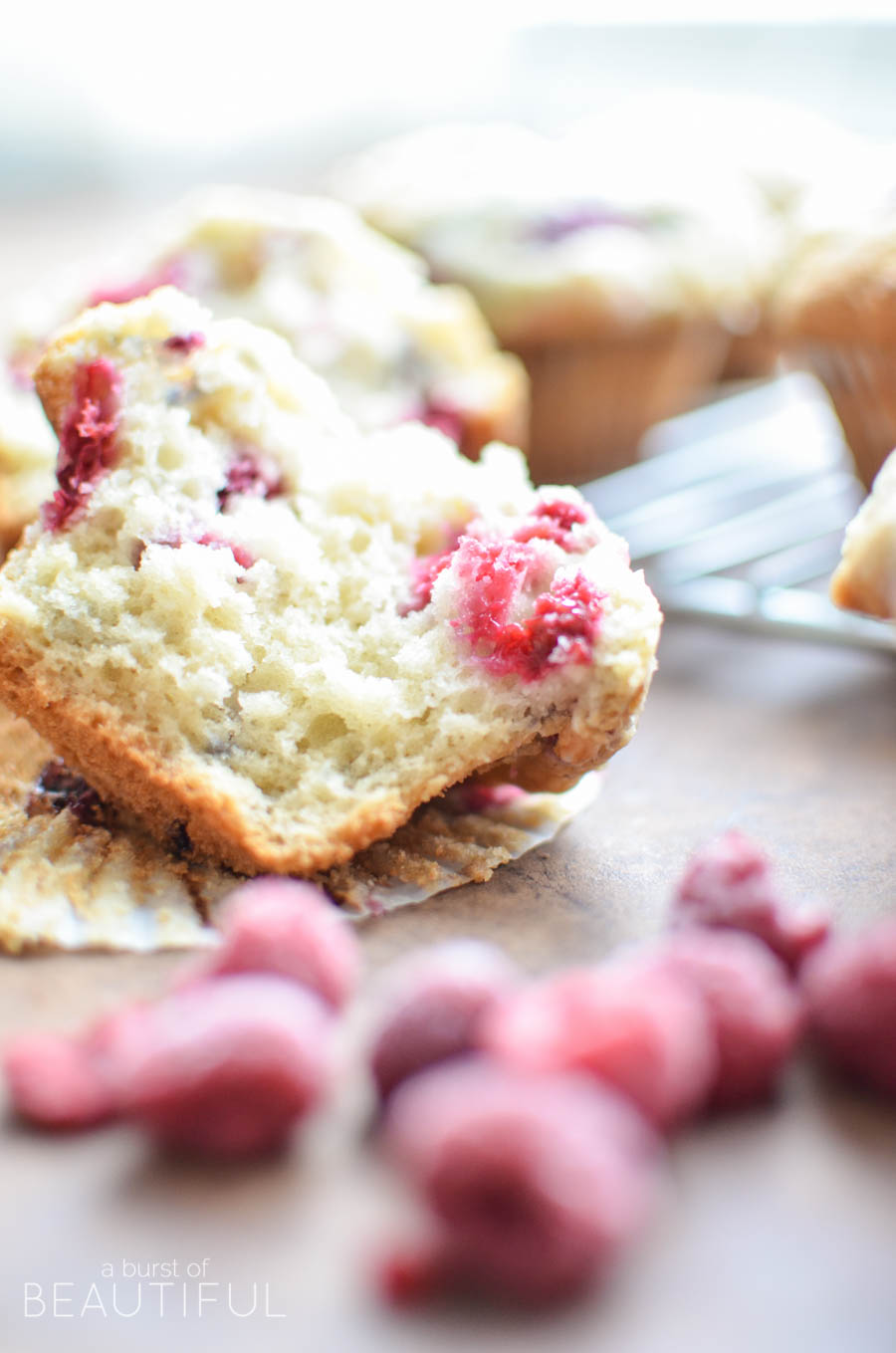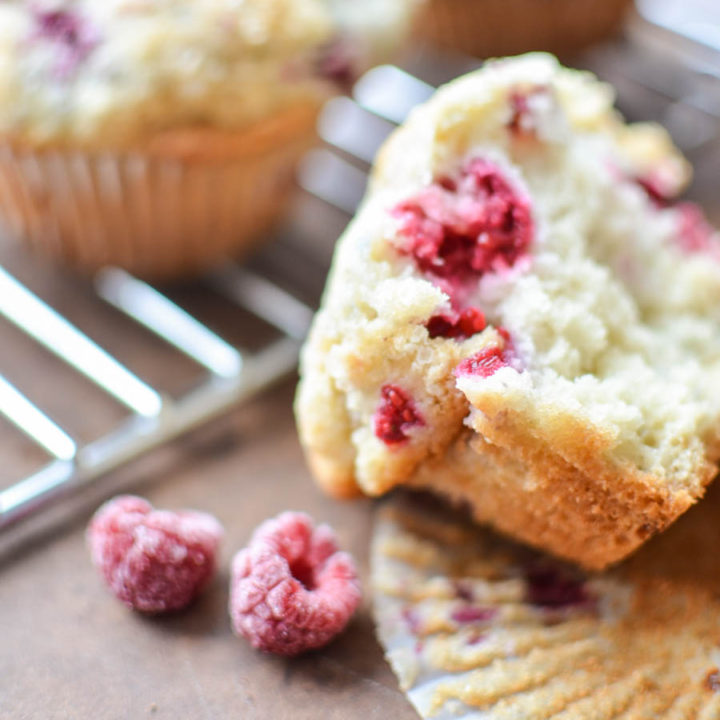 The Best Homemade Raspberry Muffins
Our all-time most pinned recipe! These moist and delicious muffins can be made from fresh or frozen raspberries!
Ingredients
1 cup whole milk
1 tbsp white vinegar
2½ cups all-purpose flour
1 tsp baking powder
1 tsp baking soda
½ tsp salt
½ cup brown sugar
¾ cup white sugar
½ cup unsalted butter, softened
1 egg
2 tsp vanilla extract
1½ cups frozen raspberries
6 tsp coarse sugar
Instructions
Preheat oven to 425°F. Line muffin cups with parchment muffin liners, or lightly coat with unsalted butter or cooking spray.
Combine milk and vinegar in a measuring cup. Stir and allow to sit for 5-10 minutes. Milk will thicken or curdle, effectively making buttermilk.
In a medium bowl, combine flour, baking powder, baking soda and salt.
Using an electric mixer, combine brown sugar, white sugar, butter, egg, vanilla and milk/vinegar in a large bowl and mix until combined.
Add the dry mix until just combined, do not overmix.
Fold in the frozen raspberries
Scoop the muffin mixture into each cup, filling it to the top of the liner.
Top each muffin with ½ tsp coarse sugar.
Bake for 5 minutes at 425F and then reduce temperature to 350 and bake for 18-20 minutes until a toothpick can be inserted and removed cleanly.
Notes
If you like this recipe, you'll want to try our Blueberry Muffin and Raspberry Turnover recipes as well! Just search for them on www.nickandalicia.com.
Nutrition Information:
Yield:

12
Serving Size:

1
Amount Per Serving:
Calories:

282
Total Fat:

9g
Saturated Fat:

5g
Trans Fat:

0g
Unsaturated Fat:

3g
Cholesterol:

38mg
Sodium:

261mg
Carbohydrates:

46g
Fiber:

2g
Sugar:

24g
Protein:

4g
Please keep in mind that nutritional information is an estimate and can vary greatly based on products used.
We usually alternate these raspberry muffins with our all-time favorite Blueberry Muffins or Berry Turnovers. So you'll want to bookmark these two recipes to try as well!
I hope you enjoy these muffins and we would love to hear what your favorite homemade muffin recipe is!