Last week we shared how to plan a raised square foot garden with you. It's something we've wanted to do for a while and we're so happy with the result. However, we will only deem it a success if we can yield a decent crop. We built this raised garden in a weekend with no firm plans, just a vision, a quick sketch and some modifications along the way. We were inspired by Joanna Gaines farmhouse garden, so we tried to recreate something similar on a smaller scale.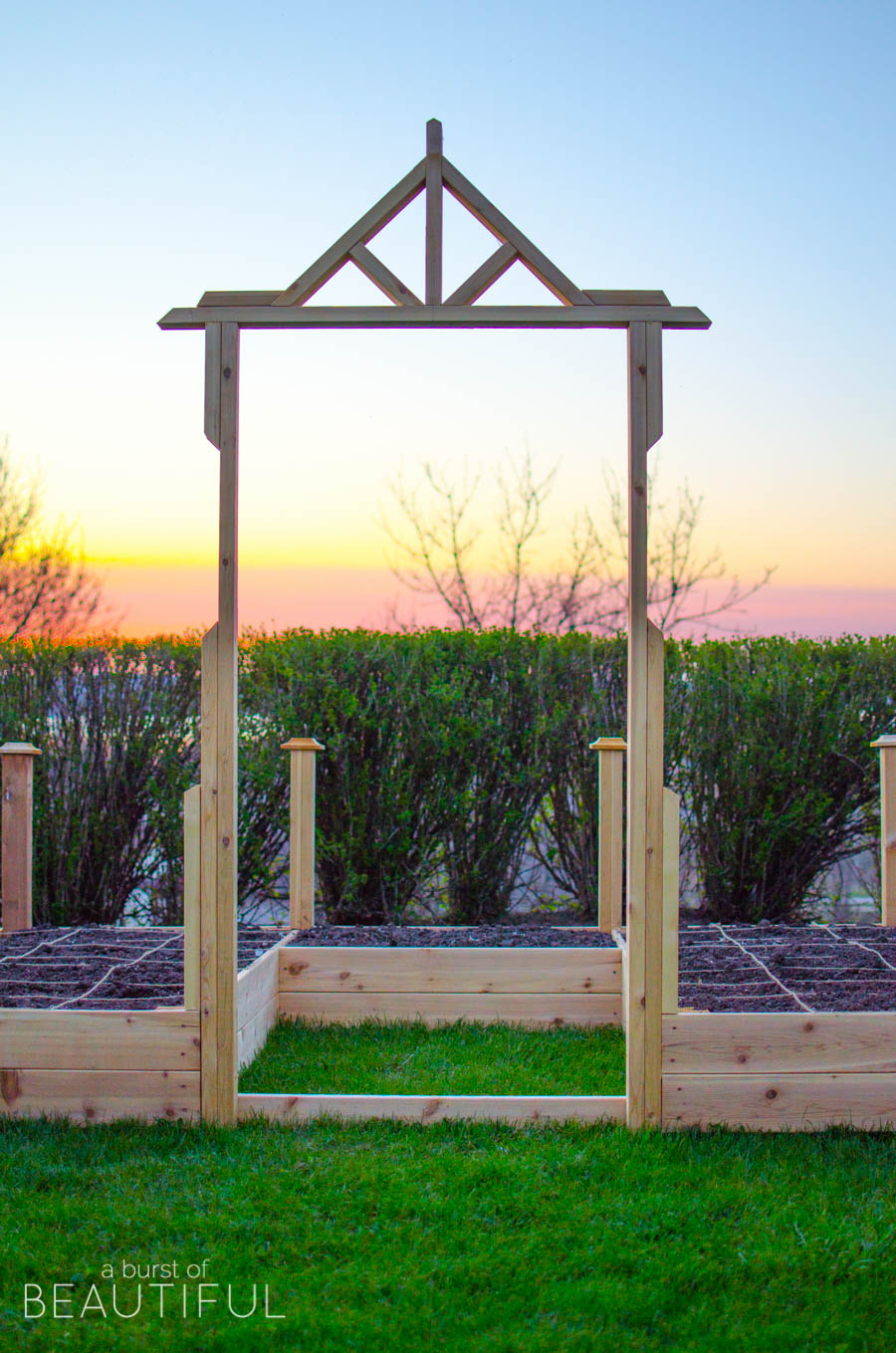 Gardening is not a lazy hobby by any means. We've learned that there is so much more to it than just planting seeds and watching it grow. There is a lot of planning and timing involved since different vegetables need to be seeded indoors or outdoors at various times throughout the spring. We created our own Downloadable Square Foot Garden Planner to keep us on track. You can download it to help you with your garden planning.
Knowing where your food comes from will be such a great feeling. We will know what soil was used, what pesticides (if any) and organic fertilizers were applied to the soil. It will also be amazing to pick fresh vegetables just steps away from your kitchen, and such a sense of accomplishment to know that you have grown your own food!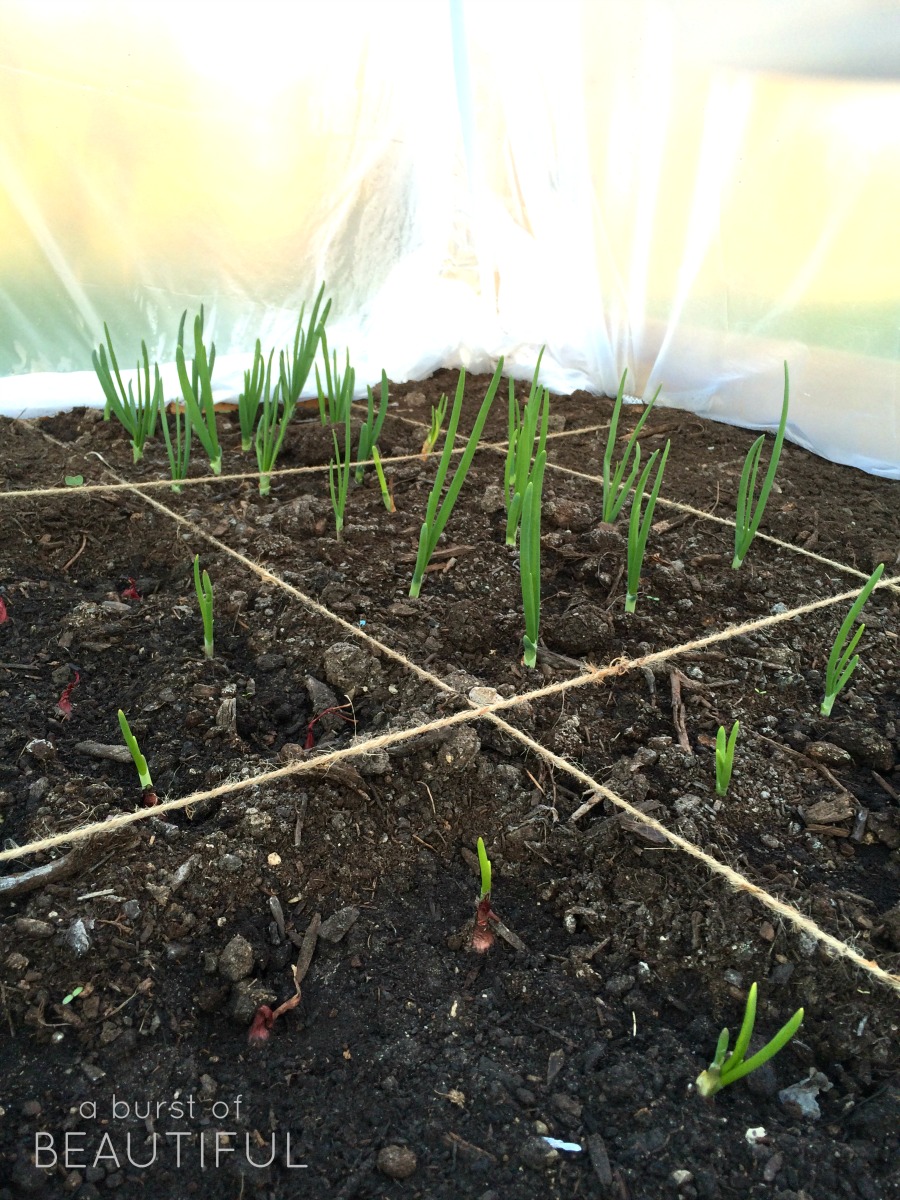 As you walk down the produce aisles in the supermarket, you'll notice that the majority of the vegetables are not locally sourced. Usually, this is the result of living in a climate that certain vegetables will not grow, or cannot be grown year-round. Building your own garden in your backyard gives you truly fresh vegetables and there will be no comparison to what you pick up at your local store.
We often thought about the foods we consume and how they are produced. We will sometimes buy organic if we feel it is warranted. A good example of this is when we made the decision to buy organic when we transitioned our one-year-old from formula to cows milk. We did a little comparison and there was definitely a difference in taste and consistency. The fact that it comes from organic sources also made us feel a little better.
This project can be a bit costly if you are using quality materials (around $600), but it will all depend on the size of garden you choose to build. We could have built a simple 4′ x 4′ or 4′ x 8′ garden to start, but we fully committed to this adventure and built one that would give us over 57 square feet of planting area and last us up to 10 years.
Cedar was our material of choice due to its resistance to rot and insects. Do not use pressure treated wood as they contain chemicals that can make their way into your vegetables. There are alternative materials like concrete blocks and landscape stones, but we opted for the most natural look that would hopefully stand the test of time and weather.
To maximize the use of our materials we built two separate boxes and connected them, effectively creating a third box. The two large boxes measured 3.5′ x 8′ and the center one would end up measuring 3.5′ x 3′ once it was assembled. This made each square foot a little bigger than a foot at 12″ x 14″. We figured a little extra growing room couldn't hurt.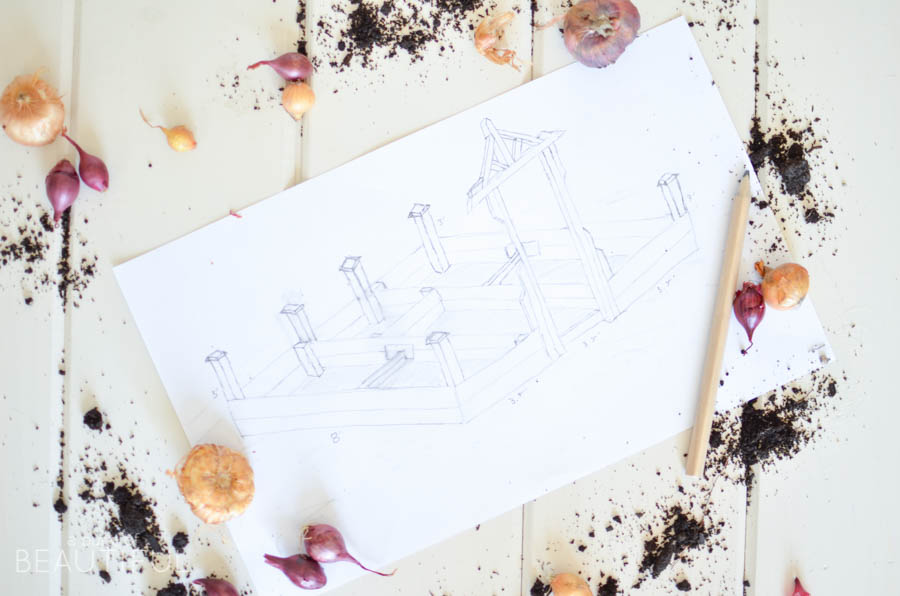 Maybe you've been inspired to build your own raised square foot garden after reading this post. If so, here are the instructions for building the same structure as we did. You'll notice some slight differences between our finished photos and the directions because we thought of more efficient ways to build it once we had completed the garden (hindsight is always 20/20, isn't it?).
If you don't want something this complex, or something a little smaller to start off, just build one of the boxes and leave space around it to make it larger next year!

STEP ONE:
Find a level spot in your yard that will see as much sun as possible through the day, at least six hours. Cut the grass in a 10′ x 12′ area as short as possible.
STEP TWO:
Build ONE large raised garden box using the following pieces:
3 – 4″ x 4″ x 3′
3 – 4″ x 4″ x 11″
4 – 5/4″ x 6″ x 8′
4 – 5/4″ x 6″ x 3.5′
4 – 2″ x 4″ x 11″
1 – 2″ x 4″ x 36″
56 – 3″ deck screws
3 – 6″ x 6″ deck post caps (could use solar light caps too)
8 – 3/4″ x 11″ PVC Pipe (for optional hoop house)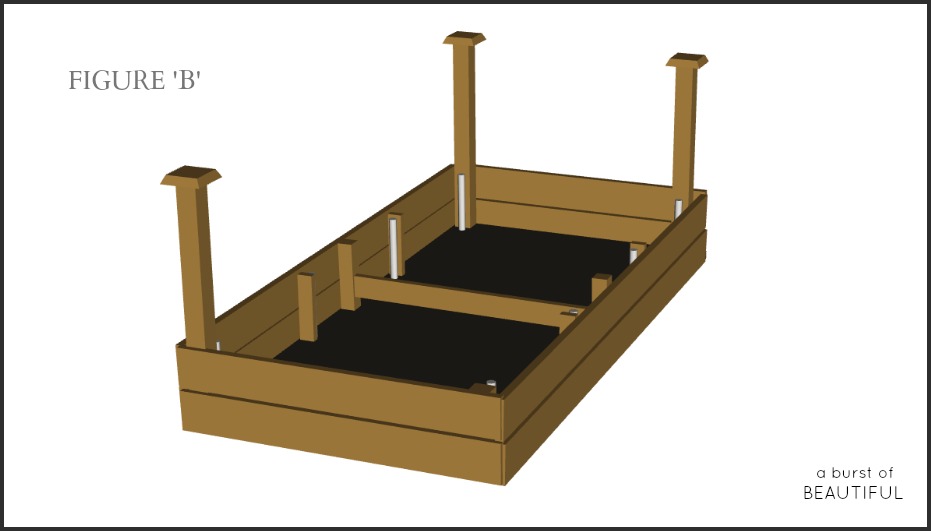 Lay 2 – 4″ x 4″ x 3′ posts on a flat surface and secure 2 – 5/4″ x 6″ x 8″ boards flush to the bottom and sides of the posts using two 3″ screws on each board, on each side.
Lay 1 – 4″ x 4″ x 3′ posts and 1 – 4″ x 4″ x 11″ post on a flat surface and secure 2 – 5/4″ x 6″ x 8″ boards flush to the bottom and sides of the posts using two 3″ screws on each board, on each side..
Attach a 4″ x 4″ x 11″ post at the 48″ center point of each panel you just created. Measure from the front of the box to back to ensure your spacing is identical on each side.
Attach two 2″ x 4″ x 1′ on each side at 32″ and 64″. Measure from the front of the box to back to ensure your spacing is identical on each side.
This is where you will require a helper. Have someone hold one of the panels up and attach 2 – 5/4″ x 6″ x 3.5′ boards to either end. Then have your helper hold up the other panel in place and attach to the 3.5′ boards to make a completed box.
Attach the 2″ x 4″ x 36″ to the 4″ x 4″ x 11″ posts that you installed at the 48″ mark in the center to keep the boxes from bowing out when it's filled with soil. Measure the distance in your before cutting this piece in case yours is slightly different.
STEP THREE:
Turn the box over and cut a 4′ x 9′ piece of the weed barrier fabric and staple it all around the edges. Fold back any excess and staple it to the edge. Don't pull the fabric tight, leave a little slack so that the soil can fill it out without ripping.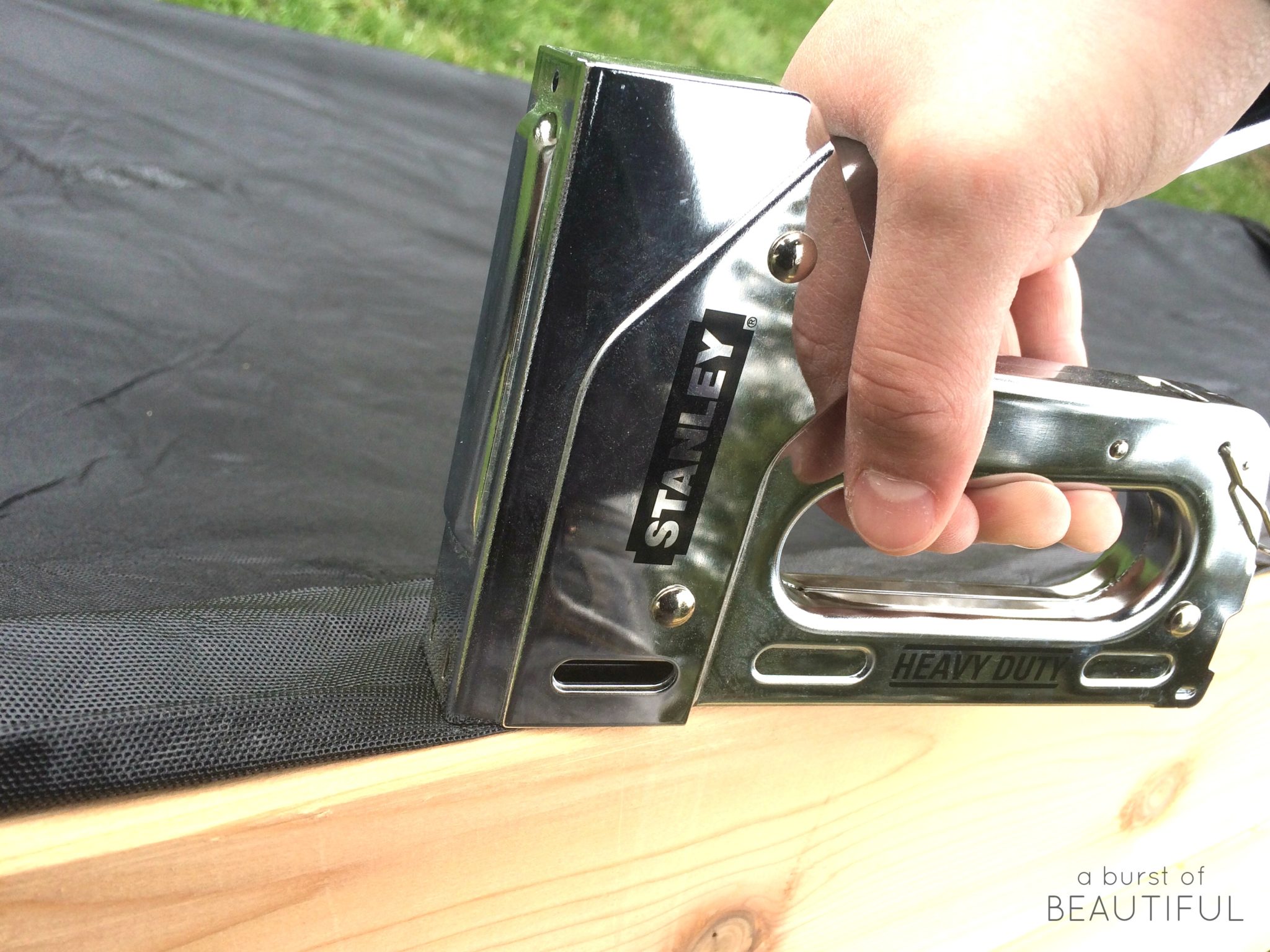 STEP FOUR:
Repeat steps TWO and THREE to create the second box, but reverse the location of the 3′ post at the front so that it will be on the right side of the box when completed (see Figure 'C' below).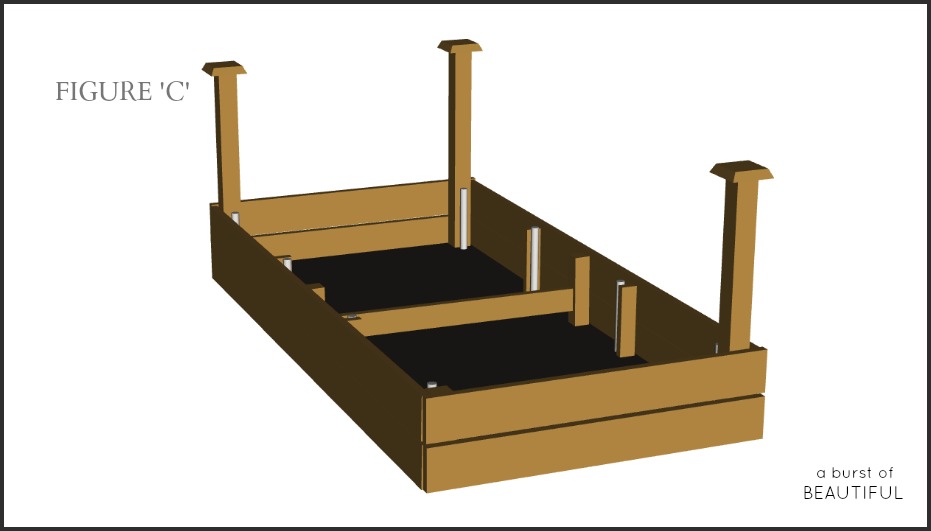 STEP FIVE:
Place both assembled boxes in position, 3.5′ apart to allow room for the rear garden and pathway in the center. Both boxes should have the 2 – 3′ posts in the outer corners, and 1 – 3′ each on the inside back corners (see Figure 'D').
Attach a 2″ x 4″ x 1′ piece to the inside of where the third box will be located, leaving 5/4″ allowance for the back boards. Then attach two of the 5/4″ x 6″ x 3.5′ end boards to connect the two boxes at the back.
Add a 2″ x 4″ x 3.5′ piece to the front, 4″ from the front of each box. Square up your entire garden as best you can while you can still move pieces around.
Measure 36″ from the back of the box and mark on each side. Secure a 2″ x 4″ x 11″ piece to each side of the box. Attach two of the 5/4″ x 6″ x 3.5′ end boards to the front, which will create the box at the back. Staple landscape fabric to the inside bottom edges as best you can.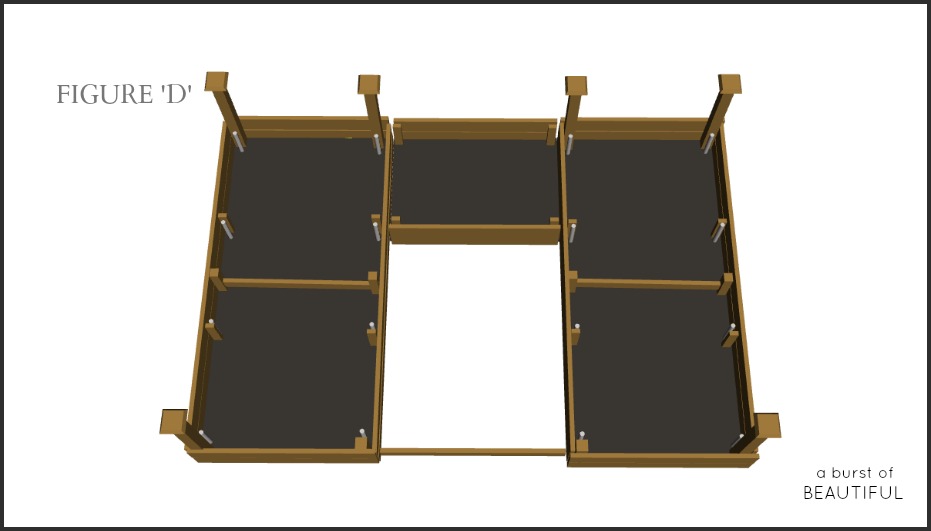 STEP SIX:
Level the boxes from the center out. To do this, rest a 2″ x 4″ board on the inside walls of the two boxes (where your path will be) and adjust to make sure it's level. You can use paver stones, or even cedar wood scraps like we did (the wood may not hold up as well over time). Once the boxes are level to each other, level each box on its own adjusting only the outside edges. Then check all three boxes for level one last time.
STEP SEVEN:
We laid down landscape fabric in the center path and topped it with natural cedar chips. We thought about adding a colored mulch, but we didn't want the chemicals from the dye leeching into our garden.
To create the doorframe and decorative top, we used 2″ x 4″ boards to create a triple layer effect on each side of the garden entry. We layered a 76″, 48″ and 20″ boards and cut the top ends to 45 degrees for decoration. Then we used a combination of45-degreee angle cuts and 90-degree cuts to create the peak. You can create any design to suit your tastes. We built the door to six feet in height, but you can adjust that as well.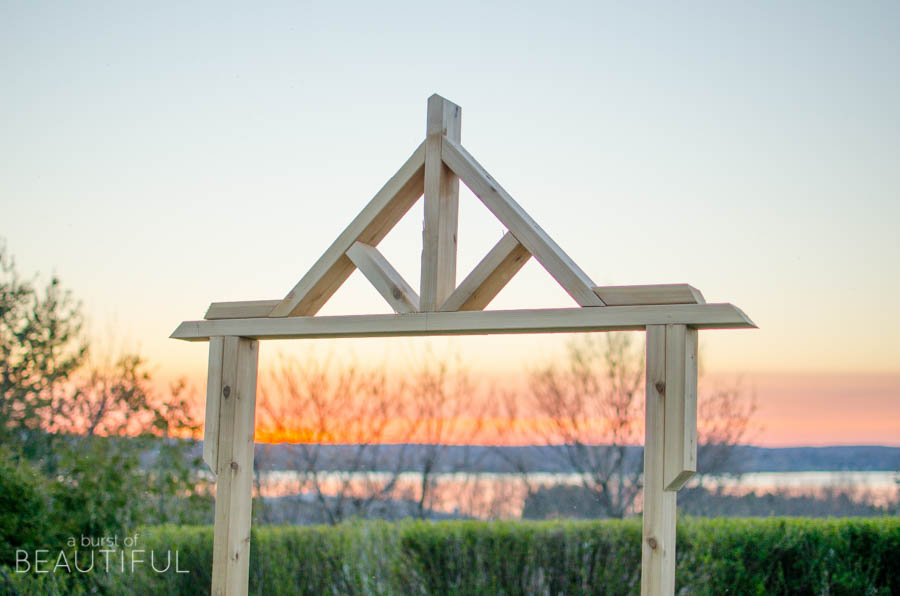 THIS IS OPTIONAL and is not included in the shopping list below. To create the swinging door we used 1″ x 6″ fence boards cut to 3′ on all sides, screwed together and then added some 4″ gate hinges. We cut the cross brace to 45-degrees on either end so that it was a total of 50″ in length. We plan on integrating a pest resistant fence into the design once our veggies start to grow, so we will eventually need a door to attach the fencing.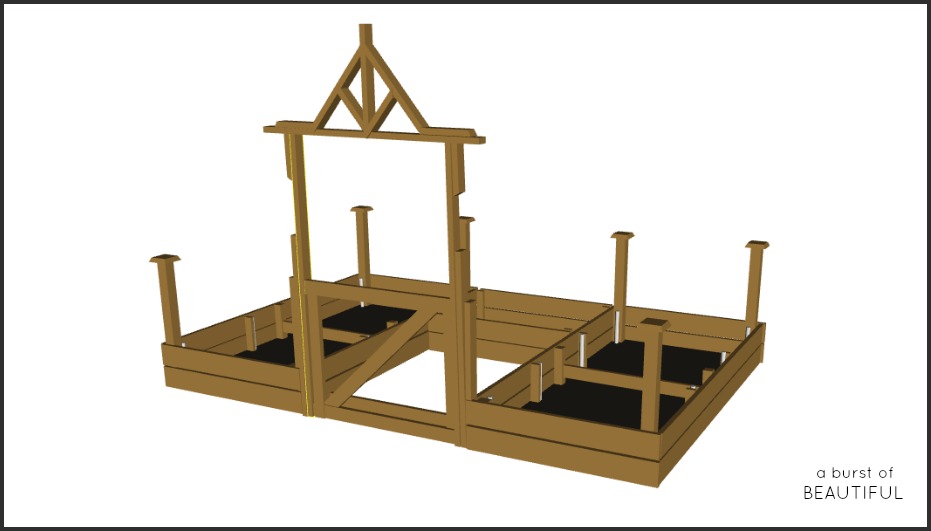 STEP EIGHT:
Before adding soil, you can add 3/4″ PVC piping supports. Cut them into 11″ lengths and secure them to the 4″ x 4″ posts and 2″ x 4″s in each box with PVC pipe clamps. You will need a total of 8 supports and 16 clamps for each box.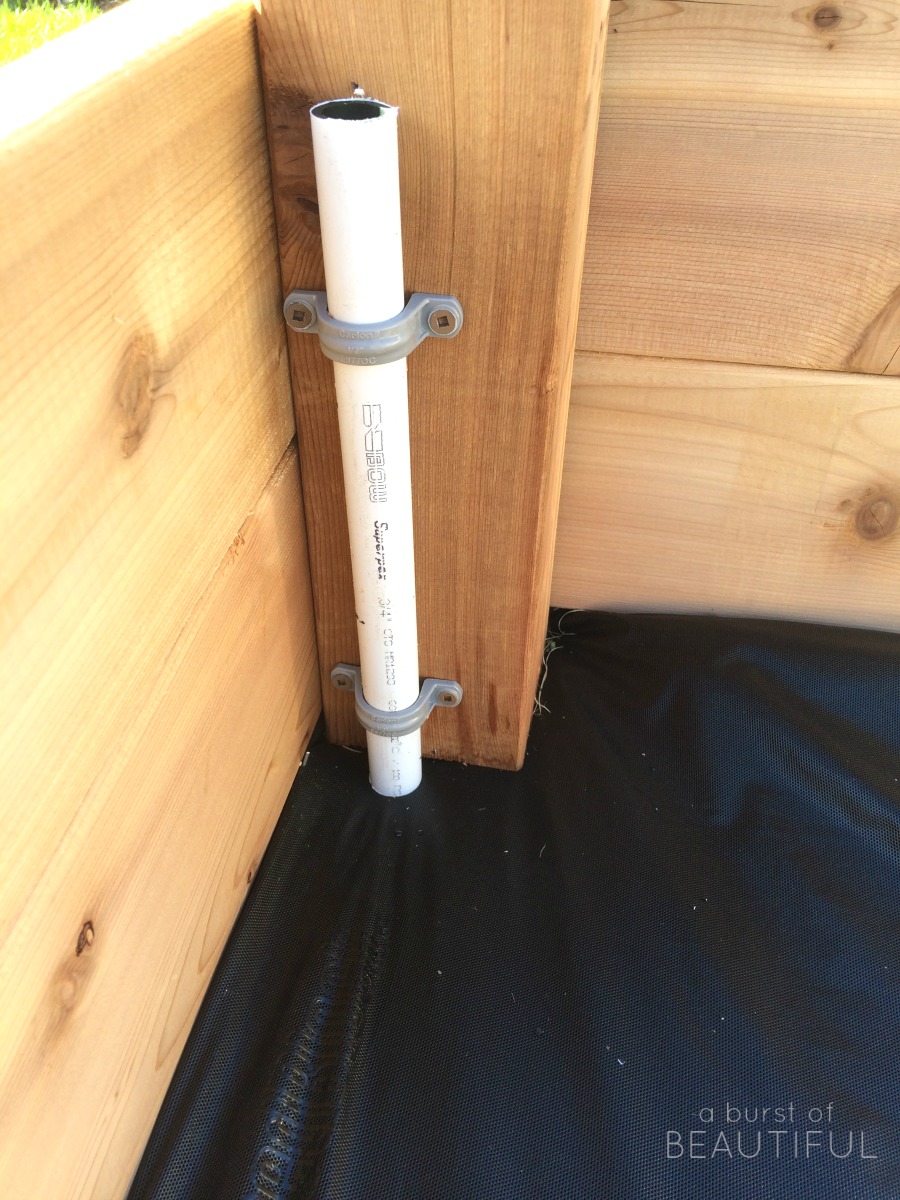 These will be handy for two reasons. If you want to turn it into a hoop house to get some extra mileage out of your growing season or protect it from harsh weather you can simply use 1/2″ PVC flexible pipe in 8′ lengths and bend it from one side to the other and insert into the supports.
It can also come in handy if you require extra support for pest barrier or growing vegetables upwards.
STEP NINE:
You're all ready to add the soil!  We used 1 full yard of compost and 1 full yard of triple mix, which we had delivered from our local garden nursery. We also added 4 bags of compost manure to enrich the soil. A lot of square garden tutorials say to add vermiculite, but we wanted to keep our garden as natural as possible so we left that ingredient out.
Once we had filled it with soil, we used garden twine and galvanized nails to create a grid in each of the larger gardens to create our square foot planting guide. On the 8′ sides, mark every 12″, and on the 3.5′ side, mark every 14 inches. Start the twine at one end and loop around each nail to create the grid.
STEP TEN:
Plant and watch your garden grow. It is so satisfying to see those first sprouts peek above the soil!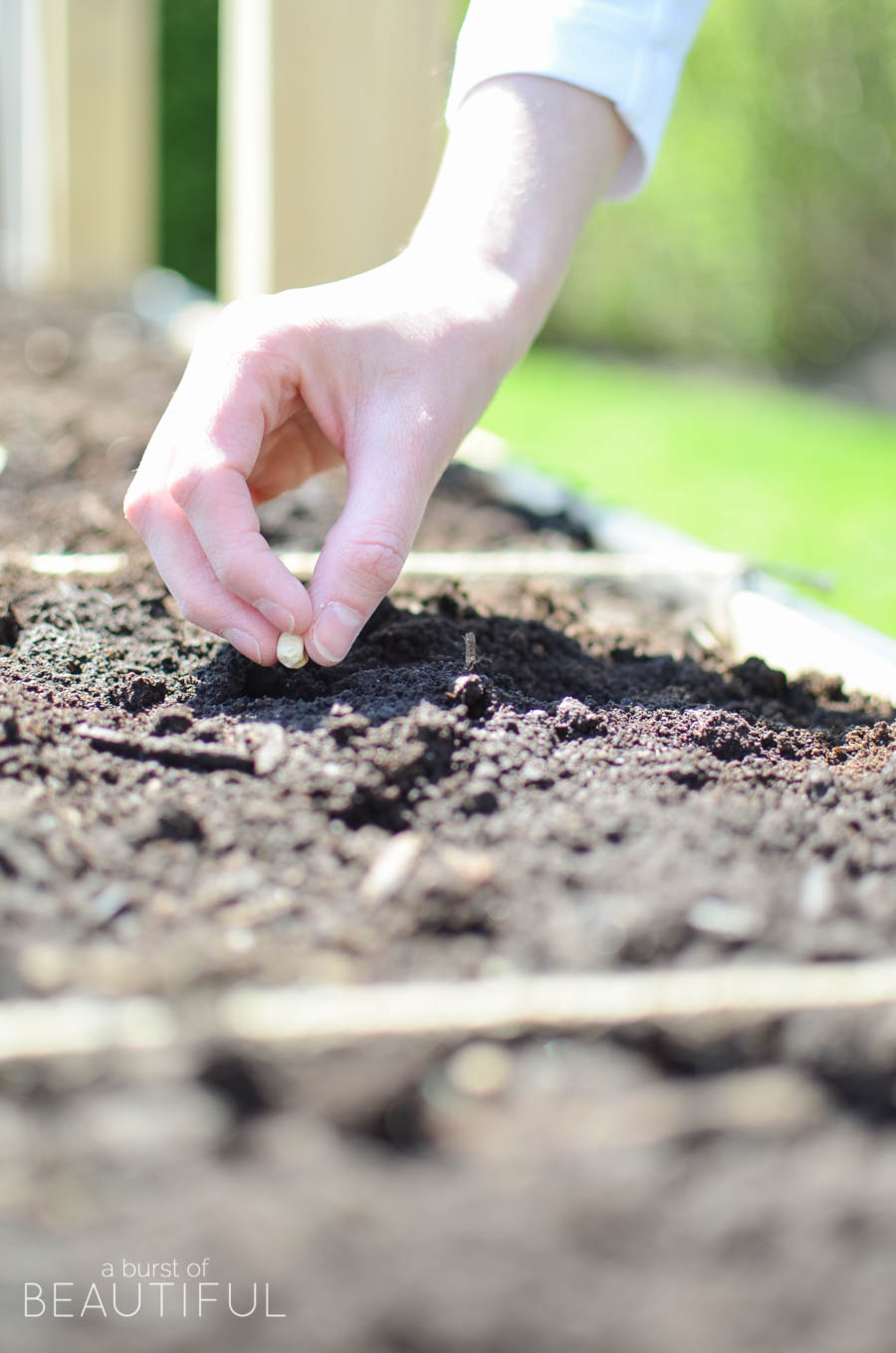 SHOPPING LIST:
3 – 4″ x 4″ x 8′ boards

Cut each board into 2 – 3′ pieces and 2 – 11″ pieces

14 – 5/4″ x 6″ x 8′

8 boards will not need to be cut.
6 should be cut into 42″ lengths.

7 – 2″ x 4″ x 8′ – Cut boards into the following lengths:

12 x 11″ (back garden frame & additional side supports)
2 x 36″ (middle supports – measure first)
2 x 20″ w/ 45″ angle (doorway)
2 x 48″ w/ 45″ angle (doorway)
2 x 76″ (doorway)
1 x 48″ (doorway top)
Plus any additional wood required to make the pattern you'd like for the top of the door.

6 – 6″ x 6″ post caps
2 1/2″ deck screws
3″ deck screws
2 – 4″ gate hinges
4′ x 25′ weed barrier fabric
Staple gun and stainless steel staples
Drill
Pencil
Speed square
Galvanized roofing nails
Garden twine
Level
1 yard triple mix soil
1 yard compost
4 bags compost manure
If you have any questions or comments, let us know below!
Nick