Ever since moving into our house, we have slowly been painting our way through our home, room by room.
If you've been visiting us here on our blog for a while, you'll know I have mentioned before that the previous owner painted every room in our home beige…and I mean every single room, including the garage! We were happy with it when we moved in because it was a neutral we could live with while we settled into our new home together. It gave us a blank canvas to start out with.
However, after a while, it began to feel tired and boring. We were craving a change and we knew a few brand new paint colors was the first step in slowly transforming our builder basic home into the little modern farmhouse of our dreams.
To us, modern farmhouse colors should be light and airy, yet grounded and earthy. Here are the beautiful colors we chose for our home.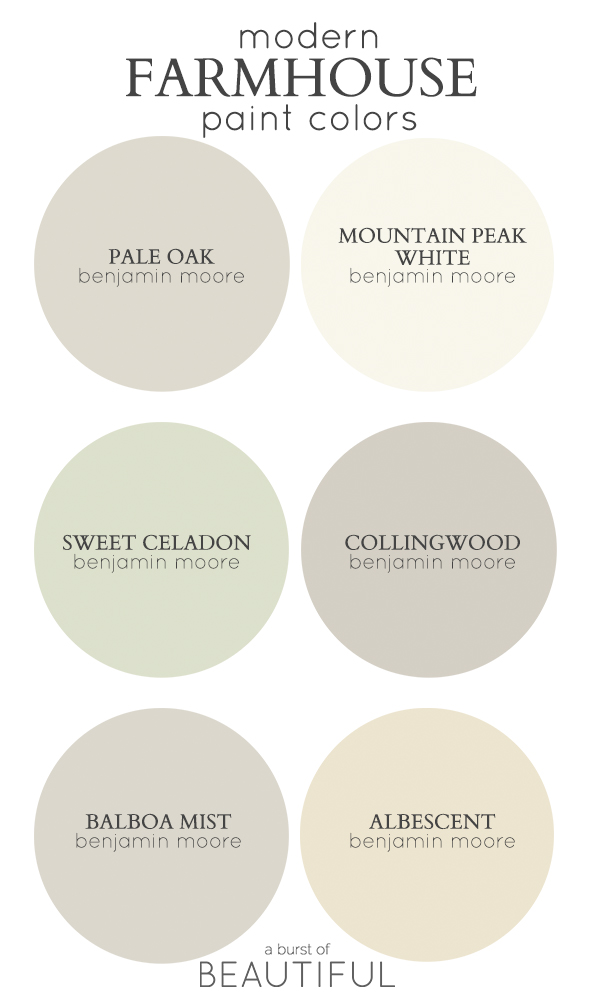 I'm always amazed at what a difference a little bit of paint can make. It is definitely the most cost-effect way to make a dramatic change in any space.
Take our home for example, by simply changing our beige walls to light neutral gray paint colors our home went from uninspired and dull to feeling bright and inviting. I love that paint has the power to evoke certain emotions and feelings.
Kitchen
We painted our kitchen Pale Oak by Benjamin Moore (take the full tour of our modern farmhouse kitchen here). This paint color has got to be one of the prettiest neutrals I have come across so far, it's light and bright with just a whisper of gray to it.
We also completely transformed our dated light oak cabinets with a fresh coat of Mountain Peak White by Benjamin Moore (see the before pictures here).
It completely changed the look and feel of our entire home since the kitchen is the hub of everything! It's interesting how changing the central room in your house will inspire you to work on every other room!
I'd love to hear what you think of the colors we chose for our home so far, just leave us a comment below.
Have a lovely day,
Alicia xo
Please note this post may contain affiliate links, which allow us to make a small commission from your purchase, but your purchase price stays the same (see our full disclosure policy here). Thank you for helping support our blog.