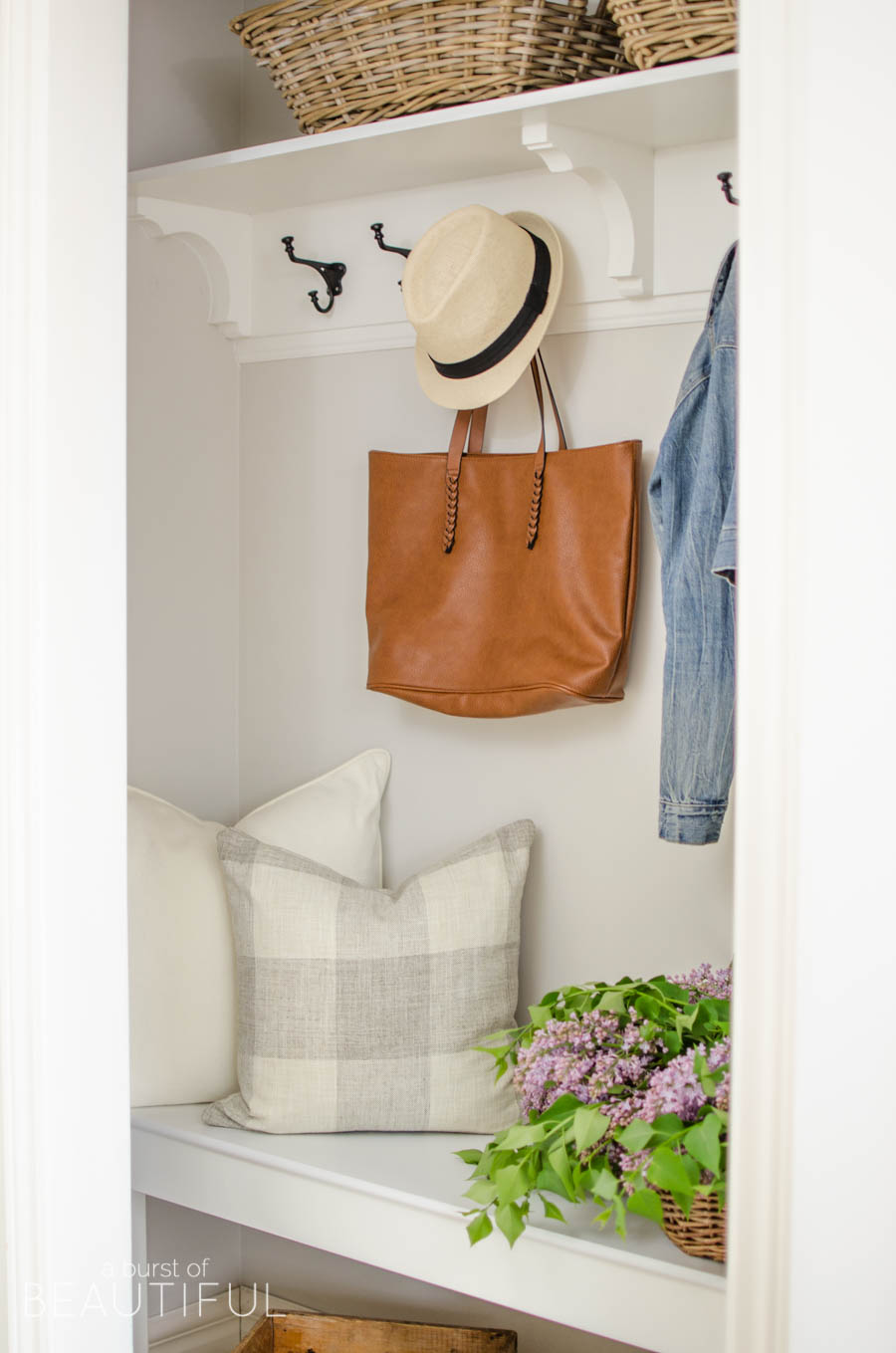 Last week we shared our summer home tour with you and gave you a little sneak peek of our coat closet makeover. And in those few short days since posting, we have received so many sweet comments about this pretty and functional space, that I can't wait any longer to share the whole story with you.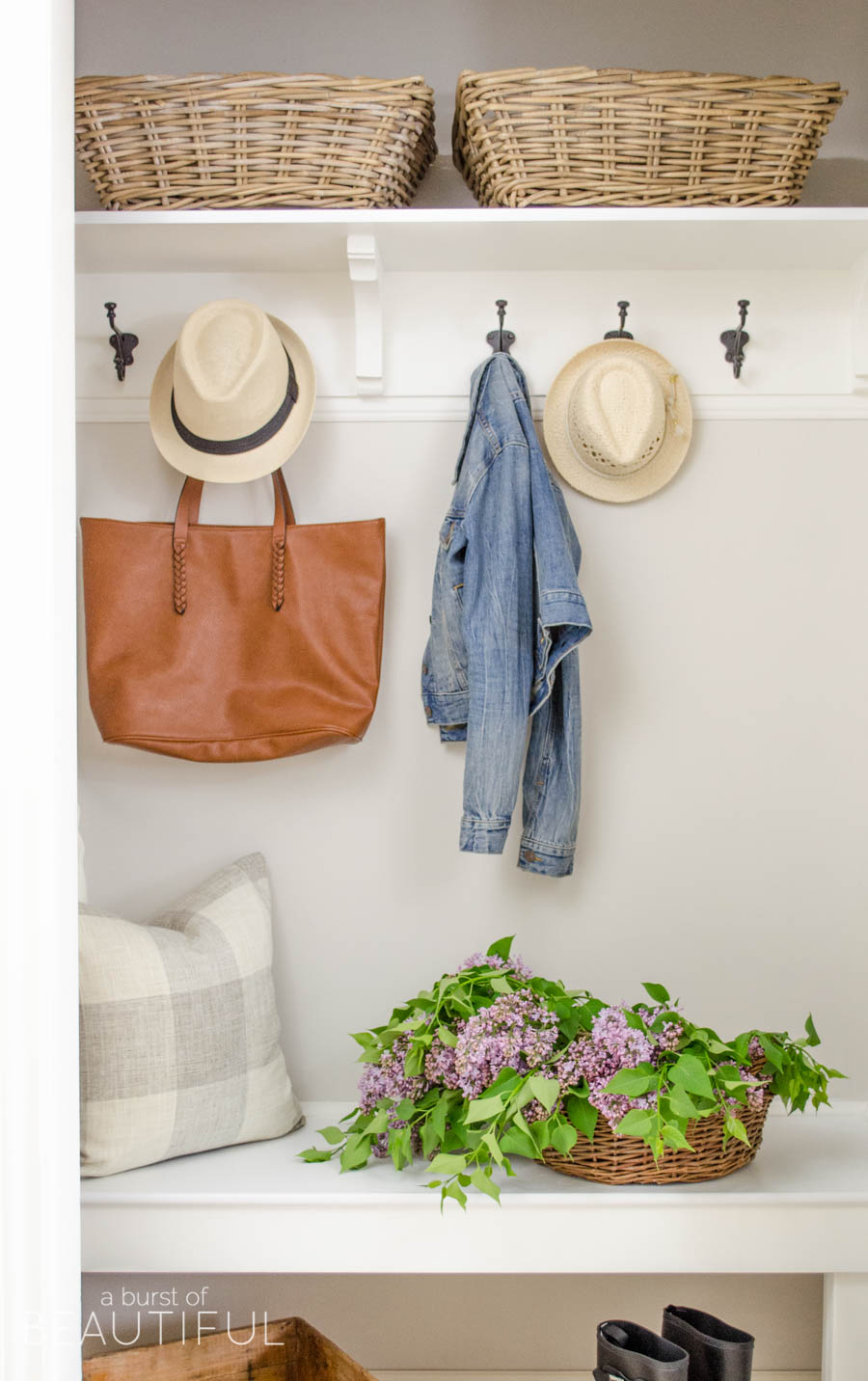 We have a tiny little entrance off of our garage that leads into our kitchen and it was neither pretty nor practical. To be honest, it was a pretty big disaster. It is the main entrance for our family and it slowly began to transform into a dumping ground for anything and everything that came into our house. One day I opened the closet and said enough is enough!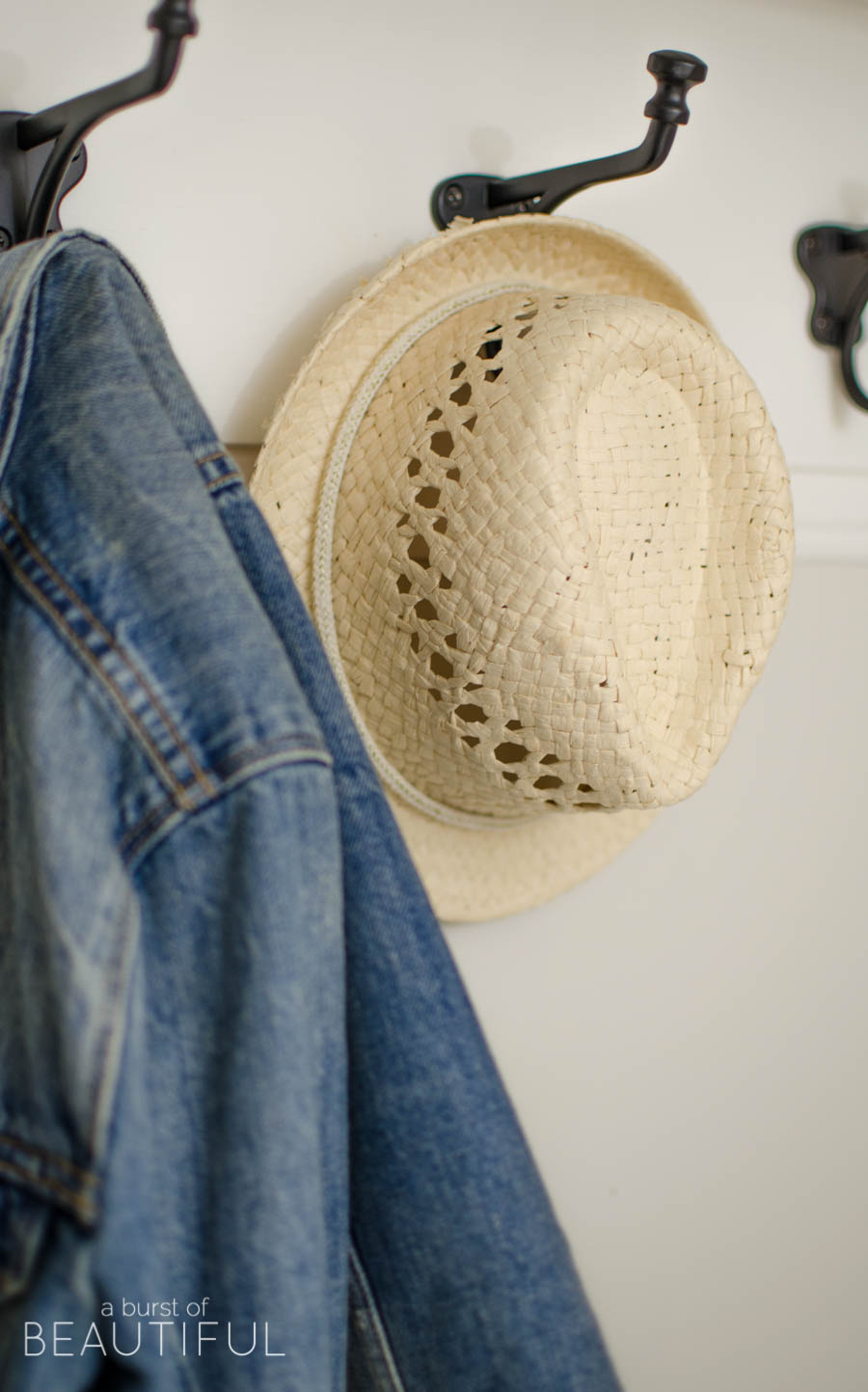 It was time to take back our coat closet and create a functional entrance for our family to use.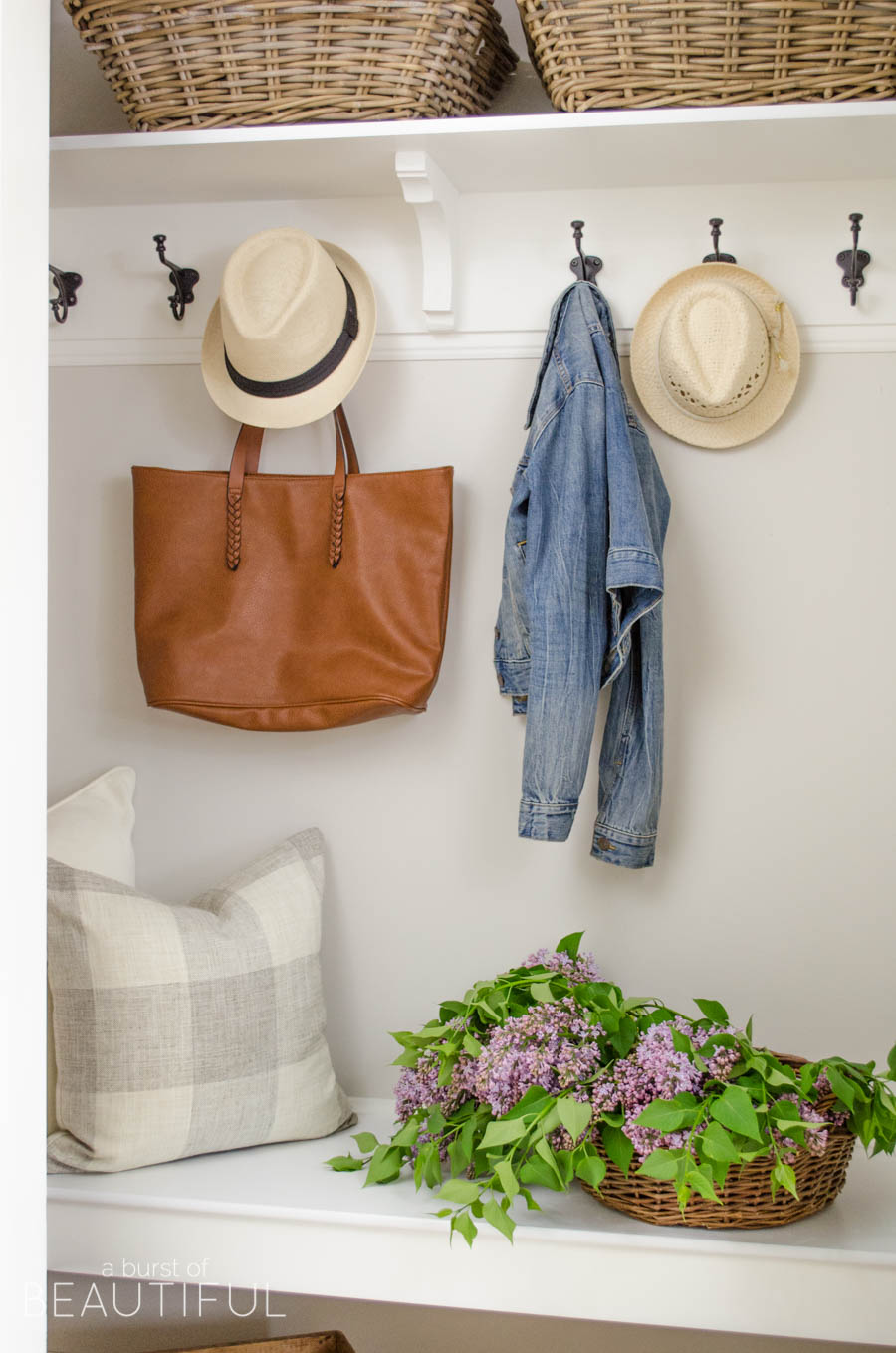 I started by pulling everything out and organizing it into piles – keep, donate, trash. Here is a pretty scary before picture, showing just how big of a mess it was. Truthfully, I am really embarrassed to post this, but we are a real family, with real messes.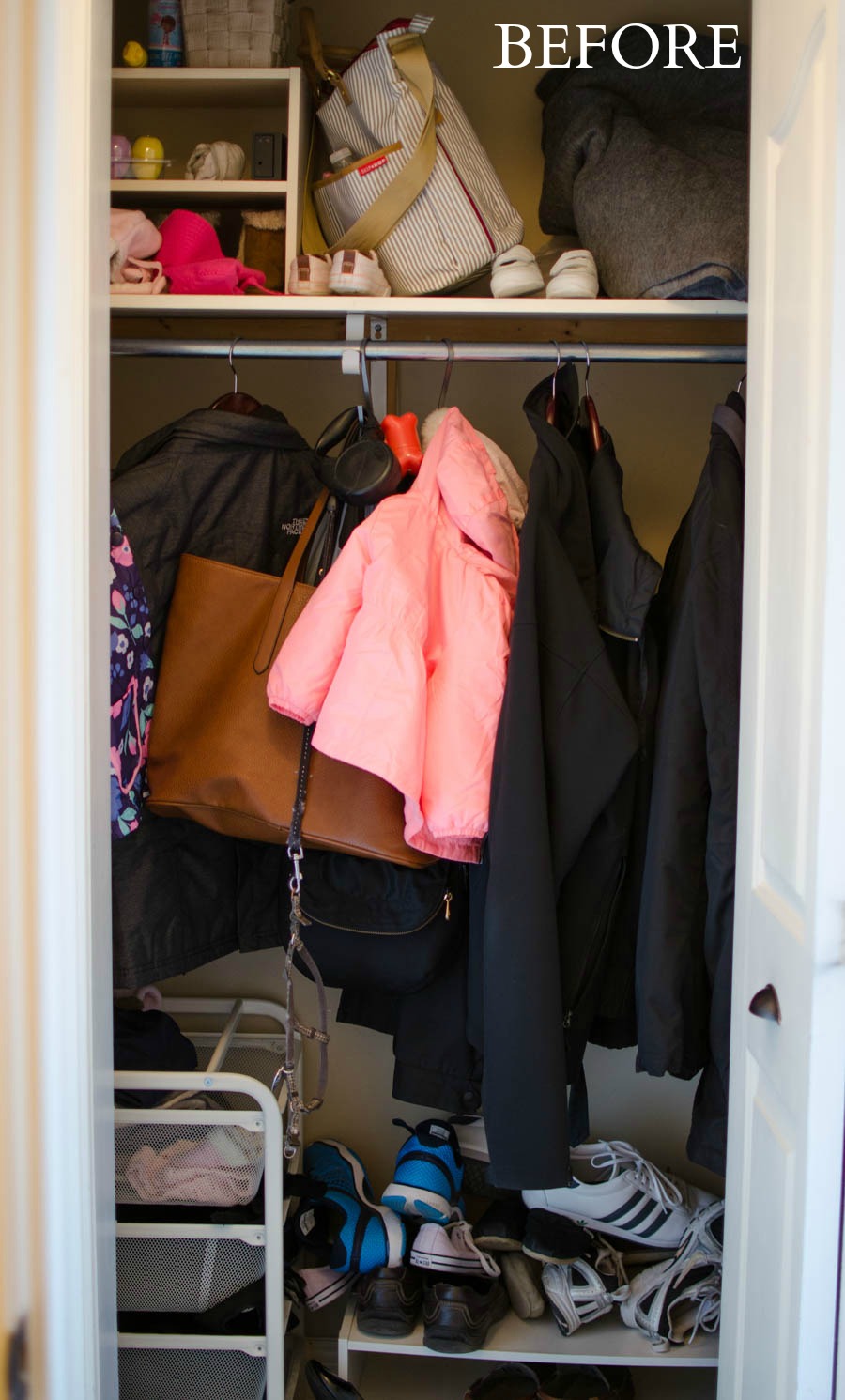 Once I was finished sorting through everything I pared down what we really needed to keep in that entry. Luckily for me, it's summertime so the essential were far and few between. Once winter rolls around this closet will look a little different. 😉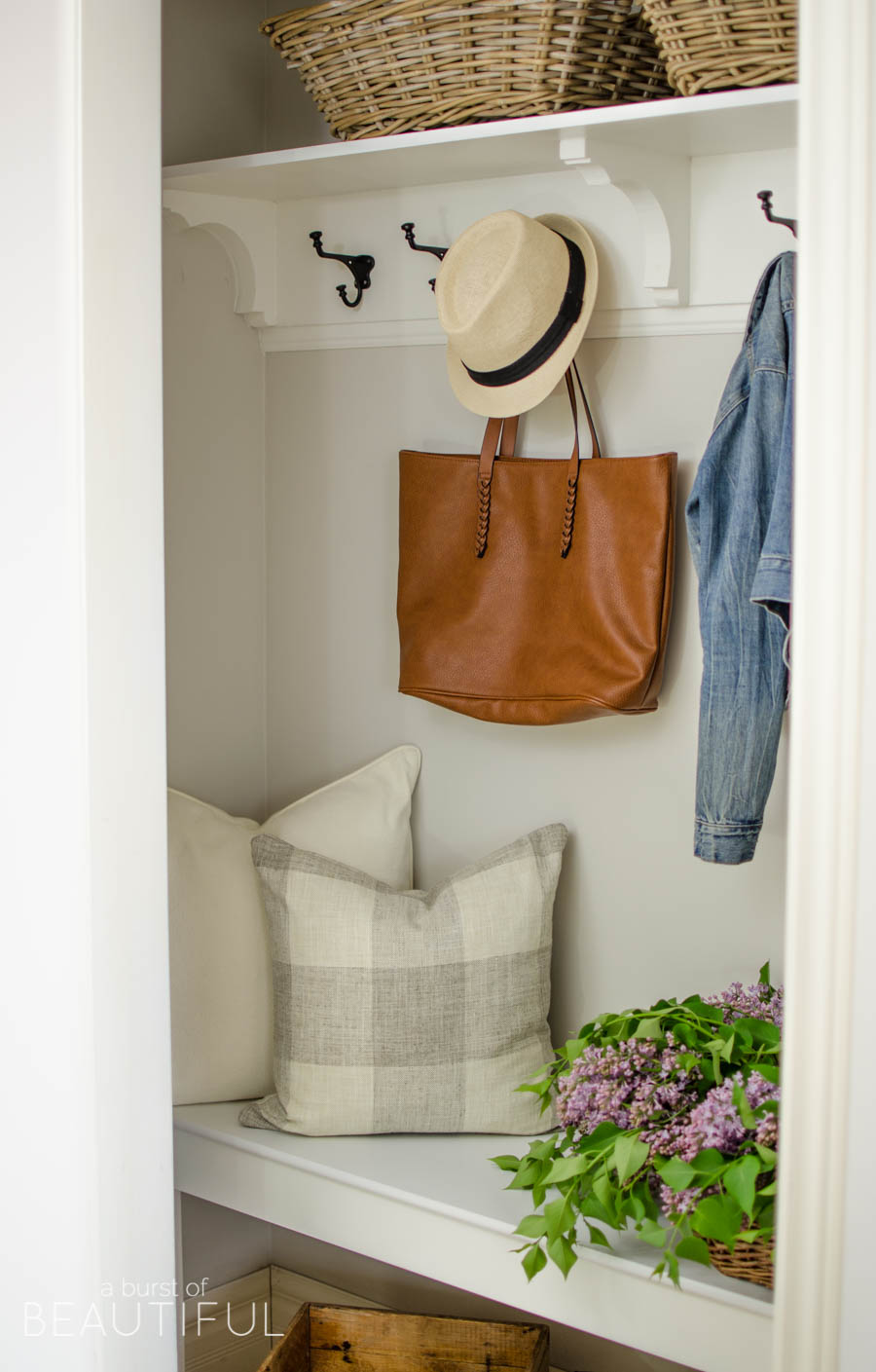 We knew the hanging clothes rod had to go. It took up too much space and made it difficult to easily grab your coat and go. We also removed the upper shelf.
Now that the closet was completely empty we could re-evaluate the space and decide what was going to work best for our family.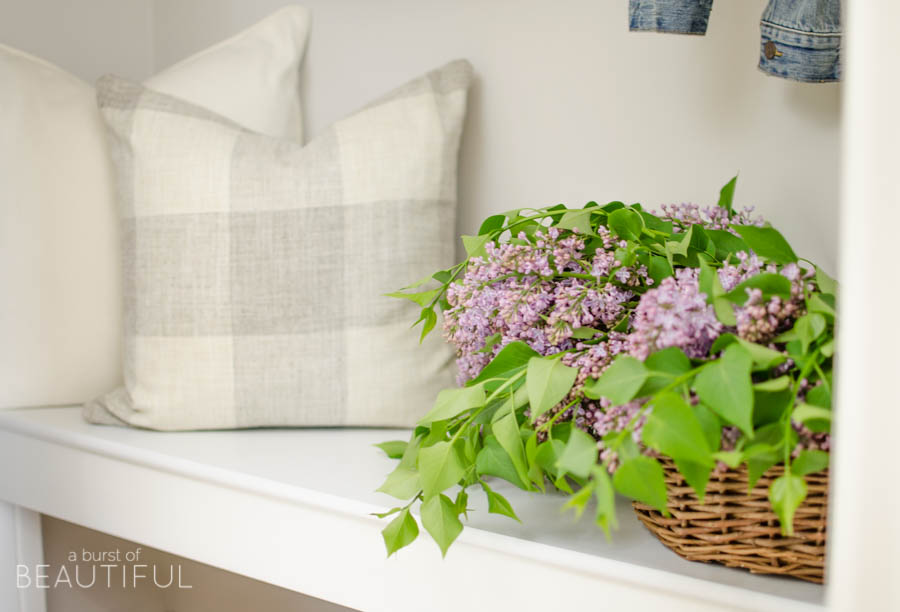 We started from the ground up, adding a built-in bench that is the length of the closet. It's a wonderful place for our little one to sit while getting shoes on each morning and it acts as an easy place to store totes, groceries and boxes that we may be lugging to and from the house.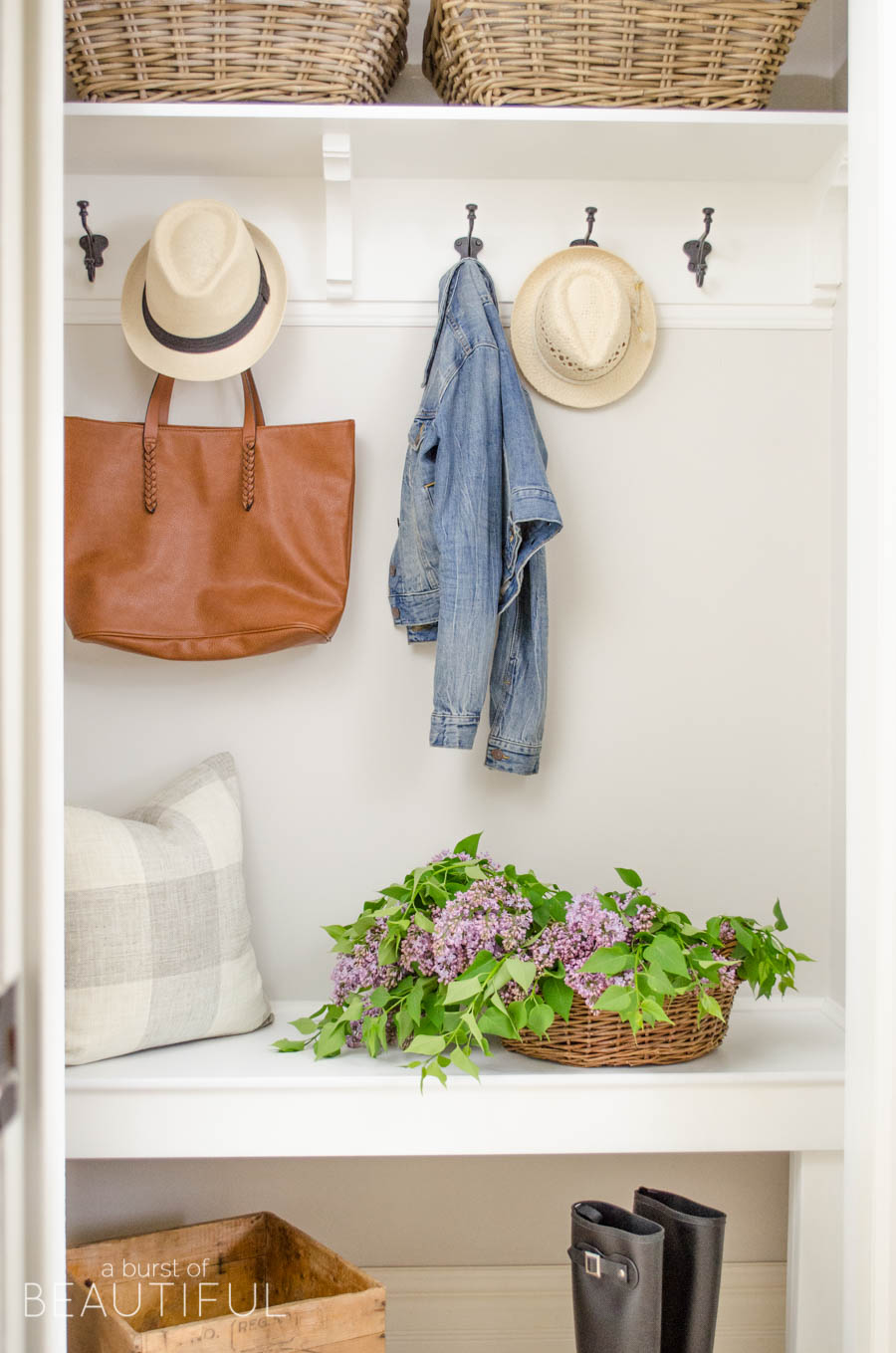 Next up, Nick raised the shelf to allow us more height in the closet, but still gives us an extra place for storage. Two large wicker baskets are the perfect catchalls for summer toys and accessories that we want to keep out of sight.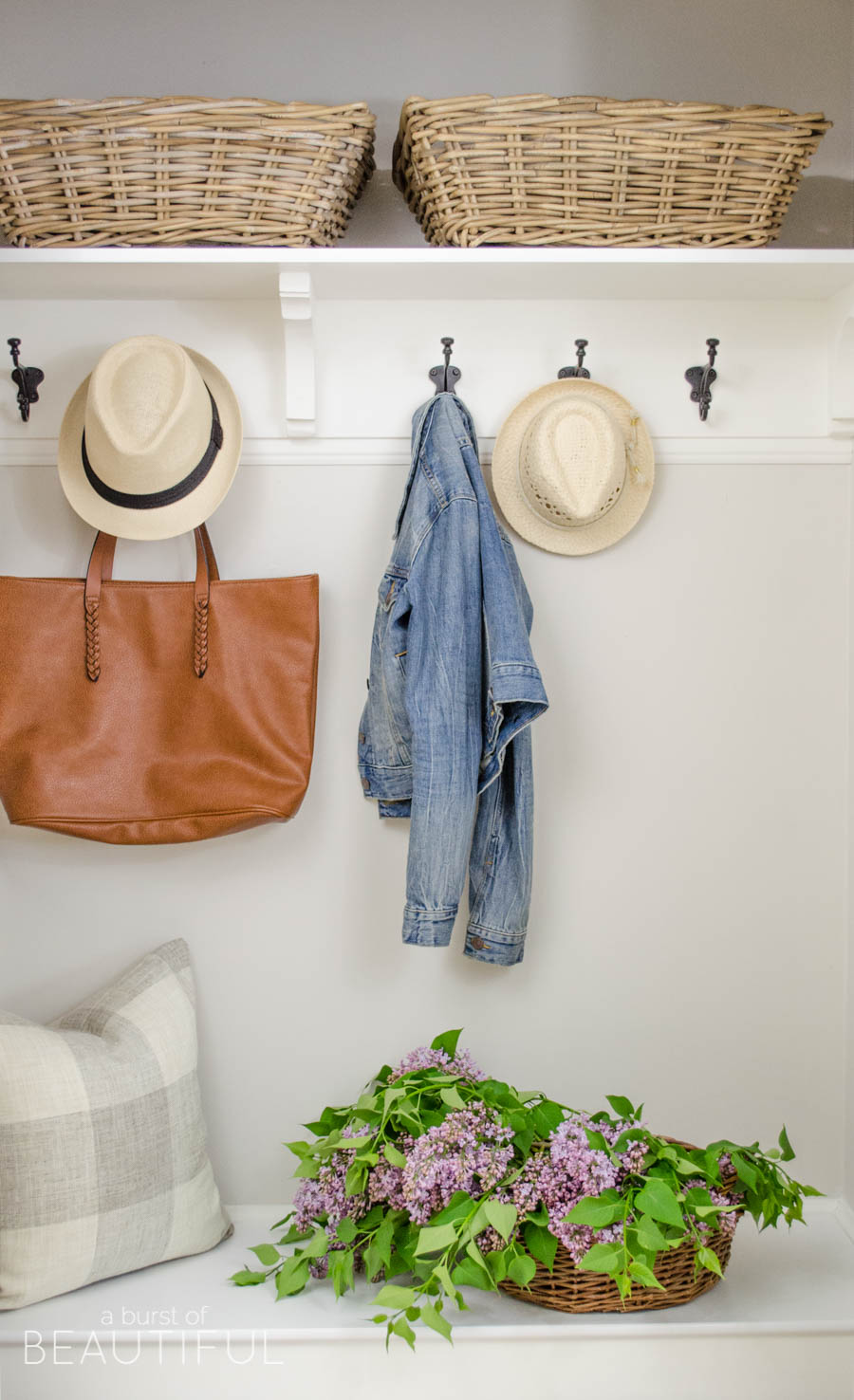 To add a bit of character he made these darling little corbels. Aren't they the perfect touch?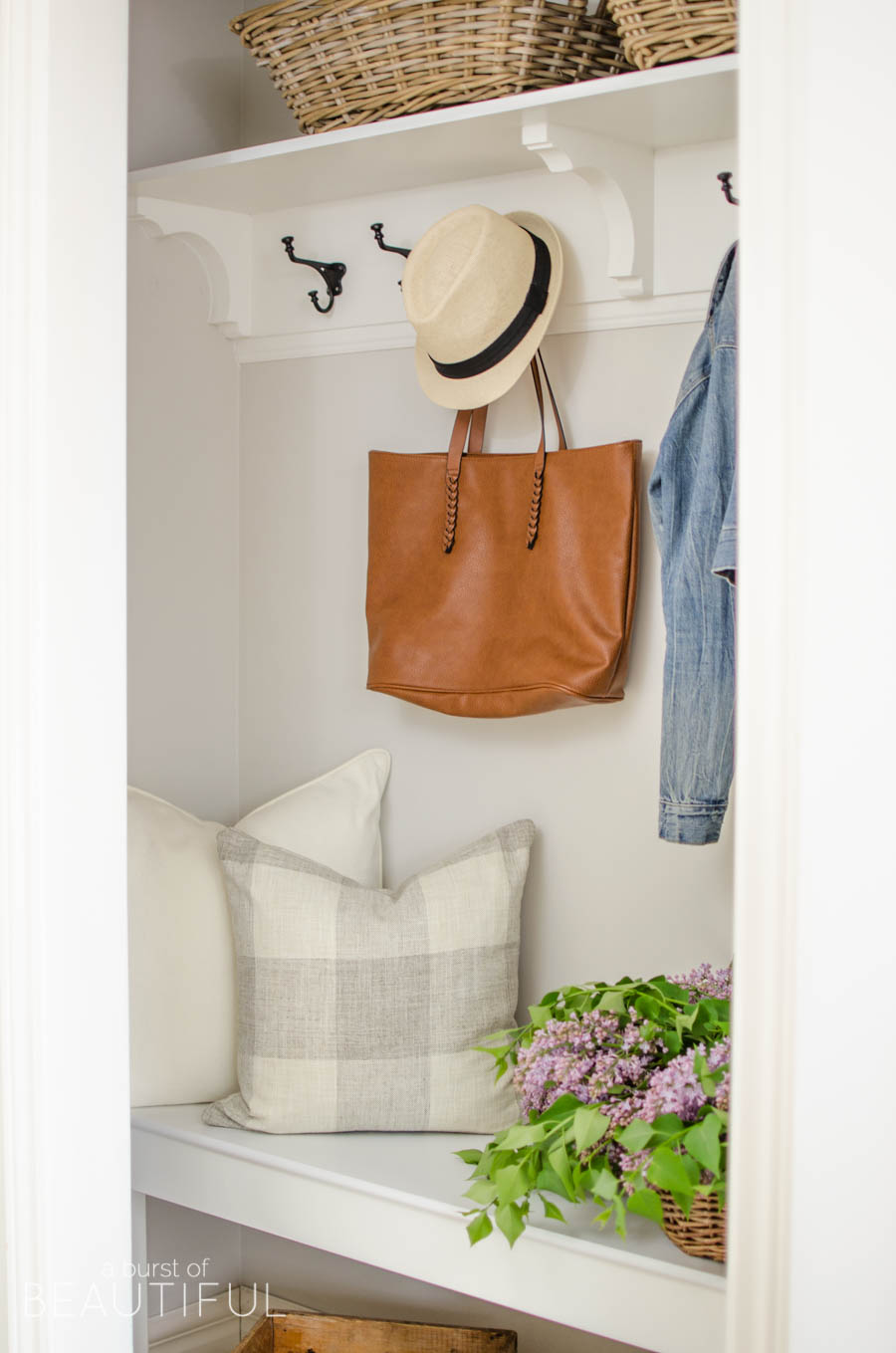 And finally, we added six of these black farmhouse style hooks. They give us plenty of room to hang our coats and sweaters and still look pretty when not in use.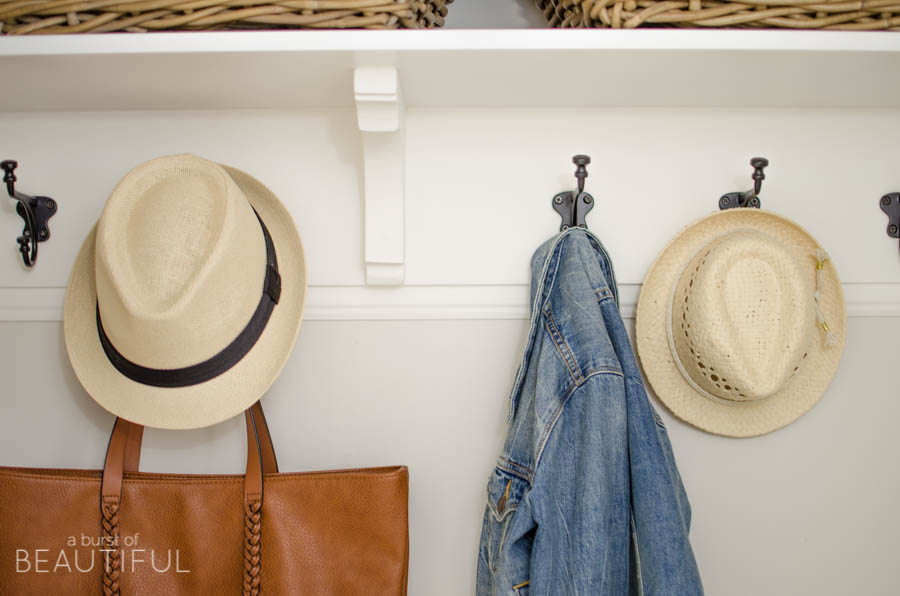 I gave the closet a fresh coat of paint in the same color as our kitchen, Pale Oak by Benjamin Moore and painted the bench and shelf Cloud White, also by Benjamin Moore. It really helped to brighten up the tiny space and make it feel fresh and inviting.
An antique crate tucked underneath the bench is the perfect place to store extra shoes and flip flops.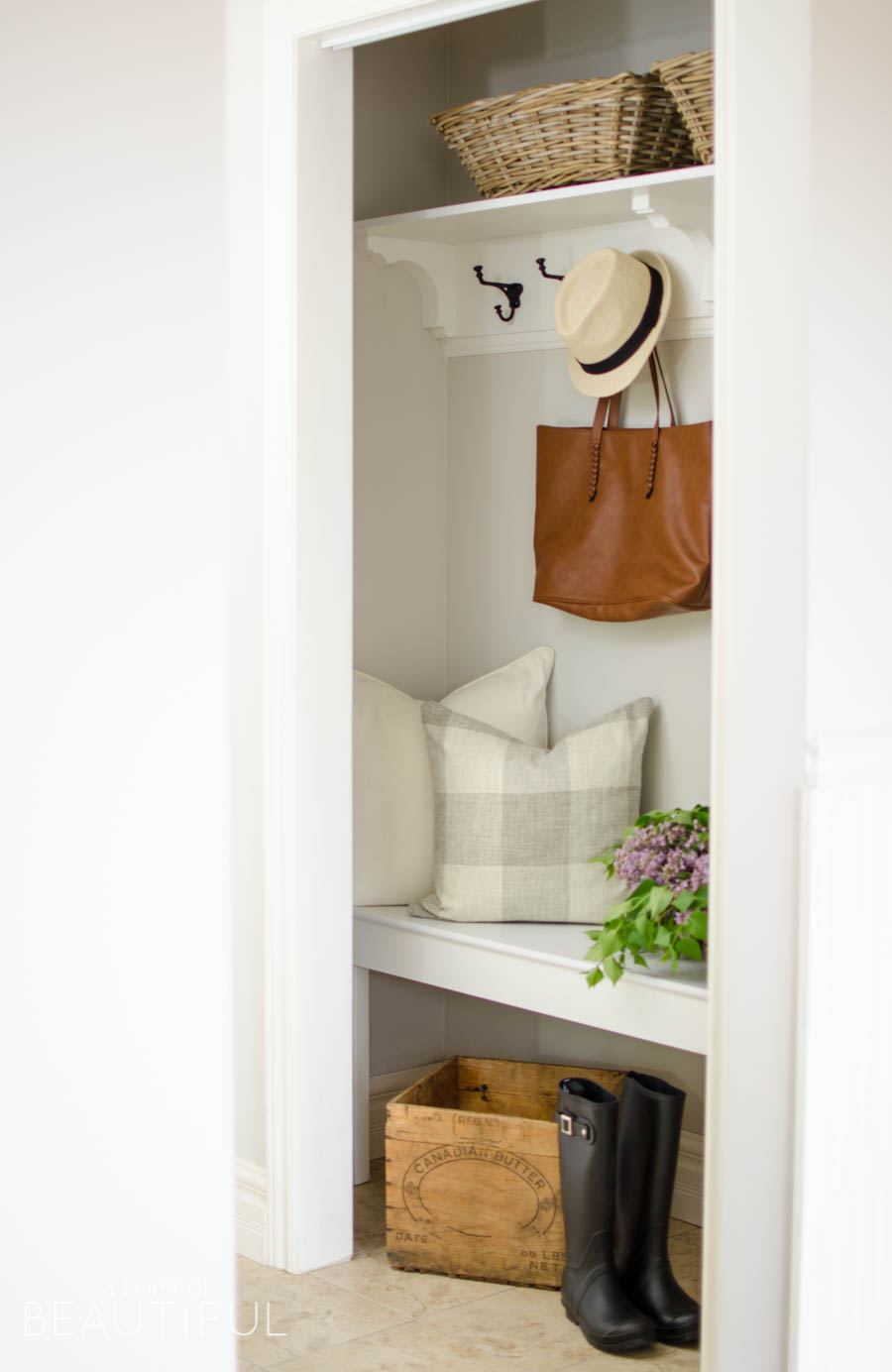 We originally intended on keeping the closet door up, but I love how open and airy our teeny tiny entry feels now. Besides, it adds an extra touch of farmhouse style to our home, why would I want to hide it from sight? We will probably hang the door again in the winter when we have to lug out our heavy winter coats and big snow boots, and this space won't be looking so pretty. But for now, this may just be my new favorite 'room' in our home! 😉
Are you looking to build one of these for yourself?
Nick has a tutorial/guide on how to build one of these for yourself over on The DIY Hubs!
Have a lovely day sweet friends!
Alicia xo
Please note this post may contain affiliate links, which allow us to make a small commission from your purchase, but your purchase price stays the same (see our full disclosure policy here). Thank you for helping support our blog.
SHOP THE POST