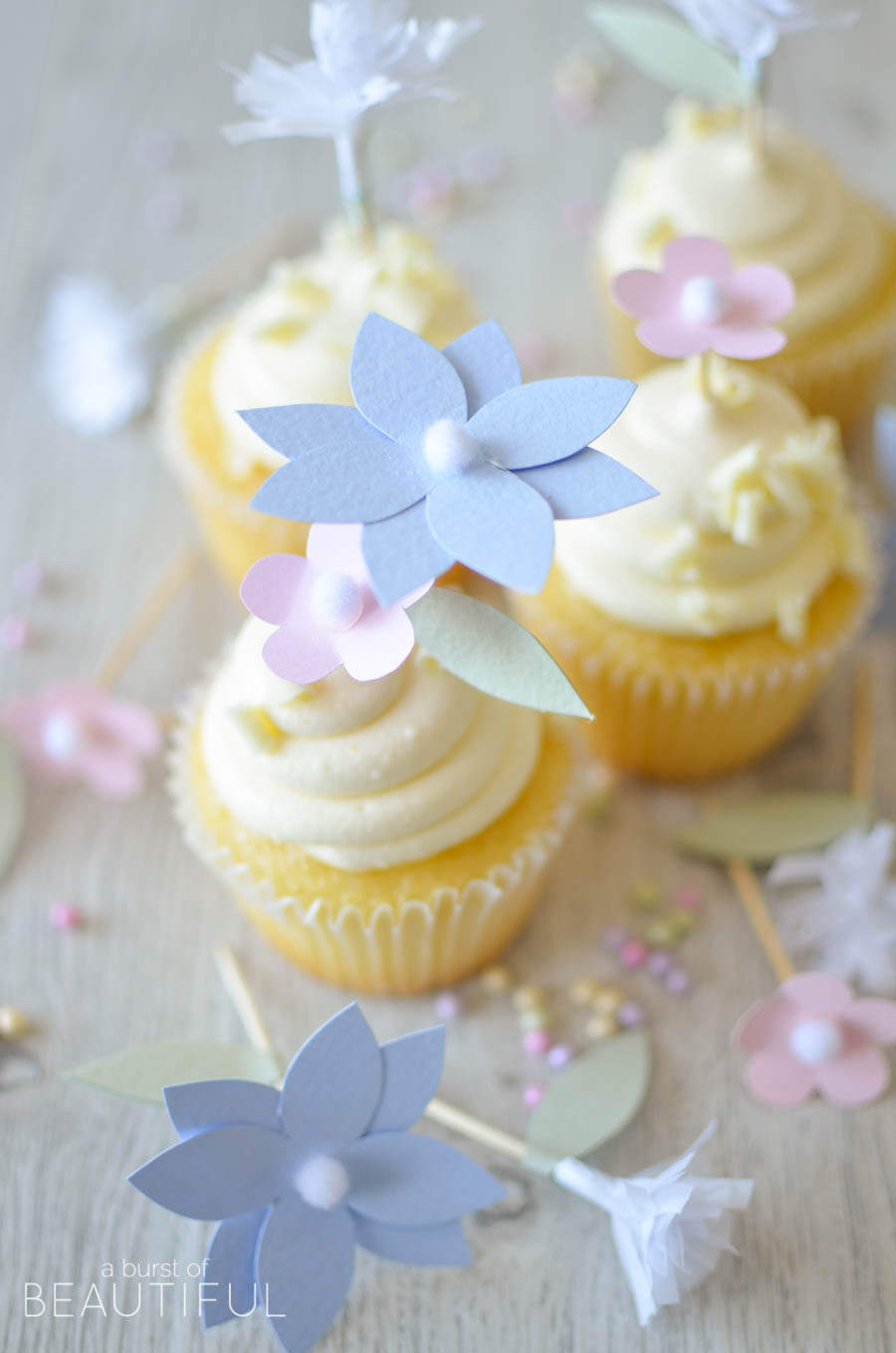 The spring and summer months always bring with them a sense of celebration. I believe it's the sound of birdsong, longer days and the warmth of the sun's rays that contribute to our relaxed mood and feeling of elation (how can you feel down when you know have a few months of gorgeous weather and outdoor living to enjoy!?).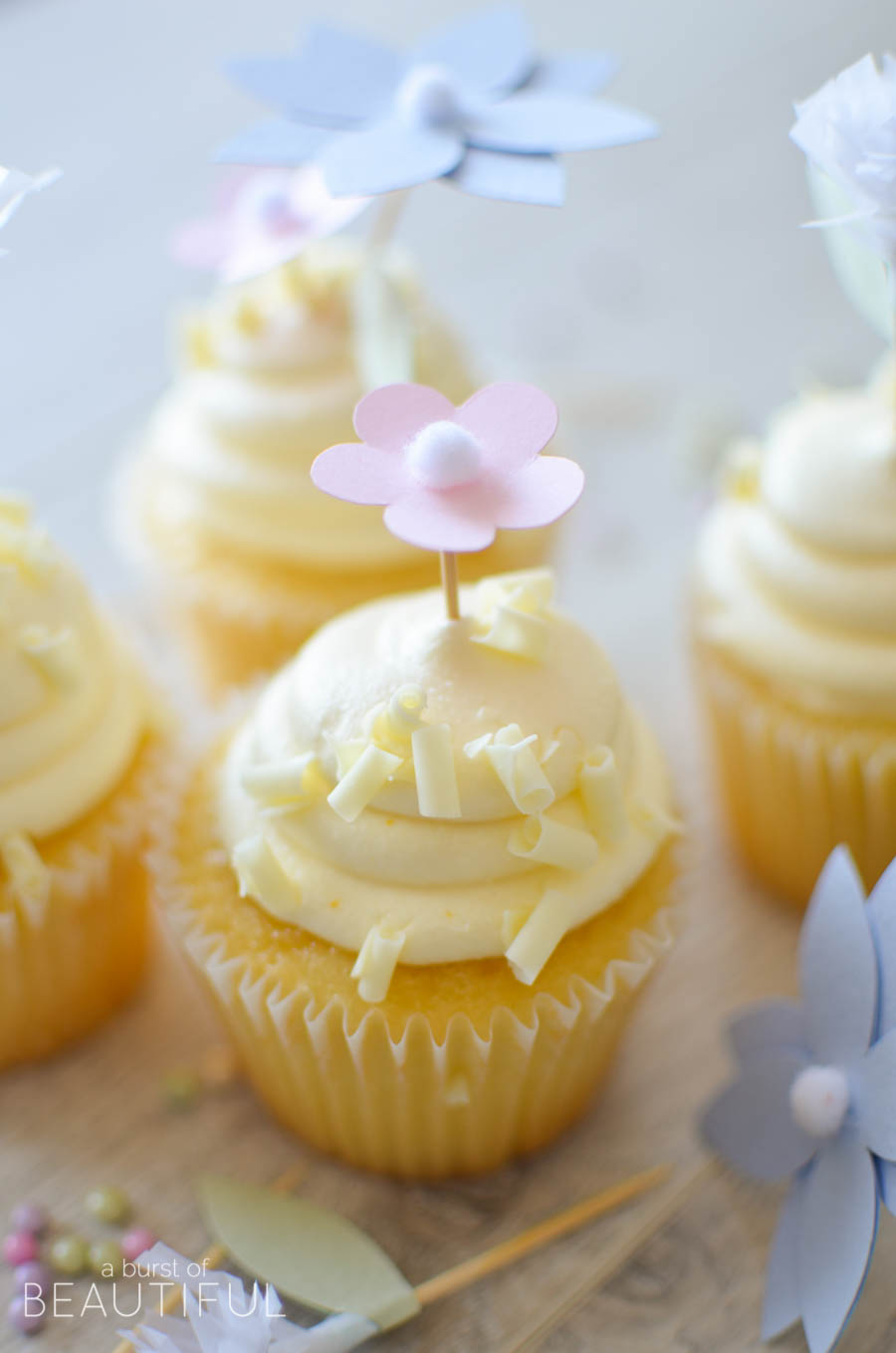 So it's no surprise that these months are filled with bridal and baby showers, weddings, graduation parties and casual get-togethers centered around BBQs and bonfires. And what is a celebration without a few sweets? Today I am sharing an adorable project with you – Flower Cupcake Toppers – to top off those sugary sweets and make them a little bit more special.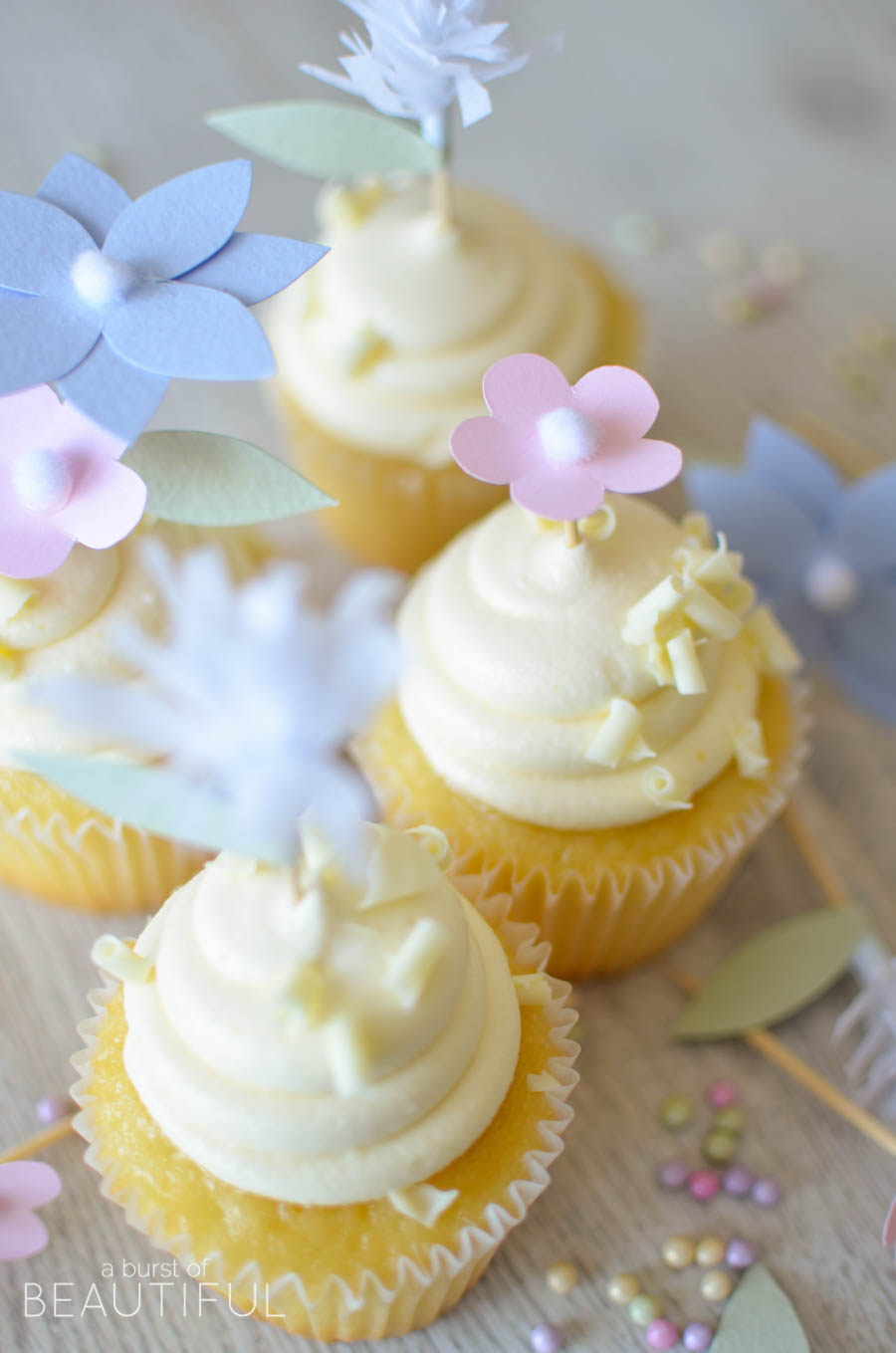 I was inspired by these sweet toppers to create a few simple and pretty cupcake accessories of our own. This is such a simple and inexpensive craft project and there are so many different variations of toppers you can make. I chose to create these delicate and feminine floral toppers as I thought they would be perfect for so many different occasions.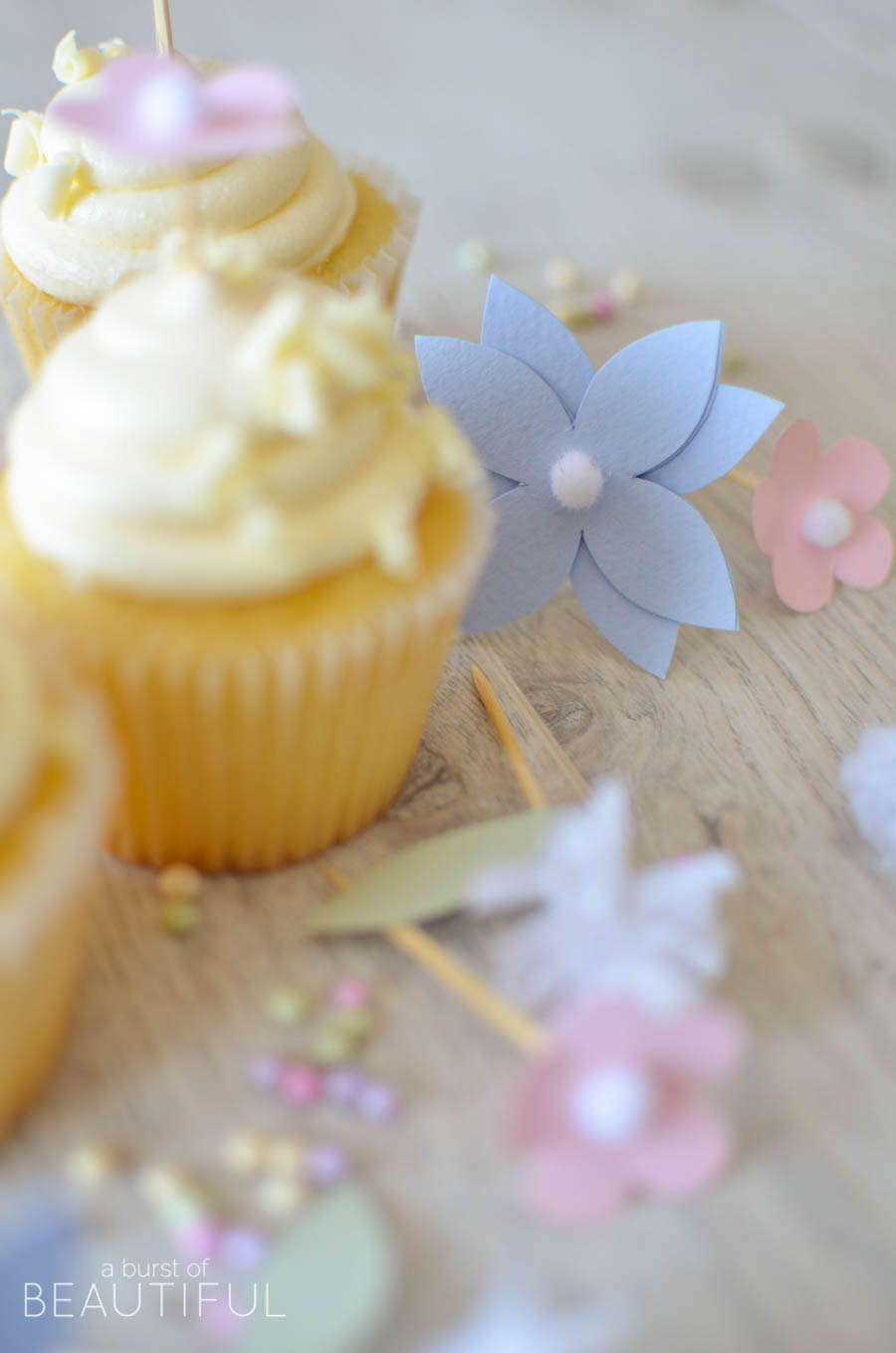 DIY Flower Cupcake Toppers
Supplies
Cardstock (variety of colors)
Toothpicks
Mini pom-poms
Tissue paper (variety of colors)
Adhesive tape glider (scrapbook adhesive)
Scissors
Hole punch
Hot glue
Instructions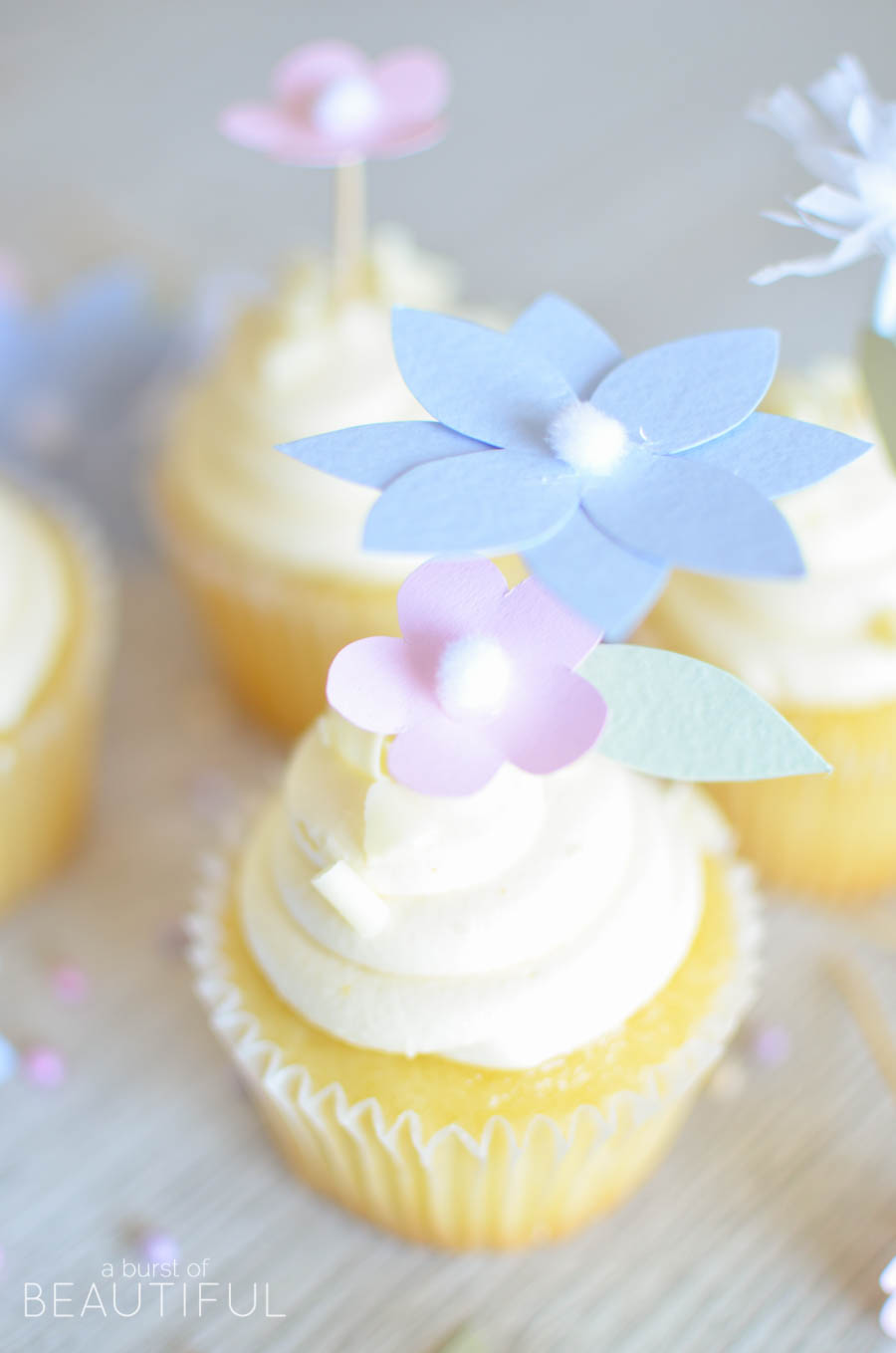 Paper Flowers
Start by drawing two different flower shapes and one leaf shape onto a thick piece of cardstock to use as a template. If you don't feel comfortable drawing your own you can search for flower templates online, there are many to choose from. Once you have your templates ready, trace them onto your colored cardstock and cut out each shape. Use an eraser to remove the pencil marks.
Using a hole punch, punch small holes into the centre of each paper flower and gently slide each paper flower onto a toothpick.
Add a small amount of hot glue to the tip of each toothpick and top with a mini pom-pom, sliding the paper flower to the very top (the excess glue will hold the flower in place against the pom-pom).
Gently turn the petals upward to create a fuller look for each flower.

Tissue Paper Flowers

Cut a strip of tissue paper 1.5 inches by 10 inches, fold into quarters and cut a fringe into the top.
Unroll and add adhesive along the bottom of the strip of tissue paper using the adhesive tape glider (do this slowly as the delicate tissue paper can easily tear).
Place the tip of a toothpick at the bottom edge of the tissue paper (at the start of the adhesive) and slowly roll, guiding it to ensure it is rolling straight.
Use your fingers to gently separate and fluff the tissue paper fringe to create the "flower" effect.
Complete the flowers by adding leaves if you wish.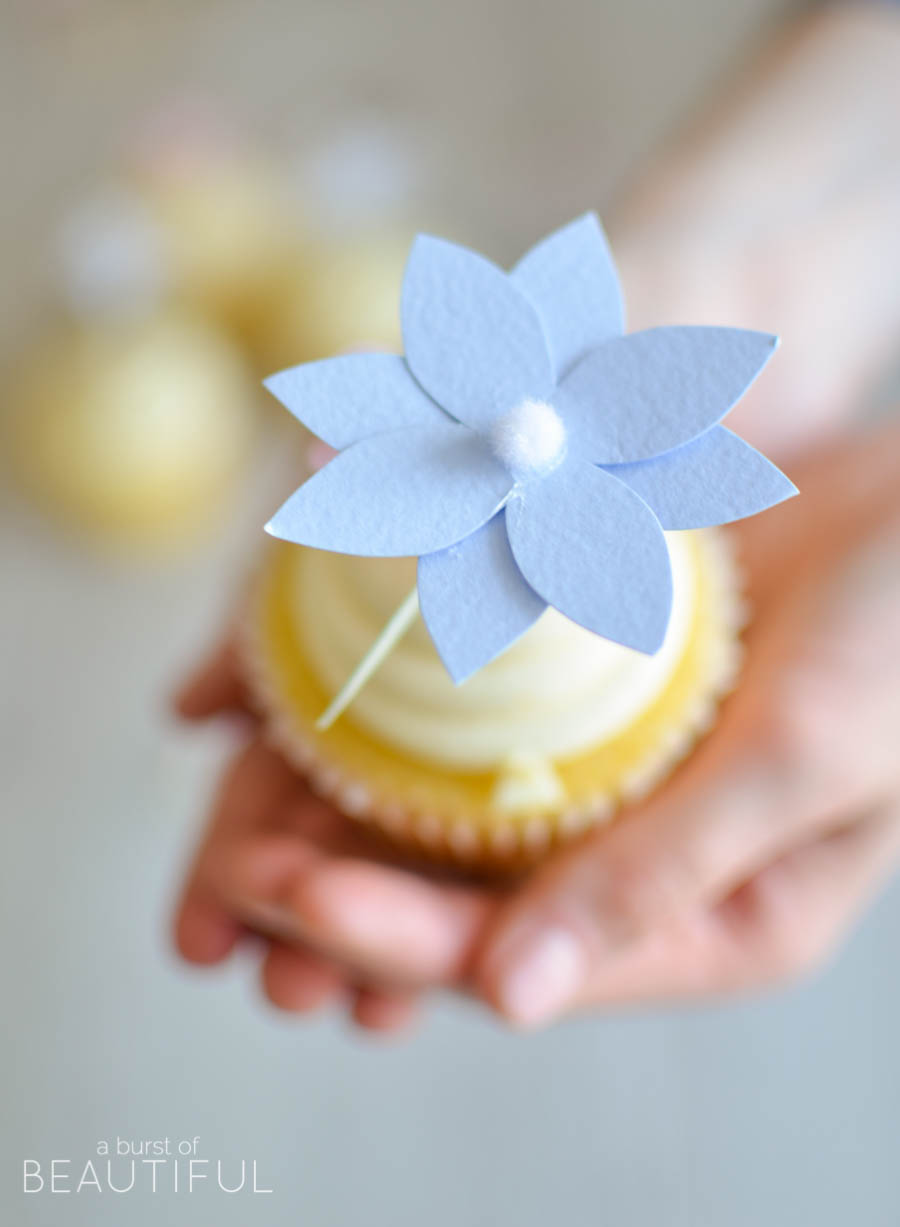 And now you have these sweet cupcake toppers that add just a little something extra to your next celebration.
Alicia xo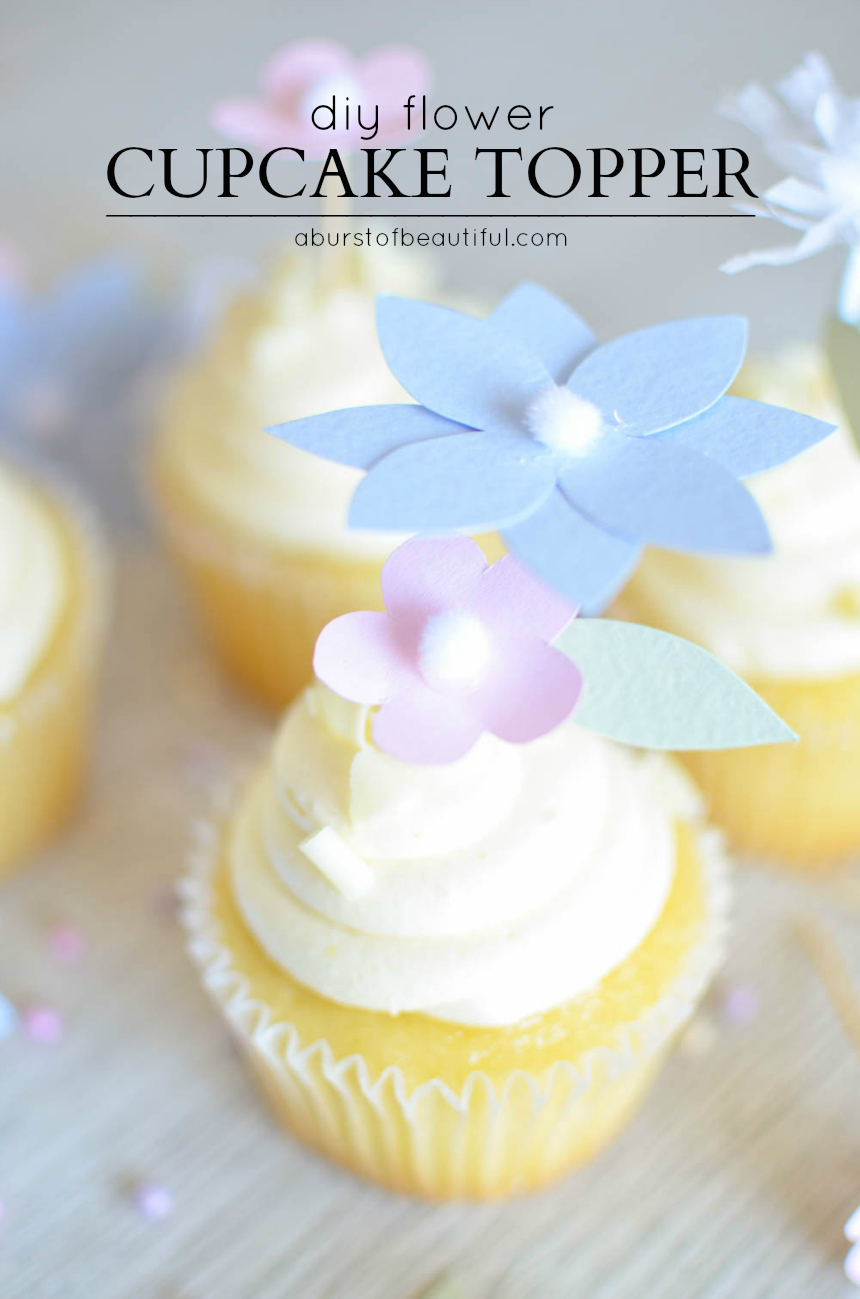 The post, DIY Flower Cupcake Toppers, first appeared on Craftberry Bush on April 6, 2016.