When we planted our square foot garden this year, we made sure to sow a few cucumber plants and some carrots with the intention of making some homemade pickles. Then I got thinking about it, why stop there? Our bush beans and zucchini are ready too, so why not incorporate them into the mix?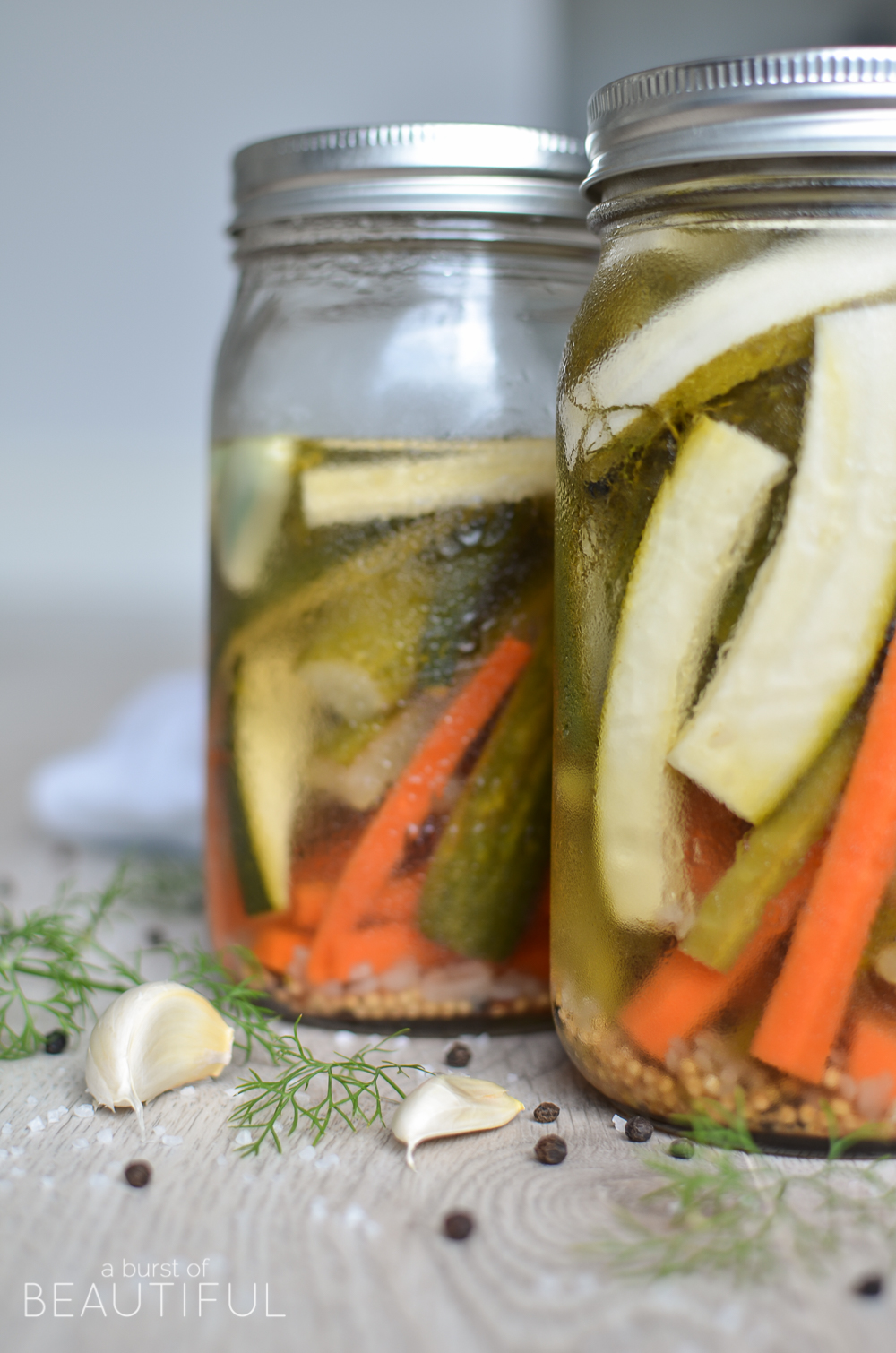 If you're not a fan of pickles, this recipe is sure to change your mind. Buying canned pickled vegetables from the supermarket just doesn't compare to making your own. It gives you the flexibility to adjust the flavor to suit your taste buds. By no means does this recipe have to be followed to the letter. Feel free to make additions and subtractions.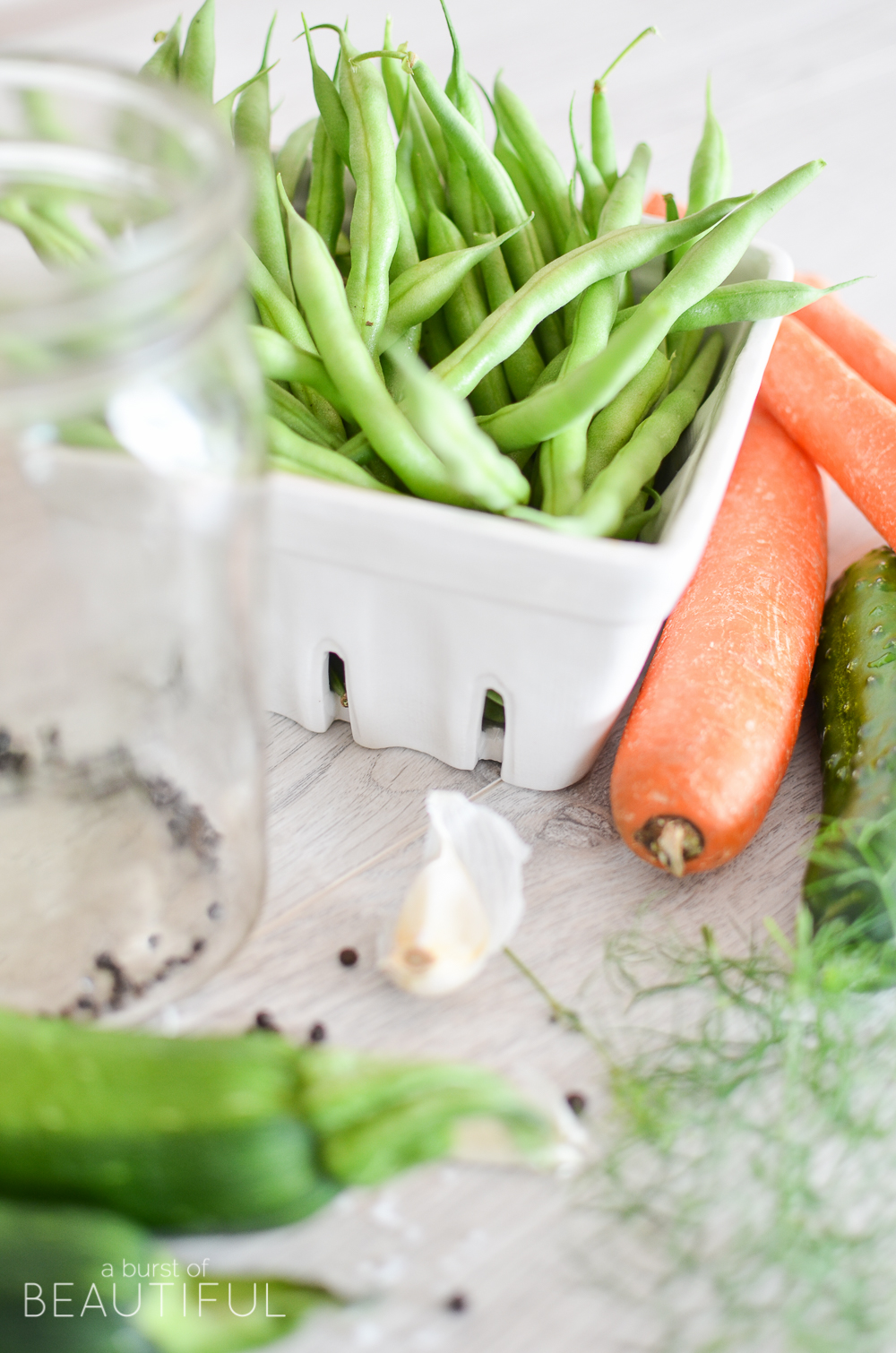 Using your own produce to make these is just such a satisfying feeling. It's great to know that the time and effort you invested into growing these can be used in a raw form that is full of flavor. The amount of salt in this recipe is not terrible for you (I'm sure it's not great either), but it's one more way to eat fresh vegetables.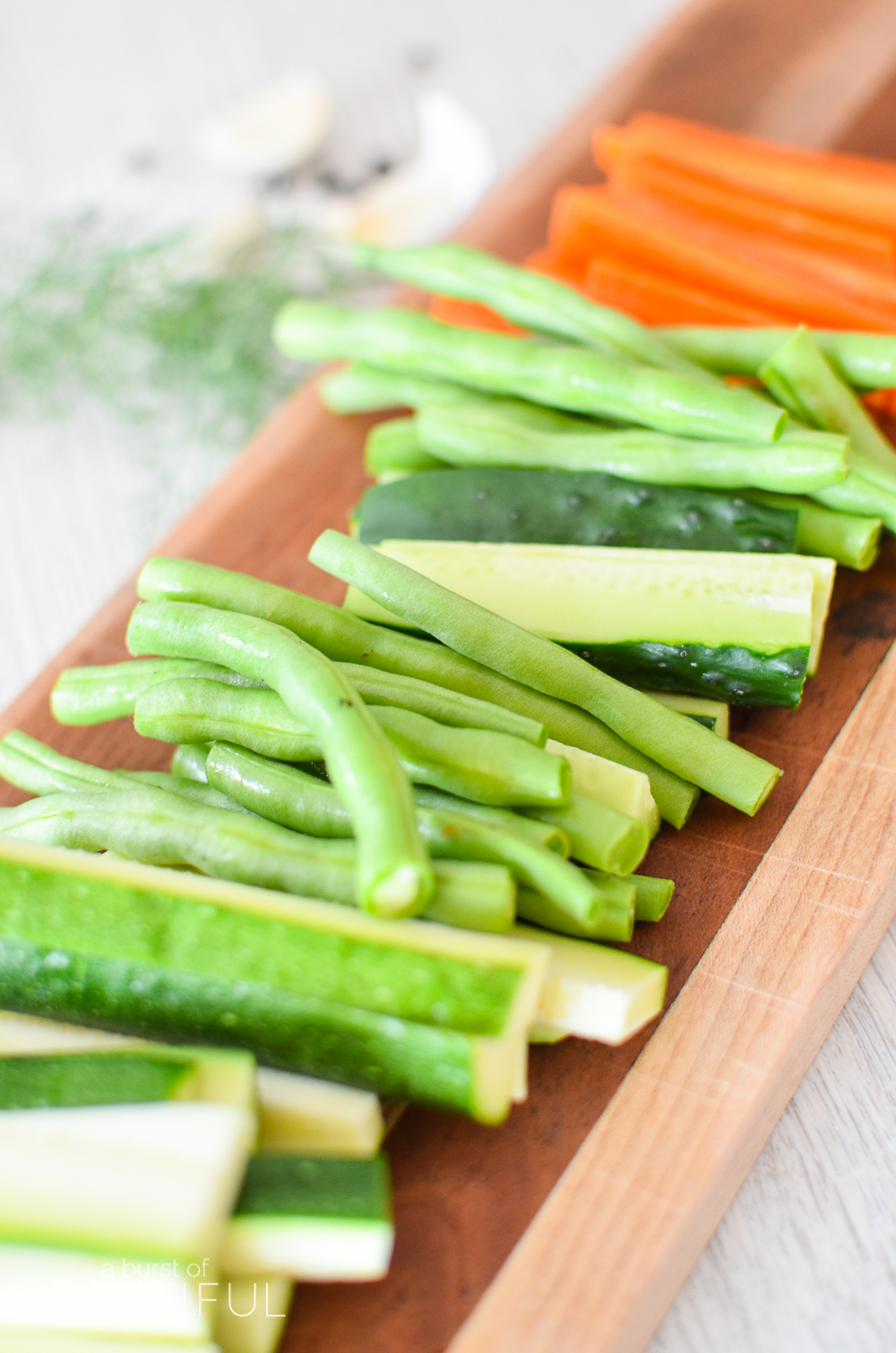 We love having pickles in our refrigerator at all times so that we have something cool and crunchy to snack on when we put together a picnic or mid-afternoon snack or have guests over for appetizers and a drink on the patio.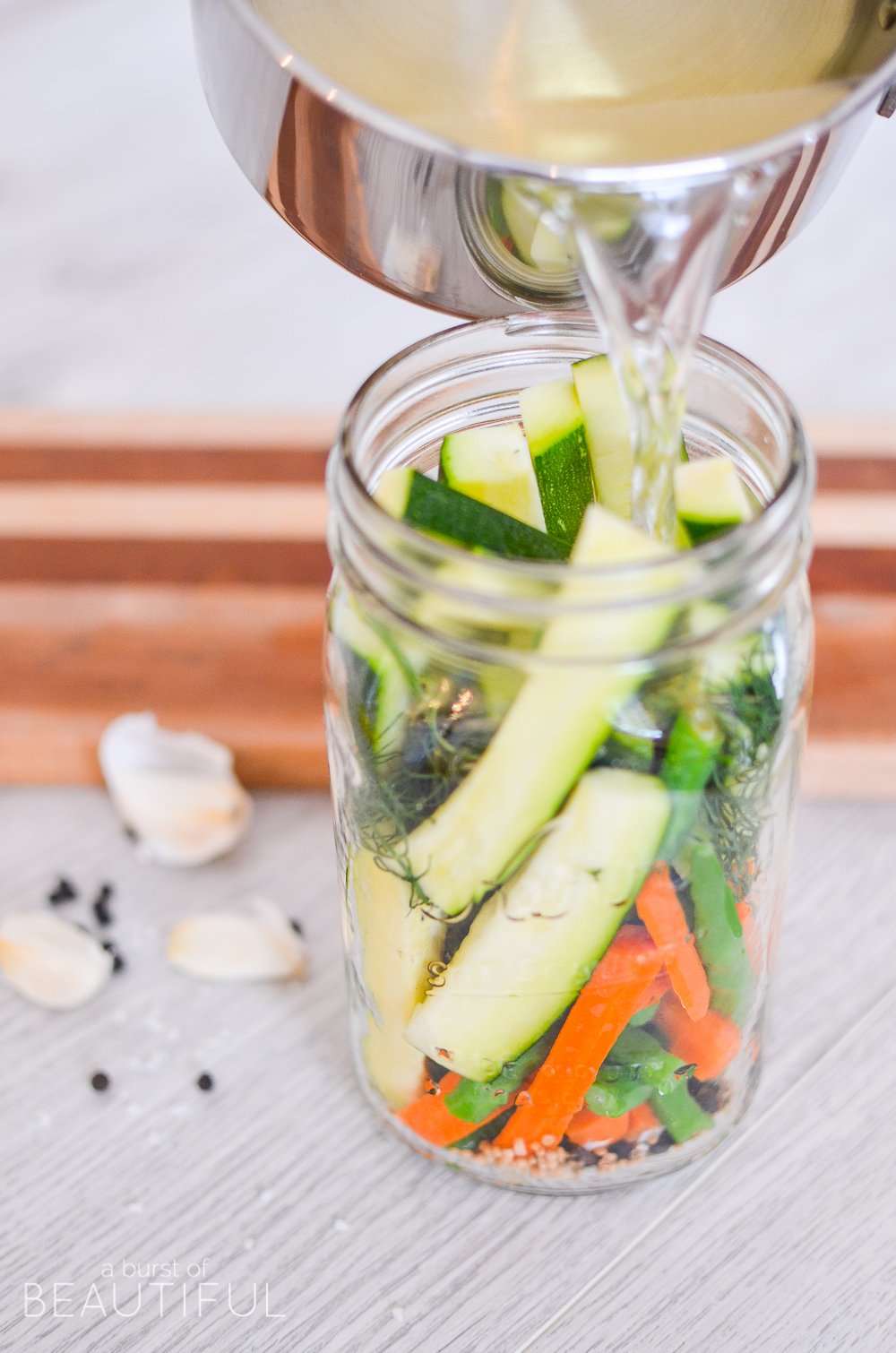 I always thought it was difficult to make pickles, which is why I never attempted it. I recently discovered that you don't need to go through the entire canning process if you are going to keep them in the refrigerator for a few months (if you don't eat them all in the first week!). Well, that makes it a lot easier, doesn't it?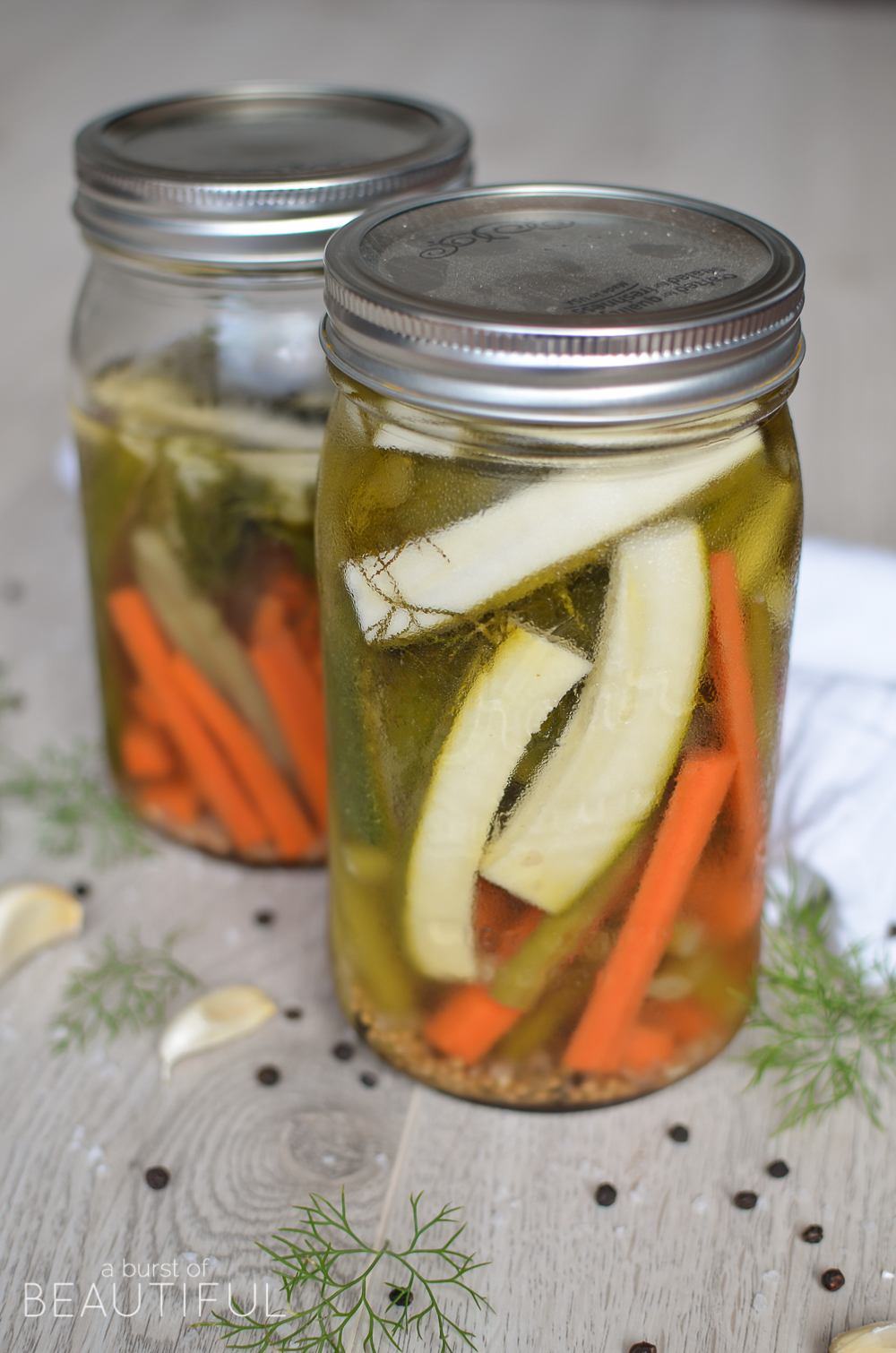 Just grab some fresh veggies from your garden or local market and you'll likely have the rest of the staple ingredients hanging around in your pantry.
We're going to have a hard time buying pickled veggies from the store come winter. For now, we'll continue to enjoy these as fast as our garden can produce them, and as fast as we can make them. It's a lot easier than you think, and a very satisfying snack!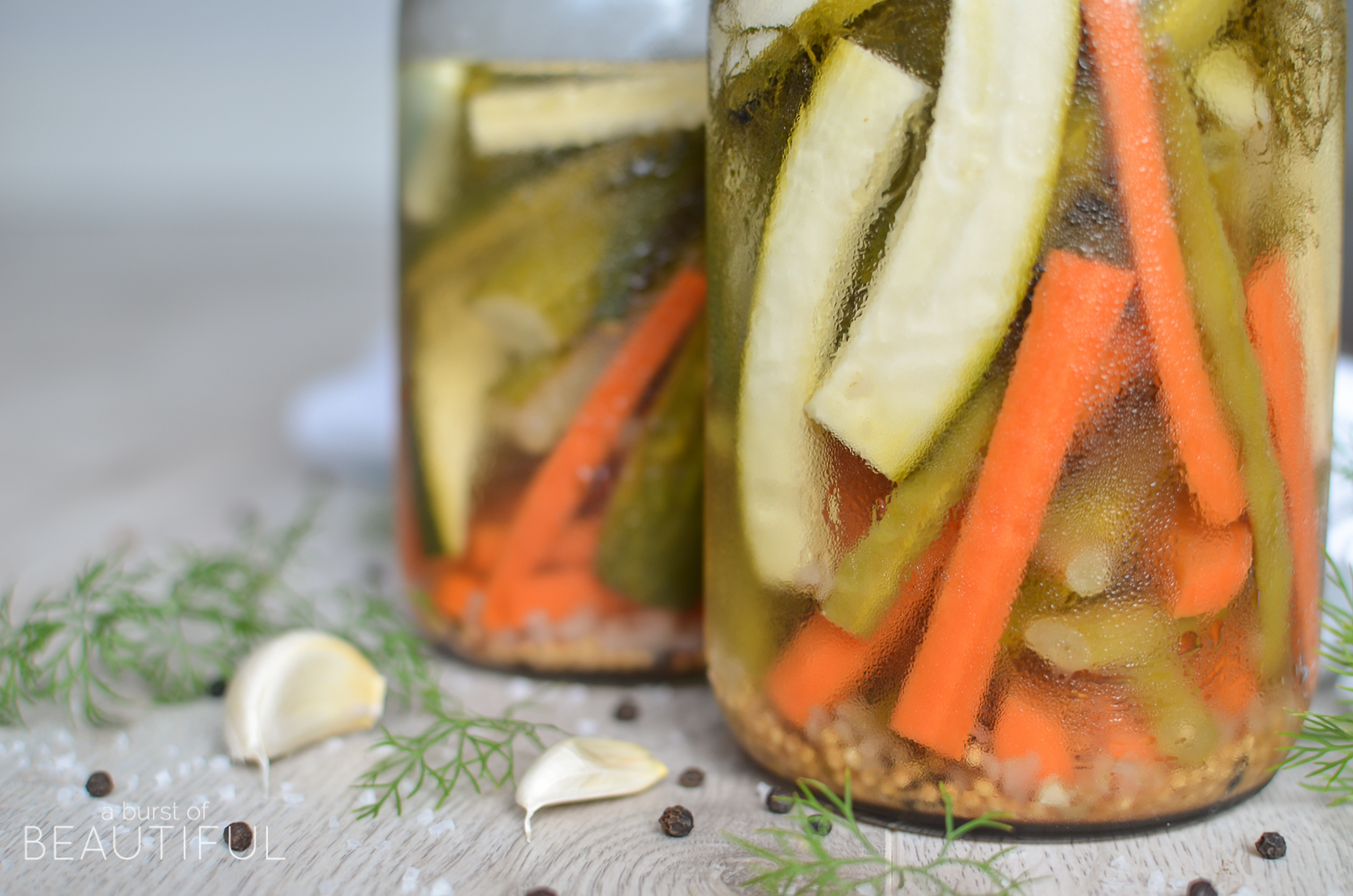 I hope you enjoy this recipe as much as our family does. It's definitely a favorite around our house.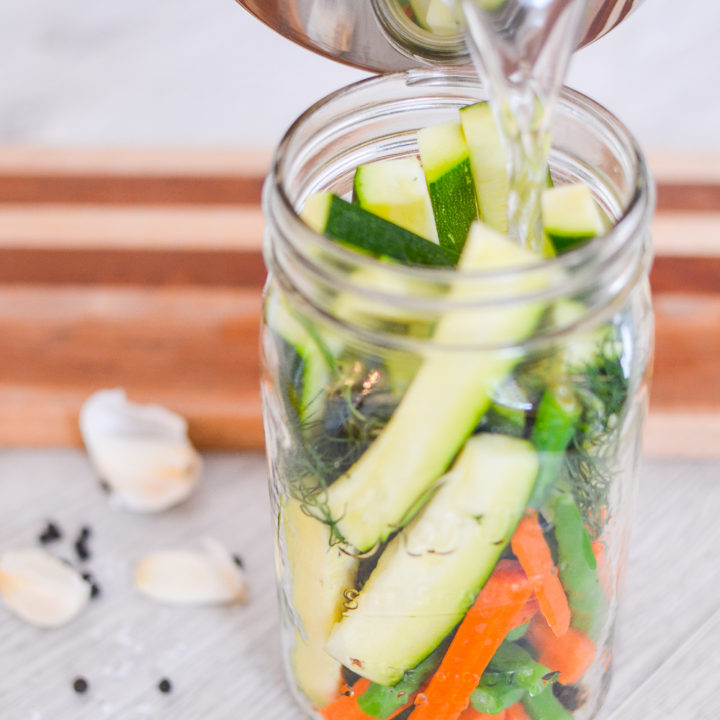 Easy Refrigerator Pickles and Vegetables
Ingredients
Vegetables
2 mini-cucumbers, cut in 1/4" strips
1 zucchini, cut in 1/4" strips
2 carrots (blanched), cut in 1/4" strips
20 green beans (blanched)
Brine
2/3 cups white vinegar
1/3 cup apple cider vinegar
2 tbsp red wine vinegar
1 cup water
3 tsp sea salt/kosher salt
2 tsp granulated sugar
Spices
2 garlic cloves, minced
1 tsp coriander seeds
1 tsp mustard seeds
1 tsp dried onion flakes
1 tsp whole black peppercorns
3 sprigs of fresh dill
1 whole clove or allspice
2 pinches of red pepper flakes (optional)
Instructions
Cut cucumbers into quarter spears; zucchini and carrots into 1/4" julienne strips; and ends off of the beans.
Blanch the carrots for 1 minute in boiling water, adding the beans for the last 30 seconds.
Drain and place in ice bath to stop the cooking process.
Bring the vinegar's, water, sea salt, and sugar to a boil.
Add garlic and other spices to the bottom of a 24oz canning jar.
Pack in the vegetables.
Fill with hot brine, and let cool uncovered.
Close jar and store in the refrigerator for 24-48 hours before enjoying.