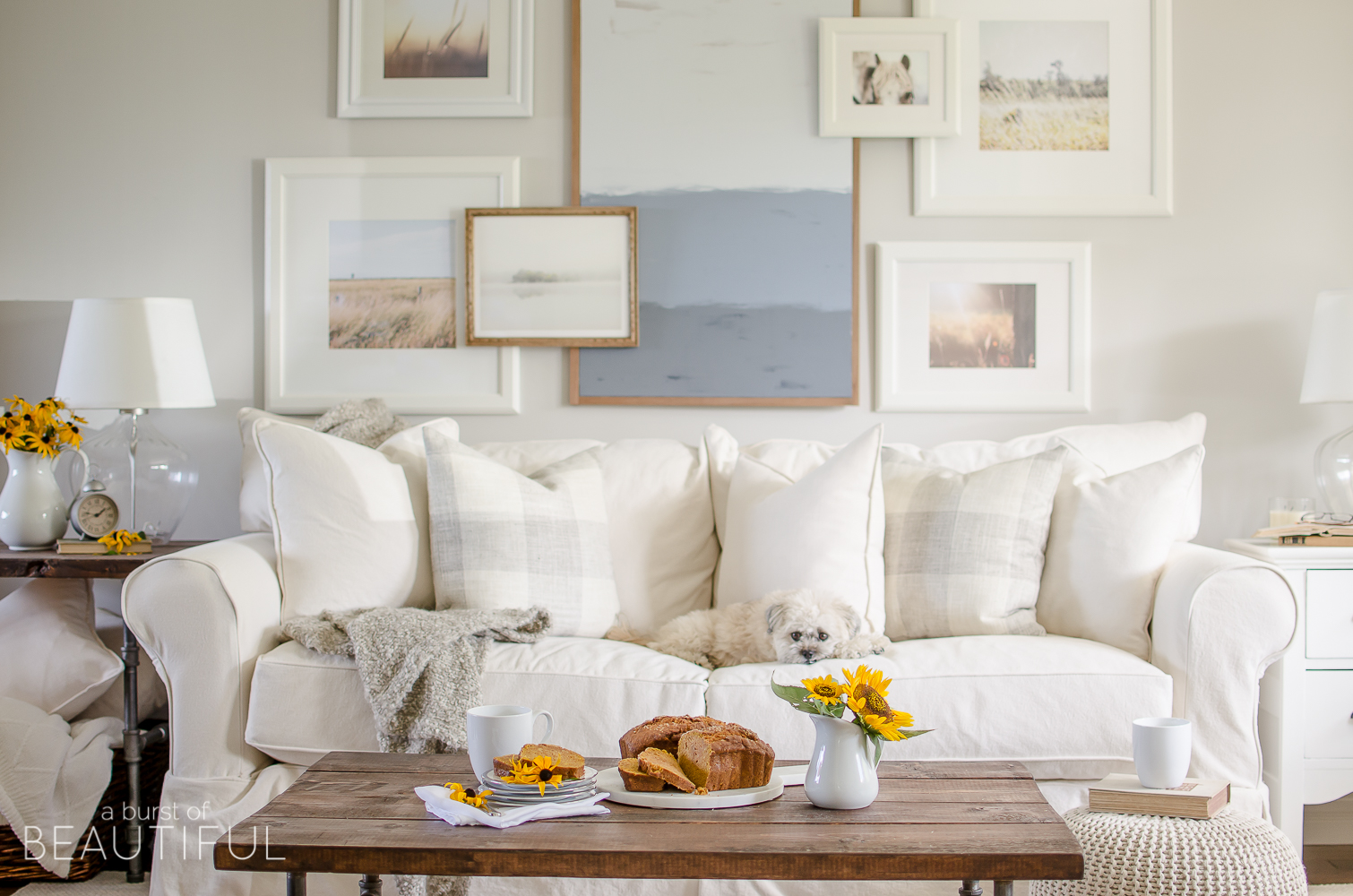 We have been slow to let go of summer this year. Maybe it is because we have experienced the sweet and lazy days of summer as a child again, through the eyes of our little one. At one and a half, she is fully understanding the pure joy of feeling the warm summer sun on her skin, splashing in the waves at the beach and evenings spent picking fresh veggies from her garden as the sun goes down.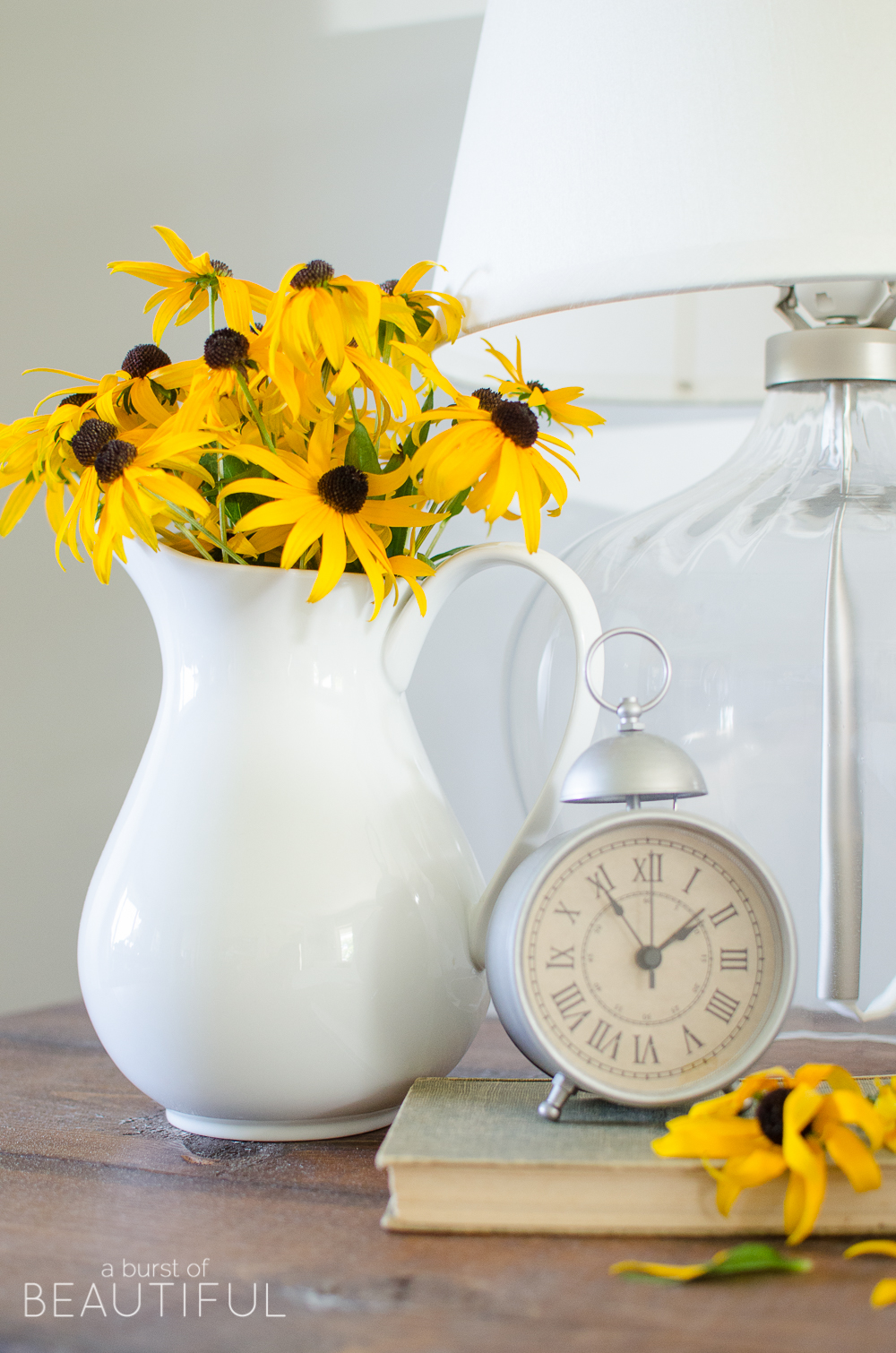 As much as I am relishing these last warm days before the air turns crisp and cool, I also can't wait to experience another fall season with our little one – jumping in piles of leaves, sipping warm apple cider and carving pumpkins are just a few of things I know she is going to love.
So it is with this anticipation that I say farewell to those relaxed summer days and hello to the beauty and splendor of autumn.
When my sweet friend, Kristen from Ella Claire invited me to join in on her Farmhouse Holiday Series this week, I was so happy. I truly feel honored to be joining such an amazingly talented group of women, women whom I have looked up to, both throughout my journey of blogging and creating a home for my family.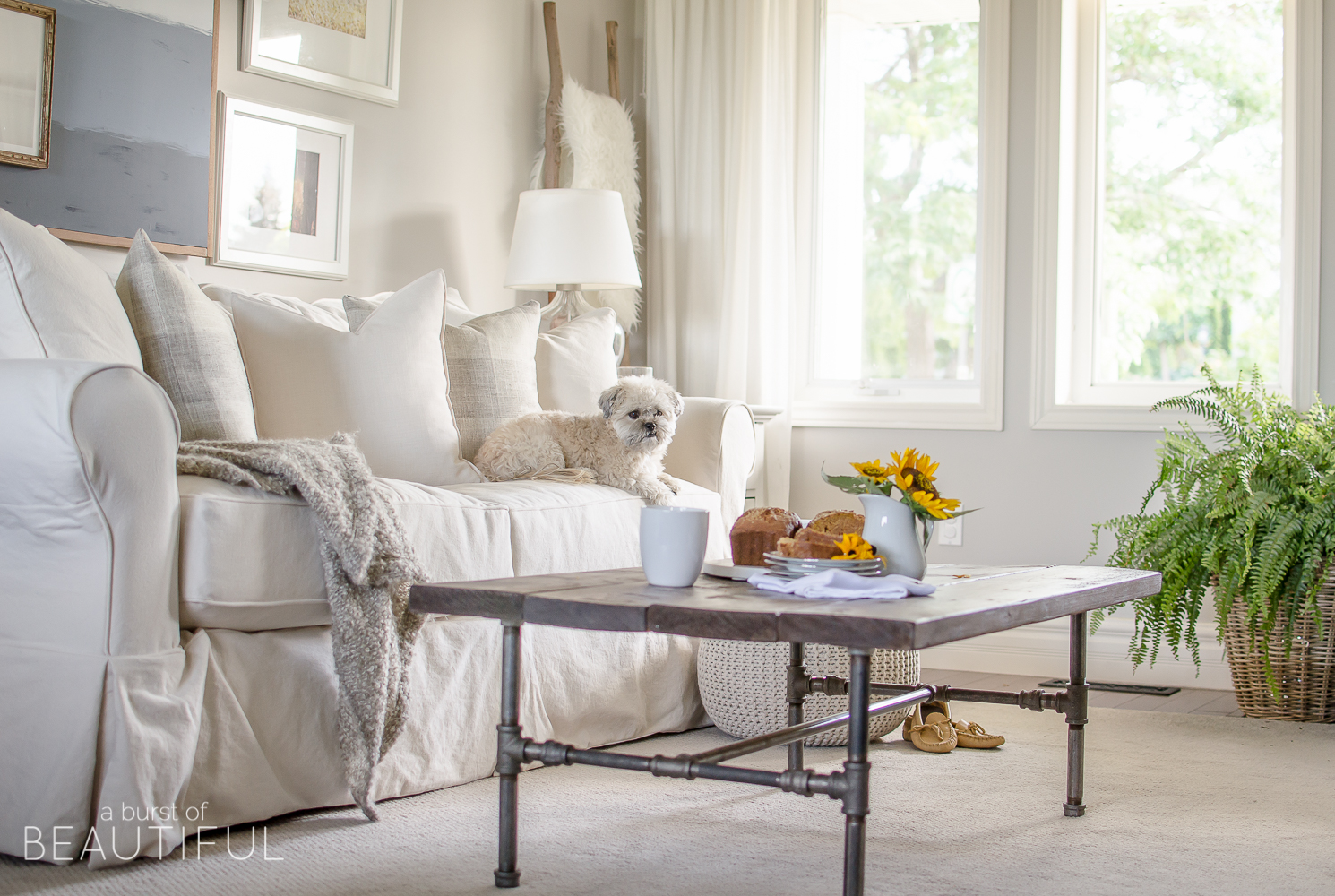 This week the Farmhouse Holiday Series is all about fall living rooms, which couldn't have come at a better time for us, as we just revealed a big portion of our living room makeover yesterday (if you missed it you can check it out here). I am enjoying decorating around our beautiful new furniture and had a lot of fun adding a few subtle hints of the fall season to this room.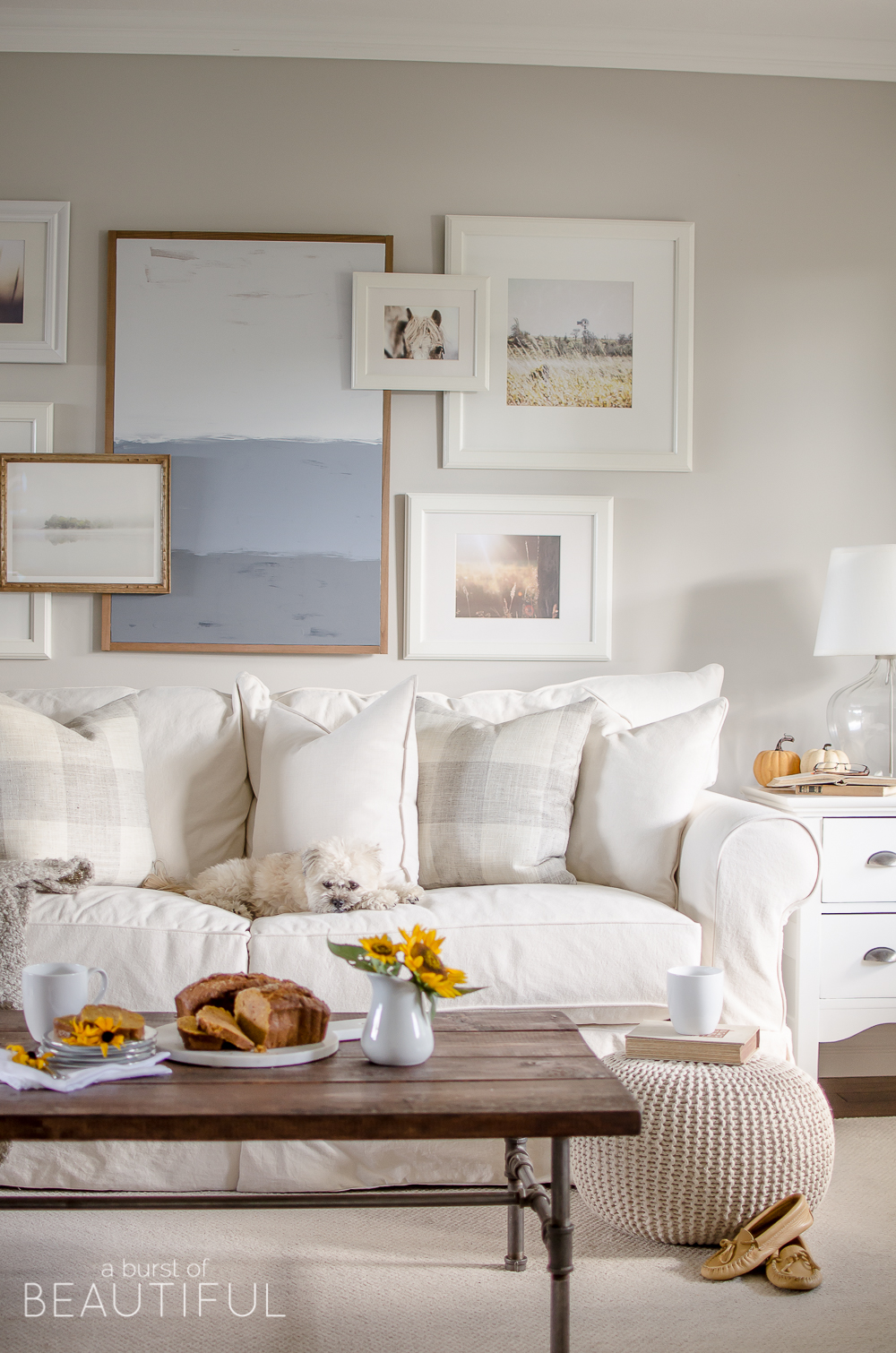 For me, decorating for the seasons is more about creating a home that transitions with our family's needs from one season to the next. As the warm breezes of summer turn to crisp days and even cooler nights, I like to place a few cozy throws around the room. It's nice to know there is always an extra blanket or two on hand for that first cold snap of the season.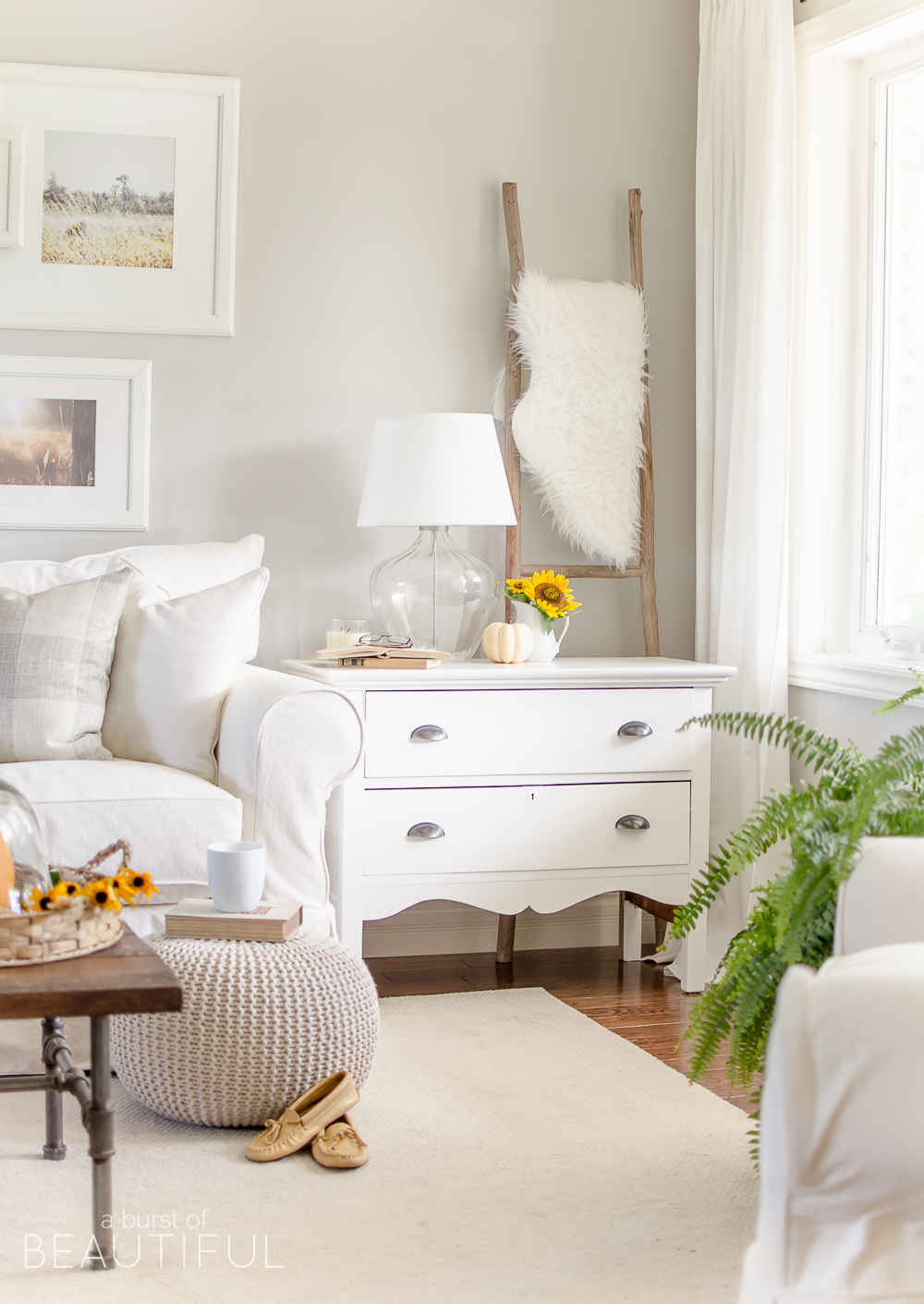 It is with that change in temperature that brings out one of the things I love most about autumn – the beautiful colors that abound. From the changing leaves and budding flowers to the organic harvest vegetables at the market, I am always inspired by nature and the beauty that lays just outside our doors.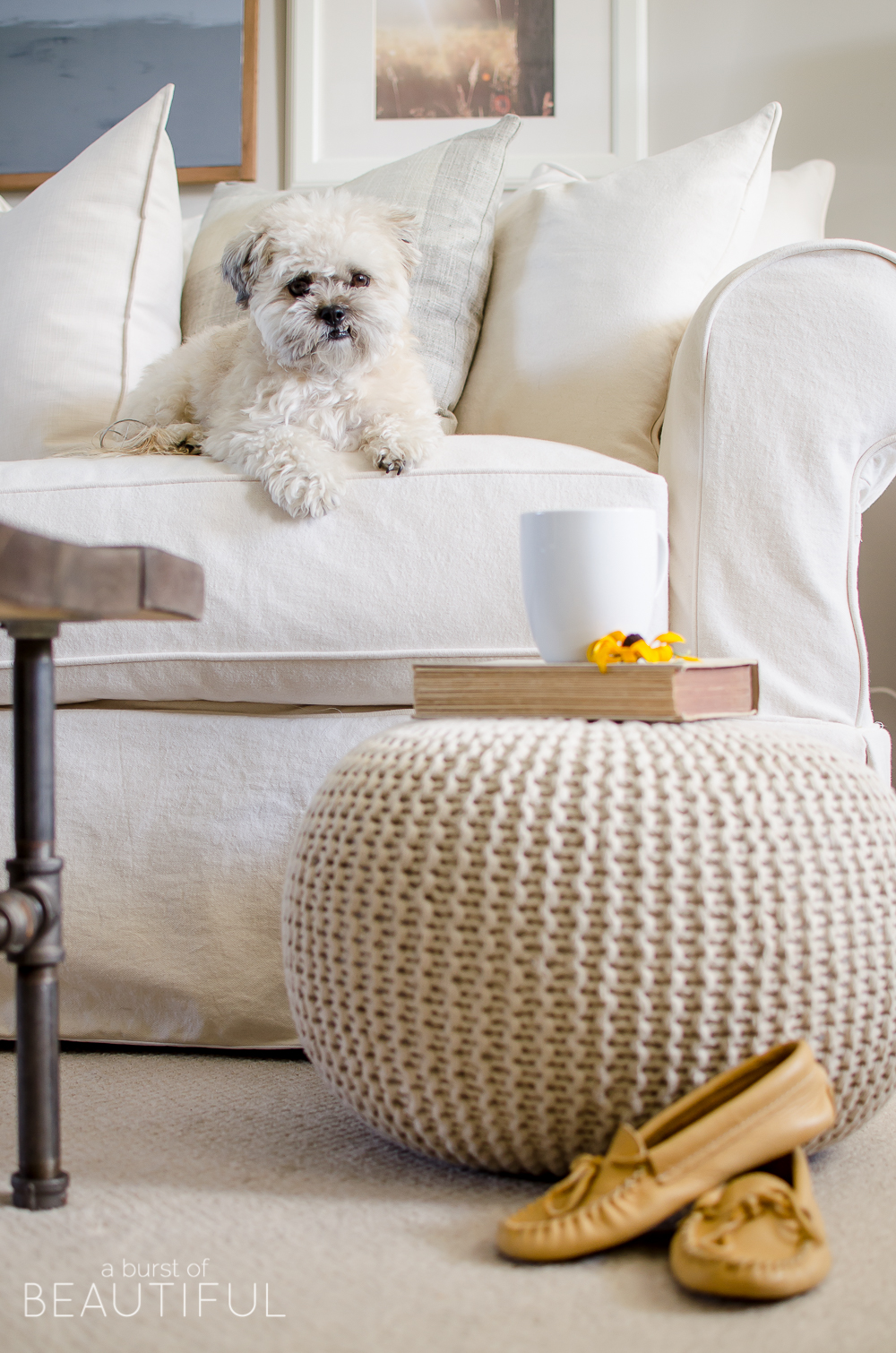 I arranged a few little bouquets of sunflowers and black-eyed Susans in vintage pitchers and placed them around our home for a little pop of color. Zoe had fun picking these pretty flowers from both our garden and our grandmother's. There is so much you can forage right outside your own home, have fun collecting seasonal flowers, pinecones, acorns or picking pumpkins at a local farm to use throughout your home during the season. It is a simple and inexpensive way to create a very natural and organic look.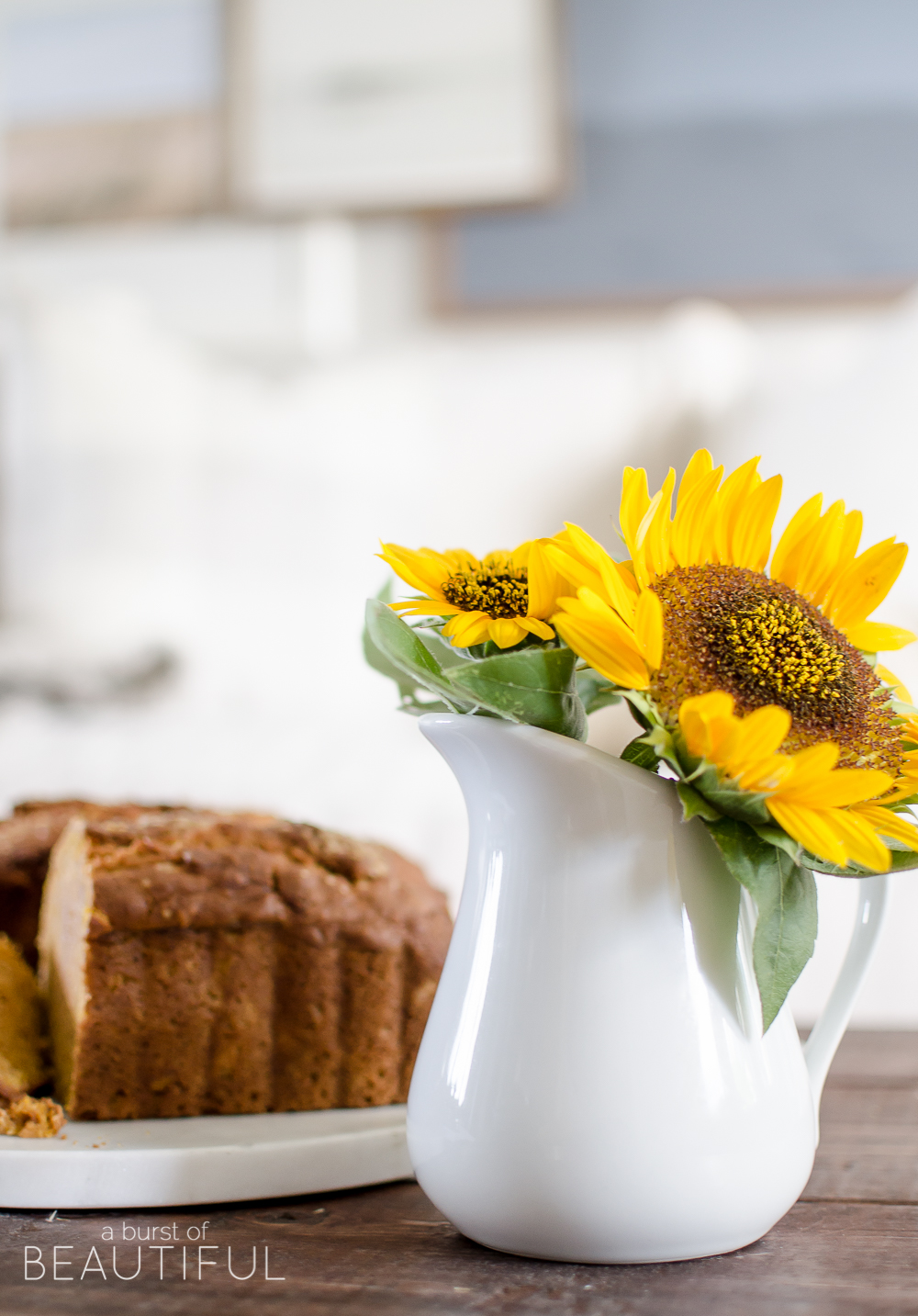 I've always found fall to be a season of comfort and warmth, I love the thought of cozy sweaters and wool socks, hot cider and hearty soups to help rid the chill in the air. And that warmth is no different when it comes to our homes. I think the rustic wood tones and textures of our DIY pipe coffee table and side table, along with the natural wood frames in our gallery wall (I'll be sharing more about how I made this abstract painting in a few weeks) really lend to adding warmth to our living room's mostly white and cream palette.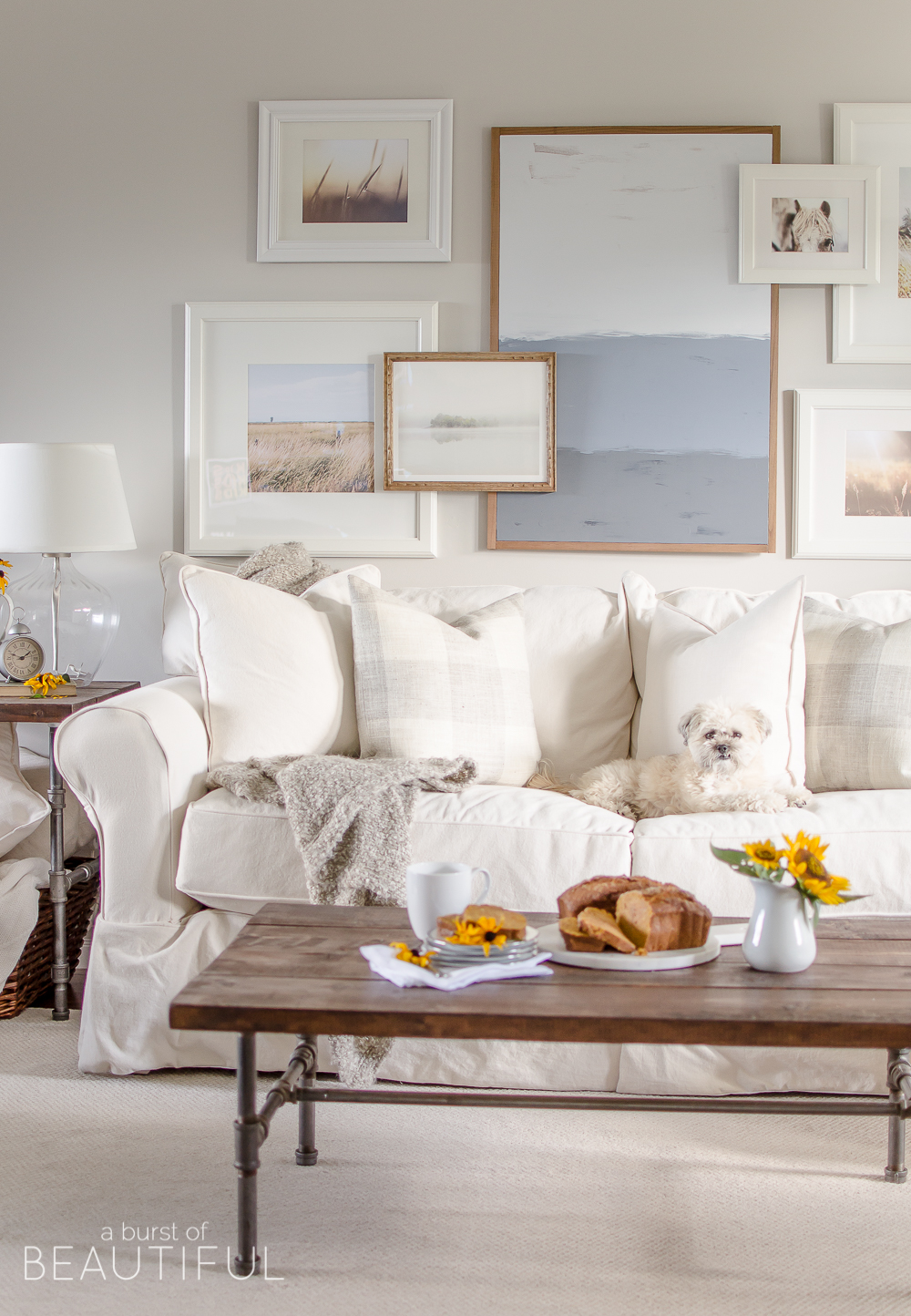 That warmth also extends to the warmth of hospitality and inviting our family and friends into our homes. This pumpkin loaf is my favorite fall recipe and at the first sign of fall we usually bake a big batch of these loaves to keep on hand for company. You can find our recipe here, or if you want something different, try out our pumpkin pie baklava! It's always nice to offer your guests something sweet.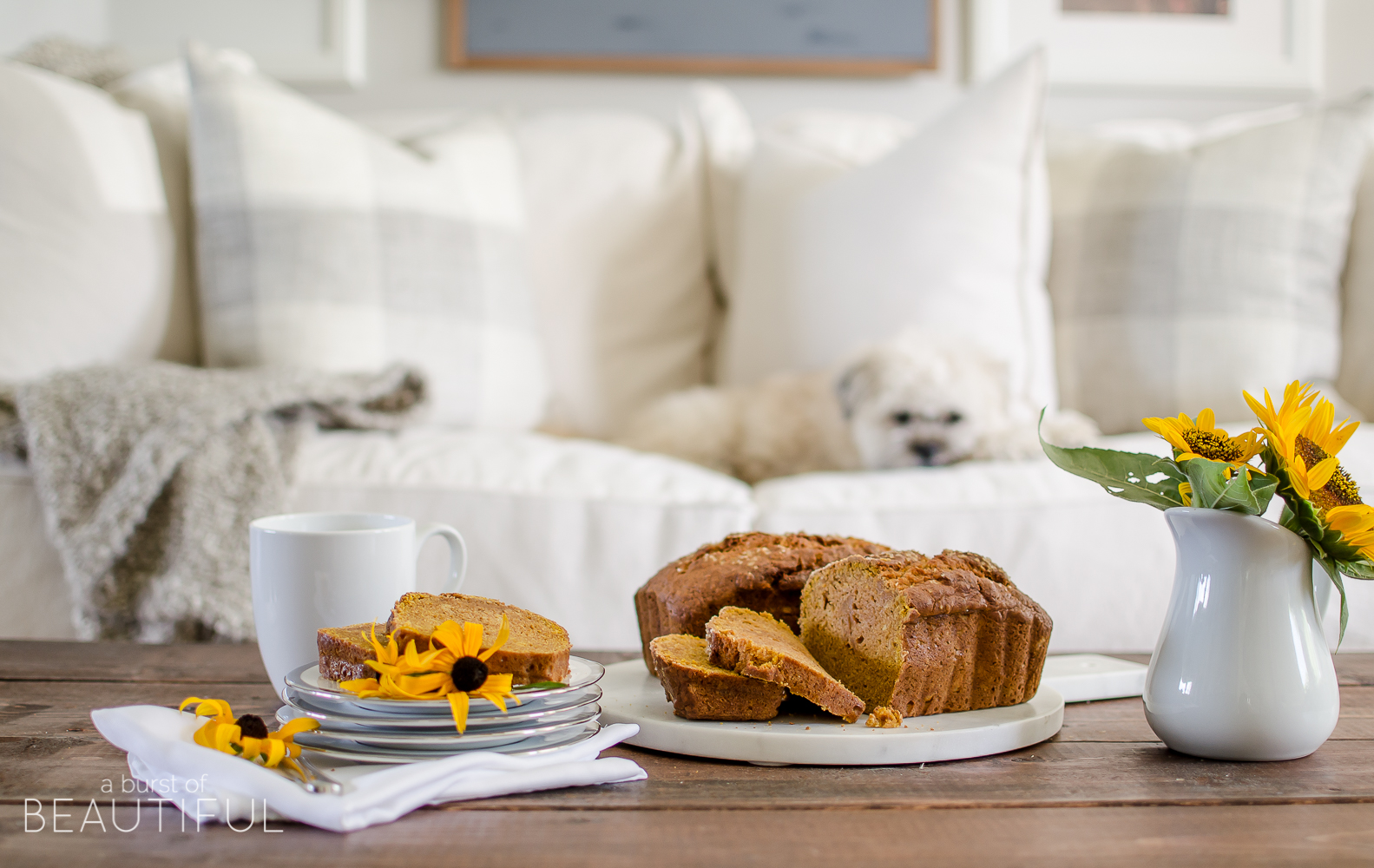 I hope you enjoyed this little peek into our fall living room, and I hope you'll join me again next week when I share our mudroom and kitchen spruced up for the season!
And make sure you take the time to check out these other amazing fall living room tours, you won't want to miss them!
Alicia xo
| My Sweet Savannah | Ella Claire | Love Grows Wild | Liz Marie Blog | French Country Cottage
Dear Lillie | Shades of Blue Interiors | Miss Mustard Seed | City Farmhouse
Jennifer Rizzo Design | Jeanne Oliver | Rooms FOR Rent | Kindred Vintage
And today's featured guest – A Burst of Beautiful