This post was generously sponsored by our friends at The Home Depot.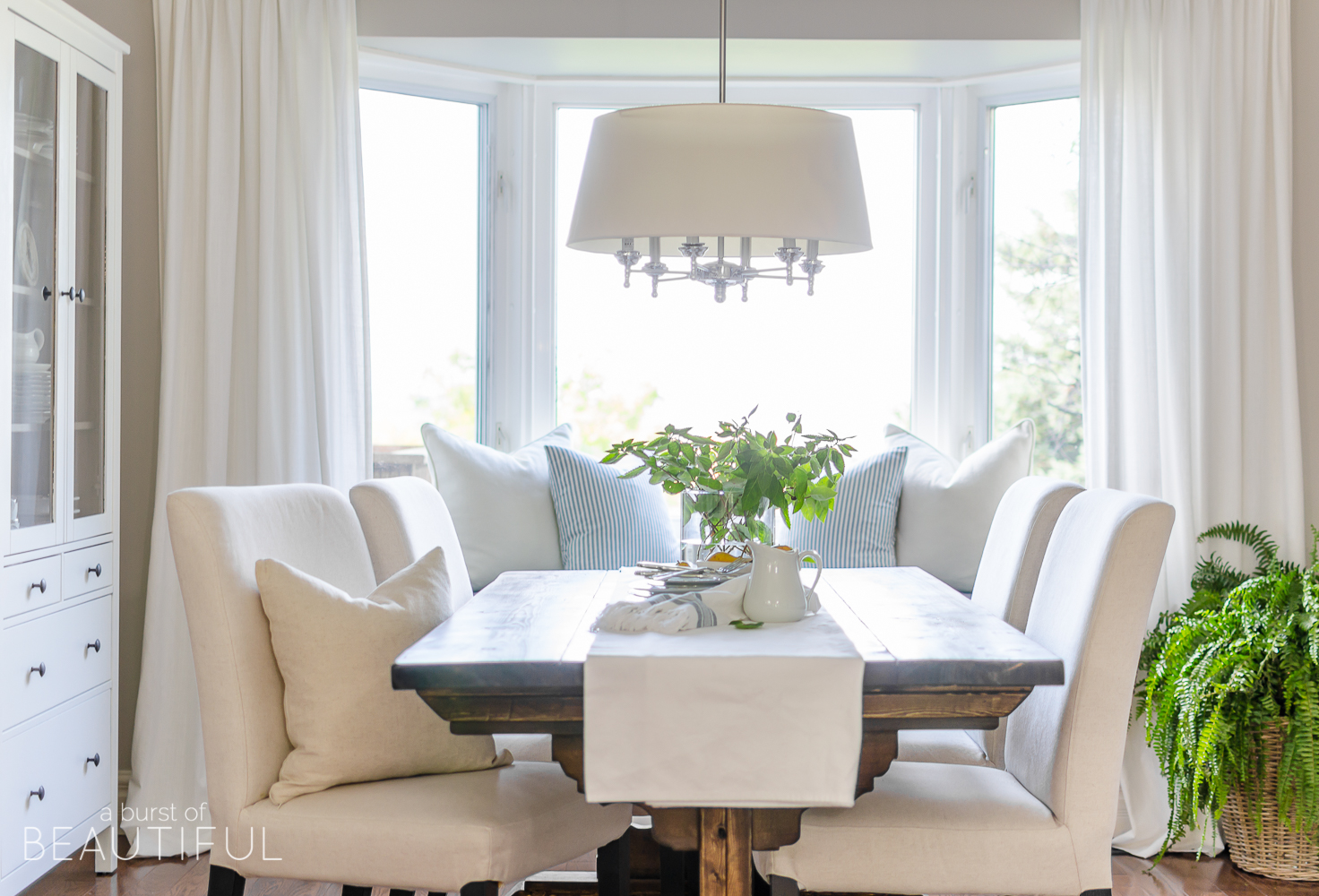 Since moving into our home four years ago, we have been pouring our heart and soul into creating a home that is both beautiful and inviting, as well as functional and practical for our growing family. It has been a slow process and involved much trial and error, but we are getting there.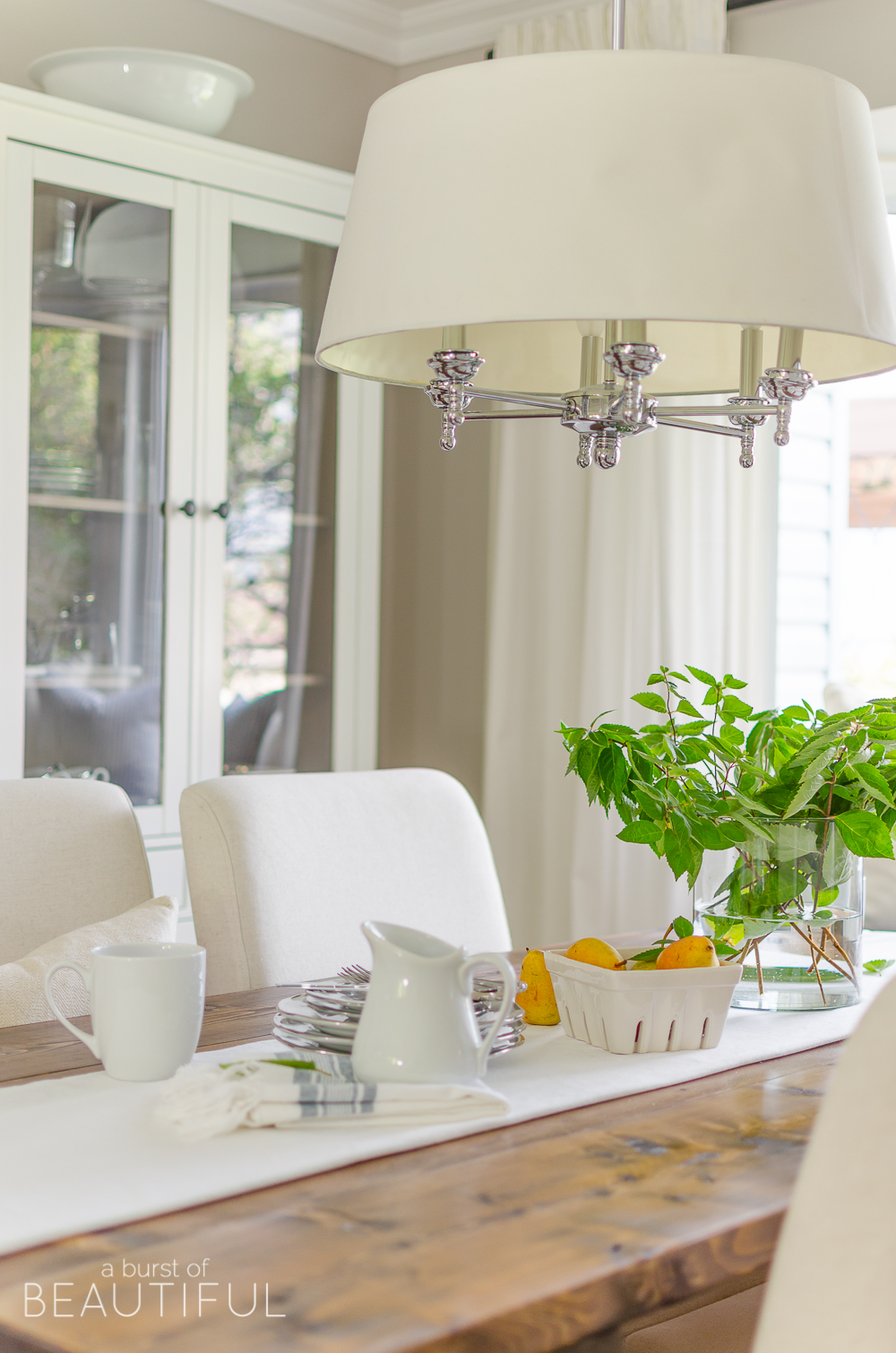 Just last evening I experienced a moment that made it clear all of our hard work is paying off. We were enjoying a quiet evening at home after a busy weekend with family and I sat in our living room with my baby cuddled contently in my lap listening to my husband strum on his guitar. The setting sun cast the room in a soft glow and you could feel the warmth of the furnace banishing the cold evening air, and I felt like we were home.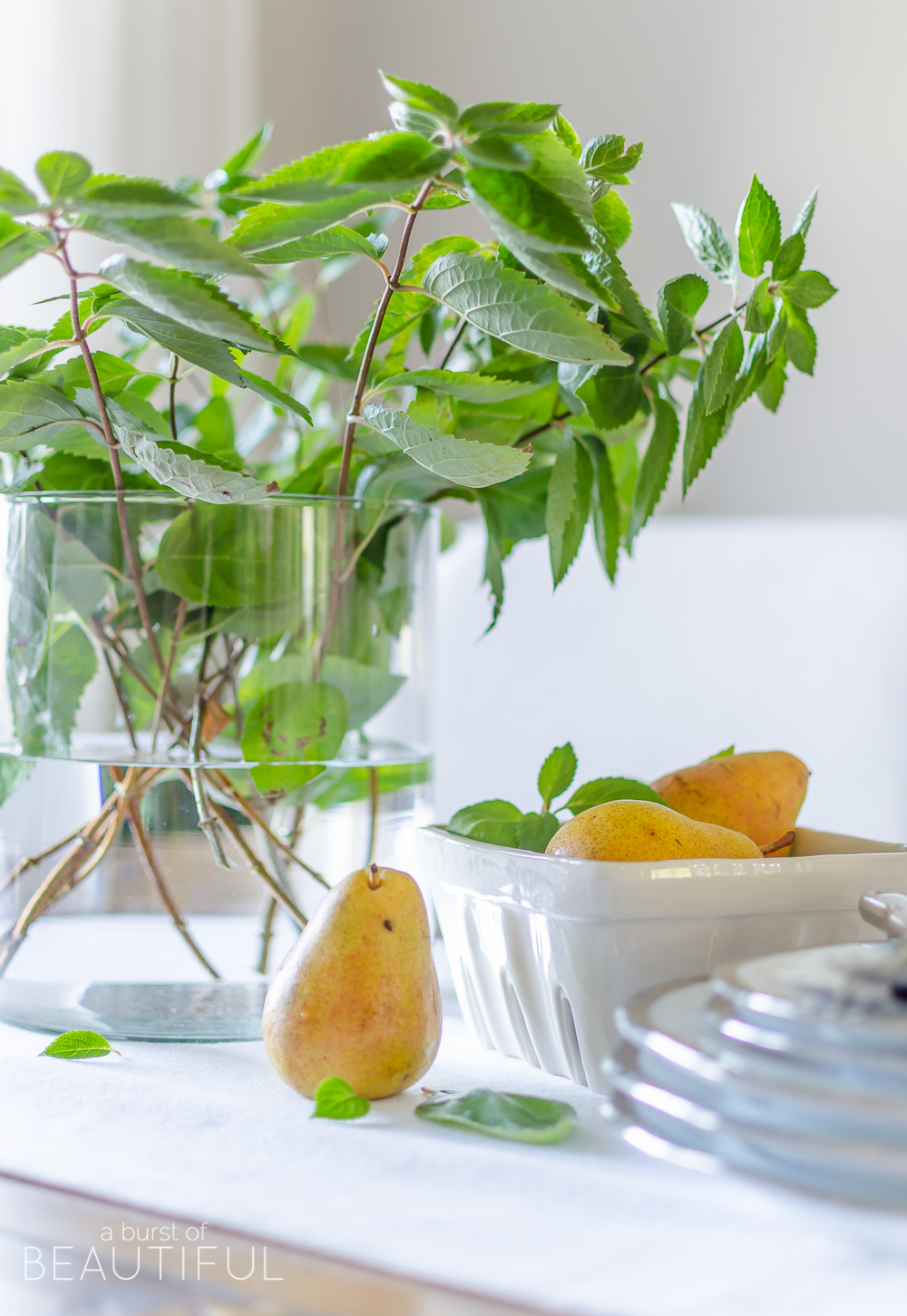 It was the feeling of contentment and peace, the type of moment you wish you could wrap up and keep with you forever. I knew that all of the time and effort we put into our house was worth it. I've spoken time and time again about creating a home that feels lived in and loved. It's not possible to create that feeling overnight, it takes time and patience as you hone in on your own style and collect pieces that you truly love, and of course, determine what works for your own space and family.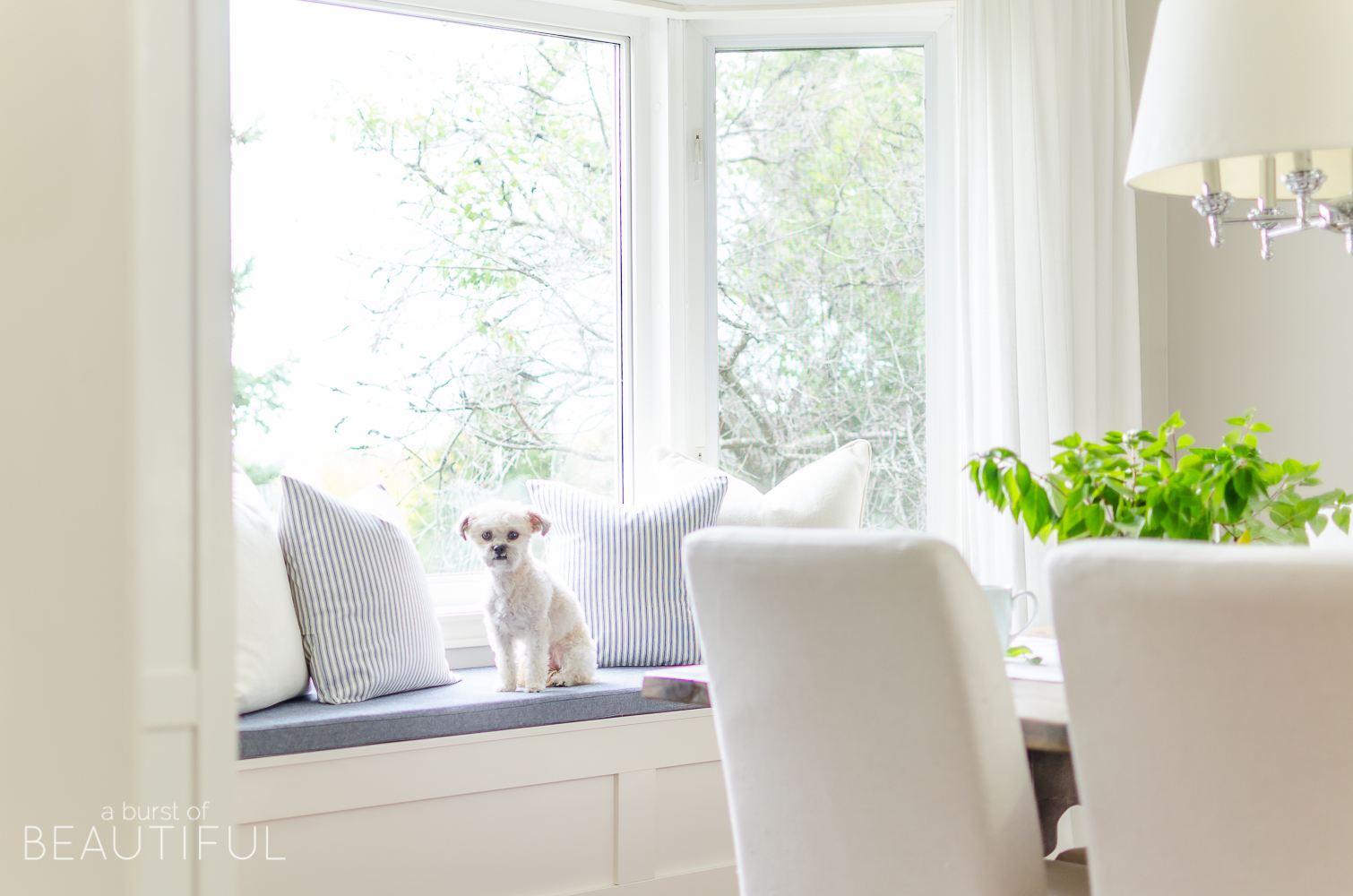 It's not always easy, you will most certainly be faced with obstacles, whether they are budget, space or style related, don't expect the process of creating a cozy and welcoming home to be effortless. But have a little patience and faith that it will all come together.
I've struggled for a long time with our living room and dining room. It's a long, narrow, open concept space that has given me trouble since day one, but I feel like I am finally getting a handle on it. We recently completed a large part of our living room makeover, so if you haven't seen it be sure to check out the dramatic change here. It's not completely finished, we still have a few additions to share with you, but once we had the bulk of the updates done it was time to move onto our dining room.
Our dining room used to look like this and this, it was pretty but as we continued to make changes to our home we came to realize it didn't quite match our style and there were some big design issues with this space.
To start, our dining room table was far too big, dark and heavy for our dining room. It was one of the items we first purchased when we moved into our home, before we had a clear idea of the look we hoped to achieve and the limitations of our space.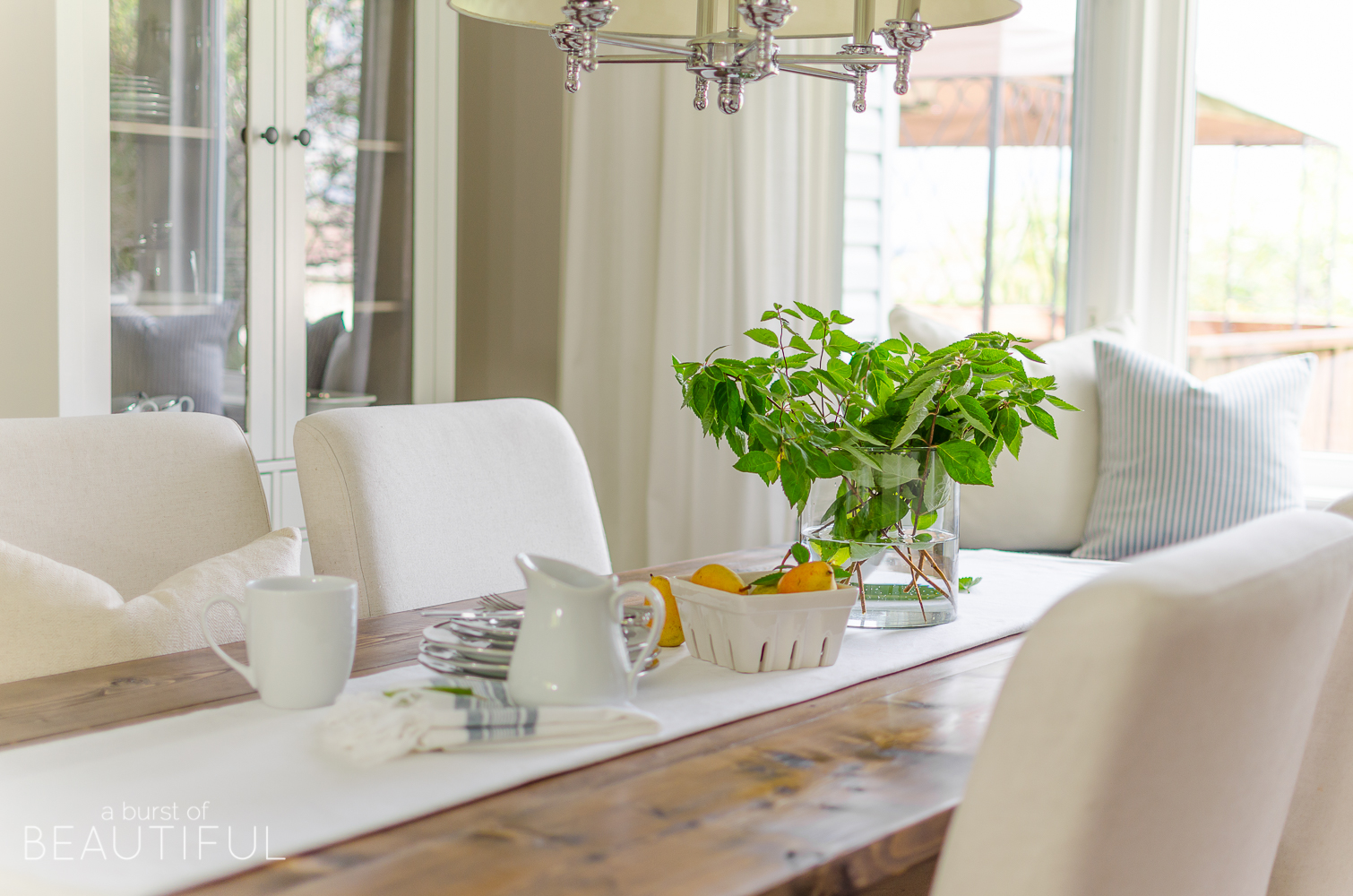 We love entertaining and we had visions of hosting holidays and special occasions with our large family and close friends gathered around the table, so we bought the largest table we could find within our budget. What a mistake! It was big and bulky and took up too much room in our tiny dining room. Not to mention it was solid black, so it looked very heavy and stark in our home.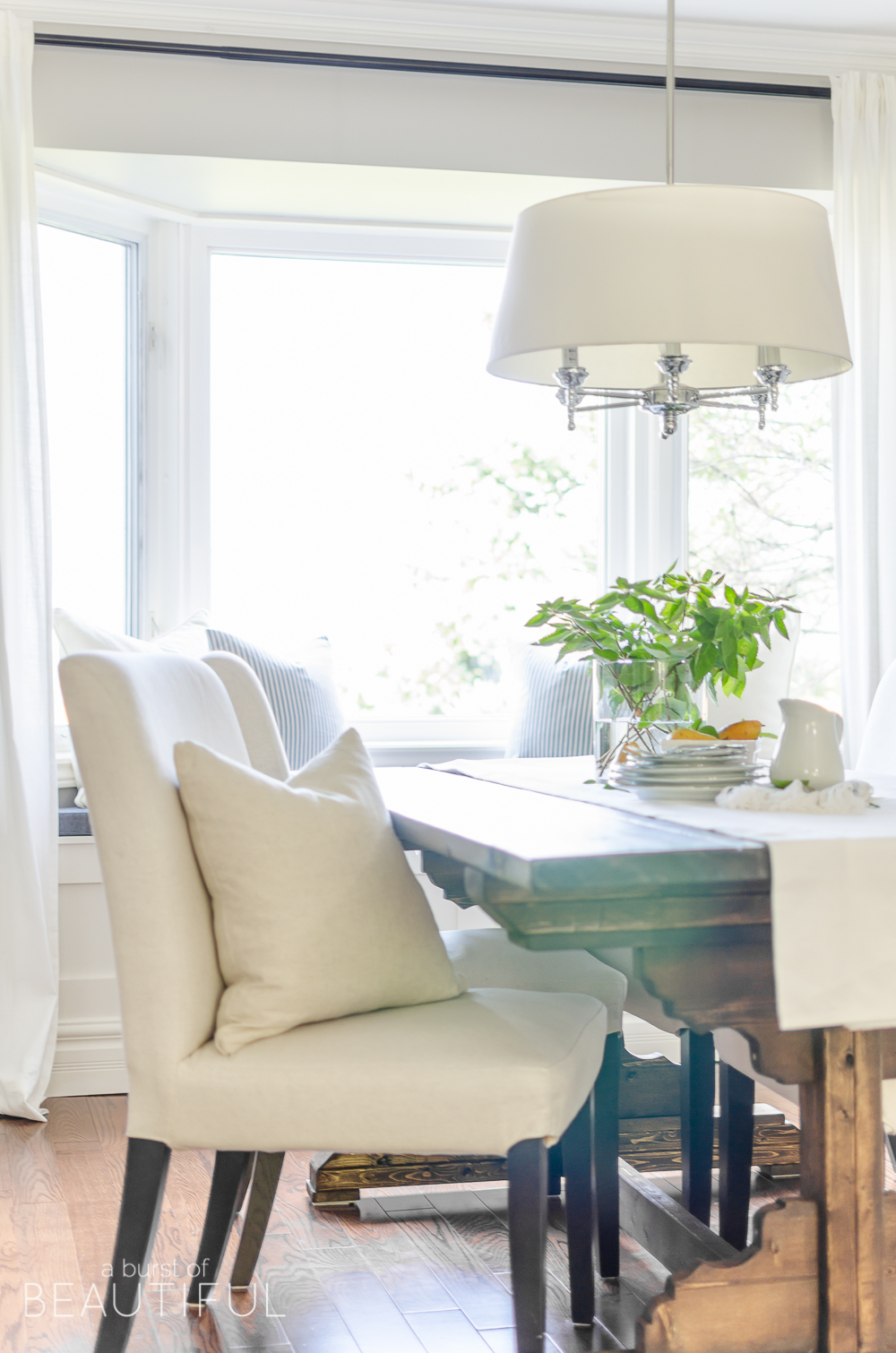 When it came time to discuss plans for our dining room makeover a new table was at the forefront of our minds. We knew we needed a smaller table, a table that would fit into the confines of our small dining room, yet still comfortably seat six people. And of course, it needed to have character and charm. We originally considered sourcing a vintage piece, but Nick quickly decided he was up for a challenge and wanted to build one for us.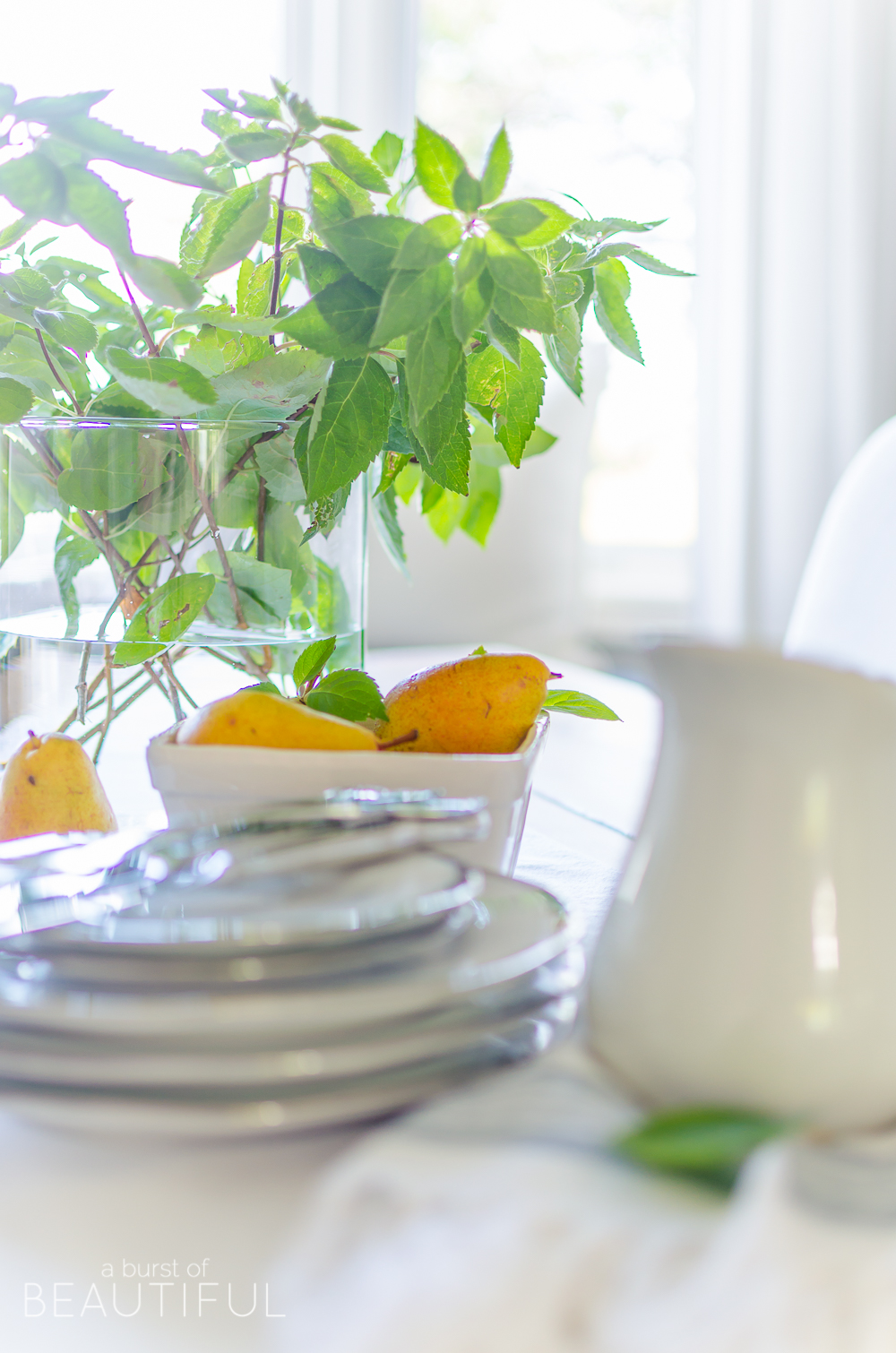 I love that Nick is so capable and willing to tackle these types of projects. We created a design we both loved, Nick headed to The Home Depot and within one afternoon he had created this gorgeous, one-of-a-kind farmhouse dining table for us. Not only is it beautiful, but knowing Nick built it with his own hands makes it even more special.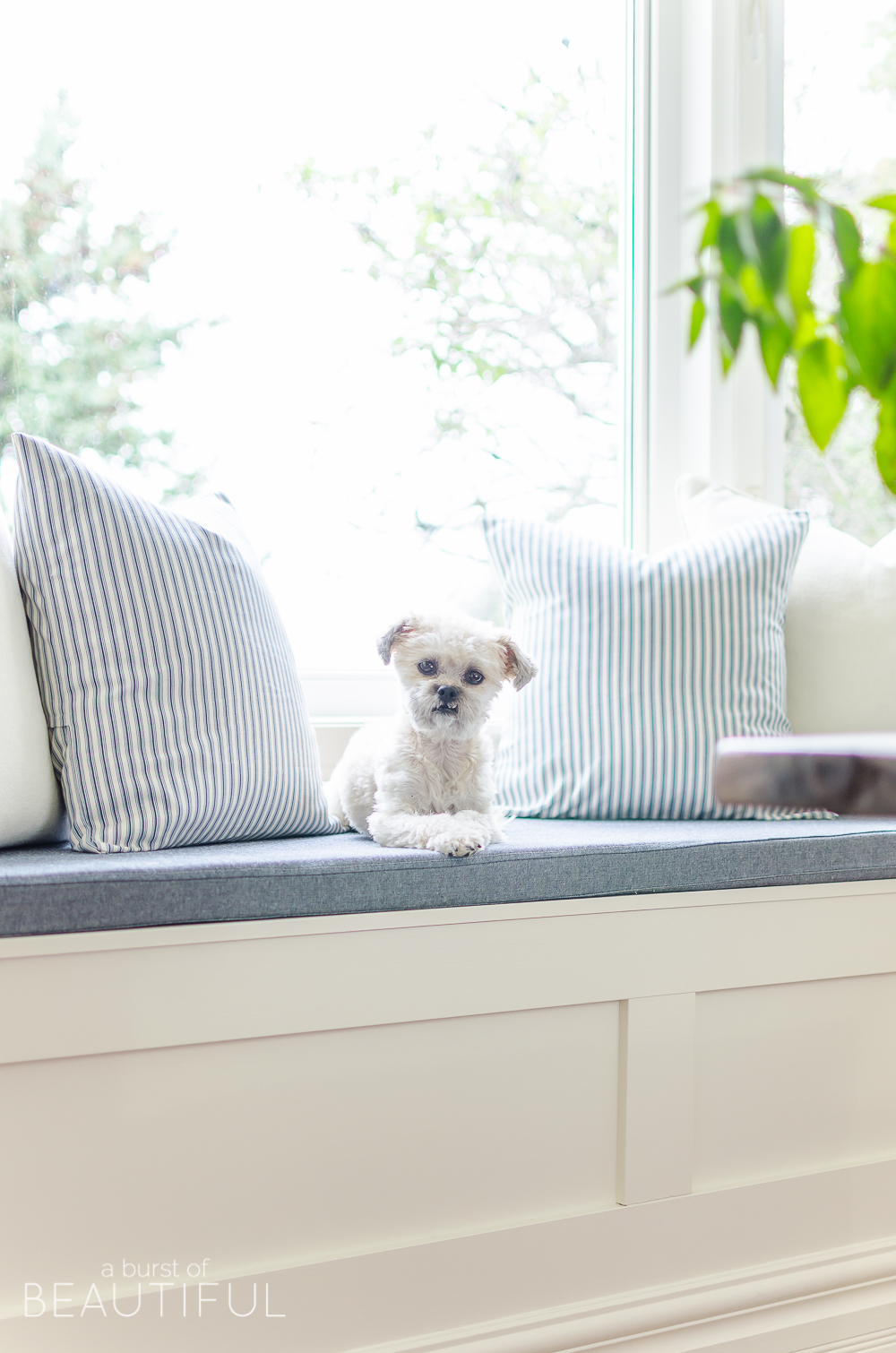 And he didn't stop there. Did you notice that beautiful new window bench in our window? He built that too!
While we were re-evaluating what we needed from this space, extra storage was high on the list (who doesn't appreciate a little extra storage!). This tiny little alcove was simply wasted space, it had no purpose or function so we decided to change that and now we have this perfect little spot for daydreaming.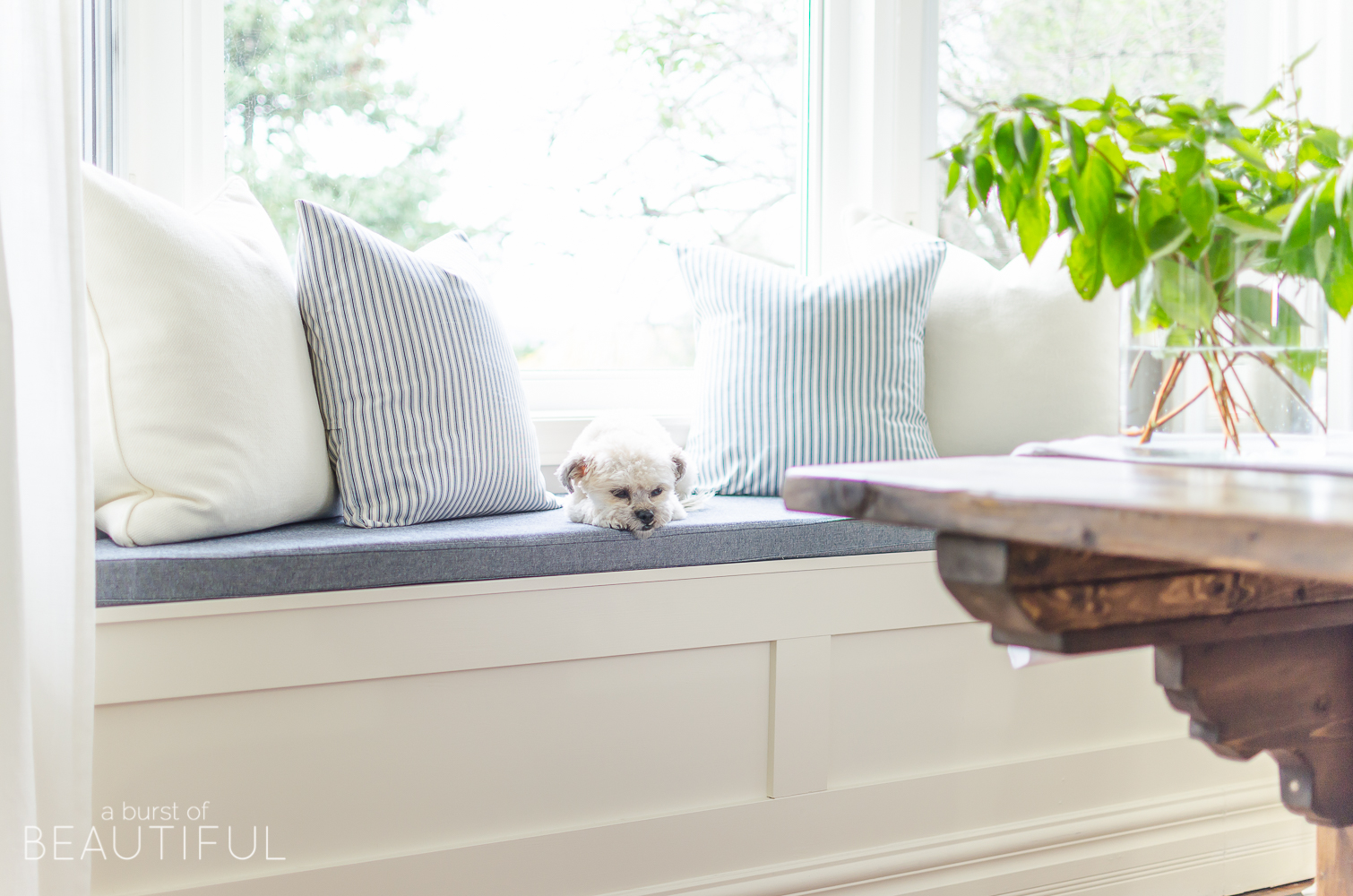 I've spent many afternoons cuddled here reading stories and watching the world go by with our little one. She absolutely loves perching up here to watch the birds flit about in the sunshine or bathe in the rain (and our three pets love this vantage point as well). And not only does it add some much-needed character to our dining room, but it's also functional. We designed the bench to have a seat with hidden storage so we have room to store extra toys and items we don't use every day.
We had a custom cushion made by a local upholsterer (KC Upholstery – we highly recommend him!) for the bench in a beautiful faded denim material and finished off the look with these beautiful navy and cream ticking stripe pillows. I just love this little pop of color the cushion and pillows add to our space.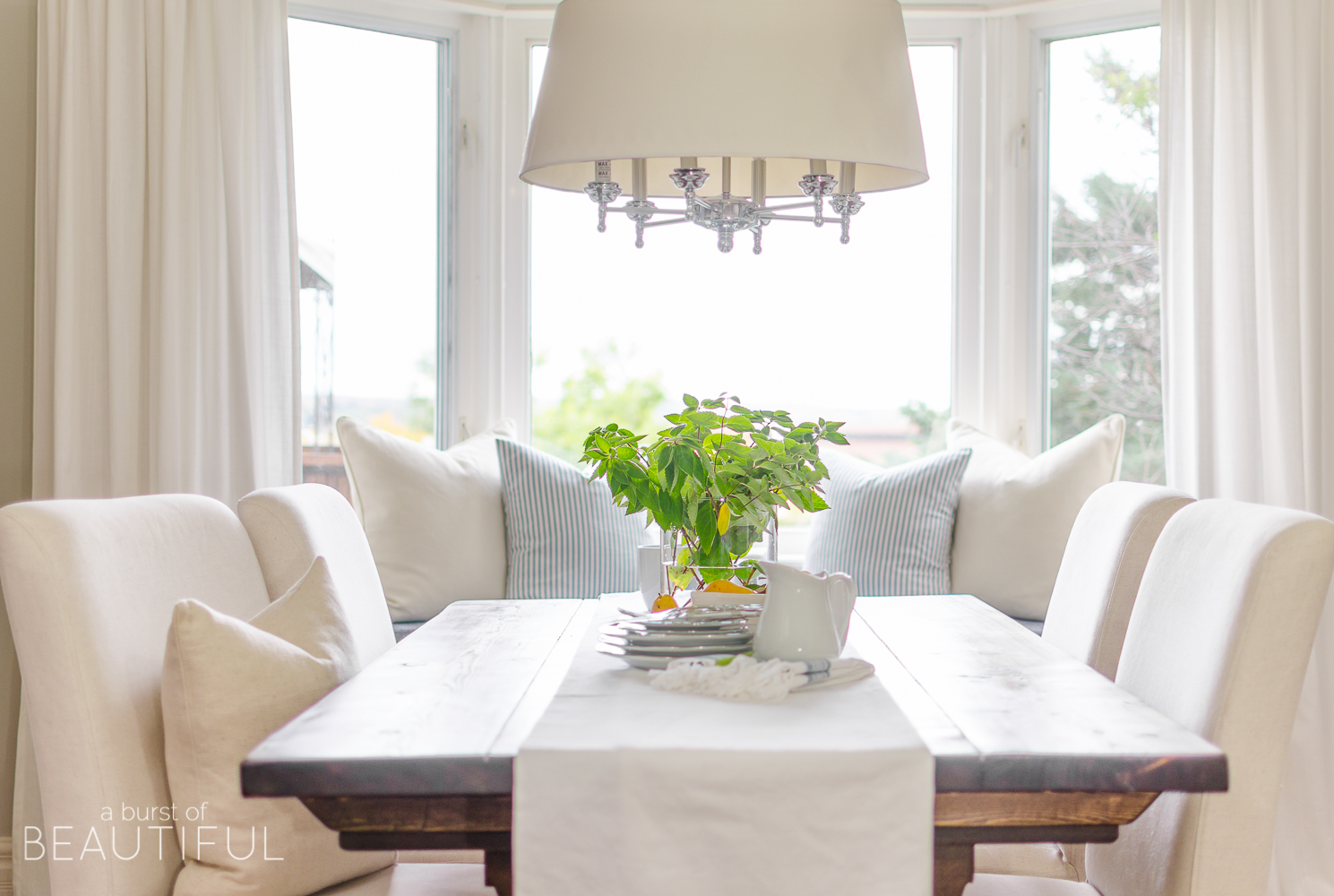 We are so excited to be partnering with The Home Depot for these projects, and I can truly say this farmhouse dining table and window bench are probably two of my favorite projects we have tackled to date. We will be sharing the tutorials and free plans for both of these projects in the coming weeks, and we hope you'll find them helpful and inspiring.
This space is coming together so beautifully, the new table and window bench really help create that modern farmhouse style we love so much. But there is still a lot I want to add to our dining room. We will eventually update our chandelier, add a rug for texture and hang some art on the walls. But I am in no hurry, I've learned not to rush the process but to enjoy finding the perfect pieces over time.
I hope you'll continue on this journey with us, and if you have any questions we'd love to hear from you!
Alicia xo