This post was sponsored by Annie Selke's Pine Cone Hill.
All opinions and thoughts are my own, see our full disclosure policy

here

.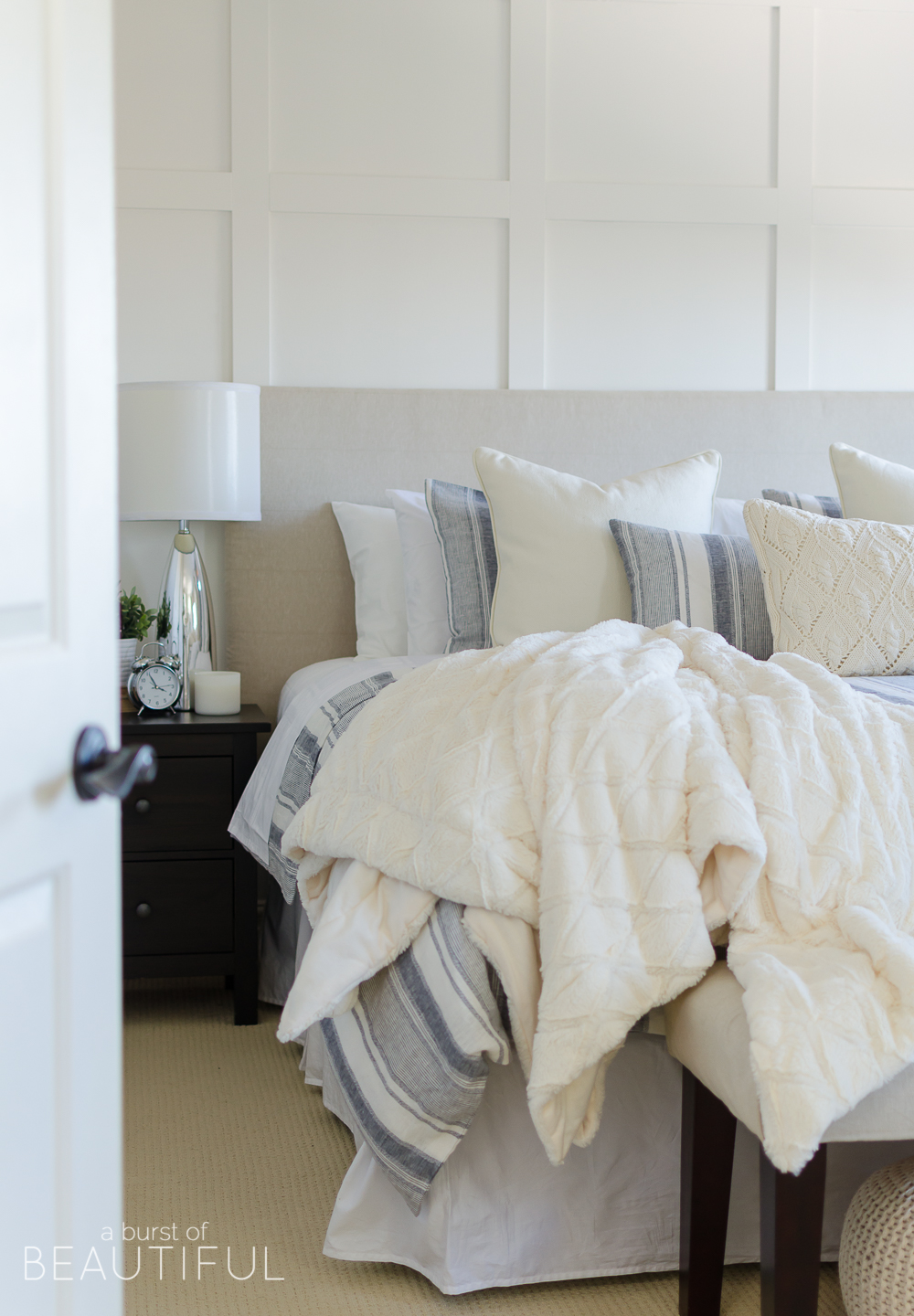 As the evening approaches after a busy day, I find myself counting down the hours until I can crawl into our cozy bed and get lost in my latest novel before finally drifting off to sleep.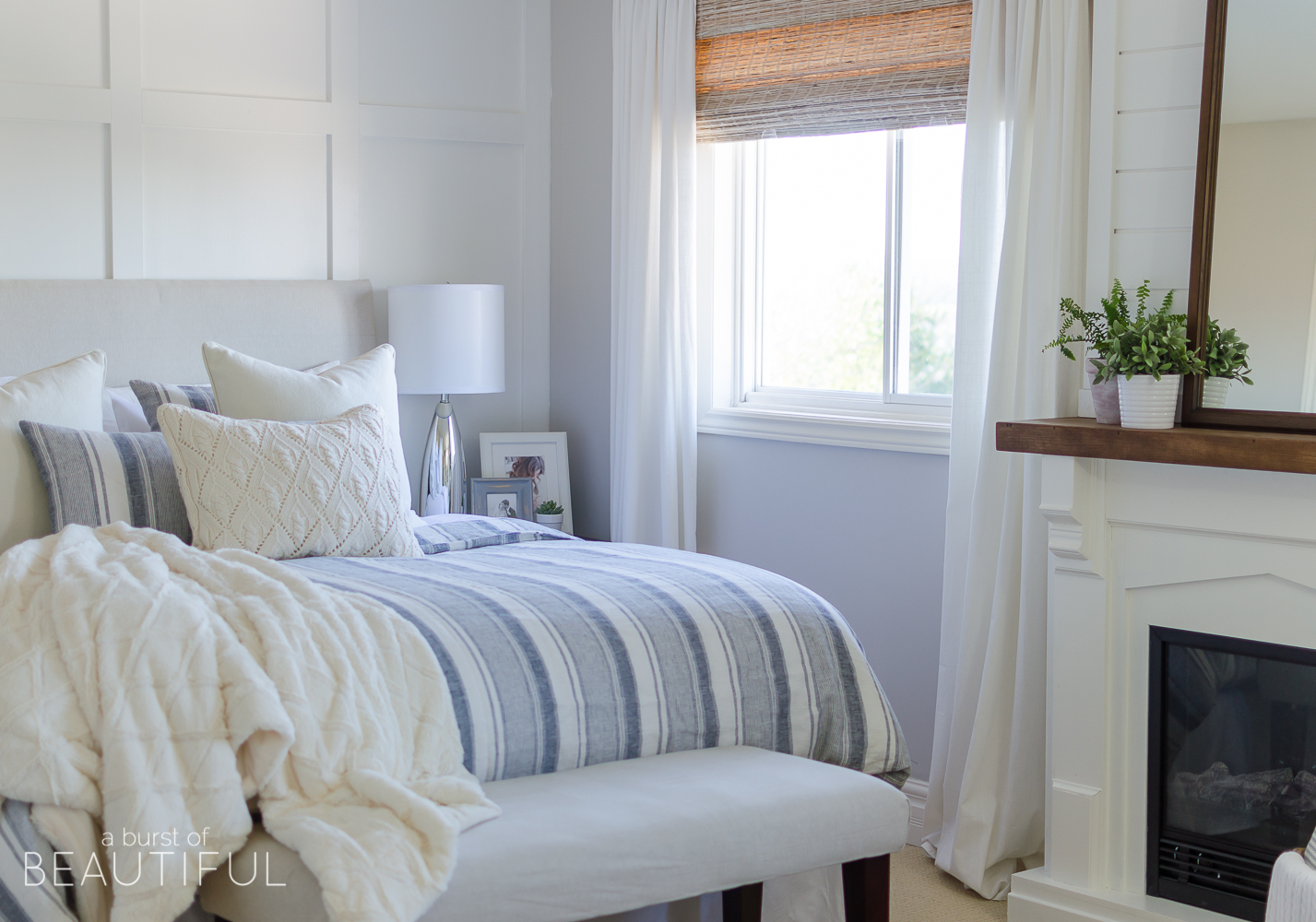 It's a time of quiet and restoration, it is a safe place to rest both body and mind.
And it's definitely one of my happy places – even more so since we gave our bedroom a fresh new look.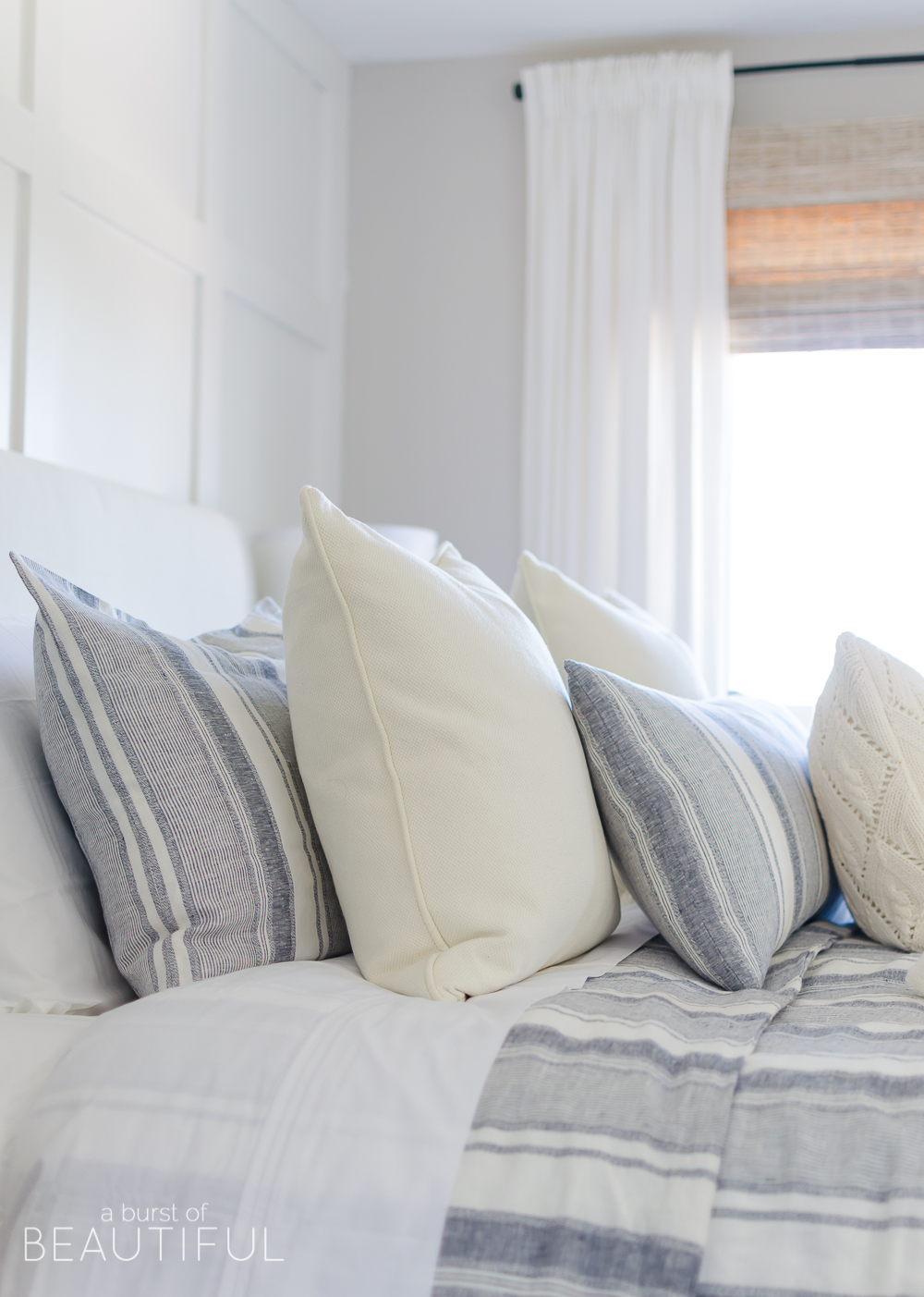 Our bedrooms, and especially our beds, should be cozy, warm retreats where we can escape the difficulties or problems that may have followed us through the day. Somedays I sit perched on our bed deep in concentration as I write another post for this blog, other times I curl up with our little one, amid piles of pillows and blankets and read story after story, and other days I simply fall into bed ready for some much-needed sleep after an exhausting day.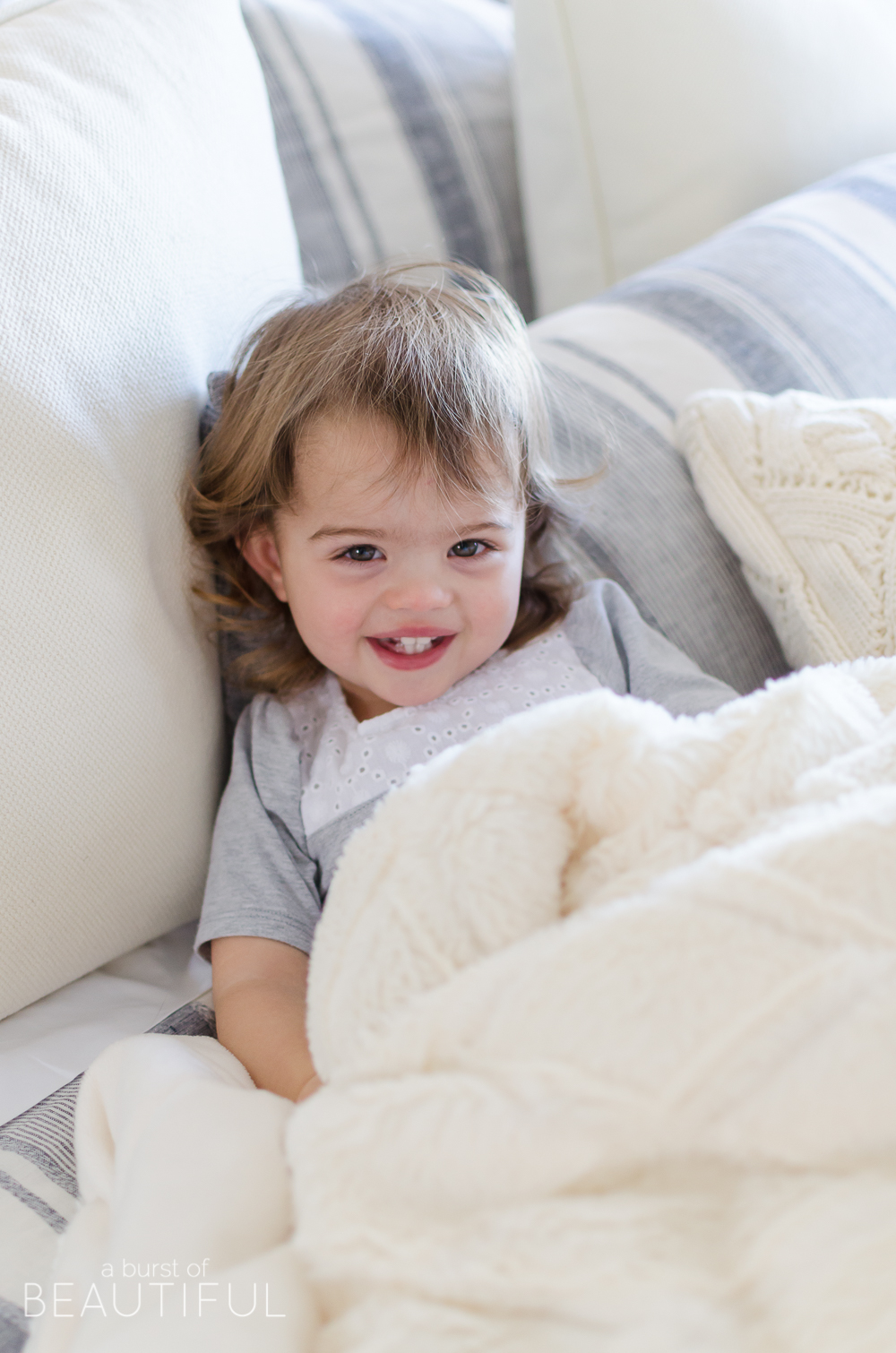 We spend a lot of time in our bedrooms, but we often overlook these spaces, instead focusing on the main living areas of our homes. But we should all have a beautiful and cozy bedroom to escape to, and in my opinion, that starts with a beautiful and cozy bed.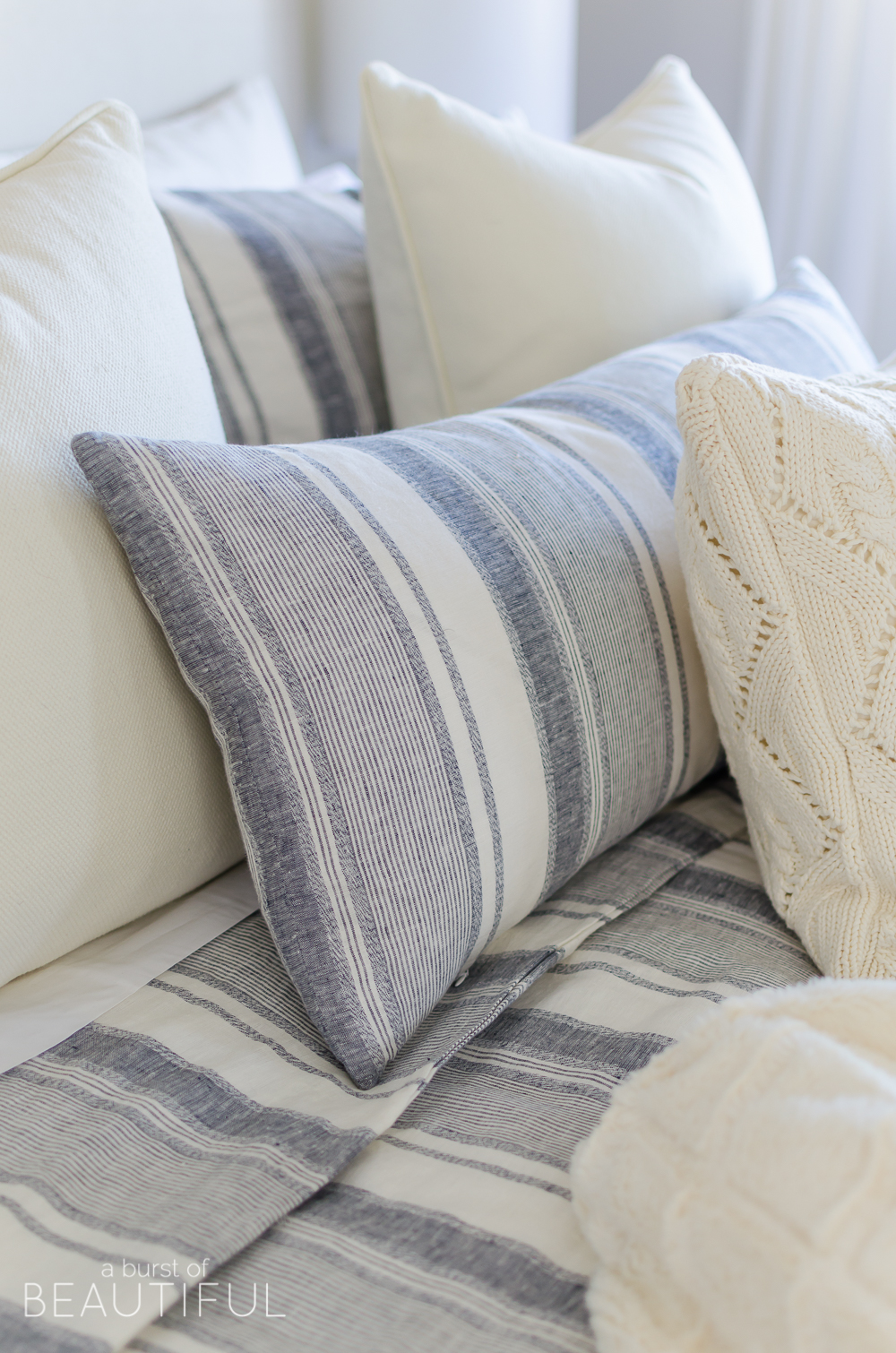 Creating the perfect bed doesn't have to be difficult. In fact, it's pretty easy, especially when you can follow the advice of designer Annie Selke. These are a few of Annie's favorite bedding tips:
Thread count is important, but it's not the most important consideration.
Truth is, a whole lot of marketing dollars go into hyping sheets and duvets that have a high thread count but poor fabric quality. First, get the real lowdown on thread count. Then look for fine cotton sheets, which have stronger, softer threads that hold up wash after wash, even at lower thread counts. And for that drapey, jersey-knit feel without the pilling or college dorm look, try Tencel sheets.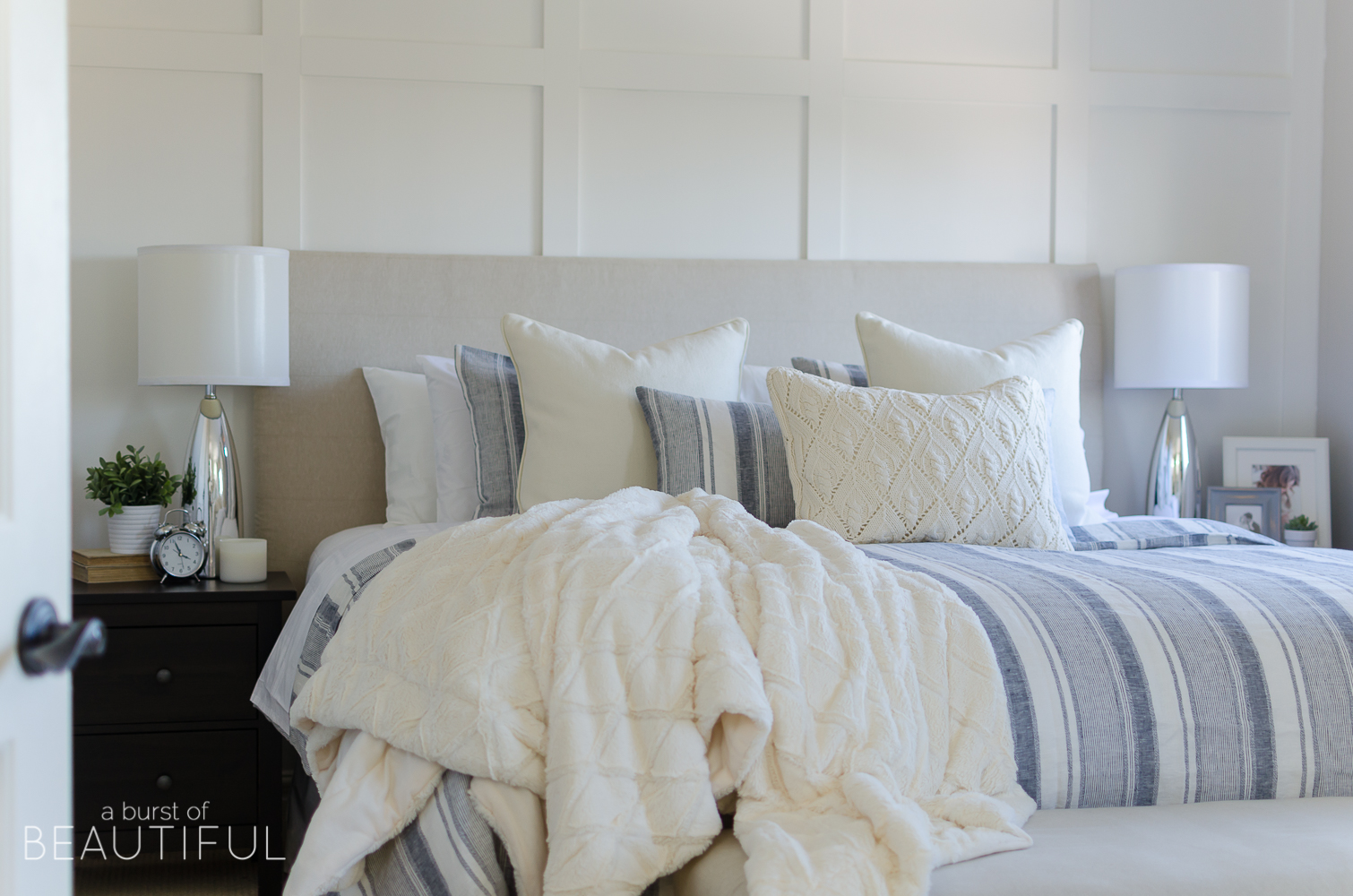 Even top quality doesn't last forever.
You'll sleep a lot better (and healthier) if you follow a few basic replacement rules. Good mattresses last up to 10 years; swap them out sooner if you consistently wake up feeling tired or sore, or if the mattress looks like something out of CSI, with the perma-outline of your body still visible after you've been up for several minutes. (Check out Annie's post on mattress shopping for even more helpful tidbits.) Replace your pillows once a year, or more frequently if you wake up with neck pain or you can easily fold your pillow in half . . . and it stays that way. Duvet inserts can be kept for longer periods, but if they're lumpy or misshapen or start to show sheer patches in the fabric, it's time to donate them to your favorite animal shelter. Good-quality sheets typically last for 5 years, sometimes more. (And the oldies make great drop cloths for painting.)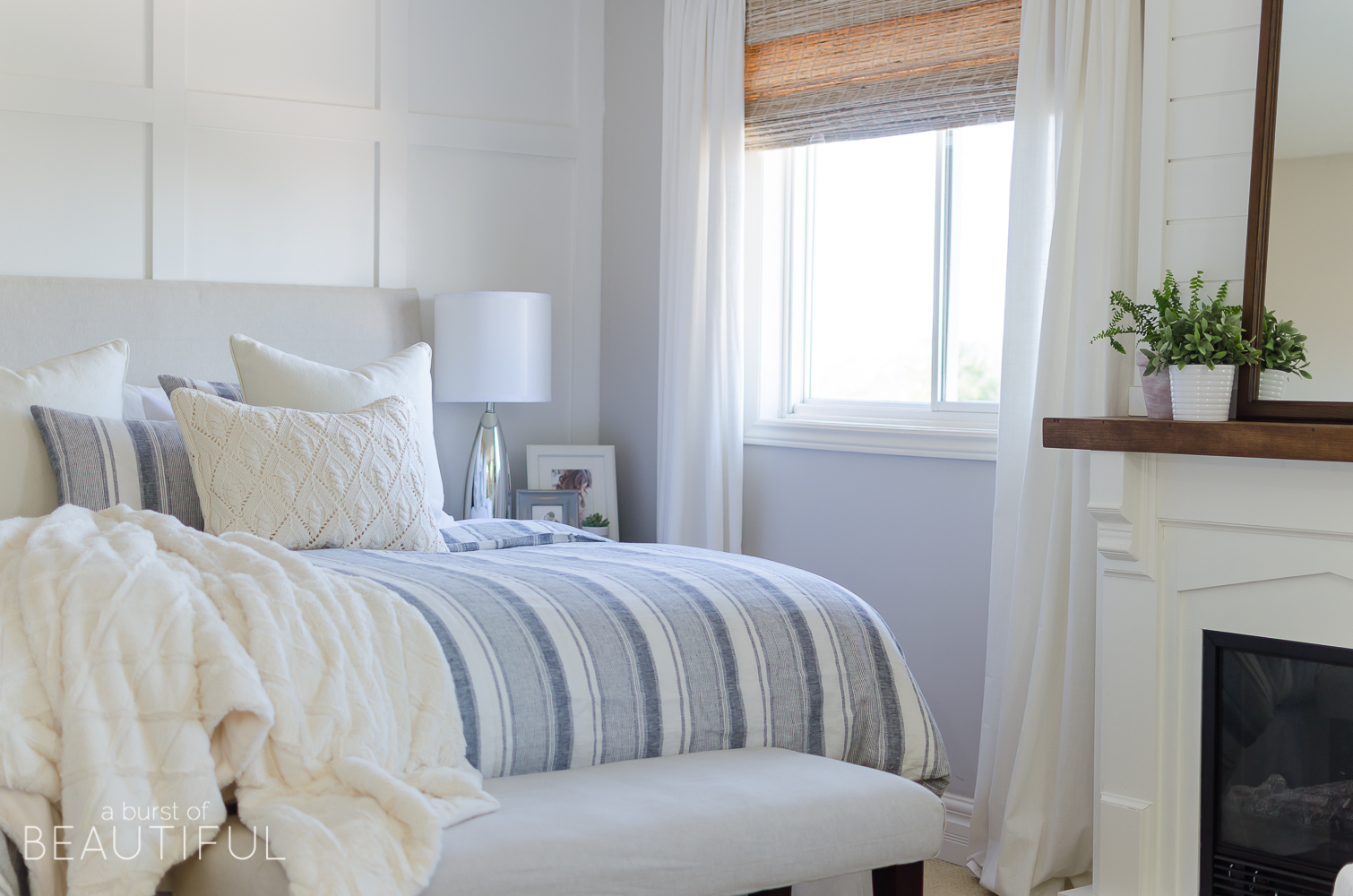 Mix, don't match.
Pick a focal piece—a gorgeous quilt, a luxurious duvet, or a printed sheet set—that has lots of pairing possibilities. This will allow you to change up your look by the season simply by switching out companion items. Annie likes to use a quilt or duvet as her starting point, and she keeps three sets of sheets in rotation for each: one on the bed, one in the laundry, and one in the linen closet. Once you have your color palette established, it becomes easy (and fun!) to mix patterns for a more sophisticated look.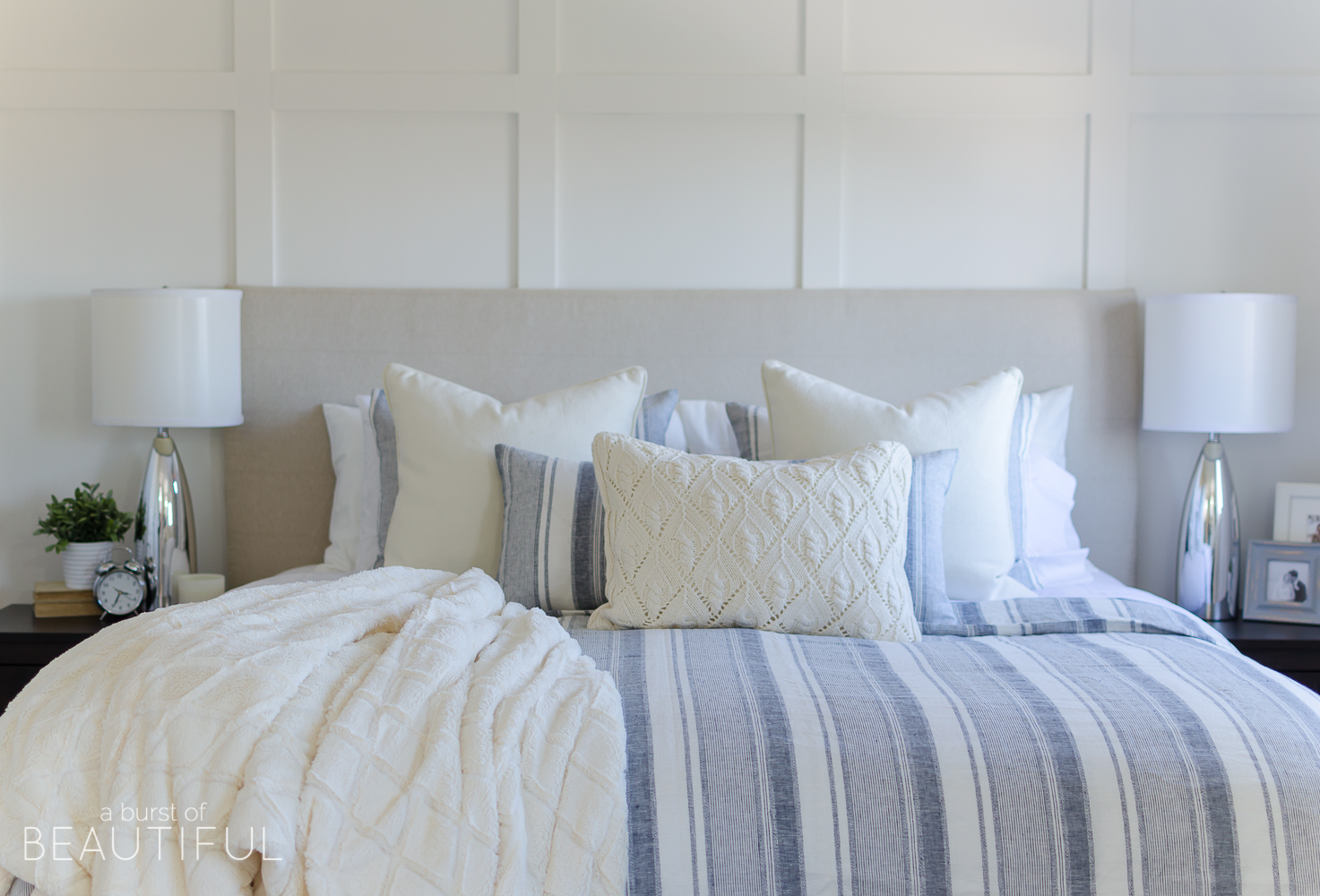 Don't forget to layer.
This is especially important if you find yourself struggling to stay warm—or cool—during the night, or if you share your bed with someone who doesn't appreciate your sleep style. Annie favors several lightweight layers—sheets followed by a matelassé coverlet, topped with a quilt, and finished off with a cushy duvet—that can be peeled back for just the right level of snuggleability.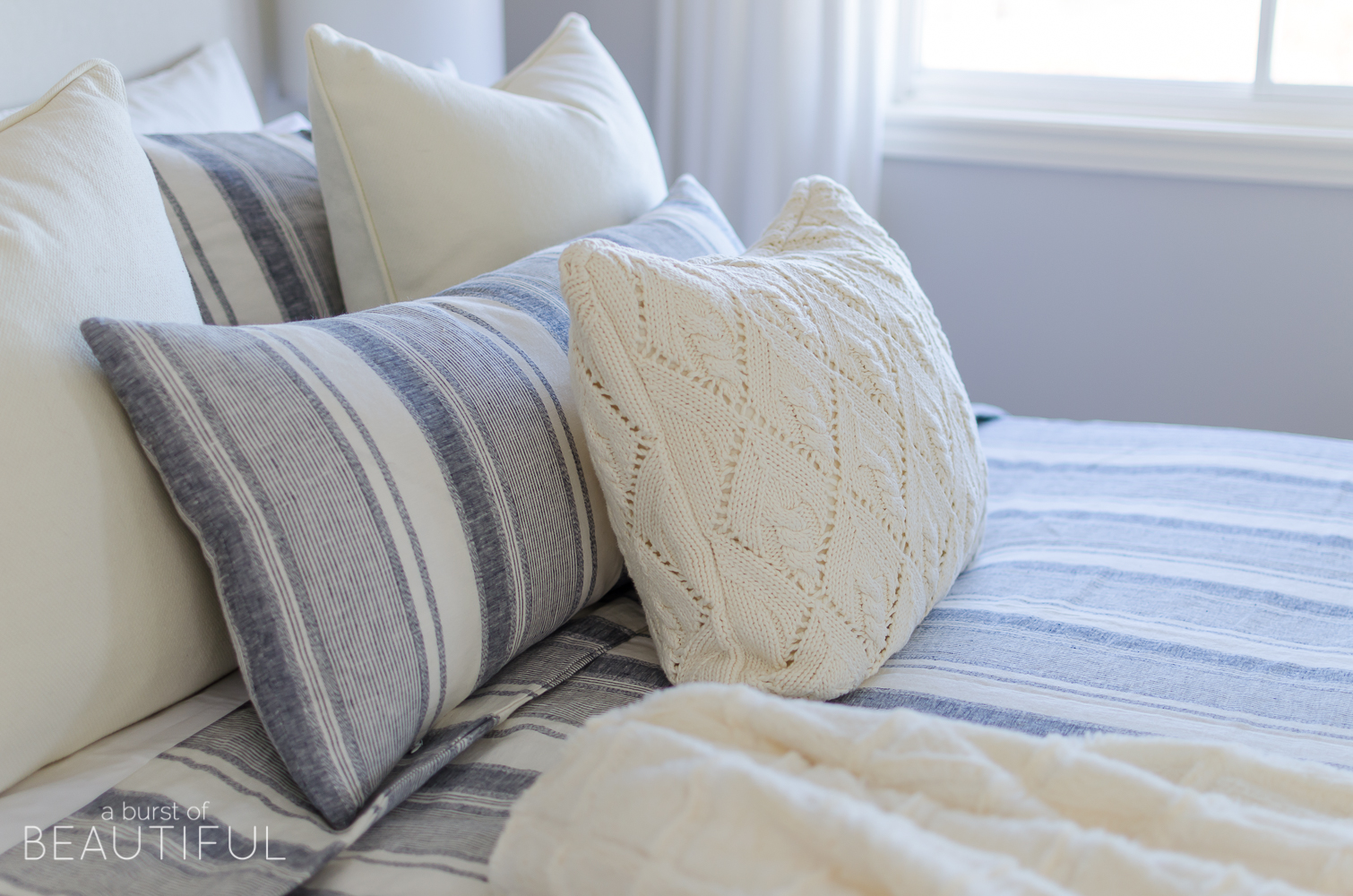 Pump it up with pillows.
Annie always lines the back of the bed with some comfy Euro pillows—two for queen and three for king; she matches them to the bed skirt, if she's using one—then layers sleeping pillows in front. Finally, she finishes off the bed with two or more decorative pillows. This is where you can really have some fun, matching them to the quilt or pairing different patterns in the same color palette.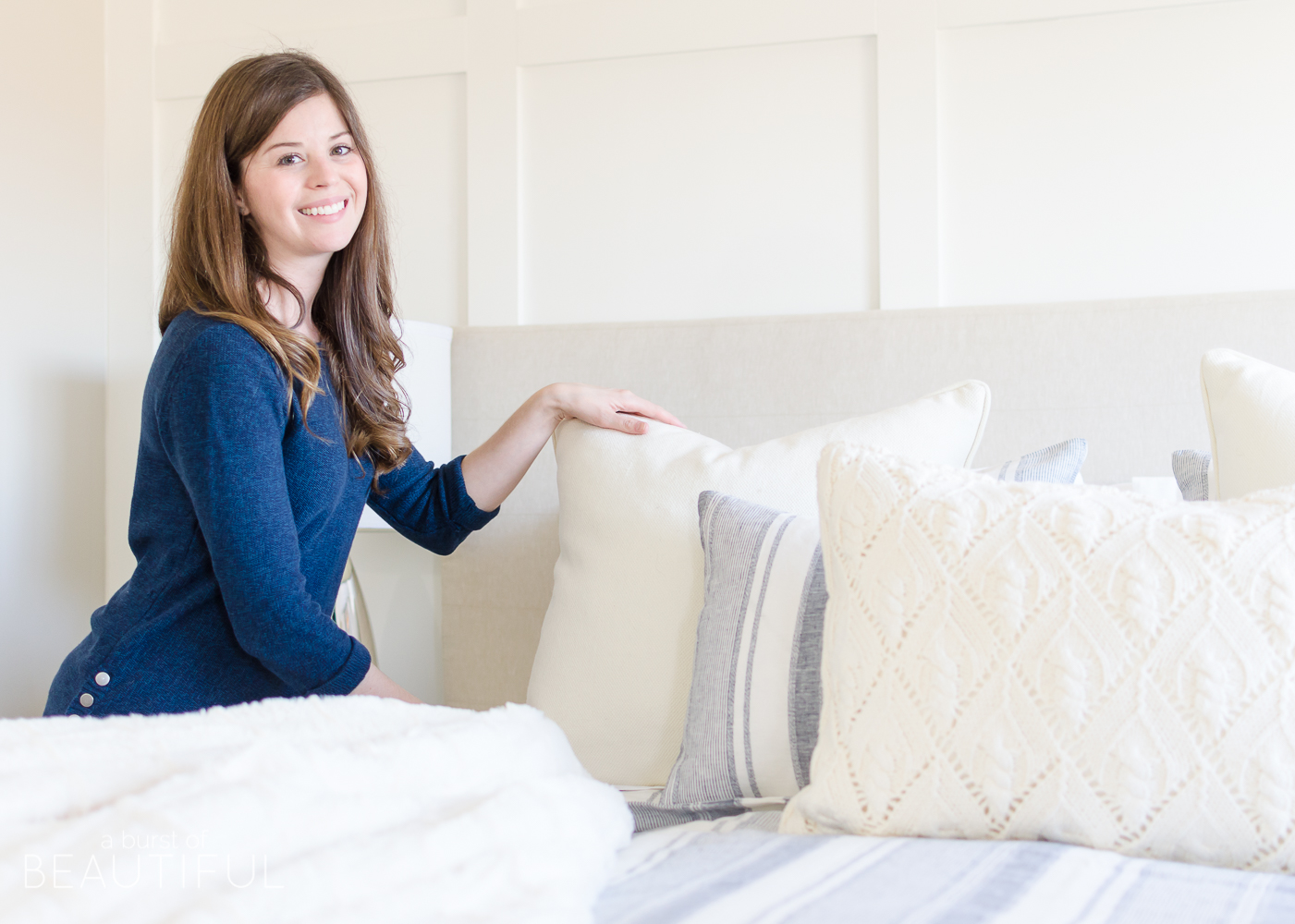 Our bed has become exceptionally more inviting and comfortable with our Annie Selke's Pine Cone Hill bedding. I honestly just sink into every night, cozy and warm.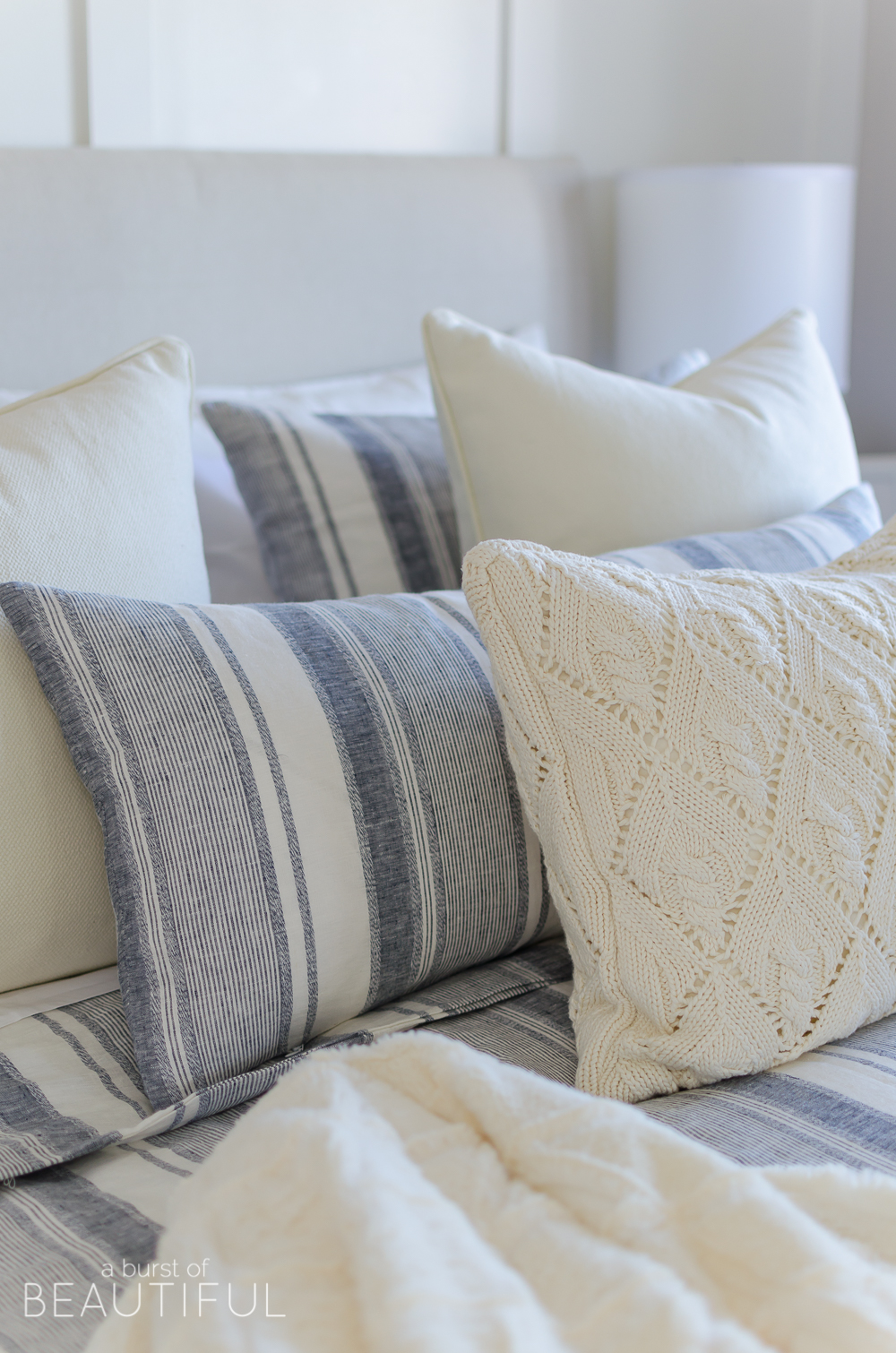 Our starting off point for our entire bedroom was this gorgeous Hampton Ticking Linen Indigo Duvet Cover, as soon as I saw it I fell in love with the muted colors and classic ticking stripe. We paired it with the matching shams and decorative pillow, which I offset with an oversized cream faux fur throw for extra warmth and a sweet little knit pillow. The added color and pattern from our duvet cover really add warmth and character to our neutral space, and I know it's a choice I will not tire of quickly.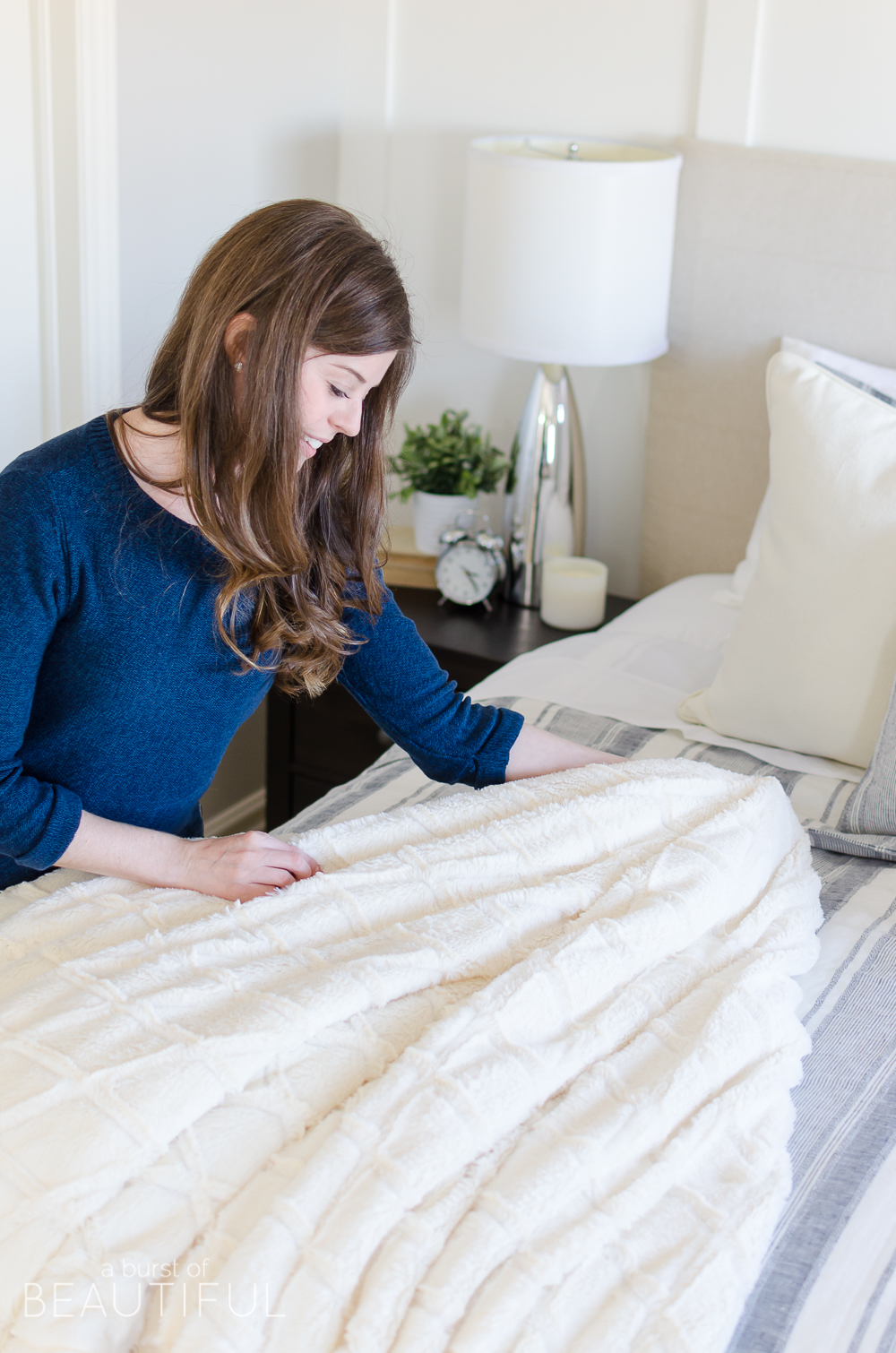 And of course, the perfect bed isn't complete without the perfect sheets. We chose the beautiful Trio White Flat Sheet and pillowcases, along with the Classic White Fitted Sheet.With a 400 thread-count, these sheets have just the perfect amount of softness, while still feeling a little bit crisp. I also have to point out the subtle hint of detail in the three-lined pattern which helps create a classic and sophisticated look – isn't it pretty?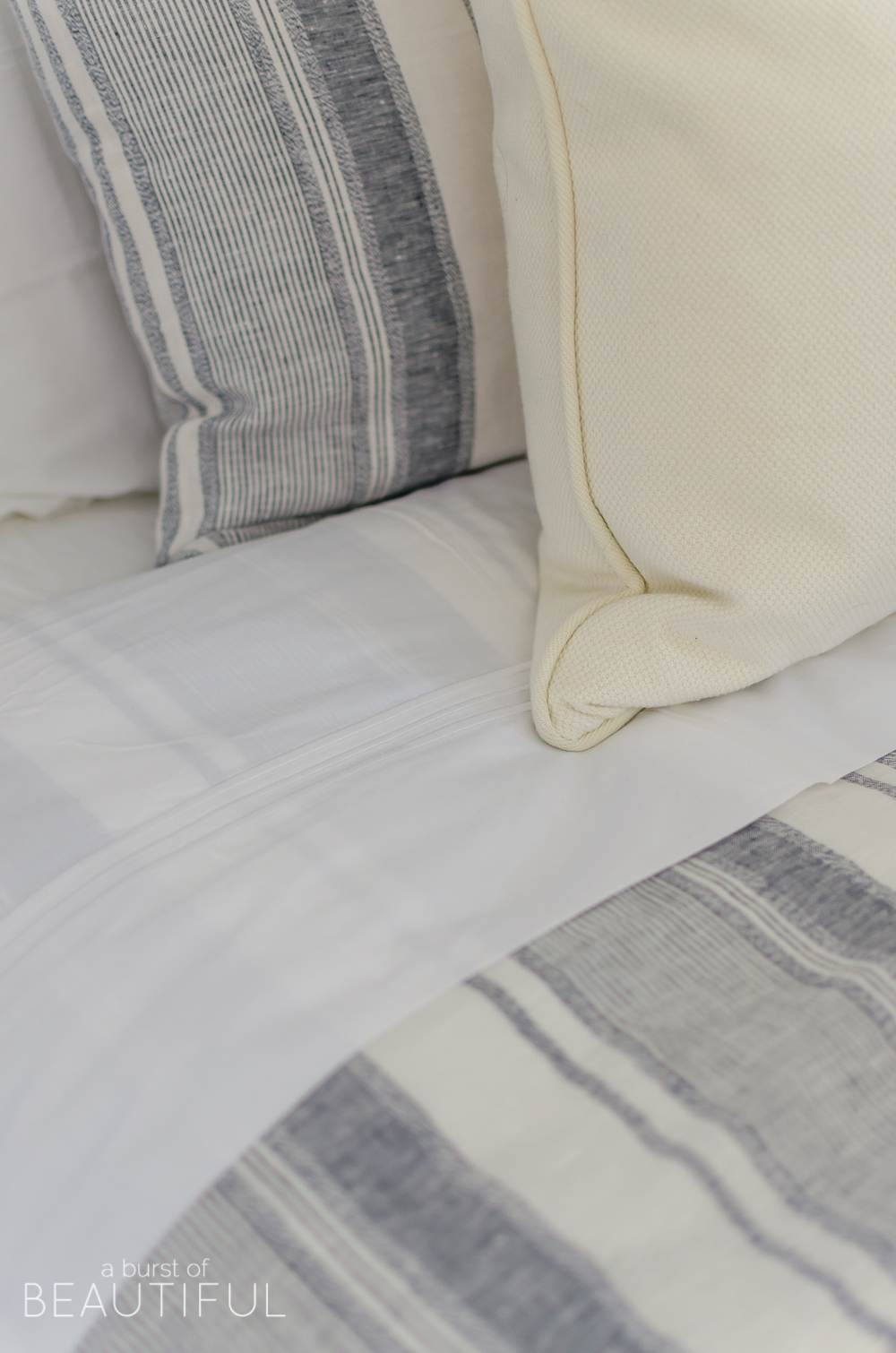 I'd love to hear if you have any other favorite tips for creating a cozy bed, leave us a comment below!
Alicia xo
---
master bedroom sources
---
Wall color – Balboa Mist by Benjamin Moore
Paneled wall color – Simply White by Benjamin Moore
Paneled wall – Tutorial
Headboard – DIY
Silver lamps – HomeSense/ HomeGoods (similar)
Clock – HomeSense/ HomeGoods (similar)
Night stands – Ikea
Duvet and matching pillows – Annie Selke's Pine Cone Hill (Hampton Ticking Stripe)
Books – Vintage
Faux fur throw – HomeSense / HomeGoods (similar)
Cream pillows – HomeSense / HomeGoods (similar)
Cream knit pillow – HomeSense / HomeGoods (similar)