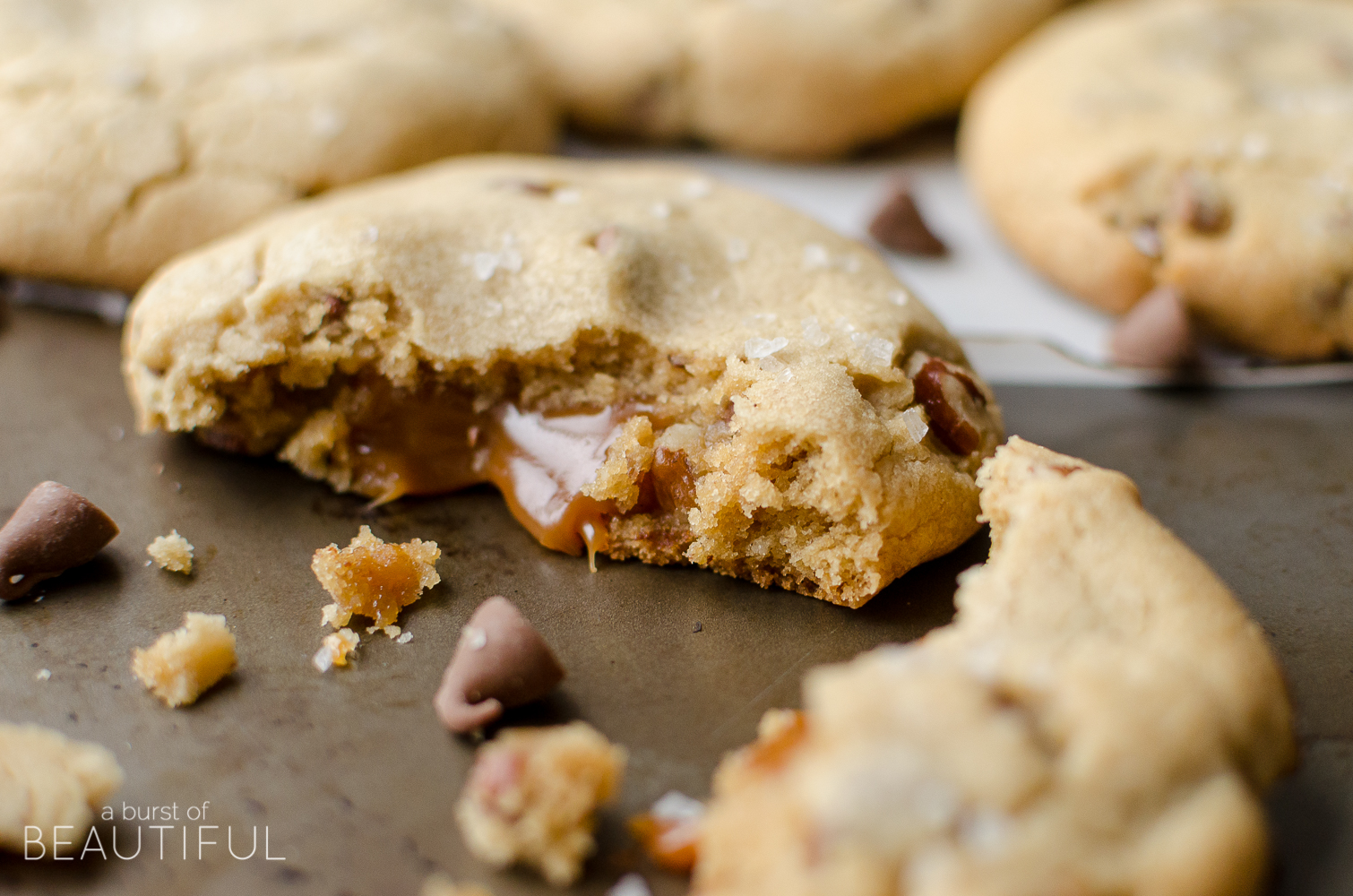 I'm excited to share this recipe with you today – it has quickly become one of my favorites! I recently had a craving for homemade chocolate chip cookies, so Nick spent some time in the kitchen playing around with recipes and he came up with these scrumptious Caramel Chocolate Chip Cookies…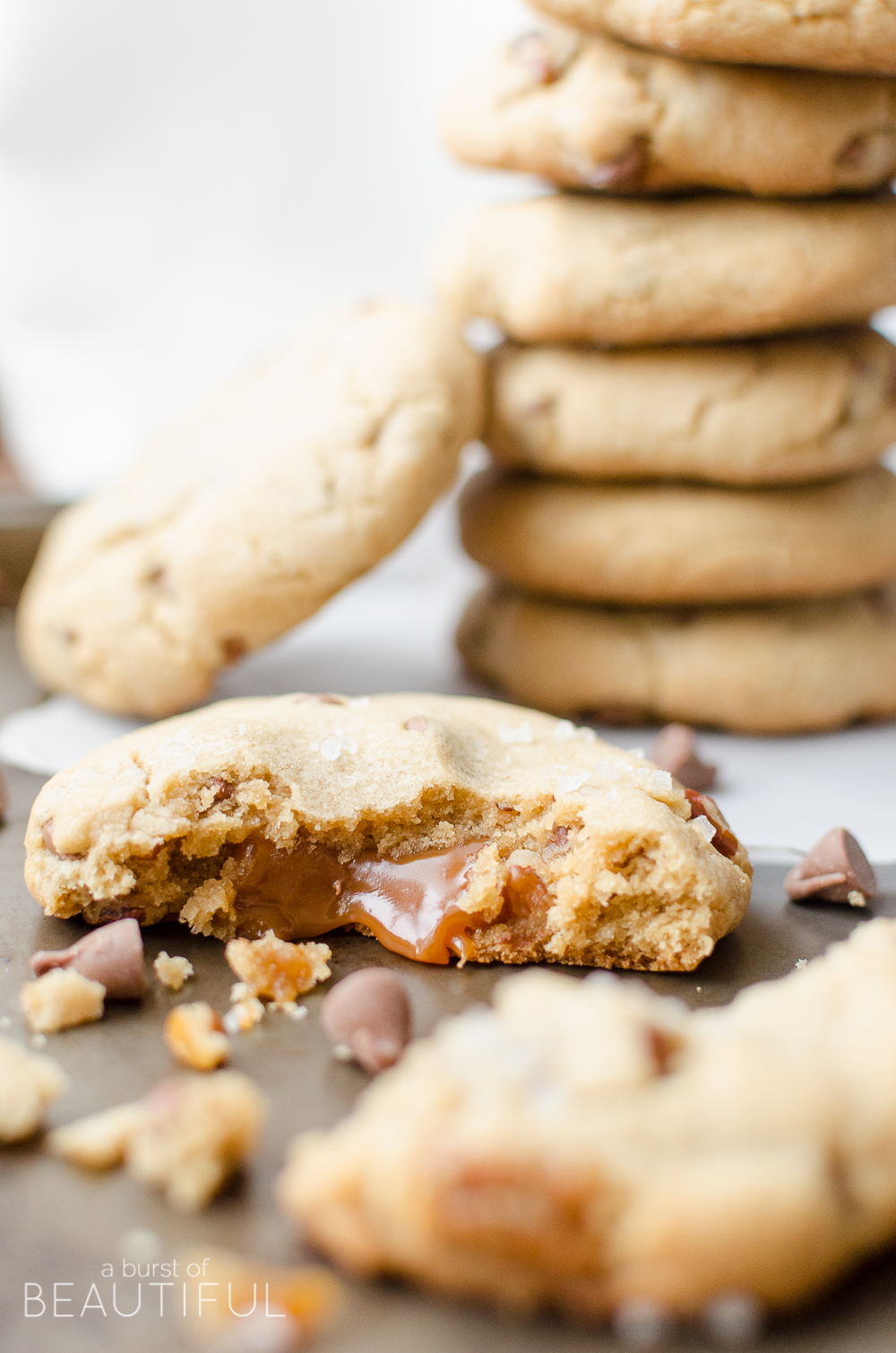 I always find that as the seasons shift and we welcome the crisp cool breeze of autumn and, eventually, the impending winter chill, our homes are not the only thing to change. There is also a shift in the food we purchase and the meals we make to help nourish our bodies through the cold winter months.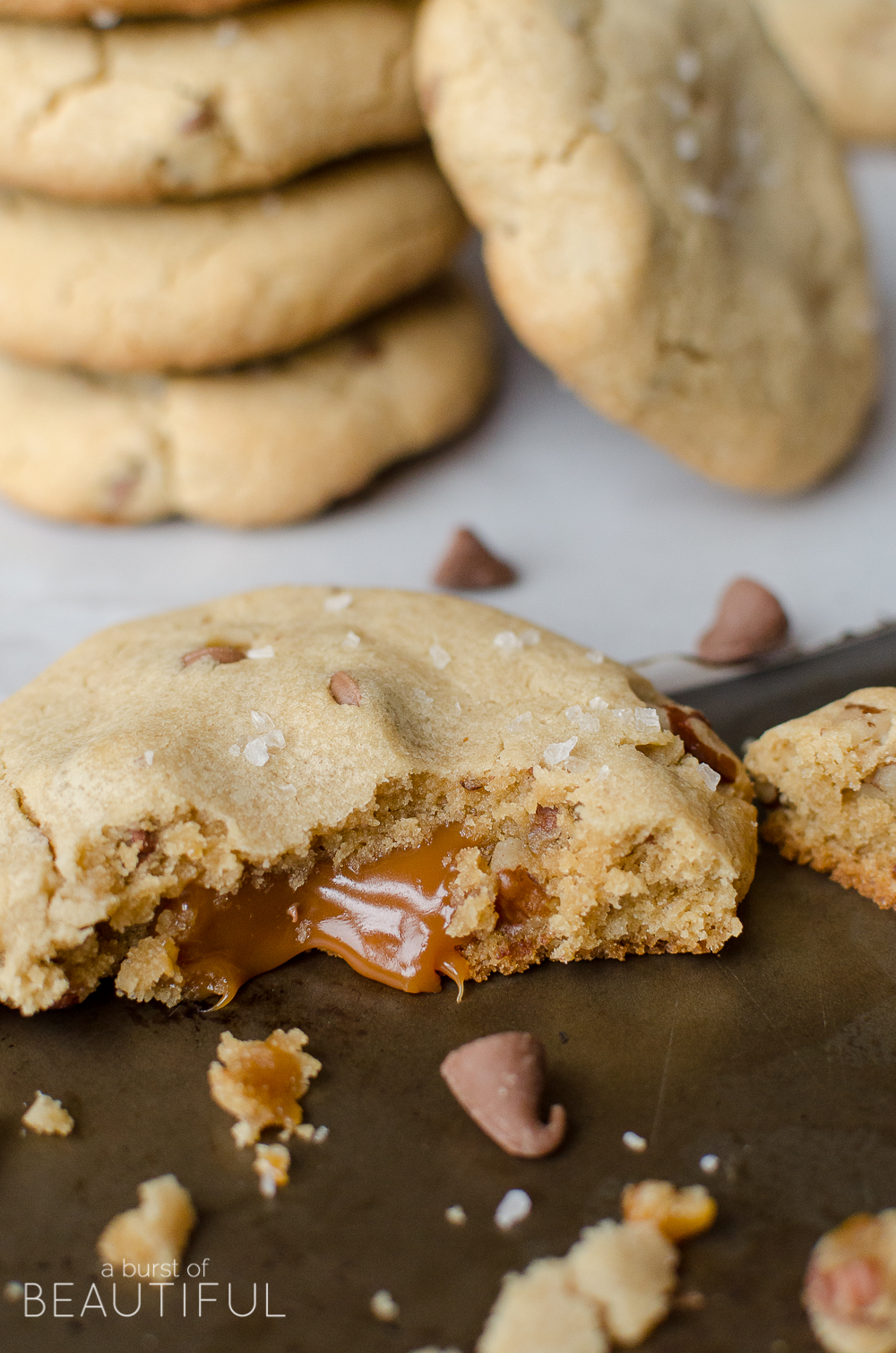 We turn to rich, hearty meals to warm us and decadent desserts to satisfy and comfort us. There truly is something comforting about a pot of homemade soup simmering on the stove as the rain pours down in the dark of the early evening. Or the aroma of fresh baked chocolate chip cookies drifting through the house while you curl up with a blanket, sipping a mug of hot chocolate and watch the snow swirl about just outside your window.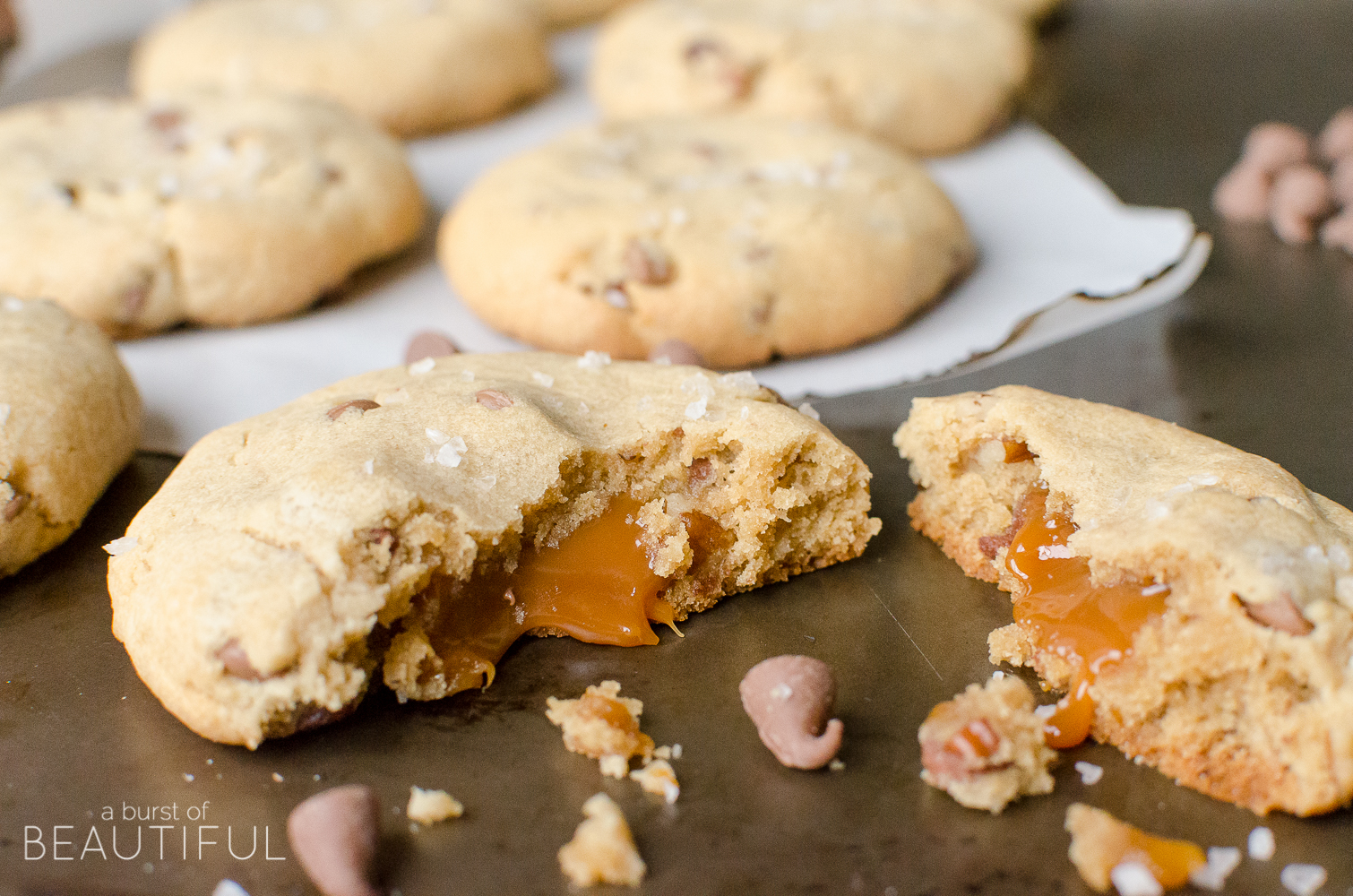 It is these comforting thoughts that always make us eager to create and reimagine classic comfort foods, and that is just what we did with these chocolate chip cookies.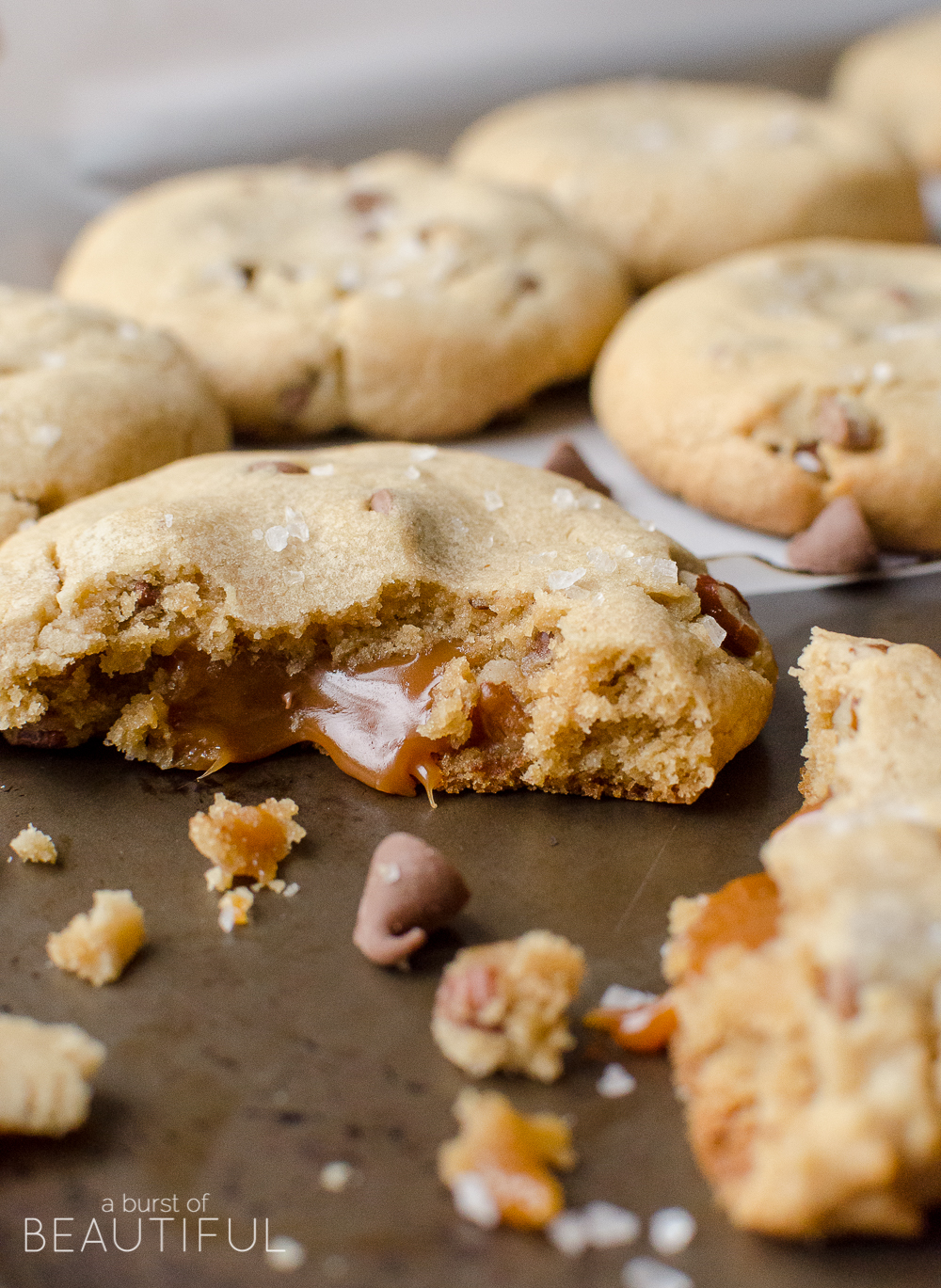 We wanted them to have that classic chocolate chip cookie taste, but with a little something different. And that's where the caramel comes in. From the outside, these look like a typical chocolate chip cookie, but after one bite you're met with a soft center filled with rich caramel and melt-in-your-mouth milk chocolate chips. These cookies are a household favorite around here, and we're lucky if one batch lasts longer than a day…if you want one you have to act fast!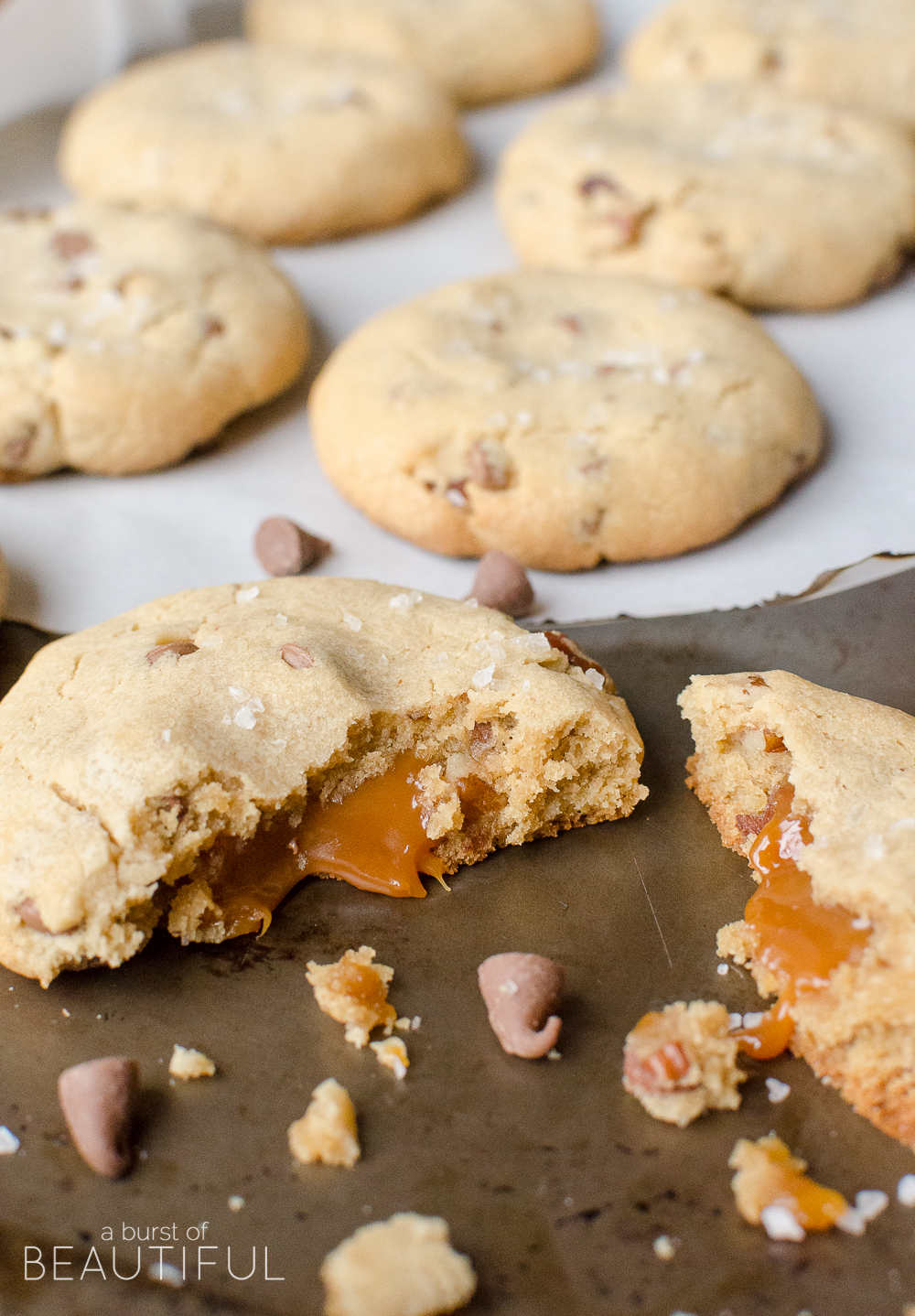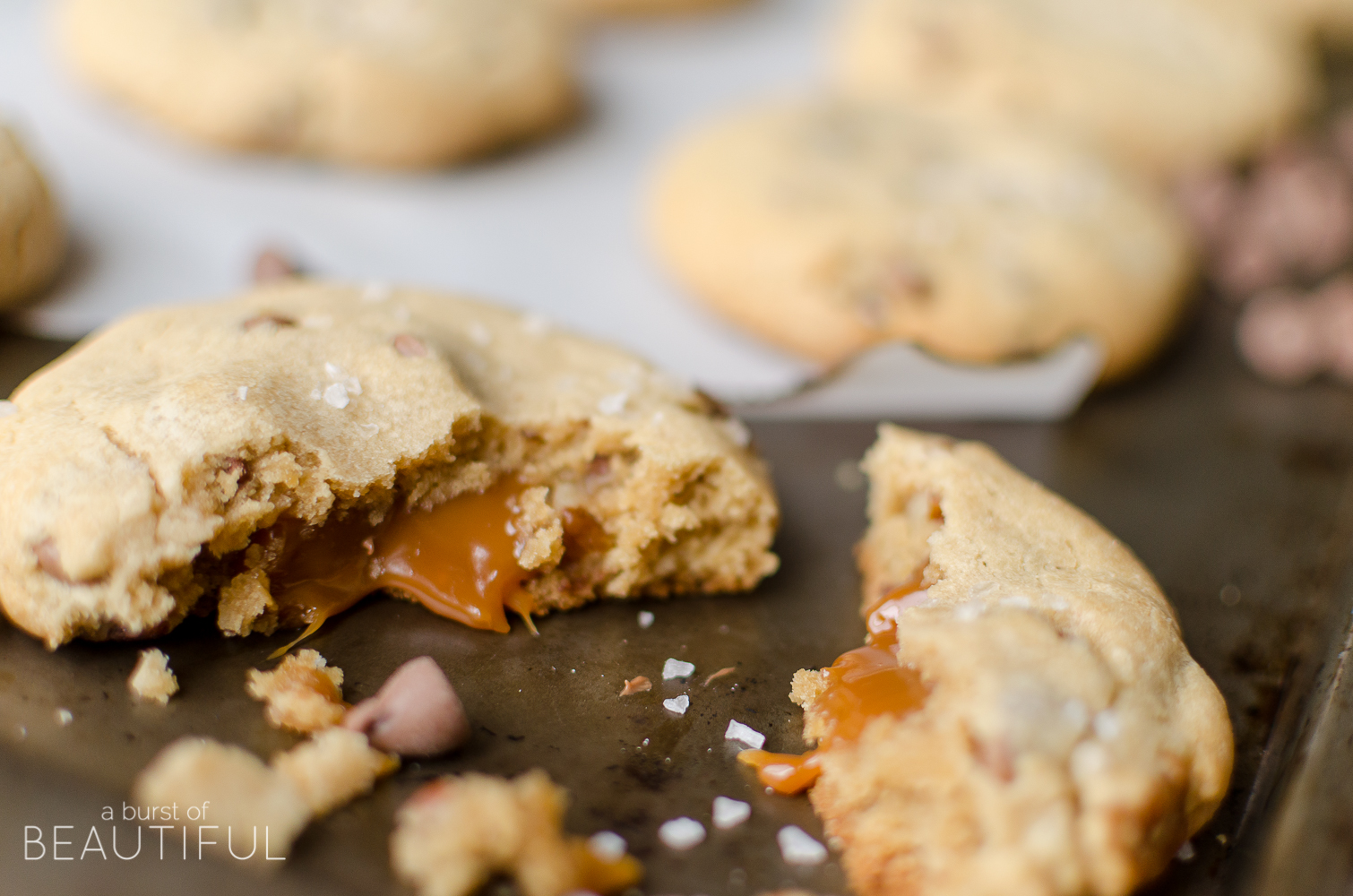 We love the unique twist the caramel and sea salt add to this classic cookie, and if you like this recipe you might like some of ours others too – you can find them all here.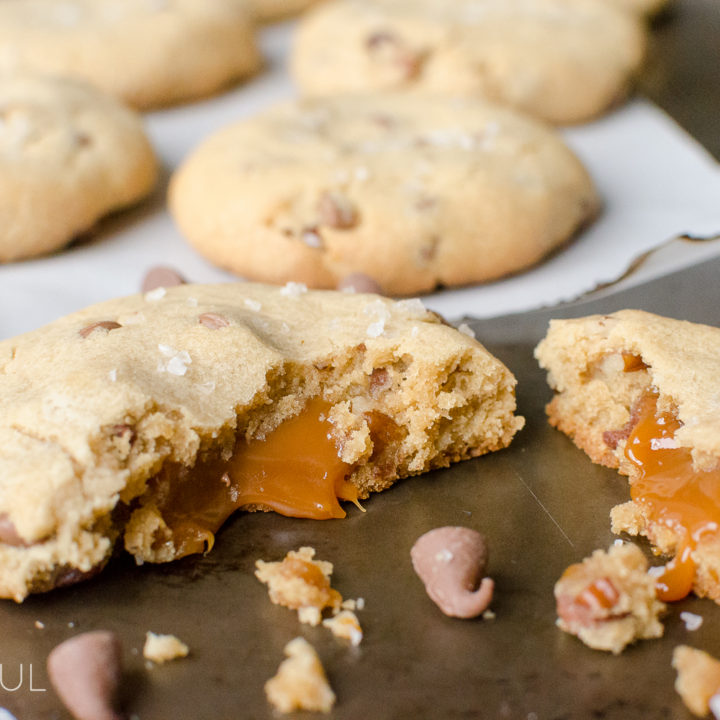 Caramel Chocolate Chip Cookies
Ingredients
2 1/2 cups dark brown sugar
1 1/2 cups vegetable shortening
4 tbsp milk
2 tbsp vanilla
2 eggs
4 cups all-purpose flour
2 tsp salt
1 1/2 tsp baking soda
1 1/2 cups milk chocolate chips
1 cup pecans, chopped
24 caramel soft cremes
2 tbsp coarse sea salt
Instructions
Preheat oven to 375 degrees.
Combine brown sugar, shortening, milk and vanilla in a large bowl and beat with a mixer until a whipped consistency is formed.
Beat in eggs until blended.
In a separate mixing bowl, stir flour, salt and baking soda together and gradually add it to the whipped mixture.
Once blended, stir in chocolate chips and pecans.
Roll dough into large balls, just slightly larger than a golf ball. Press one caramel into the center of each ball and slightly flatten onto a cookie sheet (lined with parchment paper).
Sprinkle a pinch of sea salt on the top of each cookie.
Bake for 9 minutes, or longer if you prefer a crispier cookie.
Allow to cool for 5 minutes before transferring to a wire rack to cool completely.
Nutrition Information:
Yield:

24
Serving Size:

1
Amount Per Serving:
Calories:

448
Total Fat:

20g
Saturated Fat:

8g
Trans Fat:

0g
Unsaturated Fat:

11g
Cholesterol:

25mg
Sodium:

1015mg
Carbohydrates:

65g
Fiber:

1g
Sugar:

48g
Protein:

4g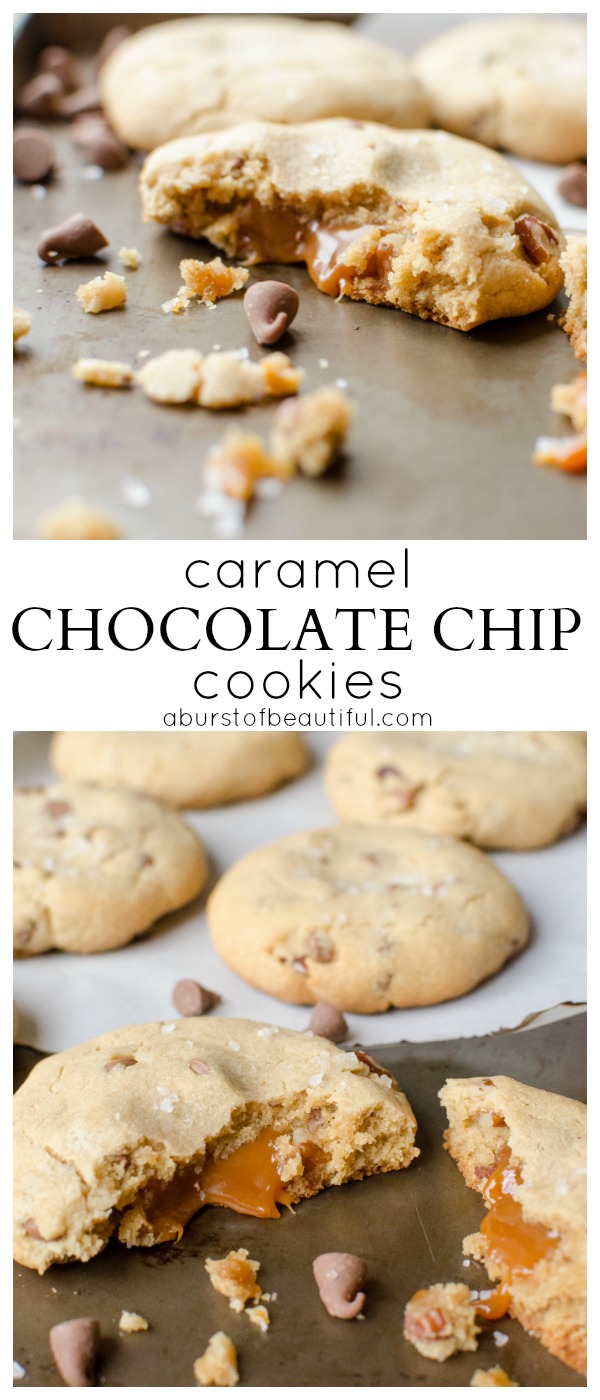 The post, Caramel Chocolate Chip Cookies, first appeared on Craftberry Bush on October 4, 2016.