This post is sponsored by Canadian Tire.
All opinions and thoughts are my own, see our full disclosure policy

here

.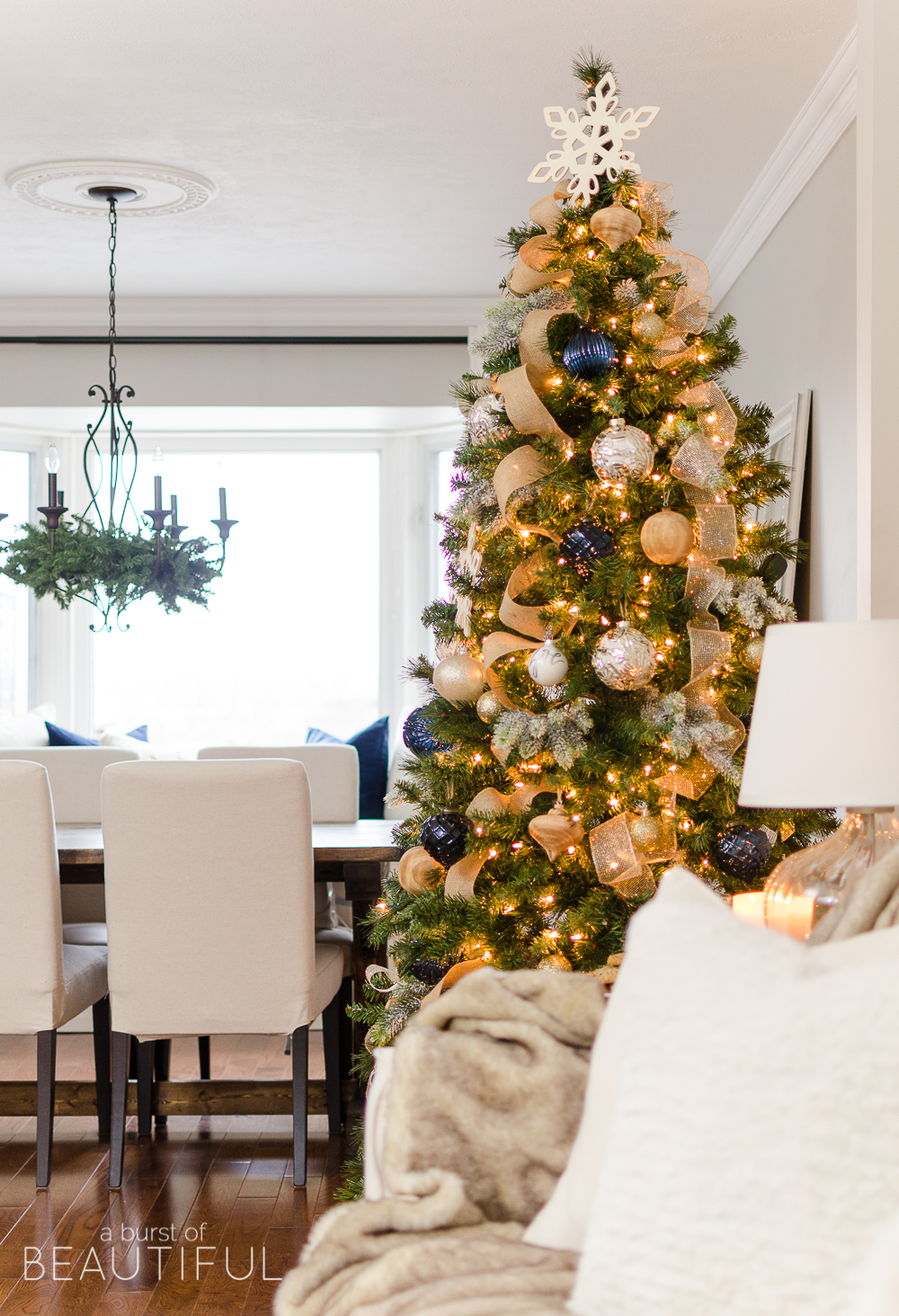 Today marks the second week of our Cherished Bliss Home Tour and this week is all about our Christmas trees. If you're coming from Cherished Bliss welcome, isn't her modern farmhouse Christmas tree simply beautiful?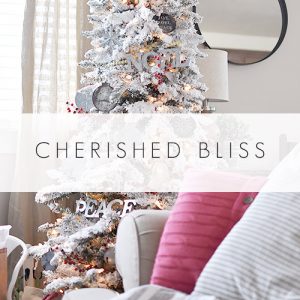 Once Thanksgiving has passed (as Canadians our Thanksgiving always falls much earlier than our American friends), I am ready to completely embrace the holiday season. I begin planning for Christmas. So I start thinking about colors and themes for our decor and planning holiday recipes we'd like to try.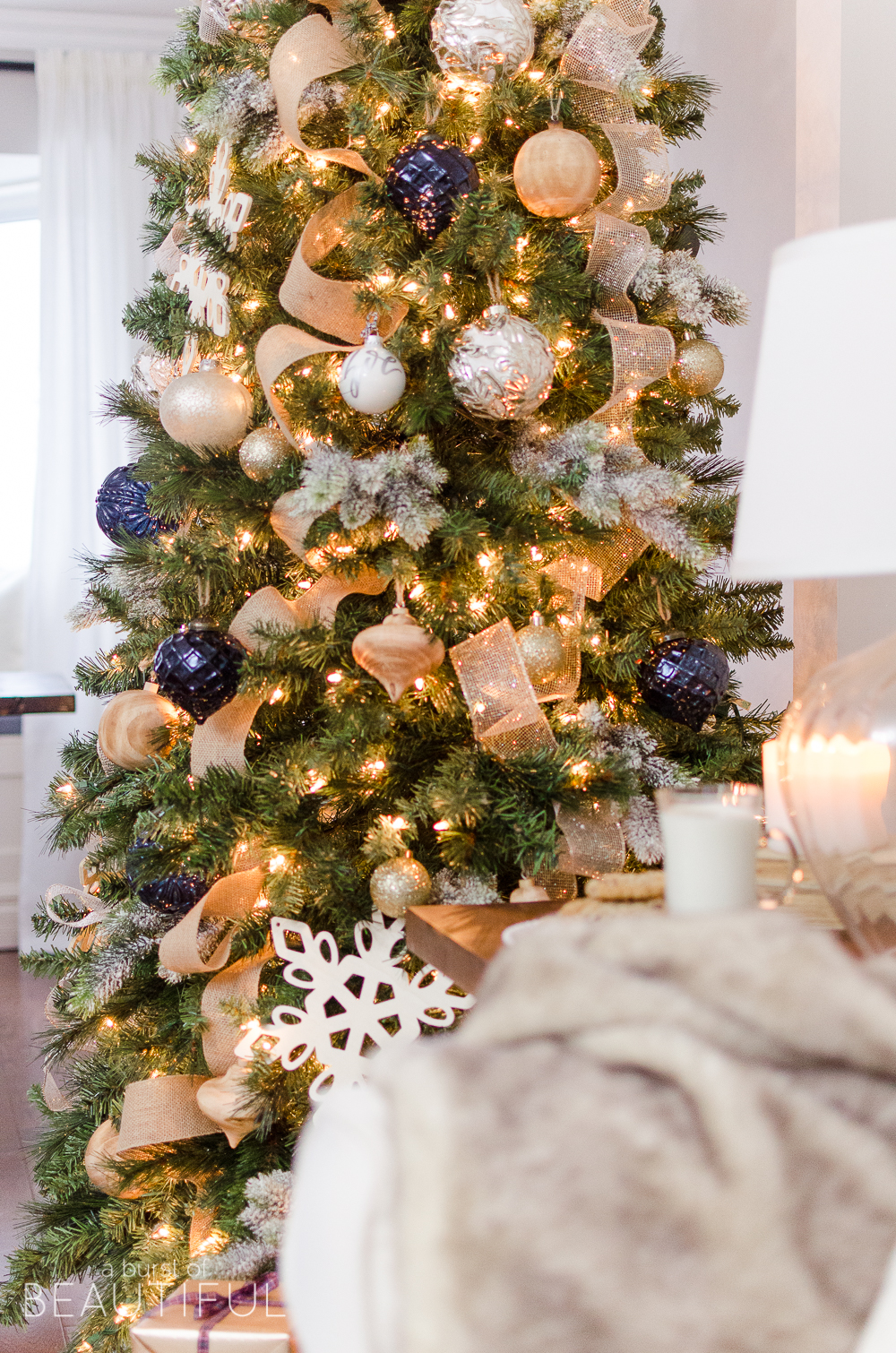 I have a little story I want to share with you about how our holiday decor came about this year and the lesson I learned about always trusting your instincts.
Long before we had even gathered for Thanksgiving I was envisioning our holiday decor. We had recently completed some major changes in our living room and dining room. I was eager to decorate these new spaces for the holidays. I was imagining a soft and inviting palette of whites and indigo and navy blues, with a few natural wood accents mixed in.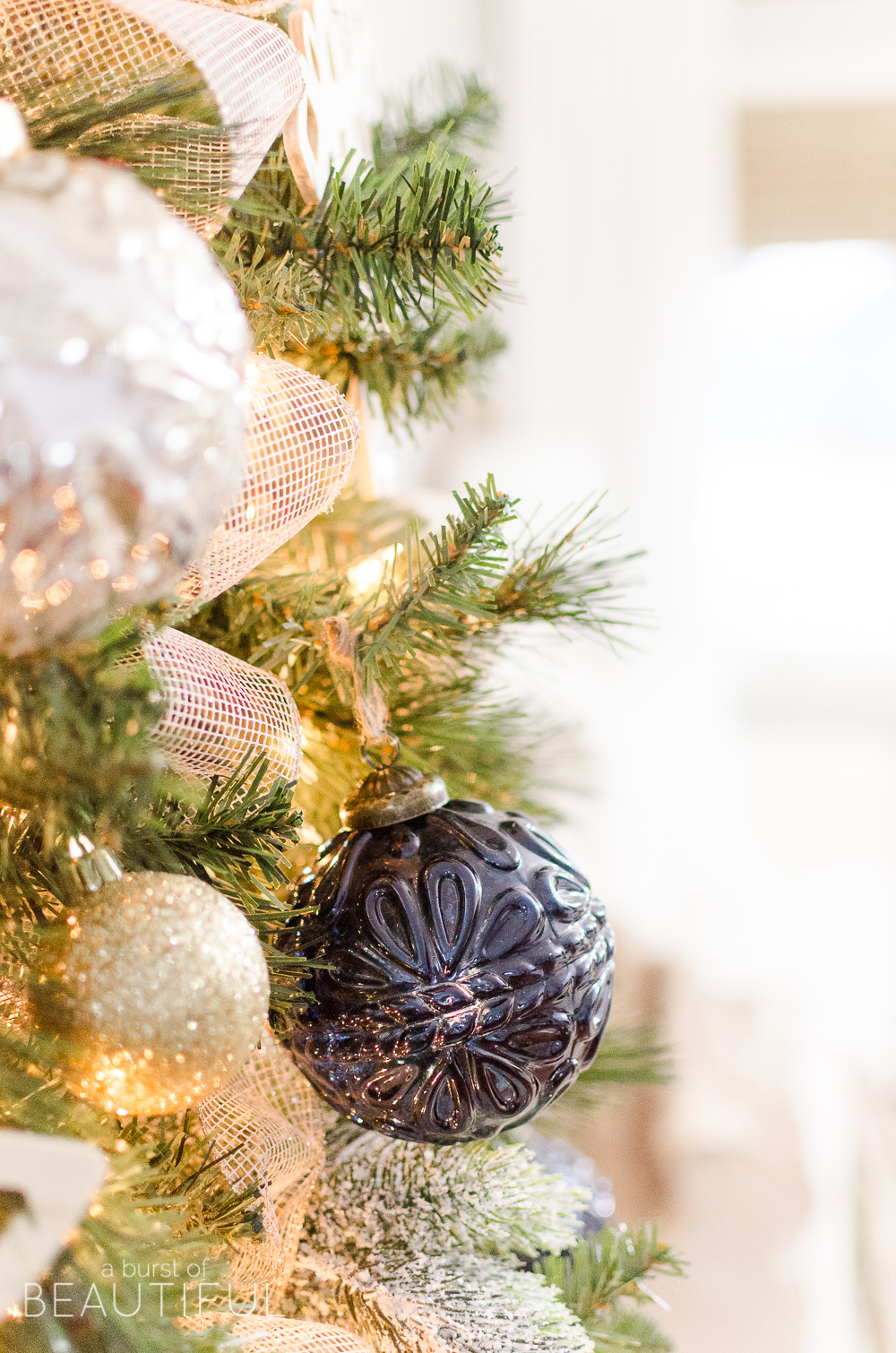 These are the colors I am naturally drawn to. I find them soothing and relaxed, and most importantly, I am familiar with them.
But suddenly I had a change of heart. I would be scrolling through Pinterest or flipping through a magazine and stop in my tracks when I came across a home beautifully decorated for the Christmas season in crisp whites and pops of red.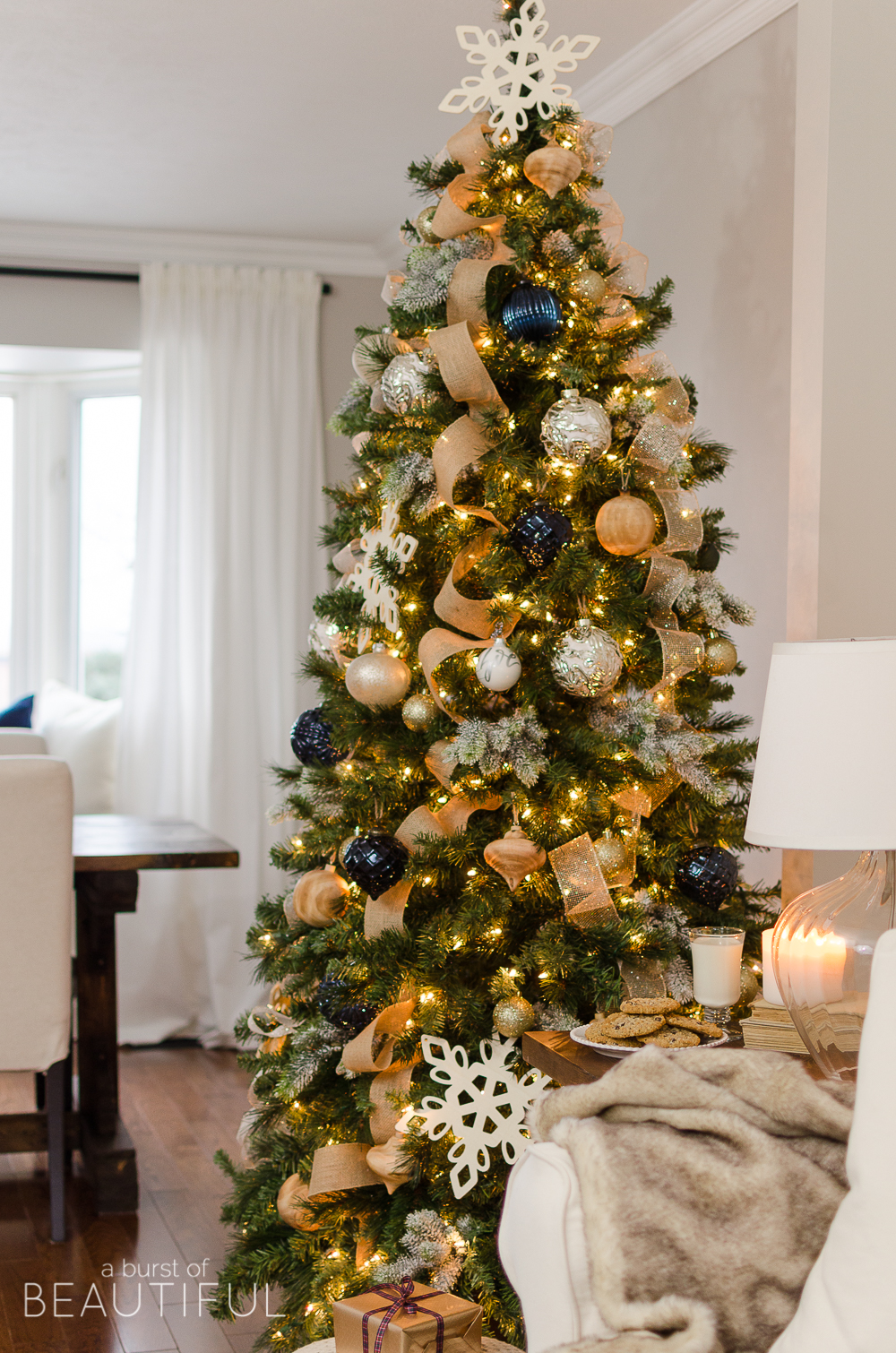 Each one looked so festive, happy and bright.
So I thought about it and decided this was the year I would decorate our home in red and white. I wanted a traditional Christmas for our little one and I wanted it to feel fun and casual, nothing too fussy. I started collecting a few things here and there; red and navy tartan pillows, red and white felt ball garland, cream napkins with a red ticking stripe. It was all coming together and I was loving each new item I purchased.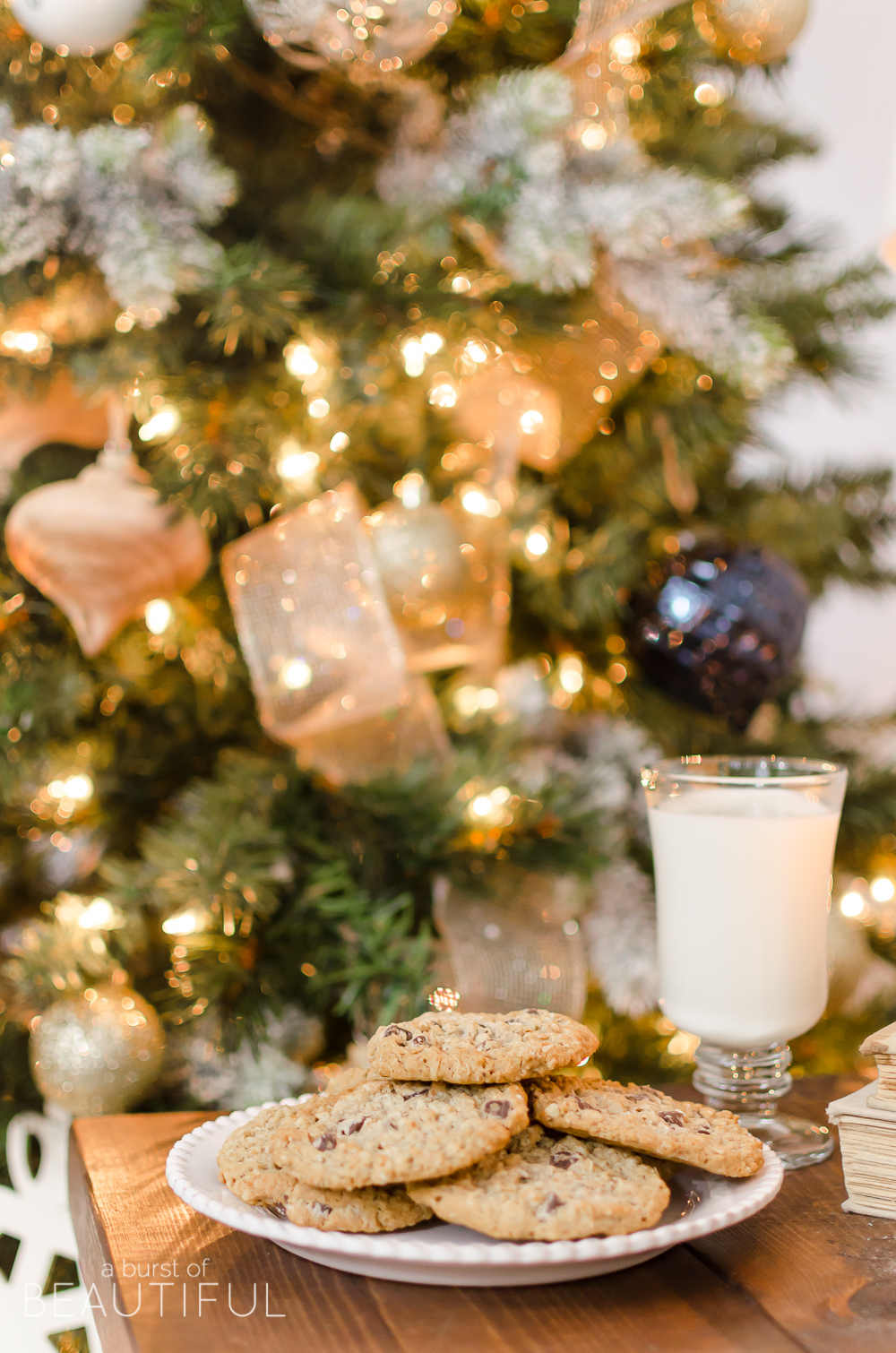 But when the day came to finally decorate our home, I felt unsure. I thought the pillows were jarring against our cream couch, and the garland felt childish. So I tried to push past it and continue decorating our home as I had set out. But after an entire morning of getting nowhere, my husband Nick finally asked me what I was doing.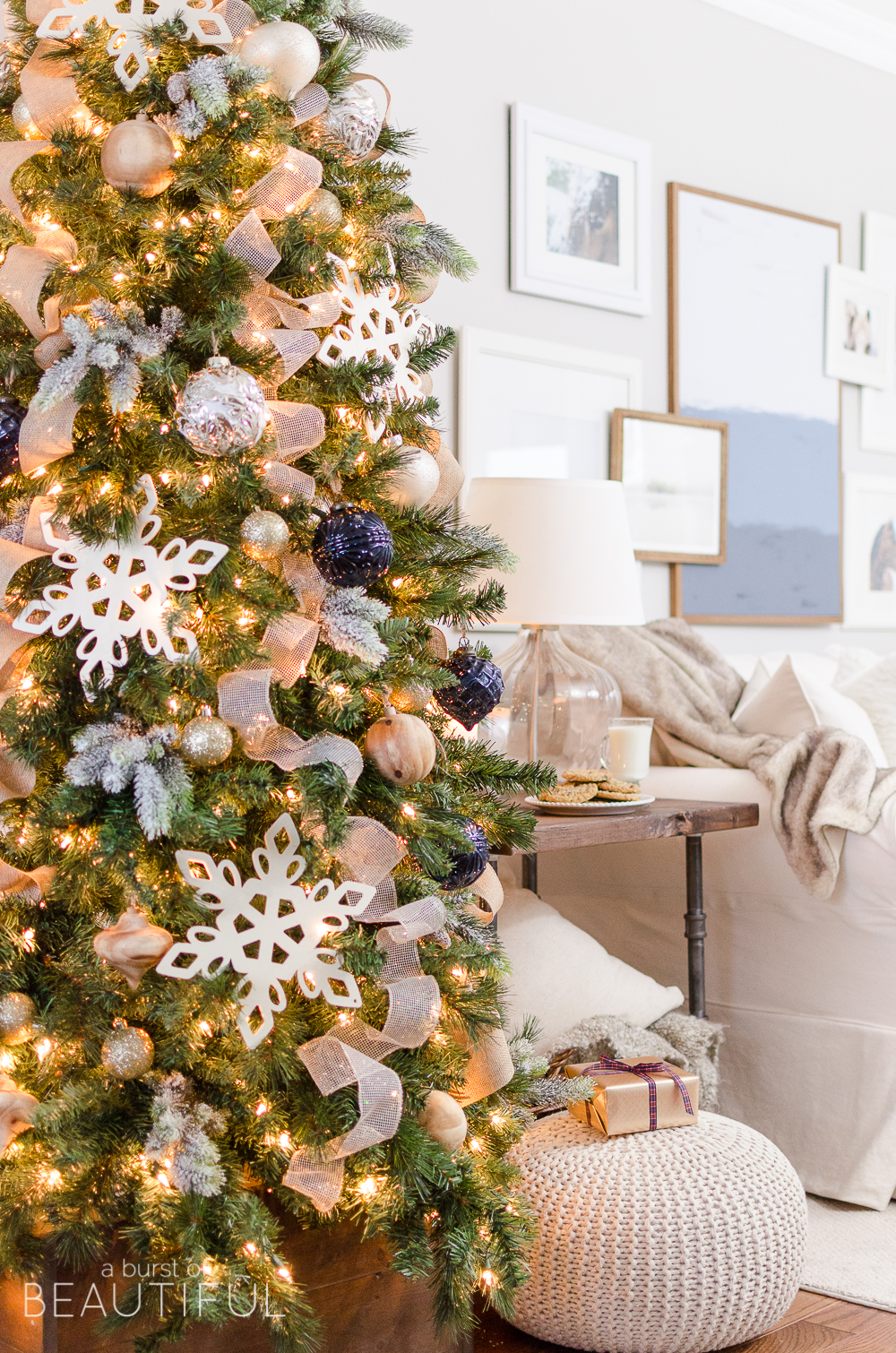 I felt silly…I had put so much thought into decorating our home and purchased quite a few new things. It was just decor, so I was determined to stick it out. But my husband knows me pretty well, he knew I was struggling with my decision and he suggested I go back to square one and focus on what I am comfortable with – neutrals with that little hint of blue I love so much.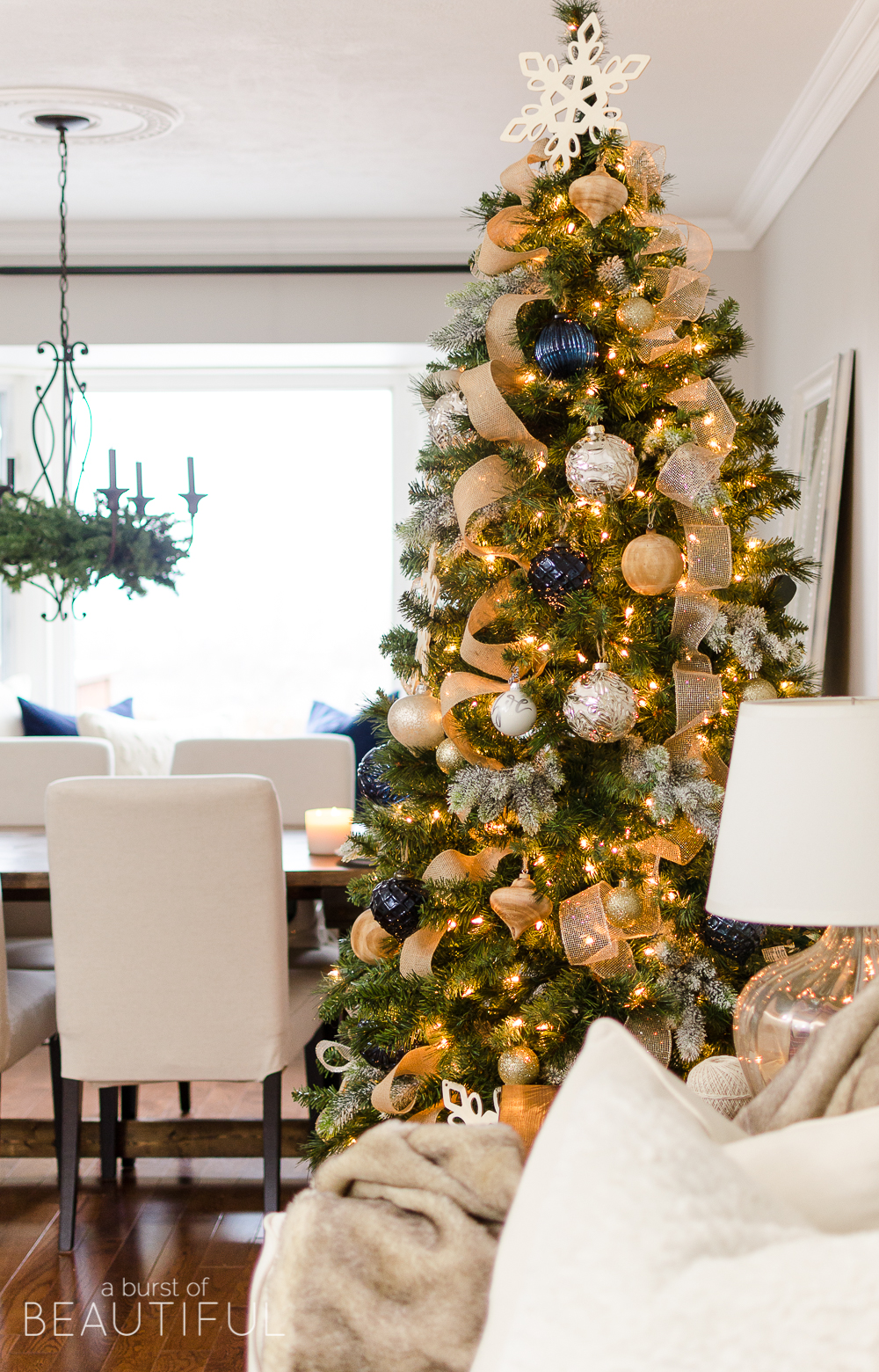 And he was right. As soon as I let go of those confines everything seemed to fall into place…starting with our Christmas tree.
Our tree sits proudly between our open concept dining room and living room, and it can be seen from every room on our main floor. And because of that, I wanted it to feel cohesive with these spaces so I decided to decorate it using metallics for a hint of sparkle and a few touches of navy and natural wood tones.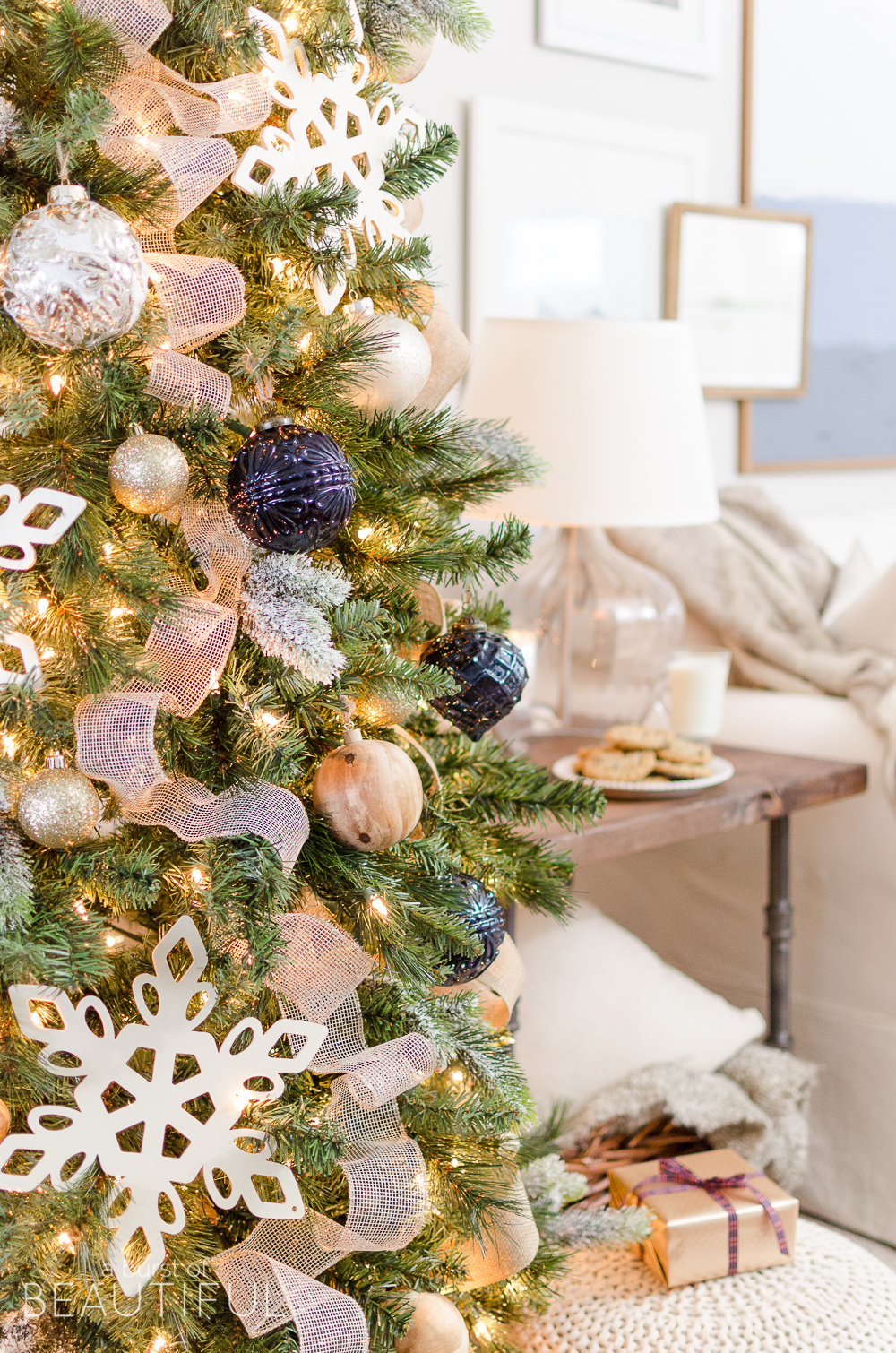 I started by adding gold mesh and burlap ribbon to give it some fullness and texture. Then I added in a few flocked branches to give it more of a snowy look.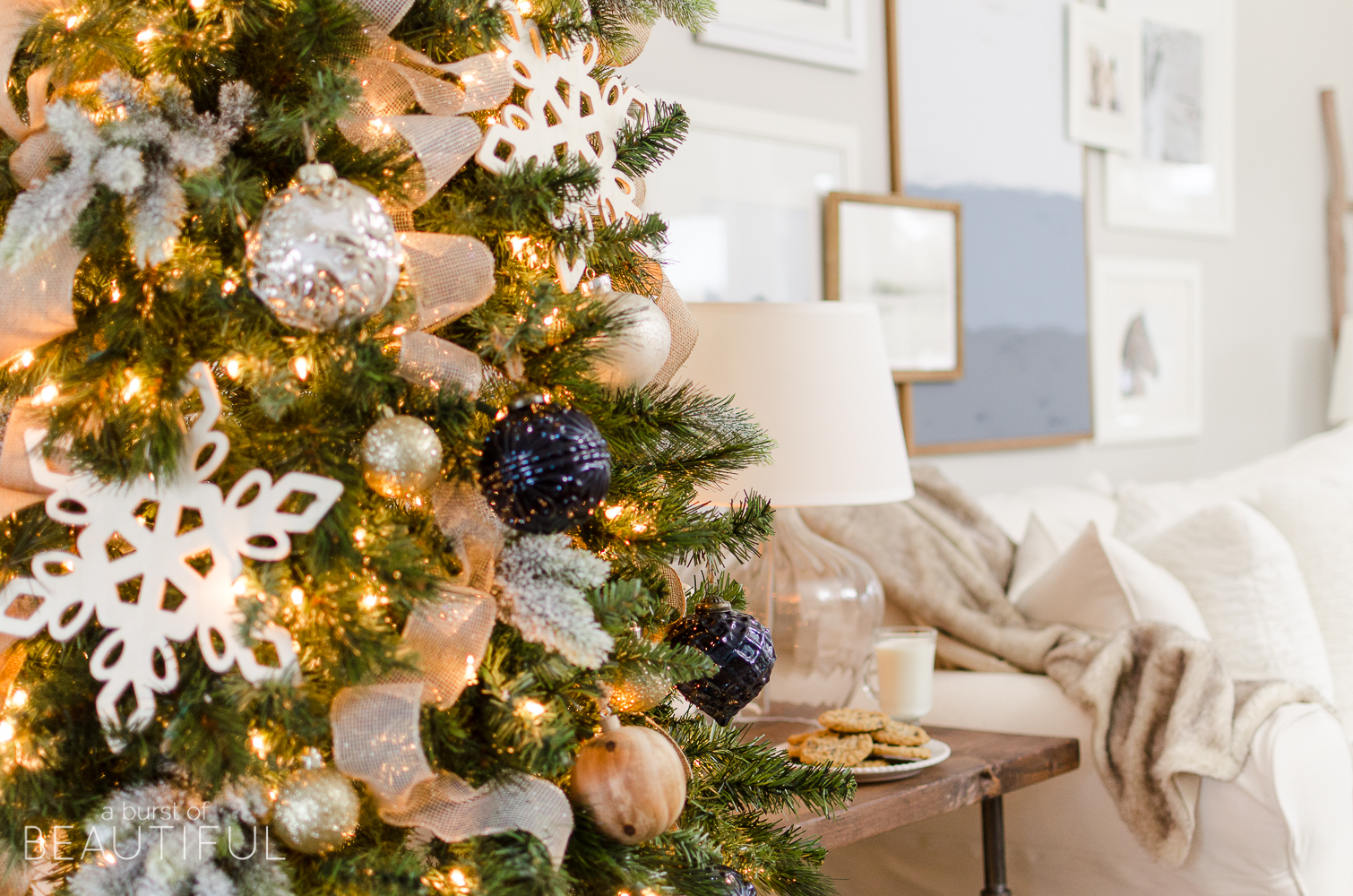 To give the tree a bit of a whimsical feel, I always like to add a few large-scale decorations to our tree. I found these wood snowflakes at our local dollar store and decided to leave them as they were for a simple and natural look and just propped them up on the branches of the tree.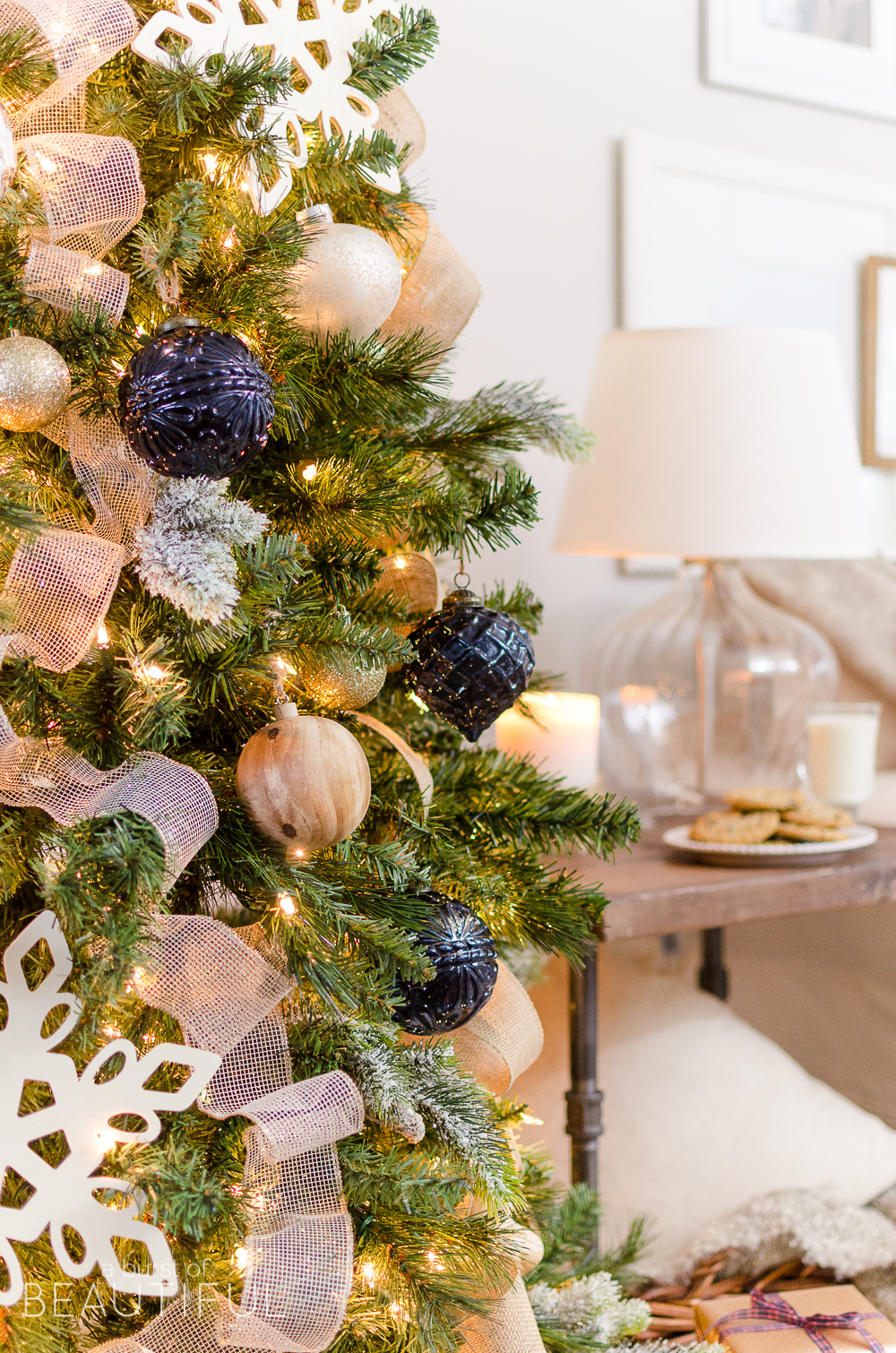 Each year, I usually add a few new baubles to my collection. I like to stick to classic or simple colors that I can use year after year, so this typically means I stick to white or metallics, like silver and gold. And this year, I fell in love with Canadian Tire's Canvas collection. They have so many beautiful colors and themes to choose from.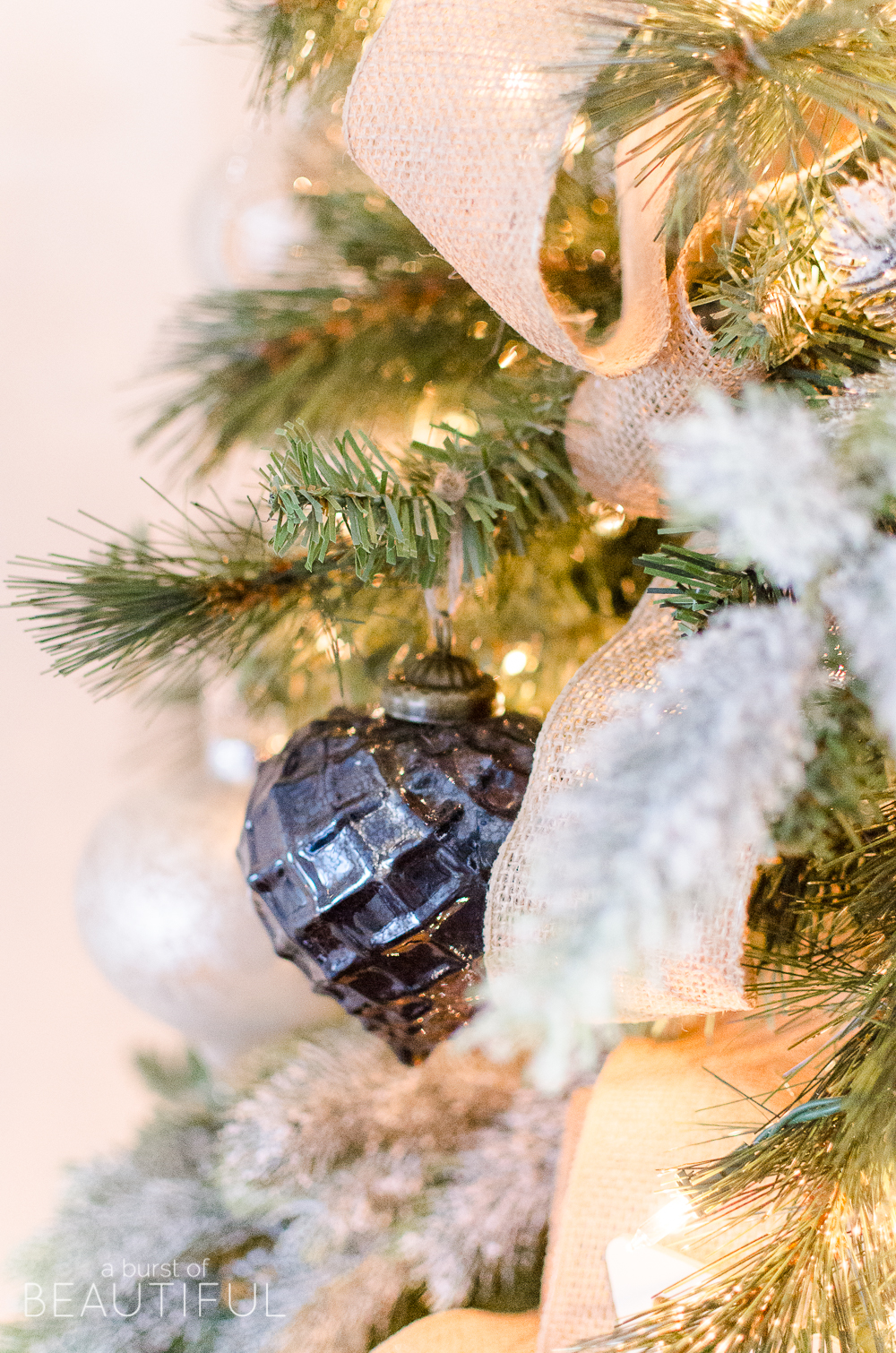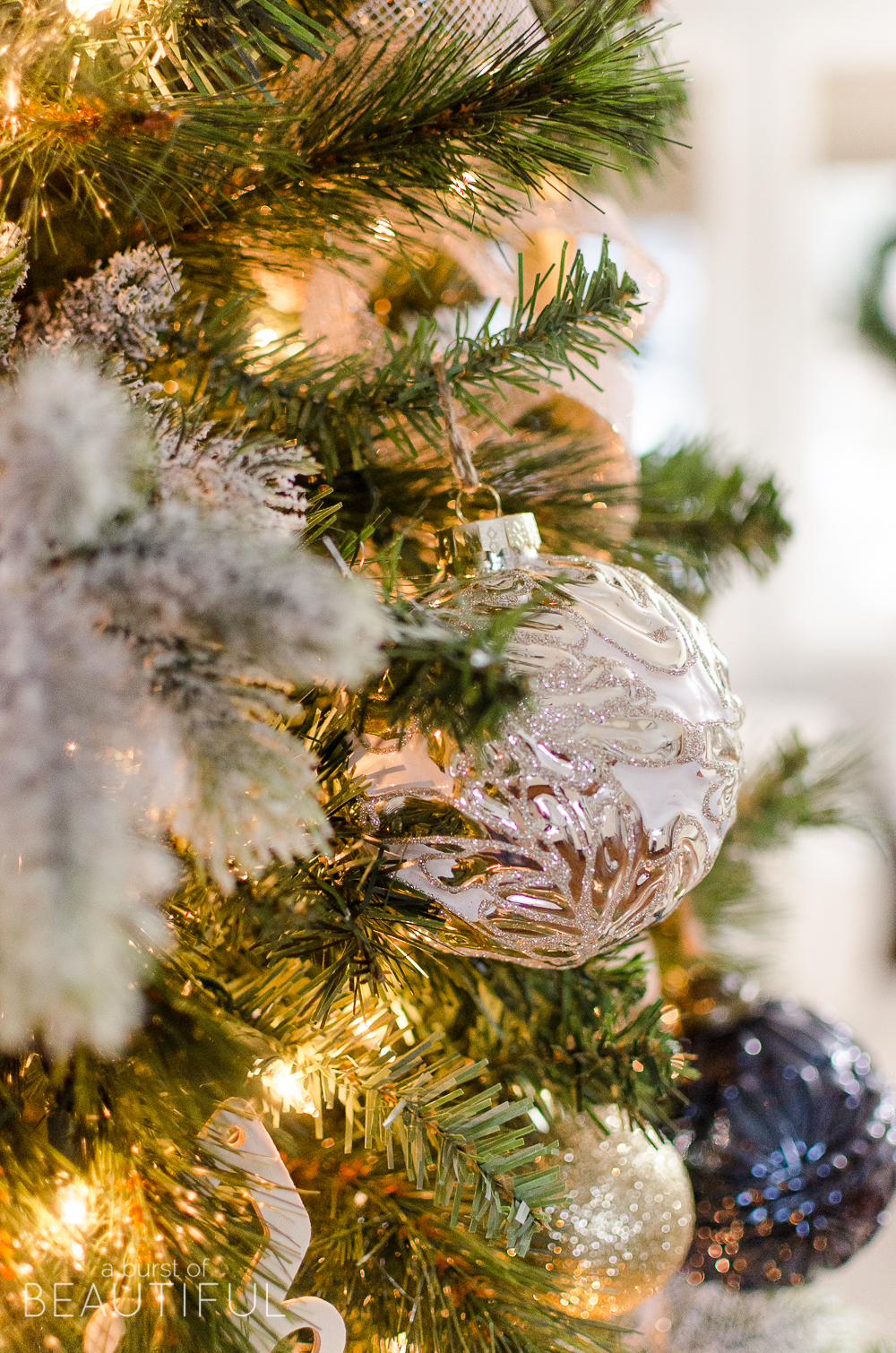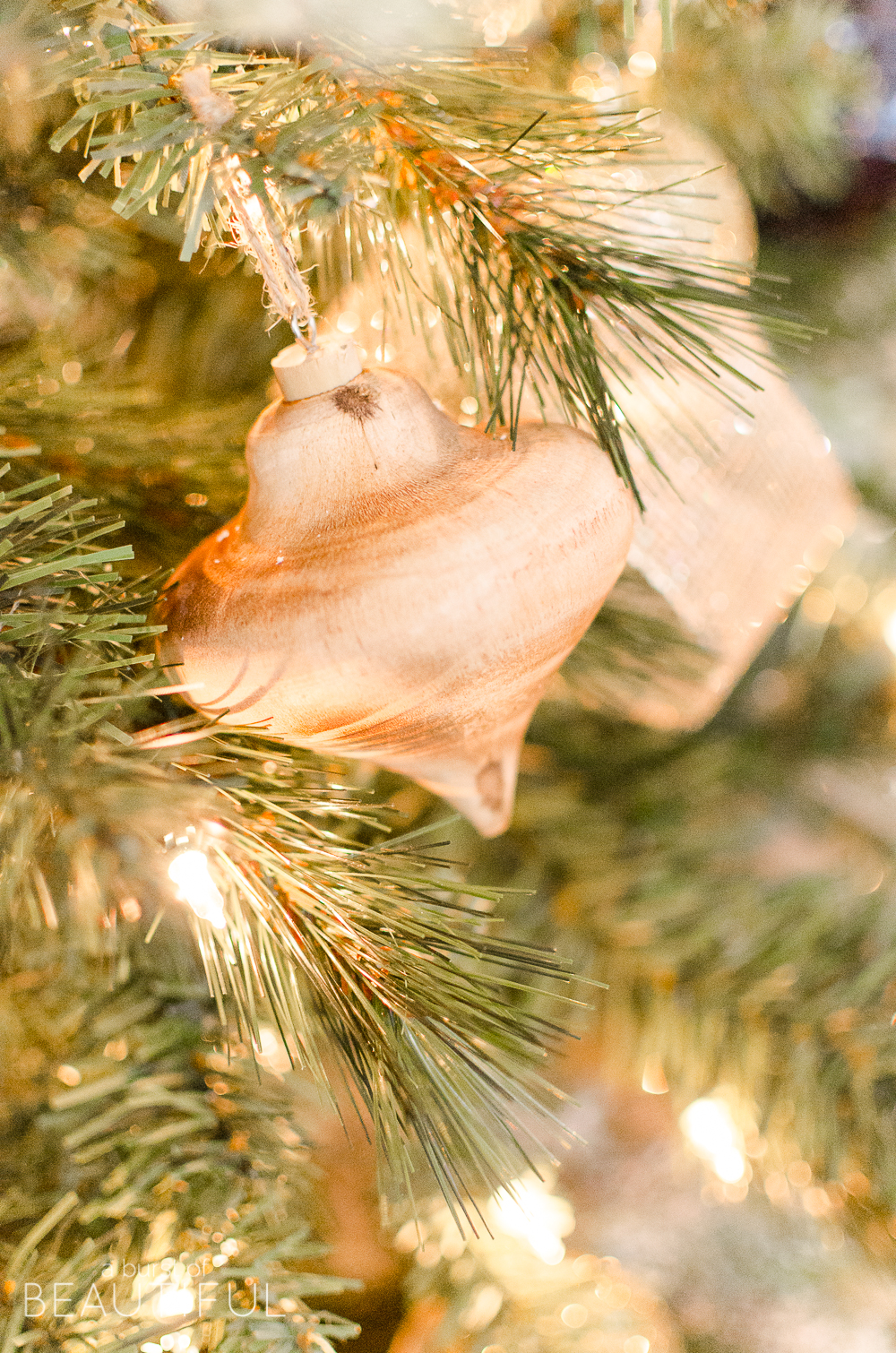 I ended up choosing an assortment of these beautiful blue mercury glass ornaments, white and silver baubles and natural wood ornaments. Aren't they pretty? They add such a lux, yet simple look to our tree.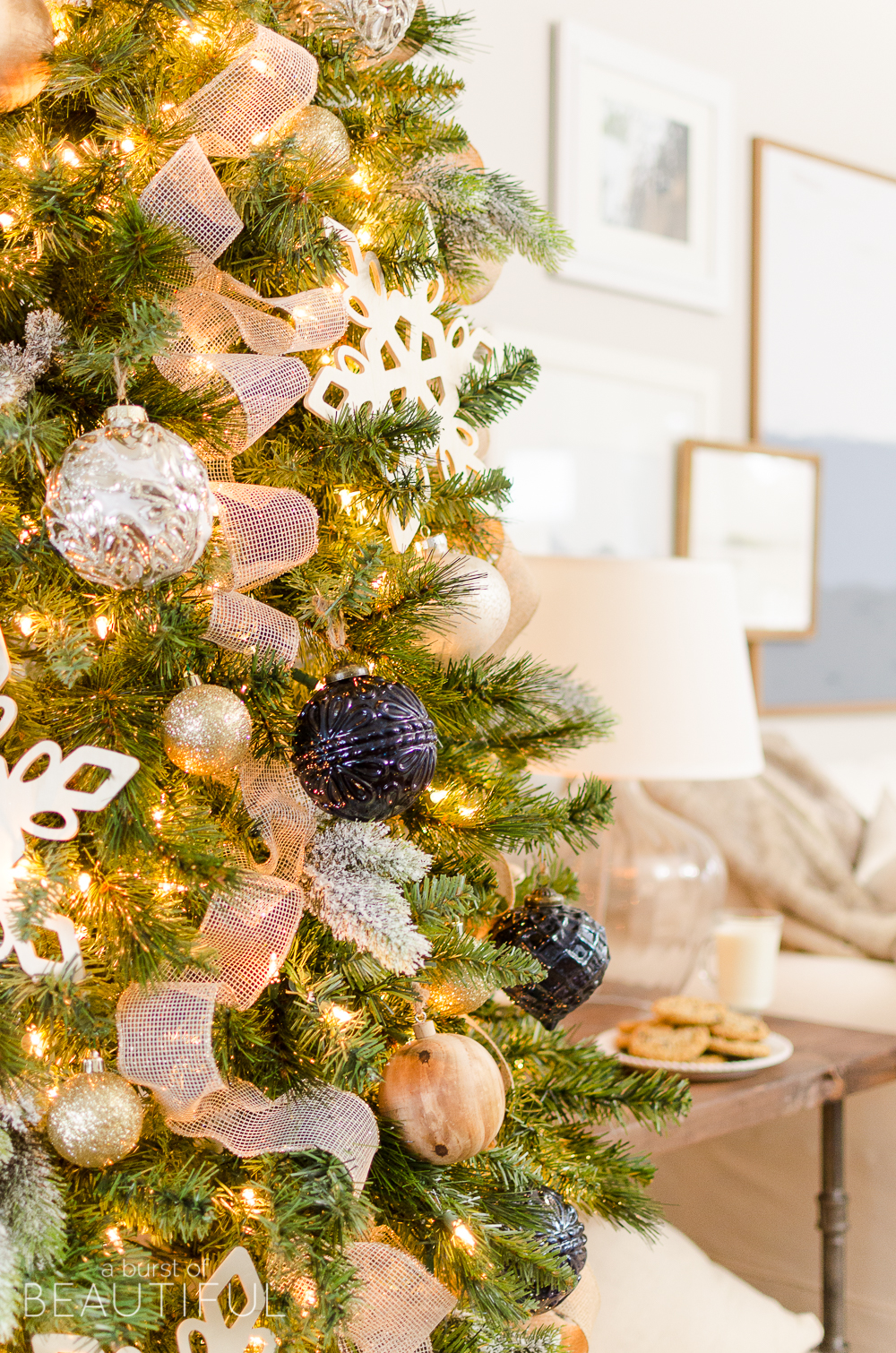 The finished result is a Christmas tree I am proud of, it suits our style and fits perfectly within our home. I learned my lesson – always follow your instincts. That's not to say you shouldn't ever stray from your comfort zone and try something new, but allow yourself the choice to go back to what you're familiar with and what makes you happy if you feel the need. 🙂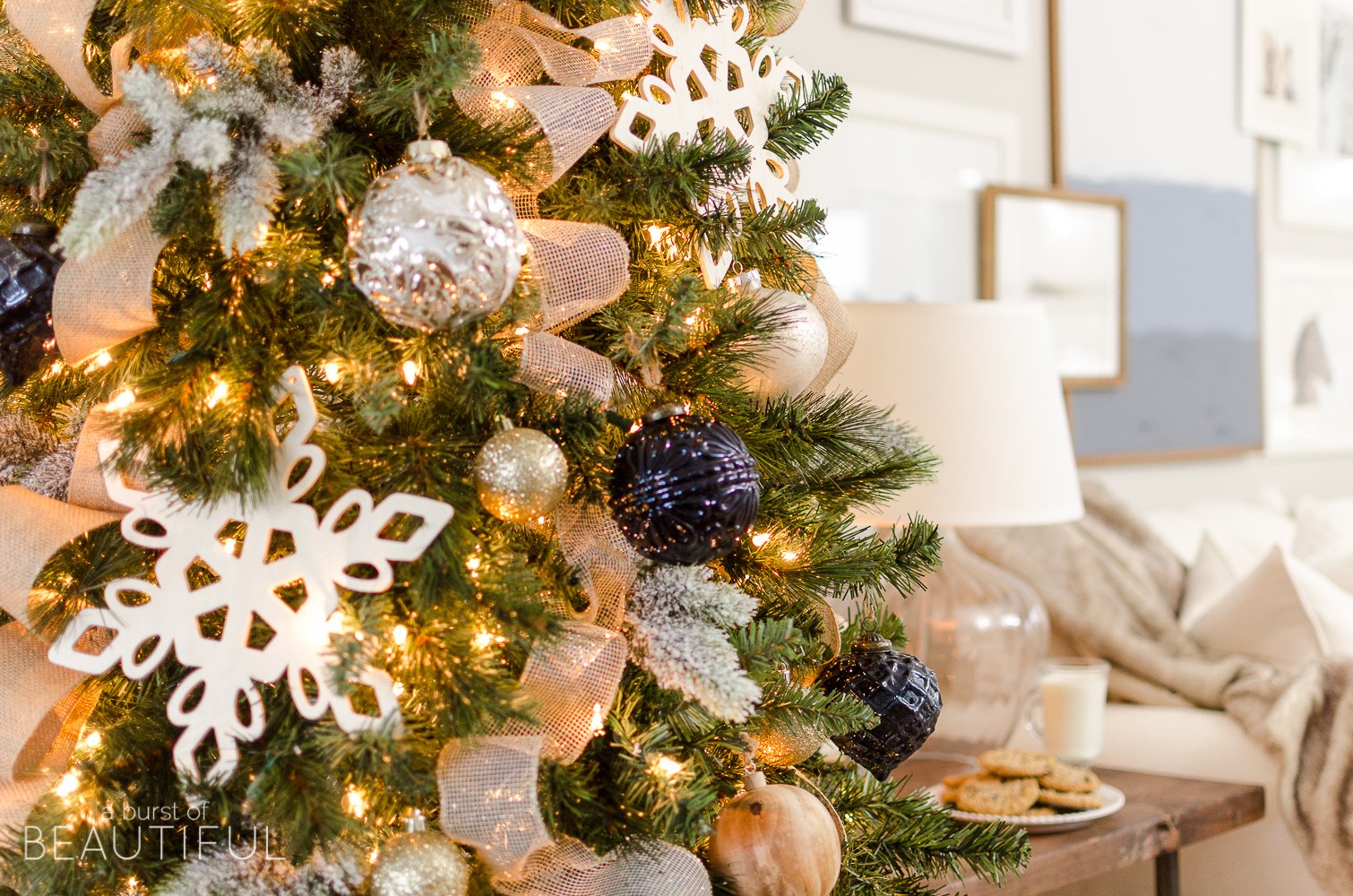 I hope you enjoyed our navy and gold Christmas tree. Now, grab a cup of hot chocolate and settle in for the rest of this amazing tour featuring some very beautiful and inspiring Christmas trees. Hop on over to Kelly at Live Laugh Rowe to get started!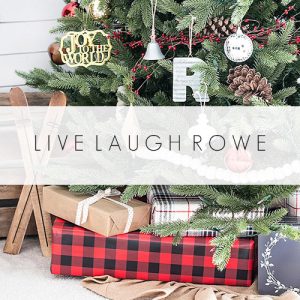 And for even more of our holiday home, you can check out our Christmas tour room by room.
Alicia xo
Don't miss out of the rest of our holiday home!
Take a tour of our home room by room!
Simple Christmas Entry | Simple Christmas Kitchen | Navy & Gold Christmas Tree
Inviting Holiday Dining Room | Cozy Christmas Living Room | Cozy Neutral Christmas Bedroom