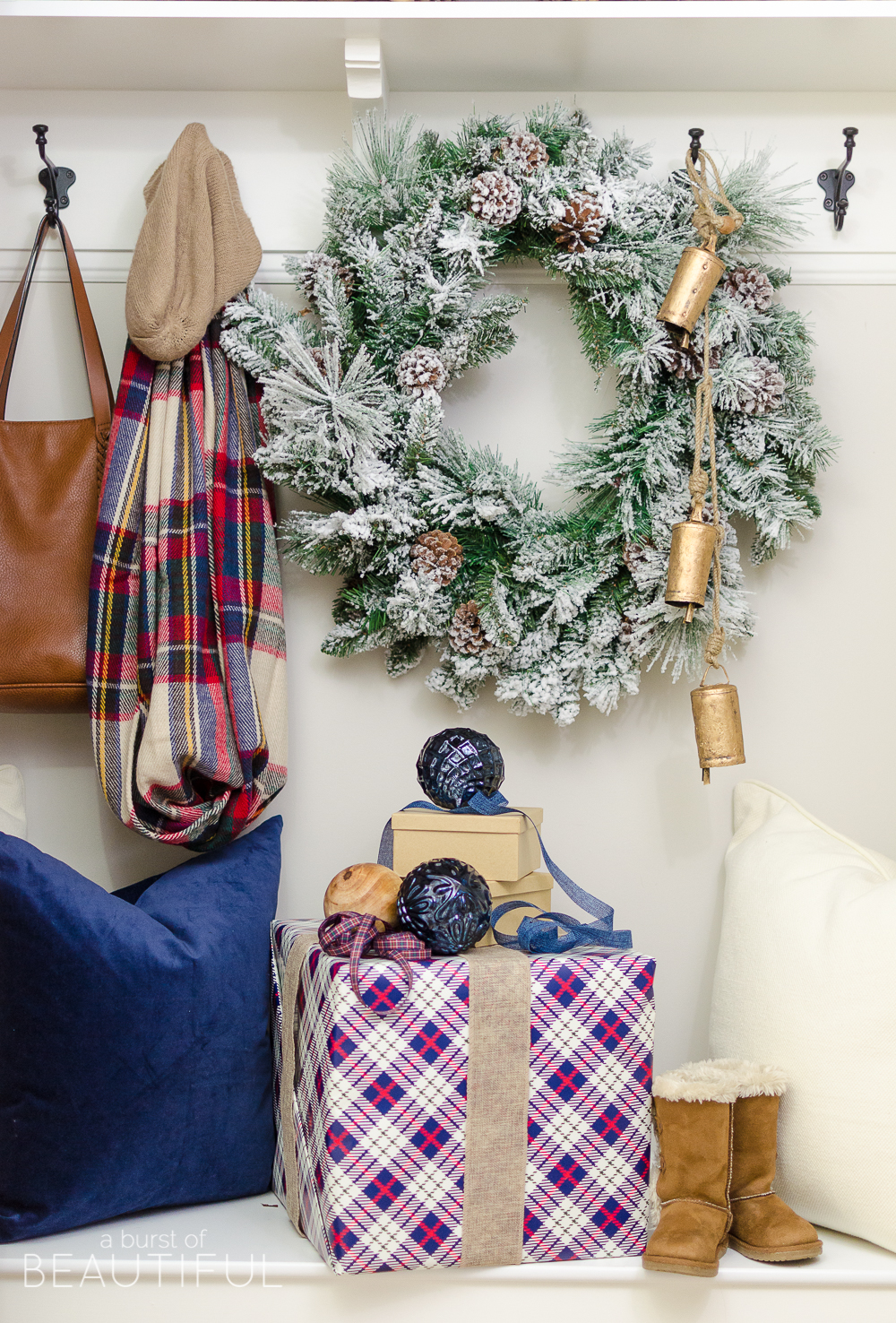 Good morning sweet friends, I am so excited to be joining the Cherished Christmas Home Tour this year, hosted by my sweet friend, Ashley at Cherished Bliss. We will be sharing different rooms throughout our home over the coming weeks in celebration of the holiday season. Our hope is to inspire you to create your own beautiful holiday home.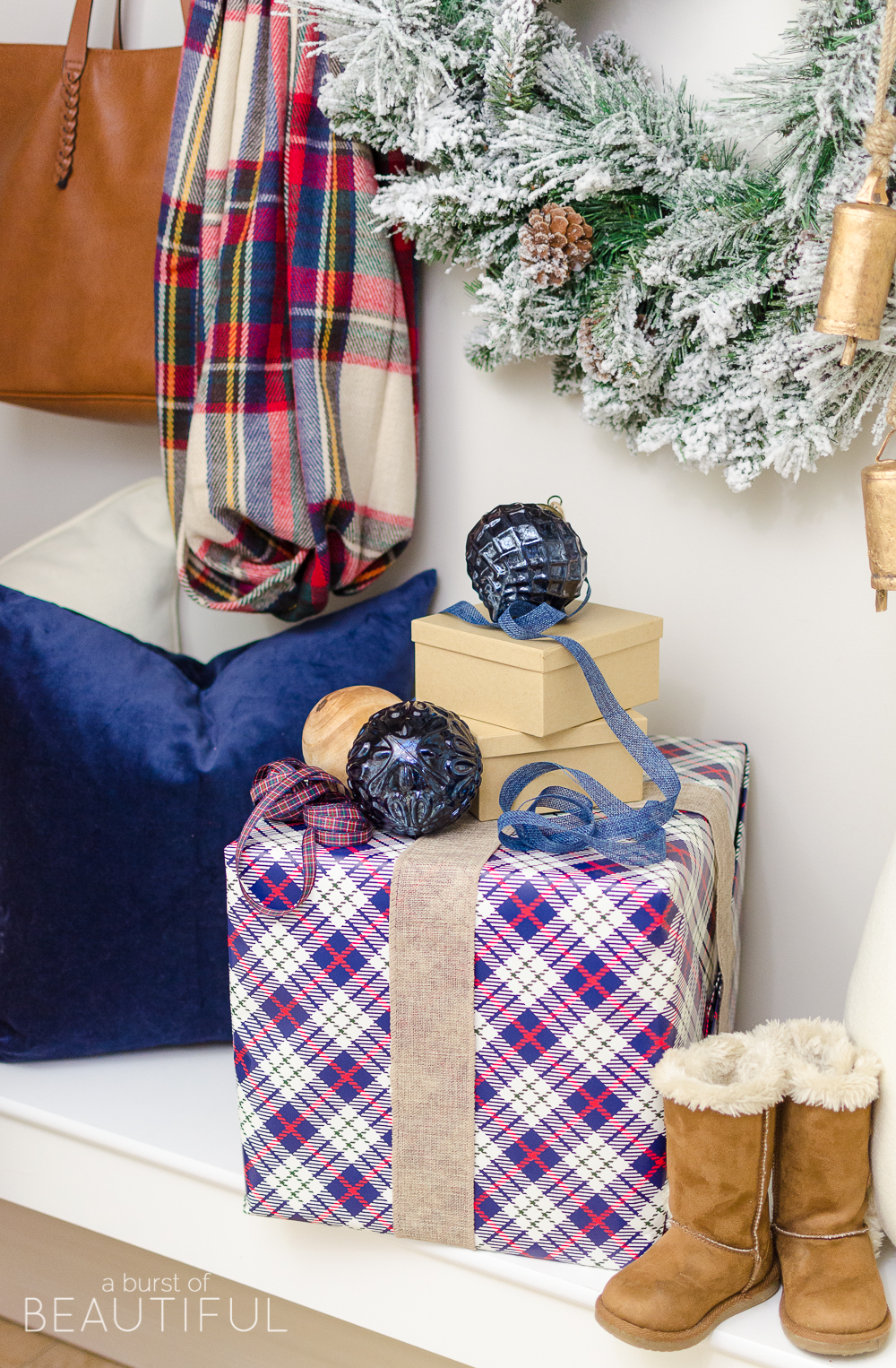 The tour kicks off today with our holiday entryways. If you're joining me from Cherished Bliss' home, welcome! Don't you just feel like you've been invited right into her beautiful home?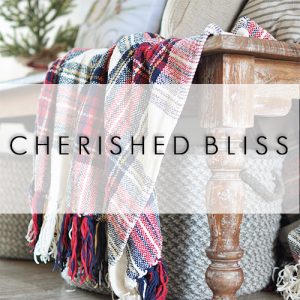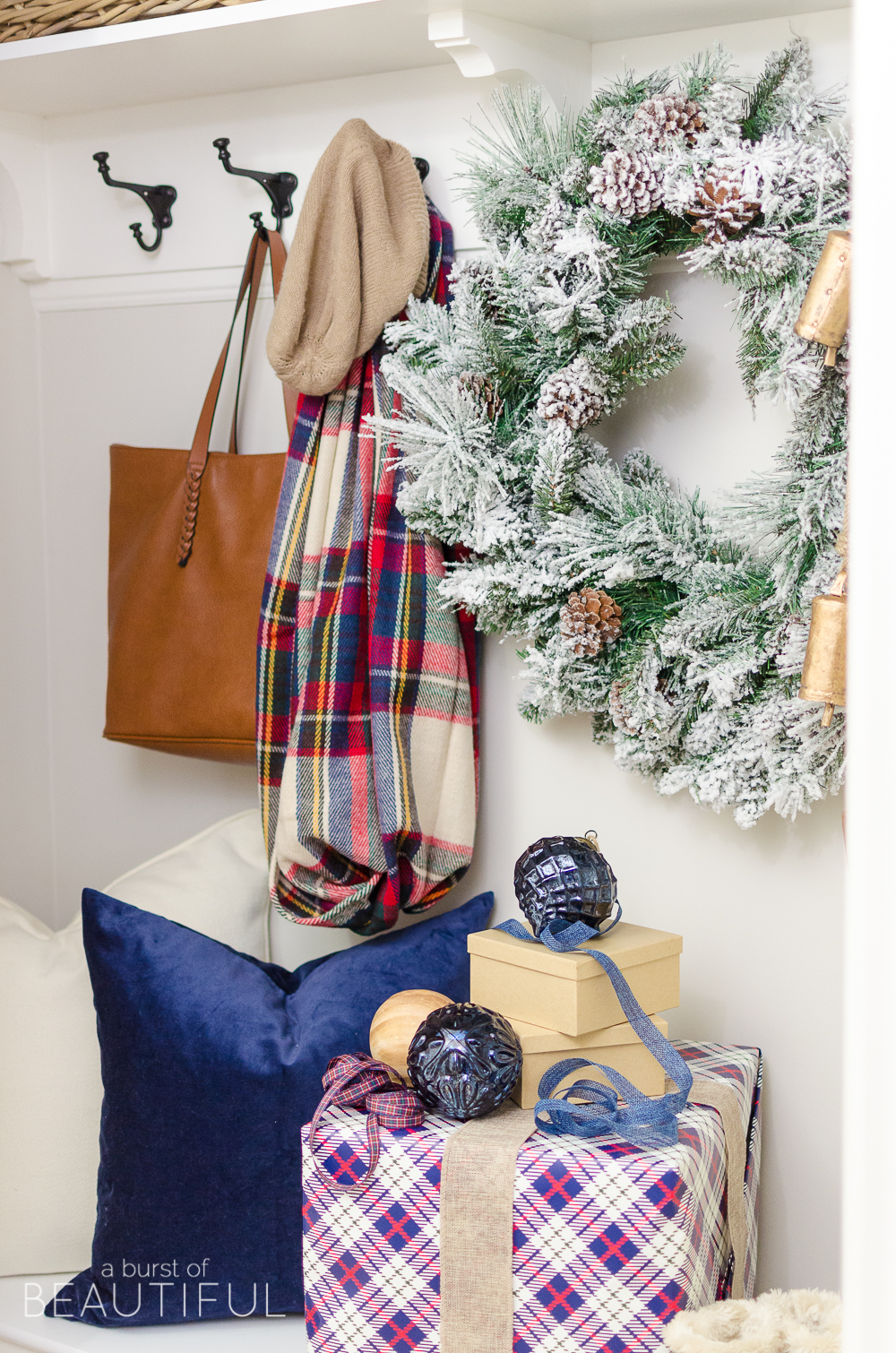 I debated a lot about today's post, whether I wanted to share our front porch or our new mudroom. In the end, I decided to share our mudroom, simply because I always have so much fun styling it.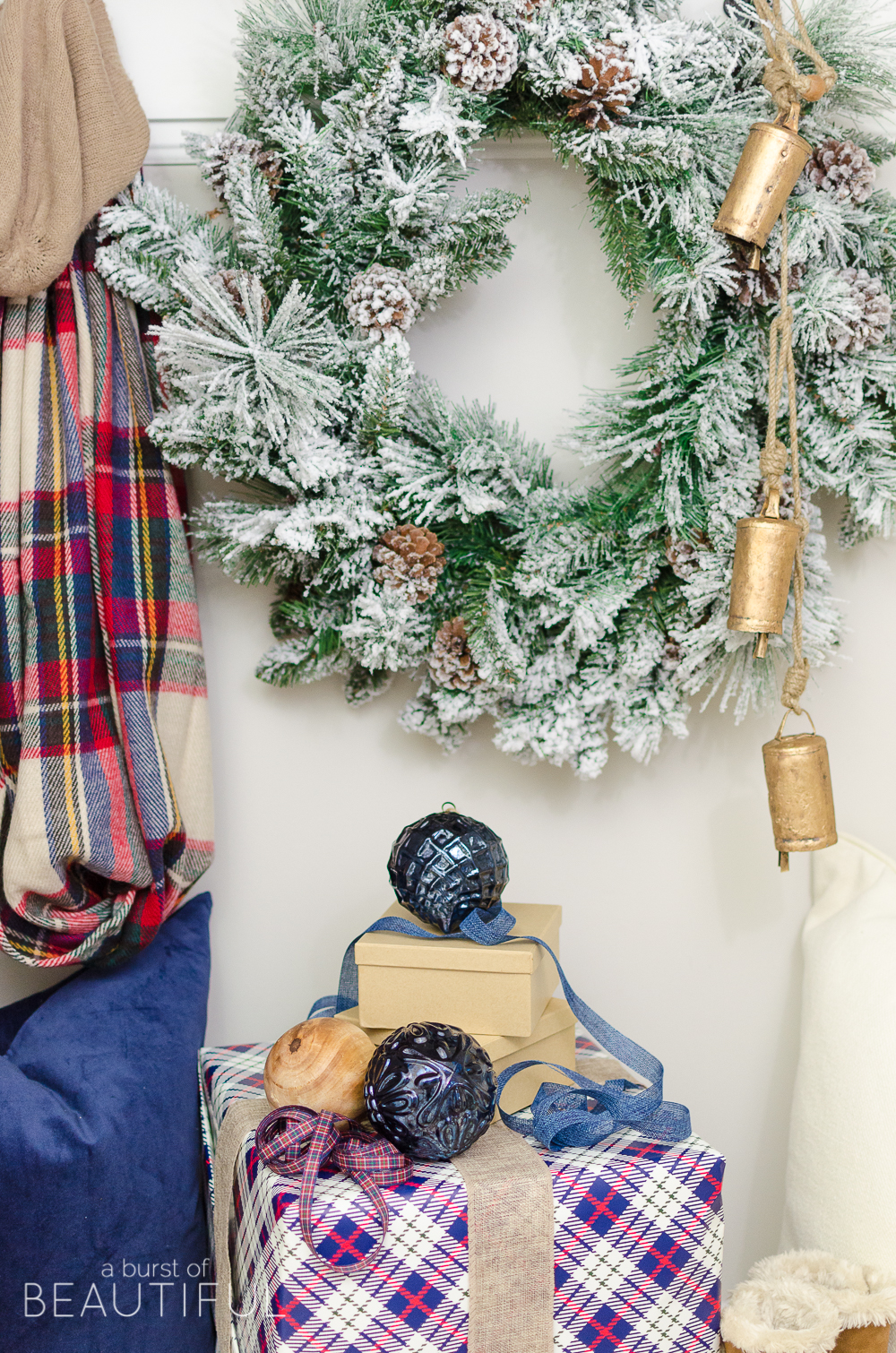 It's such a cute and tiny space and it's basically a blank slate for seasonal decor. I'll admit, decorating our mudroom for summer and fall were much more practical, as we simply didn't have a lot of stuff. A few sun hats, a tote and maybe a scarf were about all we needed.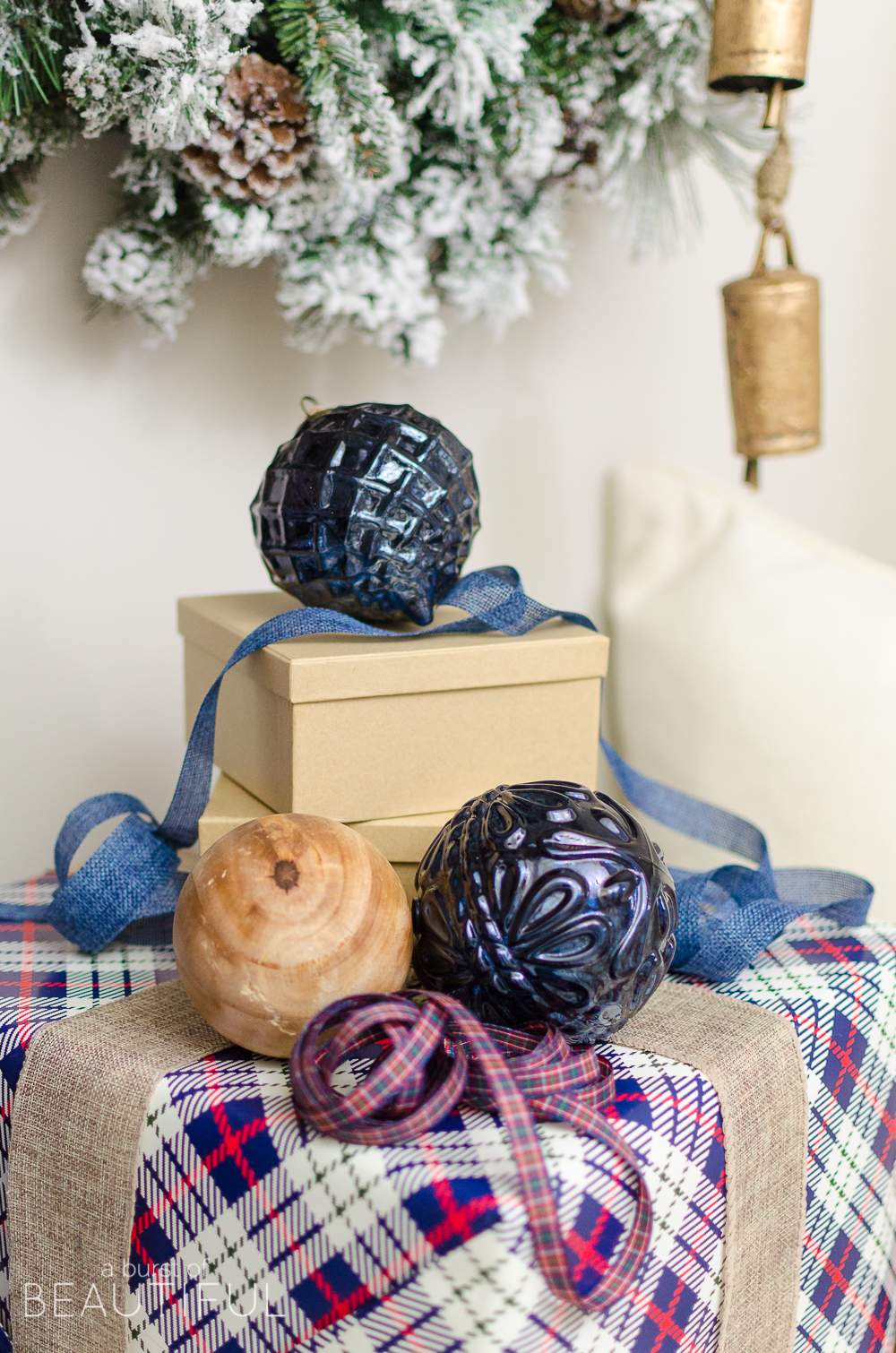 But now that winter weather is upon us, it's a little more difficult to keep it looking so pretty with coats, snow pants, hats, mittens and scarves taking up all of the space. But I didn't let that get in my way of creating this pretty little space to admire for a few days.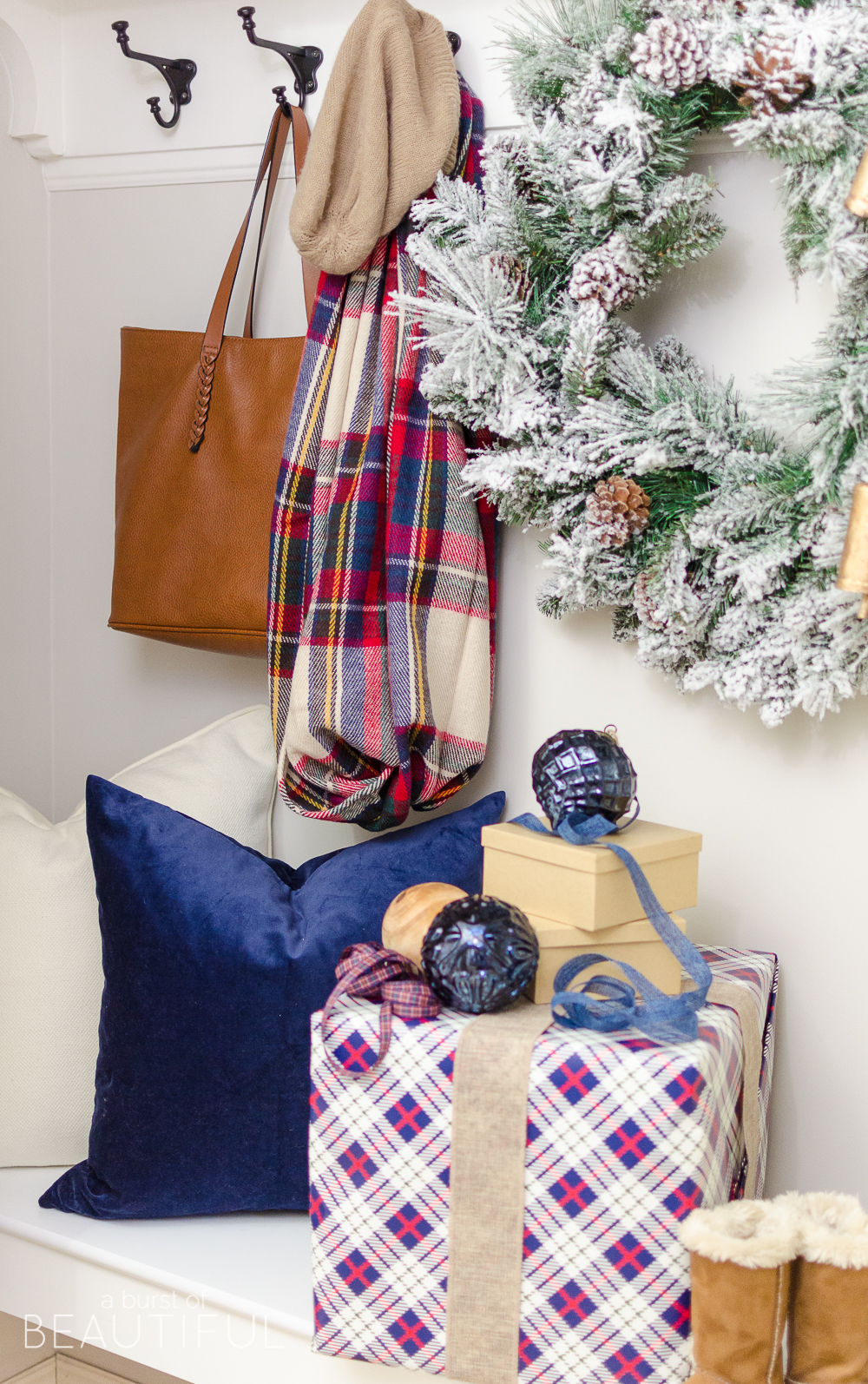 Creating an inviting entry is so important because it is the first space your guests (and family) see as they are welcomed into your home. You want it to set the tone for the rest of your home and make them feel relaxed and invited. Whether you have a large mudroom, a grand front entryway or a tiny coat closet off the garage, you can create a beautiful and cohesive space to enjoy.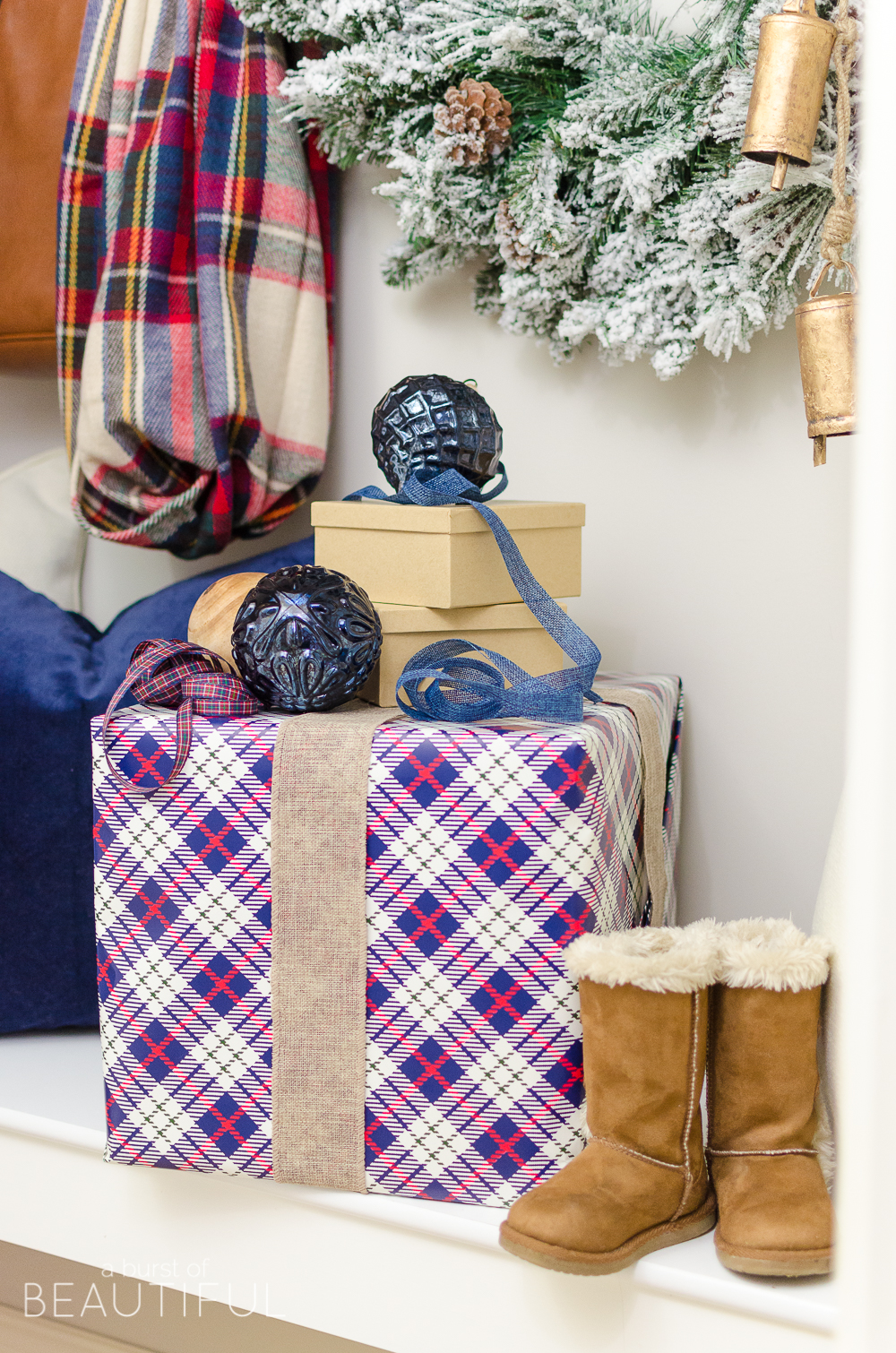 I know decorating an entryway or mudroom can sometimes seem unnecessary or complicated, so I wanted to share a couple of my favorite tips with you to make the process a little easier…
One of my favorite decorating tips for adding life and interest to an entryway is to add a little bit of greenery in the form of a wreath. Wreaths are beautiful no matter the season or style of your home – think a classic boxwood wreath for a simple year-round statement.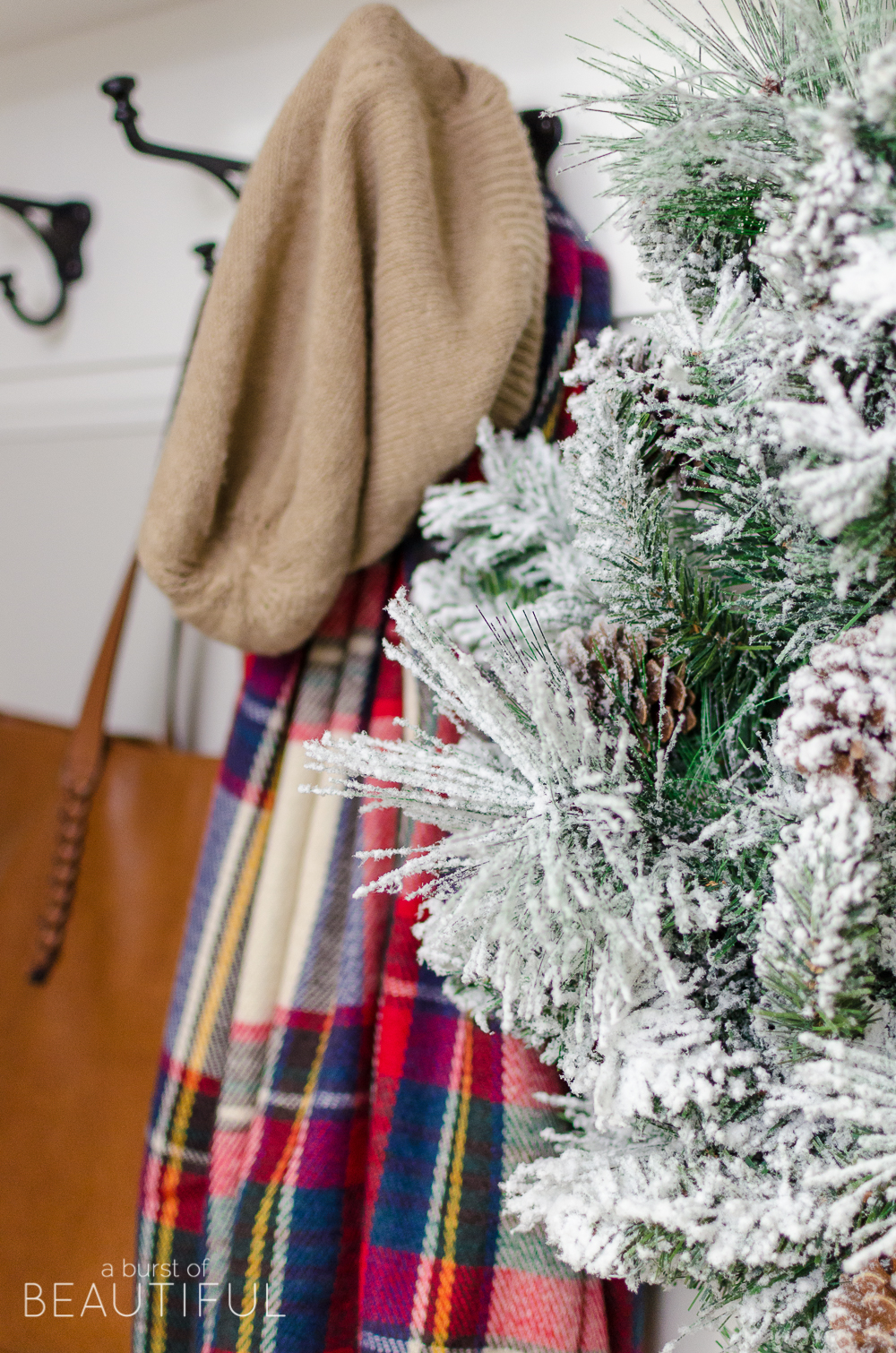 I hung this beautiful flocked wreath from one of the coat hooks in our closet and I think it's the perfect touch to remind us of the Christmas season, not to mention it will transition well into the winter once the holidays are done.
That's another one of my favorite holiday decorating tips – purchase items that will do double duty. It's wonderful to have a few Christmas-specific pieces, but if I am shopping for our home during the Christmas season I always try to buy items that I can use well past Christmastime.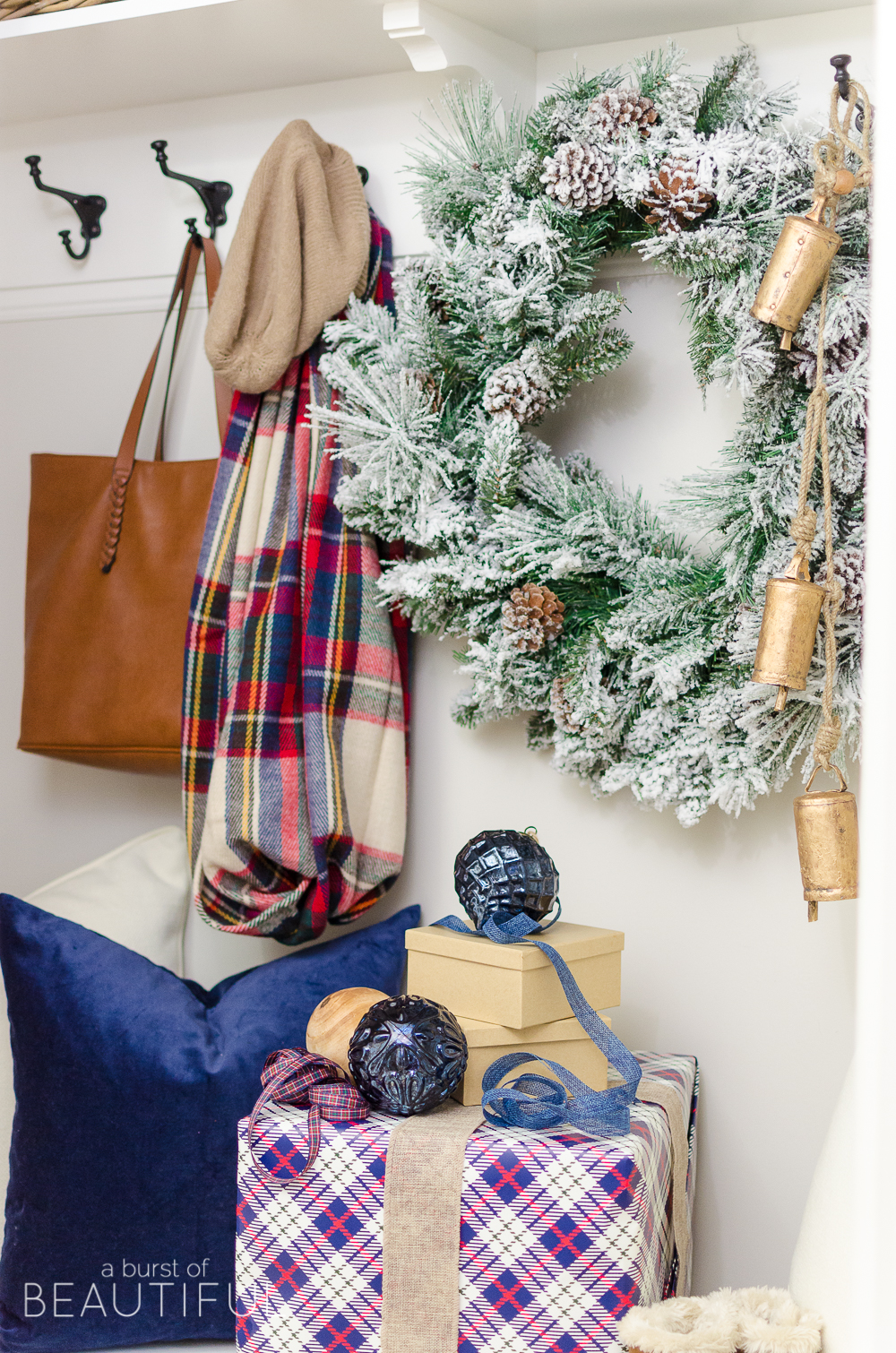 Like this beautiful navy velvet pillow. It adds a touch of holiday charm with its luxe fabric and rich color, but I will be able to use it around the other rooms in our home, and it will look beautiful throughout the rest of the winter months.
Lastly, baskets are my favorite accessory, and not just for entryways (I even hung a few on the wall in our living room!). They are great for storing items you don't want to be seen, like hats and mittens, and add a great dose of texture and interest to an otherwise bland space.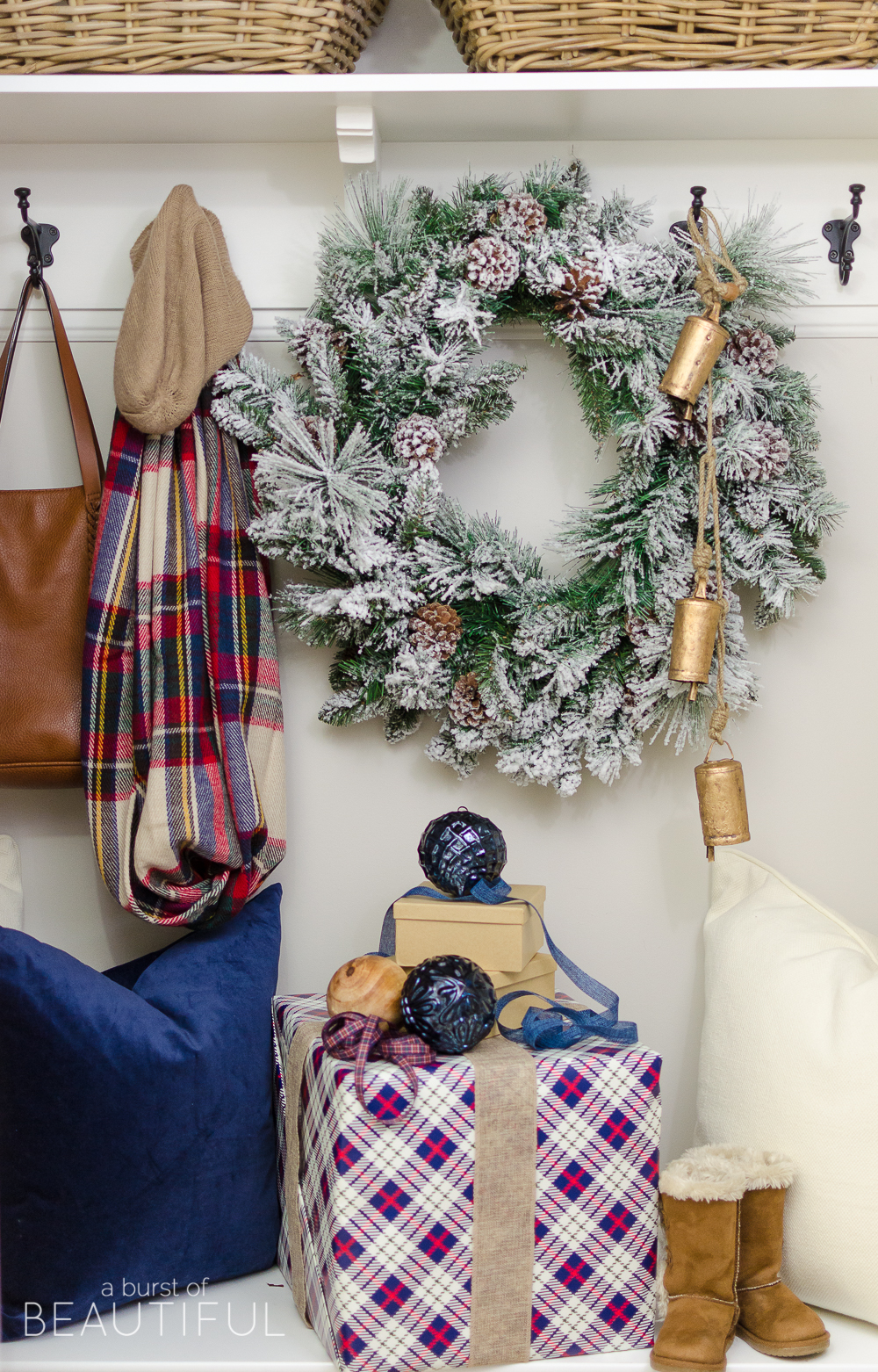 Well, I hope you had fun taking this tour of our little mudroom and that you might have found a few of these tips helpful. Now, make sure you head on over to the beautiful home of Kelly at Live, Laugh, Rowe to take in her Holiday Farmhouse Entryway. You won't want to miss it!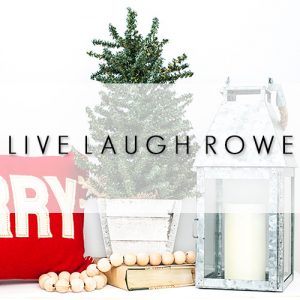 Don't miss out of the rest of our holiday home!
Take a tour of our home room by room!

Simple Christmas Entry | Simple Christmas Kitchen | Navy & Gold Christmas Tree

Inviting Holiday Dining Room | Cozy Christmas Living Room | Cozy Neutral Christmas Bedroom
This post contains affiliate links, see our full disclosure policy

here

. Thank you for helping support our blog.
GET THE LOOK