This post was generously sponsored by Blindsgalore. All opinions and thoughts are my own, see our full disclosure policy

here

.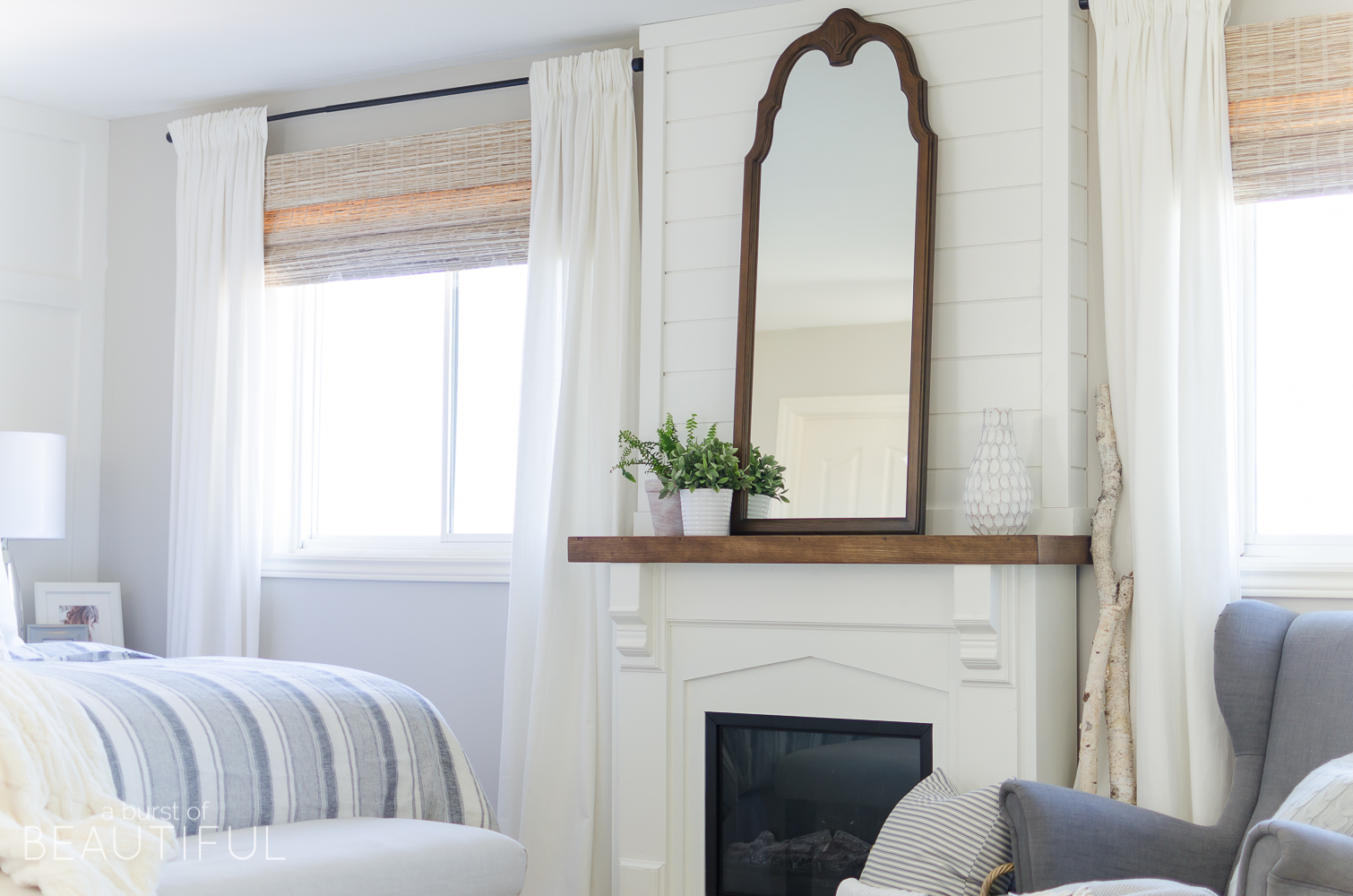 Yesterday we shared the reveal of our Cozy Farmhouse Master Bedroom, and I talked a little bit about how we incorporated layers and personality into our space to create a cozy little retreat.
One of the ways we added that feeling of coziness was by updating our window treatments.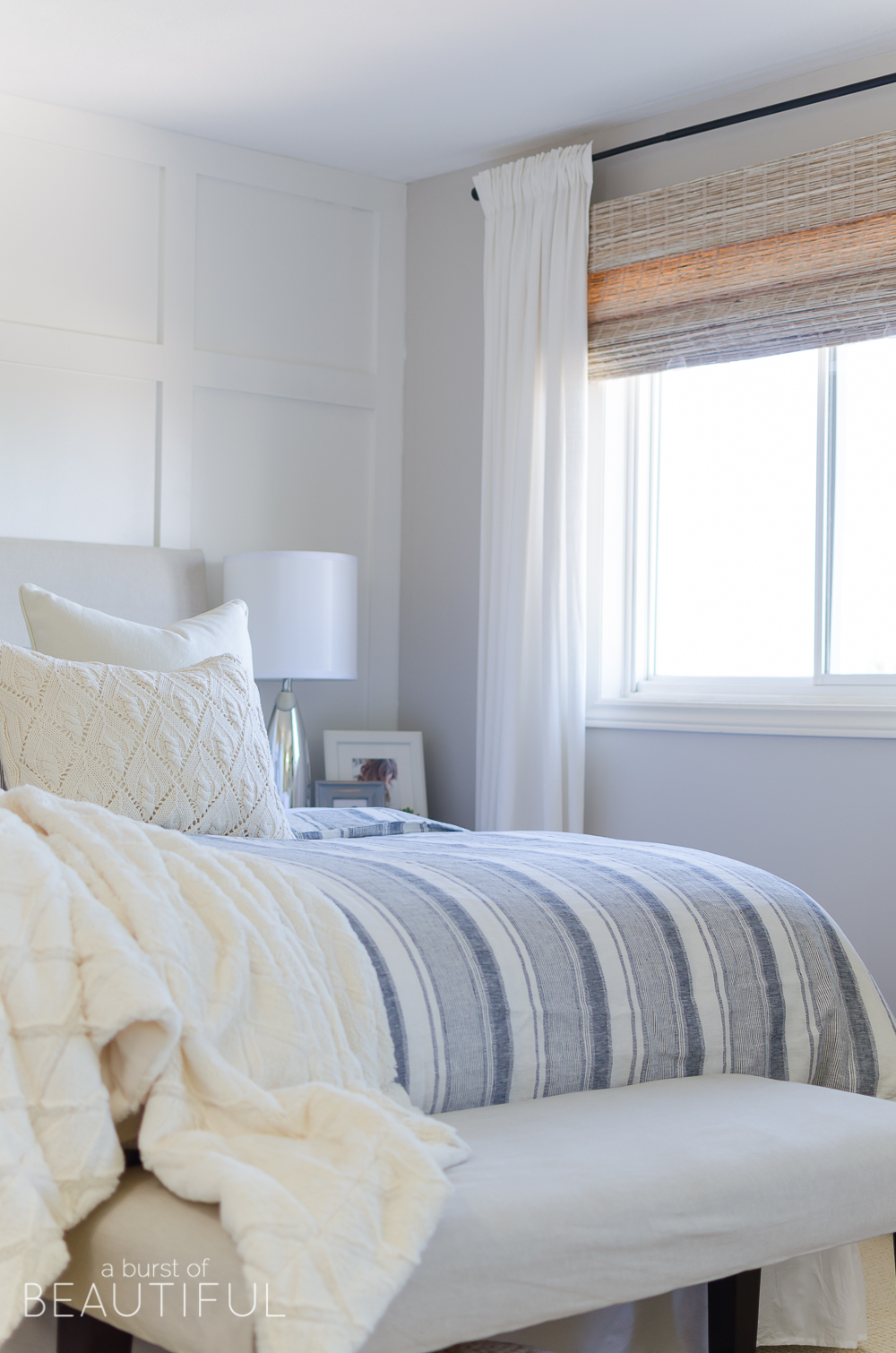 We had been living with white faux wood blinds on all of our windows since moving into our home four years ago, and although they provided us with privacy when needed they weren't doing anything for the look and feel of our home.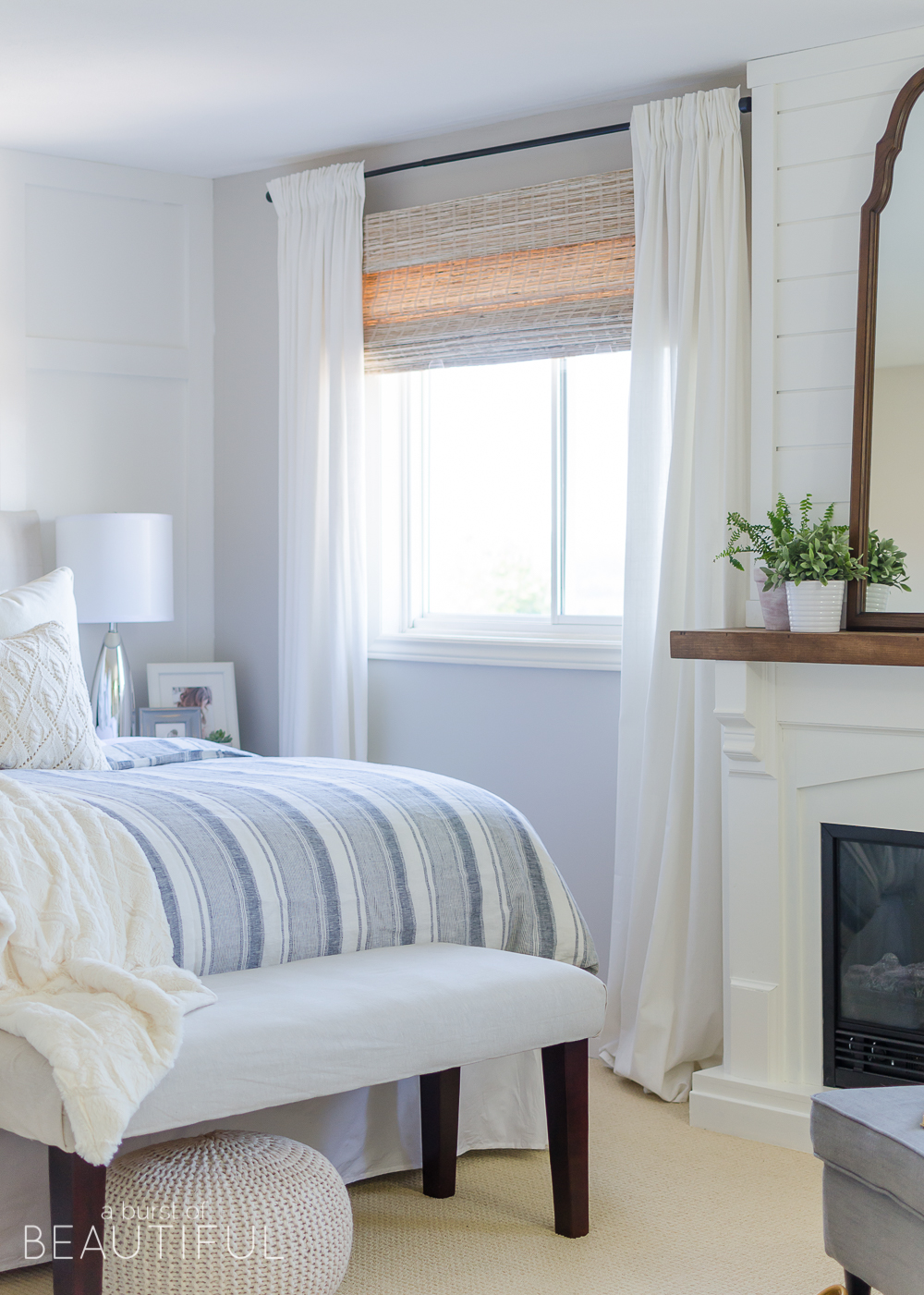 Those tiny white slats broke up the beautiful views we had just outside of our windows, and they minimized the amount of light that made it through on bright sunny days. Not to mention they always seemed dusty, no matter how often I cleaned them.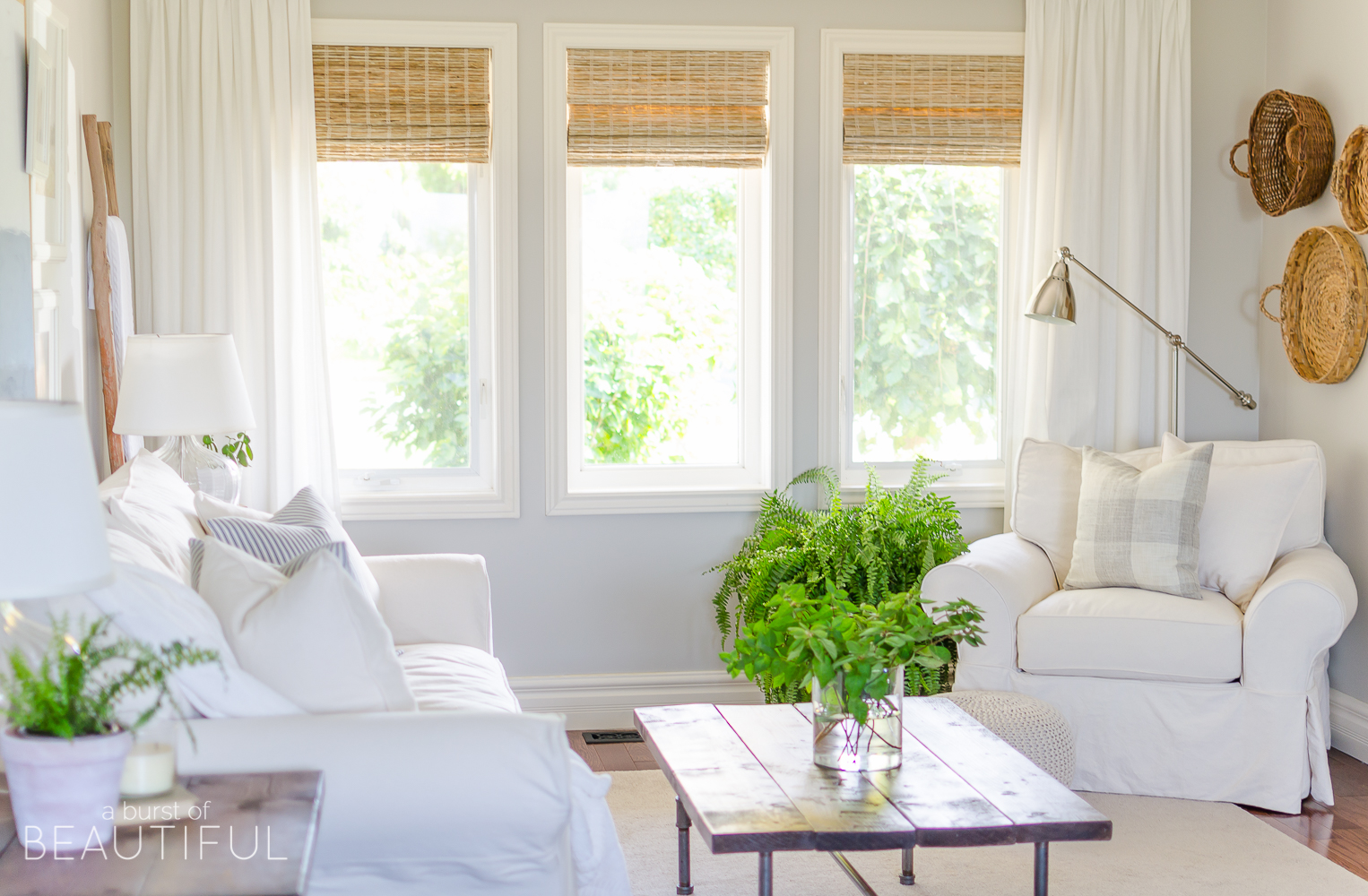 But our number one issue with these blinds was safety. We were constantly worried about our little one or our three curious pets becoming tangled in their long cords. We had heard so many terrible stories of children and pets losing their lives because of these dangerous cords, and we knew it was a risk we didn't have to take.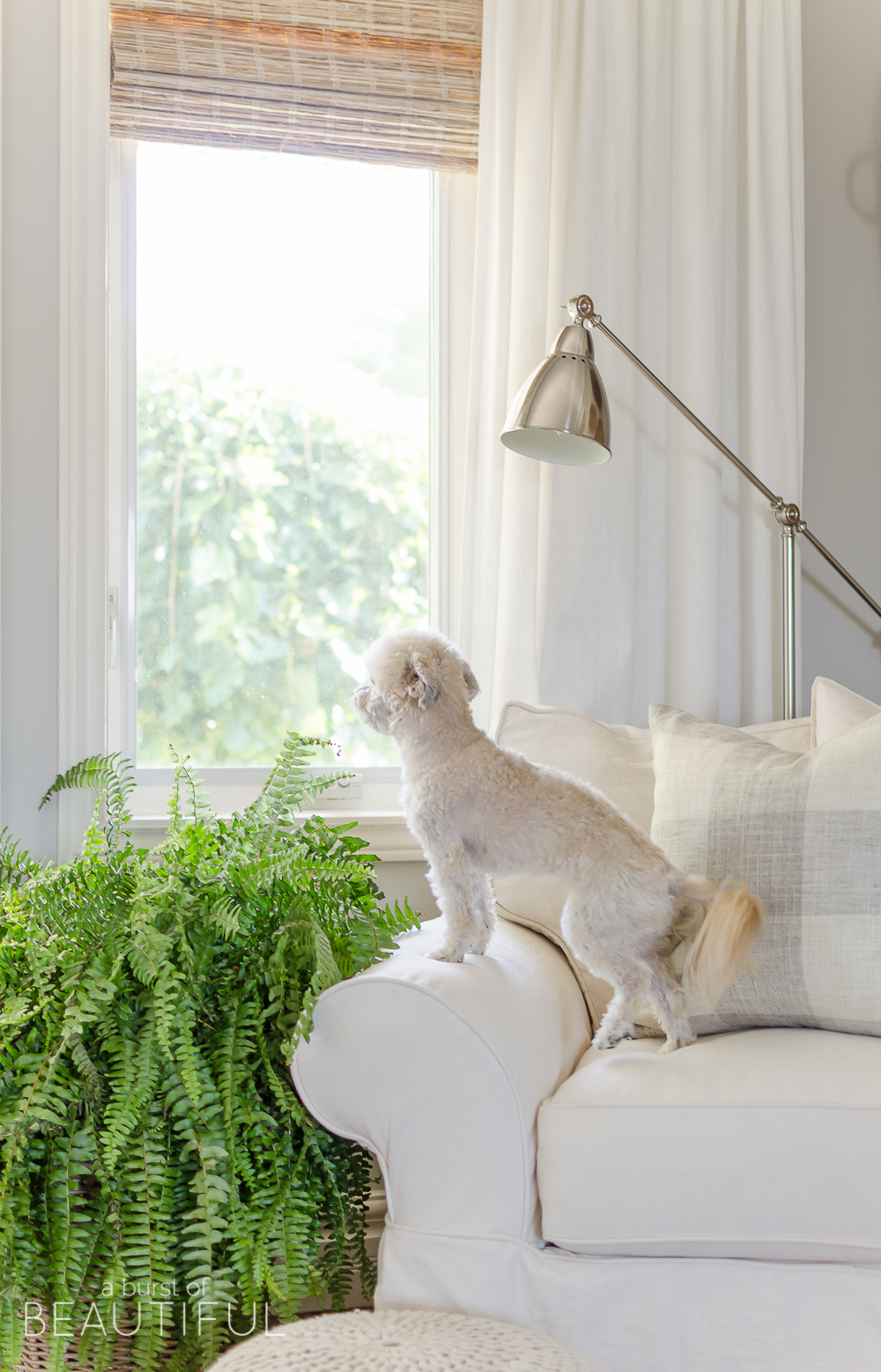 So when it was time to revamp our living room and bedroom updating our window treatments was first one the list. I've always loved the relaxed look of bamboo or woven wood shades and knew they would be the perfect addition to our home.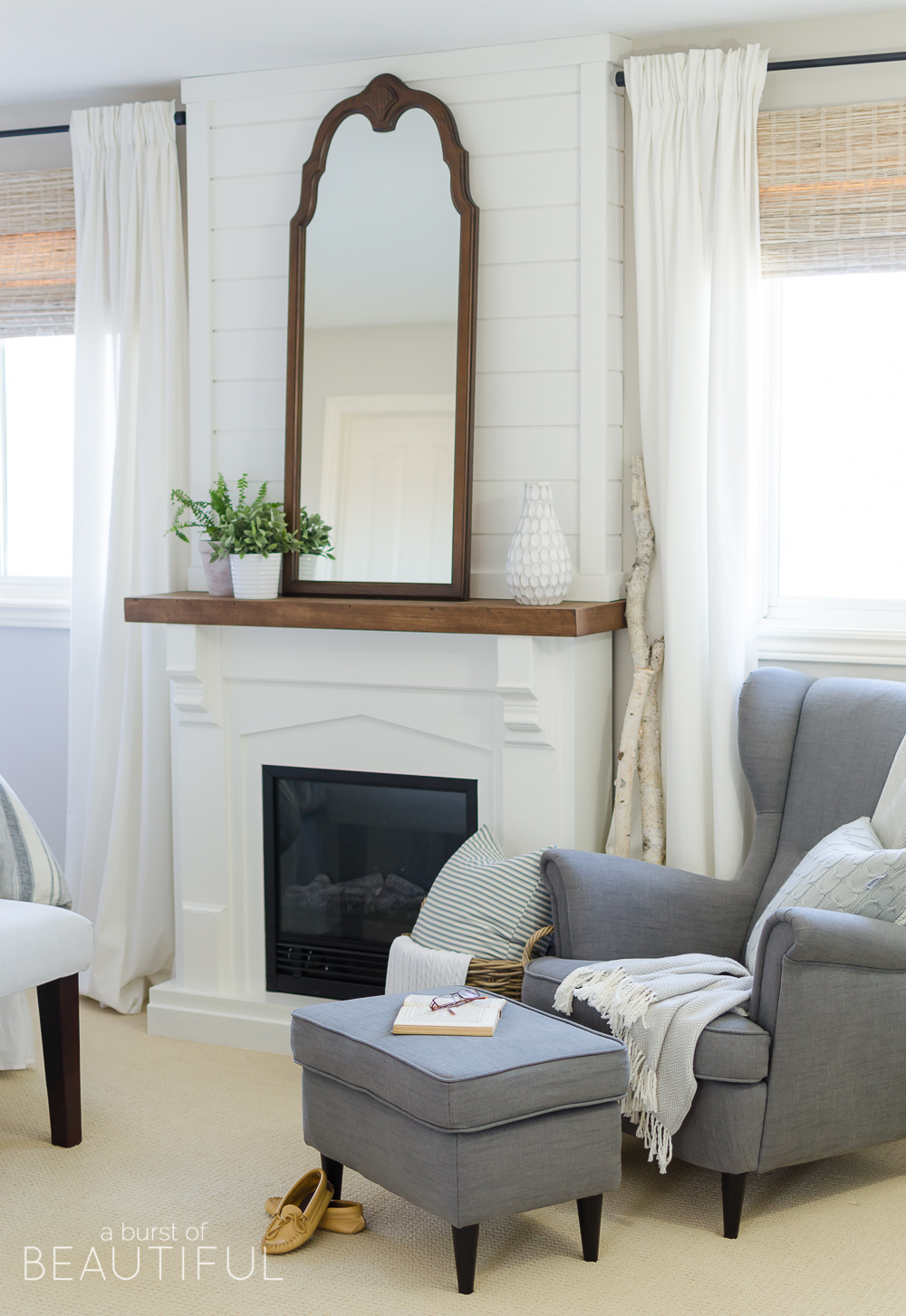 You can take a peek at our latest video to find out why we love woven wood shades so much…
After doing my fair share of research I fell in love with the soft color and texture of the Bali Natural Woven Wood Shades in Beaches Sands from Blindsaglore. Aren't they gorgeous?
(NOTE: The material of our shades has been discontinued, however, Blindsgalore has let us know two products and colors that closely match our shades – Faroe Twine and Loas Sand)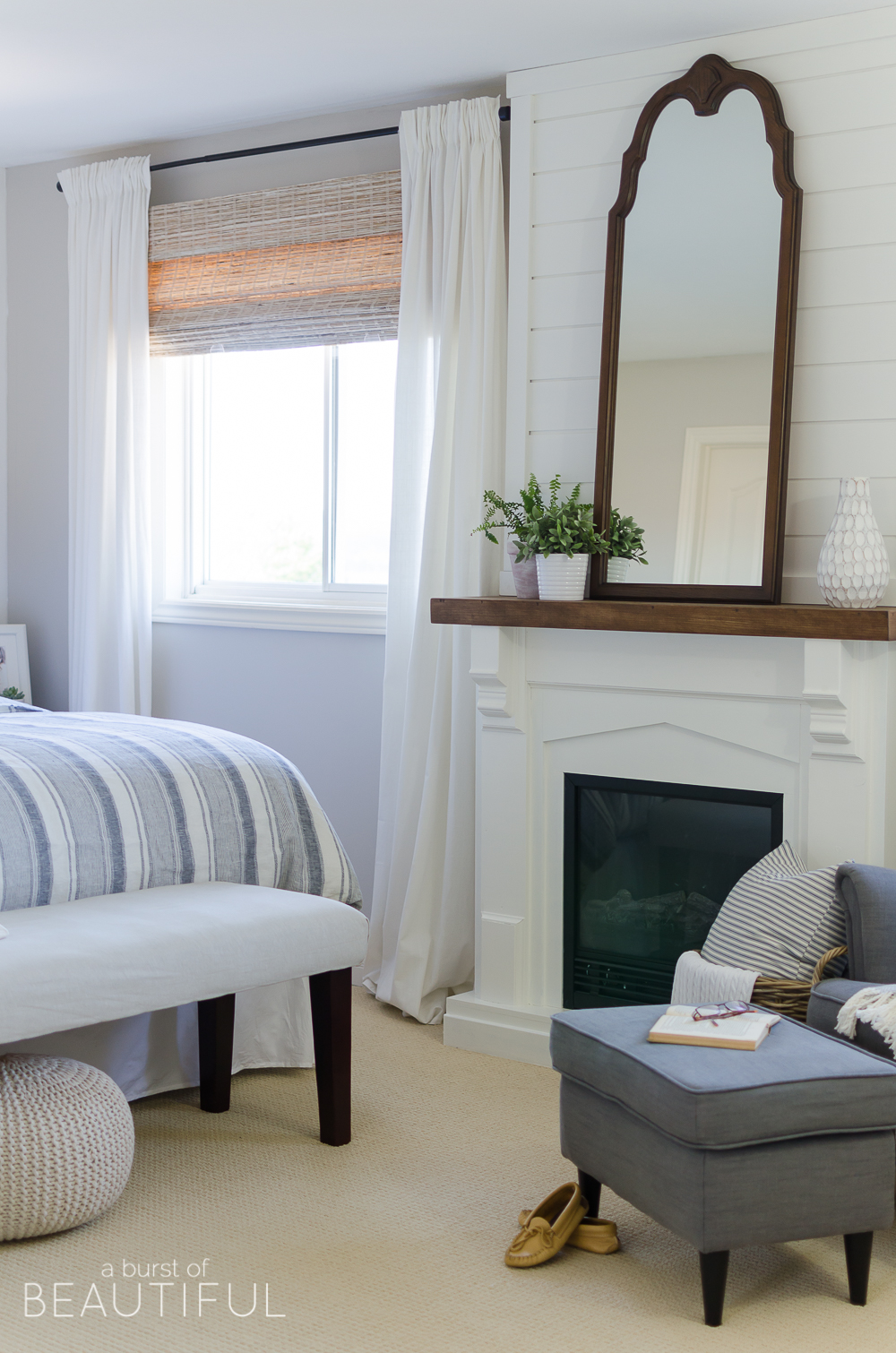 Our home is decorated very much in a neutral color palette, we have a lot of white, cream and gray throughout each room. I love how bright and light it makes our home feel, but we have to be careful that it doesn't become too stark and cold. One of the ways we offset the neutral colors is with texture.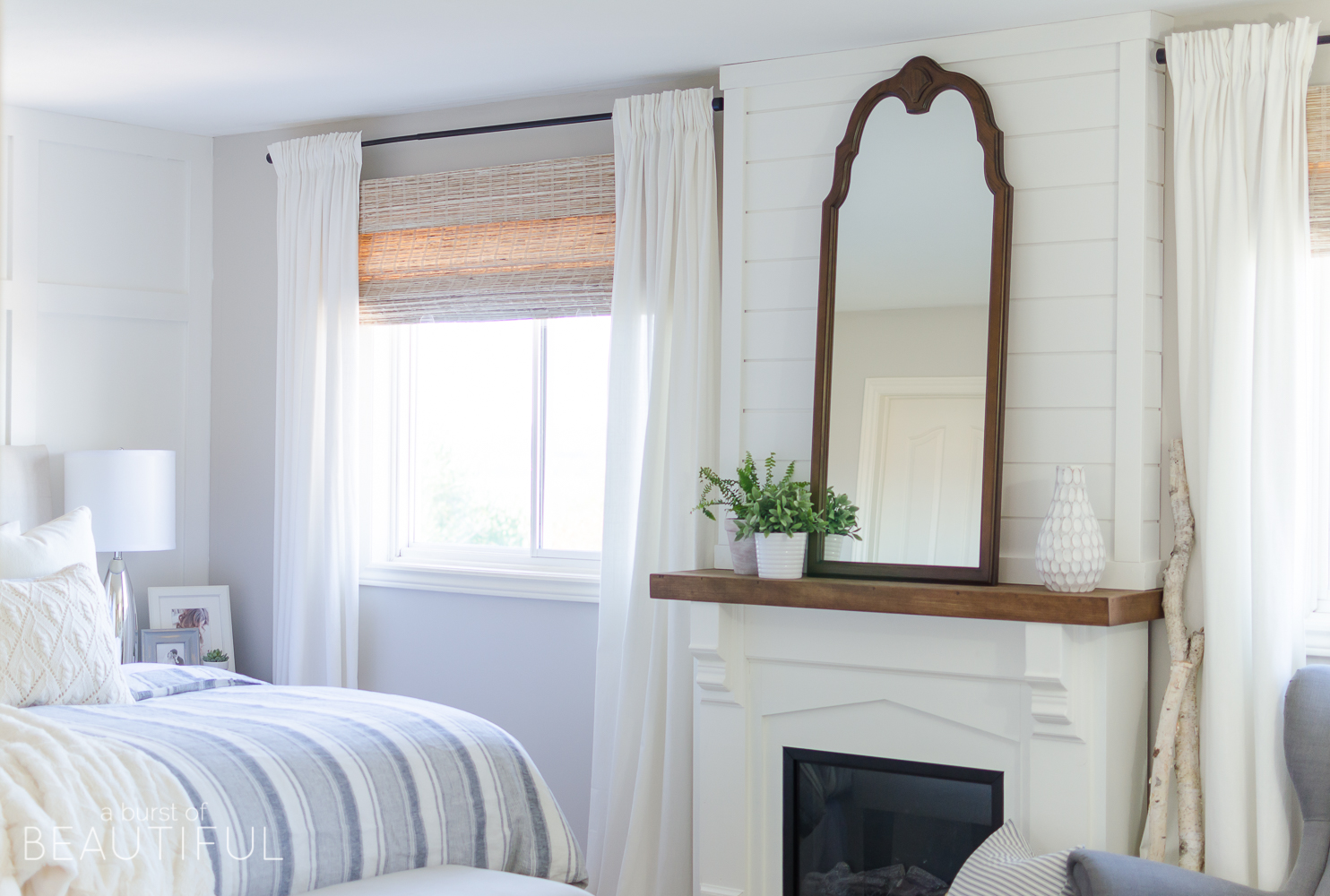 And woven wood shades are the perfect way to add a big dose of texture to a room. The shades we chose have a beautiful organic feel to them, made from a soft honey colored grass they have the look and feel of woven baskets – one of my favorite things to decorate with!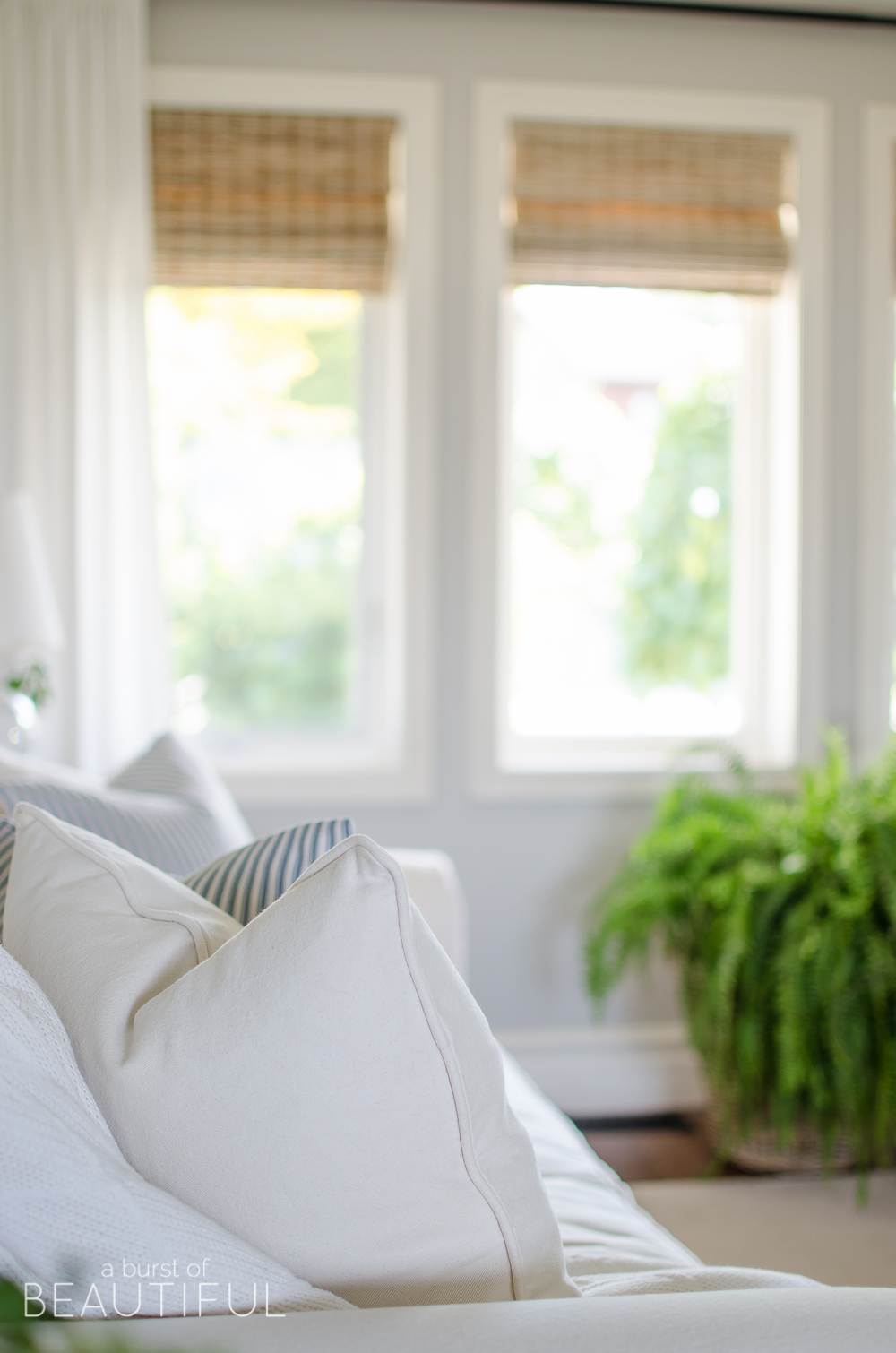 They also help add a little bit of color too, you can choose a light color, like we did, or go in the opposite direction with a dark rich shade. It's a simple way to keep your neutral color palette but add dimension and depth with another neutral color.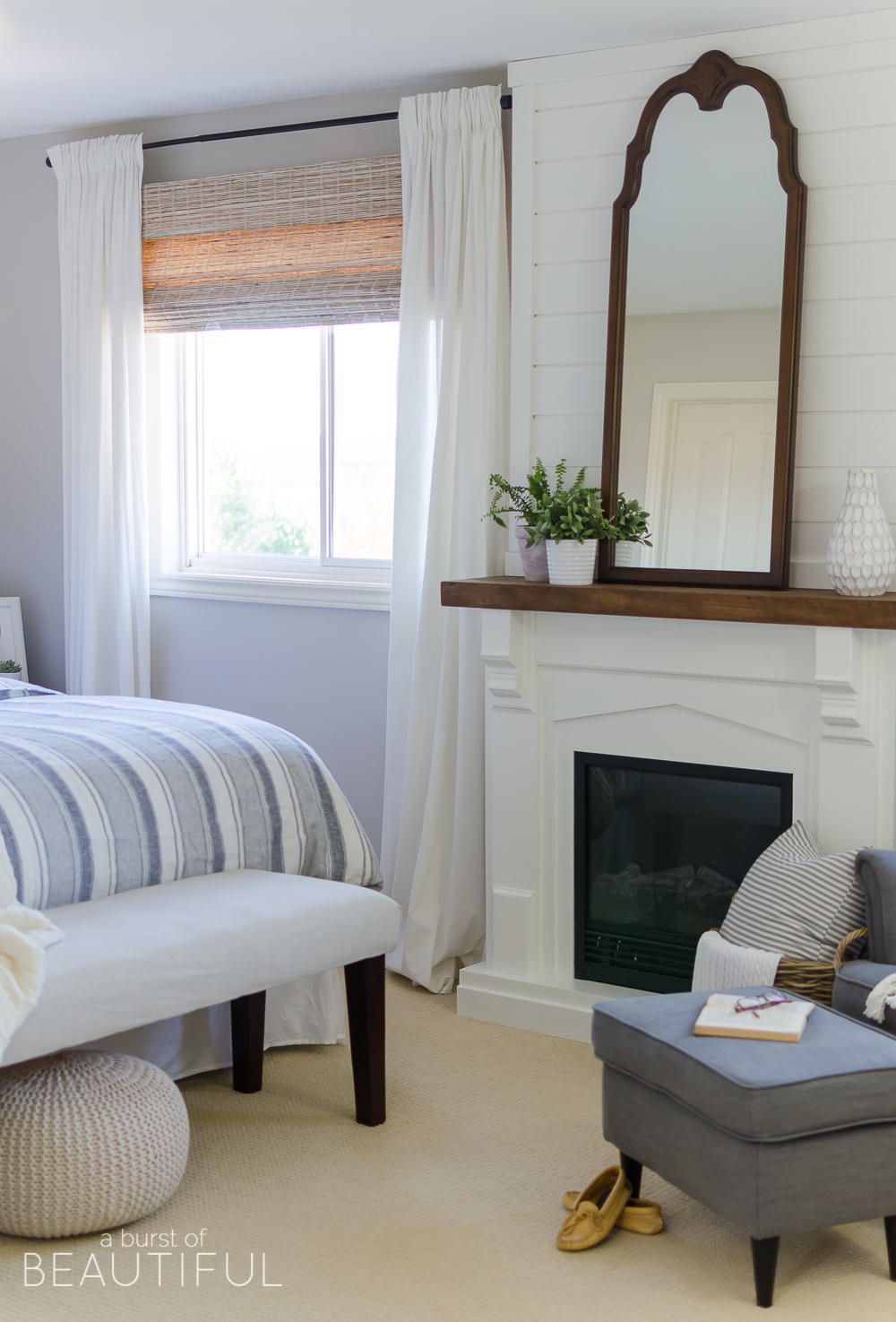 It may sound insignificant, but I also love how easily they open and close to create a beautiful billowing effect. Like I mentioned before, one of our biggest concerns was safety, so we chose the cordless option to put our minds at ease. Plus, you can't beat that clear view and all of the light they let in.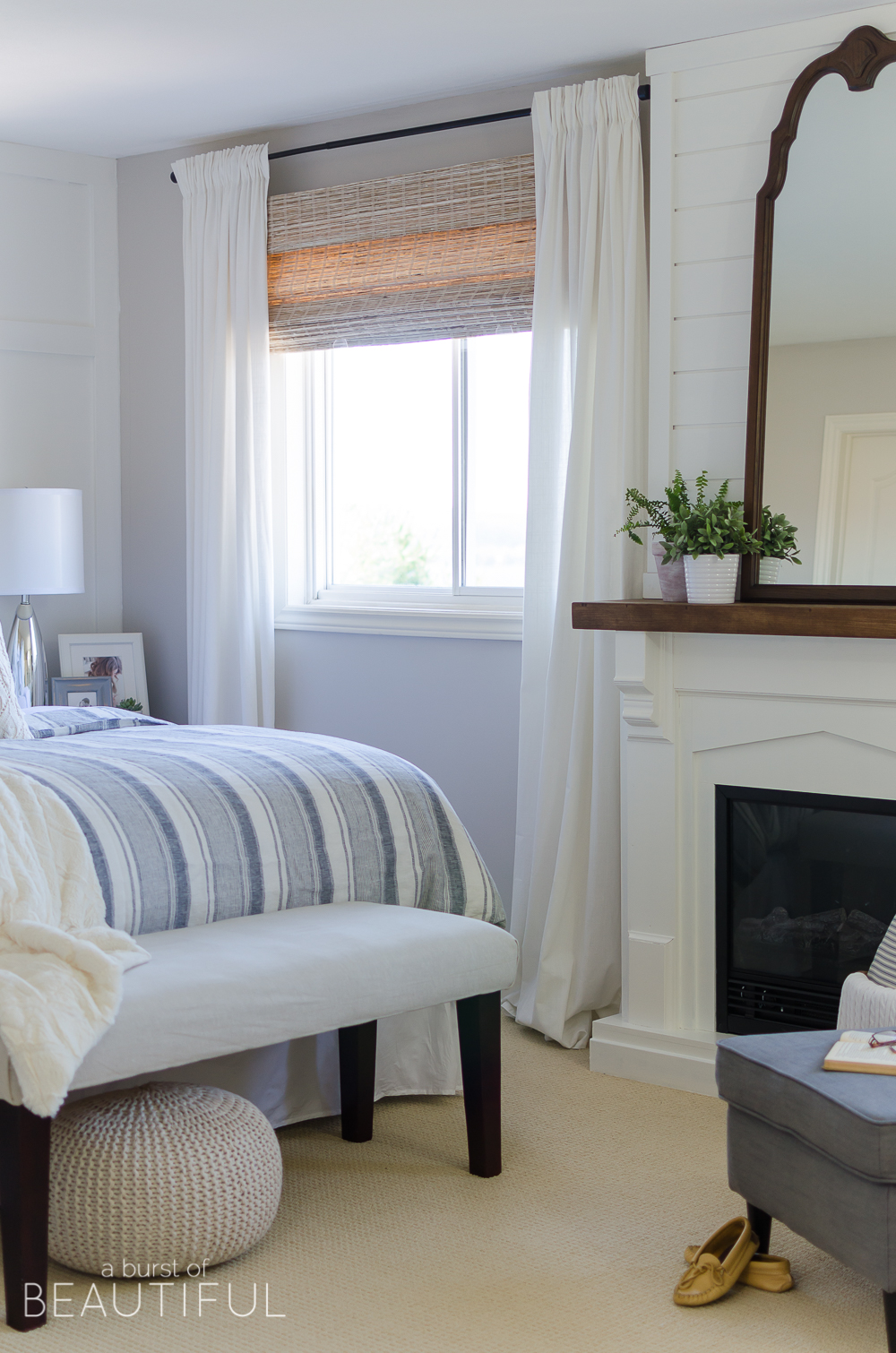 We opted to have our shades lined for added privacy, but if you choose not to, woven wood shades have this beautiful light filtering effect, which I absolutely love.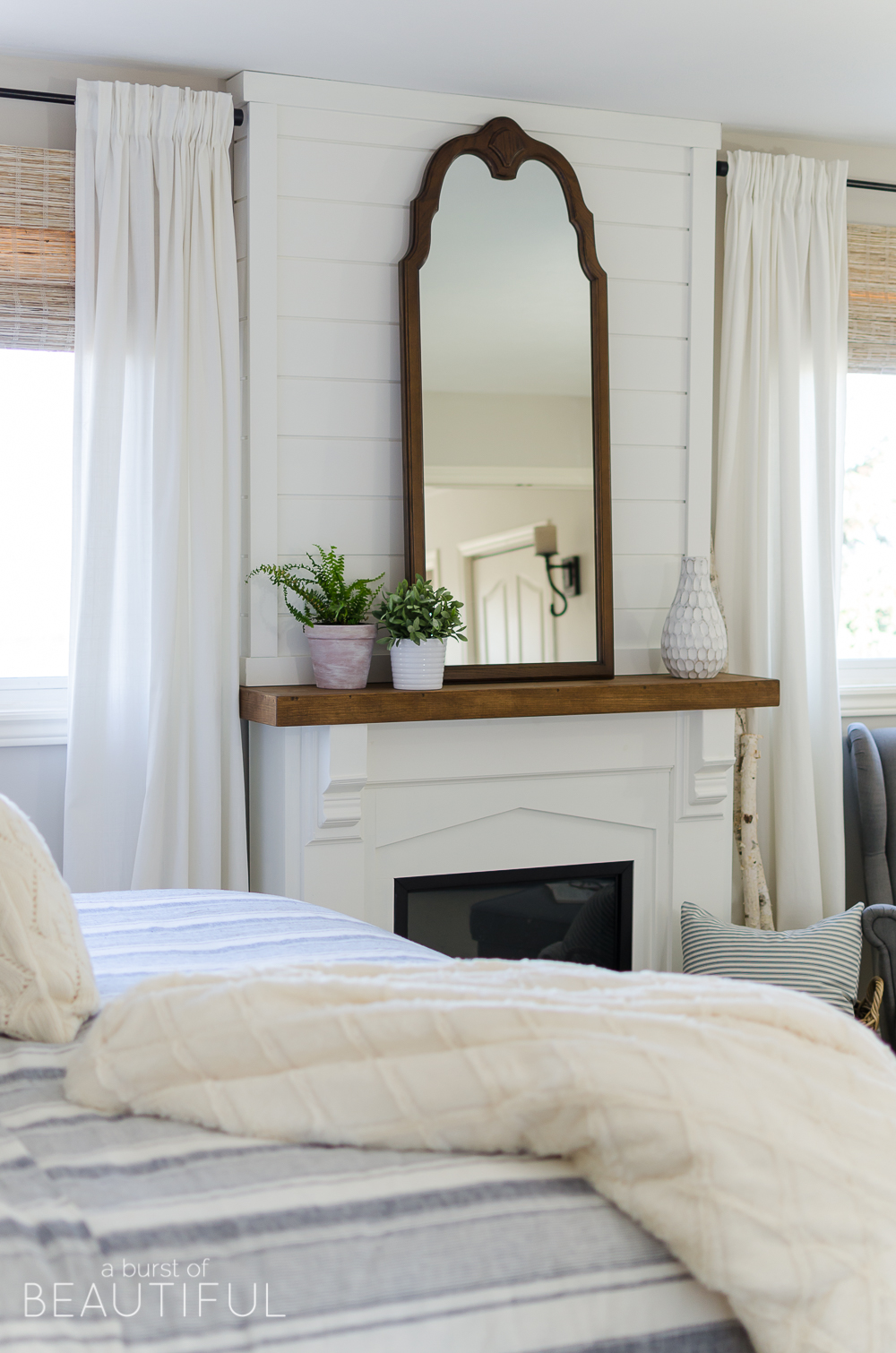 A lot of people overlook their window treatments, but they can make all the difference in a space. Just look at what they have done for our living room and bedroom. The natural woven wood adds such beautiful texture, warmth and color to each space. I truly can't believe we lived without them for so long, and I can't wait to add them to the rest of the rooms in our home.
Alicia xo