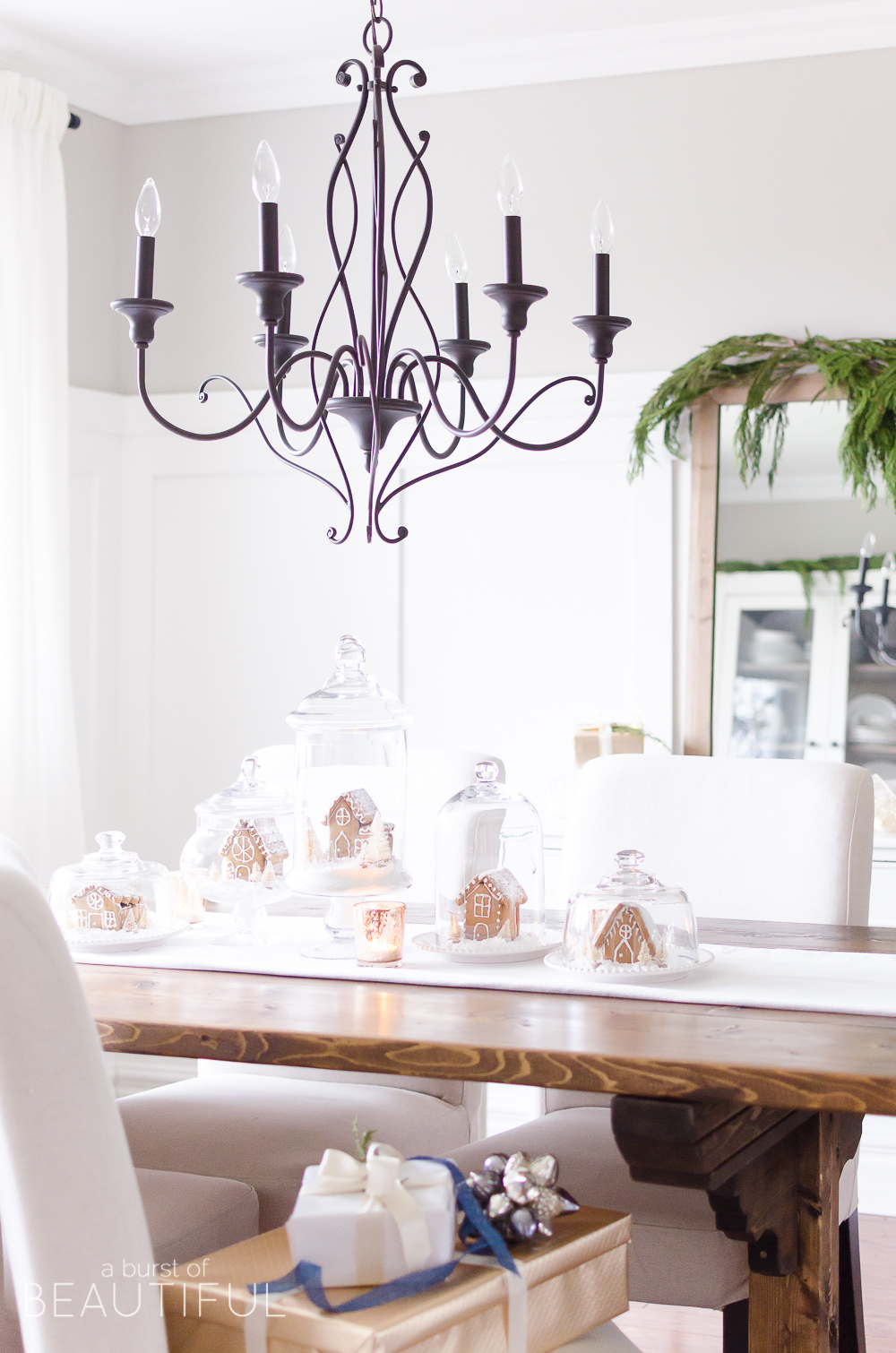 Welcome to the fourth, and last week, of the Cherished Christmas Home Tour, hosted by my friend Ashley of Cherished Bliss. We have loved being a part of this home tour, it's always such fun to share our home all dressed up for the season, and hopefully inspire you along the way.
This week we are all sharing our dining rooms. If you are coming from Ashley's home, welcome! Doesn't her dining room just look perfect for hosting all of those festive holiday dinners?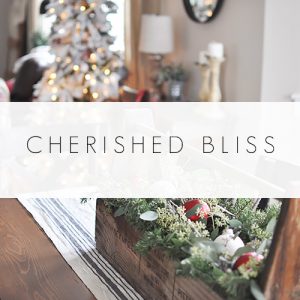 And now, I'd like to welcome you into our inviting holiday dining room. Like the rest of our home, I chose to keep our dining room fairly simple for the holidays.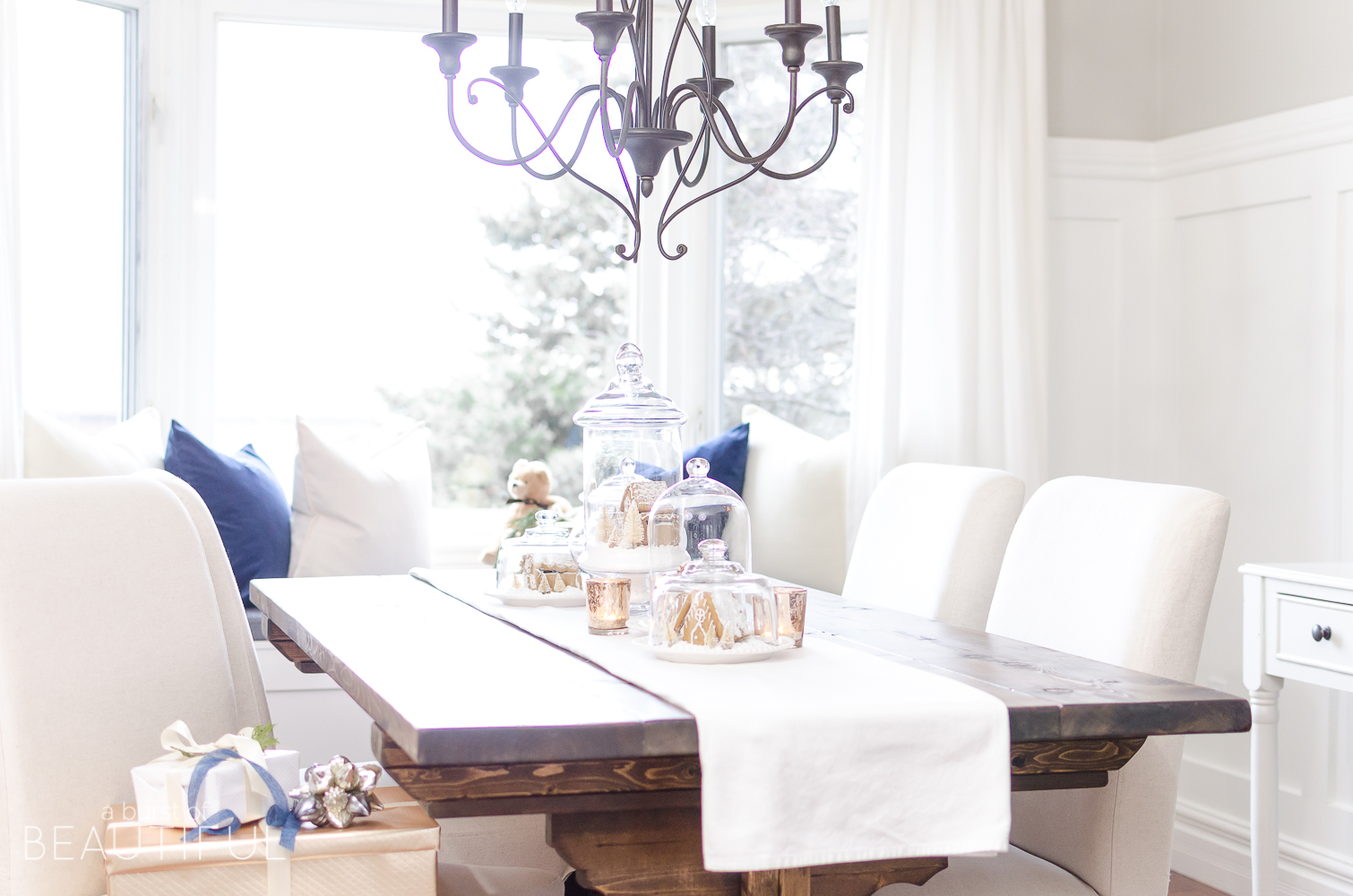 It wasn't too long ago that we were completing our dining room makeover, with the most notable changes being a new DIY modern farmhouse dining table and a DIY window bench (if you missed it, you can catch up here). It was during that time that I spoke a lot about creating a home that suits your family's lifestyle and aesthetic, as well, I talked about the importance of not rushing the design process. Even though we had "revealed" our new space, we weren't quite finished with it yet.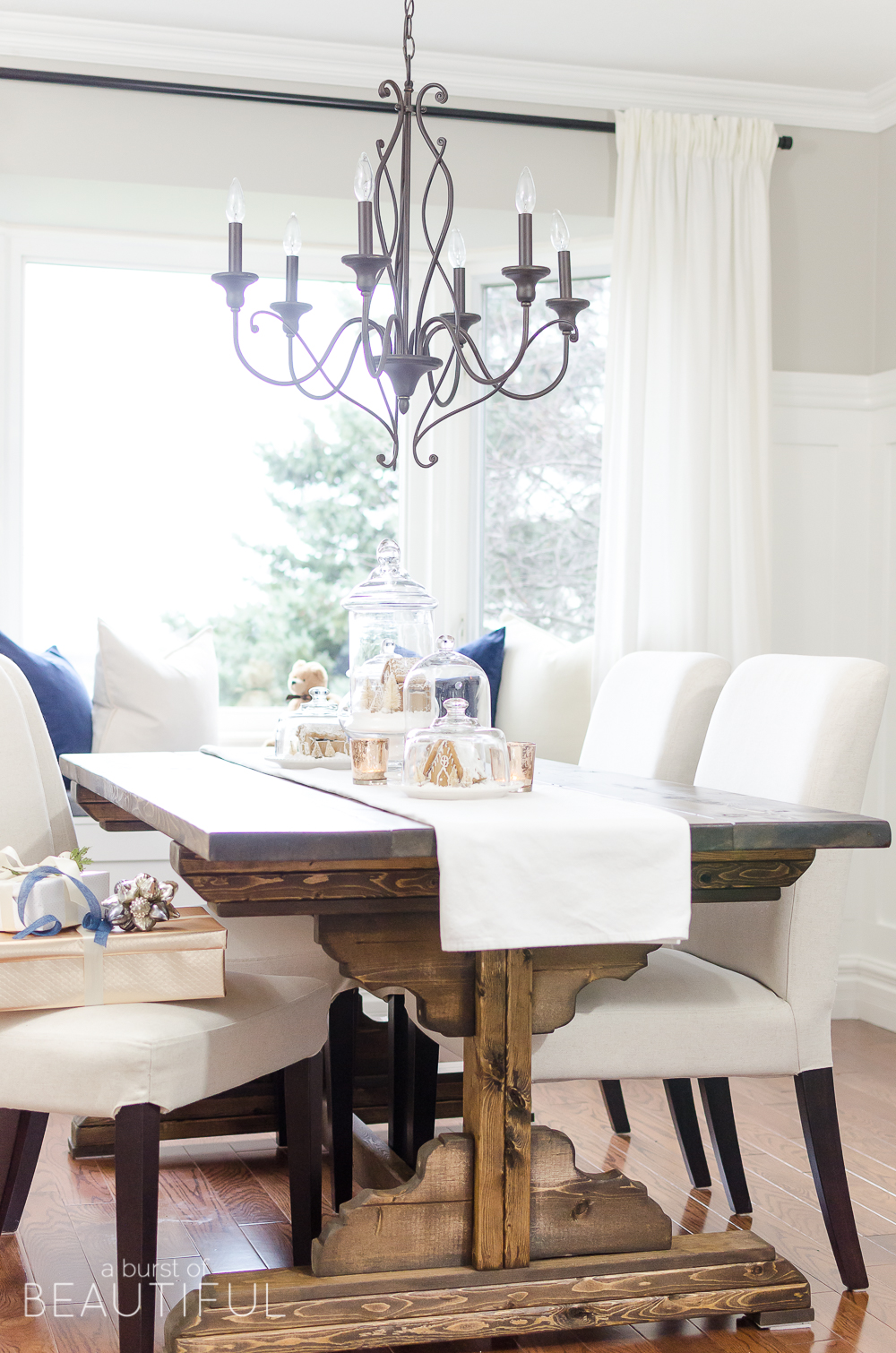 There were still a few changes we were hoping to make, but I didn't want to jump into any purchases or projects before I was 100% certain of them. After living with our new space a little while longer I was finally ready to move forward, and I'm so excited to show you the two newest additions to this space today.
First, did you notice that gorgeous new board and batten on our walls?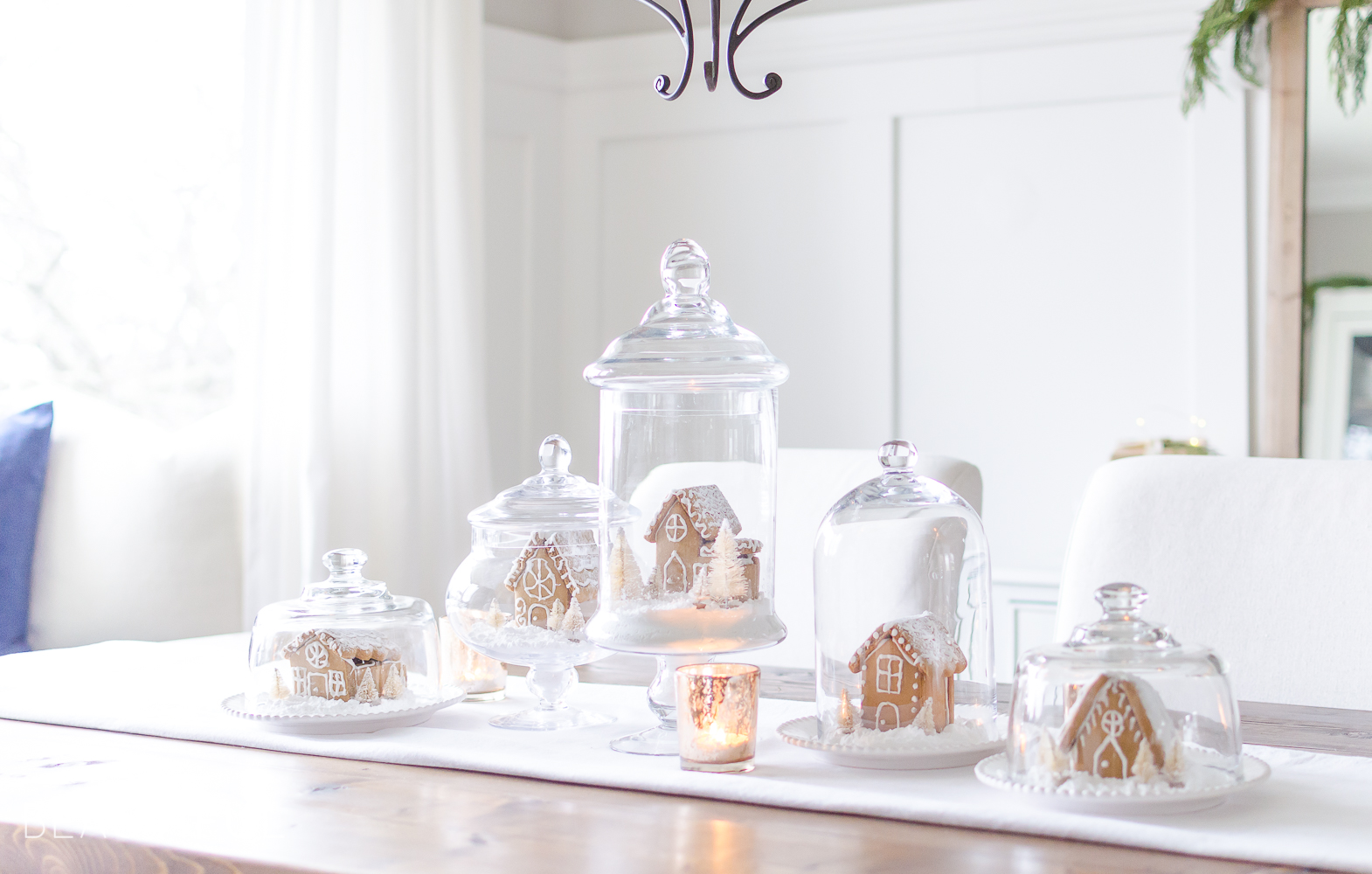 This was something I have wanted to add to this space for…well forever. But I wasn't sure how it was going to look because our dining room and living room are one large open concept space. I was afraid if we only added it to our dining room that it would look like we stopped halfway through the project. There is a slight bump out between the two spaces which provided a natural stopping point, and helps it define the space as two separate rooms. And who knows, we may continue it through the living room at some point too.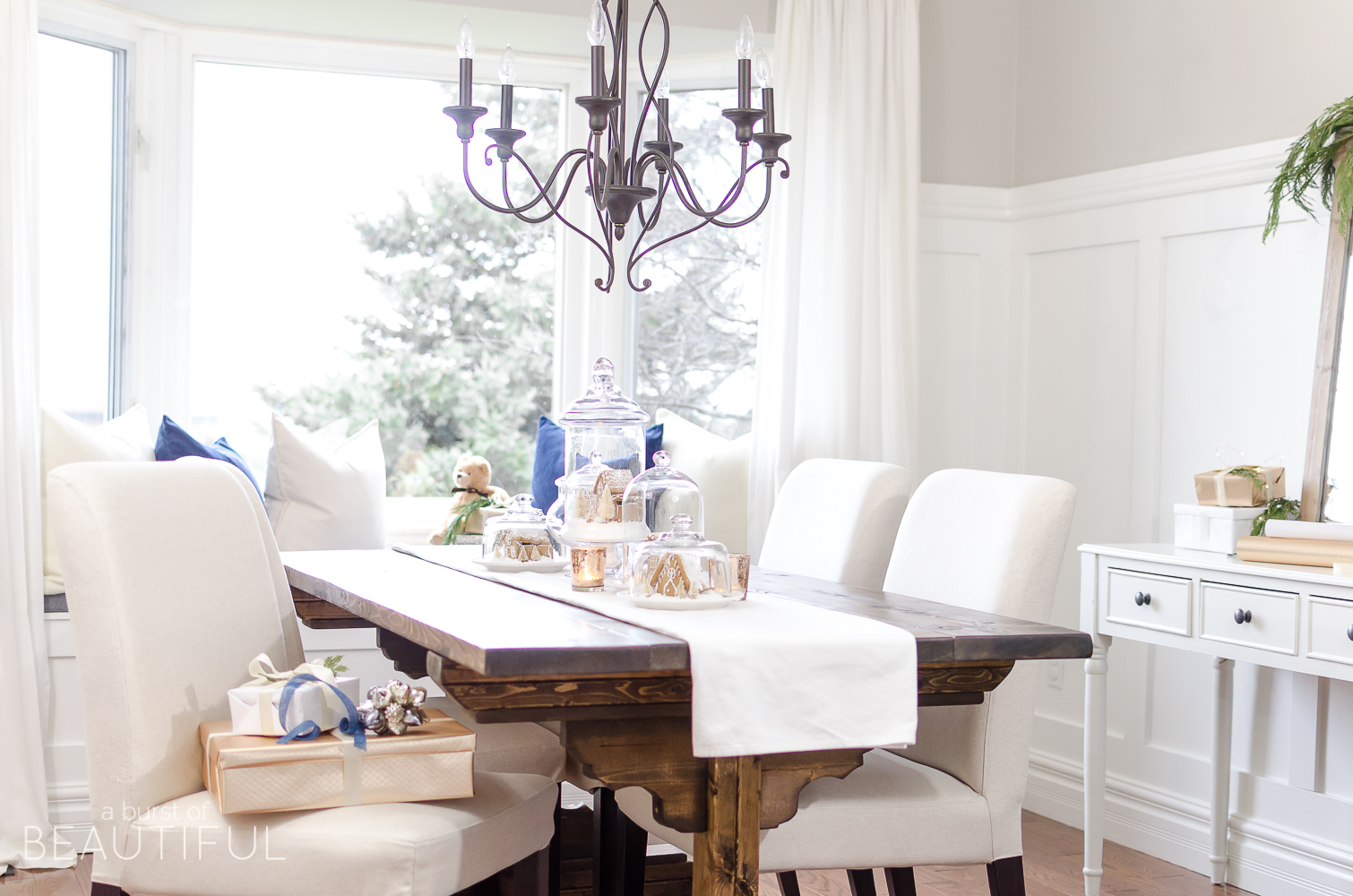 I absolutely love the texture and dimension it adds to the dining room. One of the issues I've had with our living room and dining room when it comes to decorating is all of the wall space. We have a wall that spans from the end of the living room to the end of the dining room without any type of detail to break it up, like a window for example. So I've always struggled with how to create interest without making it look and feel cluttered. And this simple board and batten did just the trick. It helps break up the solid expanse of wall, and even though it's white (I know…more white!), it adds a much needed textural element.
And how about that beautiful new chandelier? Isn't it stunning?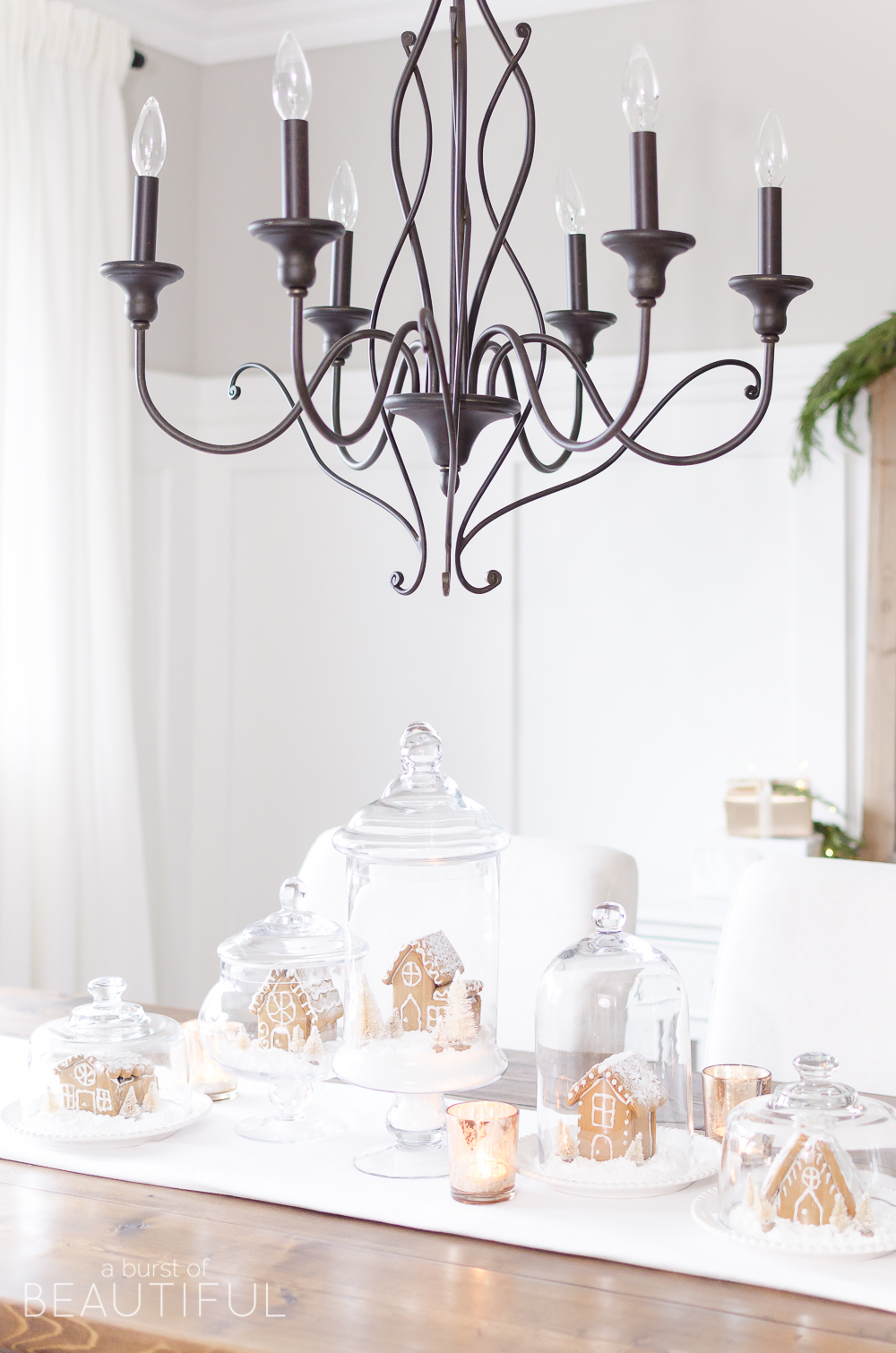 This actually isn't a new piece. My husband found this years ago at a thrift store and it's been hanging above the dining table in our family's cottage since then. But this year, before closing the cottage for the winter, we thought we'd bring it home with us. Just to try it out…
And we love it!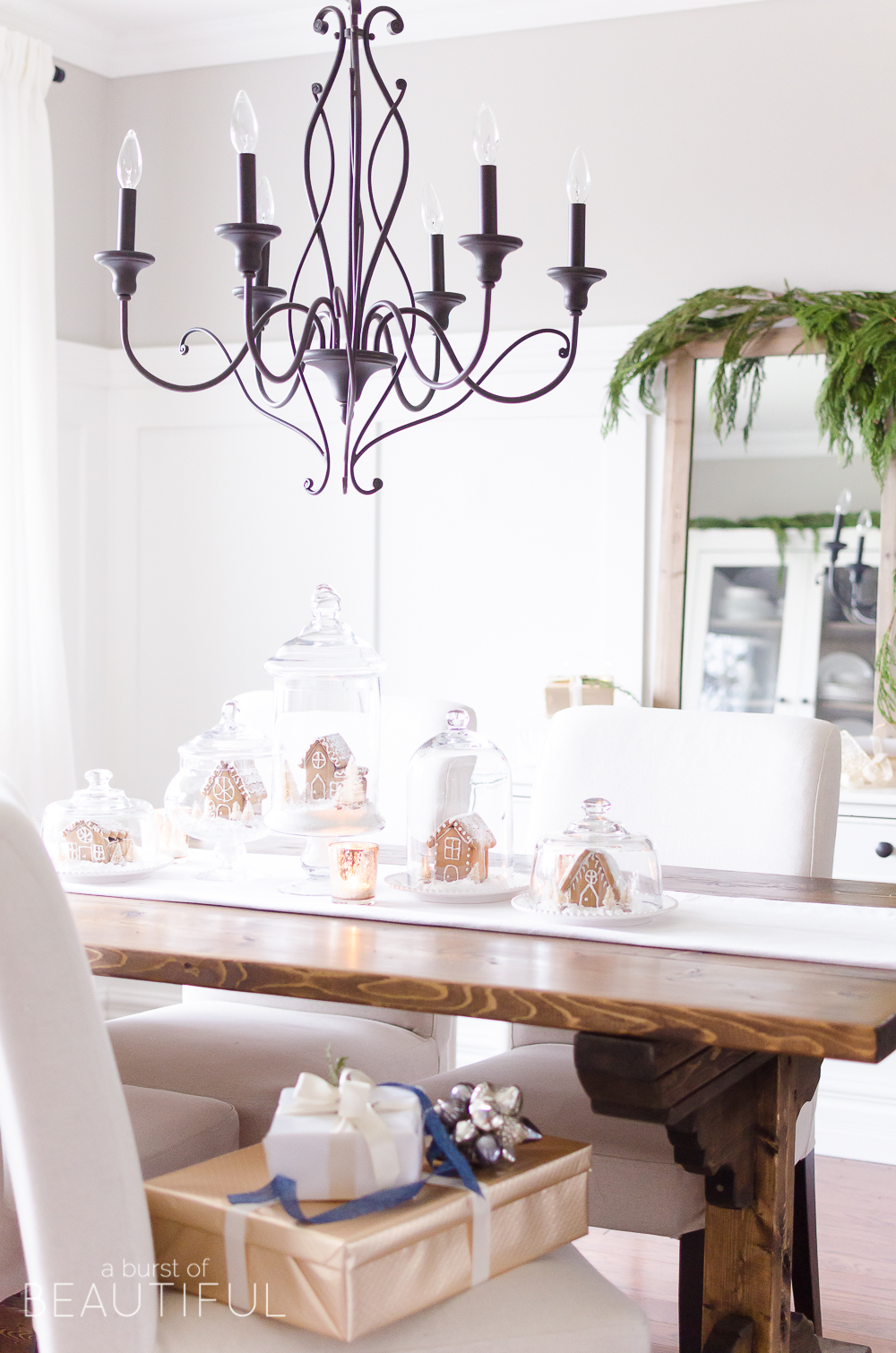 The design is simple and clean, which lends really well to the modern farmhouse style of our home. And the black wrought iron makes it pop against the white walls. Our previous chandelier (check it out here) had a drum shade, which was beautiful, but now I realize how much it closed in our dining room and blocked our beautiful view.
Now, on to the subtle little touches of the season we added to the space.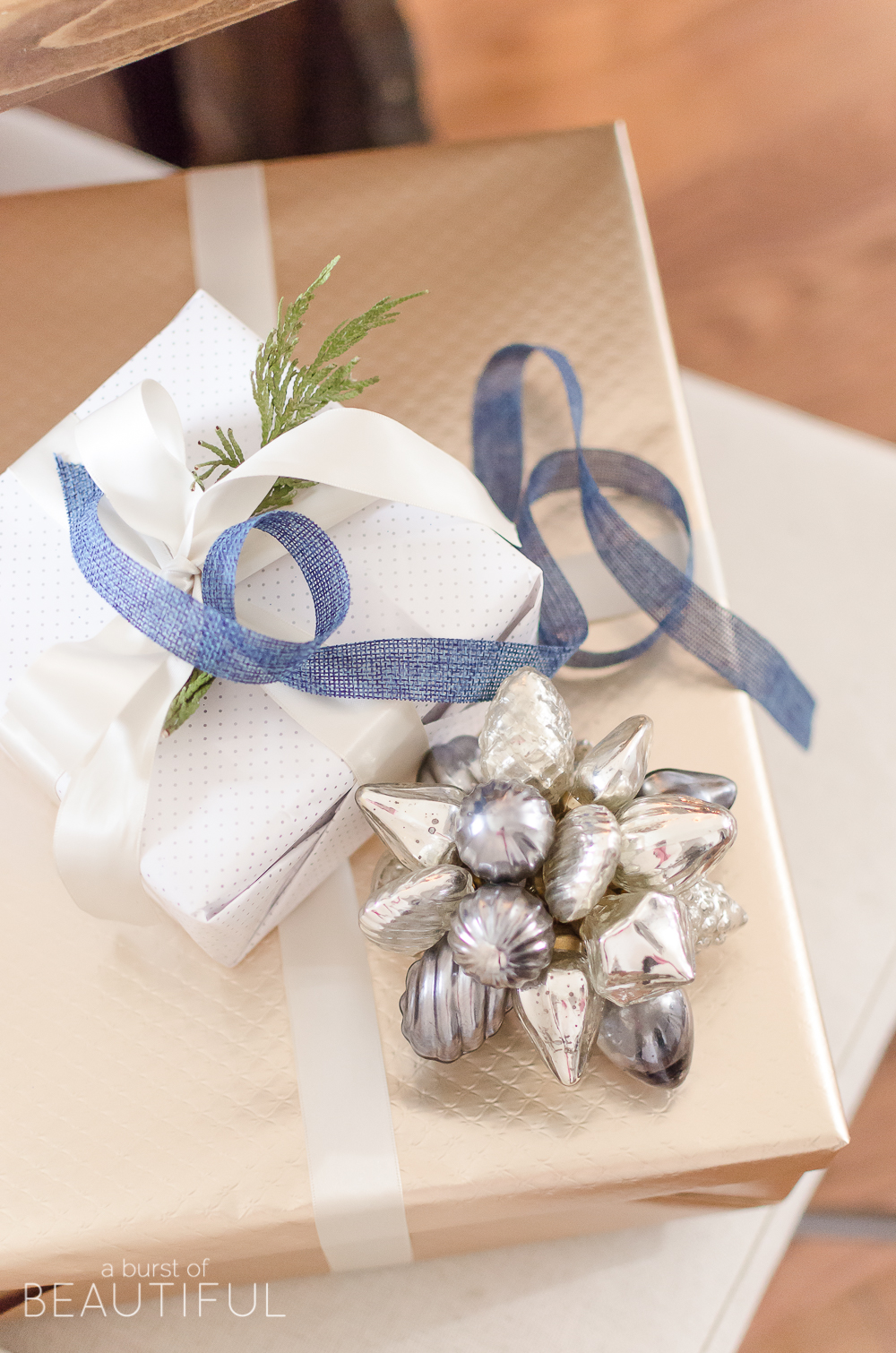 Like this sweet gingerbread village I created. I've been dreaming up this idea since the fall (while I was planning a class I was teaching on tablescapes!) and I loved how it turned out. I think it's such a cute and whimsical holiday touch, and they were so easy to make.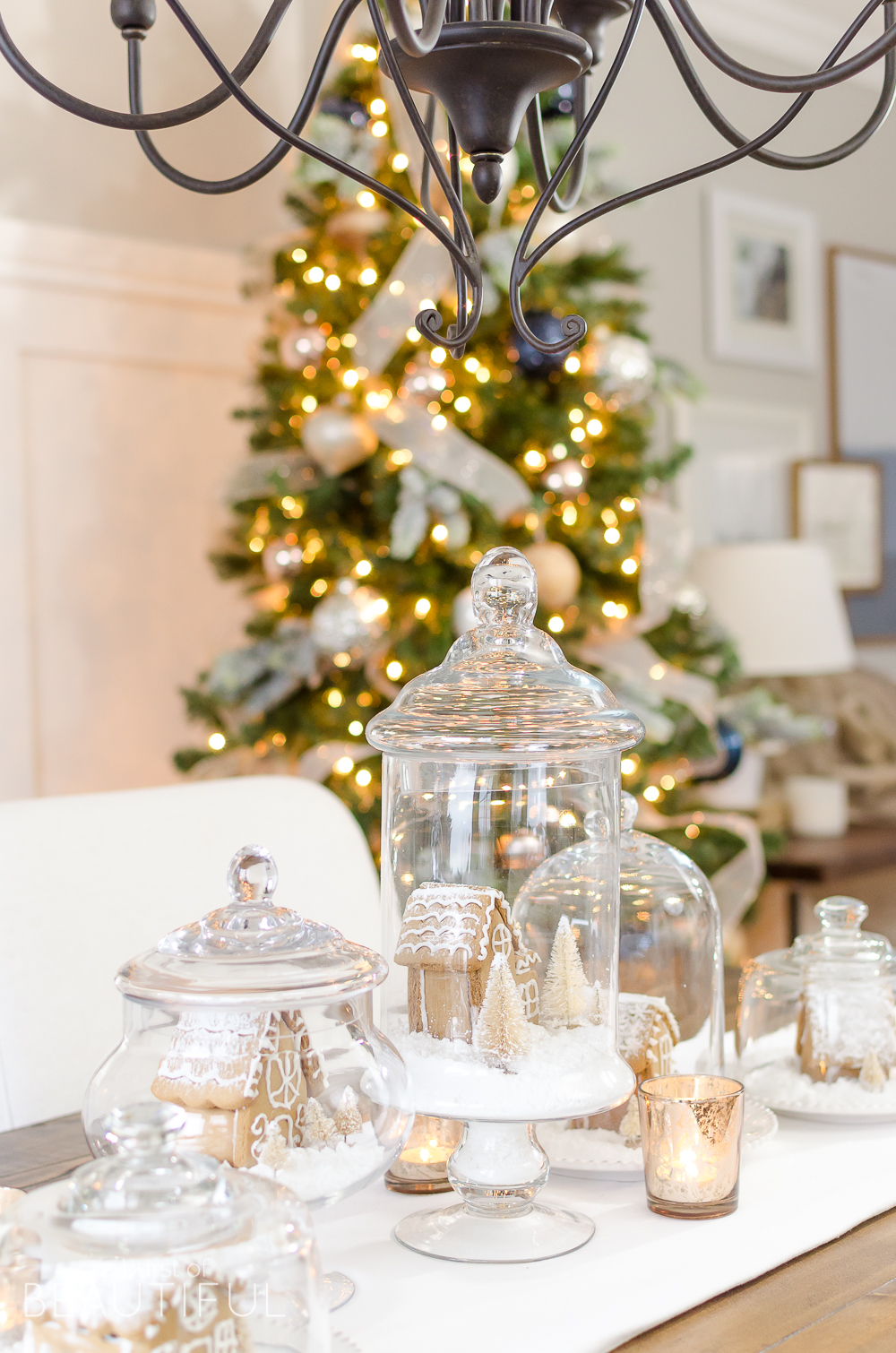 I purchased a mini gingerbread house kit from our grocery store and simply assembled and decorated the houses using icing and powdered sugar.
Next, I filled the apothecary jars and plates with powdered sugar and nestled the mini gingerbread houses, along with mini bottle brush trees, in the "snow". I think they look like little winter wonderlands, don't you?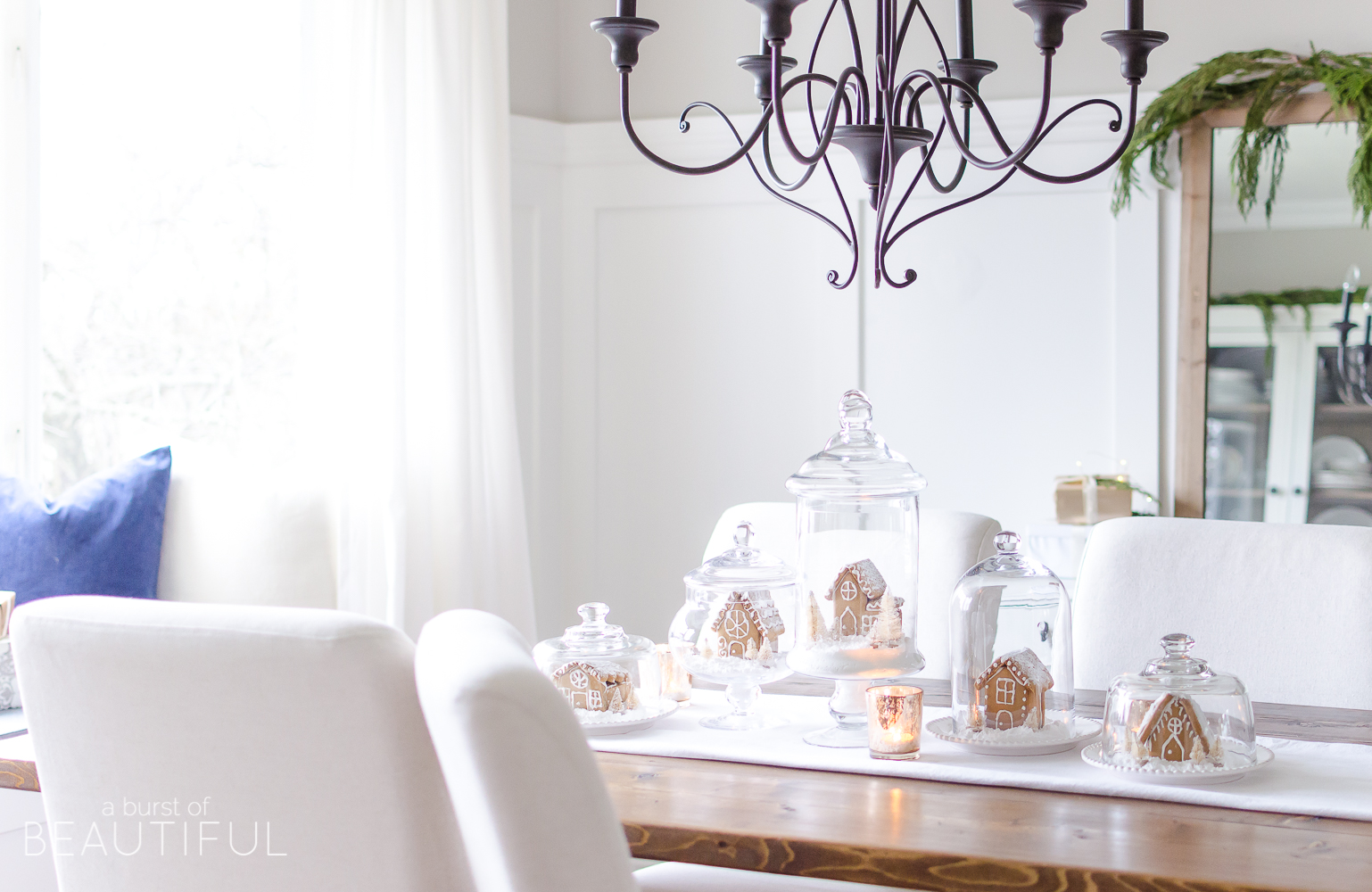 I placed the collection of glass apothecary jars and cloches on white plates down the length of our dining table and scattered copper mercury glass votives amongst them. It adds just the perfect amount of sparkle to our dining room.
I also draped fresh cedar above our hutch and the mirror on our side table. I love the pop of color it adds and it smells amazing. I always try to add fresh greenery when I can.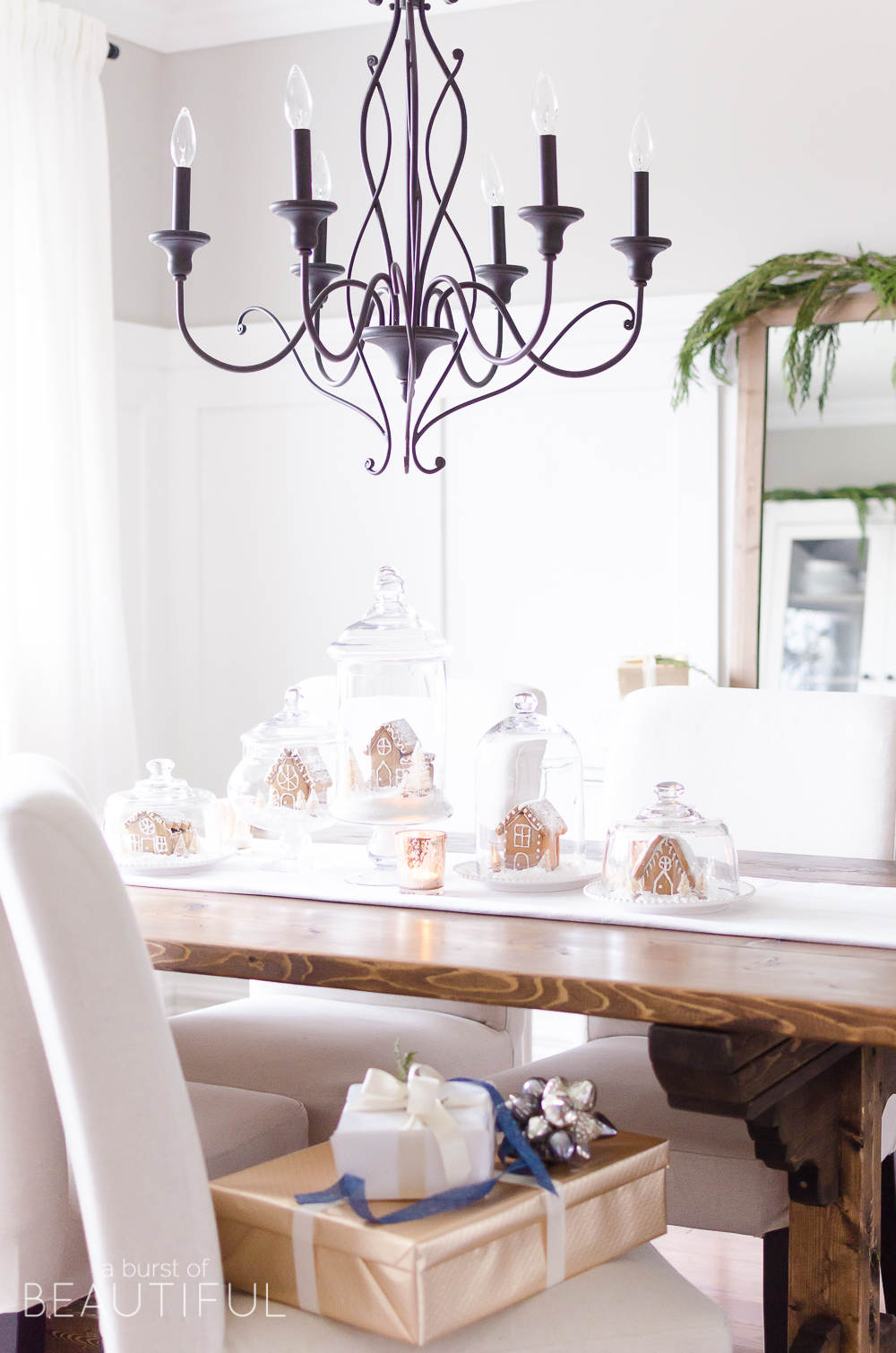 Our window bench was made even cozier with a few extra pillows, including my favorite obsession of the moment – these luxe velvet navy pillows. I just love cuddling up here, sipping hot chocolate and watching the snow fall from the sky. It's so peaceful.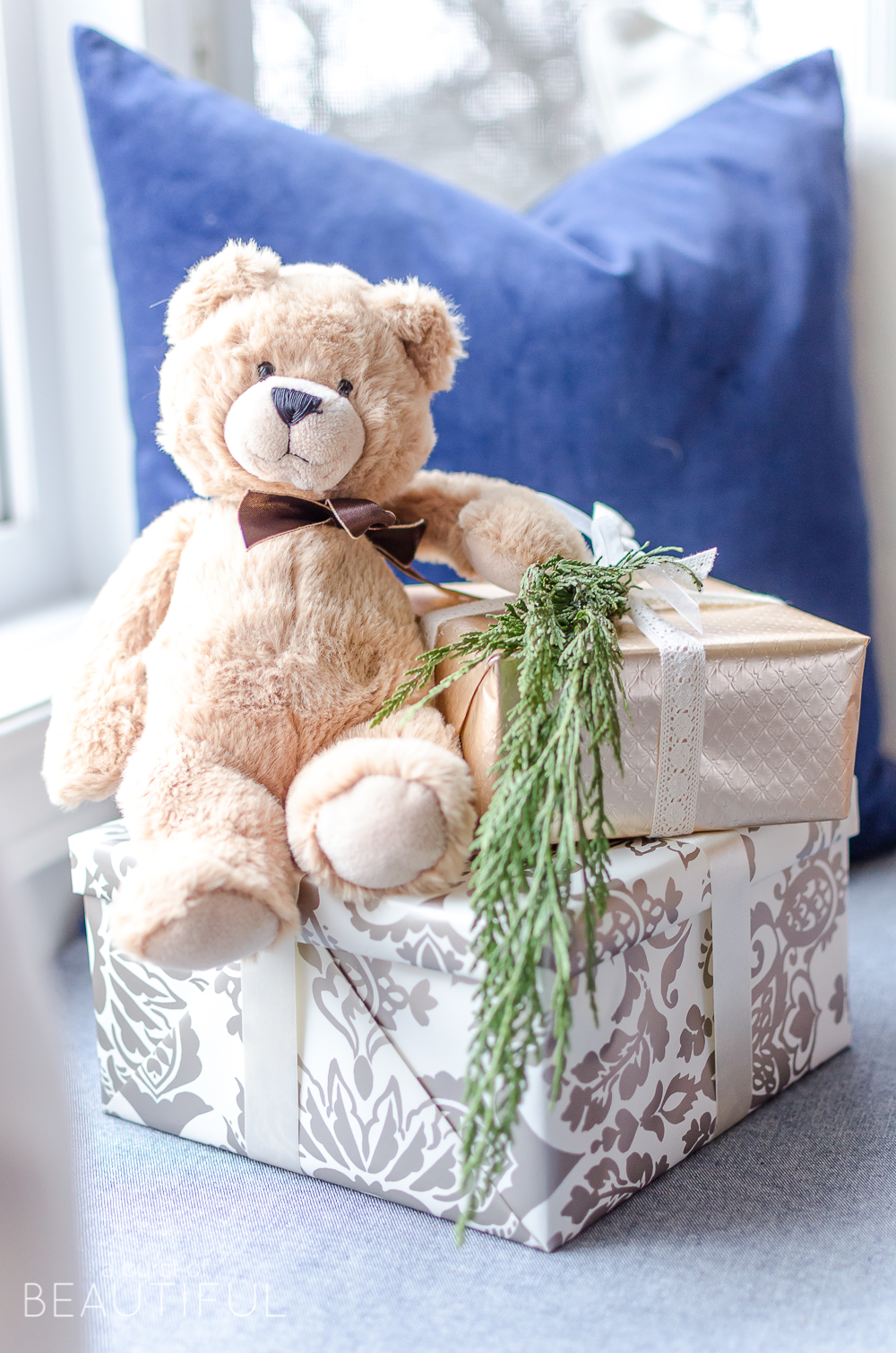 I hope you enjoyed our inviting holiday dining room, I'd love to hear what was your favorite part. And please remember to check out all of the other amazing homes, you can continue this tour by stopping by the beautiful dining room of Kelly at Live, Laugh, Rowe.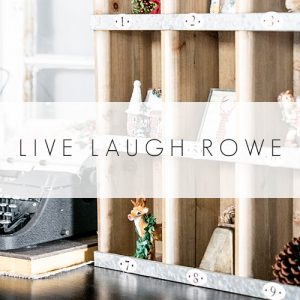 Don't miss out of the rest of our holiday home!
Take a tour of our home room by room!

Simple Christmas Entry | Simple Christmas Kitchen | Navy & Gold Christmas Tree

Inviting Holiday Dining Room | Cozy Christmas Living Room | Cozy Neutral Christmas Bedroom
This post contains affiliate links, see our full disclosure policy

here

.
Thank you for helping support our blog.
Get the Look