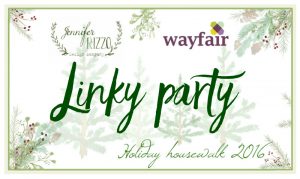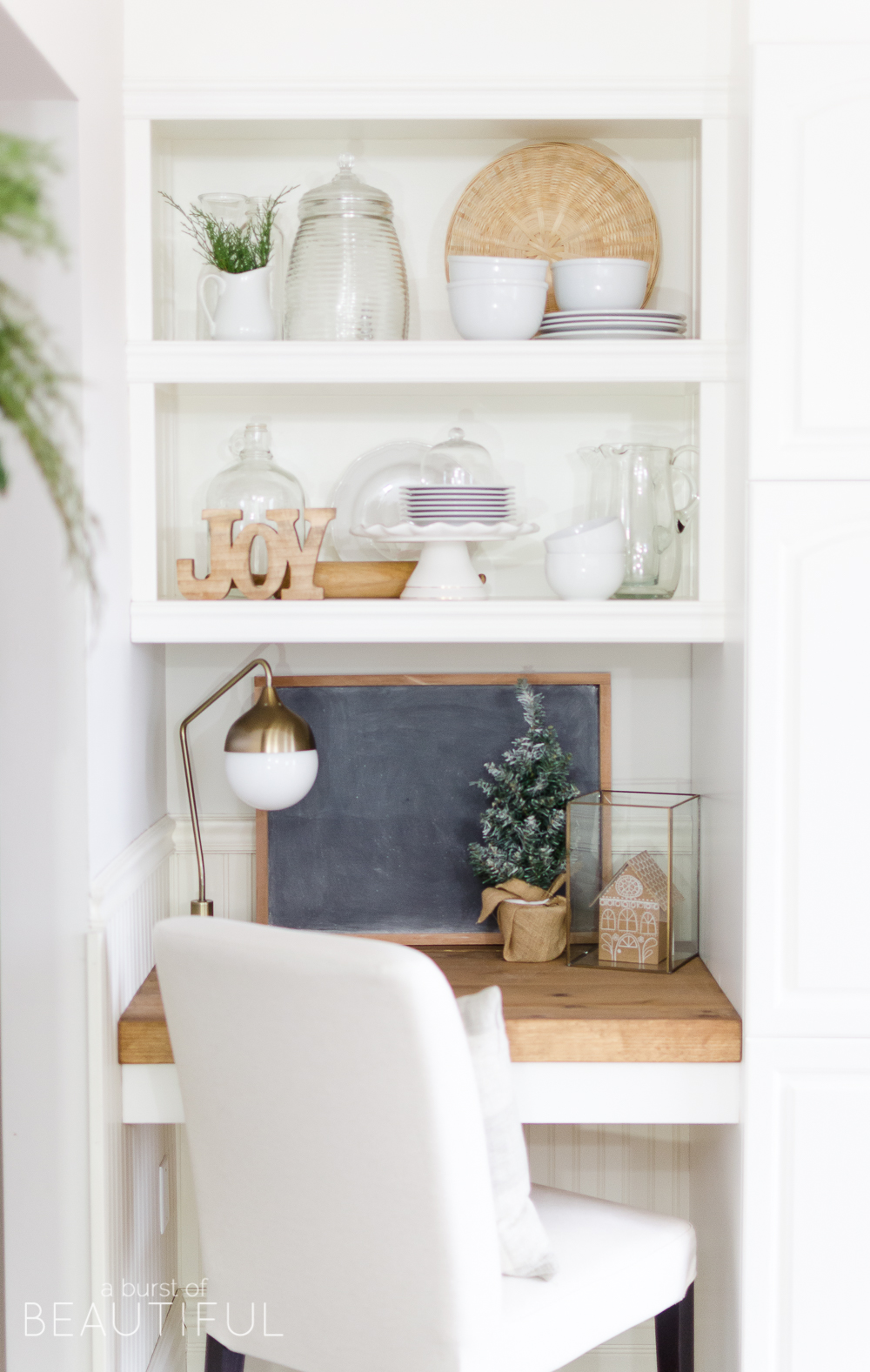 Welcome to our simple Christmas kitchen!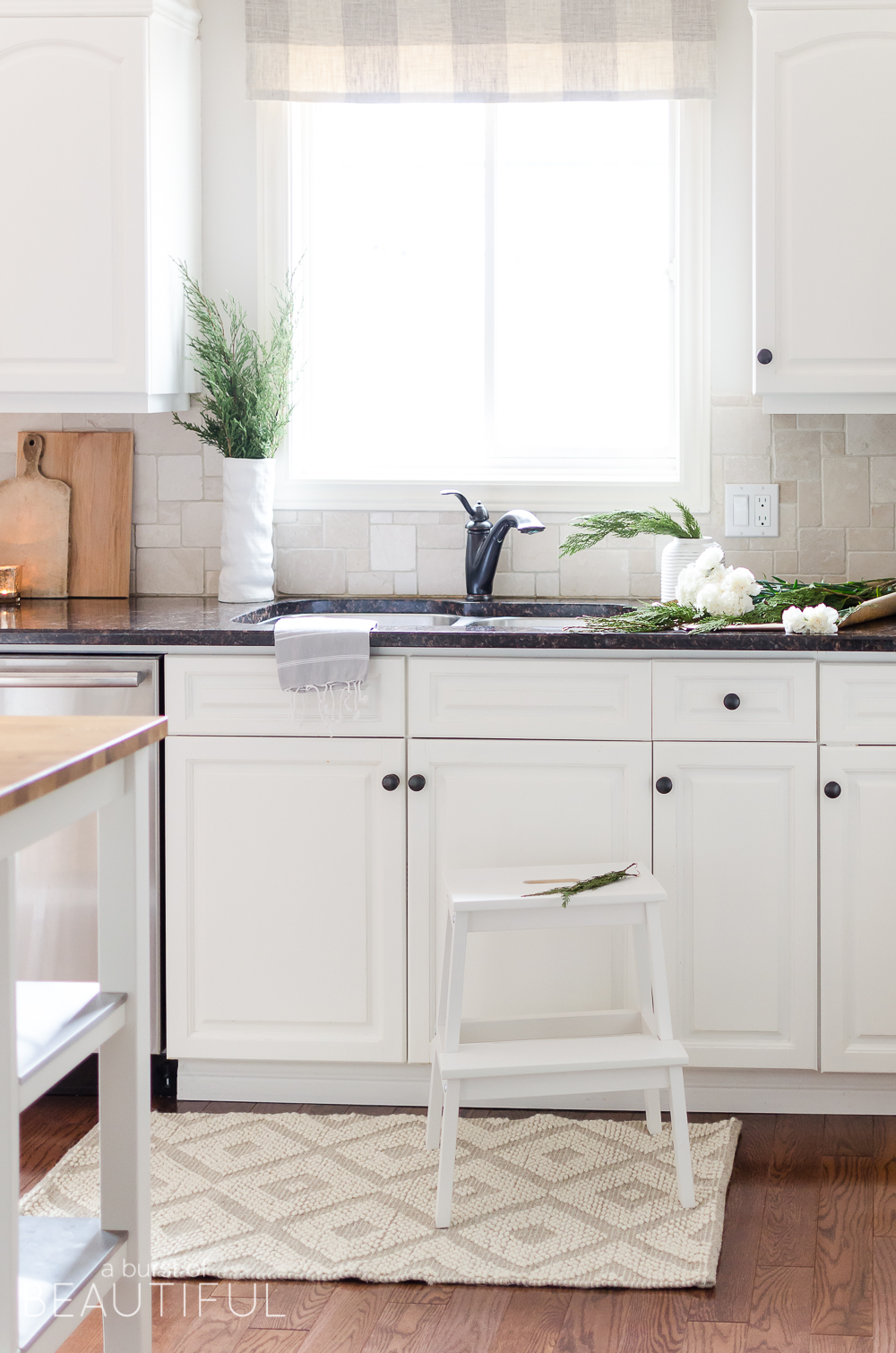 Our kitchen truly is the heart of our home, especially during the holidays. We love to spend time together in here, cooking hearty meals, baking holiday treats or simply catching up on the day's events. It's the place everyone gathers when they come to visit – perched around the island to chat and sneak a taste of dinner before it's served. It's a beautiful, bright and inviting space, and probably my favorite room in our home.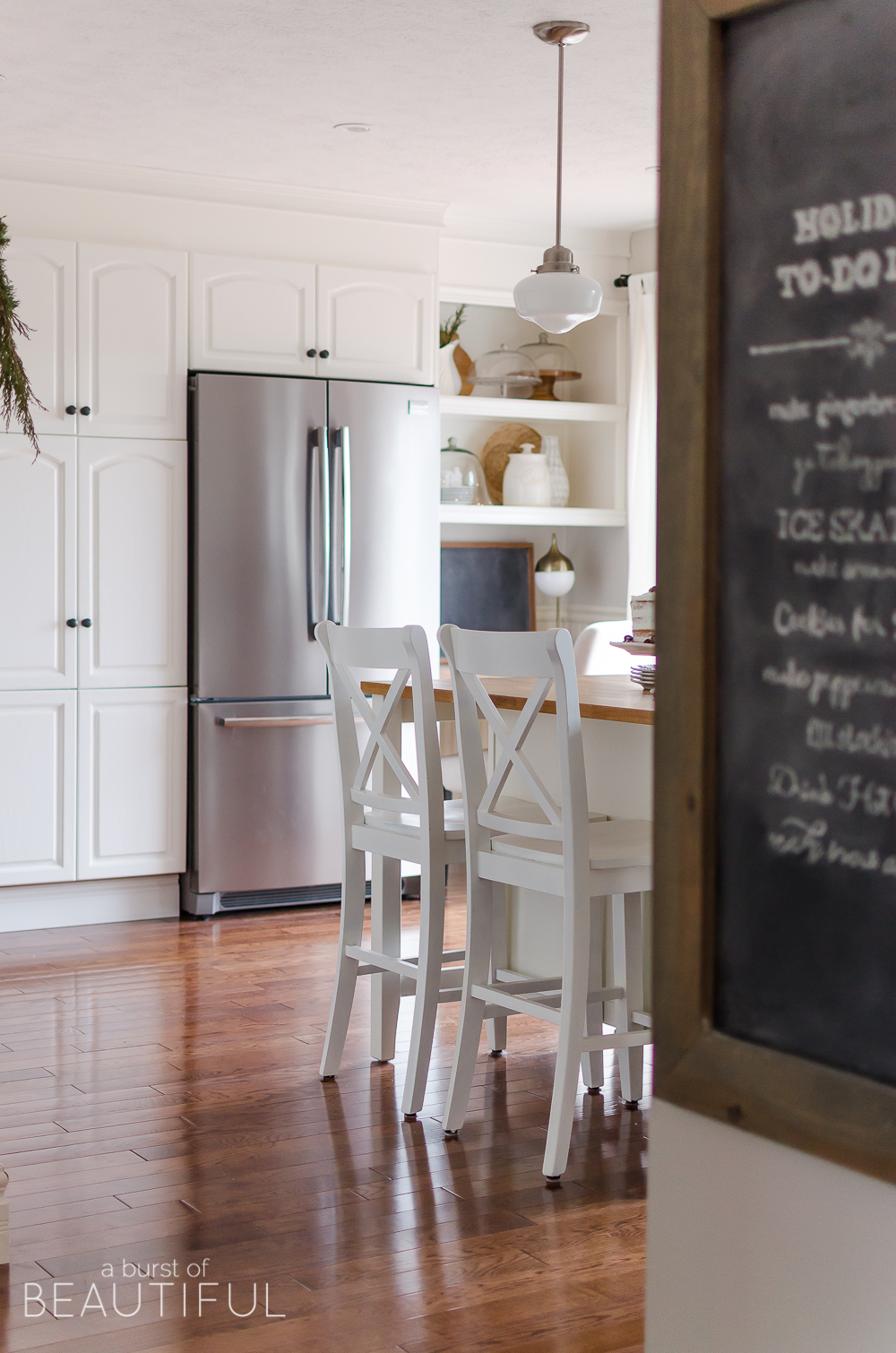 But it wasn't always.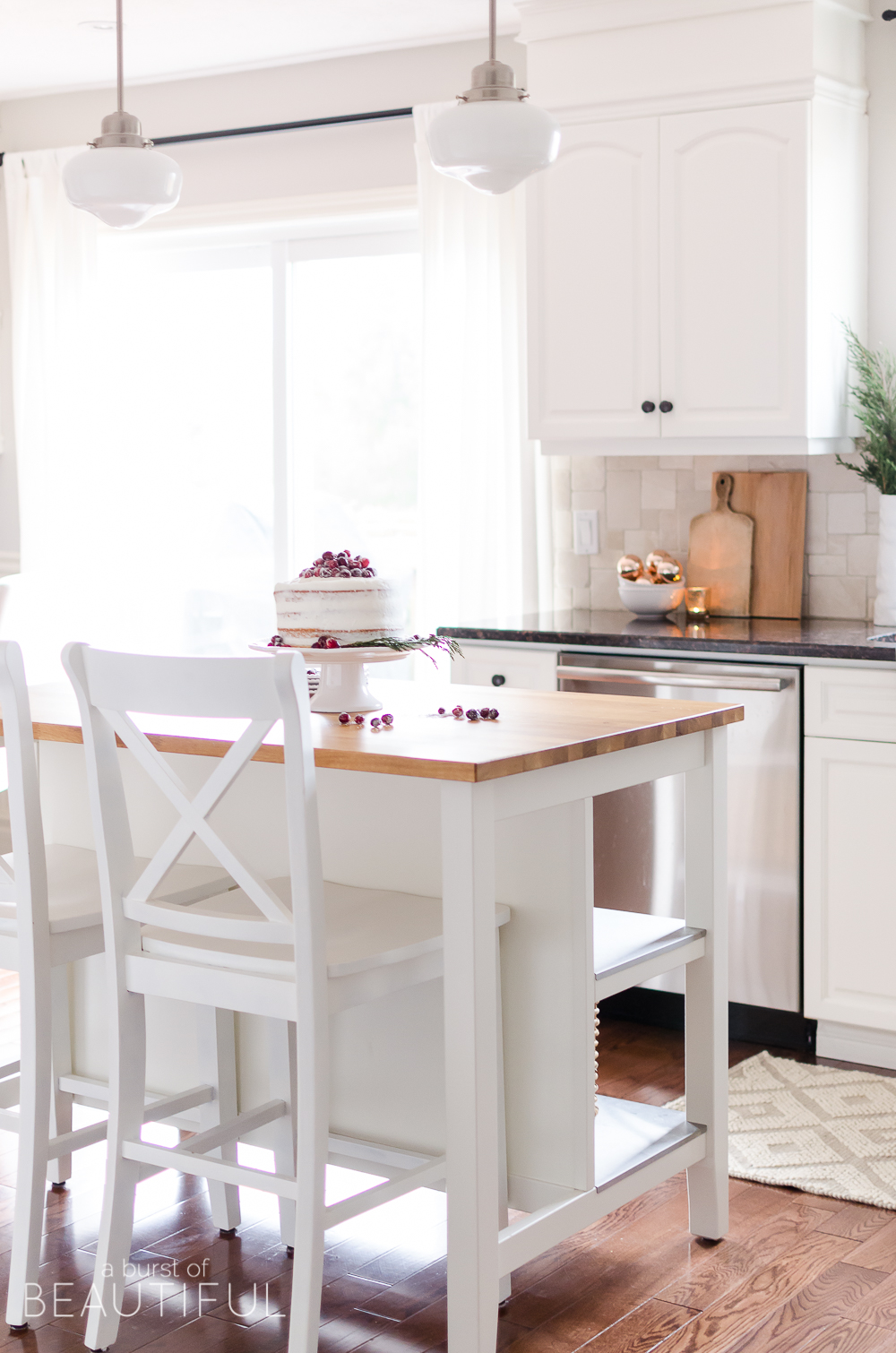 We have spent countless hours creating this beautiful space for our family (do you remember what it used to look like? Take a peek here). It never quite seems to be complete, there's always one more project to finish or one more update to complete to make it more functional or enjoyable for our family.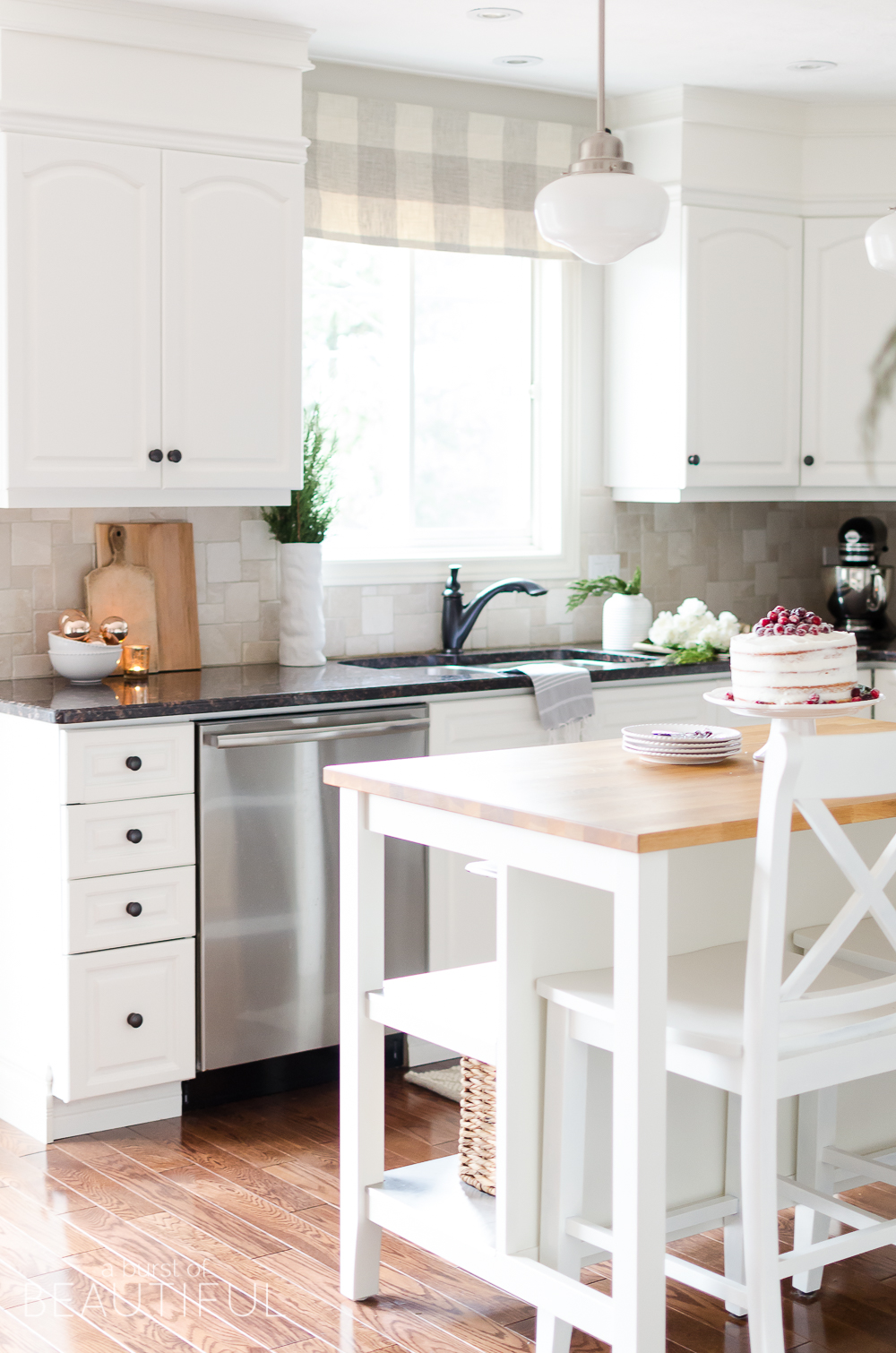 But that's ok, it's part of the fun of creating a home you love.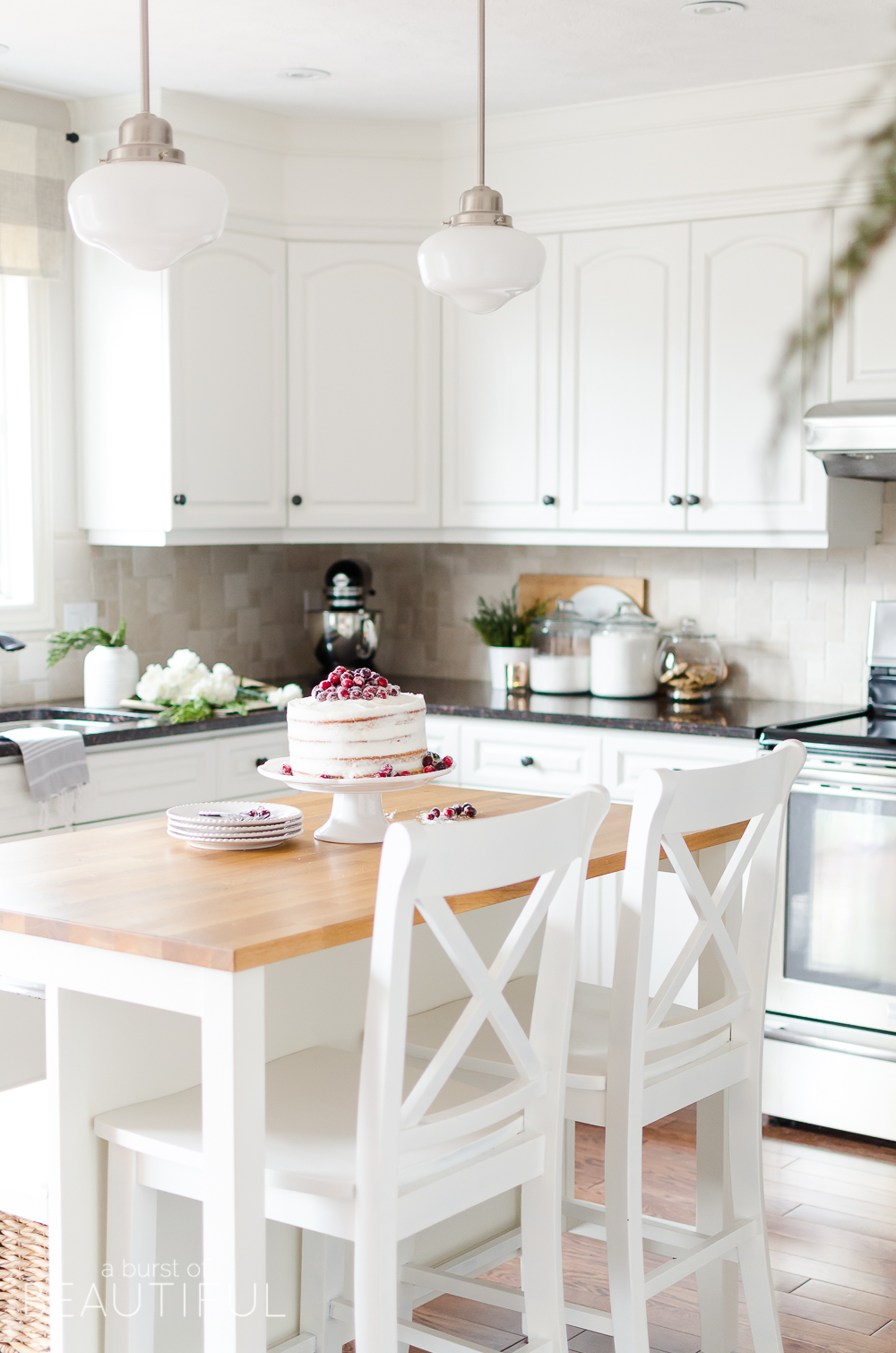 Do you recognize the changes we've made most recently?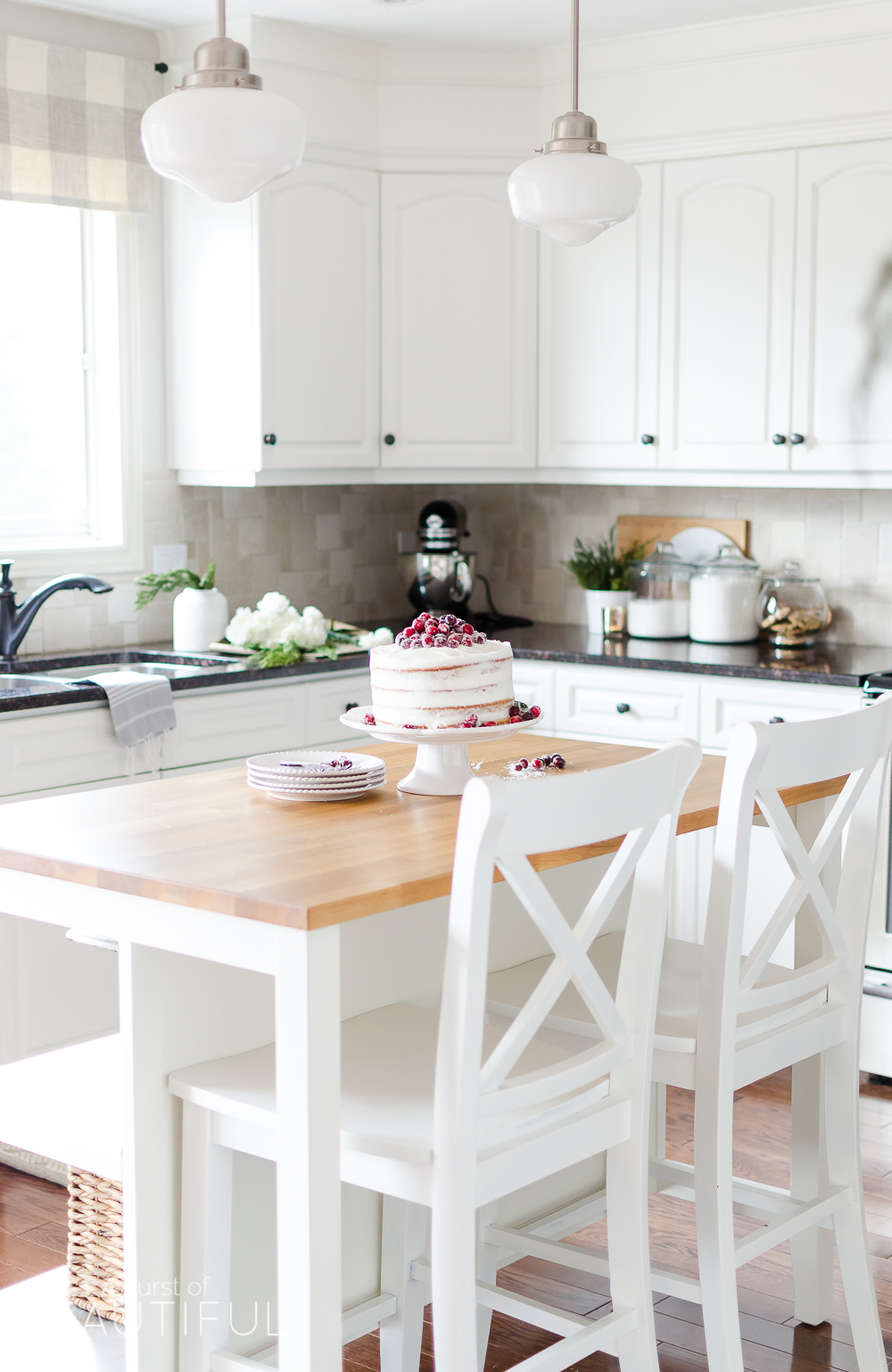 Let's start with these pretty new bar stools at our island. I think they look so simple and light compared to our previous upholstered stools. The give the space an airier feel.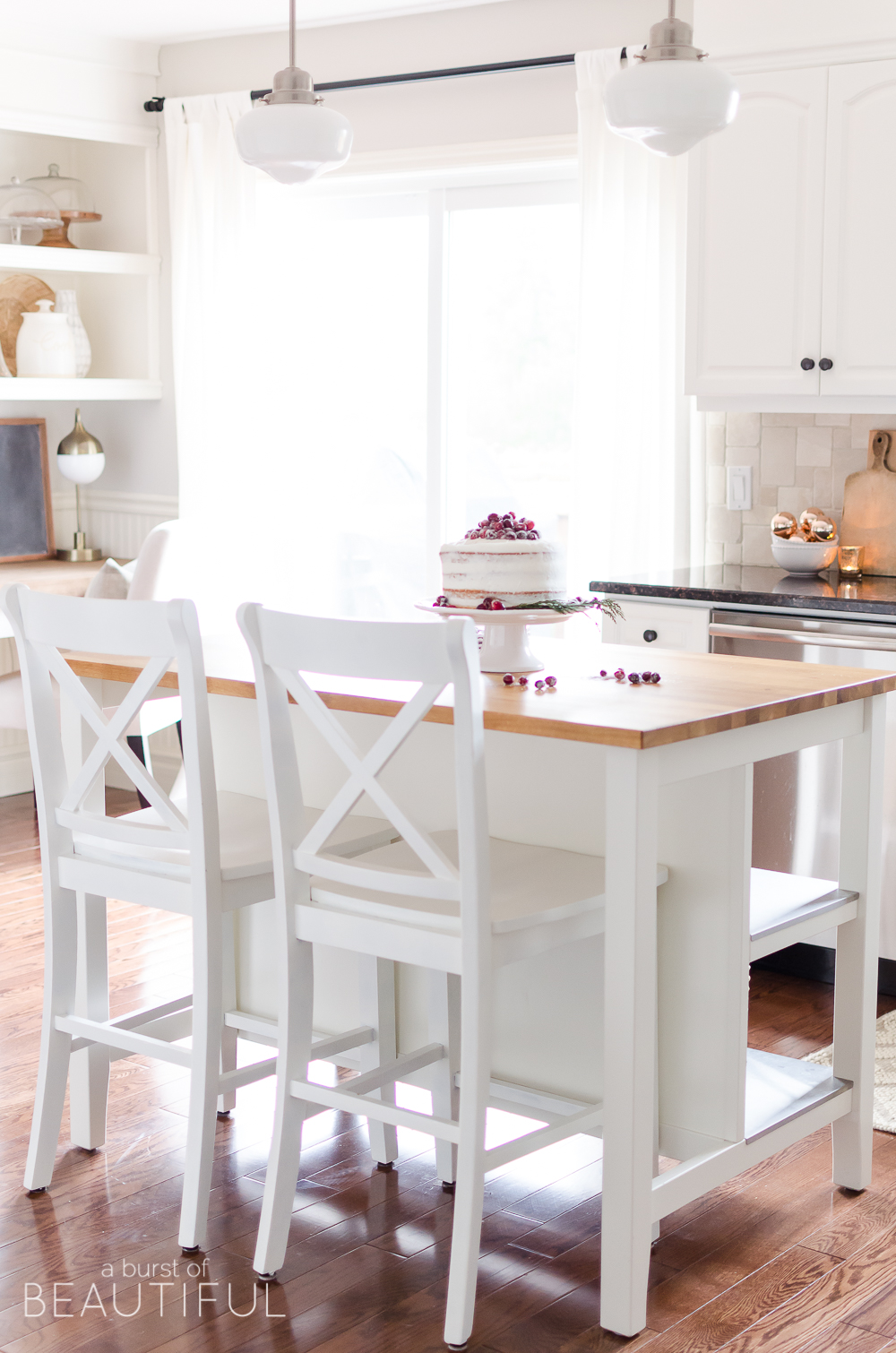 These stools were an amazing find, and come with a bit of a funny story. Early this fall I headed out for an early morning walk with our little one and noticed three of these stools sitting on the curb of a neighboring home. The homeowners were moving and no longer wanted them, so they had set them out for free.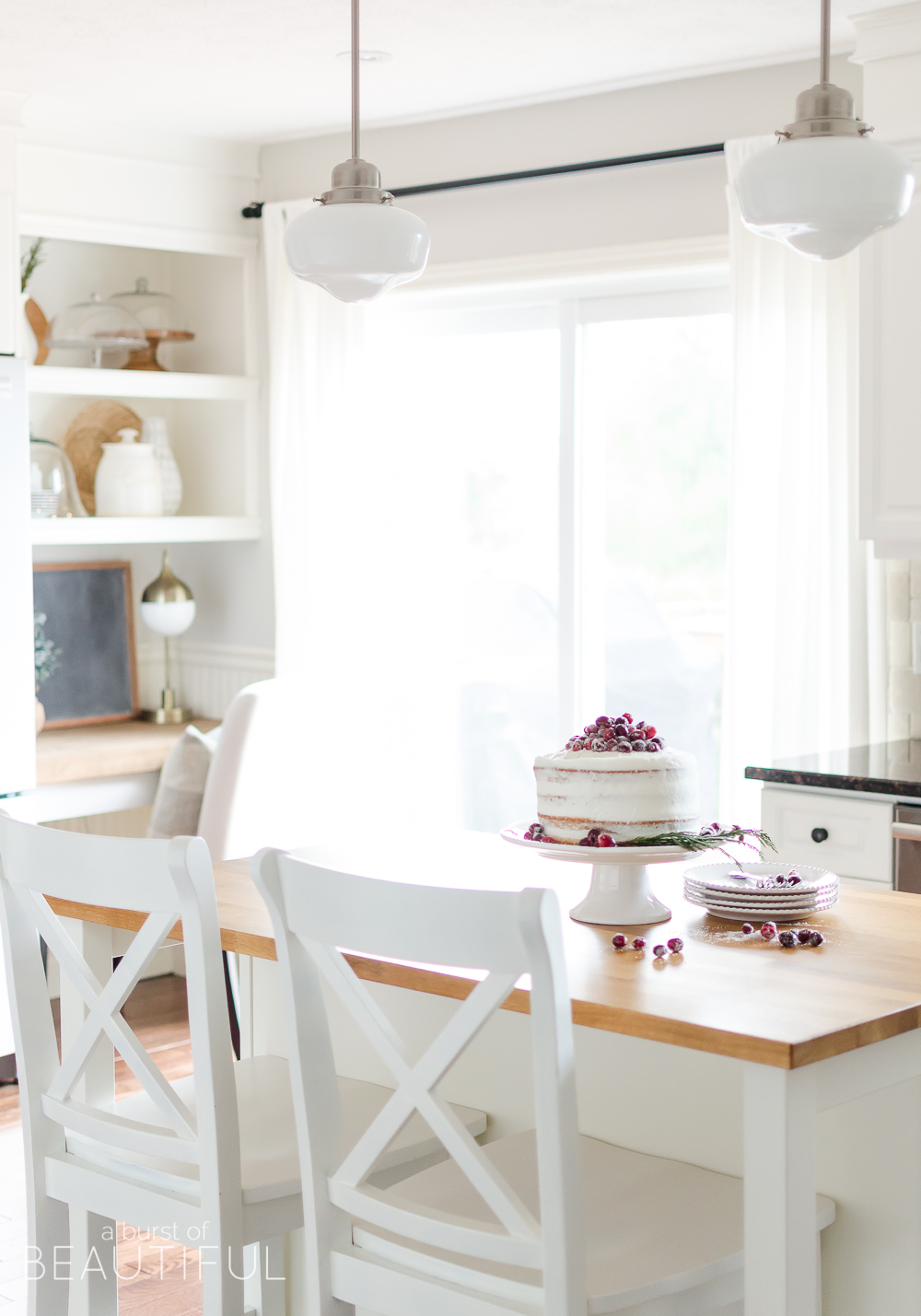 We had been looking for new stools for our kitchen island for a while, and I'm not one to pass up free furniture. So it was decided, they were coming home with me – one way or another. I'm sure I was quite a sight, harried mom pushing a baby stroller with one hand and simultaneously attempting to drag three bar stools behind. 🙂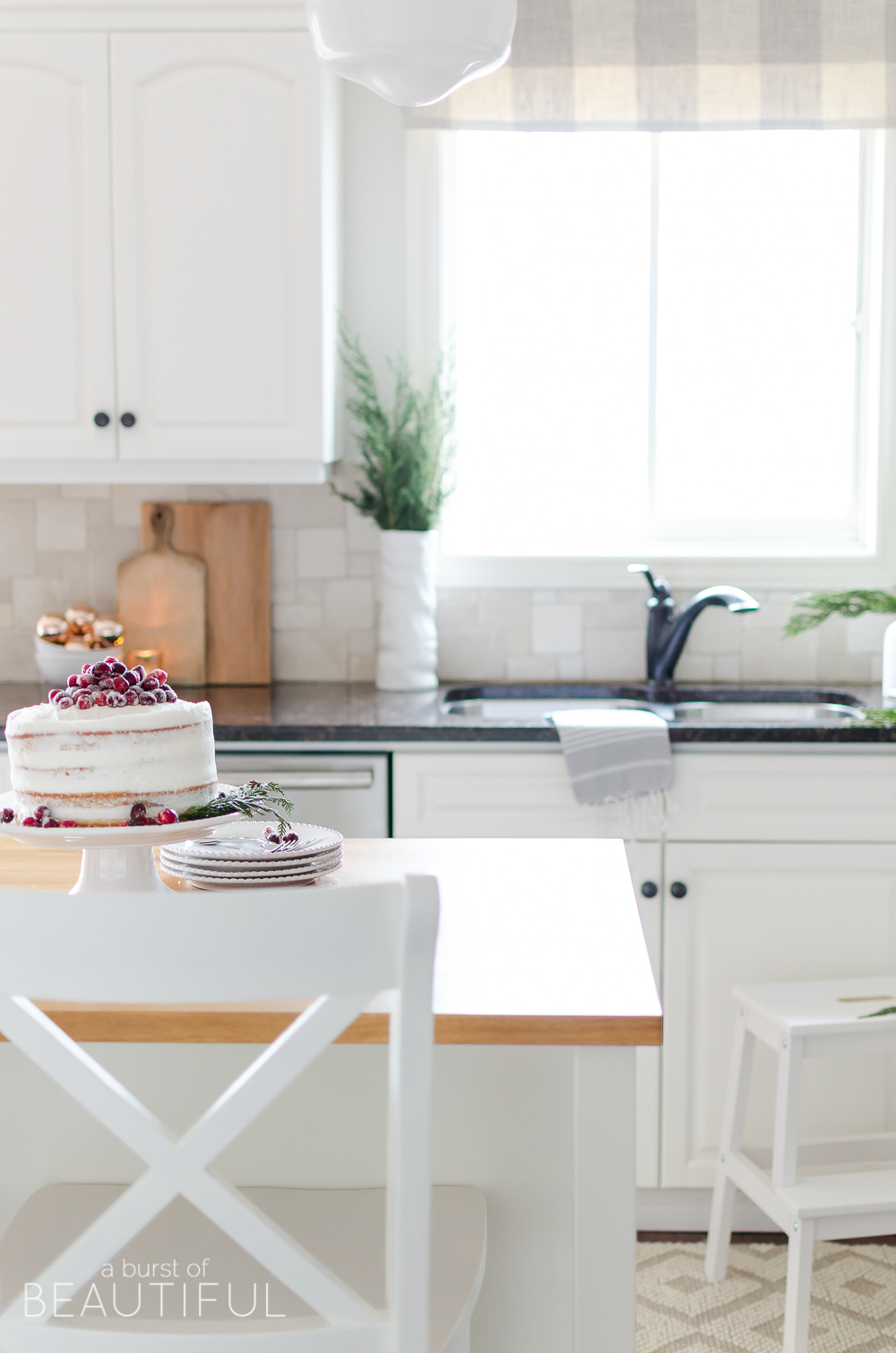 It wasn't an easy feat, but we made it – baby, mom and all three stools. They were finished in a dark stain with a few scratches on them, but I simply spent some time priming and painting and they are as good as new.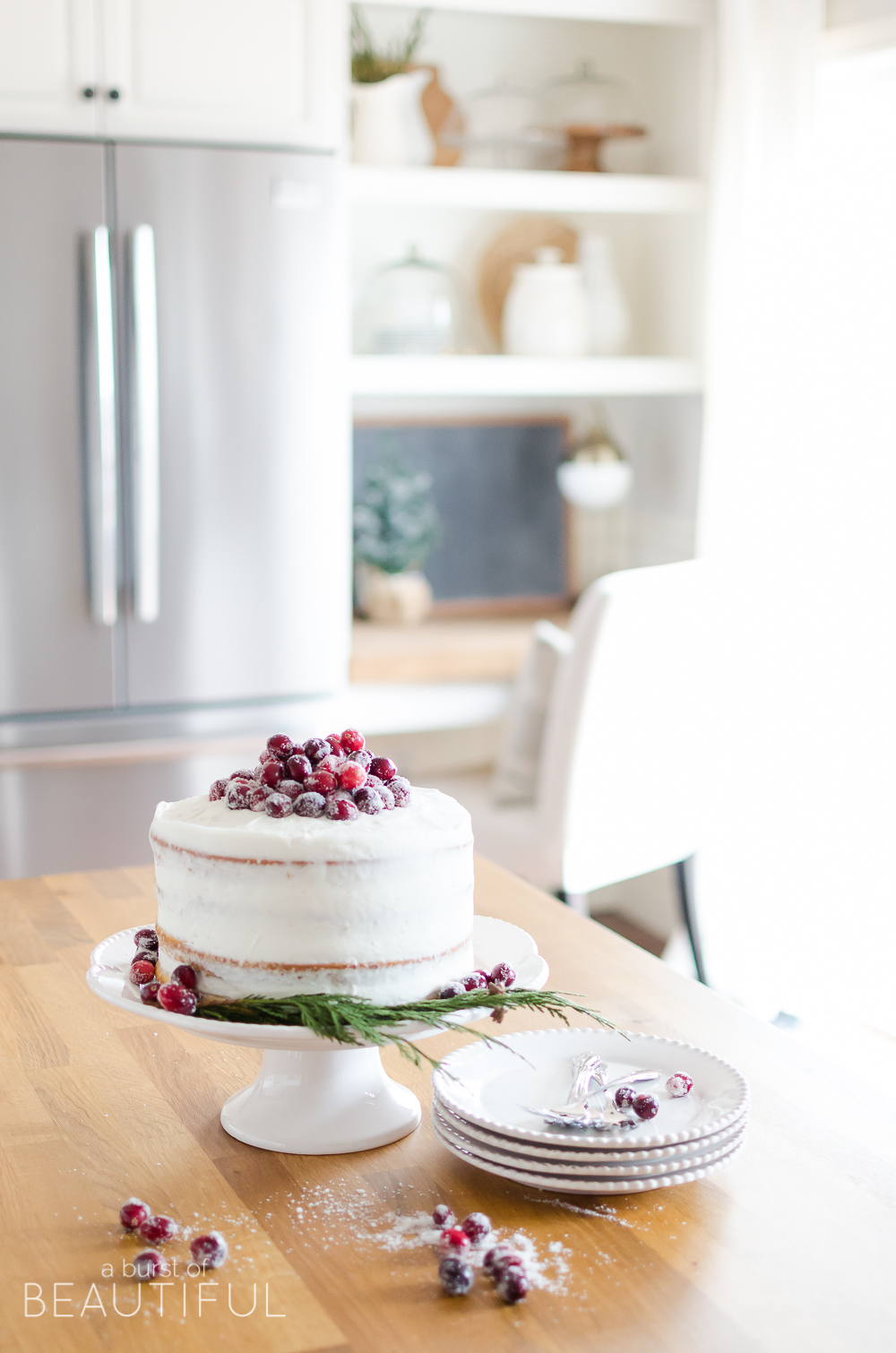 We've already made good use of them, crowding around our island to bake Christmas goodies, like this simple holiday cake. We whipped this up using a simple boxed cake recipe (see how we make a boxed cake taste homemade here), created a naked cake look with whipped frosting and topped with these pretty sugared cranberries (you can get the recipe from my sweet friend, Kristen at Ella Claire). Pretty, isn't it?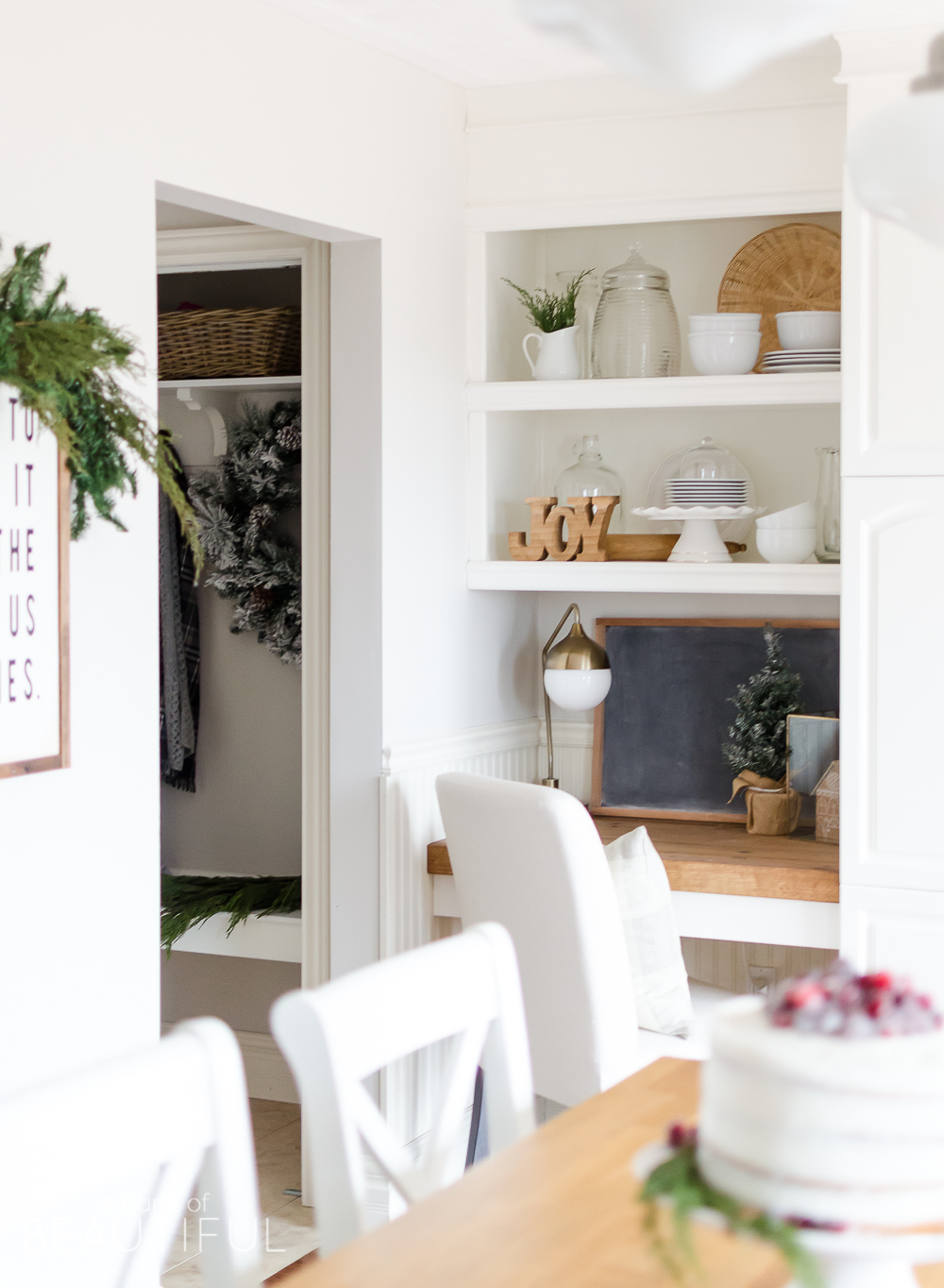 And did you notice the beautiful new desks underneath our built-ins?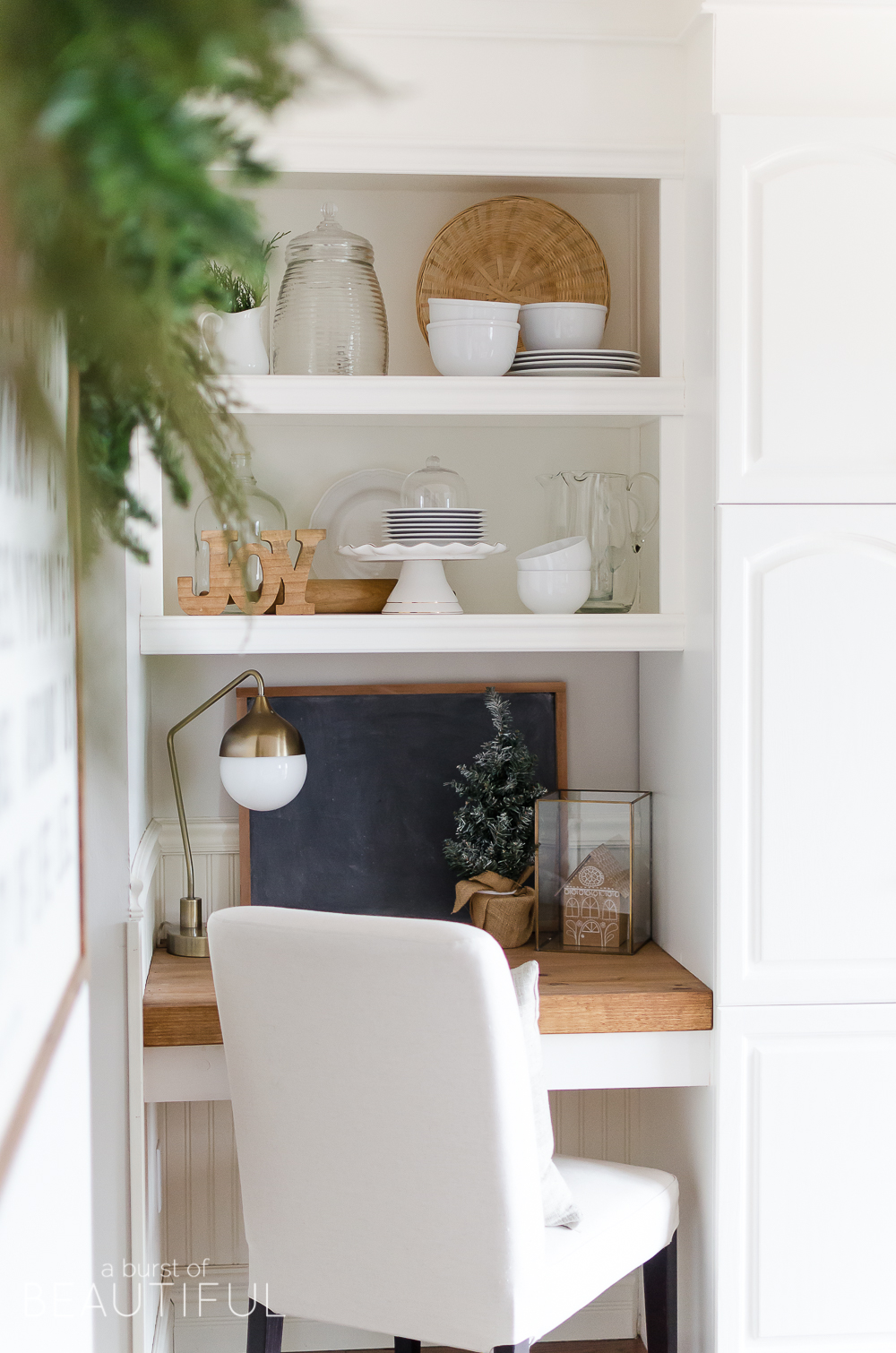 We replaced the small black tables on either side of our built-ins with these gorgeous natural wood floating desks. Aren't they beautiful?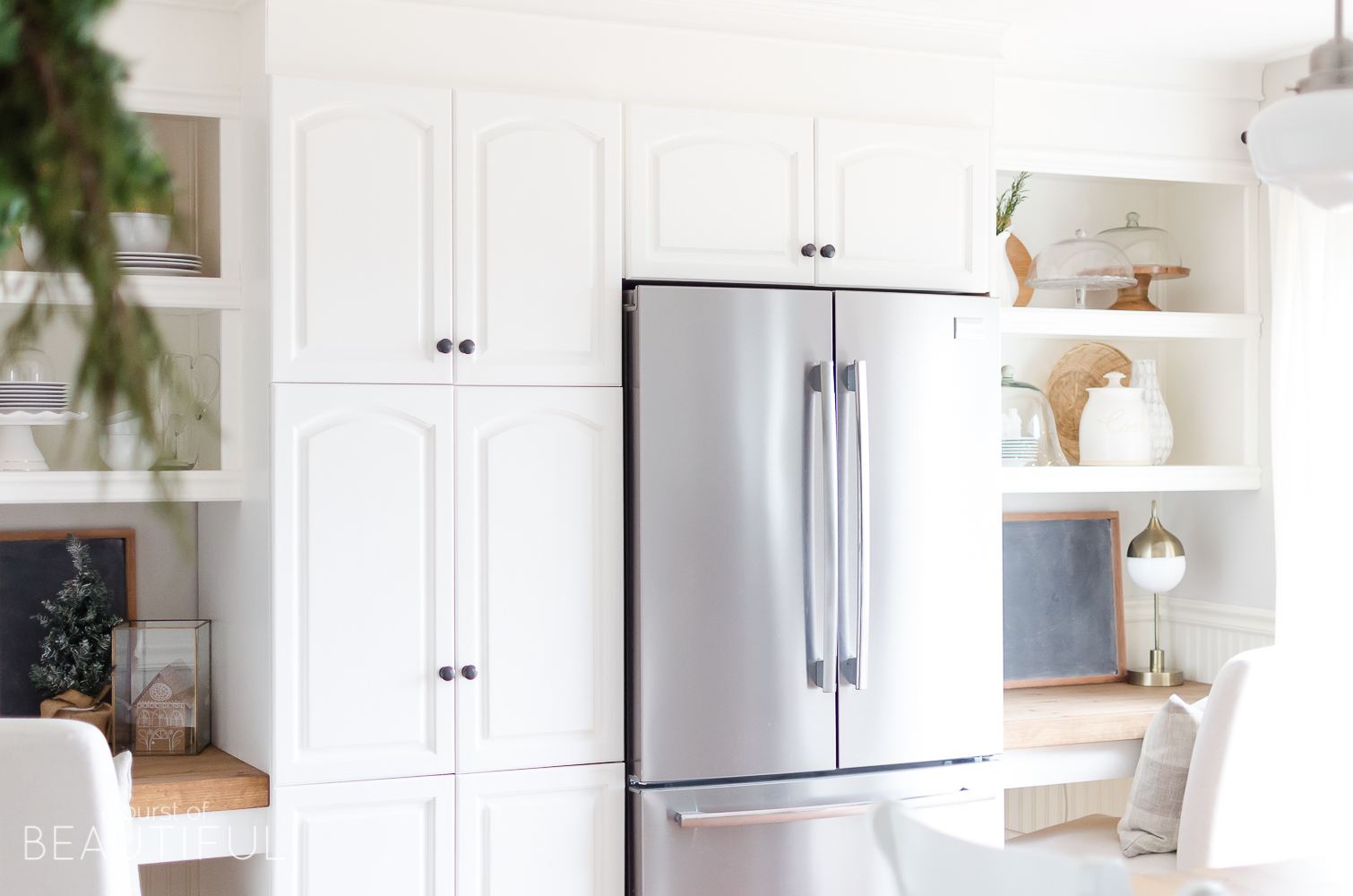 For a while, we've known the black tables weren't really working in our space anymore. Because of their dark color and temporary feel, they stood out (not in a good way) and didn't flow well with the rest of our kitchen. We had talked about building desks in these spaces to create a more functional and cohesive look.
So one afternoon, not too long ago Nick got to work building these beautiful floating desks. Originally we planned on all white desks to match the built-ins, but a last minute decision took us on a different design path. We opted to stain the desktops to match our butcher block island top, and I'm so happy we made that choice.
The natural wood really adds warmth to the space, I think if we had painted them all white, it would have felt stark and cold.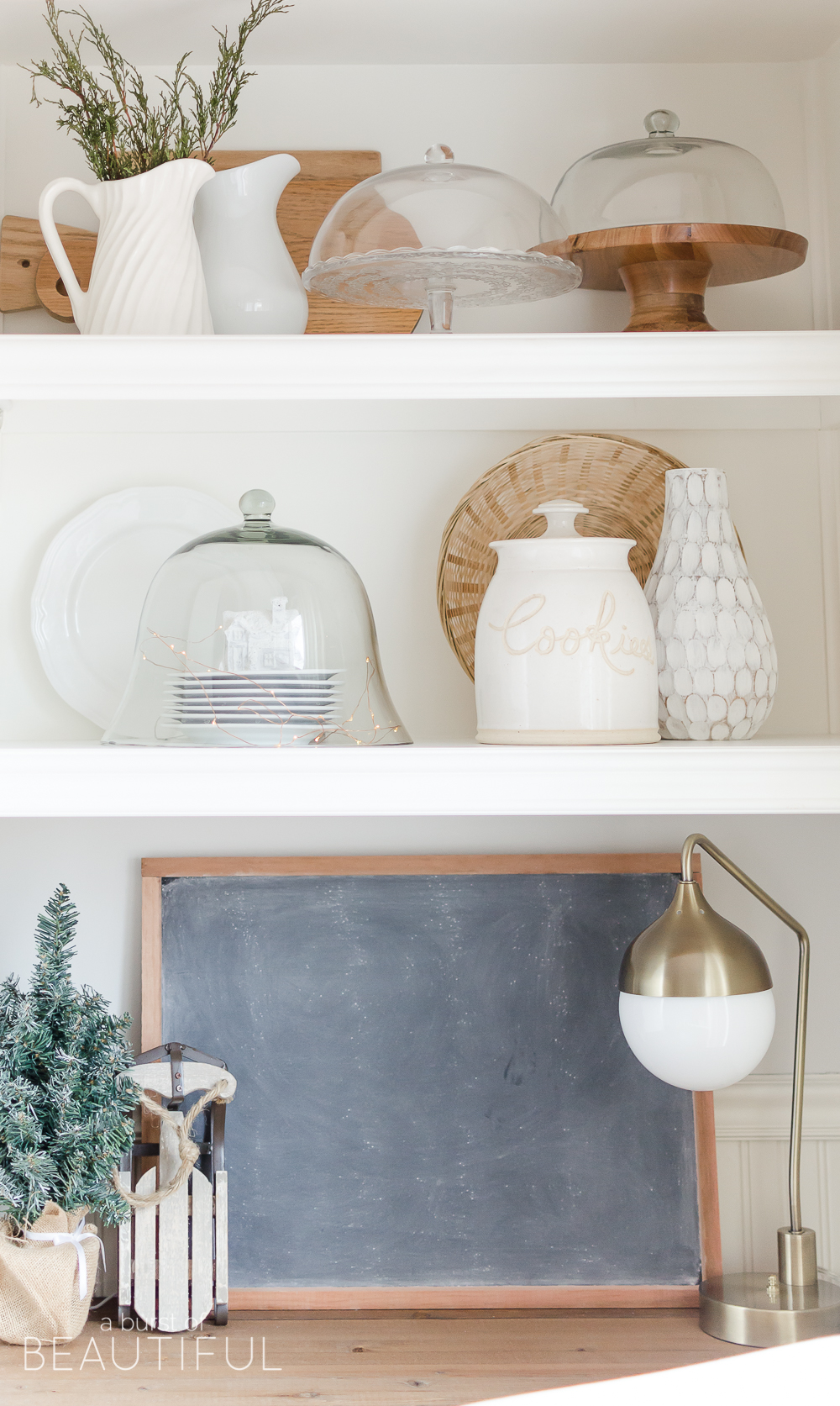 I styled the shelves above using my collection of glass and white ceramic pieces and added in touches of wood and wicker to pull in the natural wood tones. Fresh sprigs of cedar add a little color and life to the space. Nick also built me these sweet little chalkboards for each side, I like that the black of the chalkboard helps to ground the space. They are the perfect little spot to hang holiday cards or jot down messages.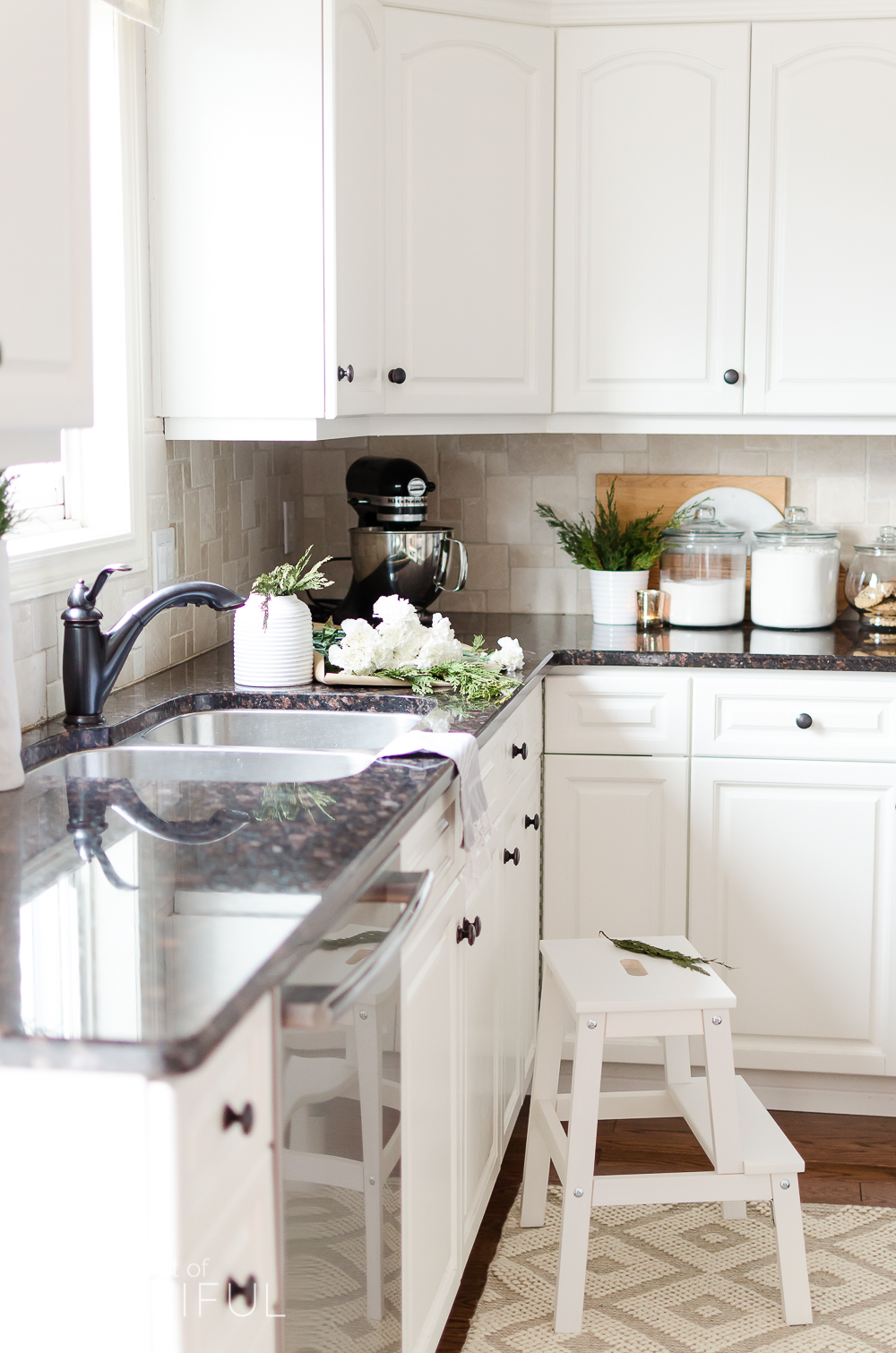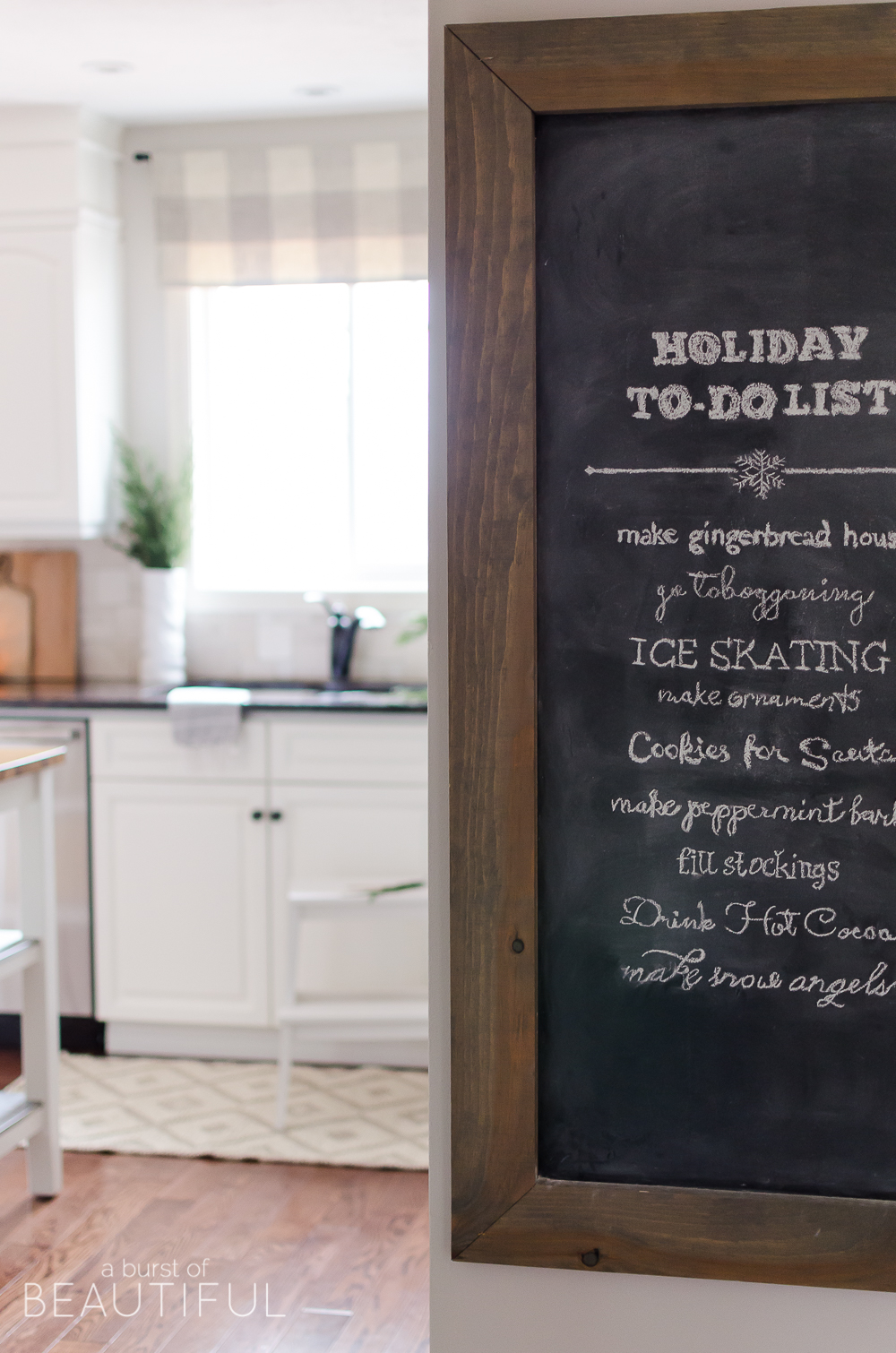 I hope you enjoyed today's little tour of our simple Christmas kitchen, I know we enjoyed having you. And don't forget to take a peek at the rest of our holiday home.
Alicia xo
Don't miss out of the rest of our holiday home!
Take a tour of our home room by room!

Simple Christmas Entry | Simple Christmas Kitchen | Navy & Gold Christmas Tree

Inviting Holiday Dining Room | Cozy Christmas Living Room | Cozy Neutral Christmas Bedroom
This post contains affiliate links, see our full disclosure policy

here

.
Thank you for helping support our blog.
Get the Look

---
kitchen sources
---
Wall color – Pale Oak by Benjamin Moore
Cabinet color – Cloud White by Benjamin Moore
Custom cabinets – Tutorial
Cutting boards – Vintage (similar)
Pendants – Union Lighting (similar)
Valance – Tutorial
Island – Ikea
Bar stools – Thrifted (similar)
White dishes – Wayfair
Glass beverage dispenser – HomeSense / HomeGoods (similar)
Wicker trays – Thrifted (similar)
Cake plates – HomeSense / HomeGoods (similar)
Glass pitchers – HomeSense / HomeGoods (similar)
Bronze and glass vases – Canadian Tire
Desk lamps – HomeSense / HomeGoods (similar)
Chalkboards – DIY (similar)
Upholstered desk chairs – Ikea
Foot stool – Ikea
Mat – HomeSense / HomeGoods (similar)
Hand lettered sign – The Signery
Glass canisters – Walmart (similar)
KitchenAid stand mixer – Wayfair