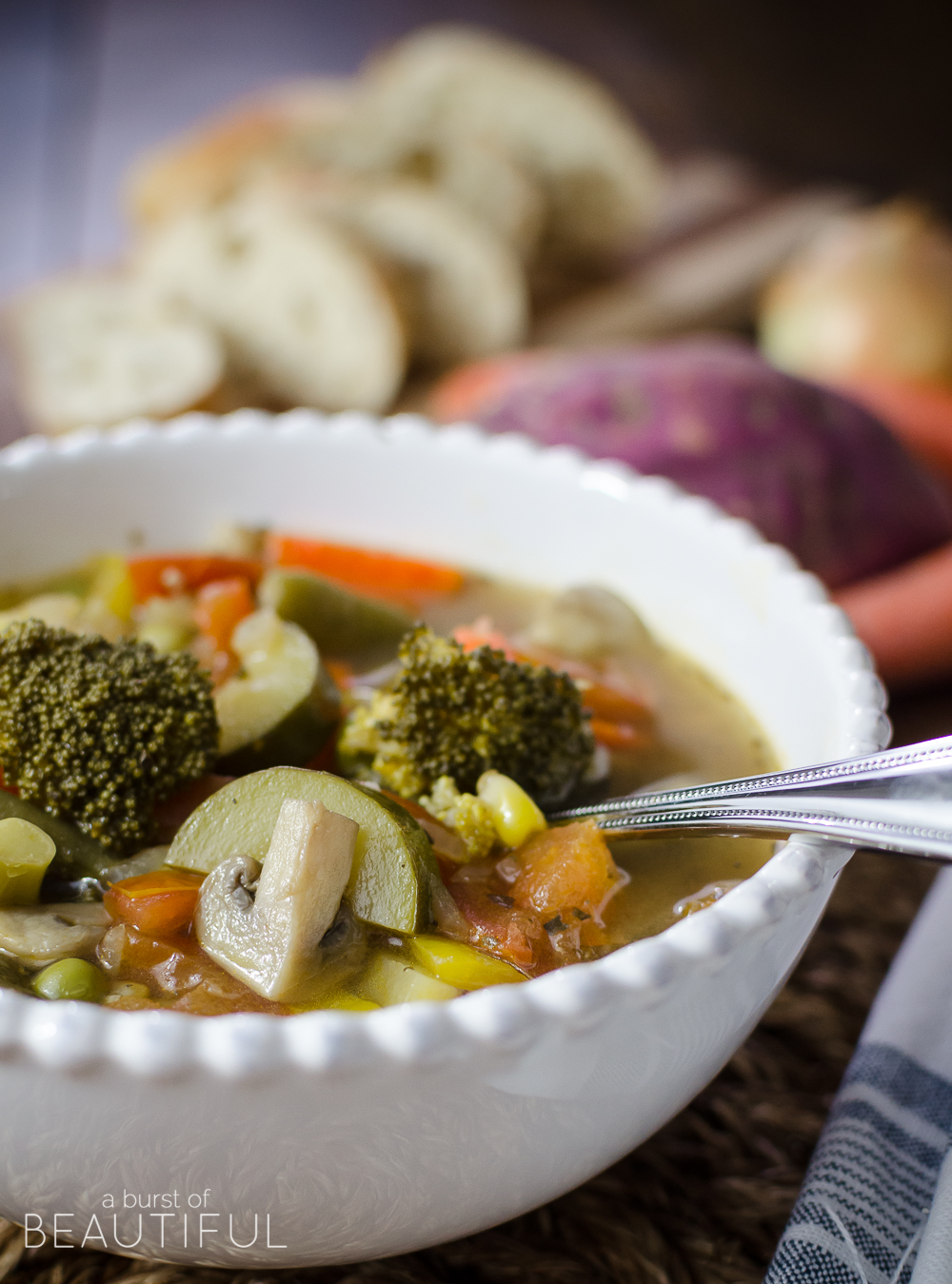 Sometimes eating healthy can be a real challenge, especially with today's busy lifestyles. It's no wonder people are eating less healthy meals. By the time five o'clock rolls around the last thing you really want to do is spend hours making dinner. Even we find it difficult to muster up the energy some days and opt to throw a frozen pizza or lasagna in the oven, or perhaps even pick up fast food on the way home from work (gasp!).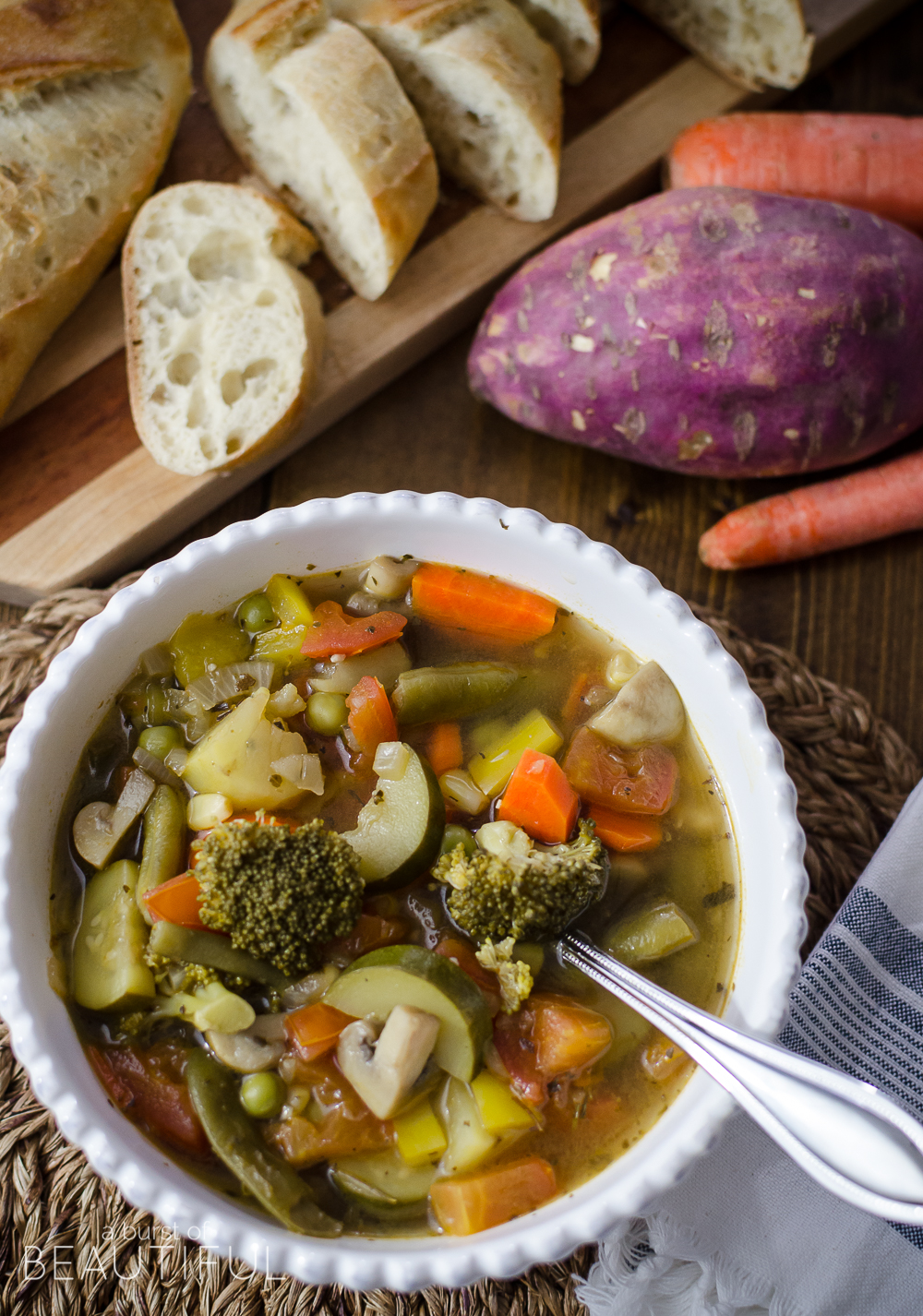 And as convenient as fast food and frozen meals can be, they often leave a lot to be desired. It's nice to make a dinner that fills your body with the vitamins and nutrients it needs to give you energy and leave you feeling well.
Today's recipe is a quick and easy meal that we like to make on weeknights, especially during the winter months. It can be made in less than an hour and it's perfect for those times when you feel like you need an extra boost of nourishment. I made it for the first time after an extended period of unhealthy eating (the holidays will do that to you…), and it was just what we needed to get back into a healthy routine.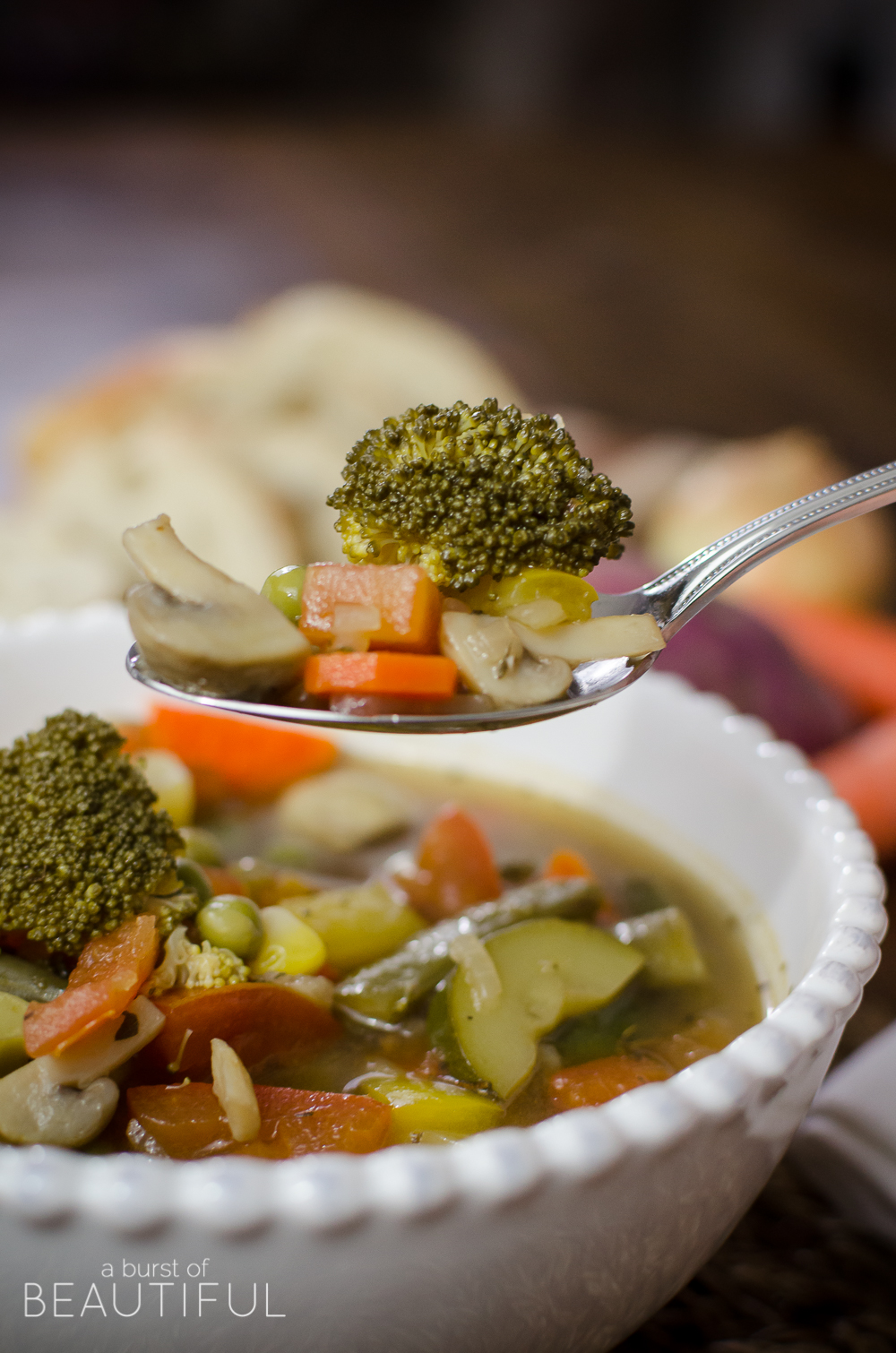 This is a fairly basic recipe that requires a bunch of dicing, mincing and chopping. I chose our favorite veggies to add to this soup…and lots of them.
I wanted to find a unique vegetable to add to this soup, just to make it a little different so as I was browsing the aisles of the supermarket I came across purple sweet potatoes. I thought it would add a unique flavor and some color to the soup. Well, it was a great decision for taste, but I discovered that although the skins are purple, the inside is white! That may help if you have any picky eaters in your house that may not want to try purple potatoes. If you can't find purple, you can just use regular sweet potatoes.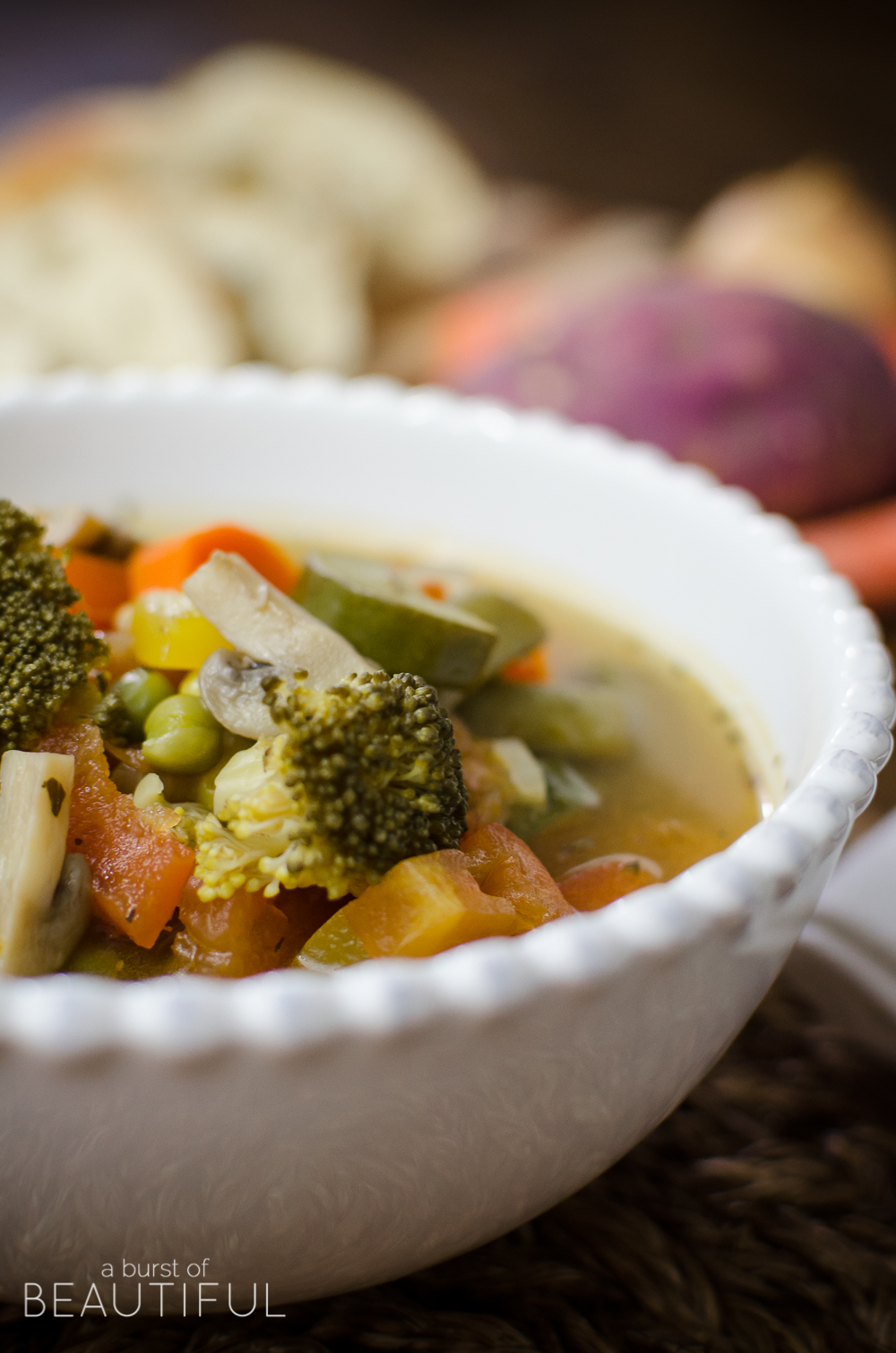 Recently we've discovered mushroom stock, and it has become a staple in our pantry. It adds so much flavor to whatever dish we are cooking, I'm telling you, you have to try it. We've also combined it with chicken and vegetable stock to create an even tastier flavor.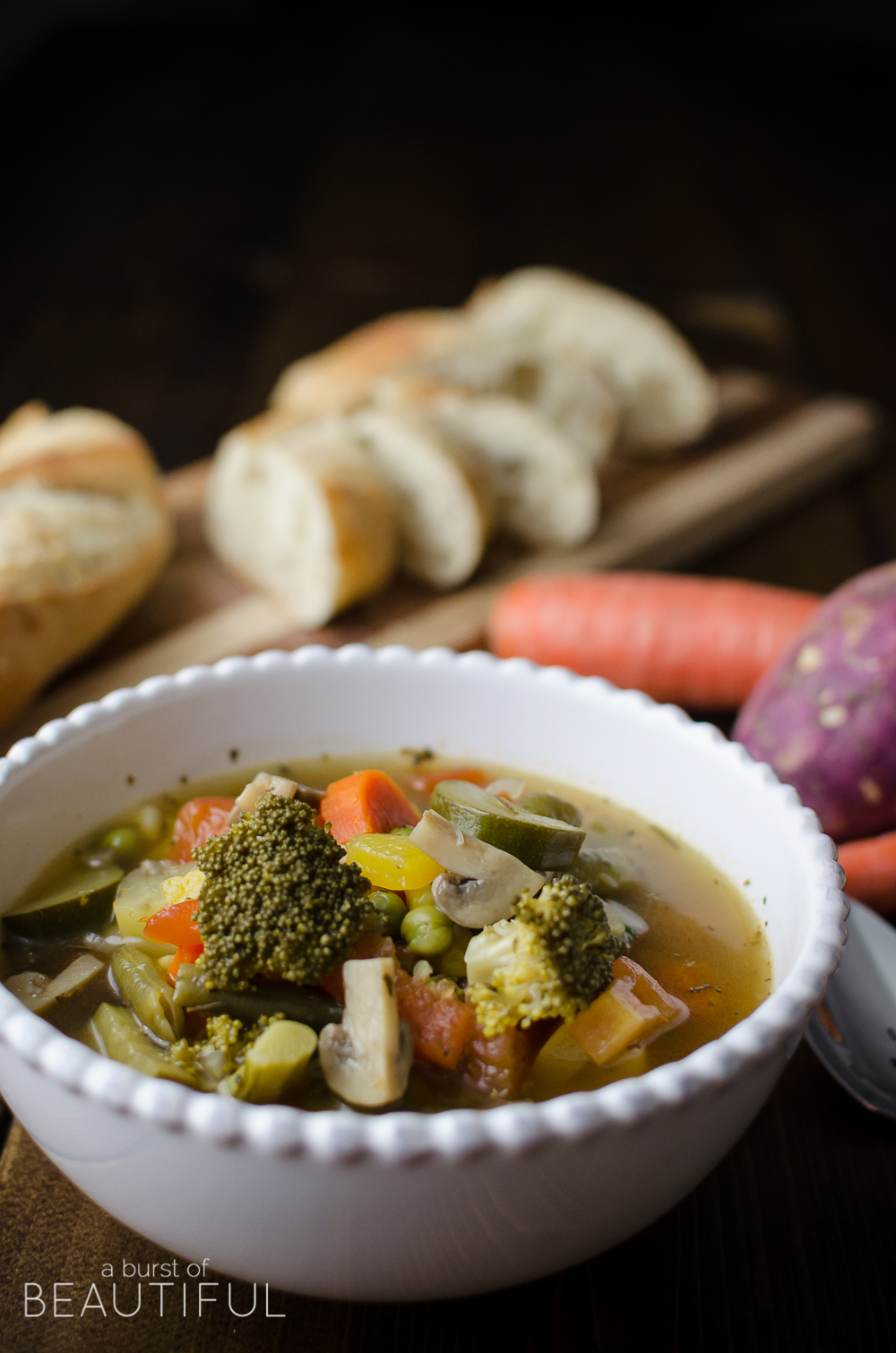 If you give our recipe a try, let us know what you thought of the soup! We'd love to hear from you! And you can always check out more of our recipes here.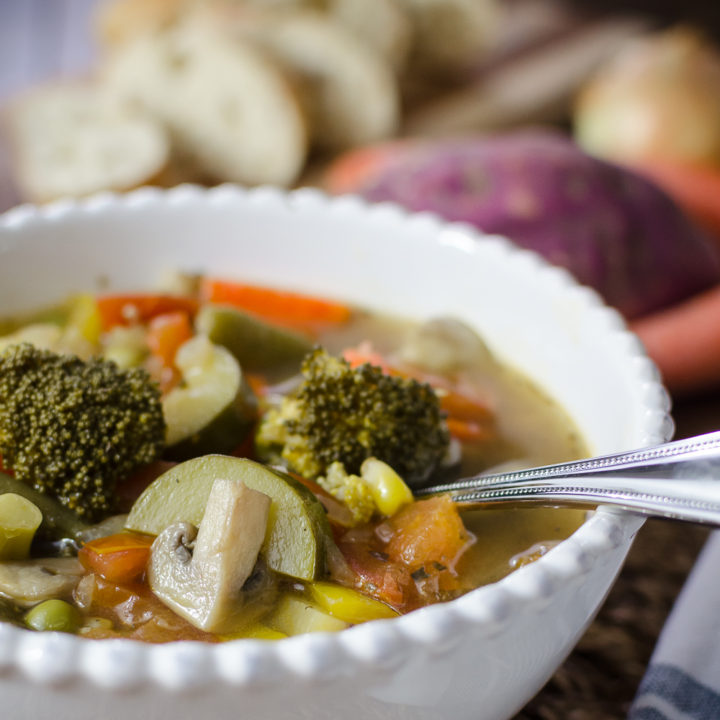 Hearty & Healthy Vegetable Soup
Ingredients
2 tbsp extra virgin olive oil
1 medium onion, diced
2 cloves garlic, minced
1 tsp dried oregano
1/2 tsp dried thyme
1/2 tsp dried marjoram
1/2 tsp dried rosemary
1/2 tsp dried basil
1/2 tsp dried sage
Salt & pepper to taste
2 carrots, chopped
2 cups of broccoli florets (fresh or frozen)
1 yellow pepper, diced
1 zucchini, chopped
1 1/2 cups white mushrooms, quartered
4 Roma tomatoes, diced
8 cups vegetable or mushroom stock
2 purple sweet potatoes, peeled & cubed (or regular sweet potatoes)
1/2 cup green beans (fresh or frozen)
1/2 cup green peas (fresh or frozen)
1/2 cup corn (fresh or frozen)
Pinch of red pepper flakes
Instructions
Add olive oil to large pot. Sauté onion for 5 minutes until translucent.
Add garlic and sauté for 2 more minutes.
Add herbs - oregano, thyme, marjoram, rosemary, basil, sage and salt and pepper and stir until fragrant.
Add in carrots, broccoli, yellow pepper, zucchini, mushrooms and Roma tomatoes and continue to cook for 5 minutes.
Add the vegetable or mushroom stock, potatoes, beans, peas, corn and red pepper flakes. Bring to a boil and then lower to a simmer until vegetables and potatoes are cooked. A good test is to use a sharp knife and if you are able to insert it through the carrots, broccoli stems and potatoes, then your soup is ready!
Nutrition Information:
Yield:

6
Serving Size:

1
Amount Per Serving:
Calories:

246
Total Fat:

7g
Saturated Fat:

1g
Trans Fat:

0g
Unsaturated Fat:

5g
Cholesterol:

1mg
Sodium:

214mg
Carbohydrates:

43g
Fiber:

13g
Sugar:

15g
Protein:

10g