This post contains affiliate links, see our full disclosure policy here.
Thank you for helping support our blog.
I have a love for light, bright and airy spaces, so it shouldn't come as a surprise that I decorate our home in the same manner. Our walls are painted in the lightest shades of gray and accented with creamy white trim, soft white curtains frame each window, even most of our furniture is white, from the dressers to our dining chairs and living room sofa.
White is a classic and timeless choice when it comes to color palettes. It evokes a fresh, crisp feeling and pairs well with most every design style. My favorite part is that it's so easy to decorate around, incorporate elements of natural wood, lots of textures and subtle or bold pops of color to add warmth and interest (you can read more of my tips for decorating with neutrals here).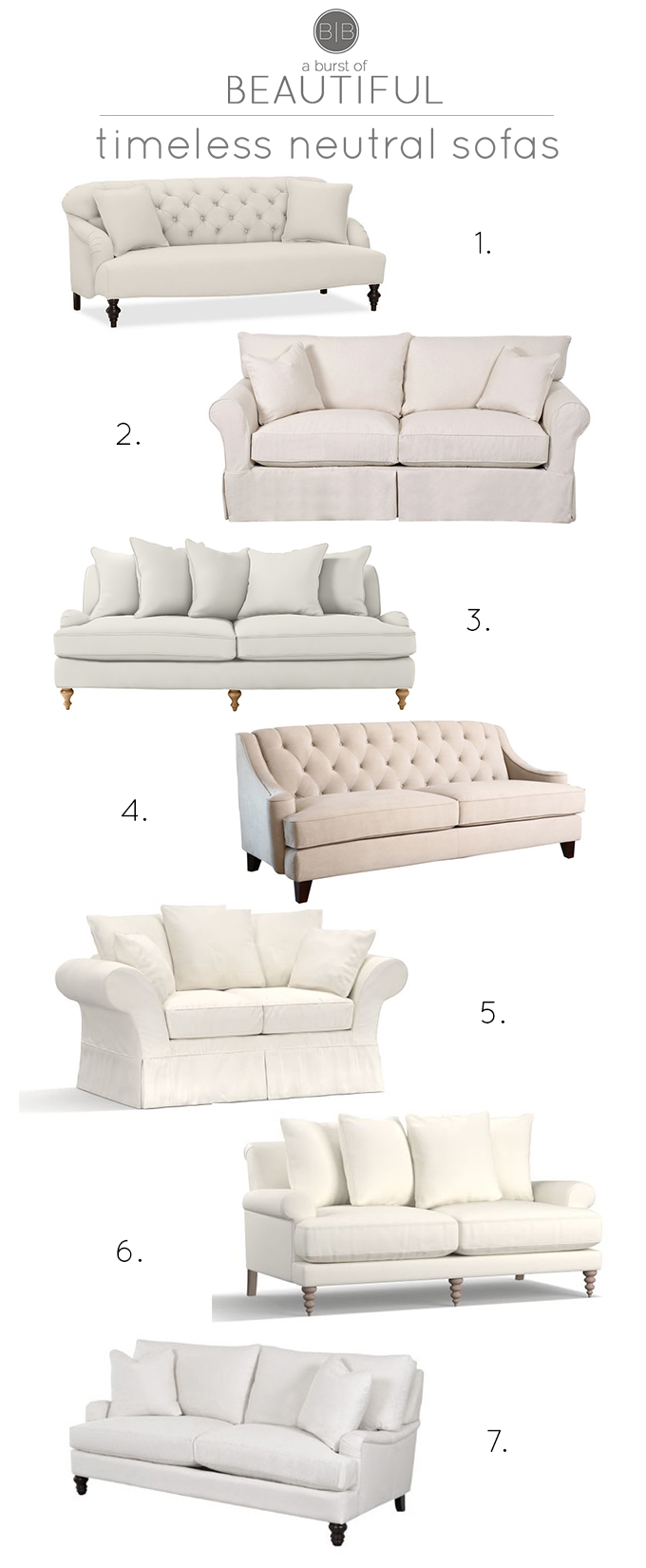 That's why, last year, when it was time to choose a new sofa and armchair for our living room (see the full makeover here), I didn't hesitate or waver…I knew a timeless neutral sofa was the right choice for us.
When making a big-item purchase, like a sofa, you want to be sure you are choosing a piece of furniture that will carry you through many years, both in style and comfort. We always stick to classic pieces when making those long-term purchases, and leave trendier pieces for the small-ticket items that can easily be swapped out, like pillows and accessories.
There are so many beautiful styles of neutral sofas available today, it can be hard to narrow down what's right for your home. Even though I didn't hesitate choosing a white sofa for our home, with a toddler and pets I knew spills and stains were going to be part of the deal (and they have been!), that's why a slipcovered sofa was our best option (you can read all about why we choose a white slipcovered sofa here).
I've rounded up a collection of our favorite timeless neutral sofas. Our sofa is actually #2 on this list, and we love it! I hope you find one you love just as much as we do!
Timeless Neutral Sofas
I hope you enjoyed these beautiful and timeless neutral sofas…did you have a favorite?
Alicia xo