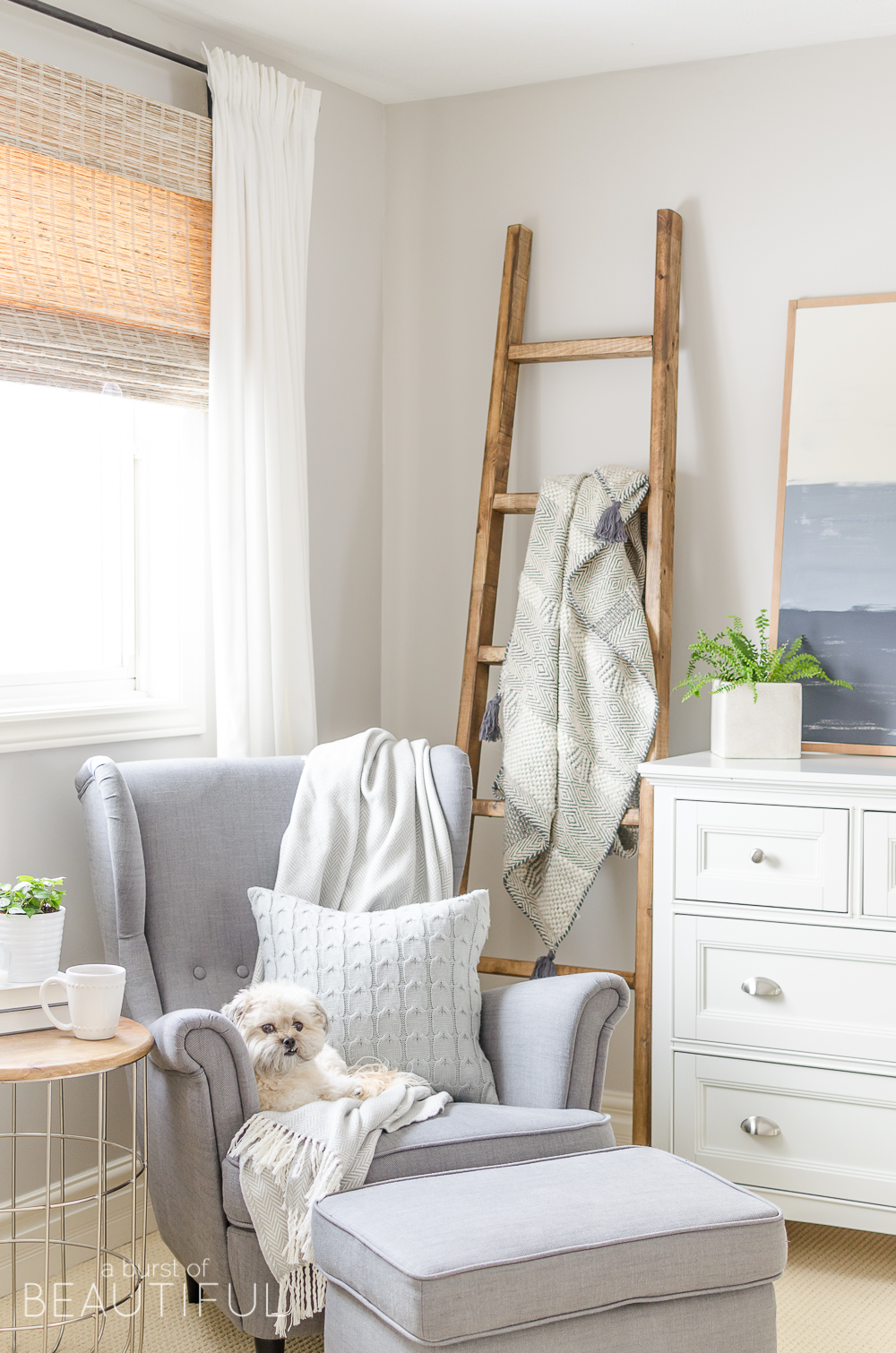 I am so excited to be joining some of my favorite blogging friends today to share our best farmhouse-inspired DIY projects, including our simple DIY angled blanket ladder.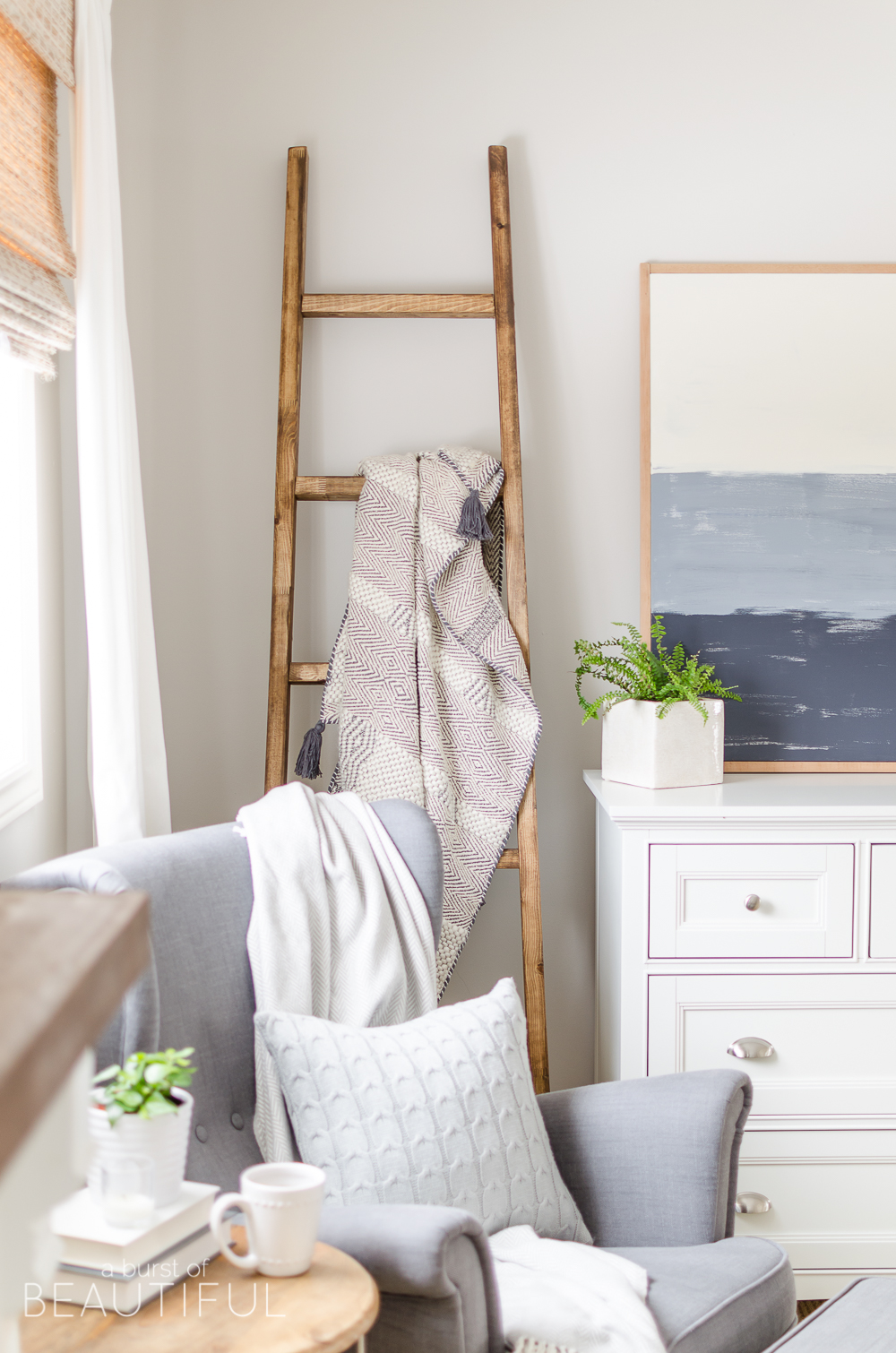 Our home is a relatively new house, but we love incorporating farmhouse elements into each room to create an inviting and beautiful space. I always call our style modern farmhouse, as I think it's a perfect blend of our fresh and young design style with charming details from an old way of life. You can take a closer look at how we've created this mix in our kitchen, dining room, living room and bedroom.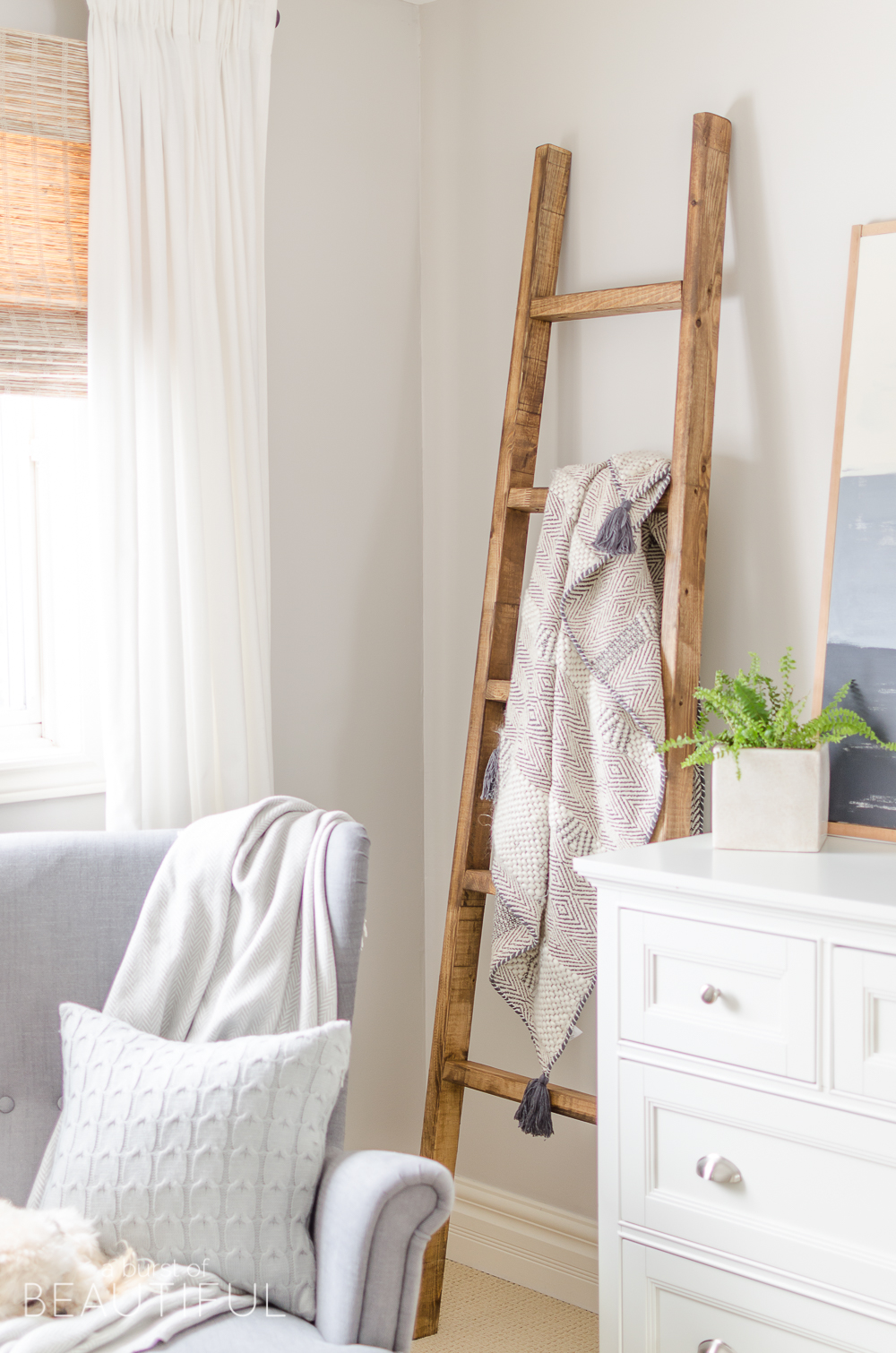 So when the opportunity came up to share a DIY farmhouse-inspired project with you, we had so many ideas to choose from. Ultimately we settled on an easy project anyone can tackle – a simple DIY angled blanket ladder.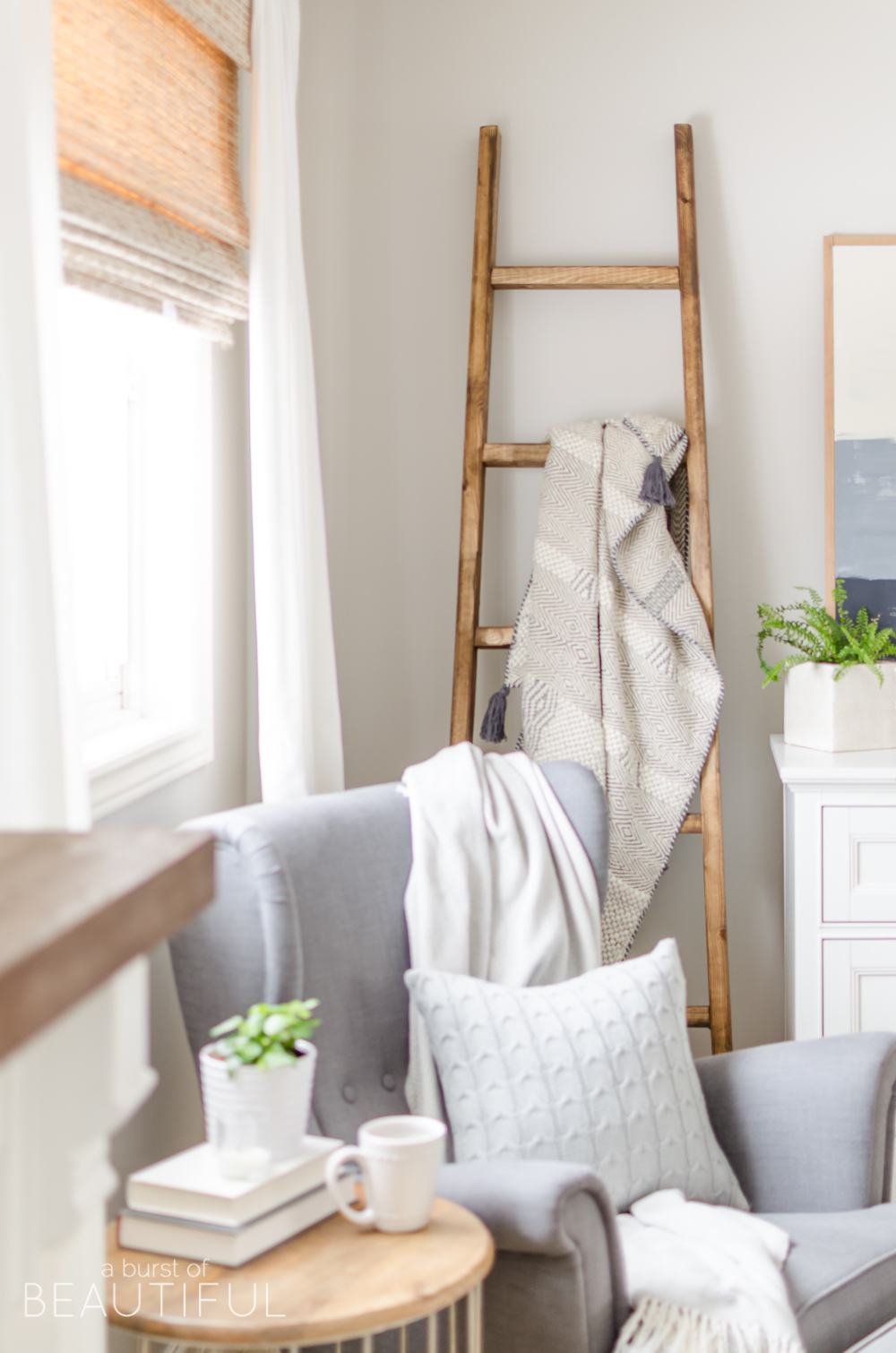 We have a few of these beautiful ladders scattered throughout our home – in our living room, nursery and now our bedroom. They are a great way to add height and texture to a bare wall and look beautiful with a simple blanket draped over a rung. I sometimes even like to hang a wreath from these ladders for a festive touch during the holidays.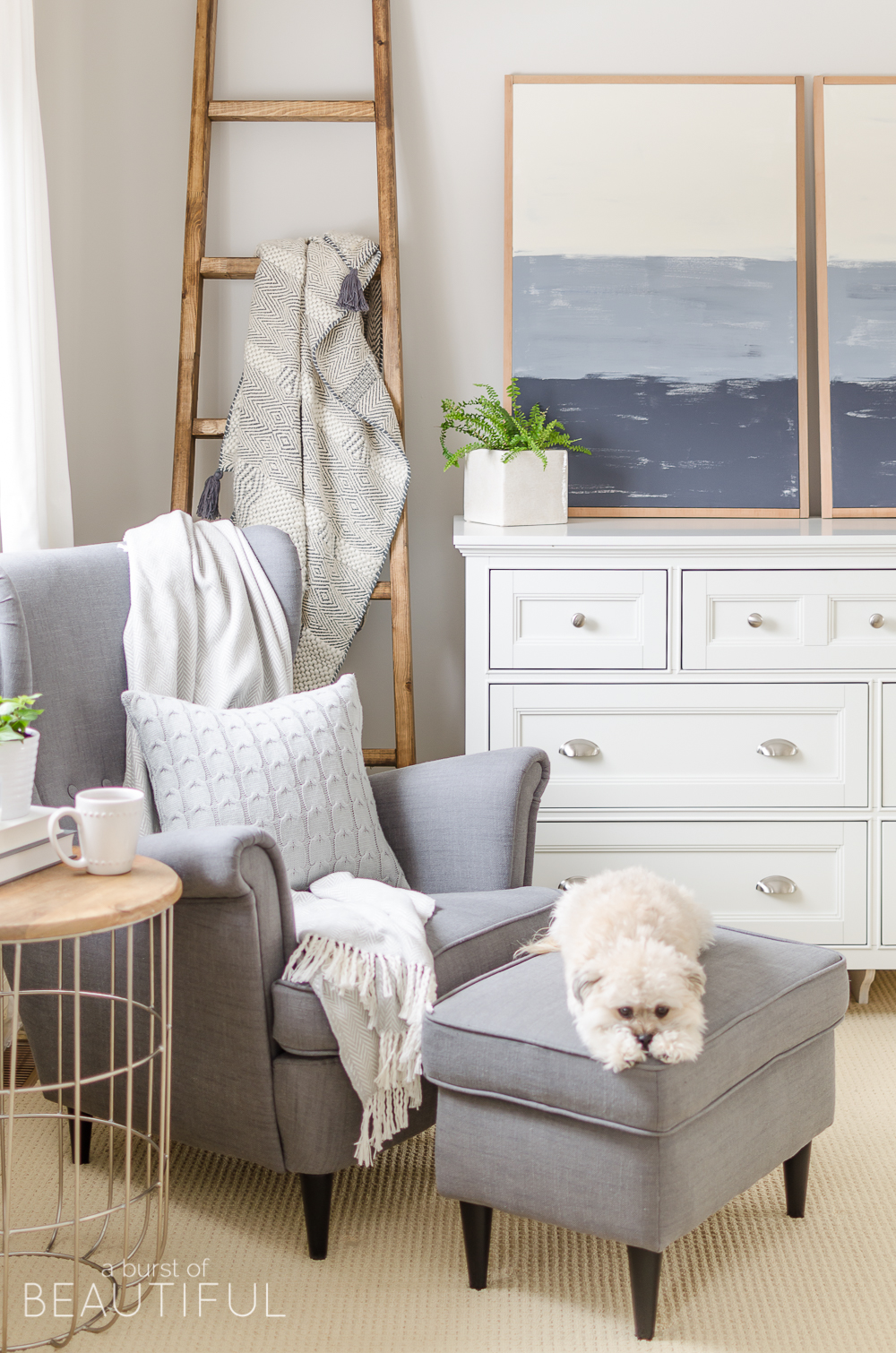 We made this blanket ladder a little bit taller than the other's we already own, as I wanted it to fill in the wall in our bedroom beside our dresser. I love the added height it brings to the space.
Get the Look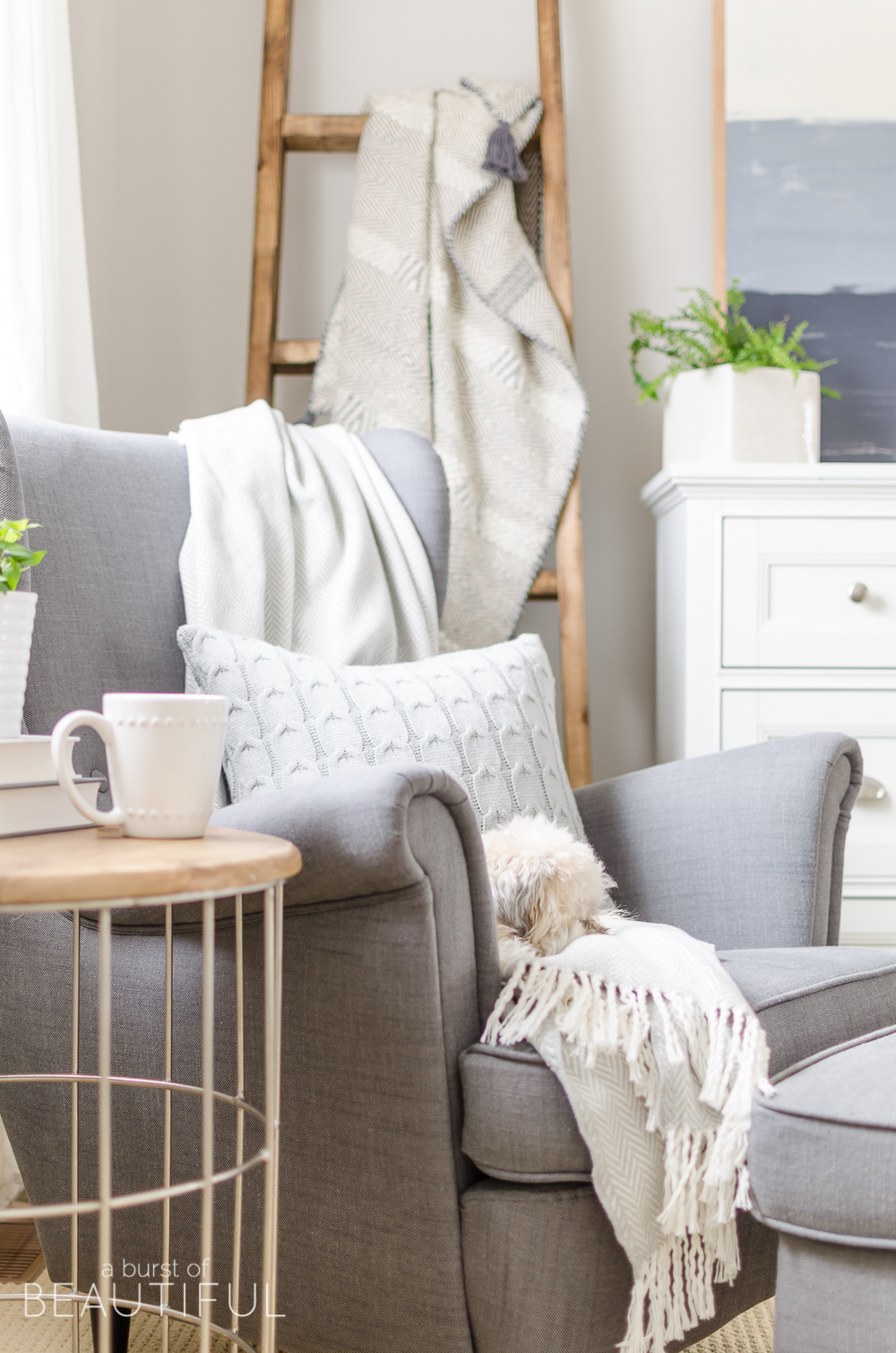 I kept it very simply by casually draping this beautifully textured throw over one of the rungs. As we endure the last few months of cold weather, it's always nice to have extra blankets on hand.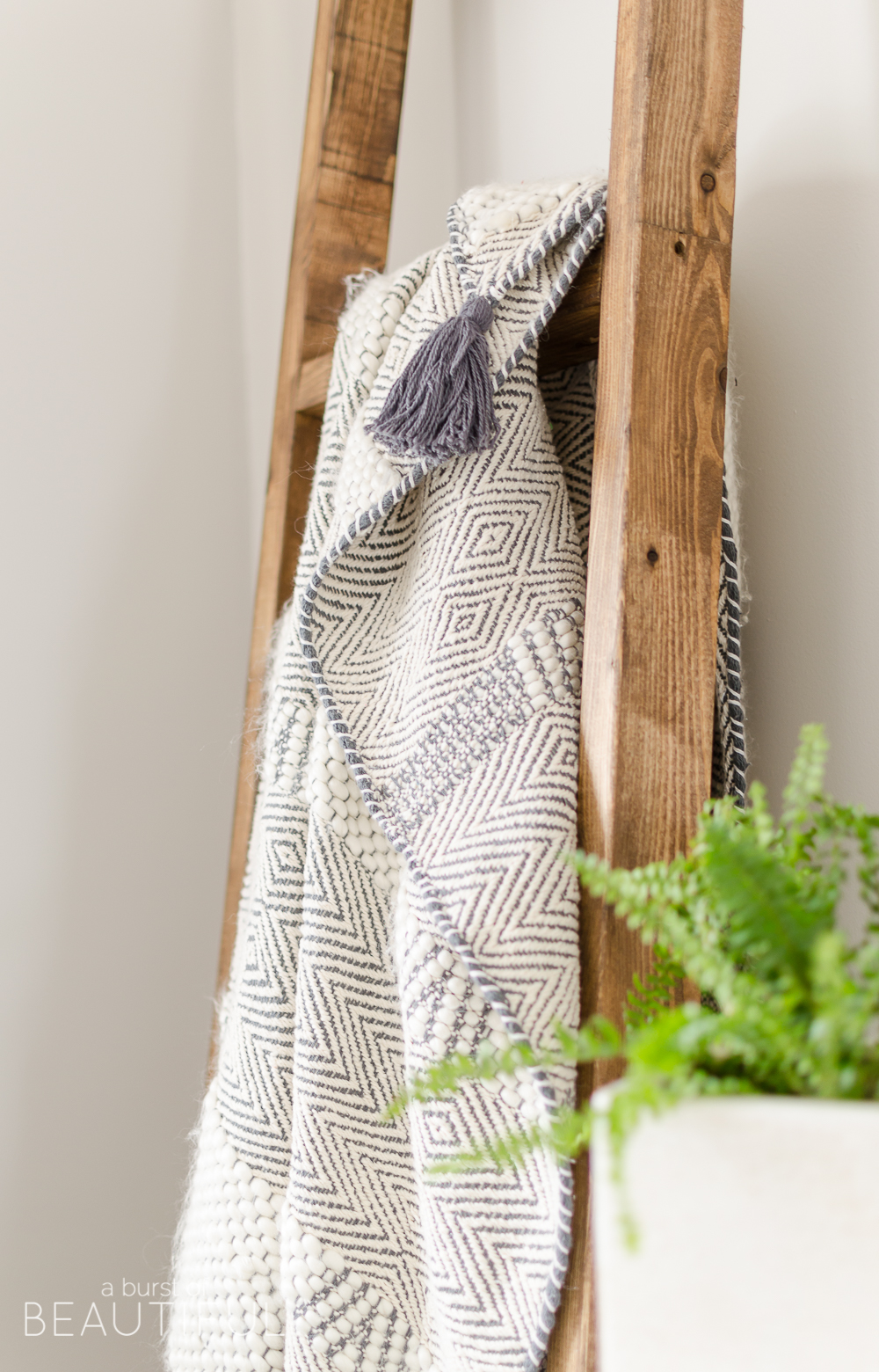 Our little pup couldn't agree more. Isn't she cute?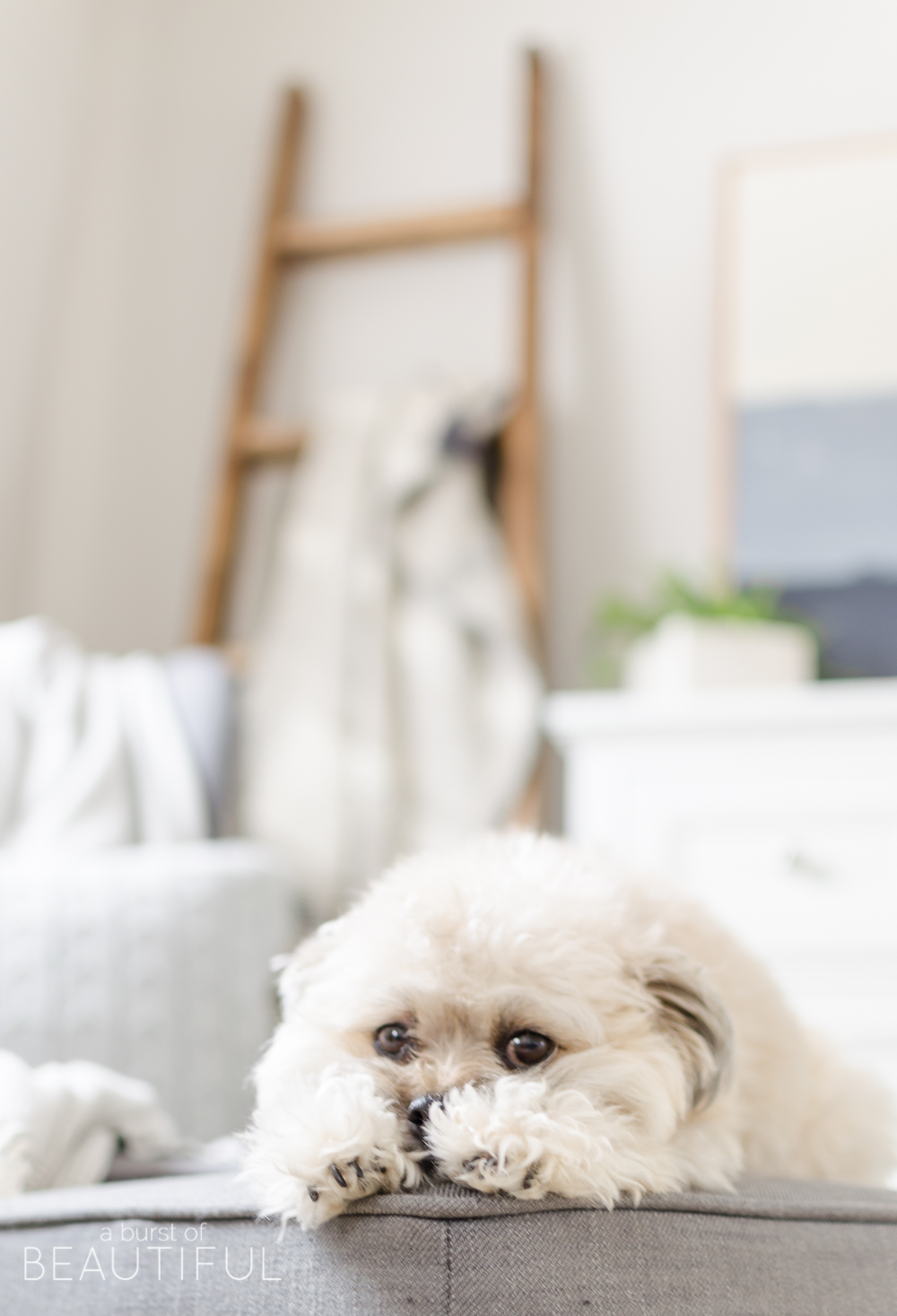 Simple DIY Angled Blanket Ladder Tutorial
Materials
3 – 2″ x 3″ x 8′ framing lumber
20 – 2 1/2″ wood screws
Tools and supplies

Steps
Cut 2 – 2″ x 3″ x 8′ framing lumber pieces down to 7′ (84″) for the sides.
Lay them down on a flat surface with the 2″ side against the floor.
Cut the third 2″ x 3″ x 8′ framing lumber to 18″, 17″, 16″, 15″ and 14″ step pieces, with 4 degree angles on each end.
Place the 18″ step piece approximately 18″ from the bottom of the sides. Do not attach yet.
Then lay out each subsequent piece approximately 12″ apart going up the ladder.
You may have to make some adjustments up and down for each of the steps to get them to fit snugly and square.
Attach the steps using 2 – 2 1/2″ wood screws by drilling them from the outside of the side piece directly into the step.
Sand, stain (we chose Minwax Provincial) and hang your blankets (once it's dry of course!).
*This ladder is for decorative purposes only.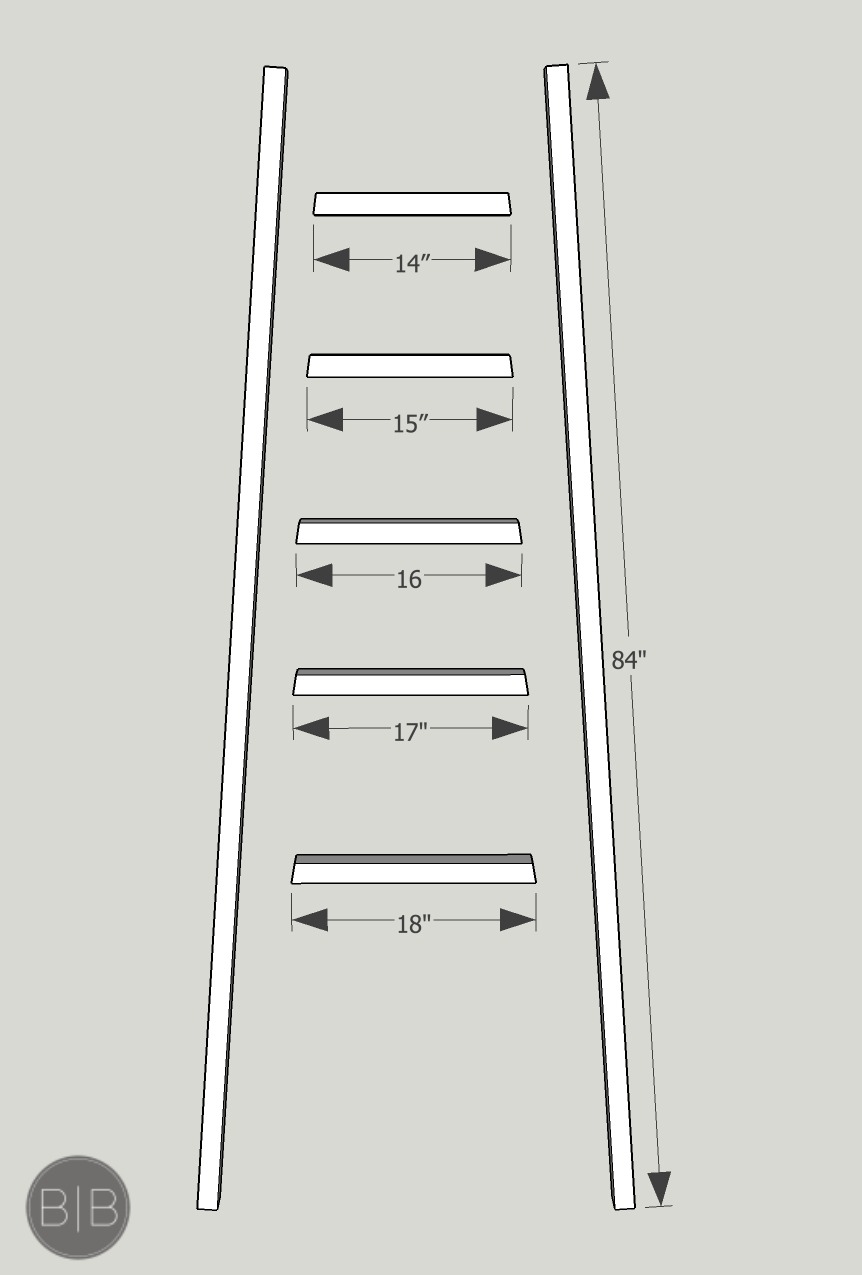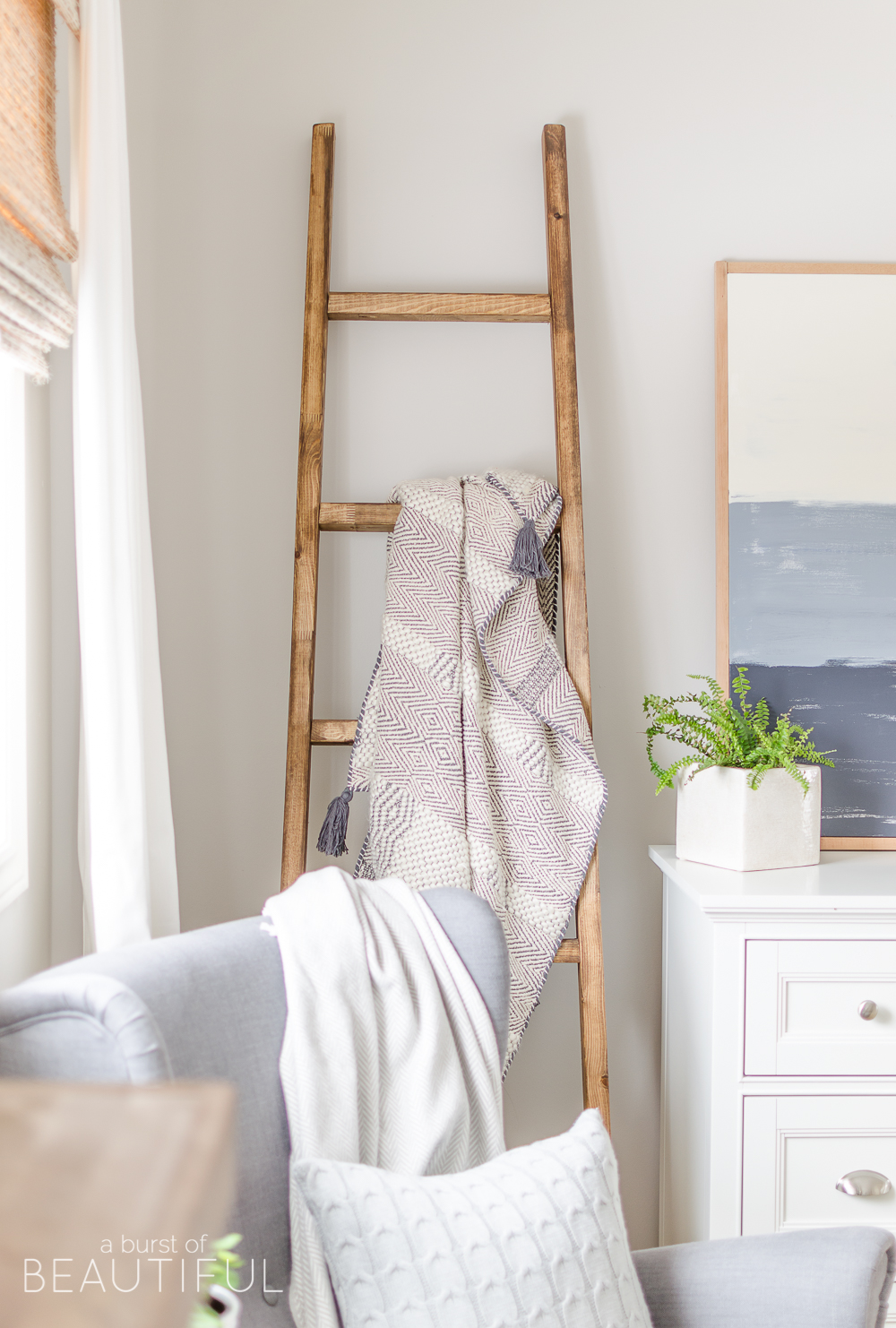 It's a very simple project, but it adds a lot of character and really helps to cozy up any room in your home. Blanket ladders are even great in bathrooms used to display beautiful hand towels. Do you like to use blanket ladders, or how do you store your extra throws?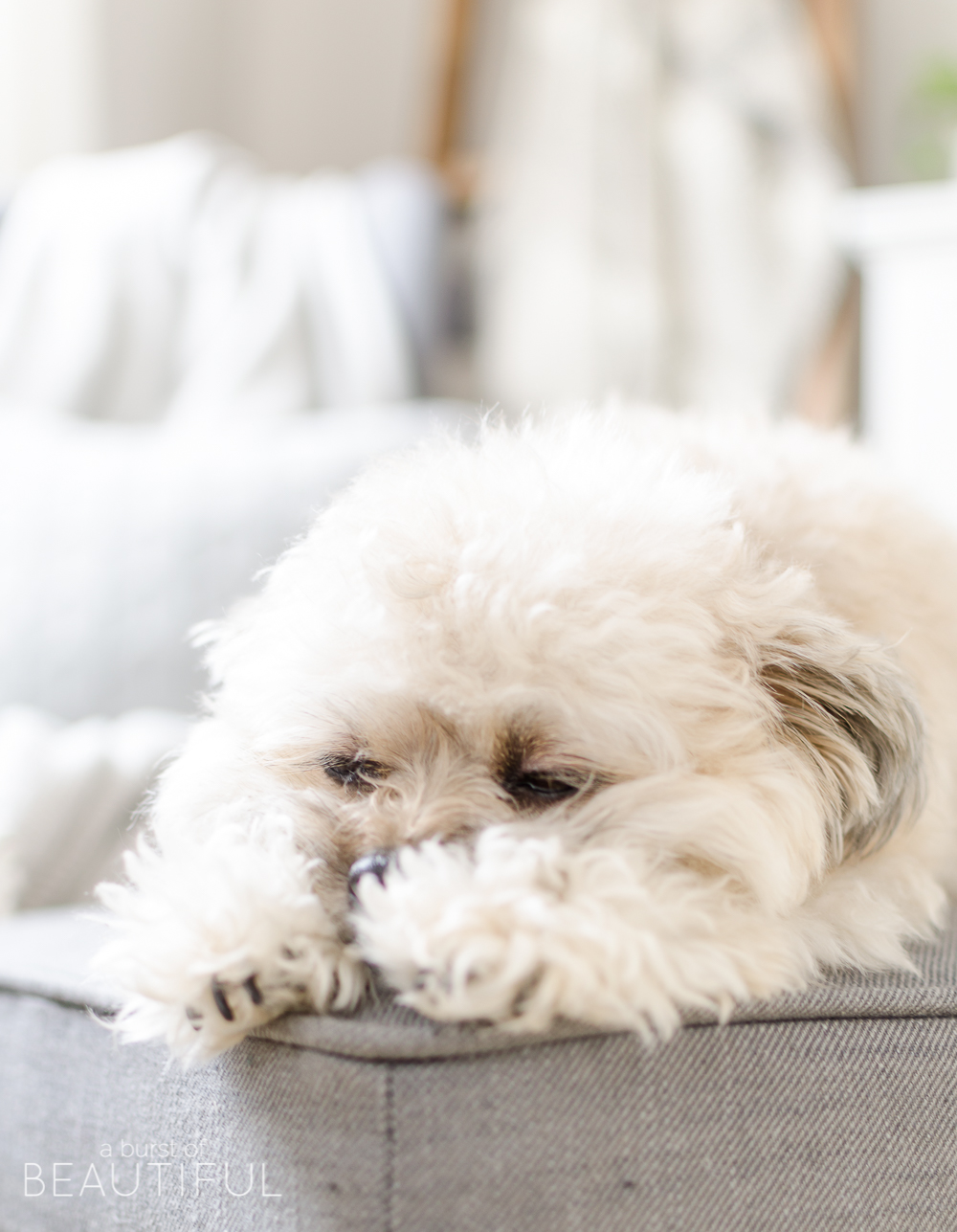 Please make sure you take a minute to check out the rest of these beautiful and inspiring farmhouse DIY projects…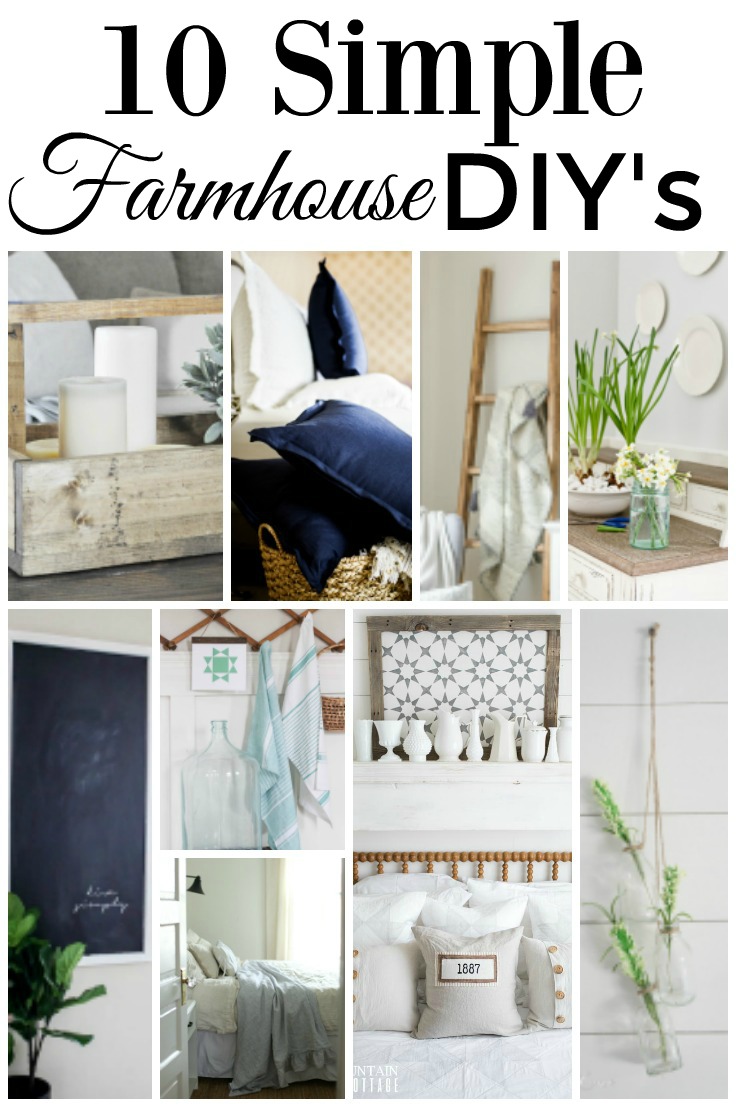 Farmhouse Style Mantel Shelf from The Mountain View Cottage
Simple DIY Angled Blanket Ladder Tutorial from A Burst of Beautiful
Printable Barn Quilt Wall Banner from Delightfully Noted
How to Force Bulbs Indoors from Tidbits
DIY Linen Pillow Covers from Boxwood Avenue
Easy DIY Chalkboard from A House and a Dog
Farmhouse Hanging Glass Bottles from Seeking Lavender Lane
DIY Rustic Wooden Tote from Little Glass Jar
Simple Farmhouse Decor from The Homemaking Momma

DIY Linen and Flannel Throw Blanket from Farmhouse on Boone
Alicia xo