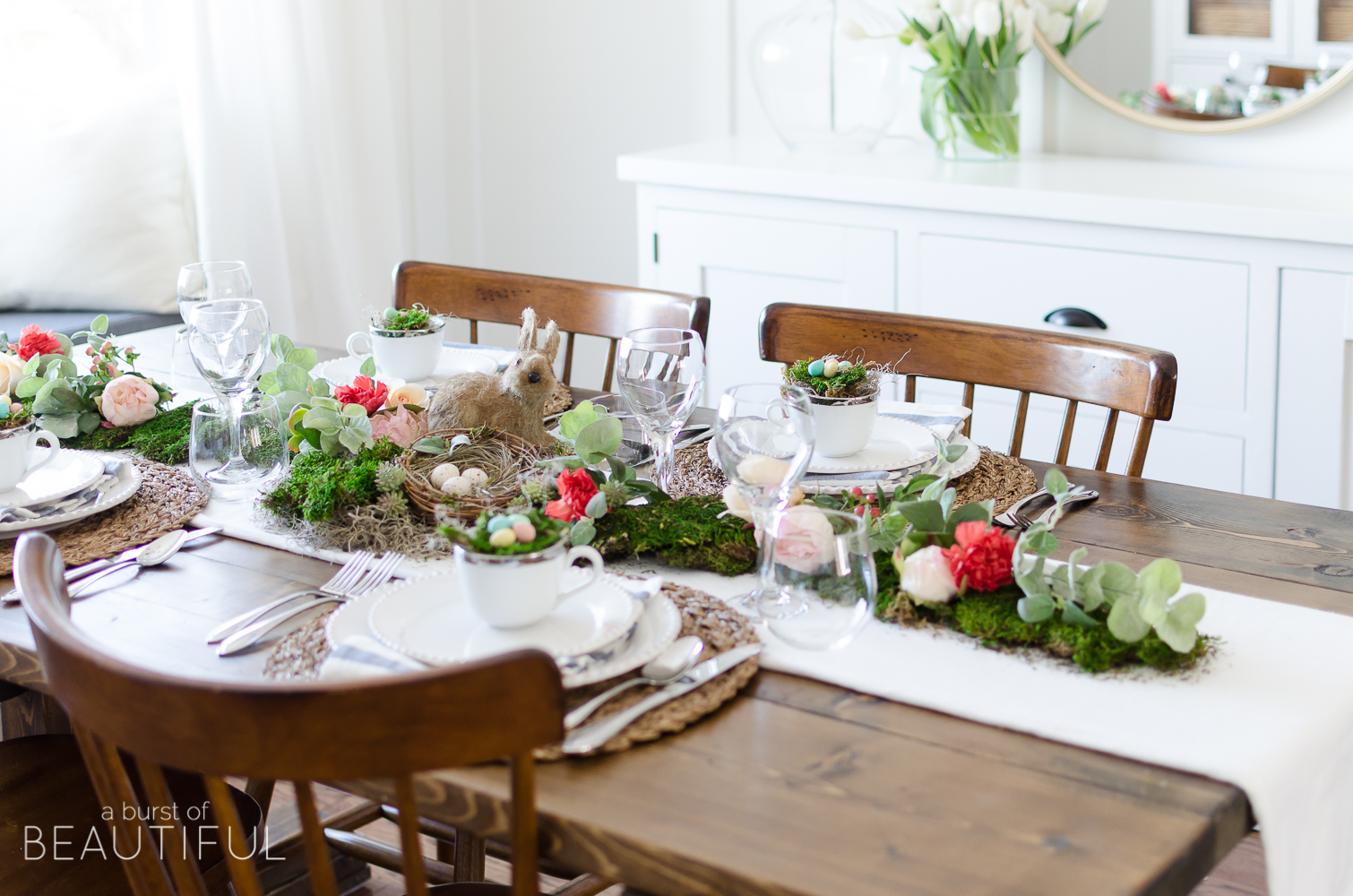 I always enjoy creating tablescapes for each season and holiday that passes, and this sweet floral and moss Easter tablescape is one of my favorites.
It all started with a vision I had of creating little mini forest scenes collected under glass cloches and layered along the center of our dining table. But as usual, my original thoughts often twist and turn into new ideas and I try to follow my creative instincts without getting too caught up in what I had originally planned.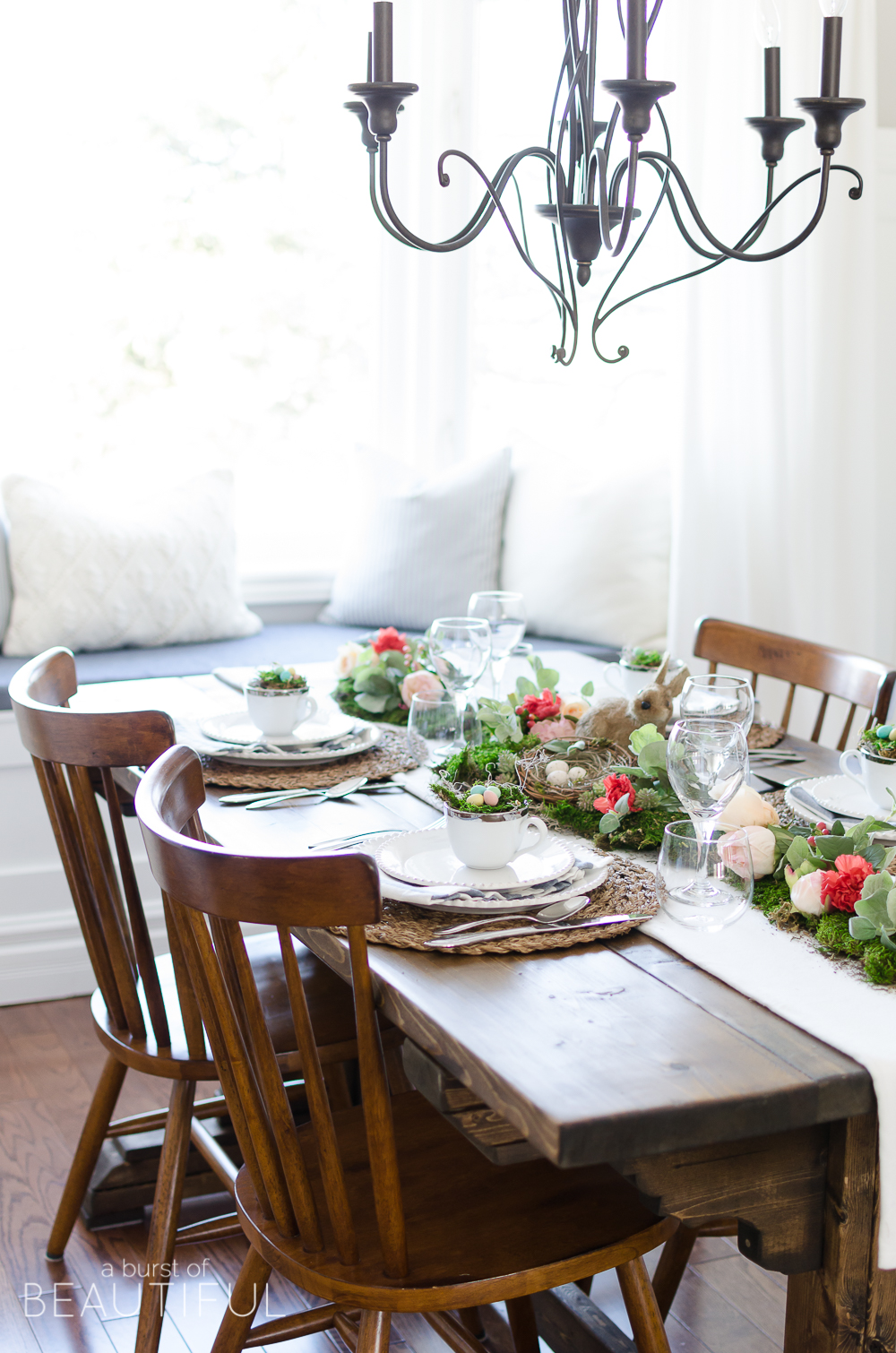 Our pretty Easter table reminds me of a little path deep within a forest, surrounded by flowers in bloom and sweet creatures exploring in springtime.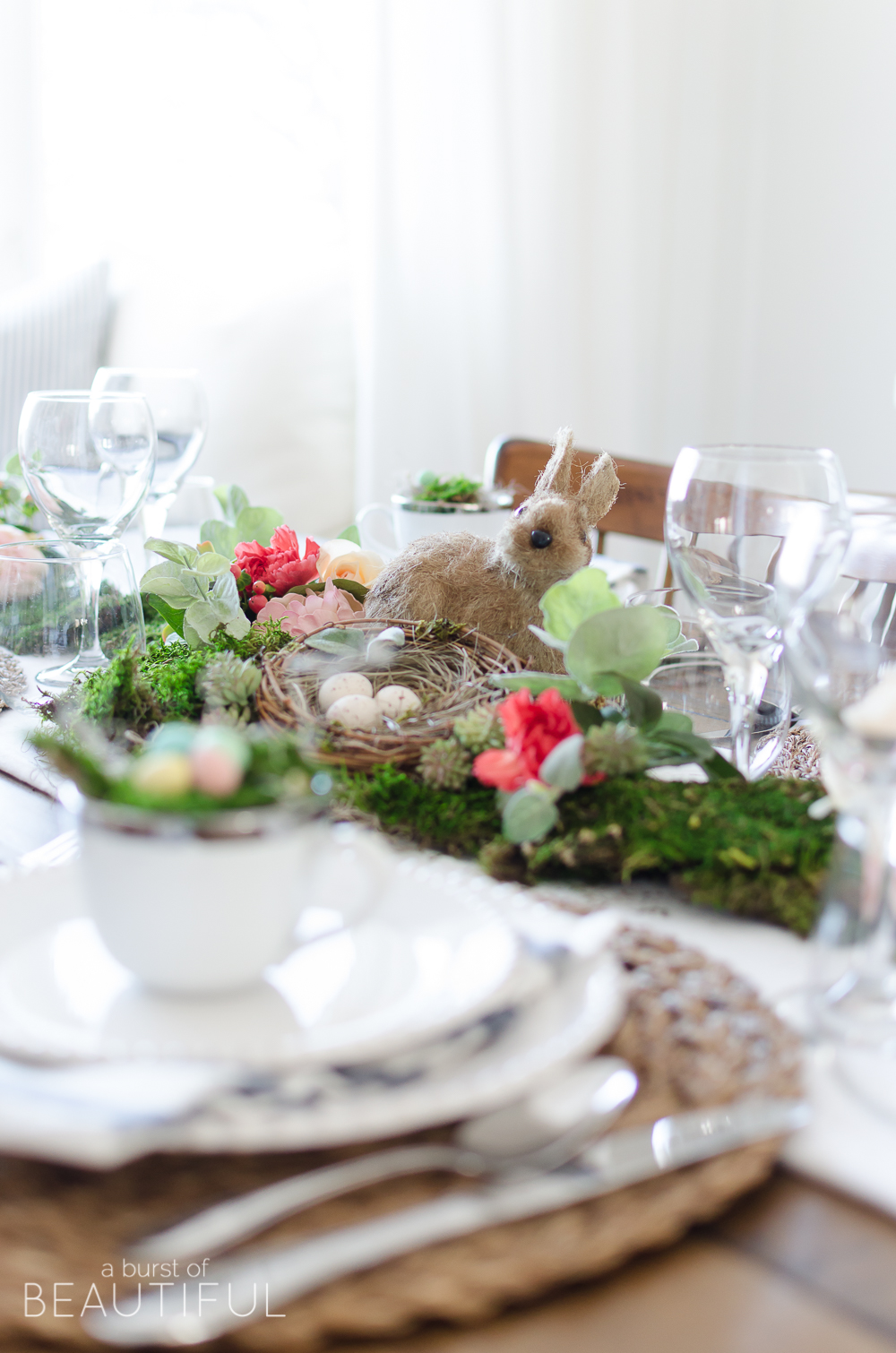 A simple white table runner is the foundation for this tablescape. I usually start all of my tables with a runner as it helps to define a visual for the design to unfold.
Next, I laid a path of moss down the center of the table, using a variety of different mosses to add color and texture. Reindeer moss is bright and vibrant, while Spanish and natural reindeer moss are more neutral but provide a wonderfully textured appearance…it's curly and springy and just a lot of fun.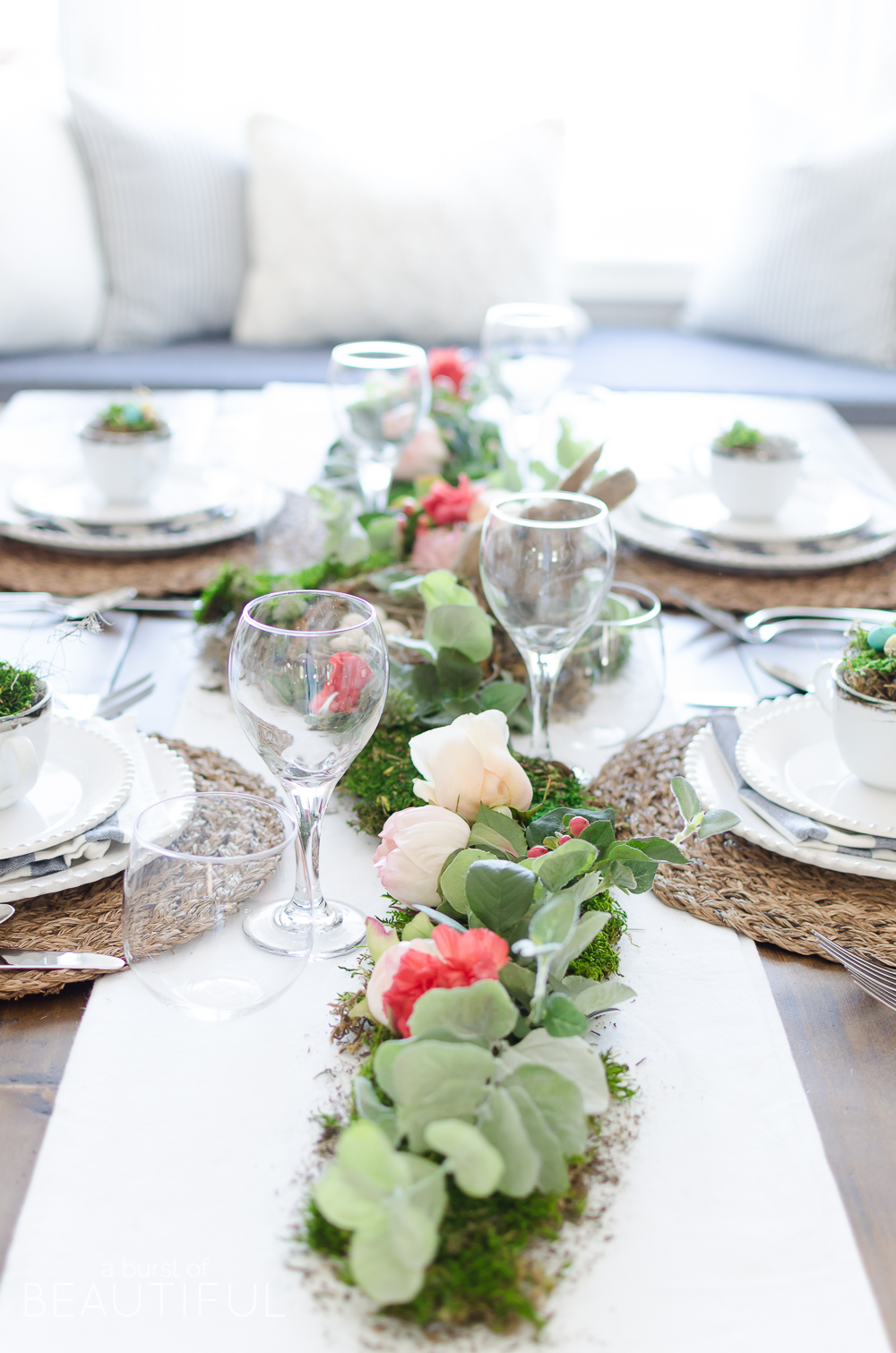 Keep in mind, this is a bit of a messy project, you'll be finding little bits of moss and dirt for weeks after you clean up. 🙂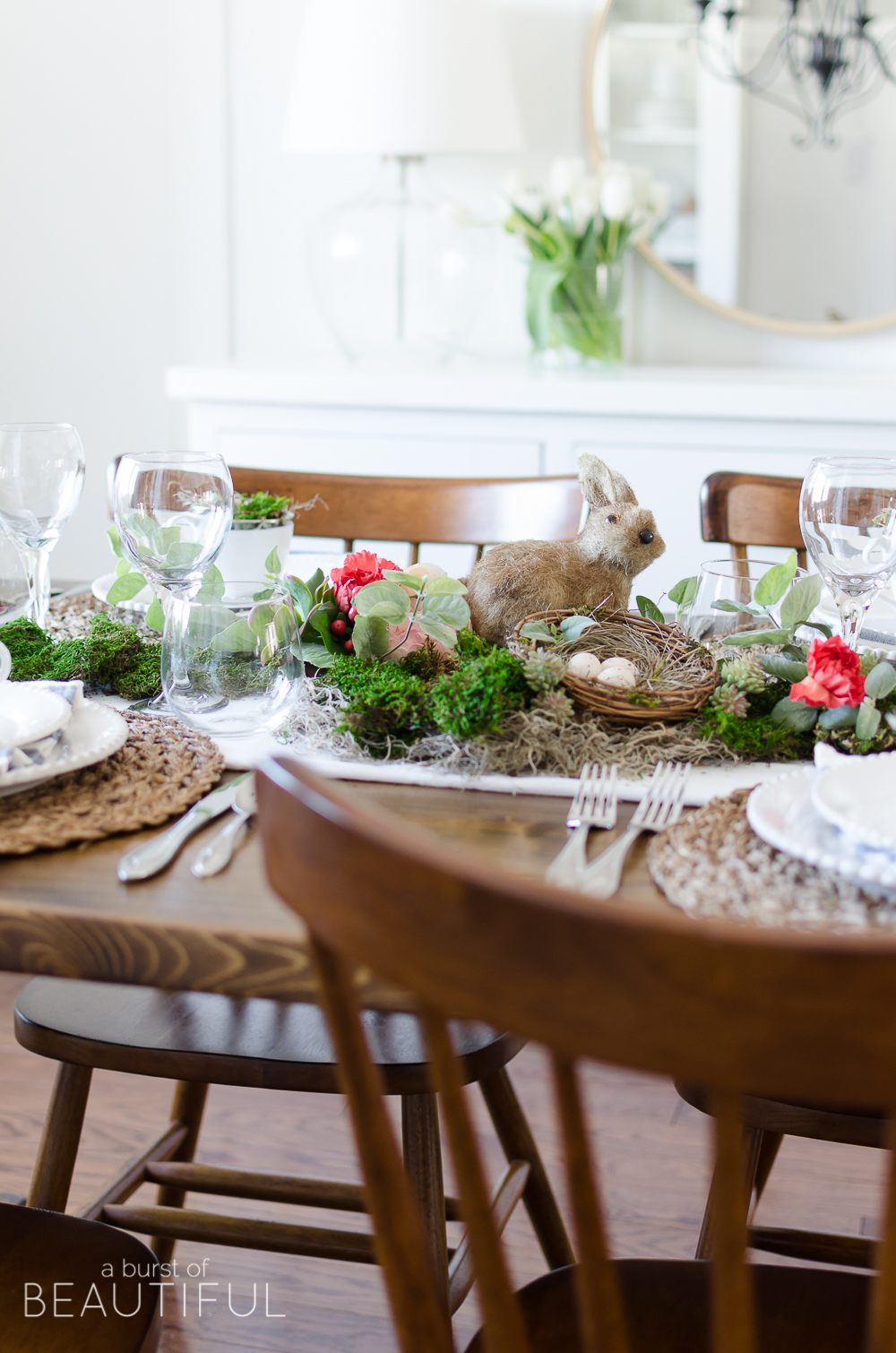 Once I had the moss path down the center of our table, I perched this sweet little bunny and bird's nest in the middle. You can find these at any craft or home decor store during the Easter season – there are so many adorable choices to choose from.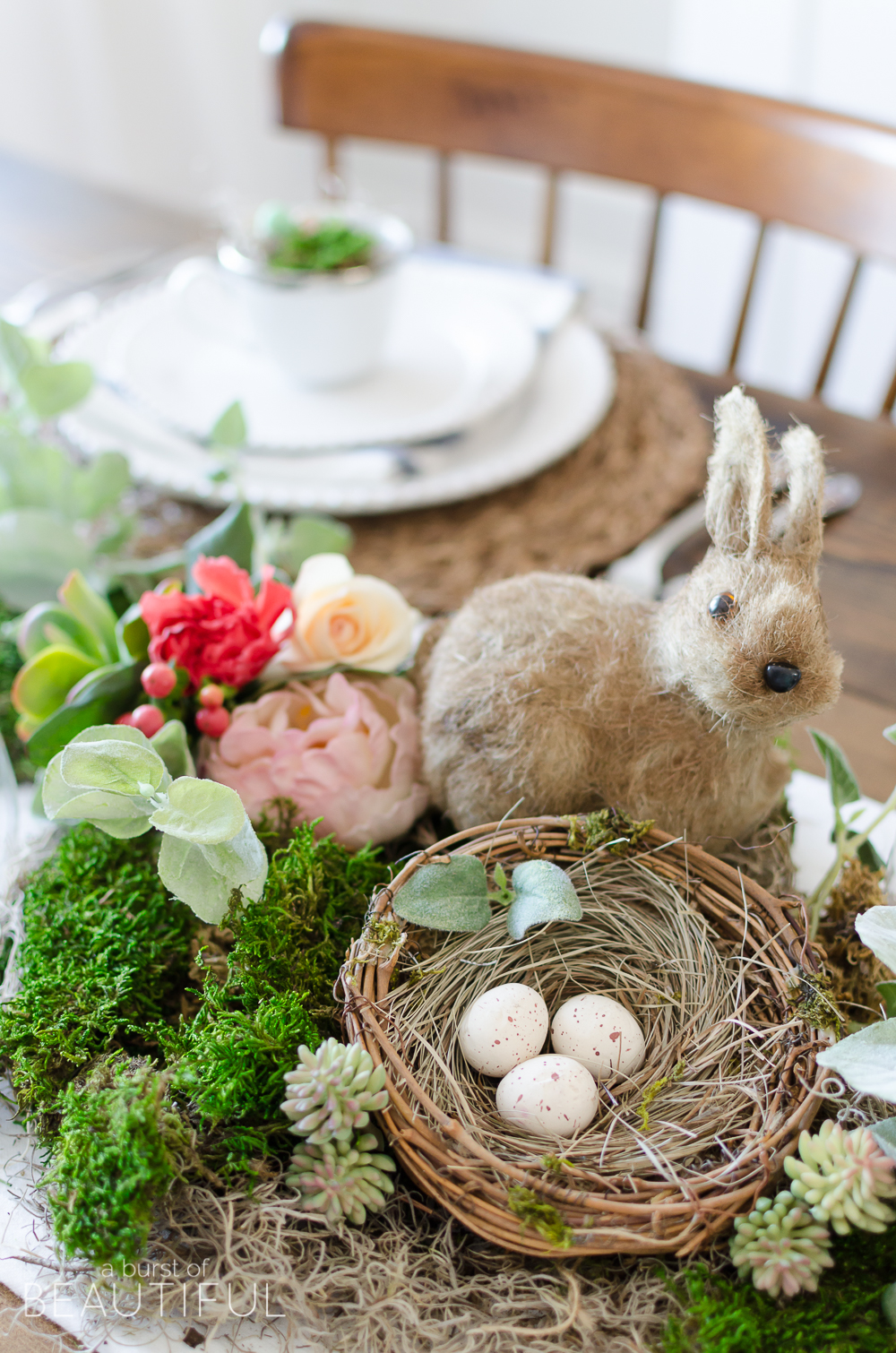 Now comes the fun part – adding your florals. I used a mix of faux and real flowers and greenery to create the look of springtime.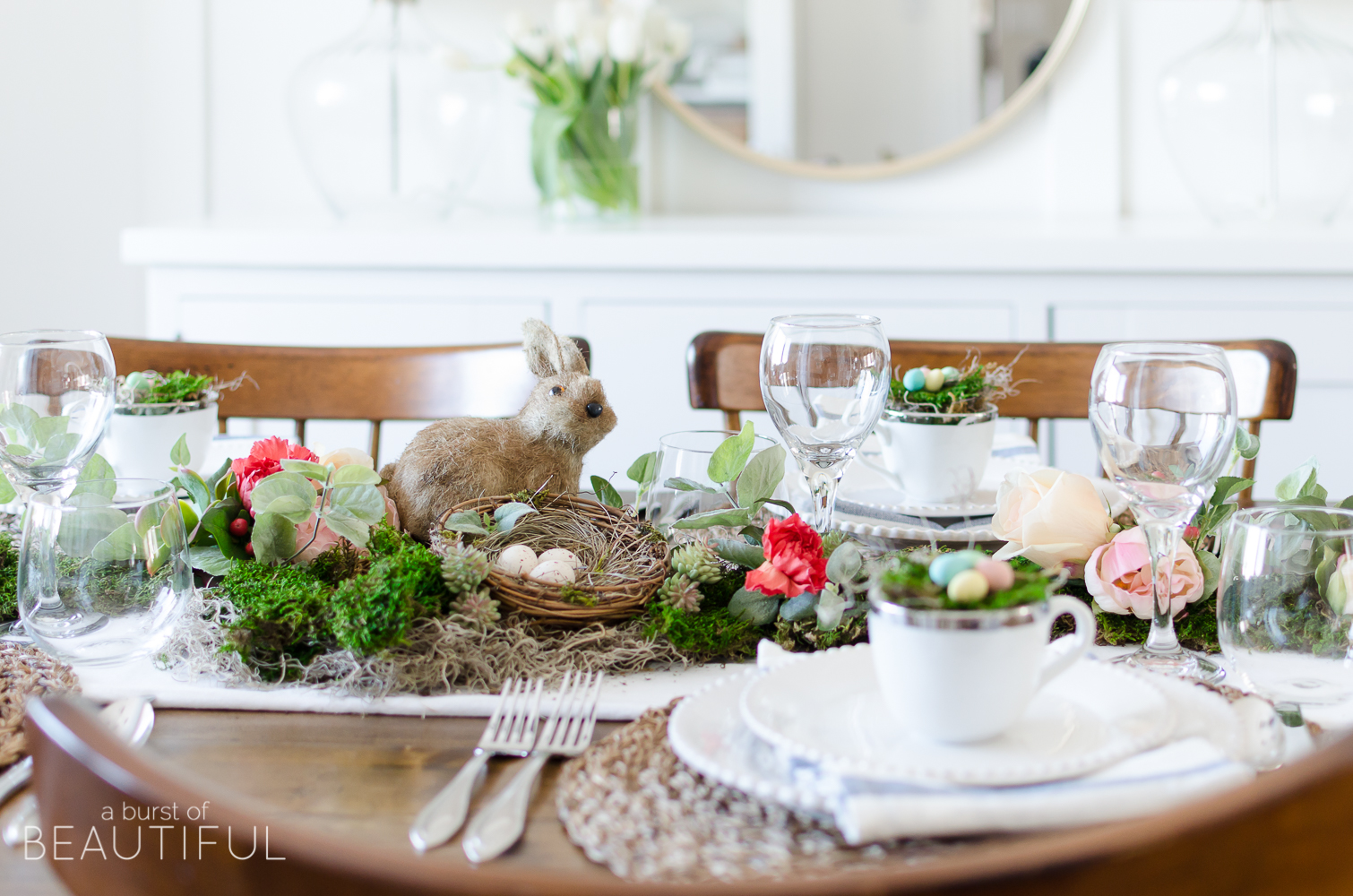 I picked up a few branches of faux eucalyptus and blush peonies at our local craft store. I remember there was a time I wouldn't have dreamed of purchasing faux flowers, but they have come such a long way. I sometimes even have a hard time telling the faux from the real.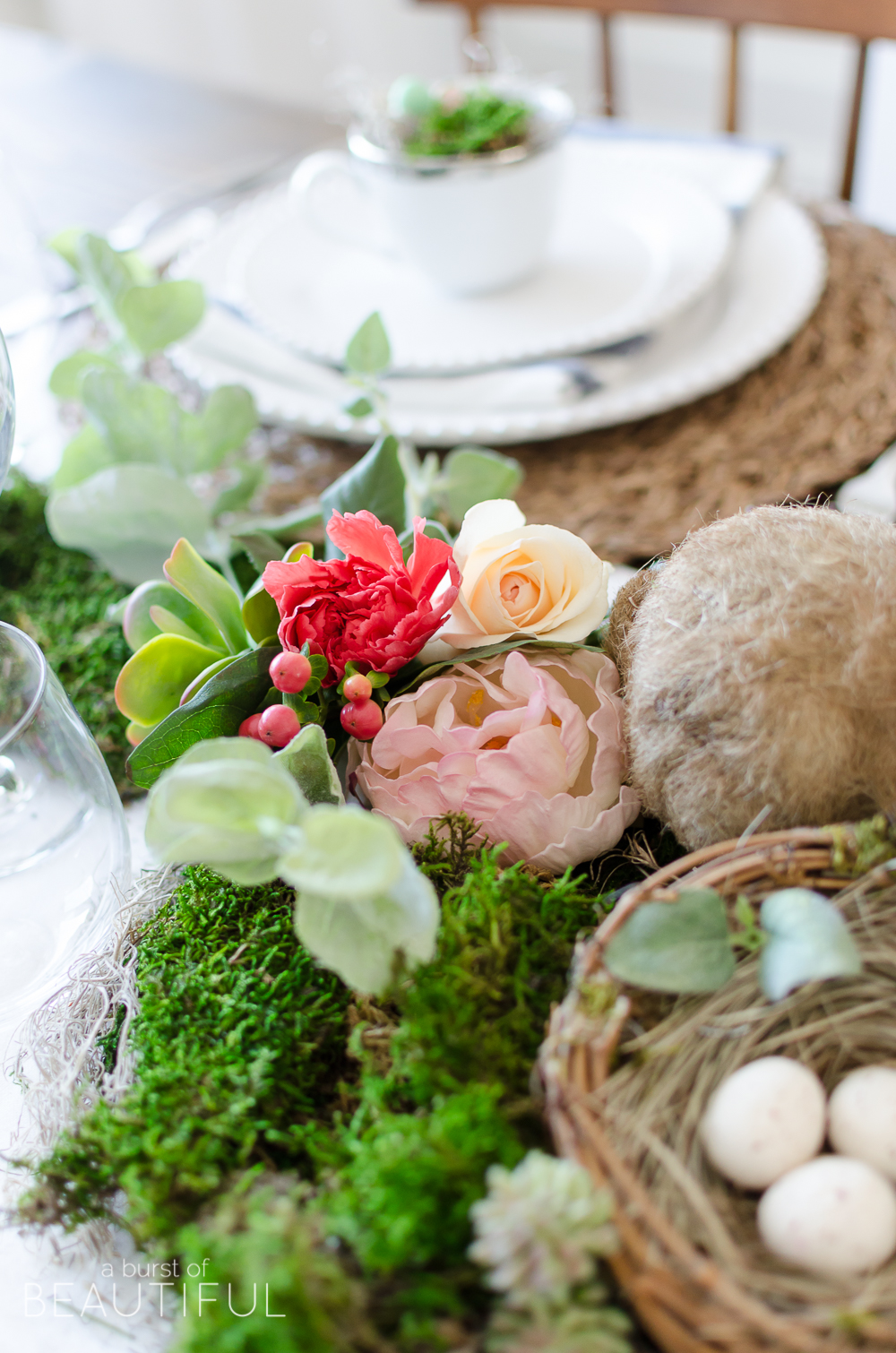 And although faux flowers have their benefits (lasting year after year), nothing beats a bouquet of fresh florals. I always check out the grocery store, which is great for the basics, like tulips, gerberas and carnations. But my favorite thing to do is pop into our local floral shops to find unique and interesting choices, like these pretty little berry stems.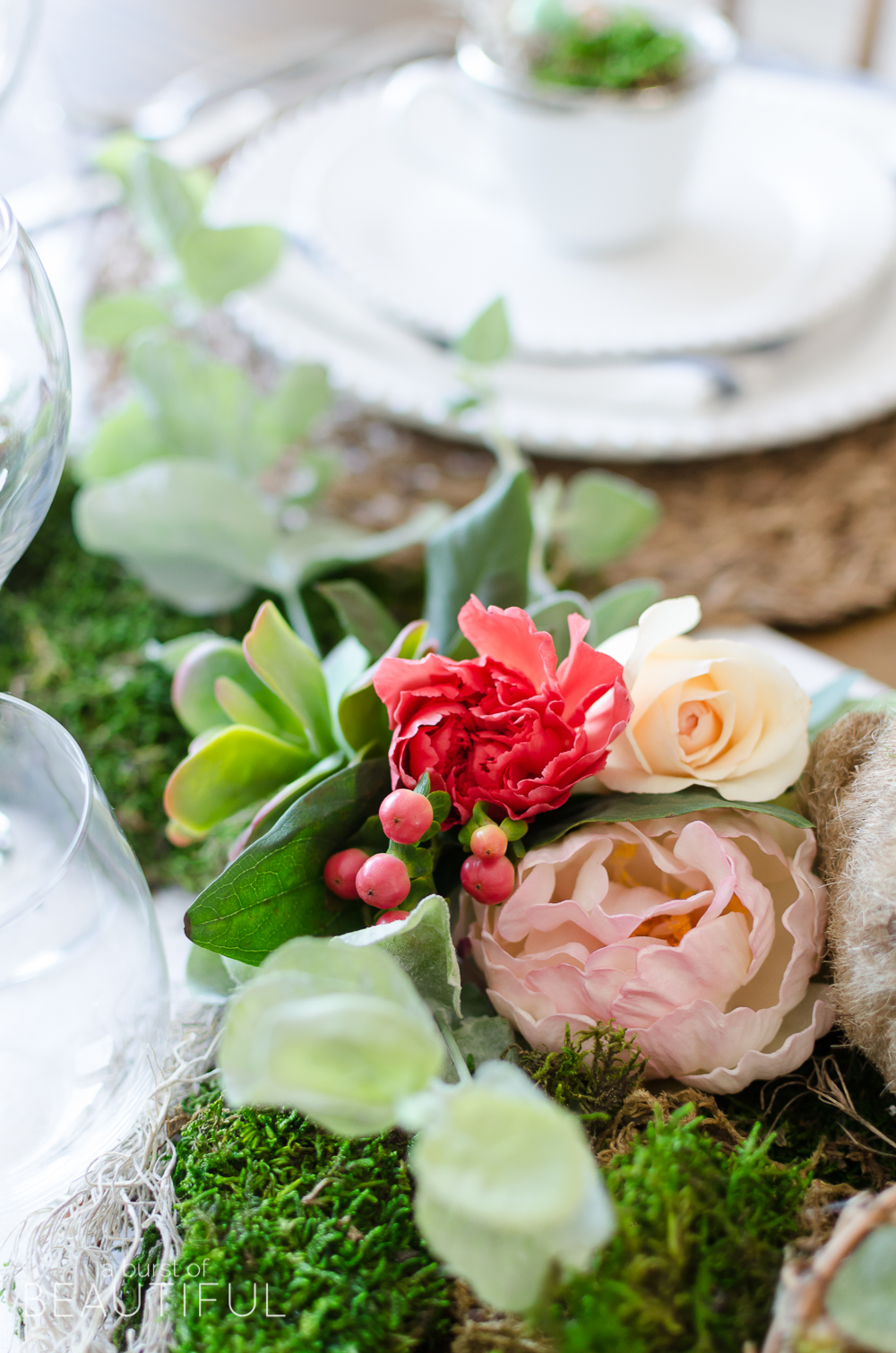 I chose a combination of blush roses, pink peonies and coral carnations for our table and just love how bright and cheerful it feels. There's nothing like a little pop of color to really liven up a space, especially for spring.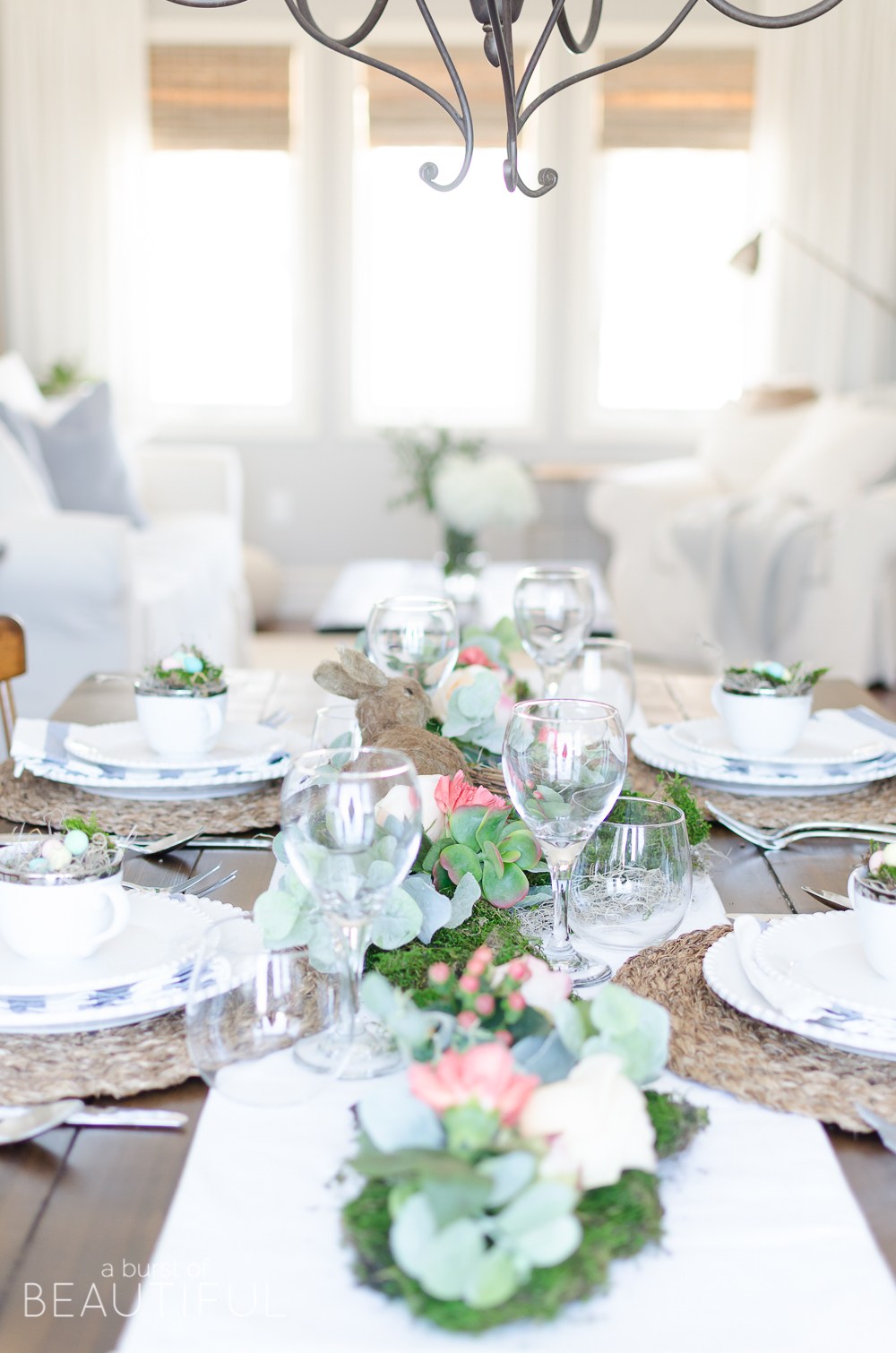 I simply cut the stems of the flowers so that they would easily stick in the moss, but you could also use floral foam soaked in water and hidden beneath the moss to hold your flowers in place and keep them perky. I created four different groups of blooms along our dining table and accented each grouping with sprigs of greenery and faux succulents and eucalyptus to add a little bit of height.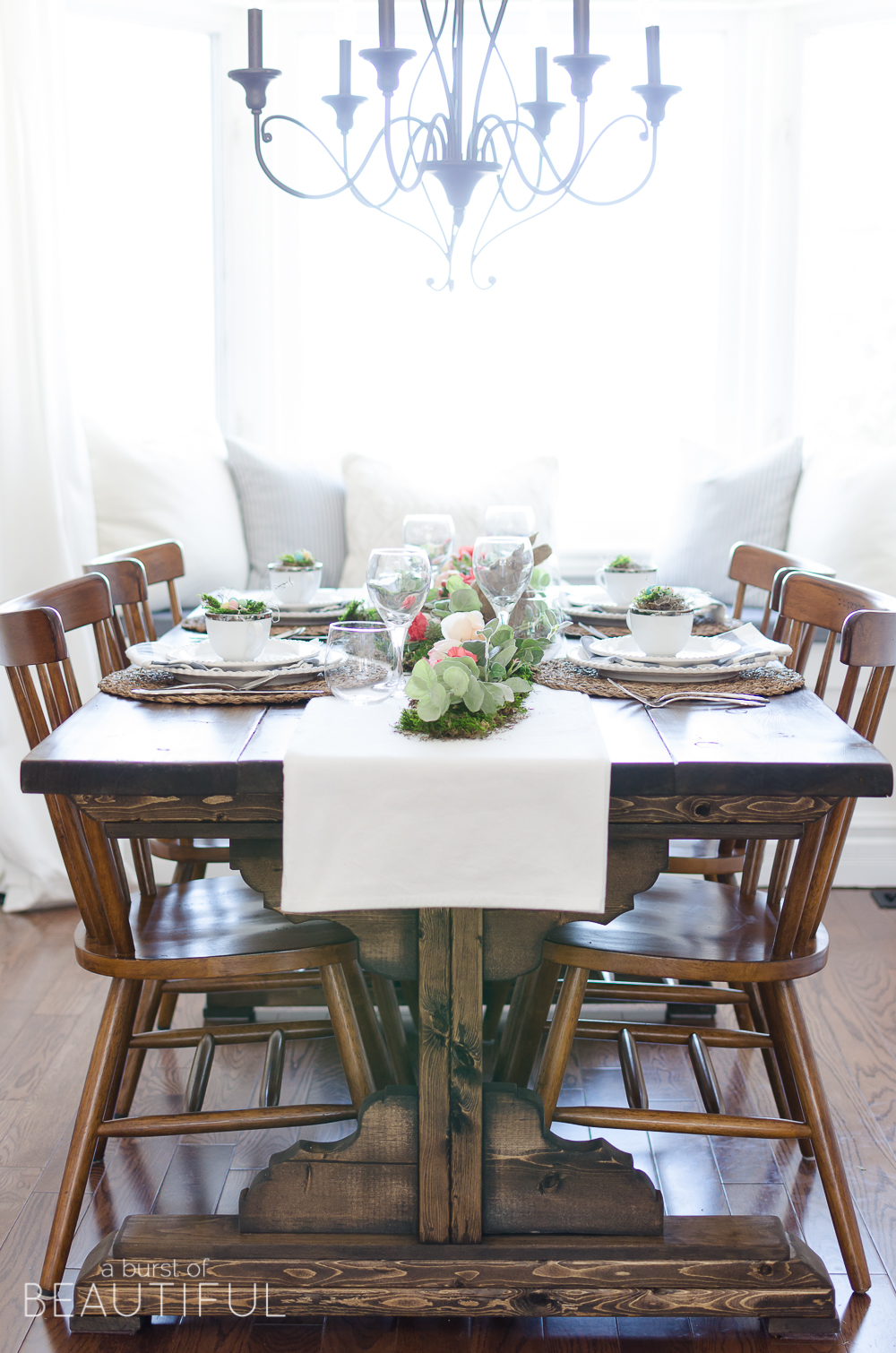 Combining faux flowers with beautiful fresh florals creates a dramatic and full look to any centerpiece or bouquet – it's one of my favorite techniques.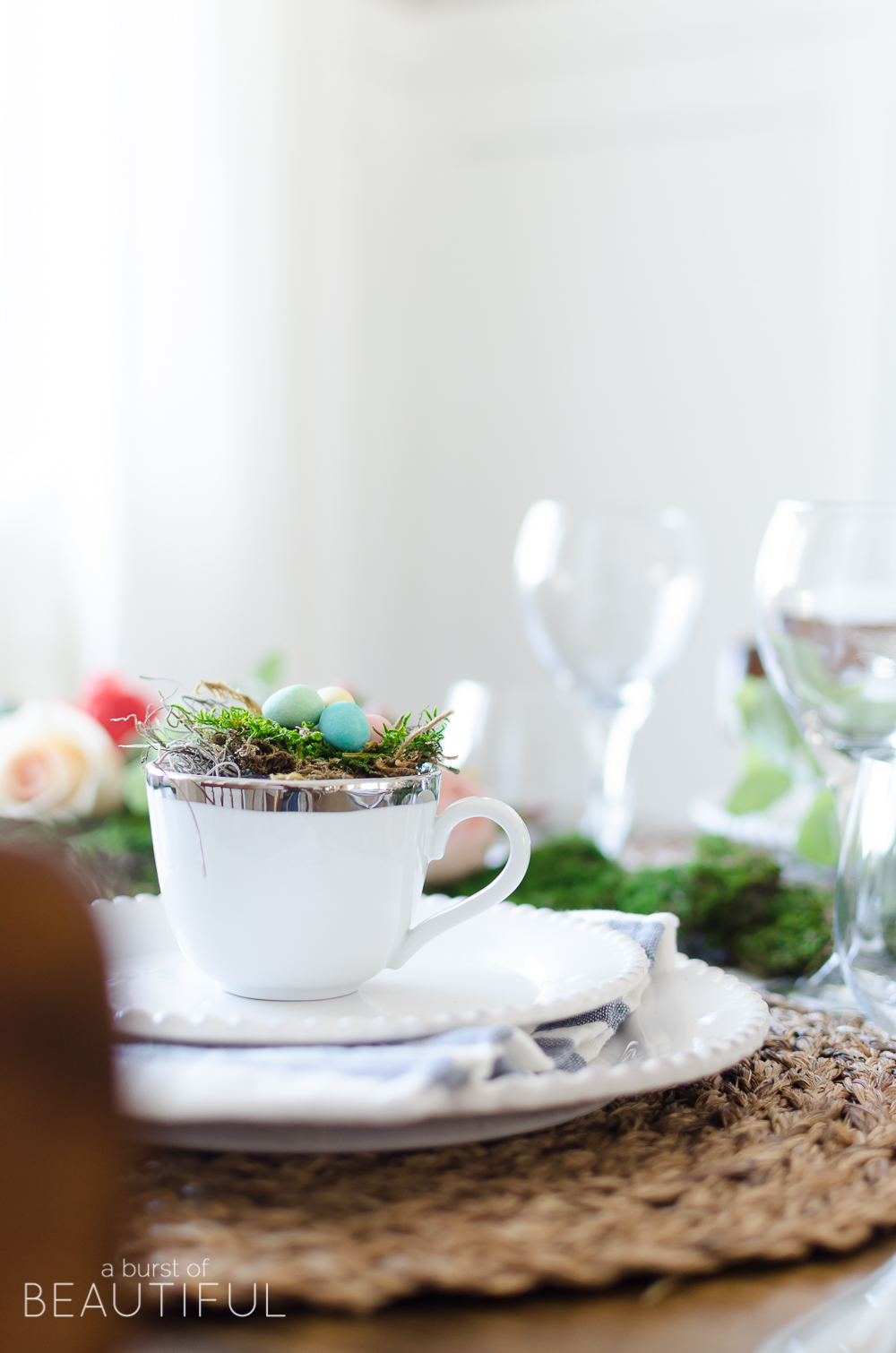 Teacups placed on each place setting are filled with moss and mini chocolate eggs – a sweet treat for your guests to enjoy. I always like to leave a little something special for each guest.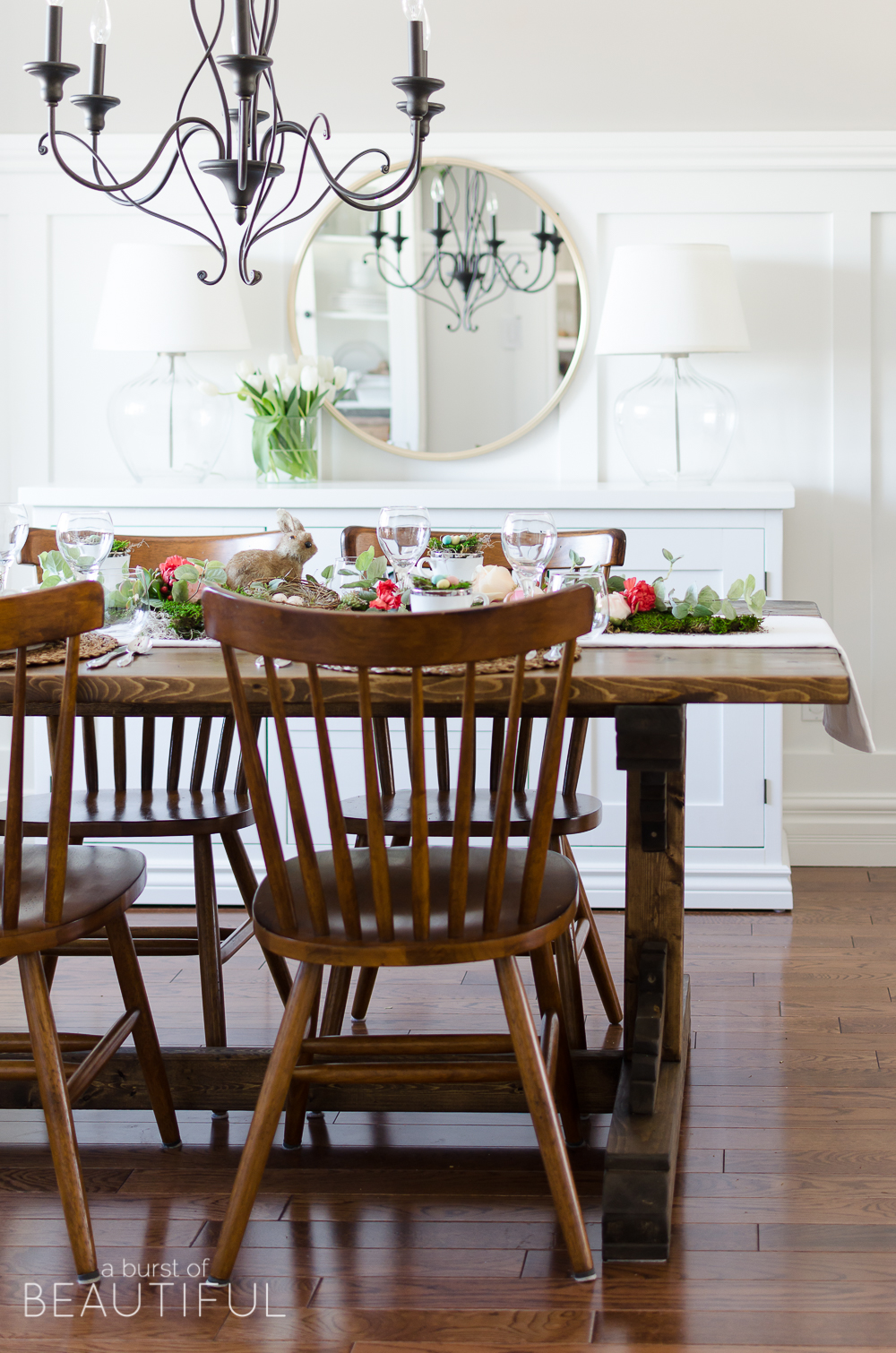 You might also have noticed a few changes we've made (yet again) to our dining room. We used to have beautiful white slipcovered dining chairs at our table, which we loved, but soon tired of cleaning after every meal with a toddler – they were pretty but not very functional for our family right now. I love the look of Windsor chairs and started hunting high and low for an inexpensive option and then I came across these ones listed on a local classified site. The finish is a little darker than I was hoping for, but now that we have in our dining room I love the contrast against our white walls.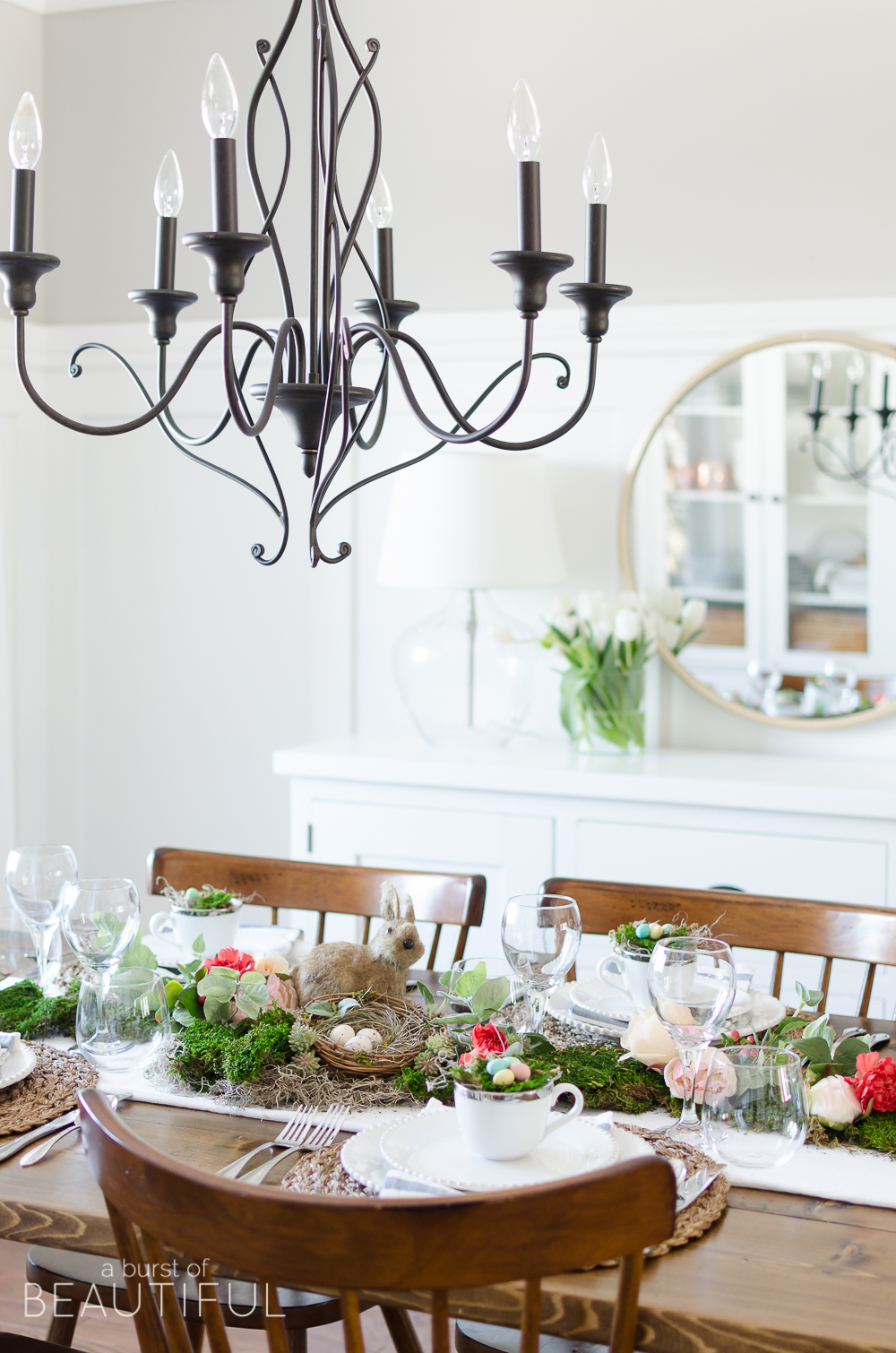 And last but not least, you're getting a little sneak peek at the gorgeous sideboard Nick built for us last month. He absolutely loves creating and building and I love it too, just take a look at the amazing pieces he has already made for our home – coffee table, dining table, floating desks. It's wonderful to have so many handmade furniture pieces in our home, we will be sharing the tutorial for this sideboard in just a few weeks, but until then you will be seeing a lot more of it in our spring home tours and on Instagram!
Alicia xo