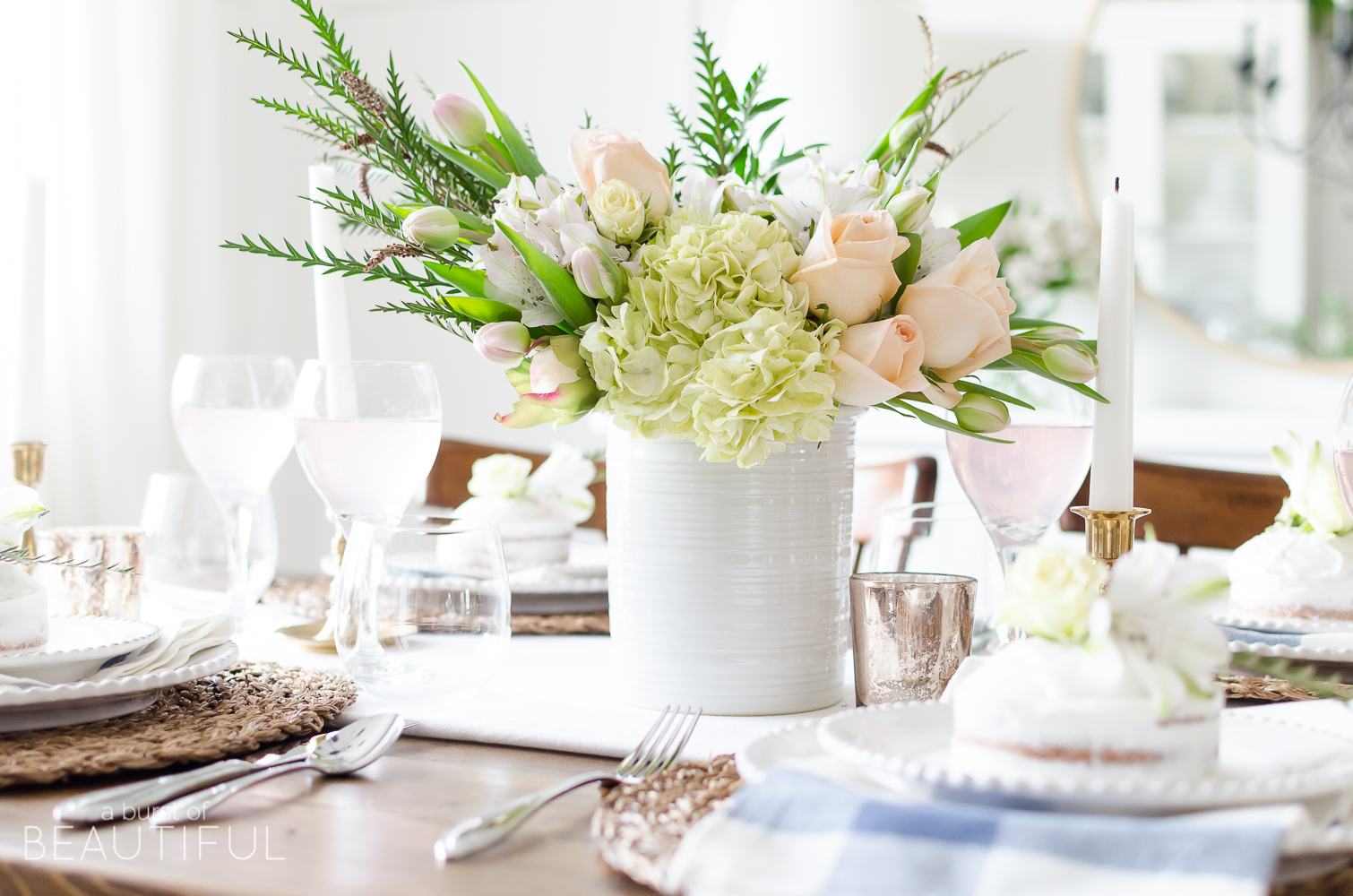 Well, yesterday was the first official day of spring, and although the sun was shining and the birds were chirping, there was still a chill in the air and a brisk cold breeze. But I am content in the knowledge that our long winter has nearly passed and it will feel like spring in just a few short weeks.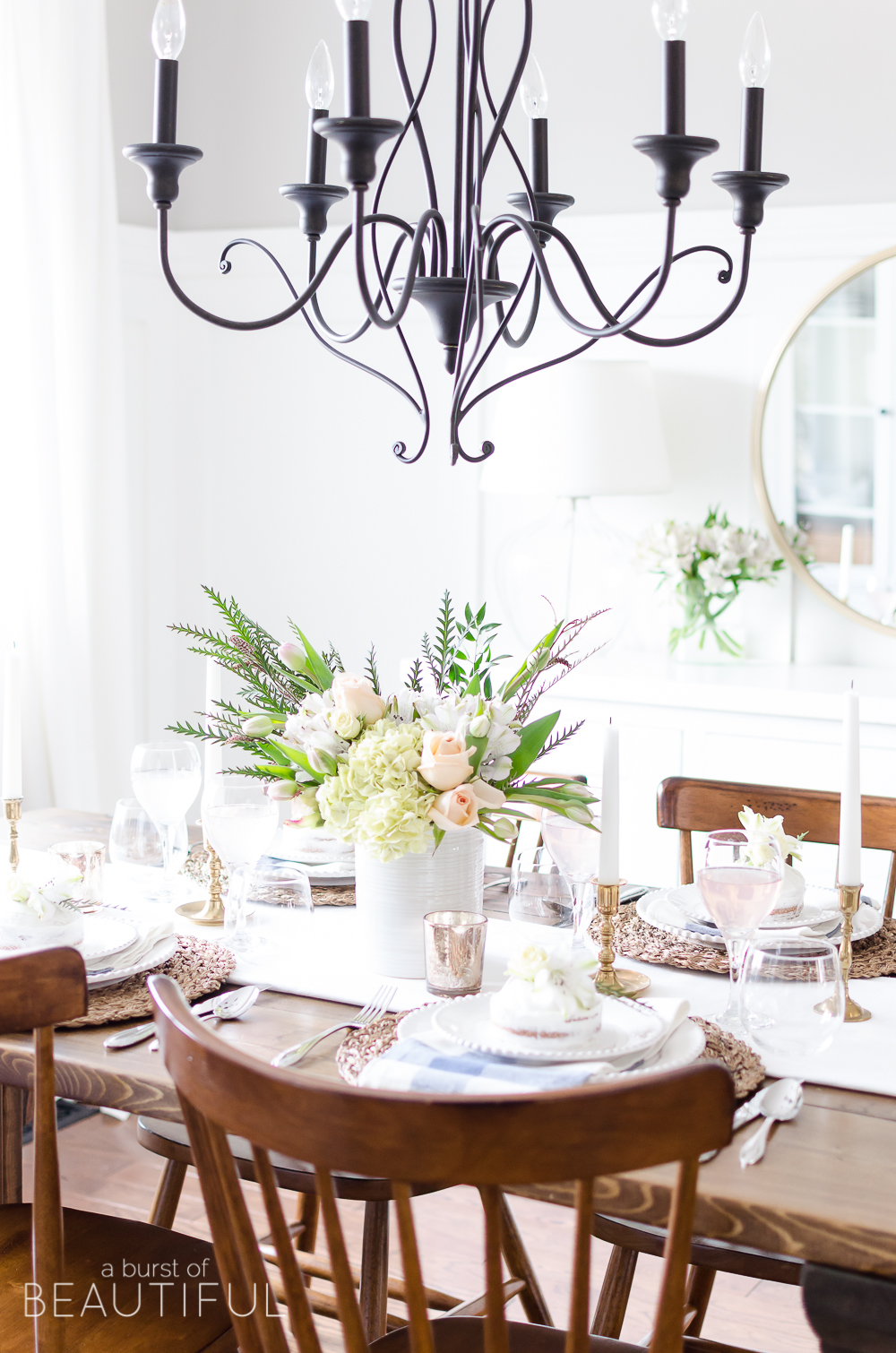 In the meantime, we have been readying our home for spring. Adding subtle touches of the season to each room in our home (you can see our spring tour here – mudroom, kitchen, dining room and living room), swapping out pillows and throws, paring down details and incorporating fresh flowers and potted plants. A home really only needs a few simple touches to help bring it into the new season.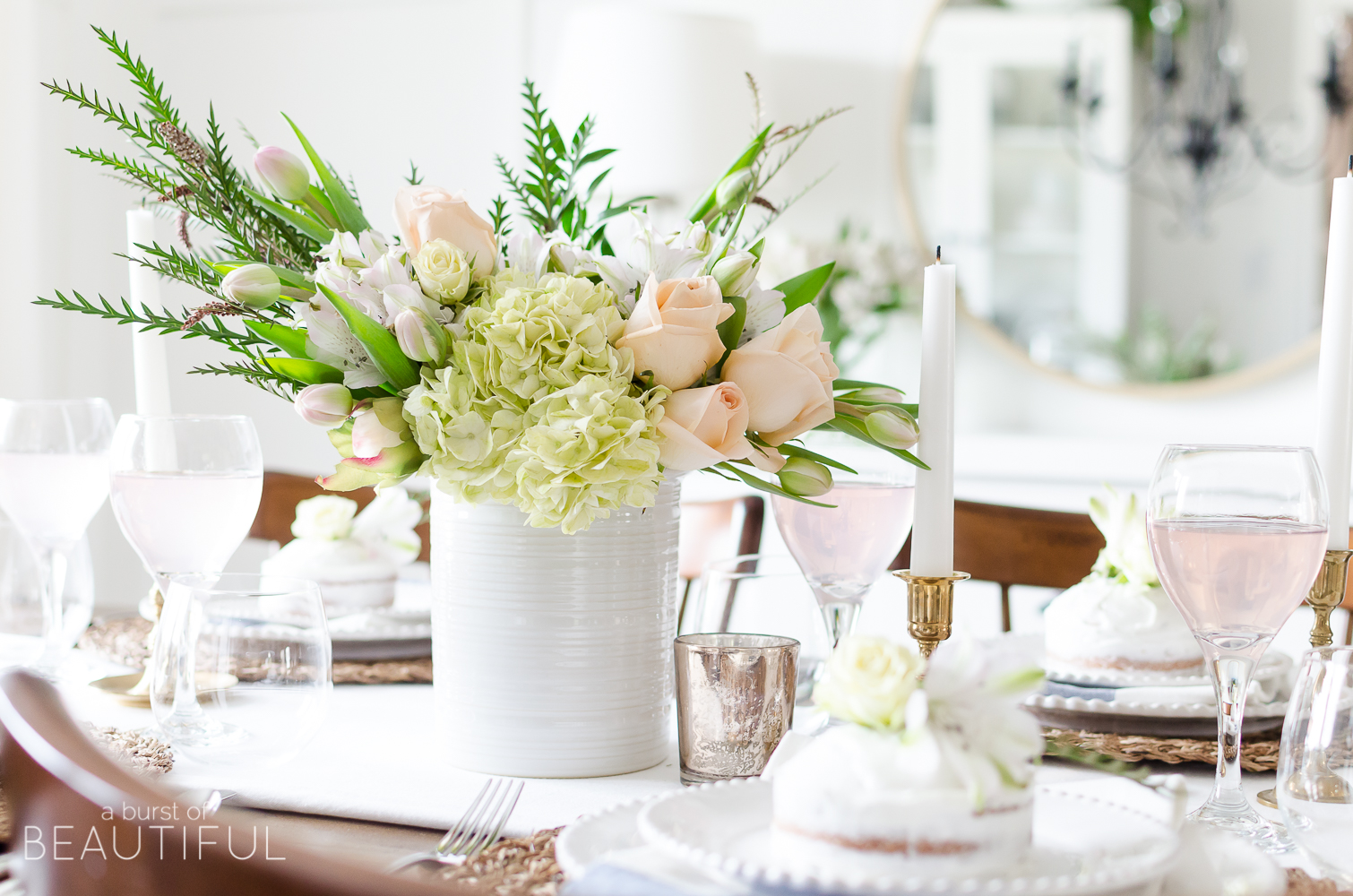 And as always, as we usher in a new season, entertaining and hosting is on my mind. I love dreaming up simple and pretty tablescapes to help inspire your next holiday or celebration, like this Floral and Moss Easter Tablescape I recently created.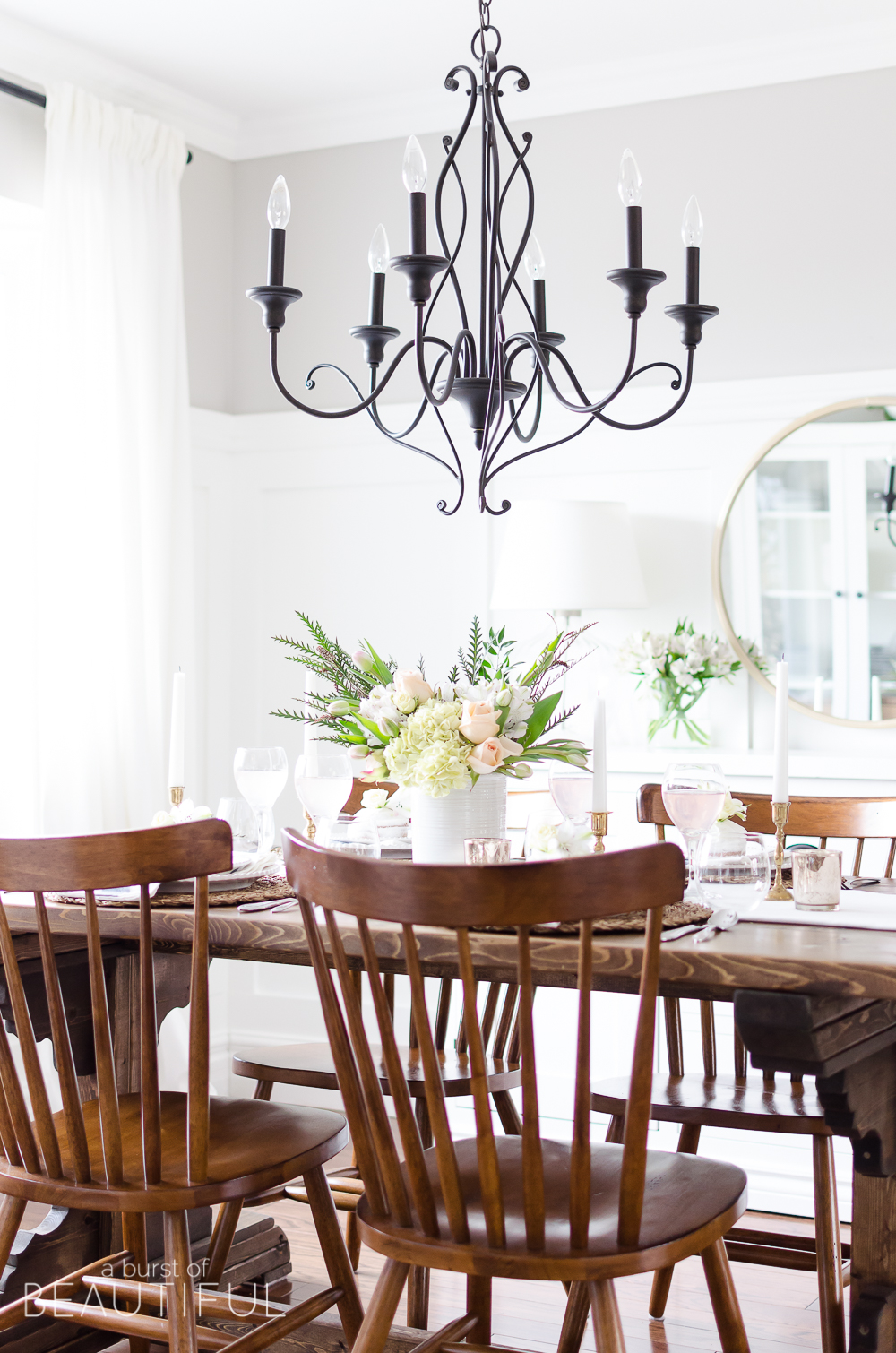 Setting a beautiful table is a really fun way to express your creativity and help shape your celebration. Whether you're setting an elaborate table for 20 or a simple meal for two, your guests will recognize that you put a lot of thought and love into their visit and it will go a long way into helping them feel welcomed and relaxed.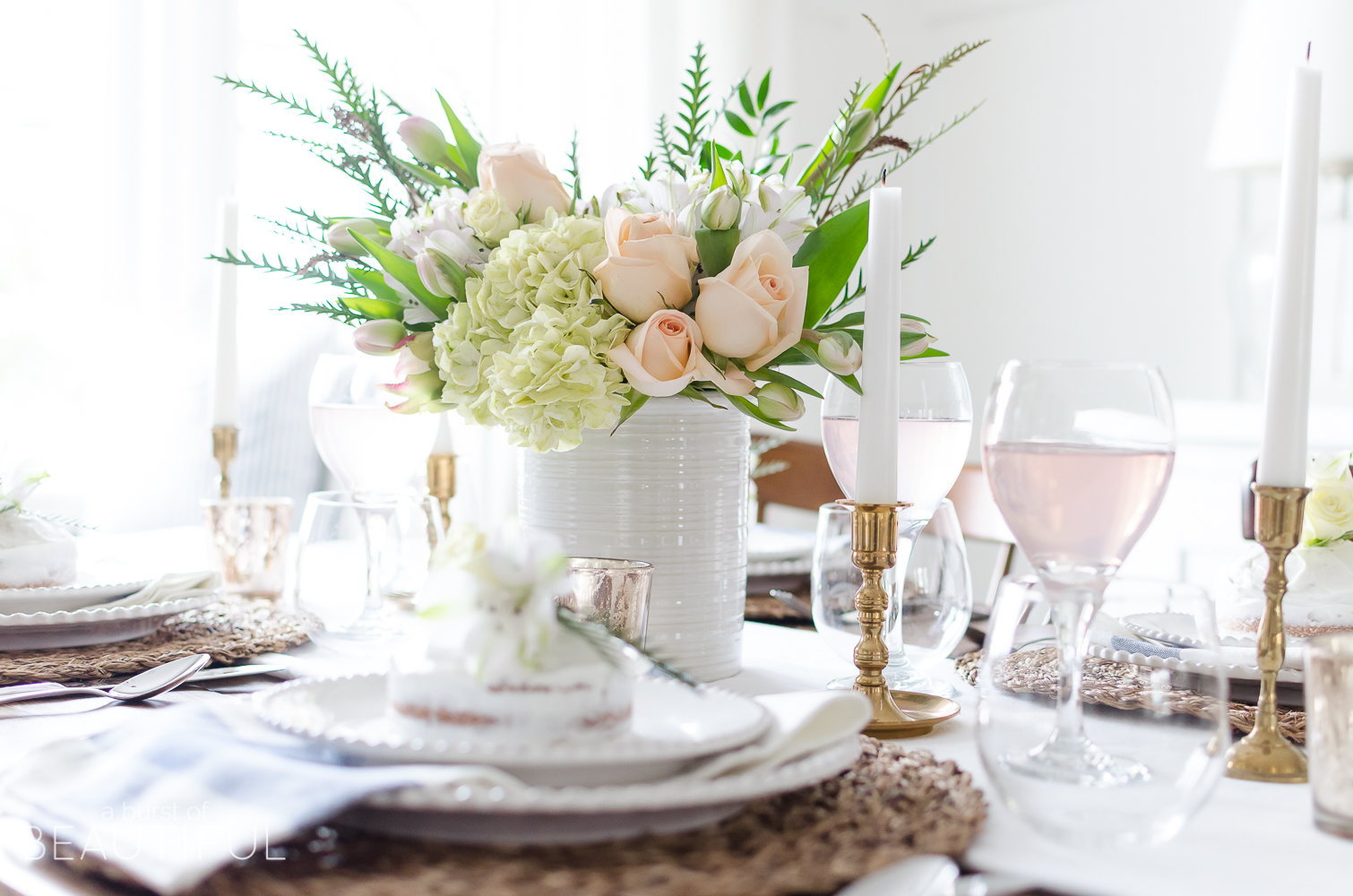 As I was dreaming up this simple pink and gold spring tablescape, I knew I wanted to create a beautiful floral arrangement as my centerpiece. I chose delicate flowers, like roses, hydrangeas, and tulips in soft muted tones of pink and cream. Plus some nice bright greenery to give it a pop of color.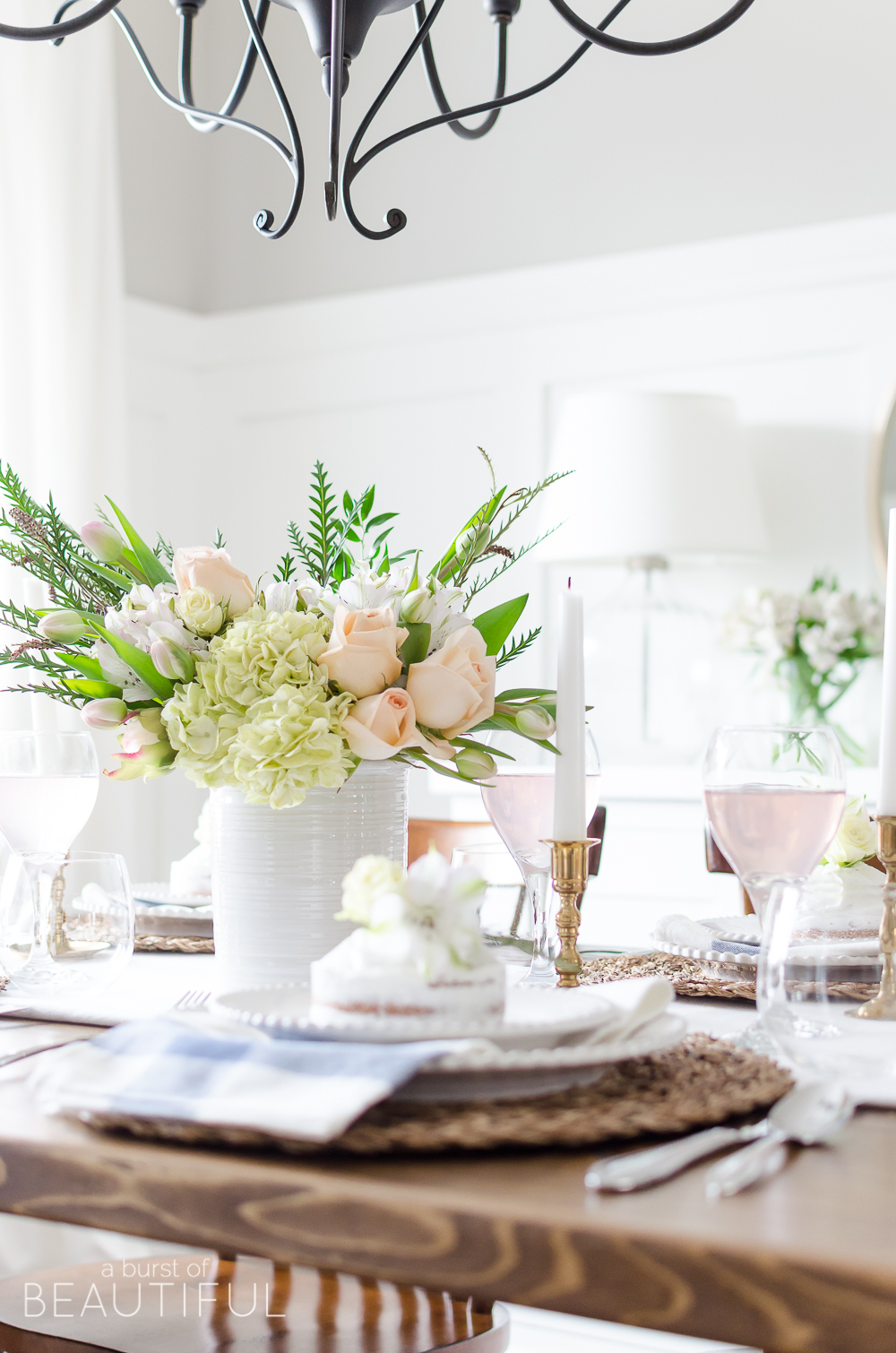 When choosing a vessel to hold my arrangements, I always try to think outside of the box. This is actually a kitchen utensil holder (you can find it here), but I love the texture of it, and it is the perfect size for holding flowers. Isn't it pretty?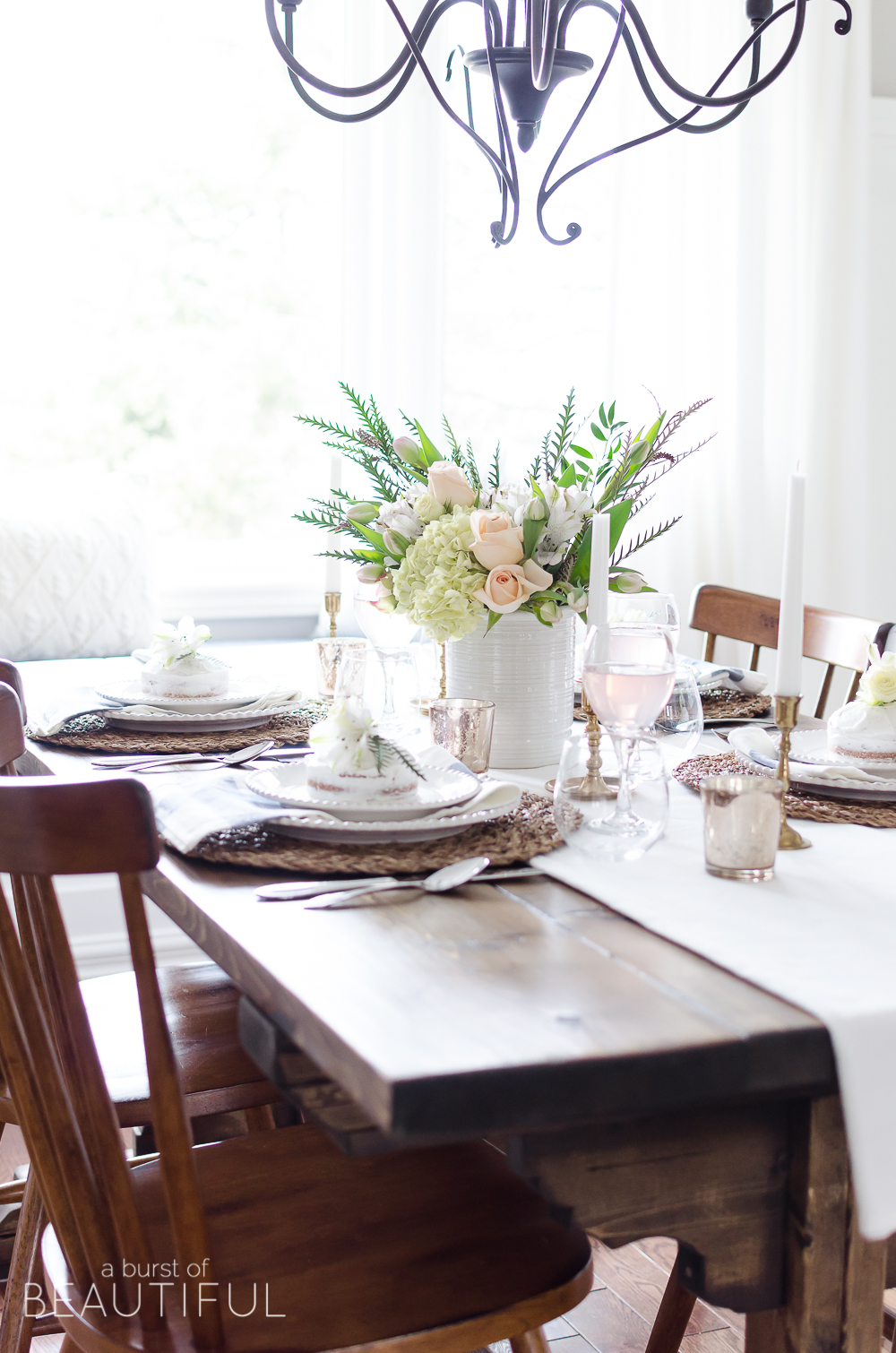 I think the vessel is just as important as the flowers you choose when creating a beautiful and unique arrangement. Try visiting flea markets or thrift stores to find one-of-a-kind objects to hold your arrangements, you'll be surprised at the beautiful pieces you can find.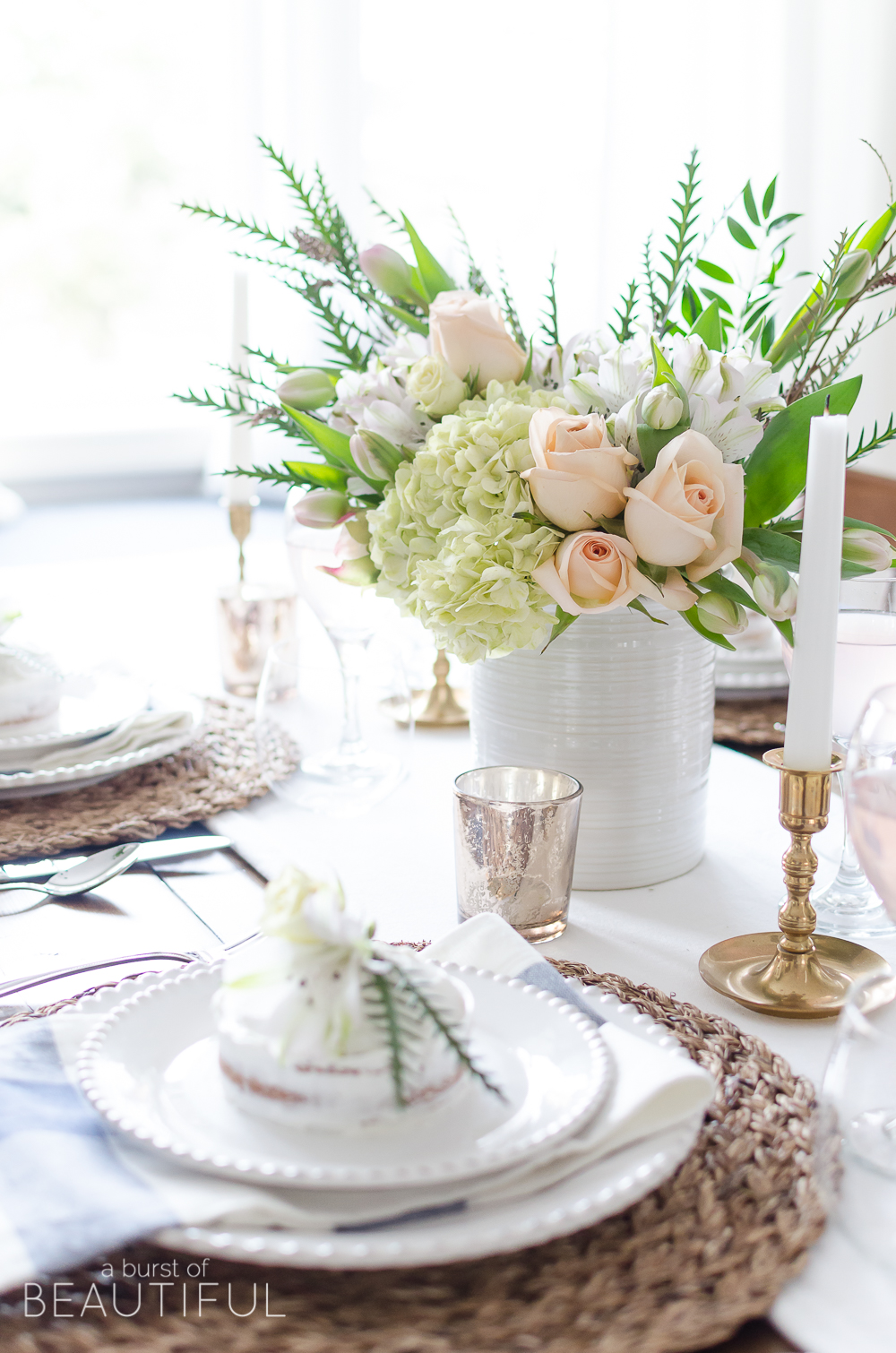 Once I had my flower arrangement complete, I scattered these pretty brass candlestick holders down the center of my table. I bought these second-hand last fall, and they quickly became one of my favorite thrift store finds (you might remember them from our Christmas home tour here).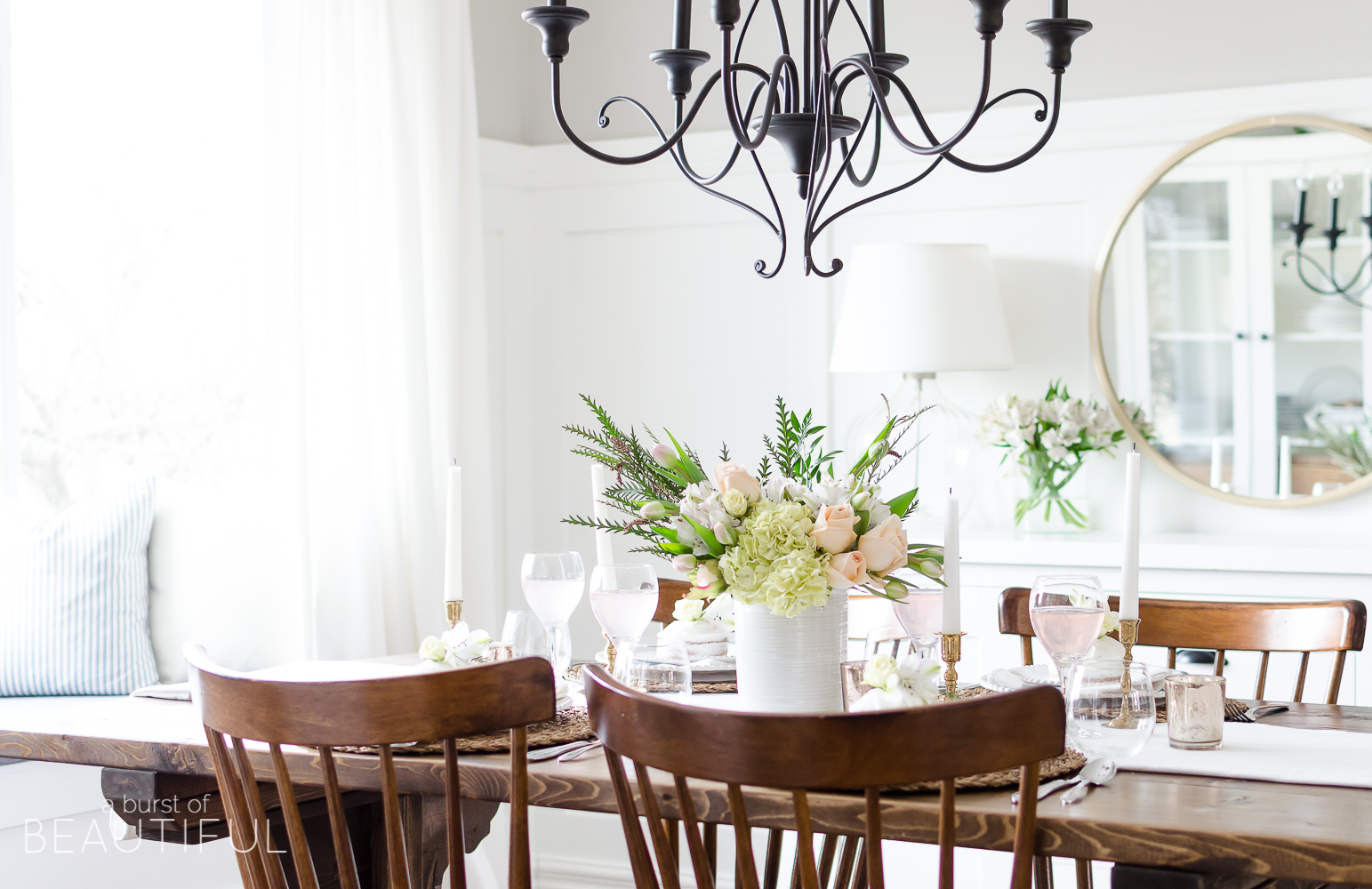 I wanted to add just a little more sparkle to the table, so at the last minute I added in these rose gold votive candle holders too.
One of my favorite tricks for setting a pretty table is to incorporate the food you will be serving. Sometimes I use a beautiful cake as my centerpiece (like I did here and here), it's an easy way to add height and detail to your table. Plus, you might as well display that beautiful piece of work as long as you can. 🙂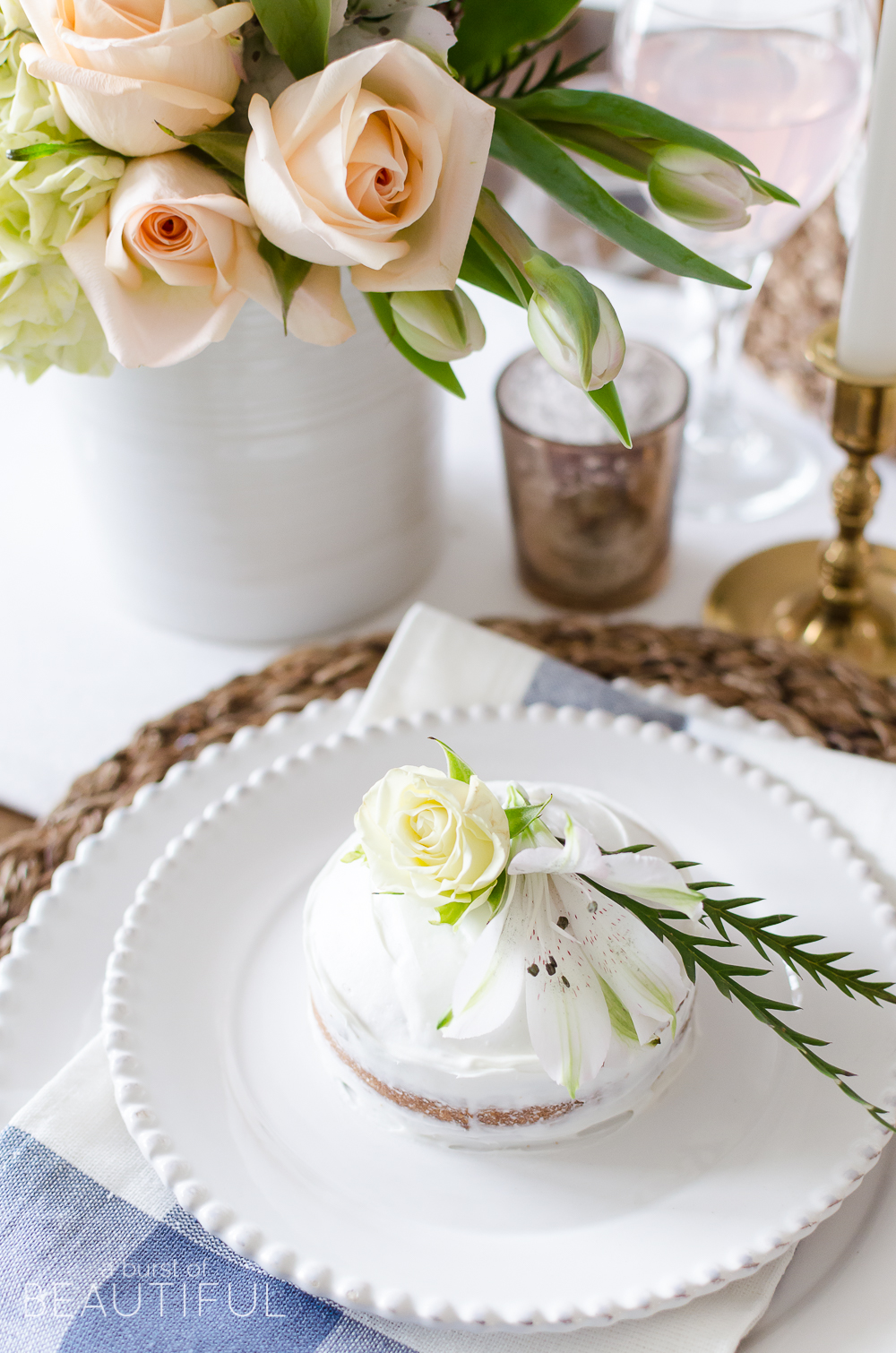 For this tablescape, instead of one large cake, Nick baked mini almond-orange cakes for each place setting. They are tiny and cute, and smell so delicious (we will be sharing the recipe next week). They are similar to the naked cake I love so much, but with a little twist. I topped each one with a few of the flowers from our centerpiece, and I think they add such a fun and personal touch to our table. Who doesn't want their own cake, right?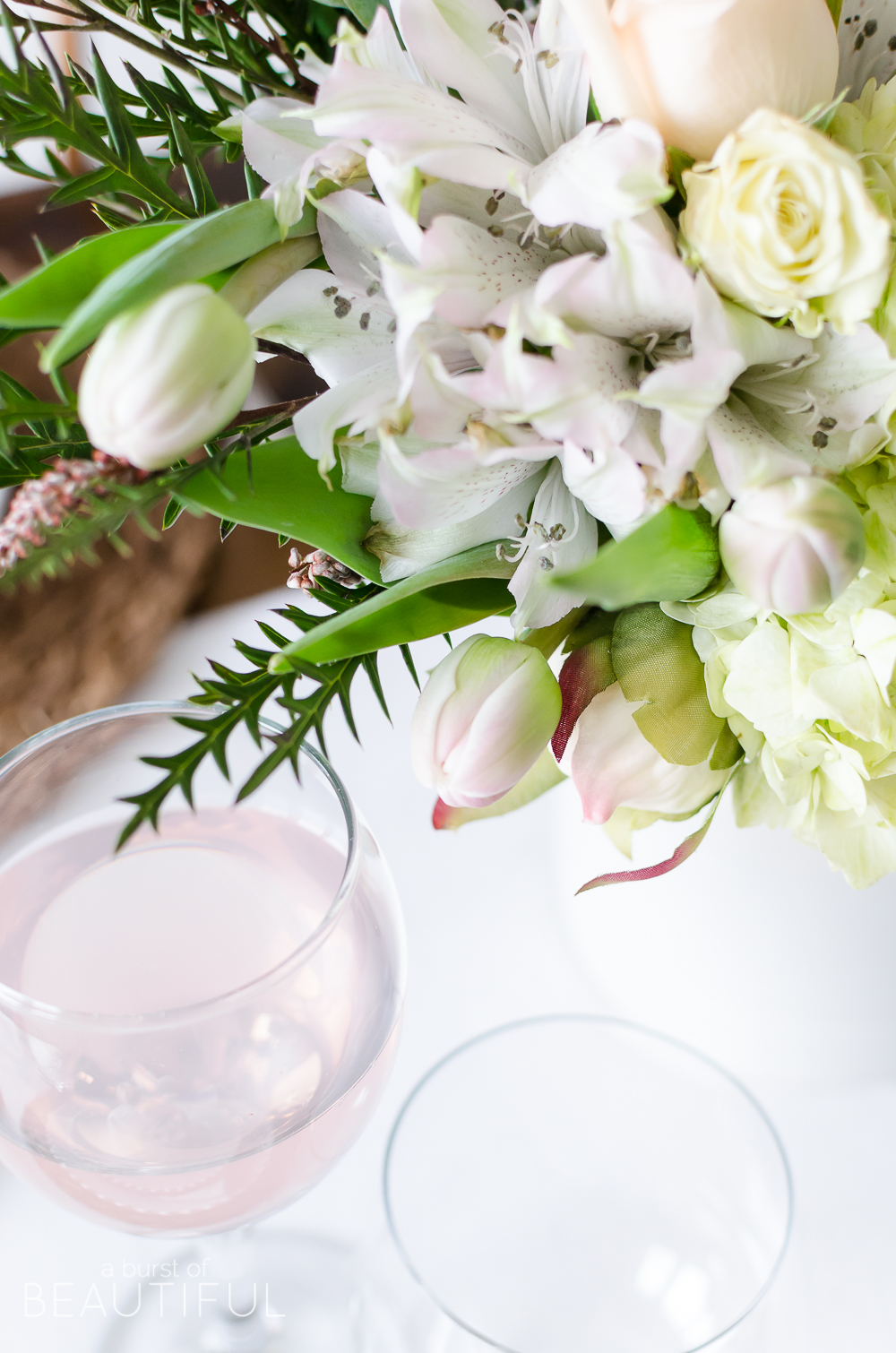 I also served sparkling pink lemonade, I think it's a pretty touch and plays on the light pink color palette.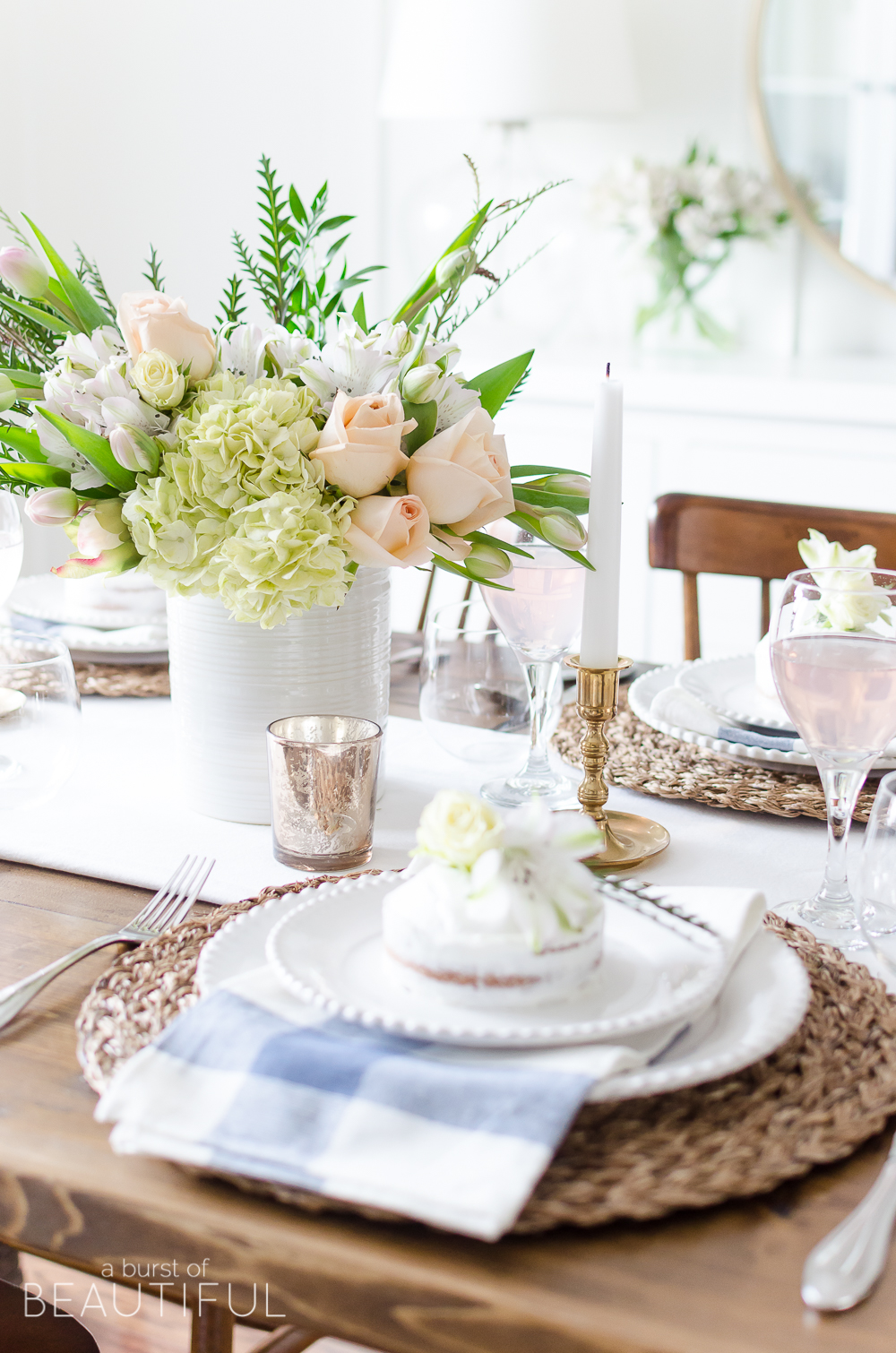 Each place setting is set with a beautiful woven round placemat, my favorite white dishes and a simple white and blue oversized napkin. Here is another little tip I love to use while setting a table (it's a common one), use tea towels instead of napkins – their larger size is perfect for table settings, and there are always so many beautiful options to chose from.
And that's about all it took to set this simple pink and gold spring tablescape. Pretty easy, right? I hope you enjoyed it as much as I did.
Have a wonderful day!
Alicia xo