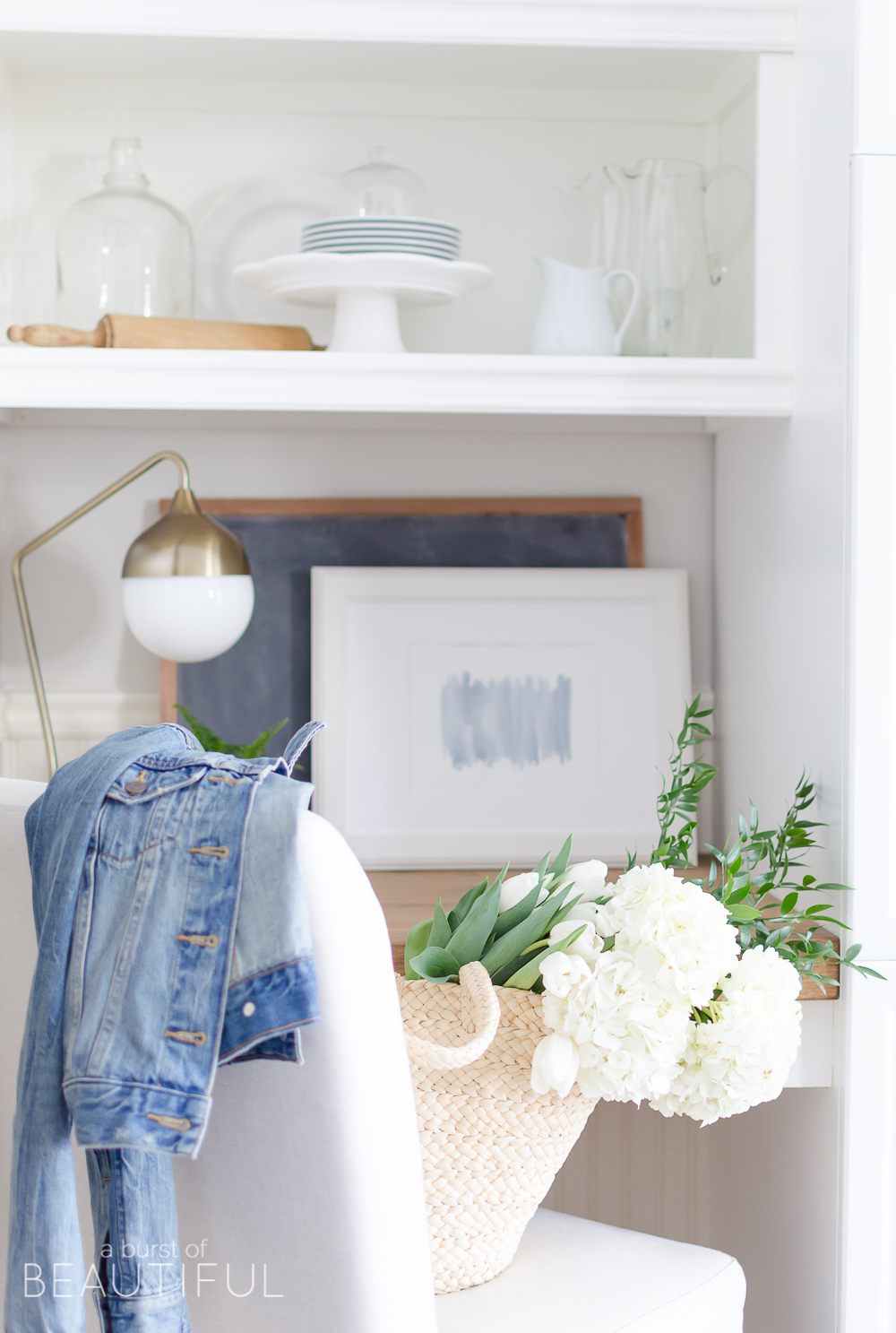 I'm not sure about you, but we are getting really anxious for the arrival of spring. As much as I love the coziness of the fall and winter months I am always so happy to welcome springtime. There is just something so revitalizing about warm breezes billowing the curtains through an opened window, vibrant daffodils and crocuses poking through the mud and sweet little birds ushering in the change of seasons with their beautiful songs.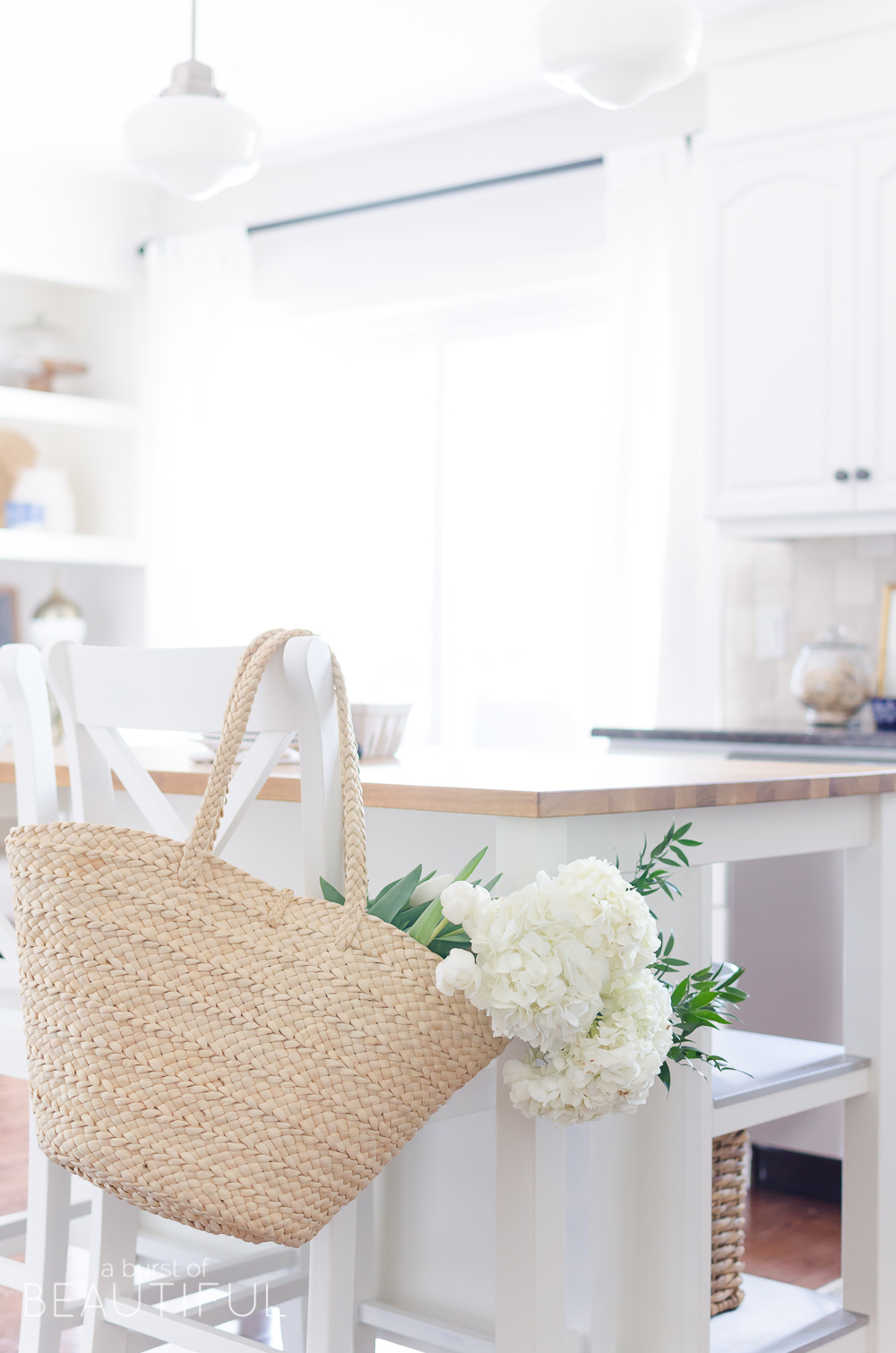 And although Mother Nature has given us little sneak peeks of the warmer weather here and there, for the most part, we are still experiencing dark, cold days. But I am hopeful it won't be long until spring is here to stay.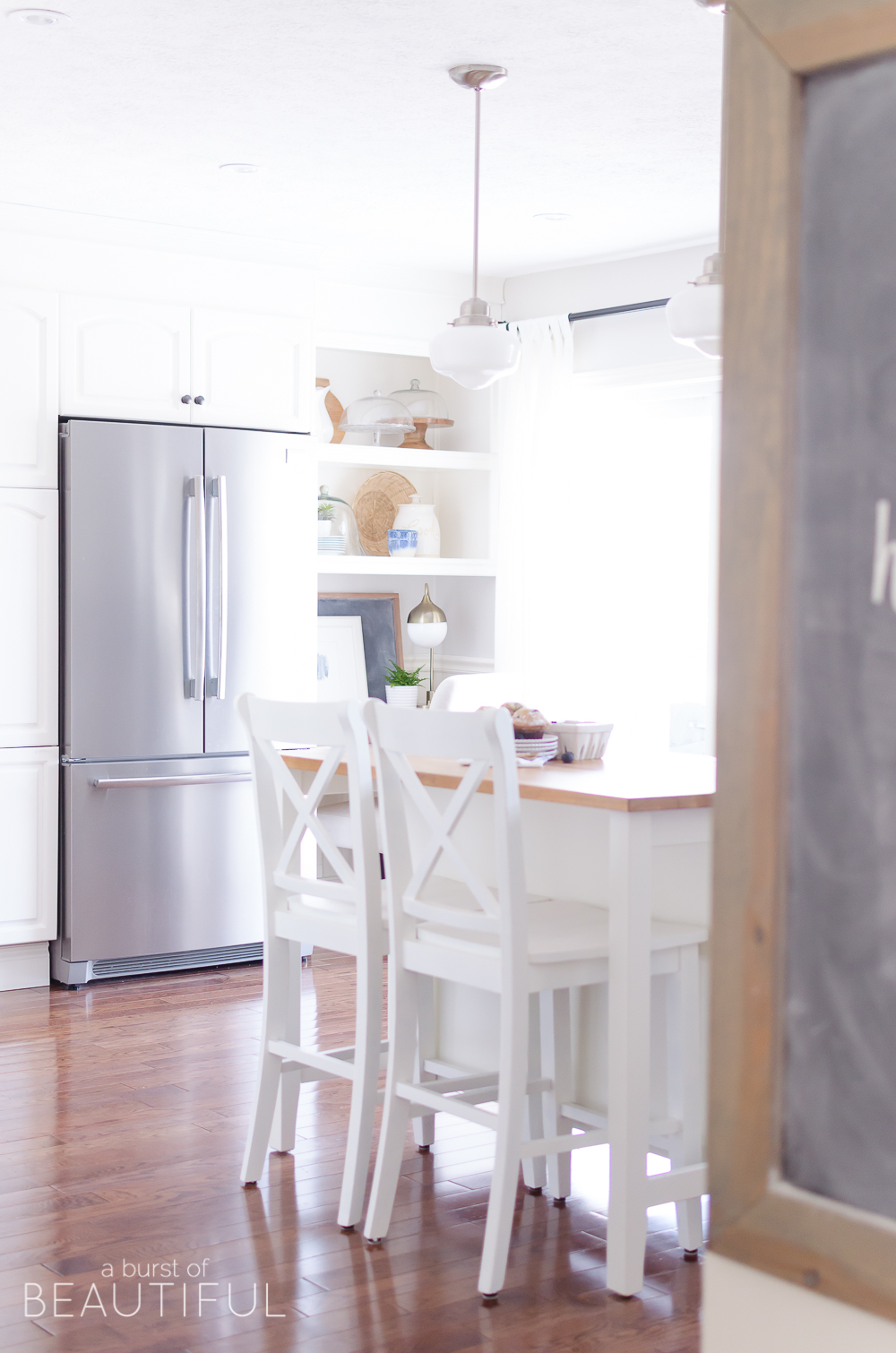 In the meantime, I've been adding touches of the spring season throughout our home to make those dark, cold days a little more bearable.
Get the Look
This post contains affiliate links, see our full disclosure policy
here
. Thank you for helping support our blog.

Today I am teaming up with a wonderful group of bloggers to share a little glimpse into our homes and how we've decorated our spaces for spring's arrival. If you are coming from
Nina's home
, welcome. I'm sure you enjoyed her gorgeous colonial farmhouse, I don't think there is even a corner of her stunning home that I don't adore.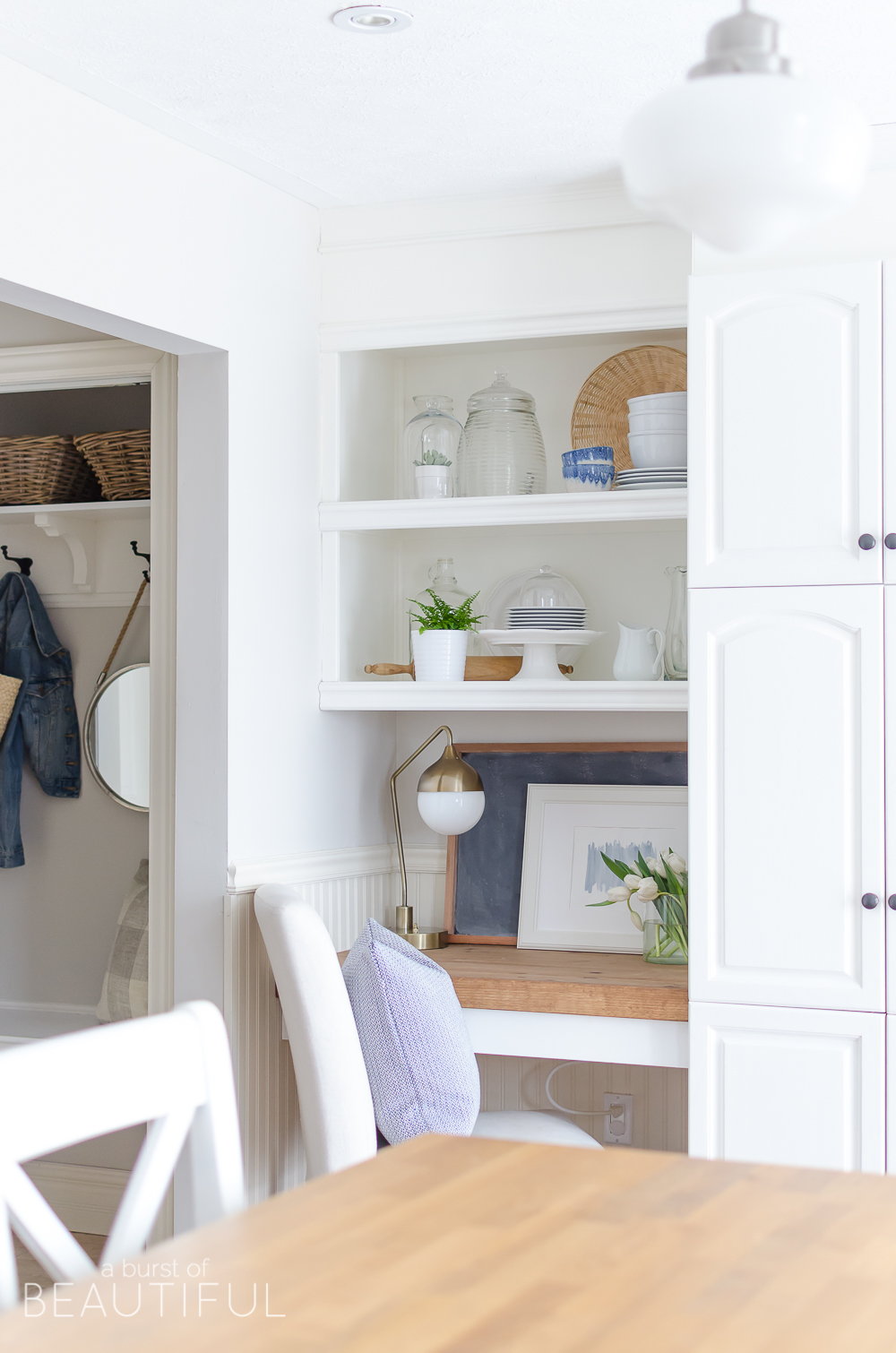 And don't forget that you can find each one of my friend's beautiful homes at the end of this post, so make sure you grab a cup of coffee and prepare to spend some time daydreaming of blue skies and sunshine.
I'm starting our spring home tour today with our kitchen, but we will be sharing our mudroom, living room, dining room and bedroom over the next two weeks, so if you enjoy today's tour make sure to stick around for the rest. 🙂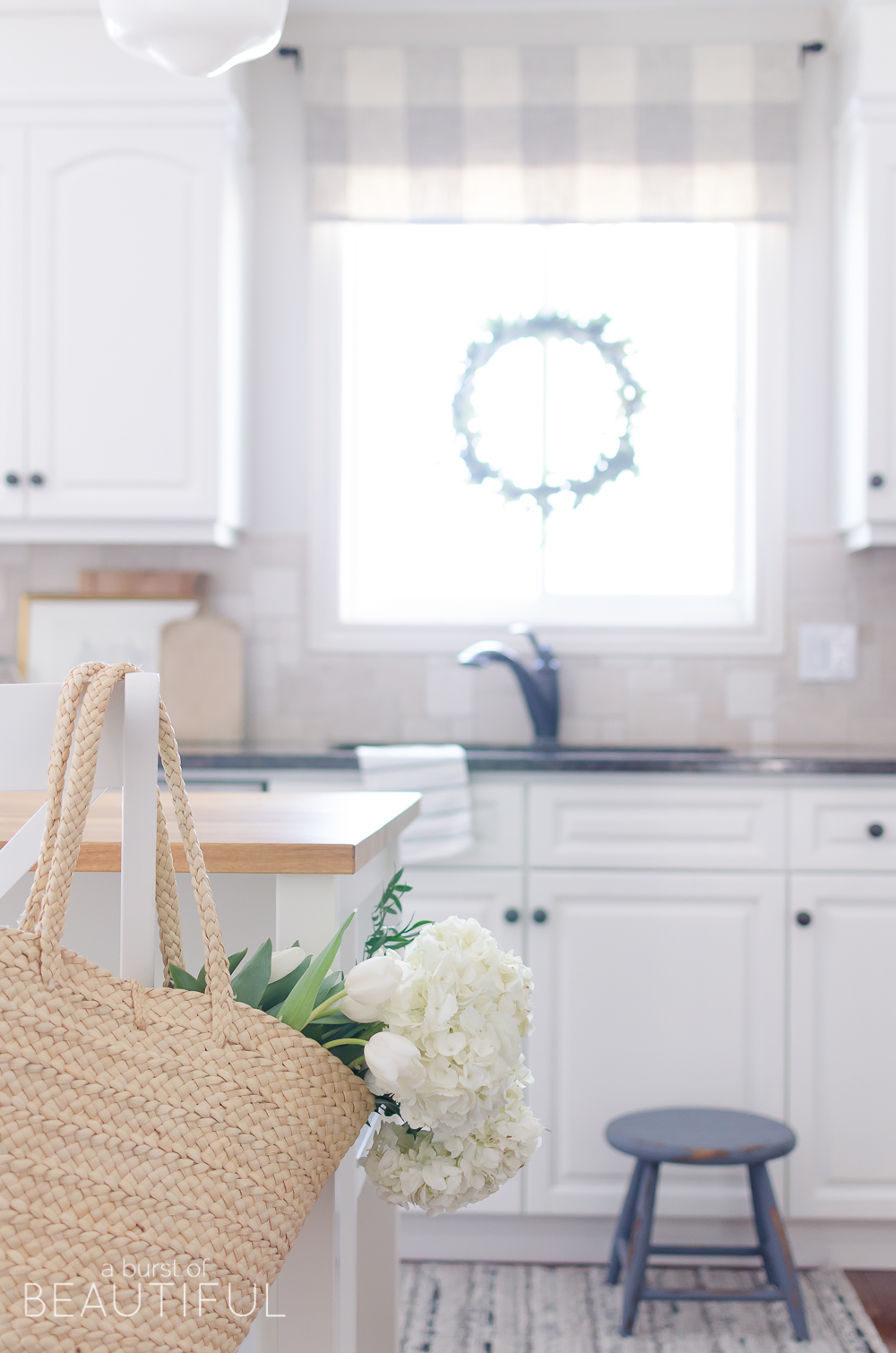 Although I love all of the rooms in our home, I think our kitchen has to be one of my favorites. It's so bright and welcoming, I simply love seeing the sunlight stream through the patio doors to light up the space with a beautiful warm glow. And as our days grow longer our kitchen is bathed in more and more light, making it the perfect spot to linger over a cup of tea or spend a few hours writing for our blog.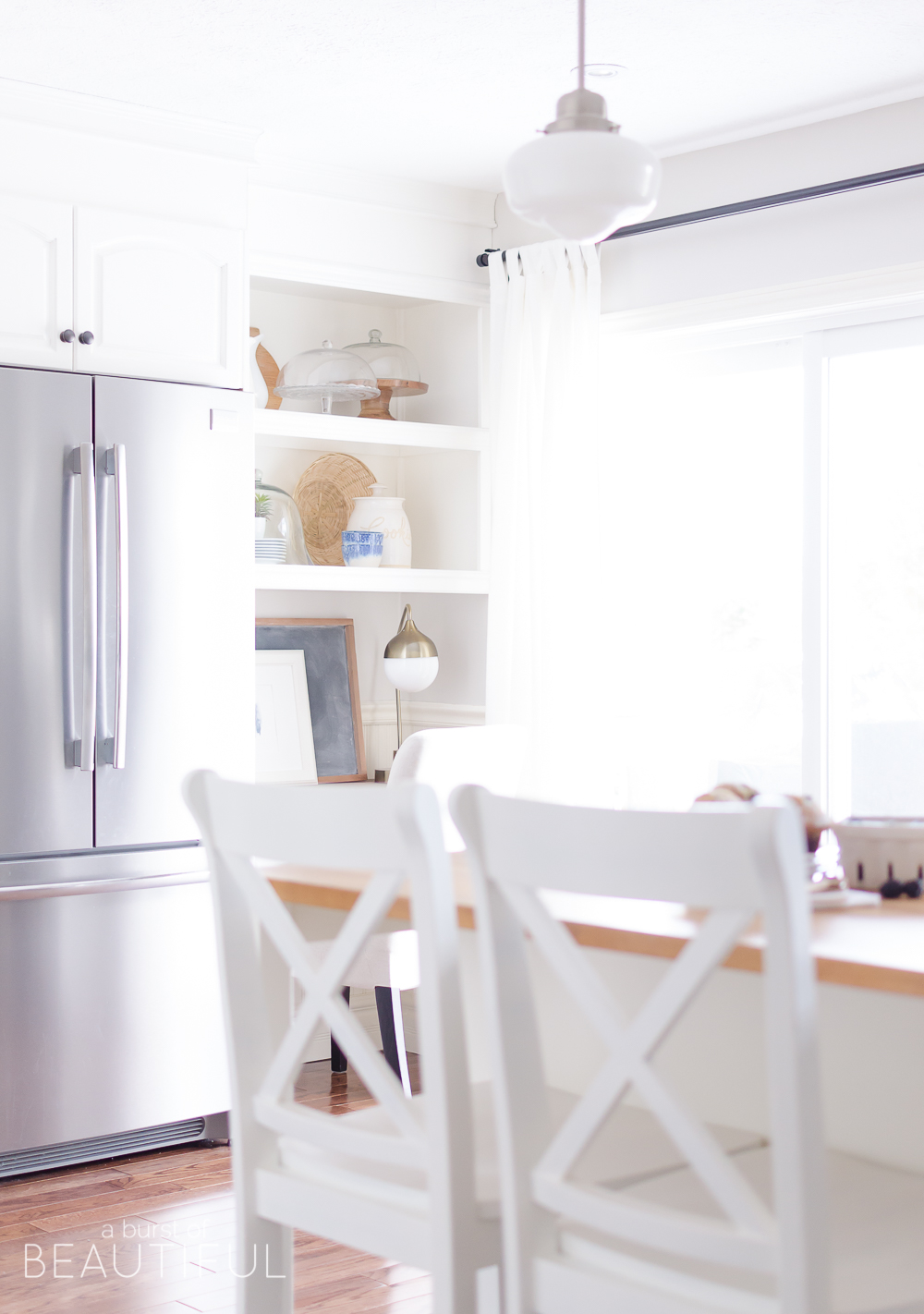 Keep in mind, our kitchen didn't always look like this. When we moved into our home it was dated and the layout was not very functional. So we spent some long, hard hours turning it into the space it is today (you can read more about that journey here). Most recently, Nick built these gorgeous floating desks under our kitchen built-ins. Lately, it's my favorite spot to style. I know there is always a lot of talk about whether open shelving in kitchens has reached its peak, some believe it's a trend that's on it's way out. But I absolutely love it, it gives me a place to display a few of my favorite pieces, like these pretty blue ceramic dishes and my collection of cake plates.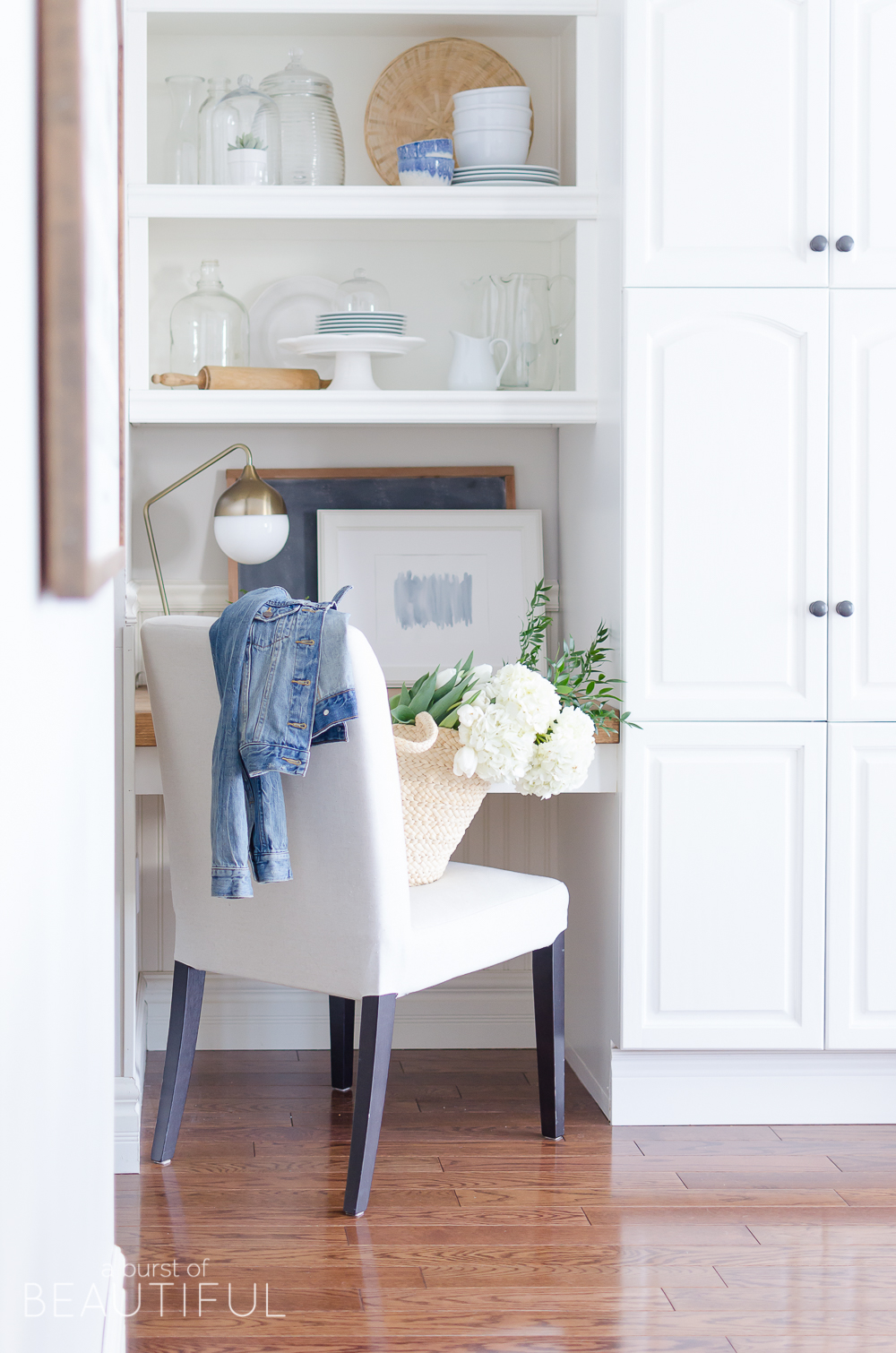 Nothing says spring quite like bouquets of pretty blooms scattered around the house, so I stopped by our local floral shop to pick up some fresh flowers. Two of my absolute favorites are hydrangeas and tulips, especially in the soothing and muted tones of creamy white. If I could, I would have fresh flowers in our home every single day. That's another reason why I love spring and summer so much, I can just slip out to our yard and clip a few flowers or branches whenever our home feels like it needs a little bit of livening up. I can't wait until our neighbors lilac bushes are in full bloom again, just take a look at how beautiful they are here.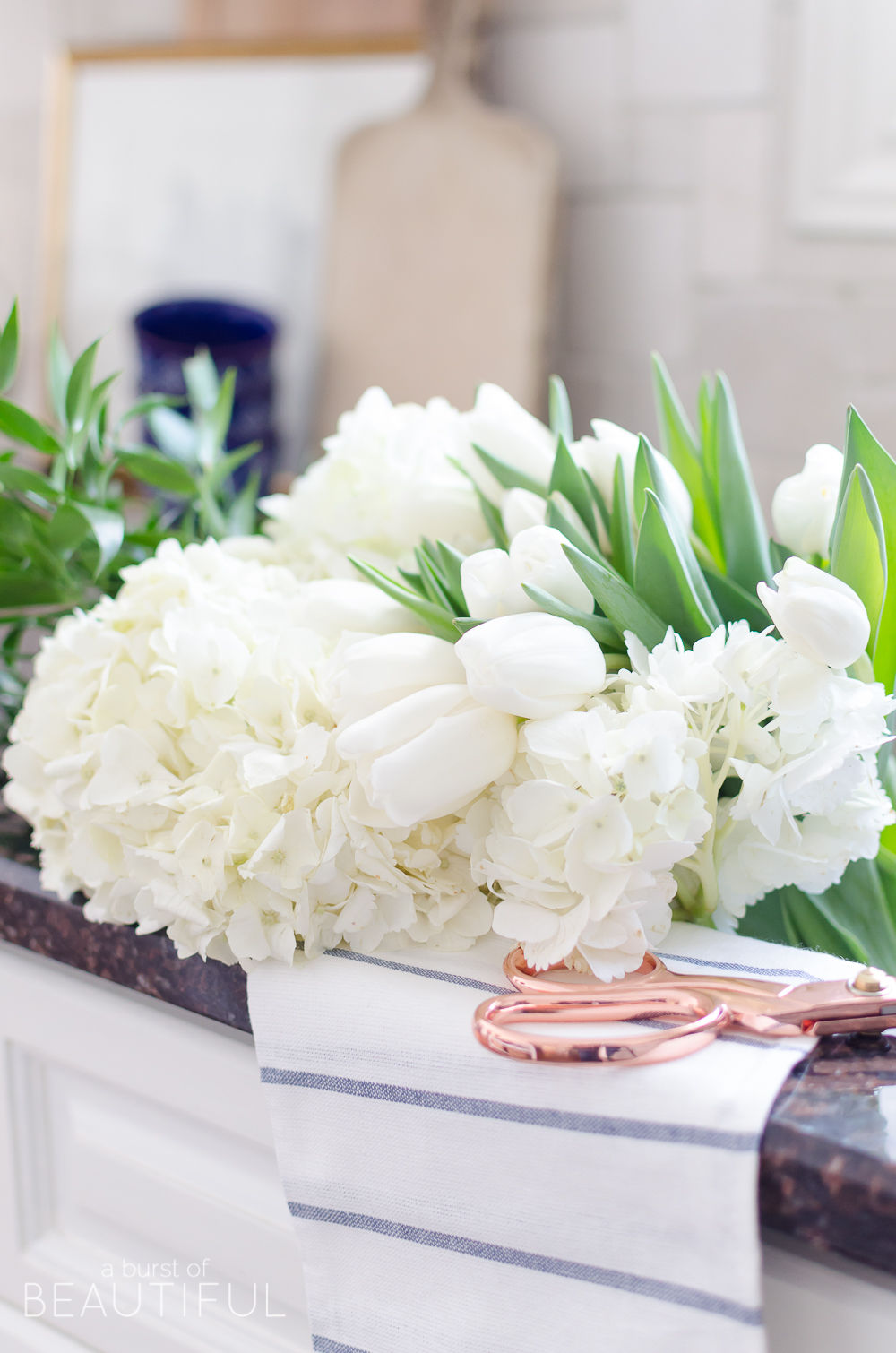 I could have spent all day taking photos of these beautiful flowers, they just make everything look more beautiful. Do you have a favorite spring flower?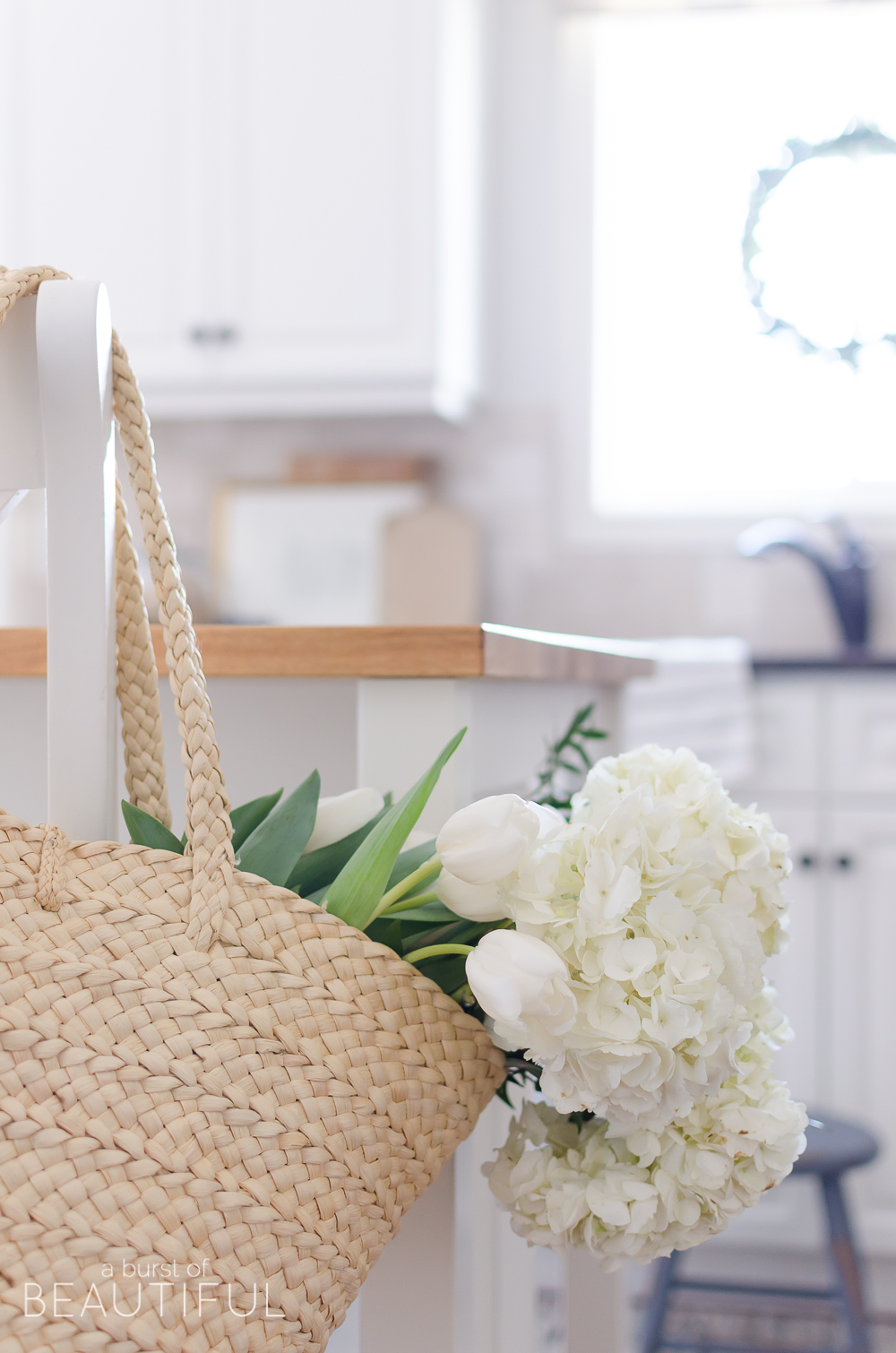 When we moved into our home this little island was just a temporary fix until we built a more permanent piece, but it has worked so well for us that we ended up keeping it longer than we planned. I love its compact size and the open shelves don't make it feel heavy. But as Nick continues expanding his carpentry skills we are finally going to build that big, beautiful island we first dreamed about. I'm envisioning it painted a beautiful shade of blue, almost like a worn-in pair of jeans, it's probably my favorite color. But you'll have to be patient with us, we likely won't tackle this project until the summer as we have a lot on our plate this spring – we'll be sharing more with you soon.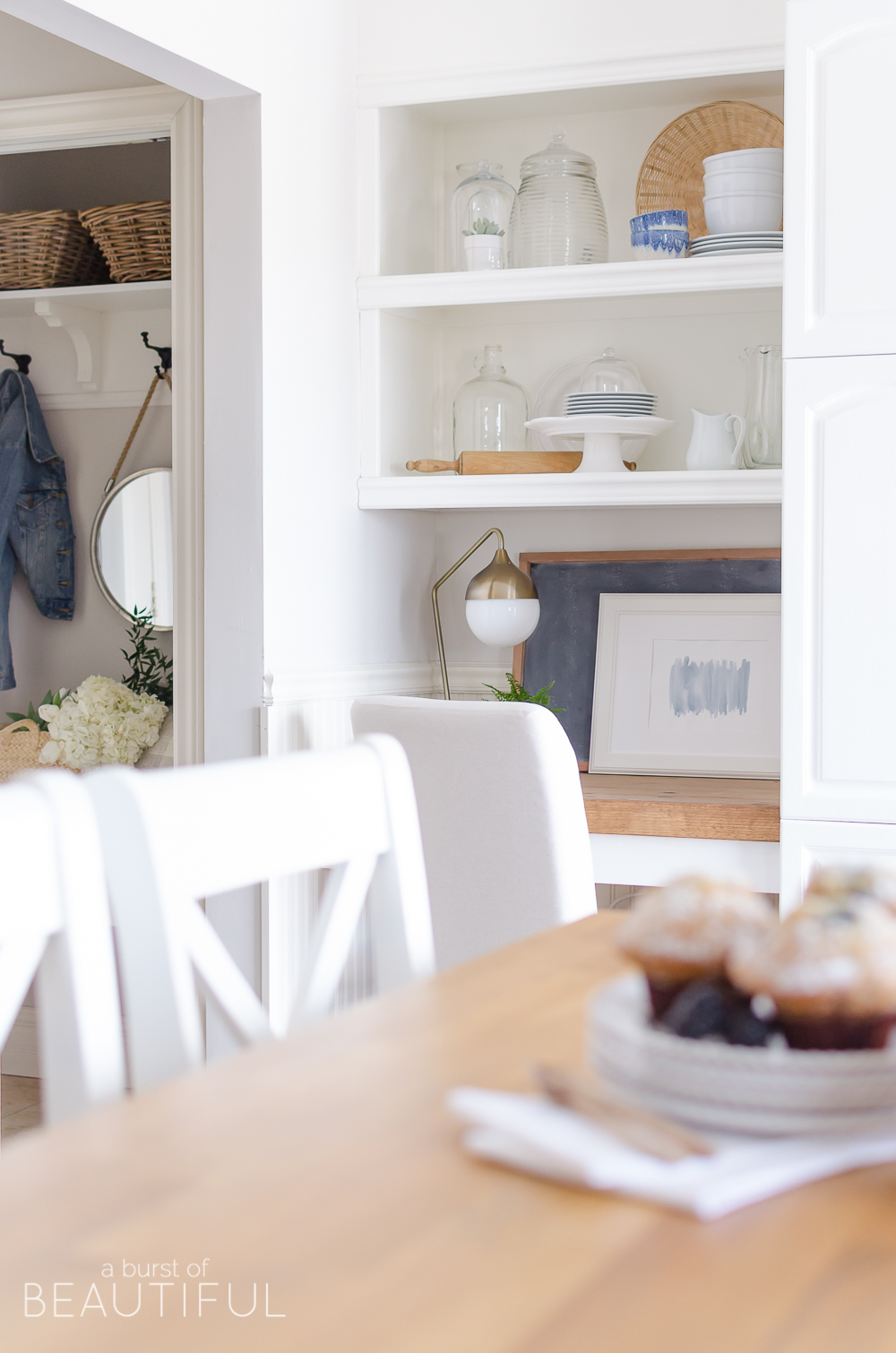 So you'll see we really didn't make many changes to our kitchen for the spring, simply brought in a few new pieces, like framed prints and I added a couple of blue dishes to our built-ins for a pop of color. Of course, a few new plants and vases filled with fresh flowers scattered about give it a bright and cheerful look. It's in the little details…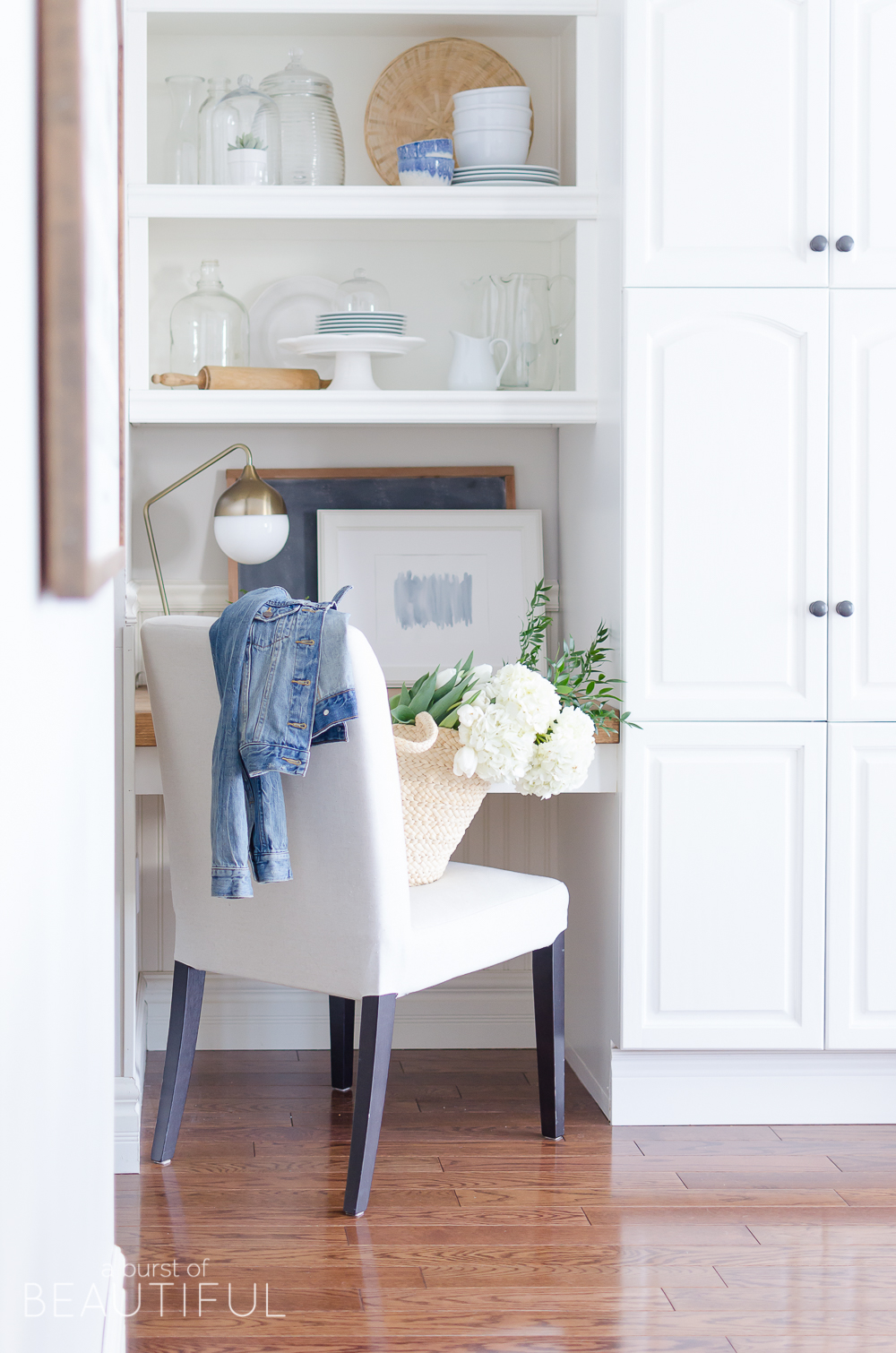 Our Seasonal Simplicity spring tour continues tomorrow with Abby from Just a Girl and Her Blog. You definitely won't want to miss her new home all ready for spring in her sweet signature style.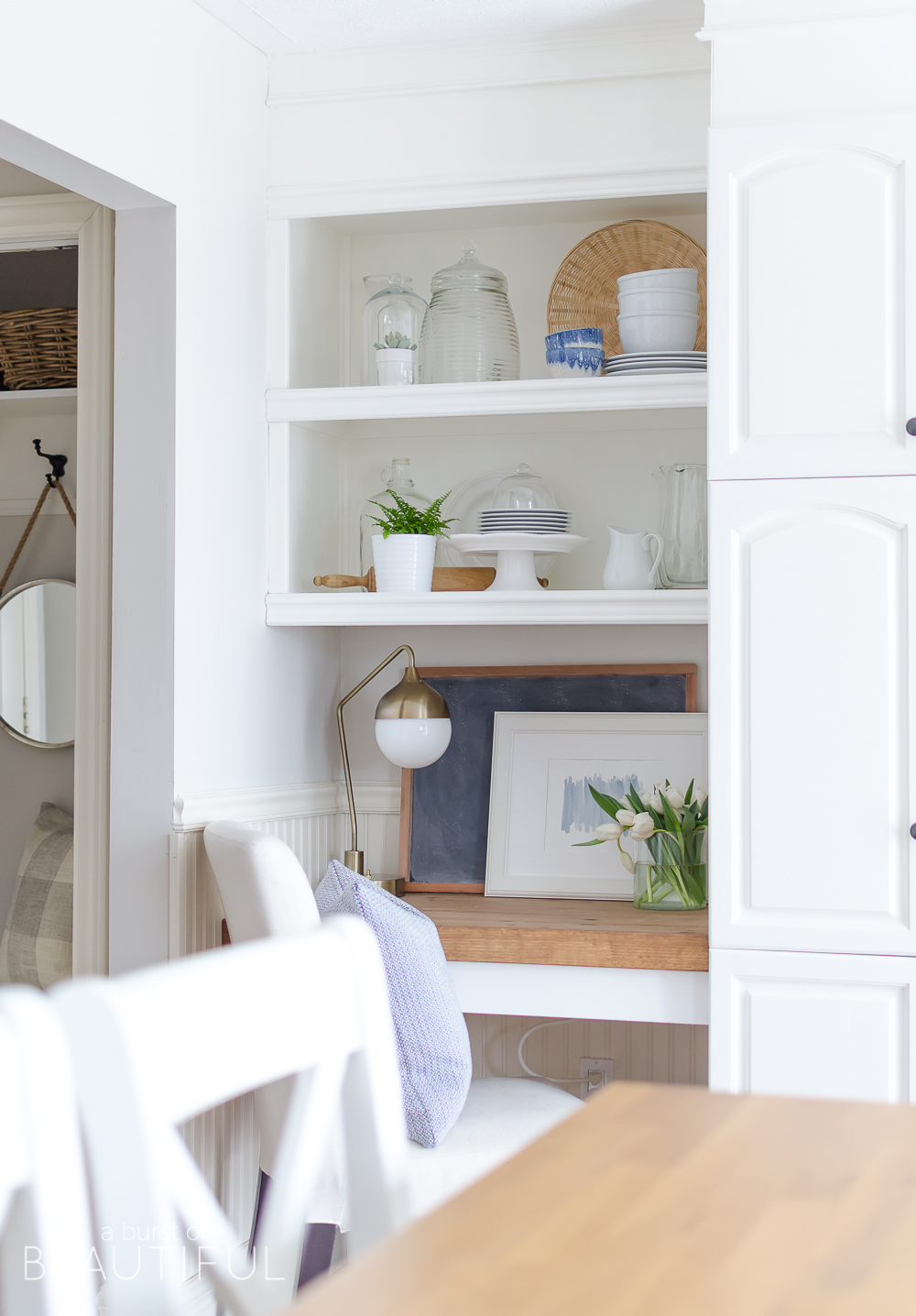 And we hope to see you next week as we continue sharing our spring home tour.
Spring Home Tour

Kitchen | Mudroom | Dining Room | Living Room
Have a beautiful day!
Alicia xo
Monday
House by Hoff / The Happy Housie / The Turquoise Home / Maison de Pax / Refresh Restyle
Tuesday
The House of Wood / Simplicity in the South / Place of My Taste / Tidy Mom / That's My Letter
Wednesday
Sincerely, Sara D. / at HOME with the barkers / Paint Me Pink / Nina Hendrick Design Co. / A Burst of Beautiful
Thursday
Just a Girl and Her Blog / Cherished Bliss / At Charlotte's House / House 214 Design / Town and Country Living
Friday
Cassie Bustamante / Robb Restyle / Erin Spain / My Fabuless Life / The Wicker House