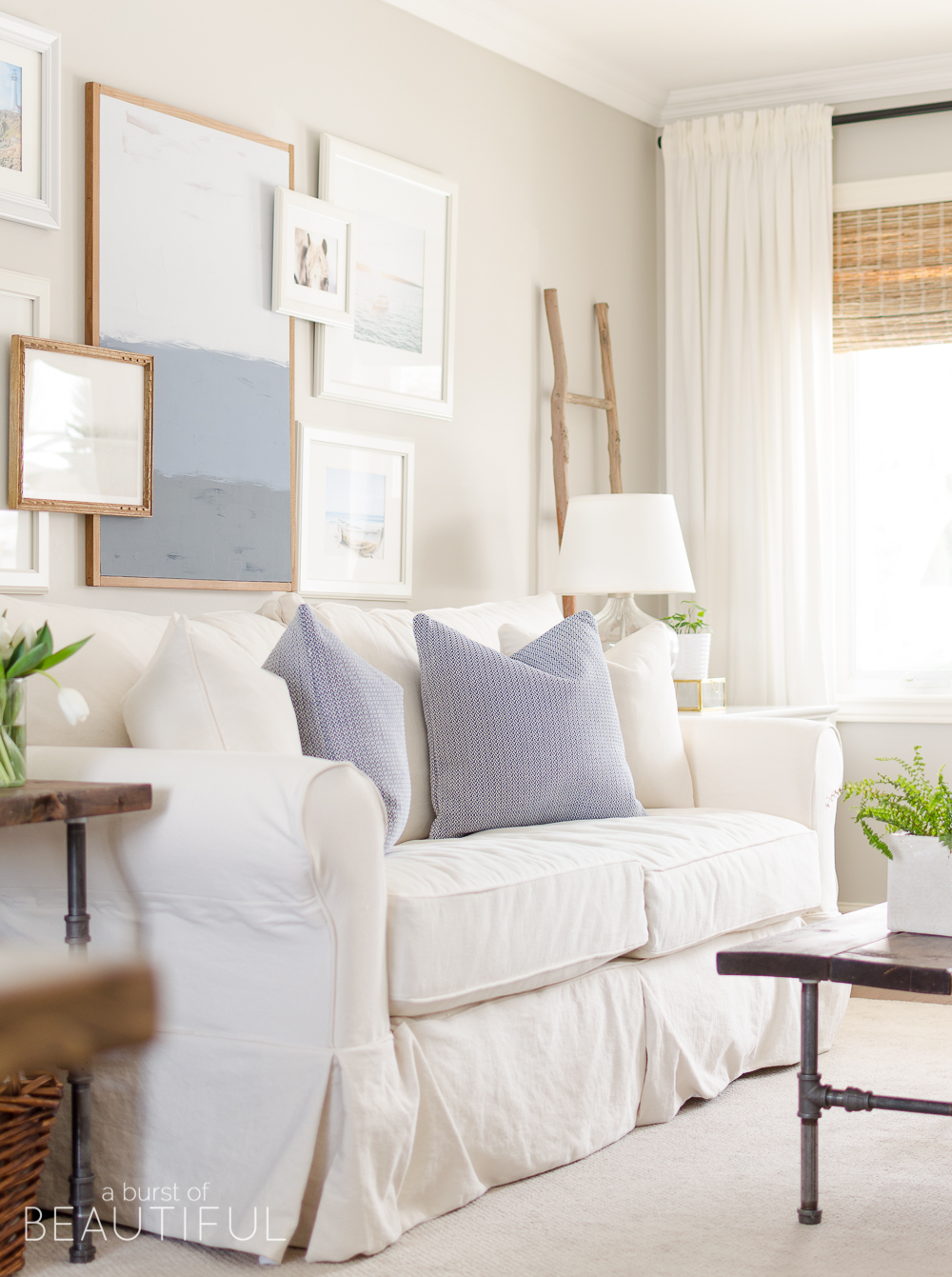 I usually sit at our dining room table while I work, but today I was drawn to our cozy little living room. I'm curled up on our sofa, with our cat, Finnigan, snoozing by my side. The sun is shining, the temperature is slowing rising, and in hopes that this is the official start of the season, we even opened our windows. The fresh air and the sound of children playing nearby leave me feeling energized and motivated.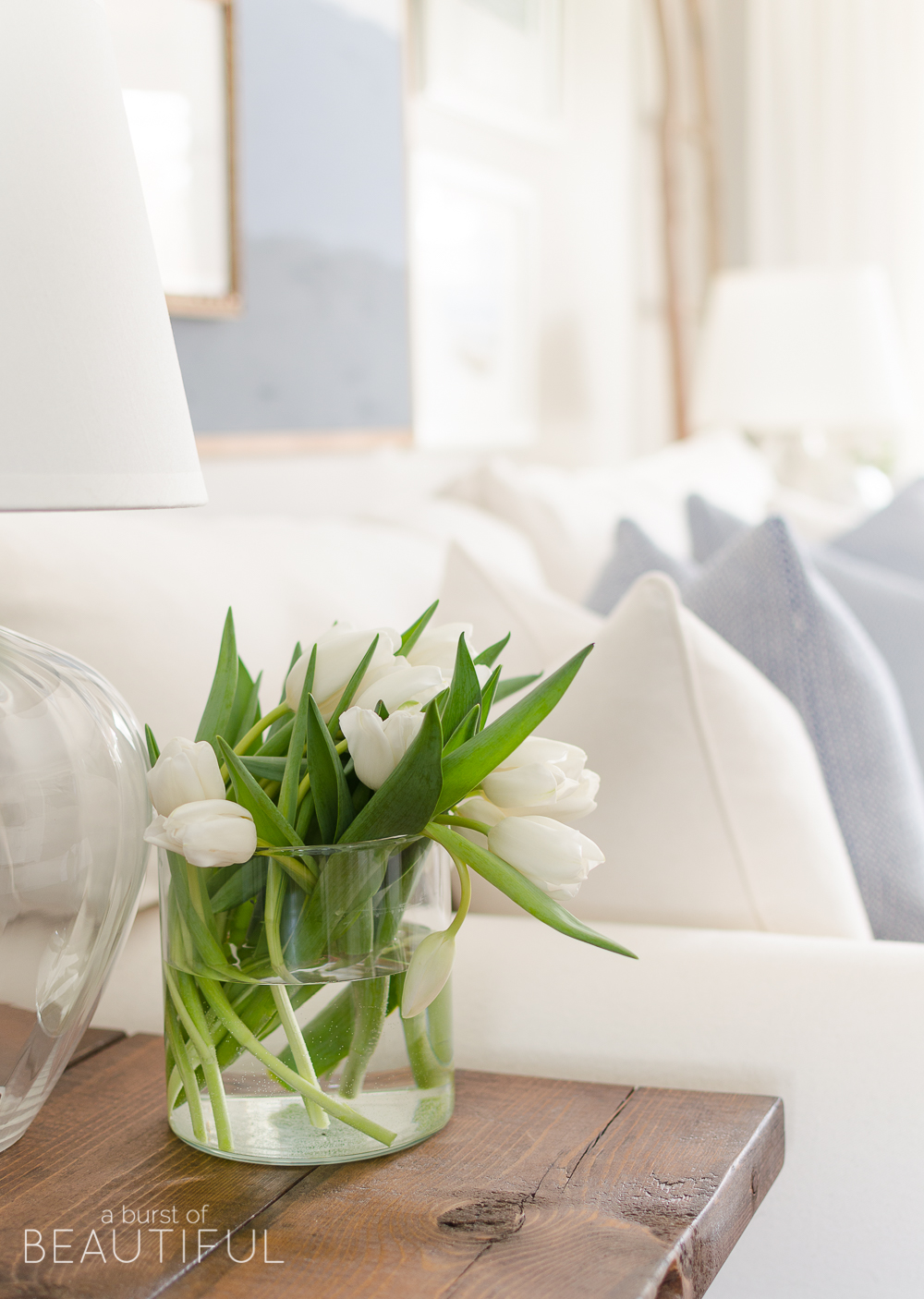 Looking around at this inviting little space we've created makes me happy. I've talked in the past about the difficulties I've had decorating our open concept living room and dining room, but I feel as if I've finally created a space that is beautiful and inviting, and most importantly, functional for our family.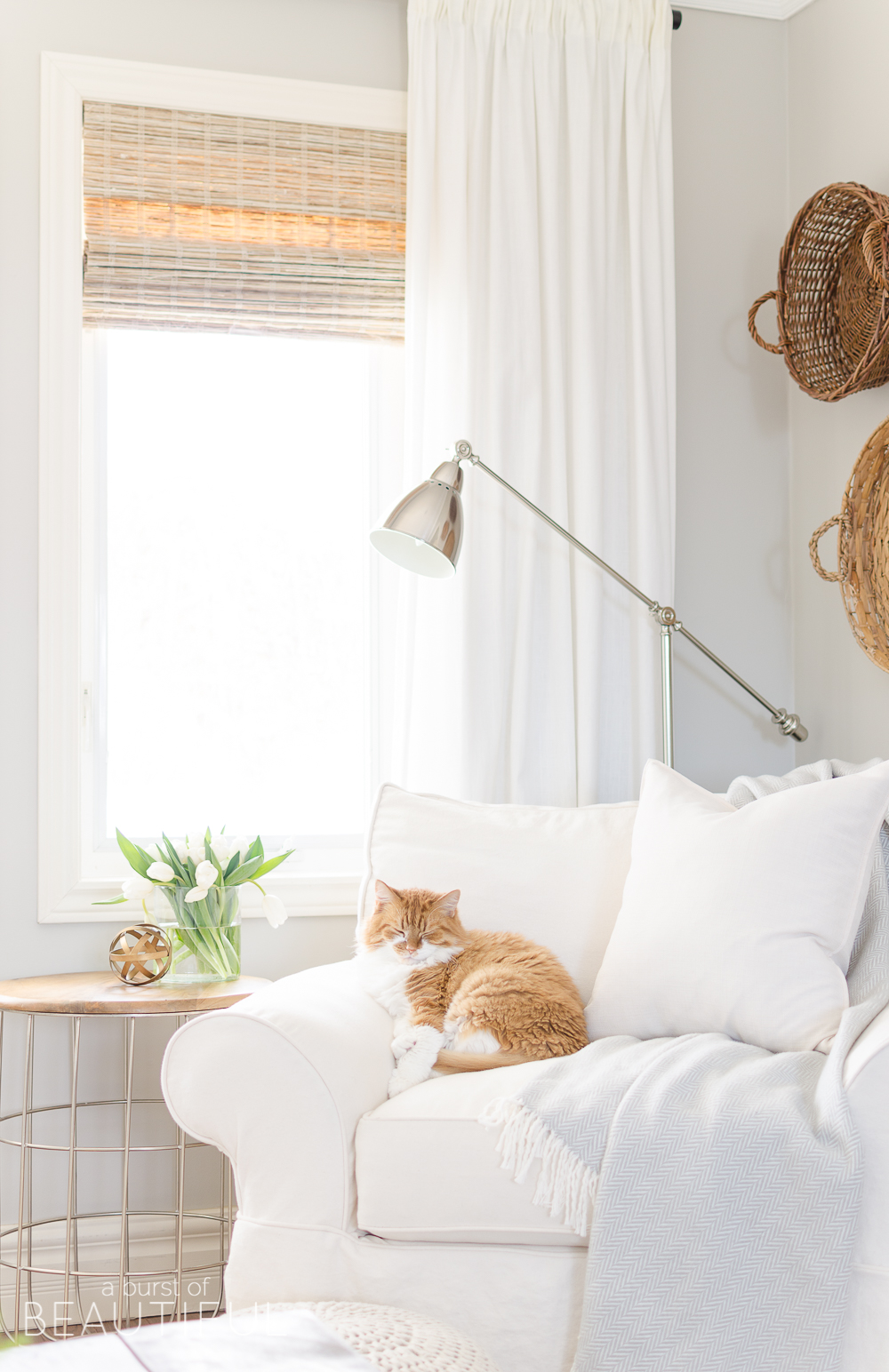 Get the Look
This post contains affiliate links, see our full disclosure policy
here
. Thank you for helping support our blog.

As the spring season slowly arrives, I've been craving the same simple and minimalistic look in here that the rest of our home has received (take a peek at our entire spring home tour below). There is something so therapeutic about ridding your home of the unnecessary clutter and layers that we seem to accumulate over the winter months. Don't you think?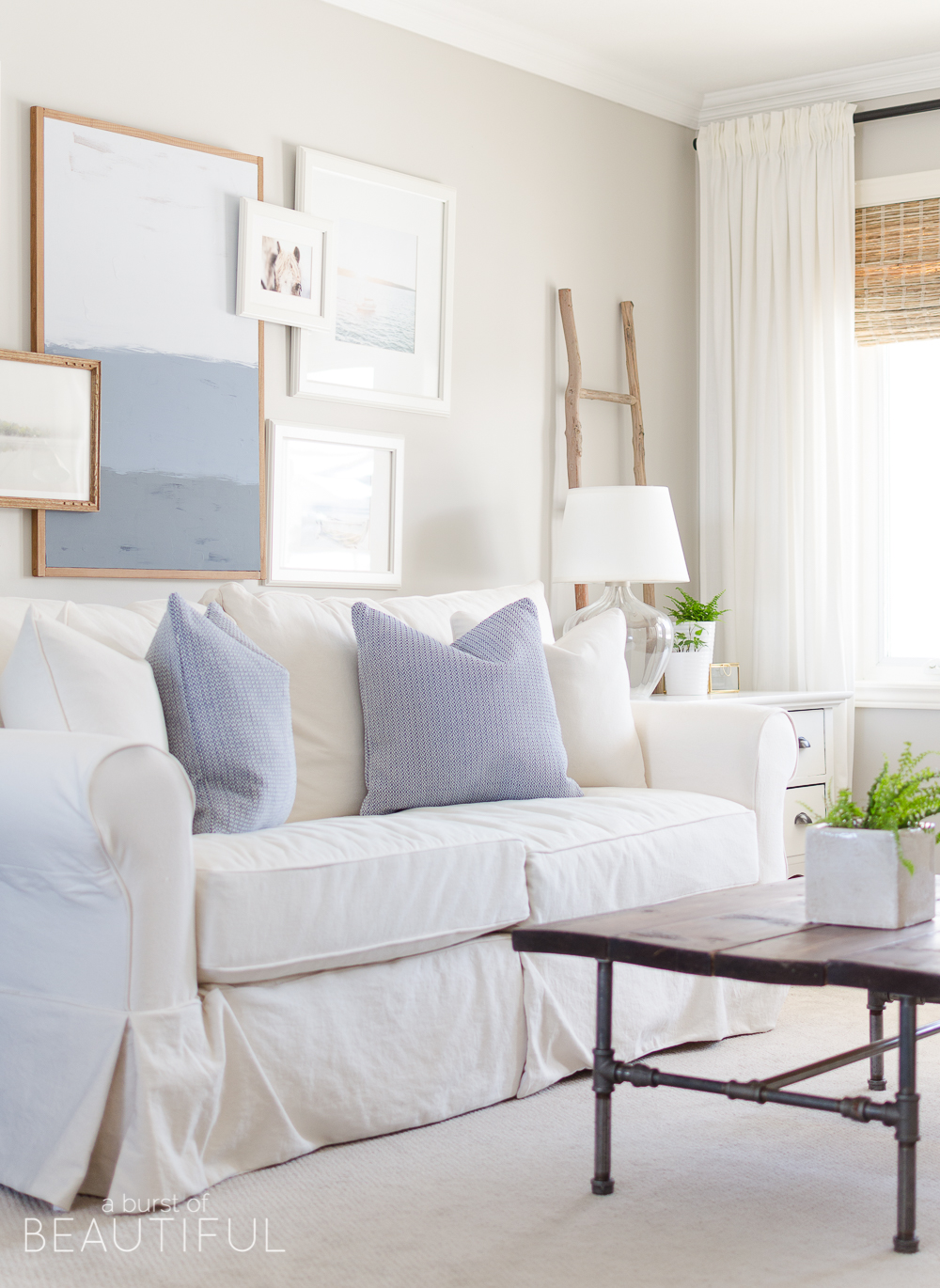 I really pared down our living room, stripping back all of the details until I was at the bare minimum.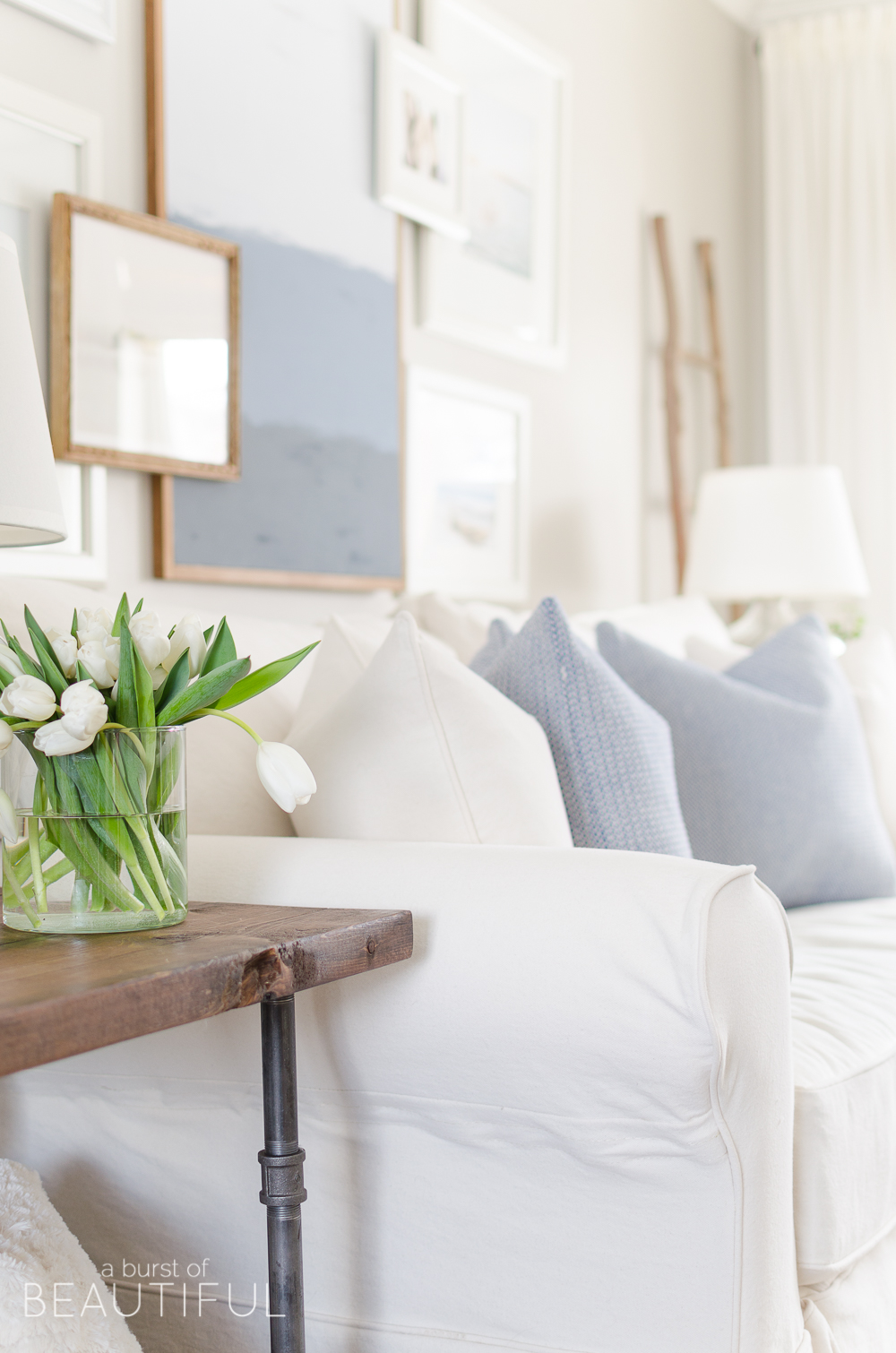 Then I went about adding in a few simple details to help brighten up the space and add some soft, subtle colors and textures for the season. I added these beautiful new throw pillows and I think they add just a hint of cheerfulness and color to our living room. I especially love how they pull the soft blue shades from our gallery wall just above the sofa.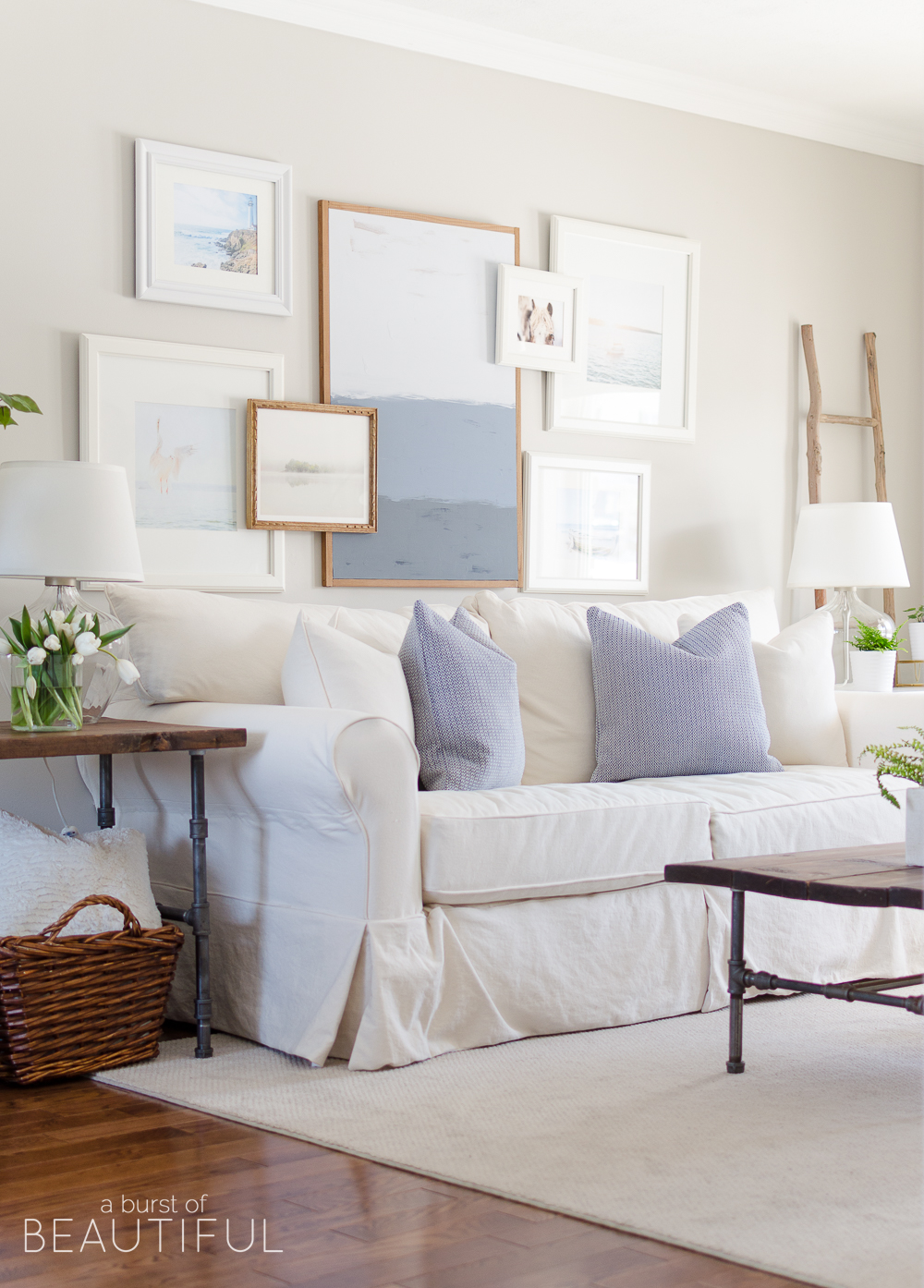 Speaking of our gallery wall, I updated a few of the prints to create more of a coastal feel. Photos of water always evoke a sense of calm and peace within me. Whether it's a lake, ocean or beach, I can almost hear the soothing sound of the water lapping at the shore and of birds calling to one another. I can feel the warmth of sunshine on my bare shoulders and see it dancing on the water.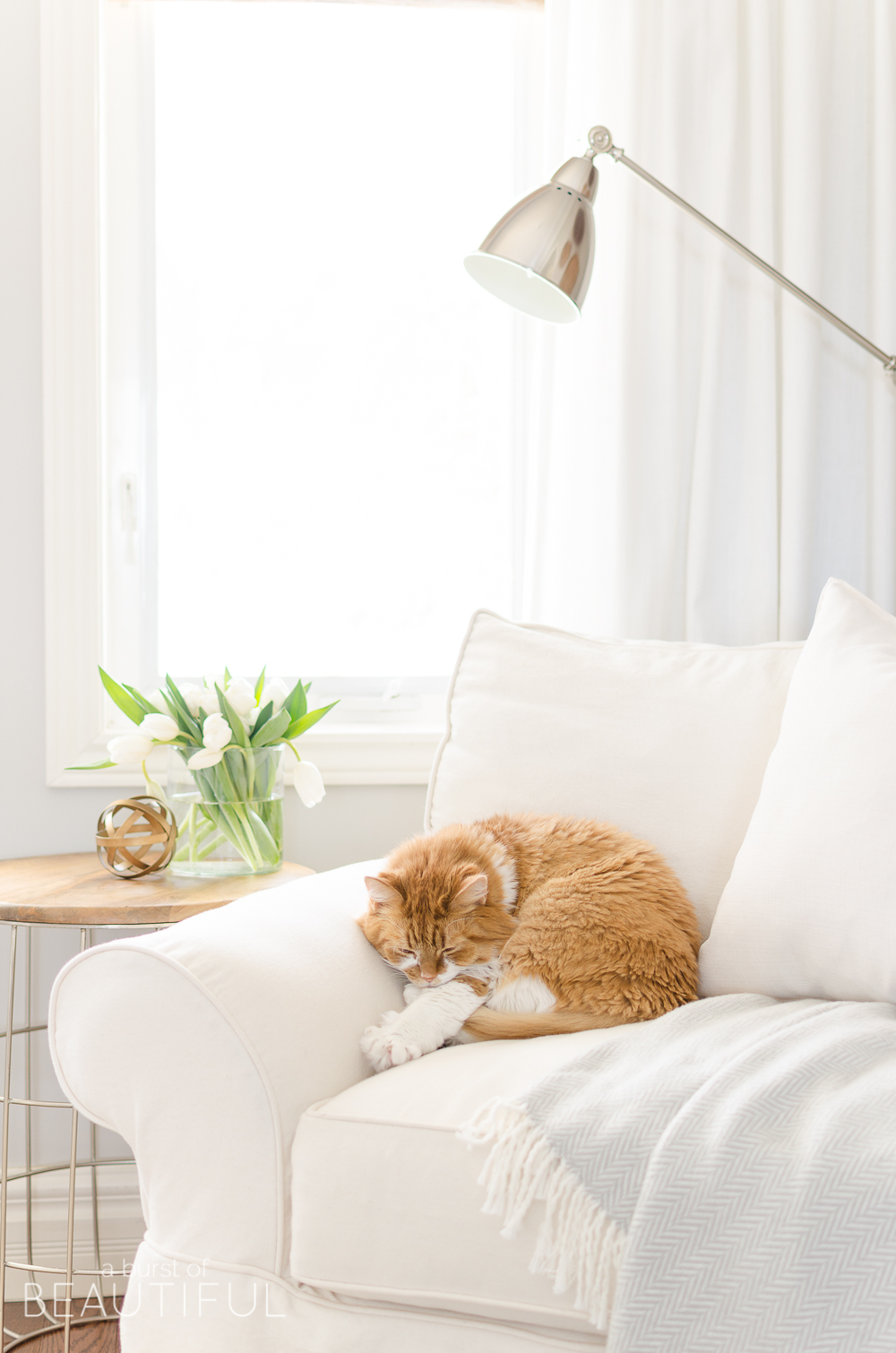 Of course, I incorporated fresh flowers and potted plants to add a little bit of life to our living room. A vase filled with simple white tulips is one of my favorite spring additions to any room. And how sweet does our Finnigan looked curled up next to them?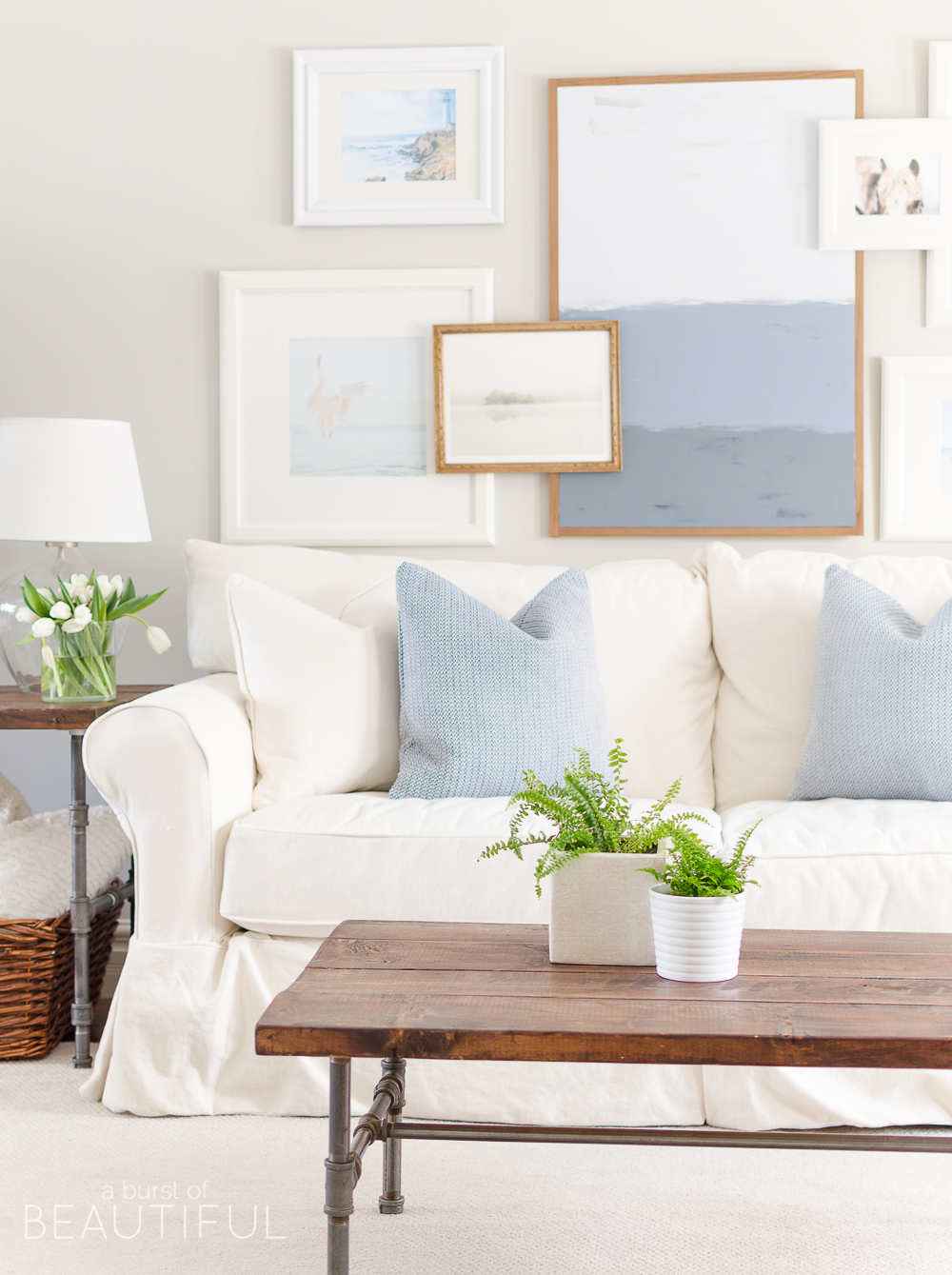 I also added in a few different potted plants, like this small collection of mini ferns on our coffee table. It's a simple and easy centerpiece, and they can quickly be moved as our coffee table also doubles as a coloring zone for our little artist. We love having a beautiful home, but it must also be practical for our busy family. We always remind ourselves that a beautiful home is nothing if we cannot enjoy it.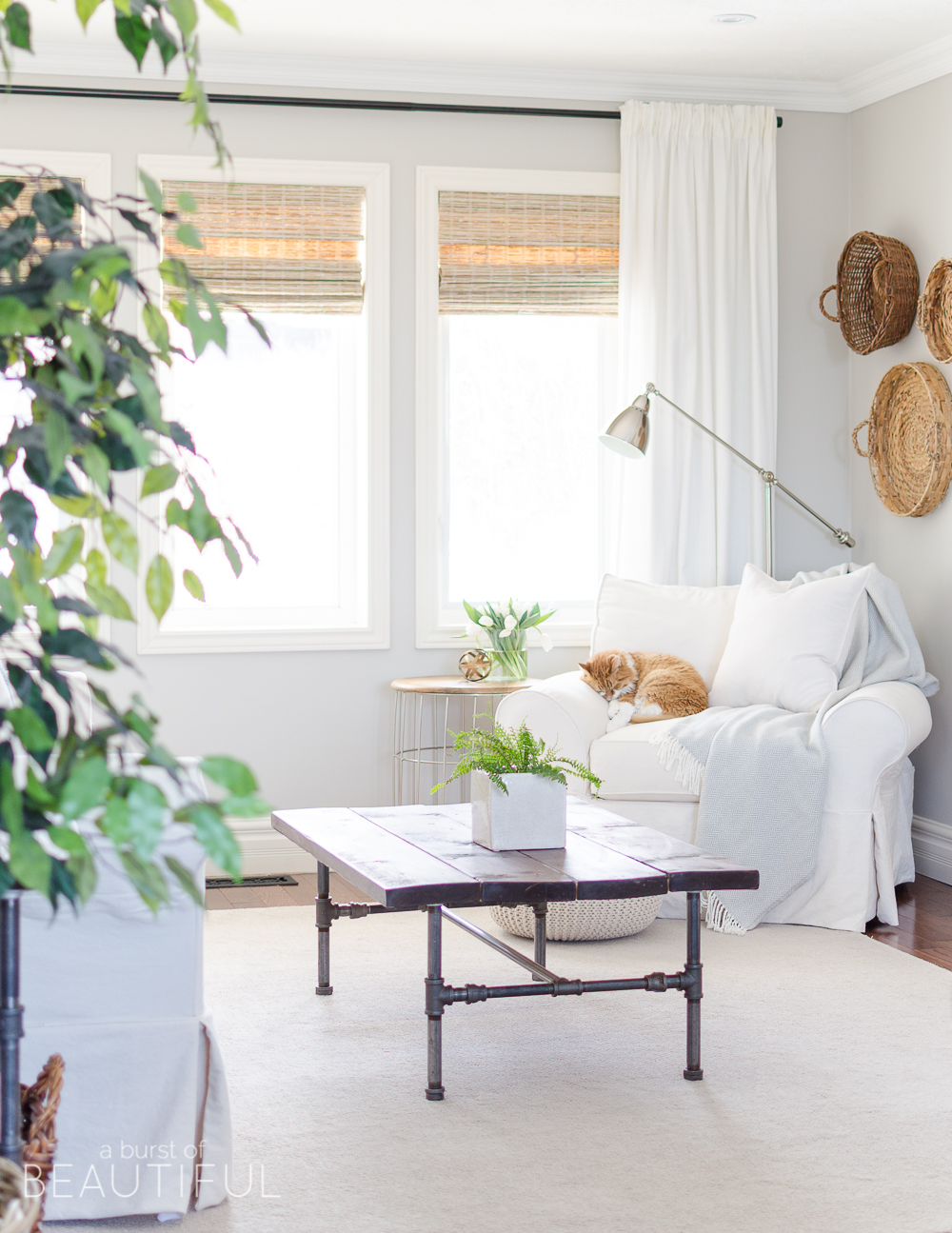 You may remember last fall we added these gorgeous woven wood shades to our living room, and each and every day they remind me that a simple change can make a world of difference. Not only are they a safer option (because they are cordless), they just add so much color and texture to a space that would otherwise be lacking both of those elements.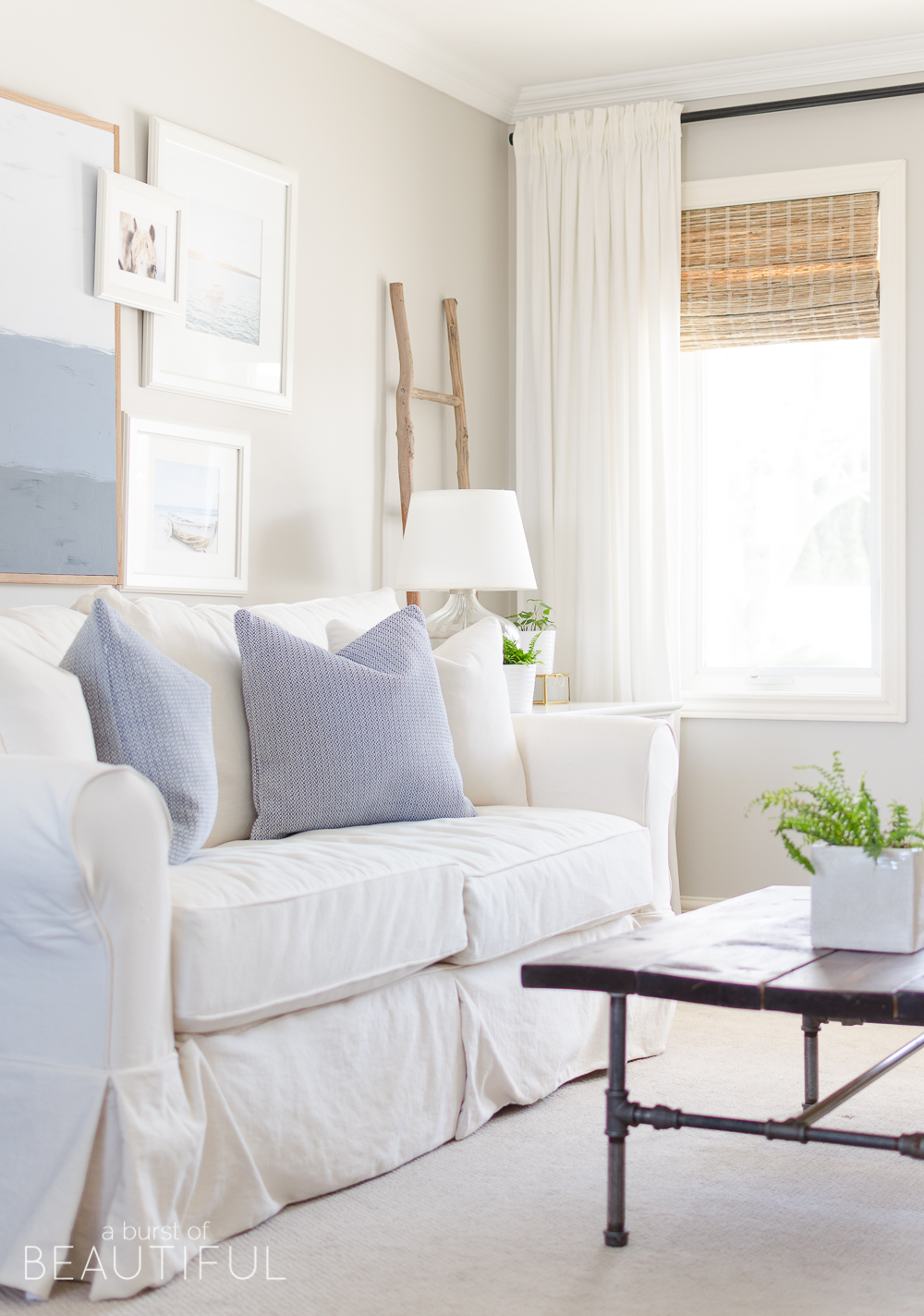 We are really enjoying the simple and sweet details we've added to our home for the spring season, and we truly hope you enjoyed this little glimpse into our home. You can check out each room we shared this spring by following the links below. We'd love to know which space is your favorite – our mudroom, kitchen, dining room or living room – just leave us a comment below.
Have a wonderful day!
Alicia xo
Spring Home Tour

Kitchen      |      Mudroom      |      Dining Room      |      Living Room