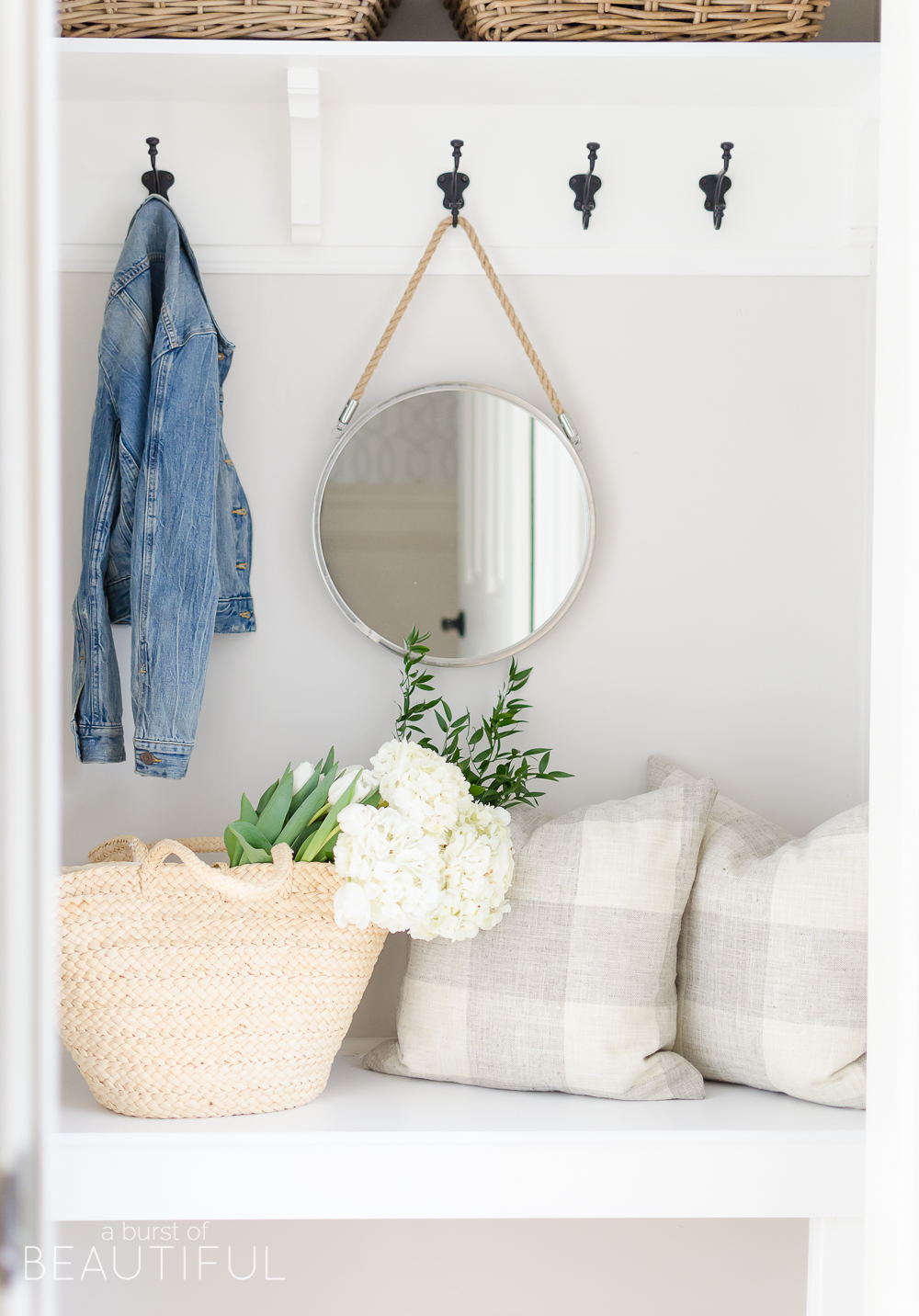 Our spring home tour continues today with our mudroom (check out the rest of our spring home tour at the end of this post), and I must say I had a lot of fun changing up this little space for the season.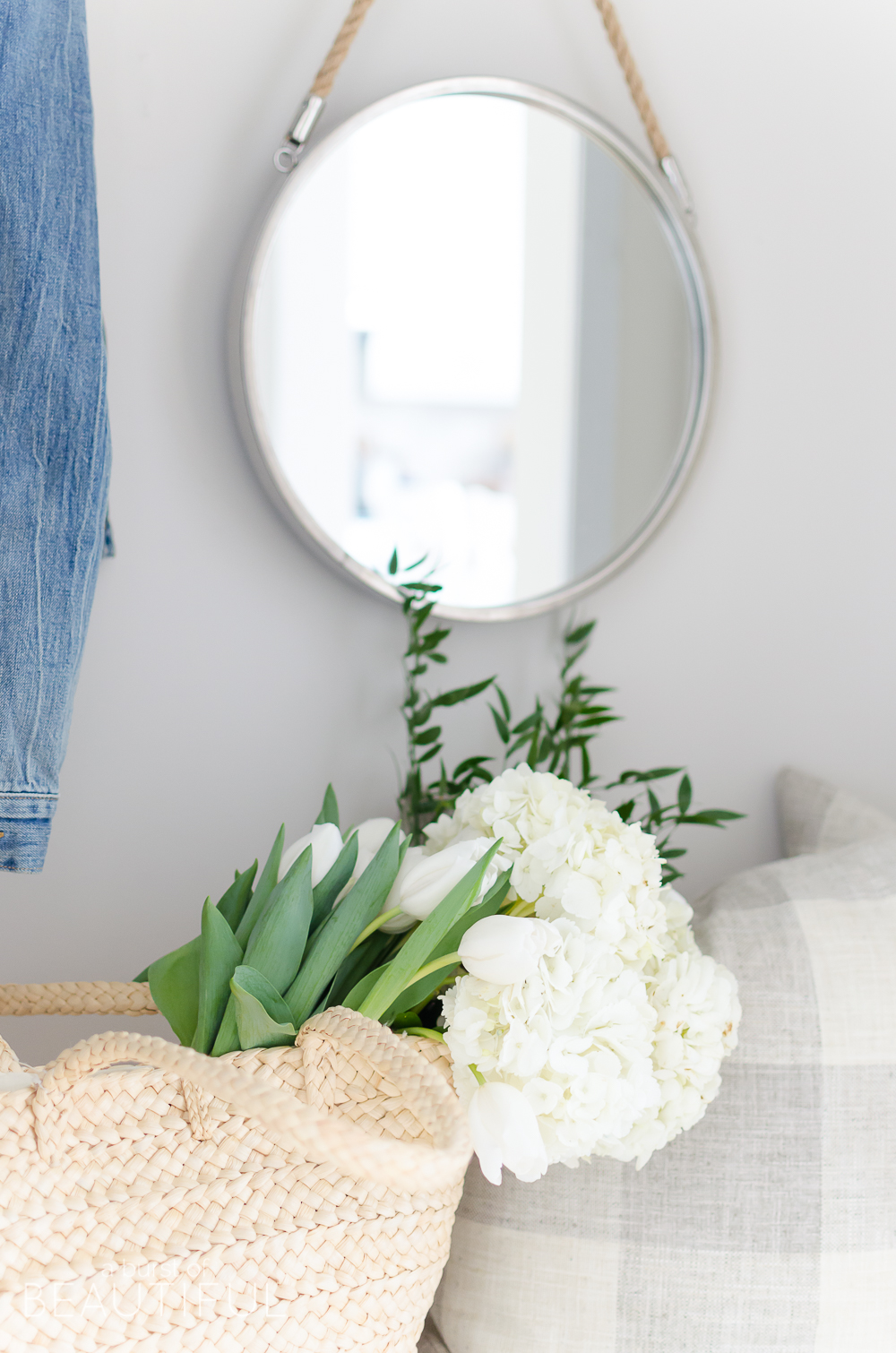 Looking at it today, I cannot believe what this nook looked like before we turned it into our own mini mudroom. It was a cramped and disorganized mess of a coat closet…if you really want to see the scary before photos you can see the entire transformation here.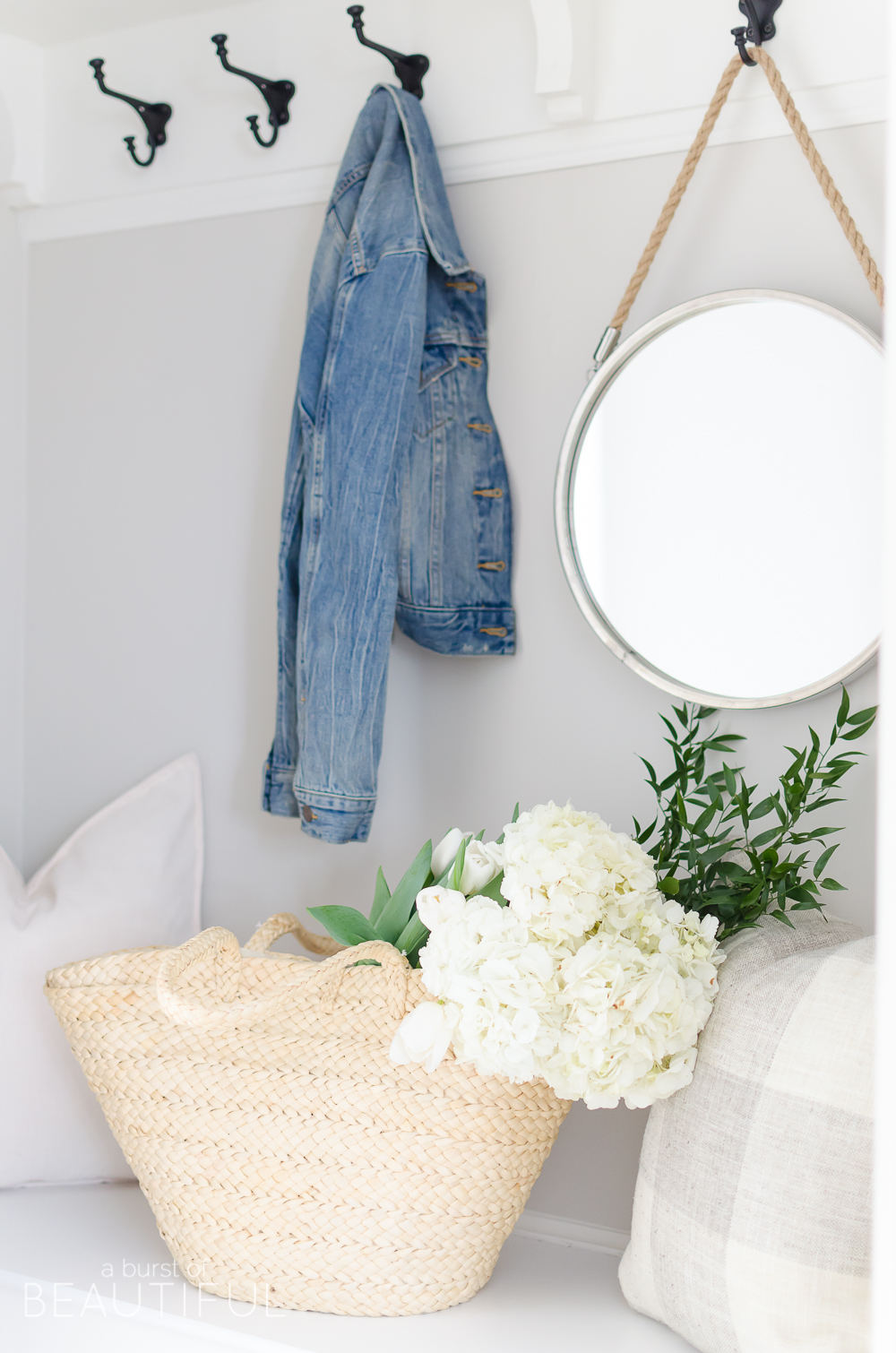 With the arrival of spring, I always have the urge to empty our home of unnecessary clutter. I find it helps me to really create a sense of renewal and calm throughout our whole home, and it's definitely felt among our entire family. It truly gives us a sense of lightness after our long, dark winters in Canada.
So even though we haven't been able to stash away our winter gear for good yet, I had fun pretending the season of denim jackets and straw totes was among us. It's really nice not having this space cluttered with winter coats, scarves, hats and boots, but that is our reality for six months of the year.
Get The Look
This post contains affiliate links, see our full disclosure policy
here
. Thank you for helping support our blog.

Because this space is open to the rest of our house, we are often asked how we keep it looking so neat and tidy. Truthfully, it has been a lot easier than I thought it was going to be. Nick and I were both pretty hesitant when we decided to remove the closet door, I remember thinking we will definitely have to put it back on once winter arrives. But we have nearly survived the whole season without doing that.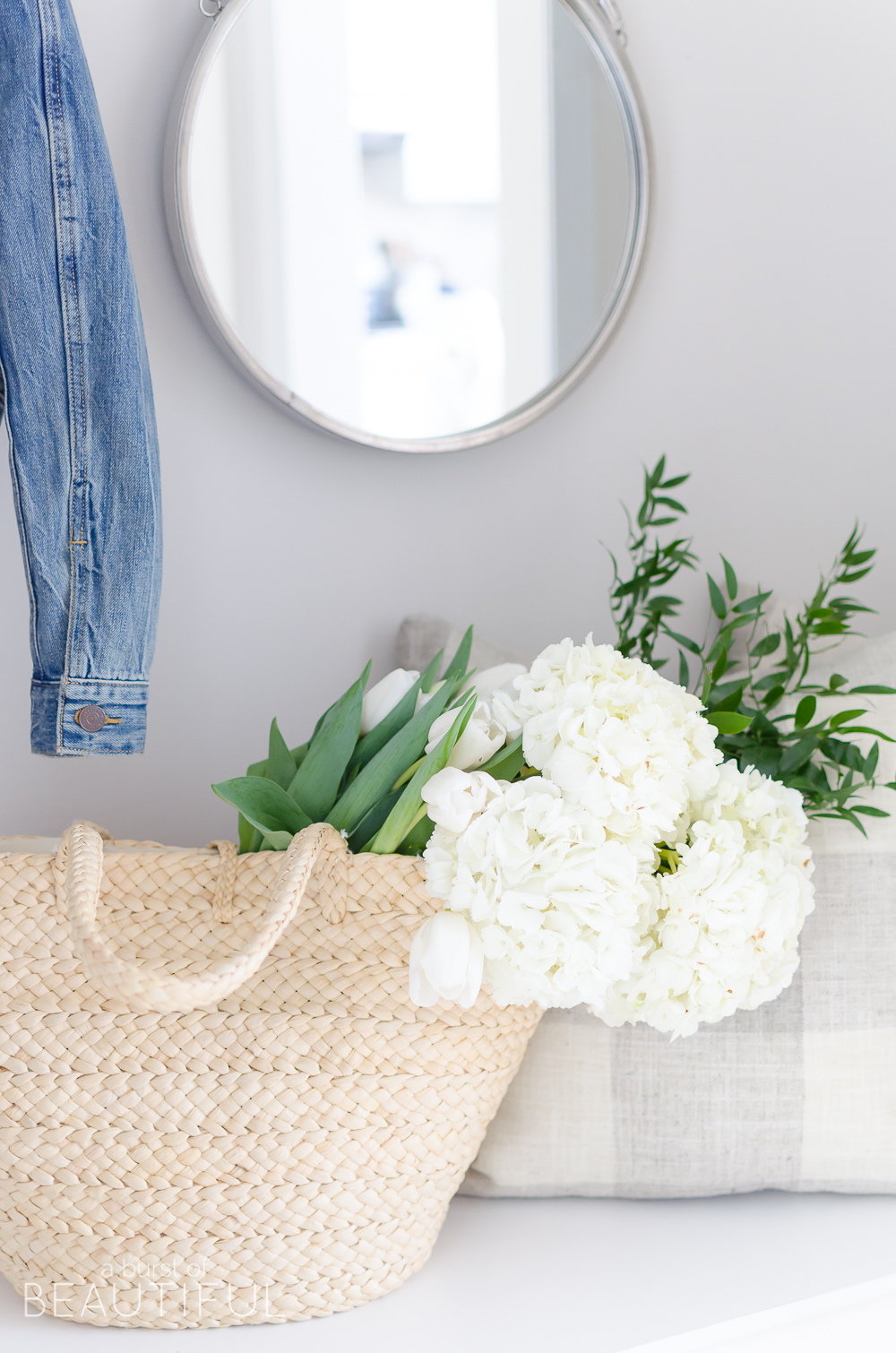 I think part of the reason why it has been easy is because it is so open to the rest of our home, it kind of forces us to keep things to a minimum. We realized we don't each need five to 10 different hats or three different jackets. Our everyday winter accessories are kept in the baskets on the top shelf, and coats and snowsuits are hung from the hooks. All of the extras are stored in our upstairs closet, like dress coats we only need on occasion, or in tubs in the garage. It also makes heading out in the morning a lot easier.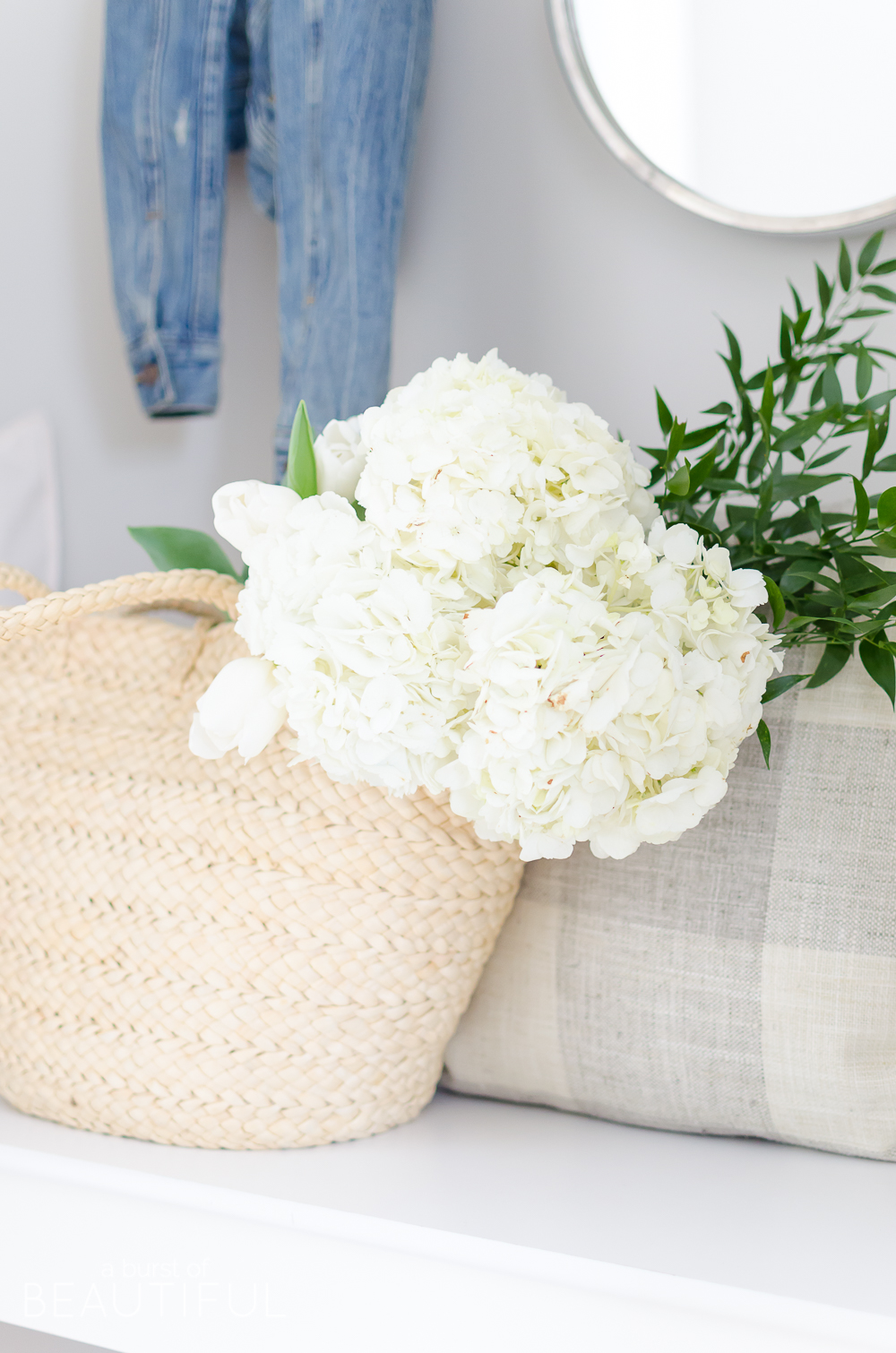 So the answer is, it's not hard to keep it uncluttered, but it doesn't always look as pretty as it does in our photos.
Speaking of…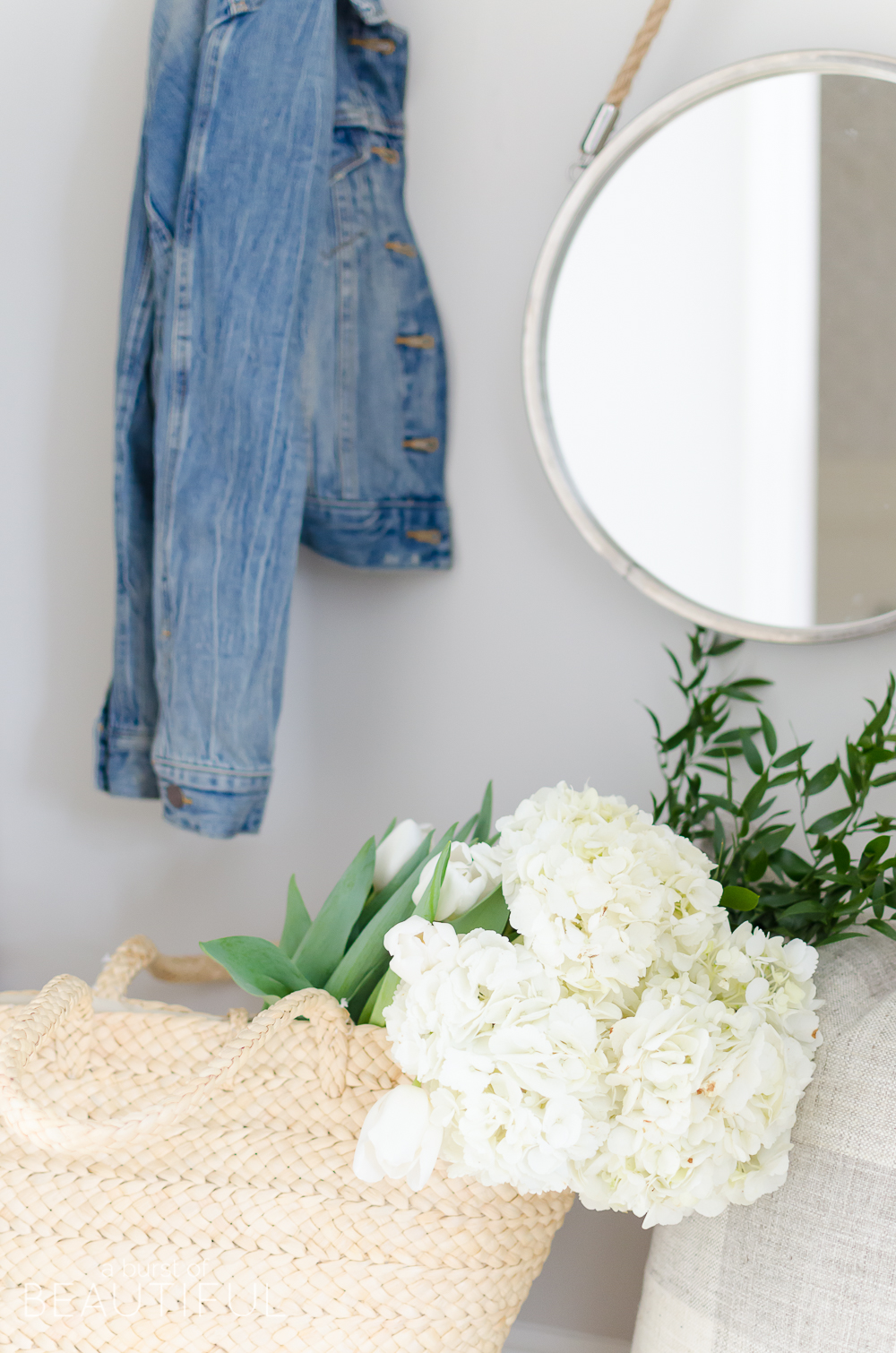 I simply hung up my favorite denim jacket along with a simple round mirror with a rope handle. I love keeping a mirror here for quick glances before running out the door, with a toddler you never know when you may have peanut butter smeared on your shirt or a noodle hanging from your hair. 😉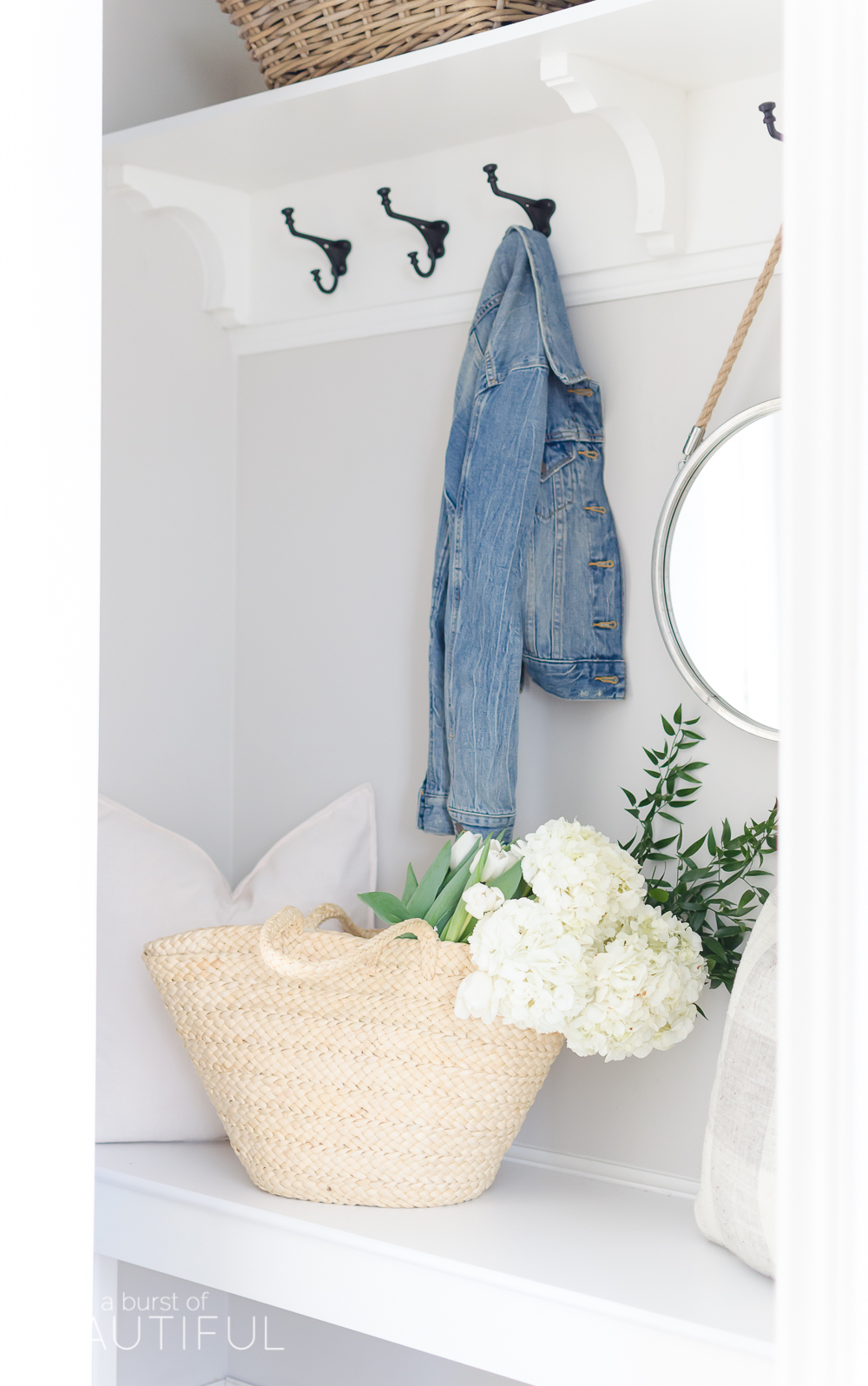 A straw tote filled with flowers is a spring essential – you just need to take a quick scroll through Instagram to know that! This straw tote is one of my favorite pieces for spring and summer. I bought it years ago (I'm not even sure where!), but it's been the perfect companion for spring picnics and summer beach days.
I hope you enjoyed this little glimpse into our spring mudroom, we will be sharing more of our home this week!
Alicia xo
Spring Home Tour

Kitchen      |      Mudroom      |      Dining Room      |      Living Room