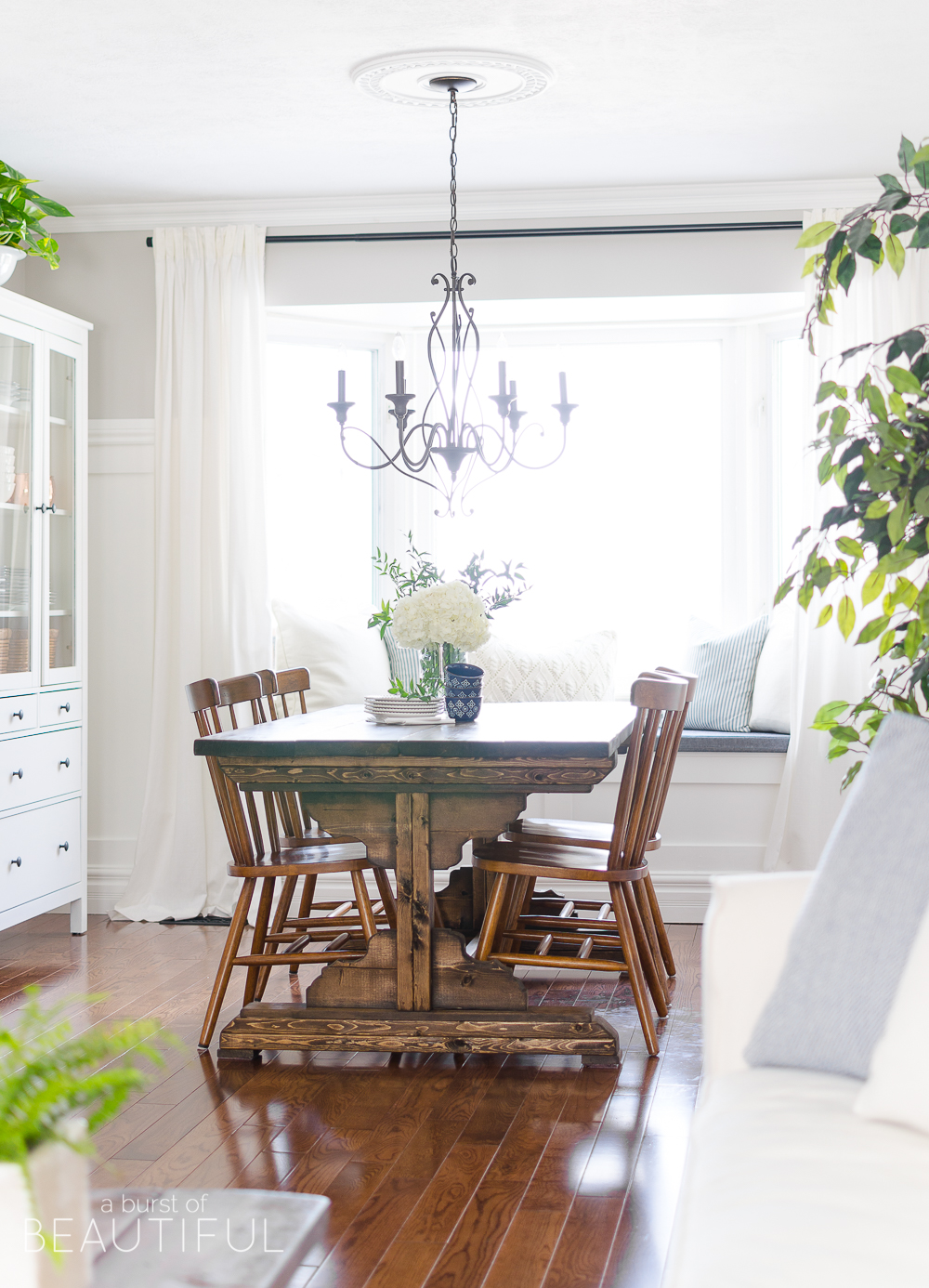 As I sit in our dining room writing today's post, I am deceived by both the sunlight streaming through the windows and the title of the post I am writing – Spring Home Tour: Our Dining Room. It is a bitterly cold day and I know many areas are battling brutal winter storms as we speak. But alas, I am warm and cozy in our home and happy to pretend, even for just a few hours, that the spring season is among us.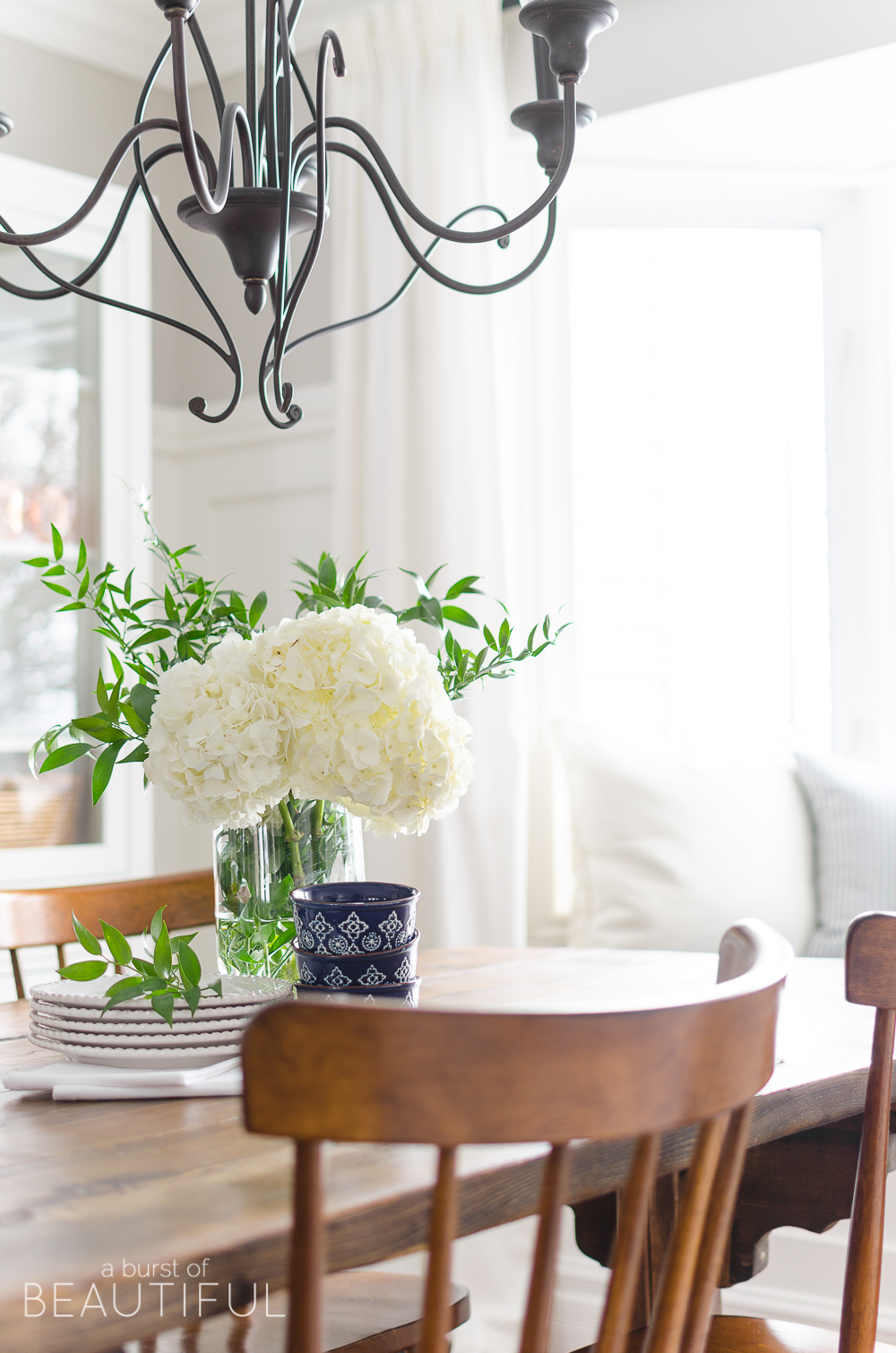 And even though we are still experiencing winter weather we have been embracing spring whole heartedly around here for a few weeks now. Our home has been pared down and freshened up in anticipation of the season (take a peek at our spring mudroom and kitchen tours), I set a cheerful Easter tablescape and shared two free spring printables (here and here). We are definitely ready to see the shift in seasons.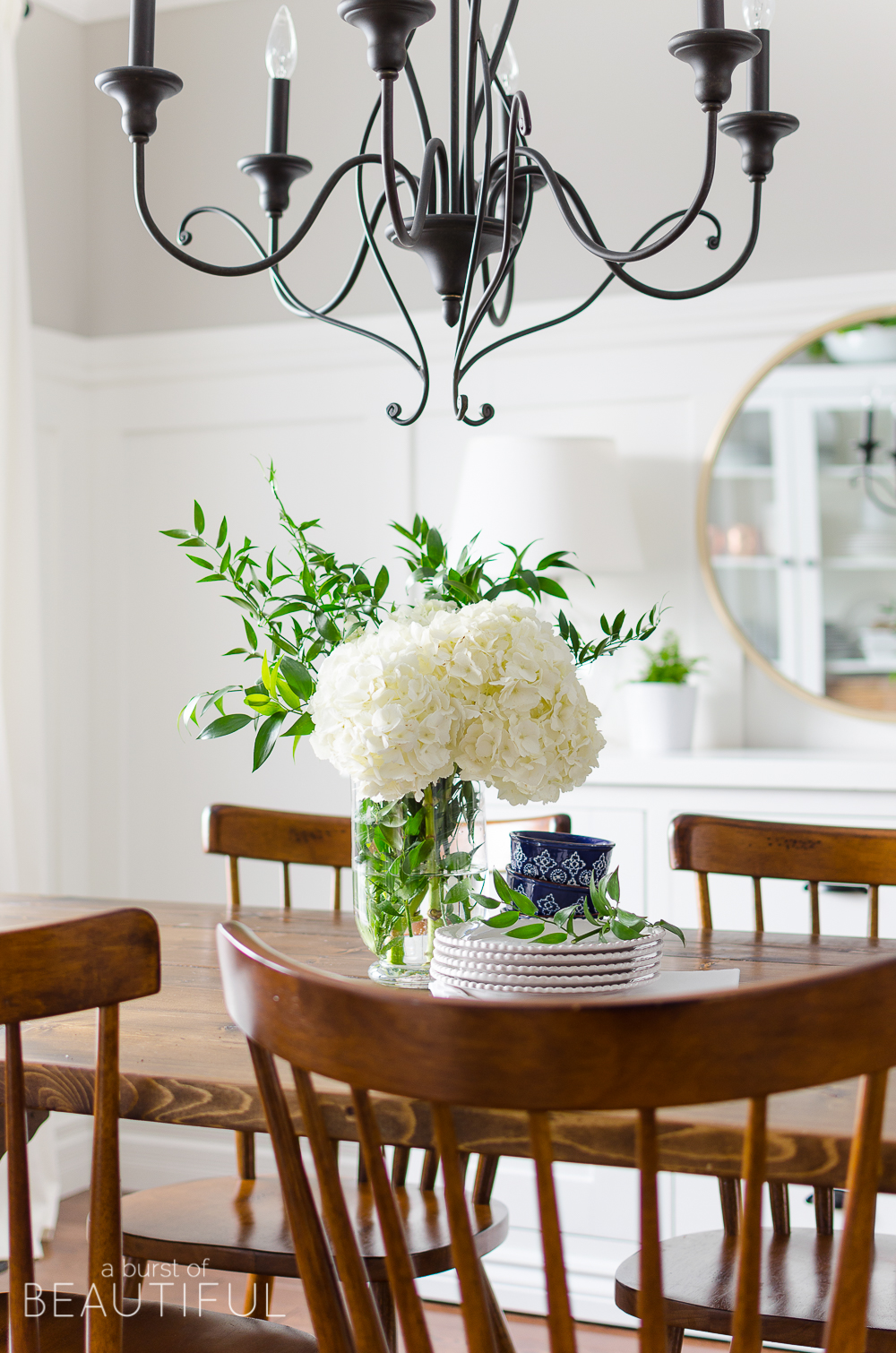 So, today I want to welcome you into our dining room freshened up for spring. I also really want your advice, but I'll get to more on that later.
We really didn't make too many changes in this space, I just really wanted to keep the room feeling light and relaxed.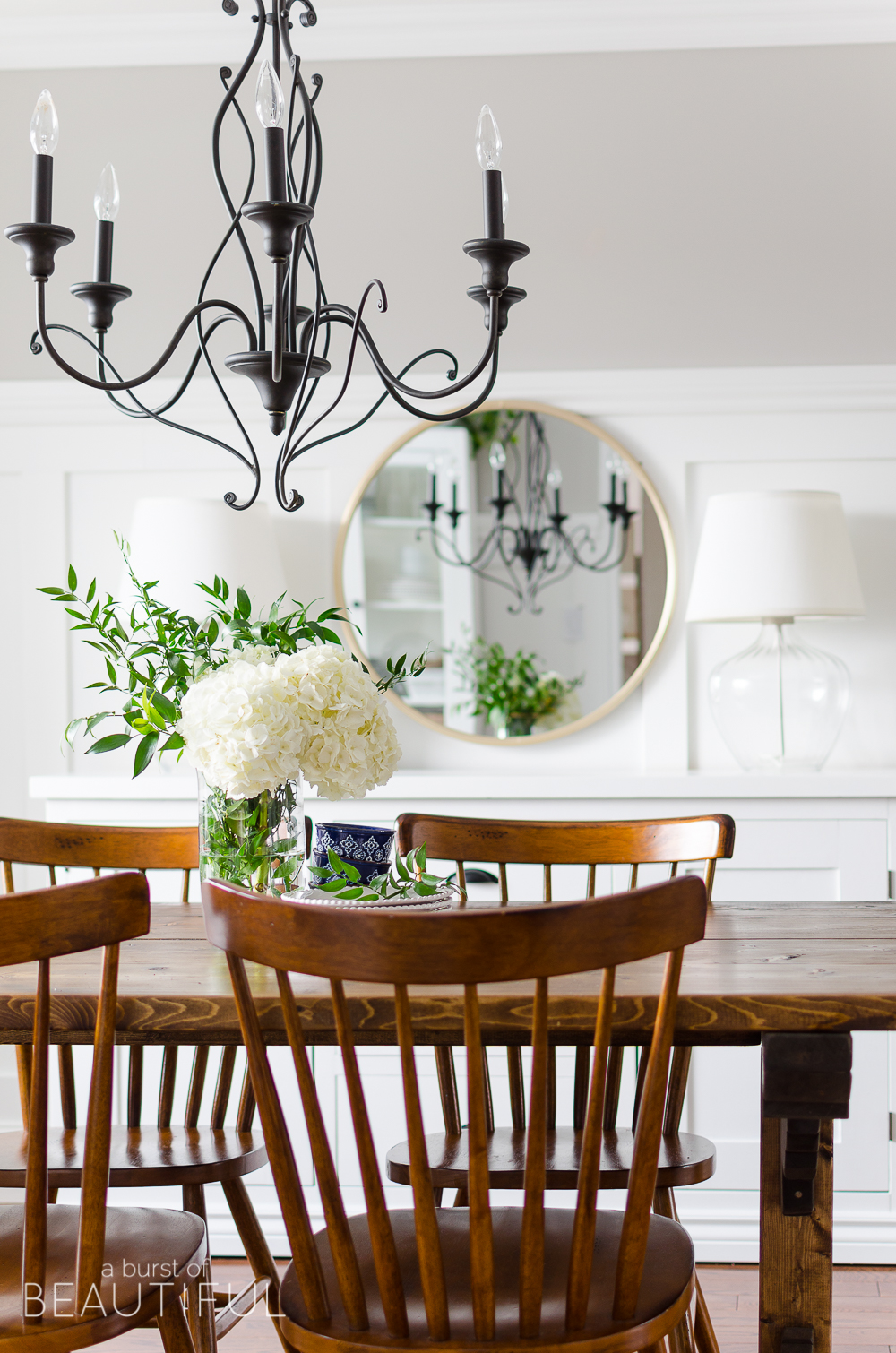 Most noticeably, the newest piece in our dining room is this gorgeous white sideboard that I shared on Instagram a few weeks ago (you can follow us here). Nick built it for us, so obviously we chose dimensions that worked well in our dining room, but I still cannot get over how perfectly it complements the room. It is just what our dining room needed to fill in that empty wall. We hung an understated gold-framed mirror above it and anchored it with these glass lamps I borrowed from our living room. I am on a search for the perfect lamps for in here, and I promise we will be sharing the tutorial for this piece soon.
Shop the Post
This post contains affiliate links, see our full disclosure policy
here
. Thank you for helping support our blog.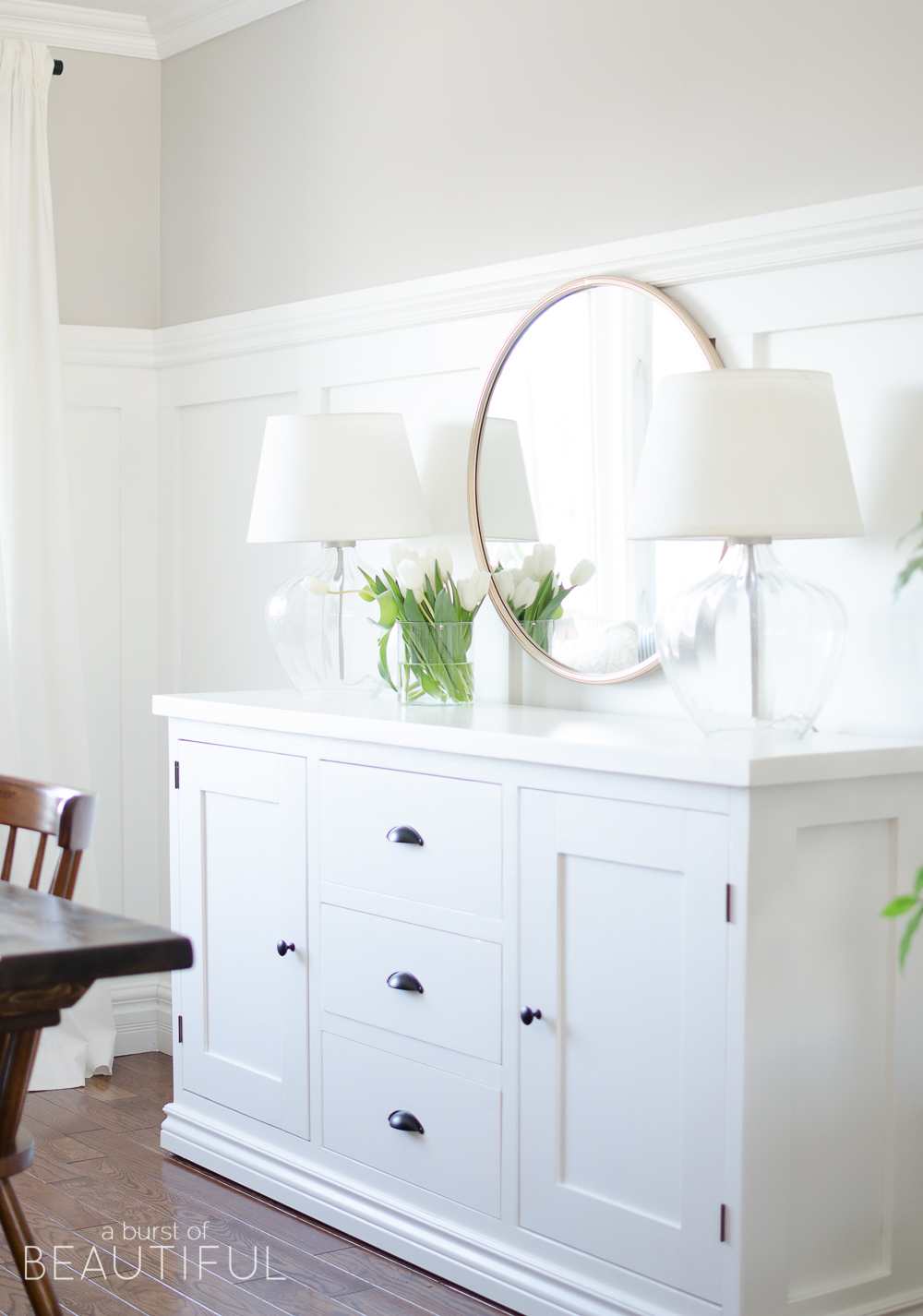 You might also notice that our dining chairs are new. Well, new to us…I talk a little bit about them here. But between the chairs, dining table and floor, we feel like it is a lot of dark wood. I posed this question on Instagram a few days ago, but I'd love to hear from you if you haven't already shared your thoughts. So this is where you come in… 🙂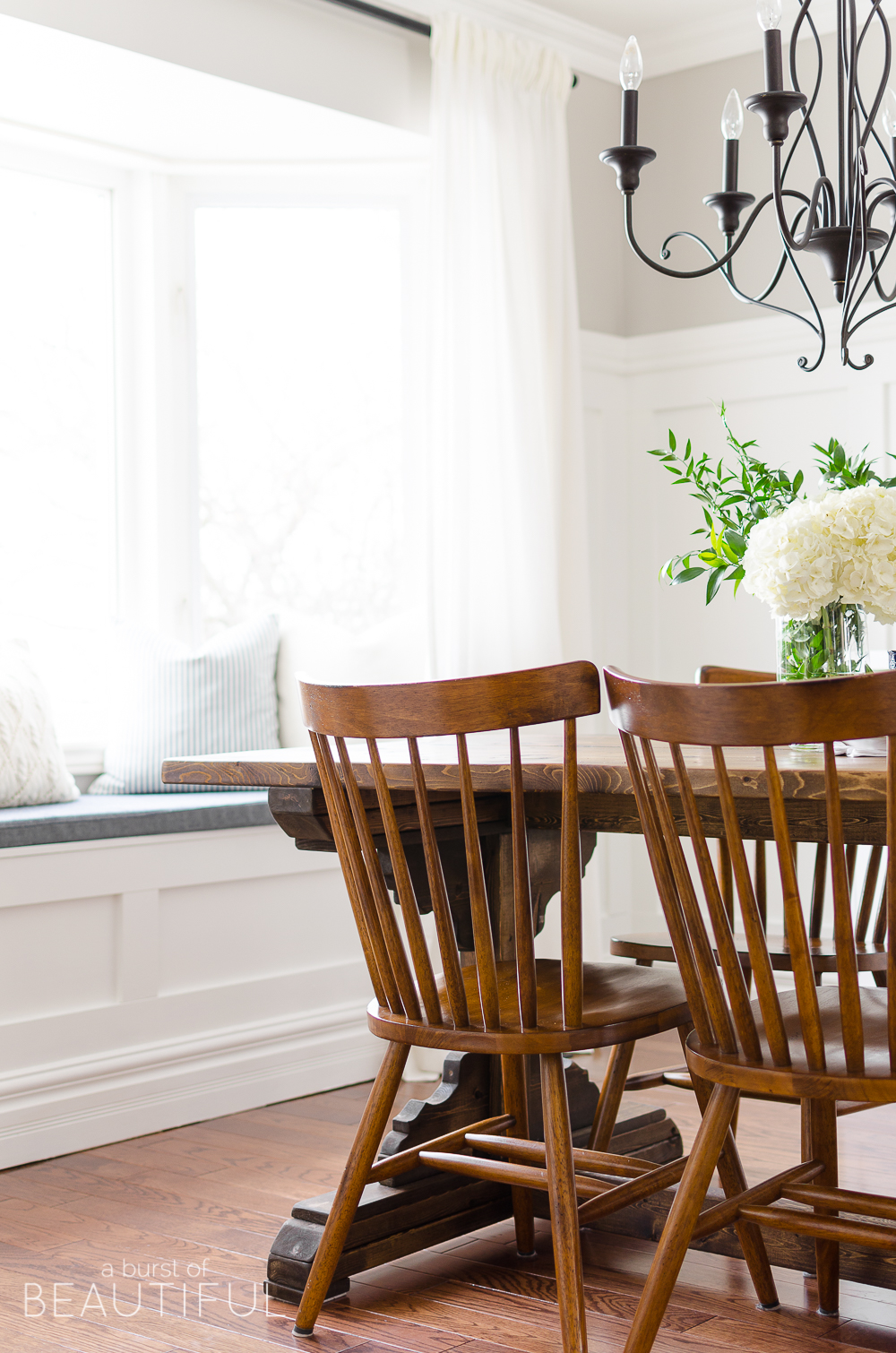 Initially, we were considering painting the base of the table, probably a lightly distressed white. But after asking this question on Instagram we received a mix reaction. Some say to keep the table as it is while other suggest we should paint it to add some contrast. A few more recommended painting our chairs or suggested incorporating an area rug as an easy way to break up the wood elements.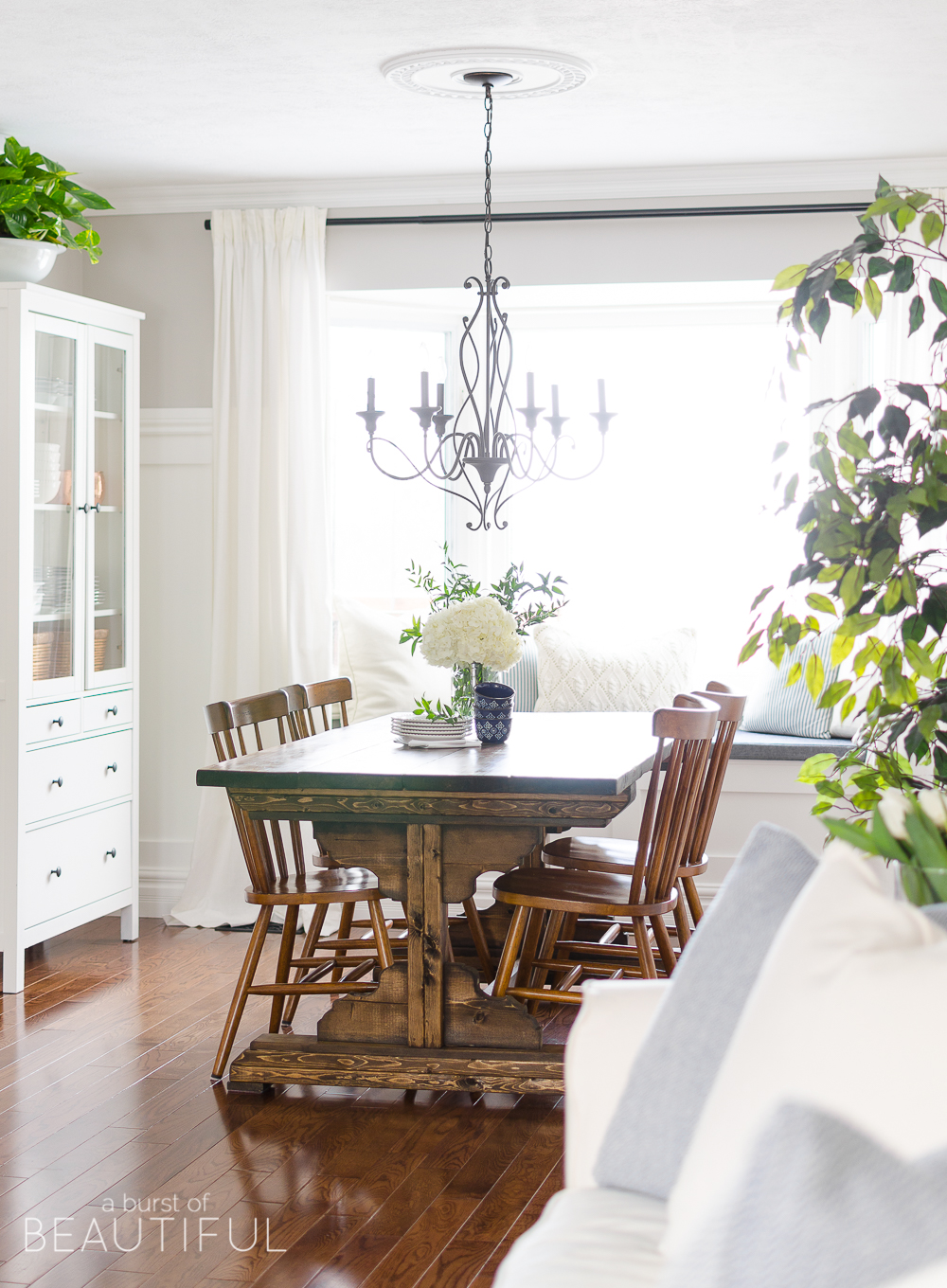 After we brought the chairs home we considered painting them black, like a classic Windsor chair, but I really like the warmth the wood tones add against the white of the walls. But I am really drawn to the idea of adding a rug, it is something we have been considering for some time now, so that might be the route we take. What do you think?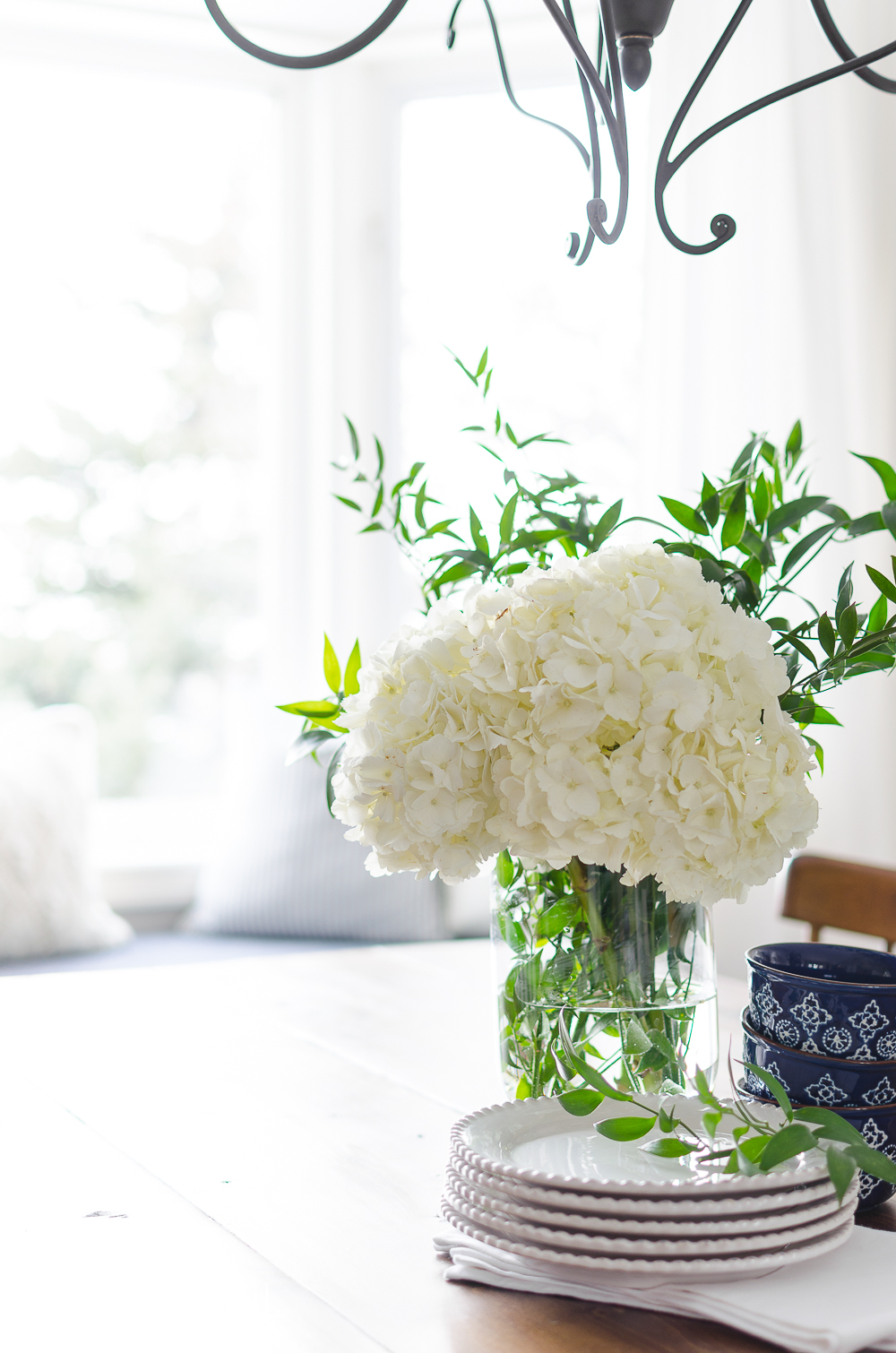 I added glass vases filled with fresh hydrangeas and tulips (my favorites) to the dining table and sideboard and a large plant perched on top of our hutch adds a nice pop of color.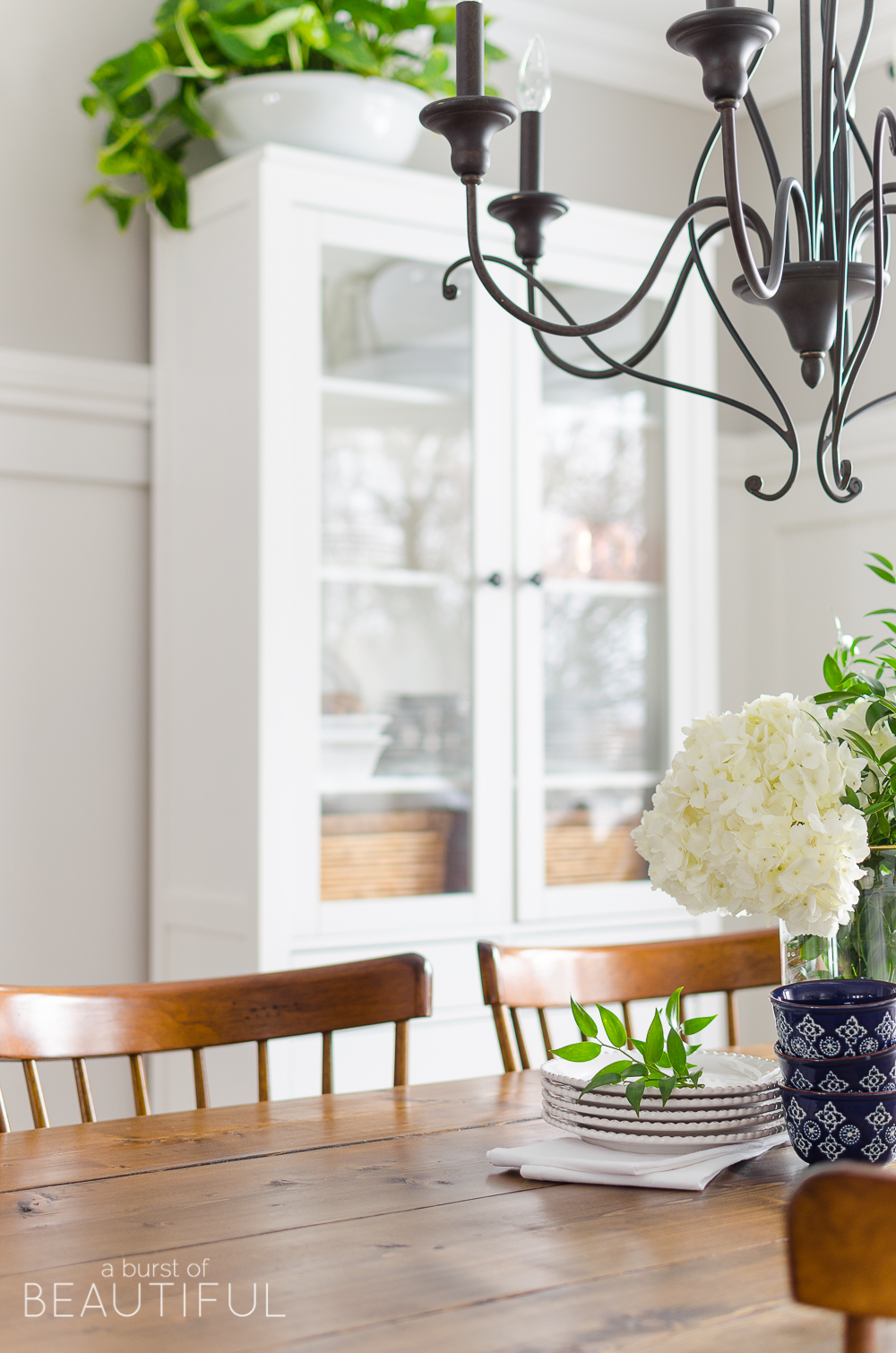 Our beautiful navy and cream ticking stripe pillows join our window bench again. These are some of my favorite pillows ever, they are beautifully constructed and come from the shop of one of the sweetest women I've had the pleasure of connecting with. I love the classic look they add.
Finally, I pared down our dining hutch, keeping only two woven baskets for hiding extra linens, my collection of white dishware and a few hammered copper Moscow mule mugs – they add just a hint of sparkle.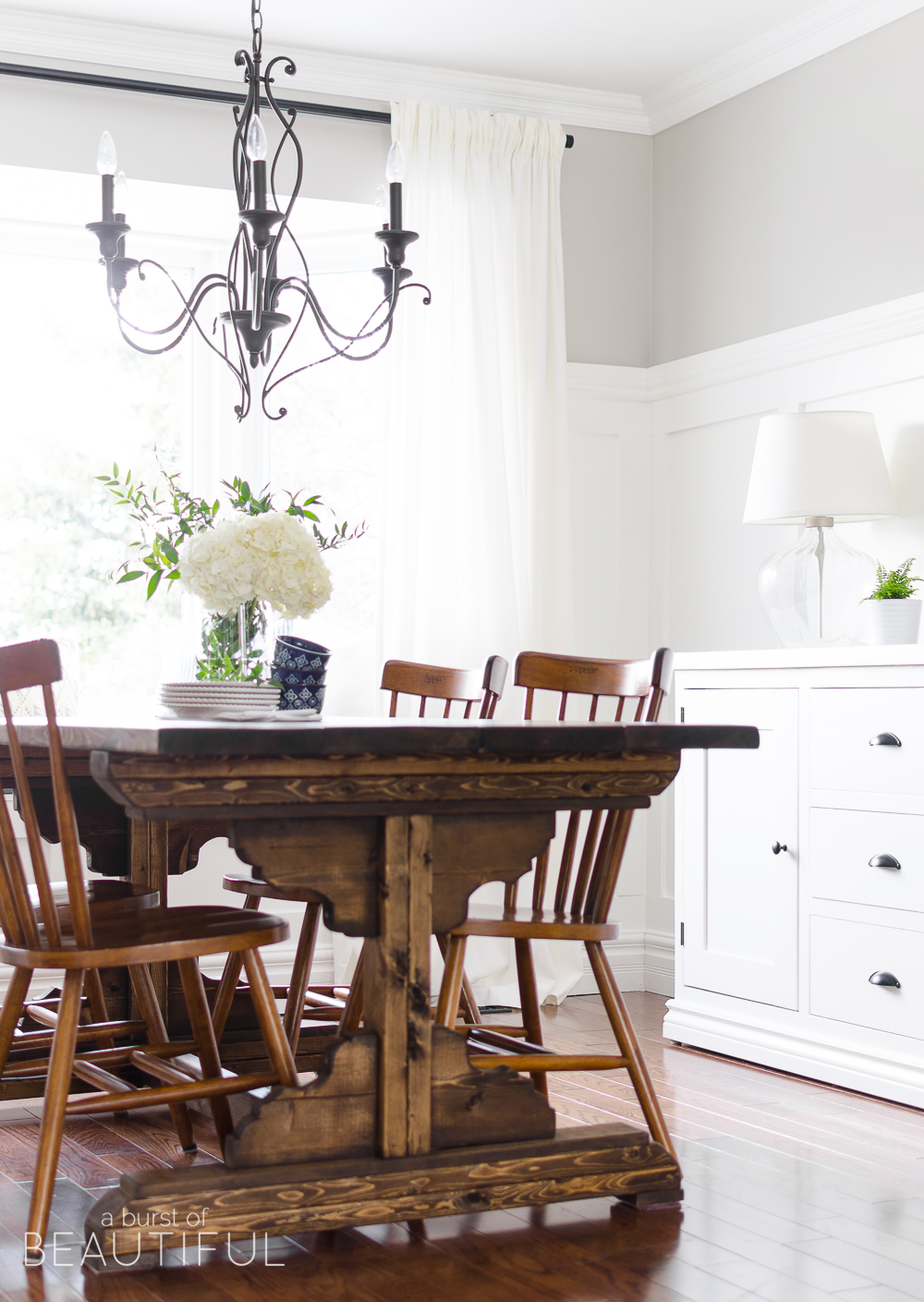 I hope you enjoyed today's tour of our spring dining room, next week we will be sharing the last space on our spring tour…our living room. I hope you'll join us then. In the meantime, you can catch up on our mudroom and kitchen here…
Alicia xo
Spring Home Tour

Kitchen      |      Mudroom      |      Dining Room      |      Living Room