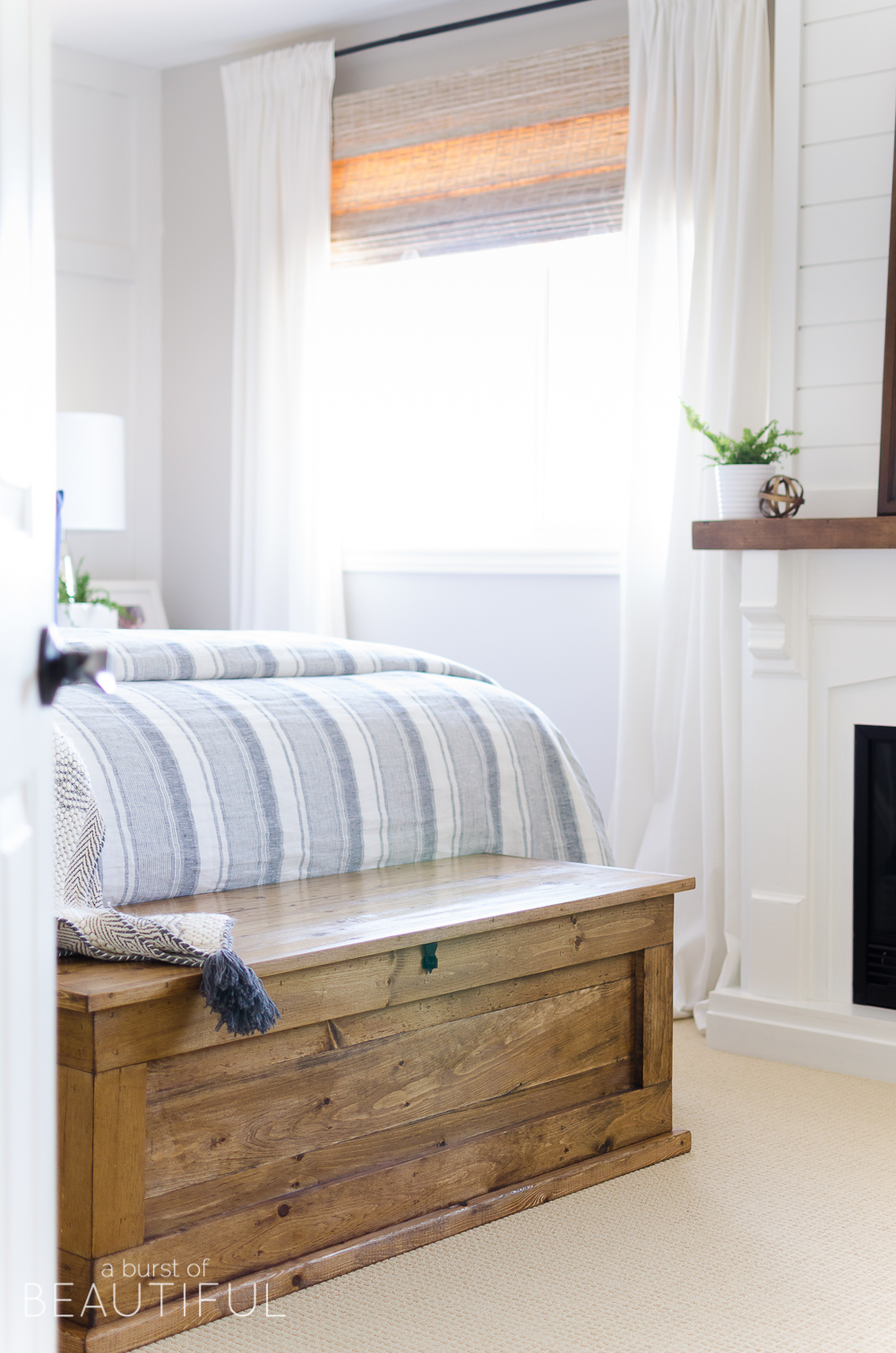 Our home isn't necessarily considered small, but as our family grows we are always searching for ways to make better use of the space we have and incorporate as many storage solutions as possible, like our DIY window bench and modern farmhouse sideboard.
I love finding solutions that look beautiful and can be incorporated into a space without being intrusive to the design of the room.
When Nick begins designing a new furniture piece, he always takes this into account. Each piece that he designs usually incorporates some kind of storage element, whether big or small.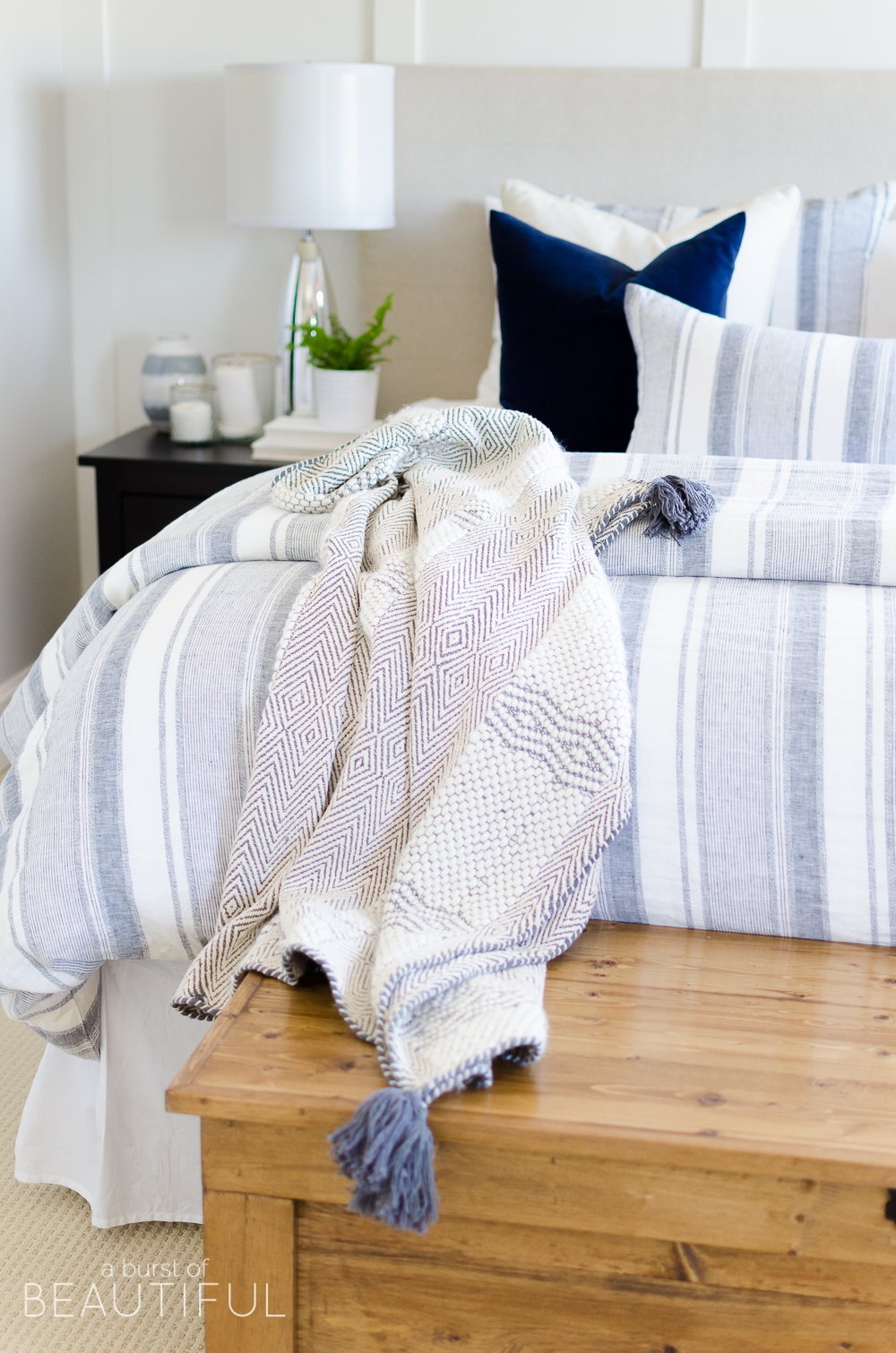 We are very conscious about the amount of "stuff" we keep, and make an effort to clean out our closets every spring and fall, throwing out or donating clothes, toys and decor that we have collected and no longer need. But despite that, we still have quite a few things we aren't willing or ready to part with.
I think everyone struggles with getting rid of "stuff" of deciding what is worth keeping, and what isn't. We typically go through our home once a season to purge the items we are no longer using.
It's very cathartic and gives you more room to accumulate more "stuff", like more throw pillows and blankets! 🙂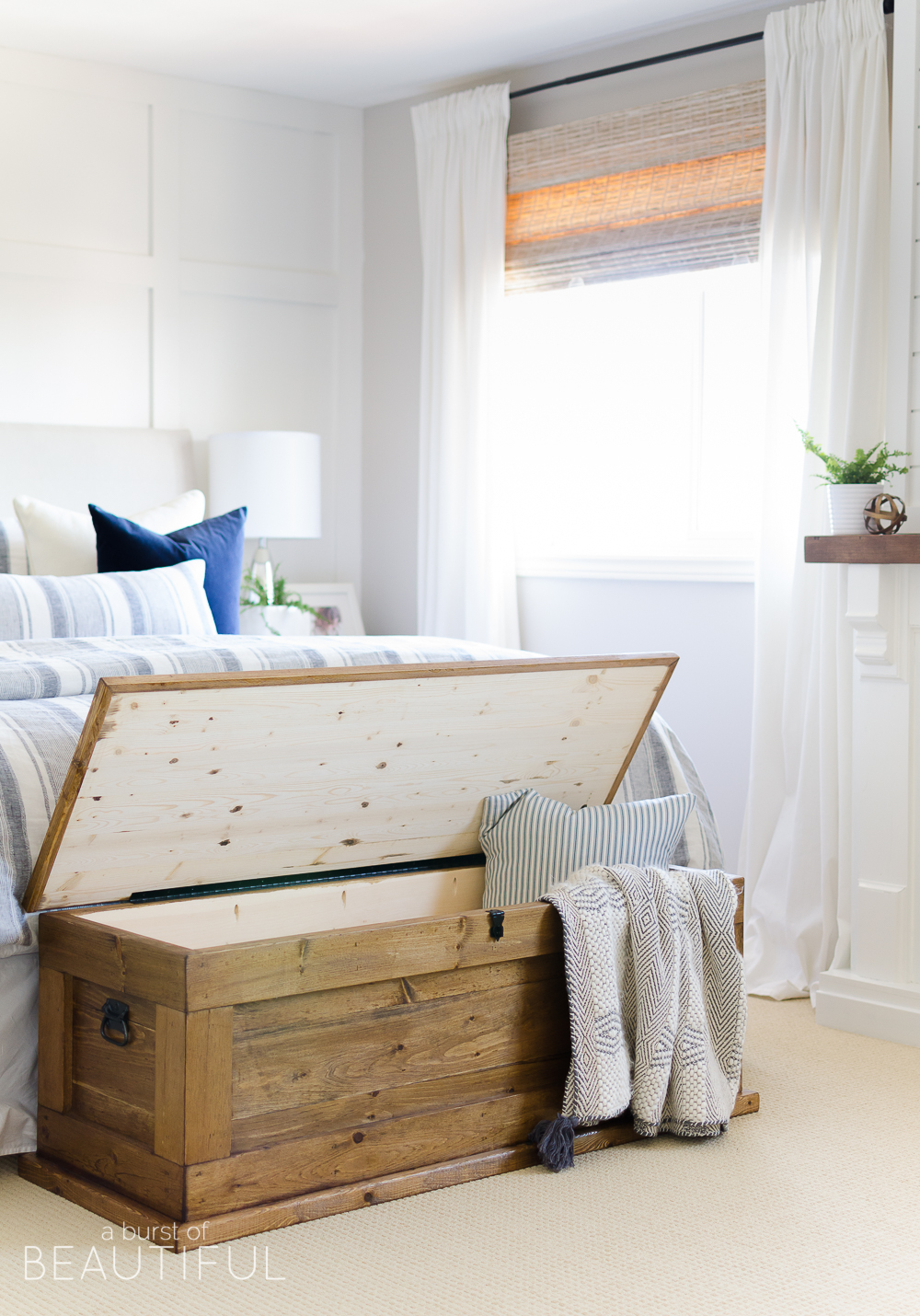 For me, a big part of that is home decor items, in particular throws and pillows (come on friends, I know I'm not alone in this!).
You've probably noticed that a new blanket or pillow will sneak it's way into our home each season (but Nick seems to think I get a new one each day…), and because of that, I have a pretty big collection.
These are items that I like to rotate throughout our home depending on the season, but they tend to take up a lot of space when we're not using them.
So when we decided to switch out the bench that was at the foot of our bed, we thought a DIY blanket storage chest would be just perfect!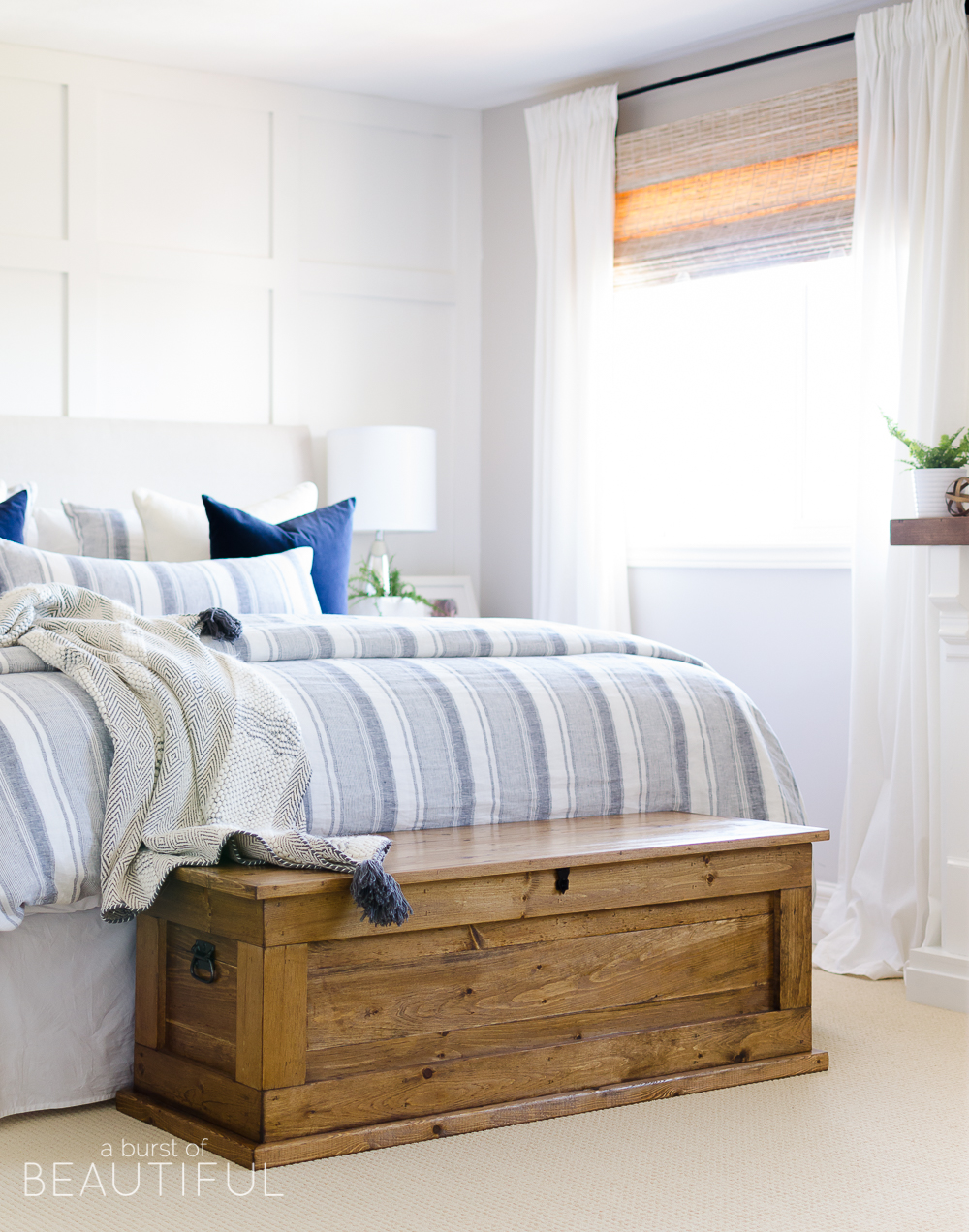 The old bench was just a simple four leg bench with a fabric top that we had arbitrarily covered with a left-over curtain panel in an effort to make it match the decor. I had tired of the bench and was looking for something with a little more substance to fill in the space. And of course, if it could have storage it was an extra bonus.
We started talking about some sort of trunk or chest, like the beautiful variations you see at Pottery Barn or Restoration Hardware and I knew it was something Nick would enjoy building for us.
So, as usual, Nick set to work sketching out a plan and I gave him the final go-ahead to start building.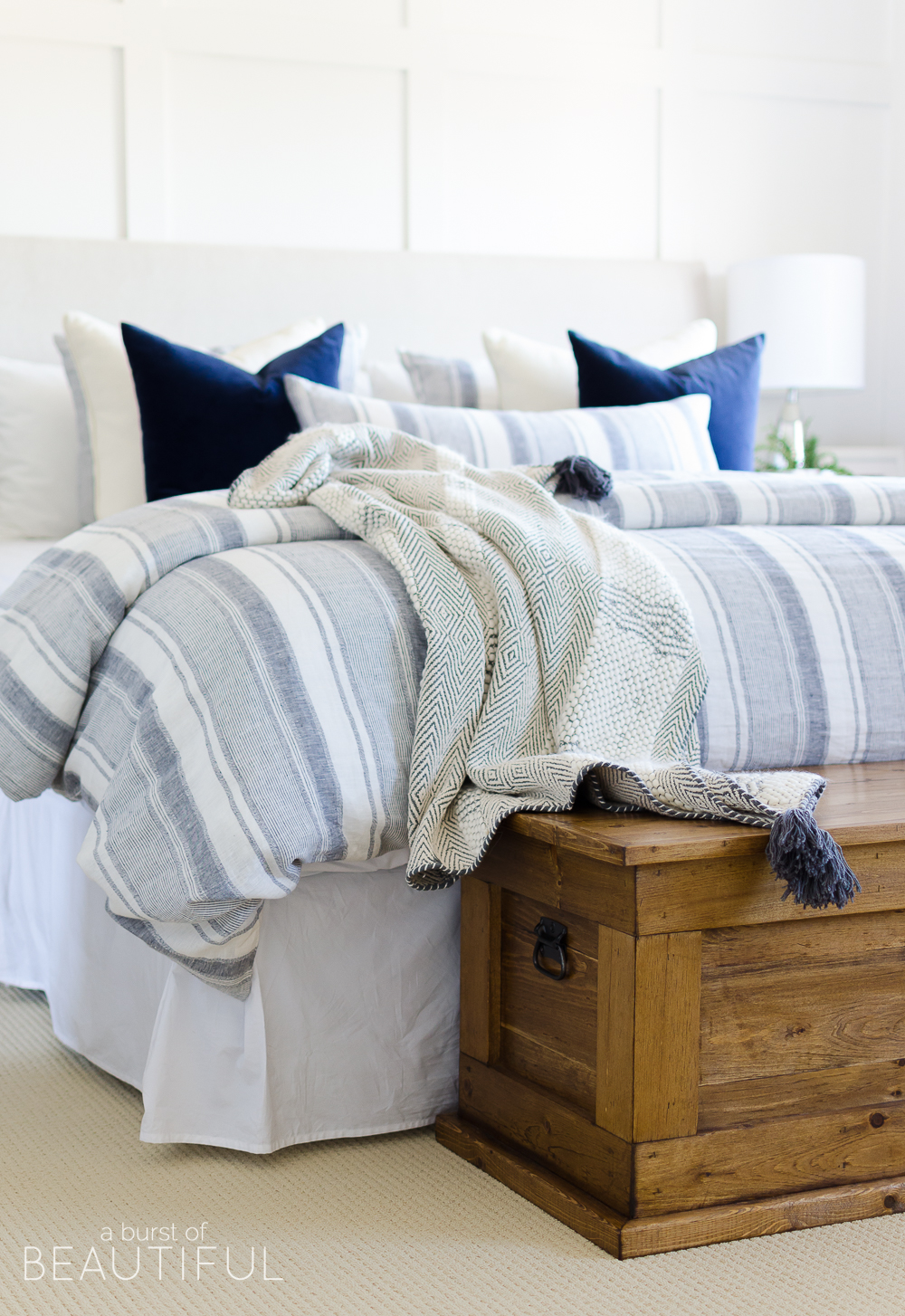 And we ended up with this beautiful DIY blanket storage chest. Its simple lines give it a classic feel and an heirloom quality.
It honestly reminds me of something that has been passed down from generation to generation. Nick used a combination of knotty pine and select pine which gave it a rustic, yet modern look.
Nick didn't want to make it out of plywood panels as that would have been uninteresting to the eye. Using his Kreg Pocket Hole system (which he has been using with every build since I bought it for him), he was able to use multiple boards to give it more depth and detail.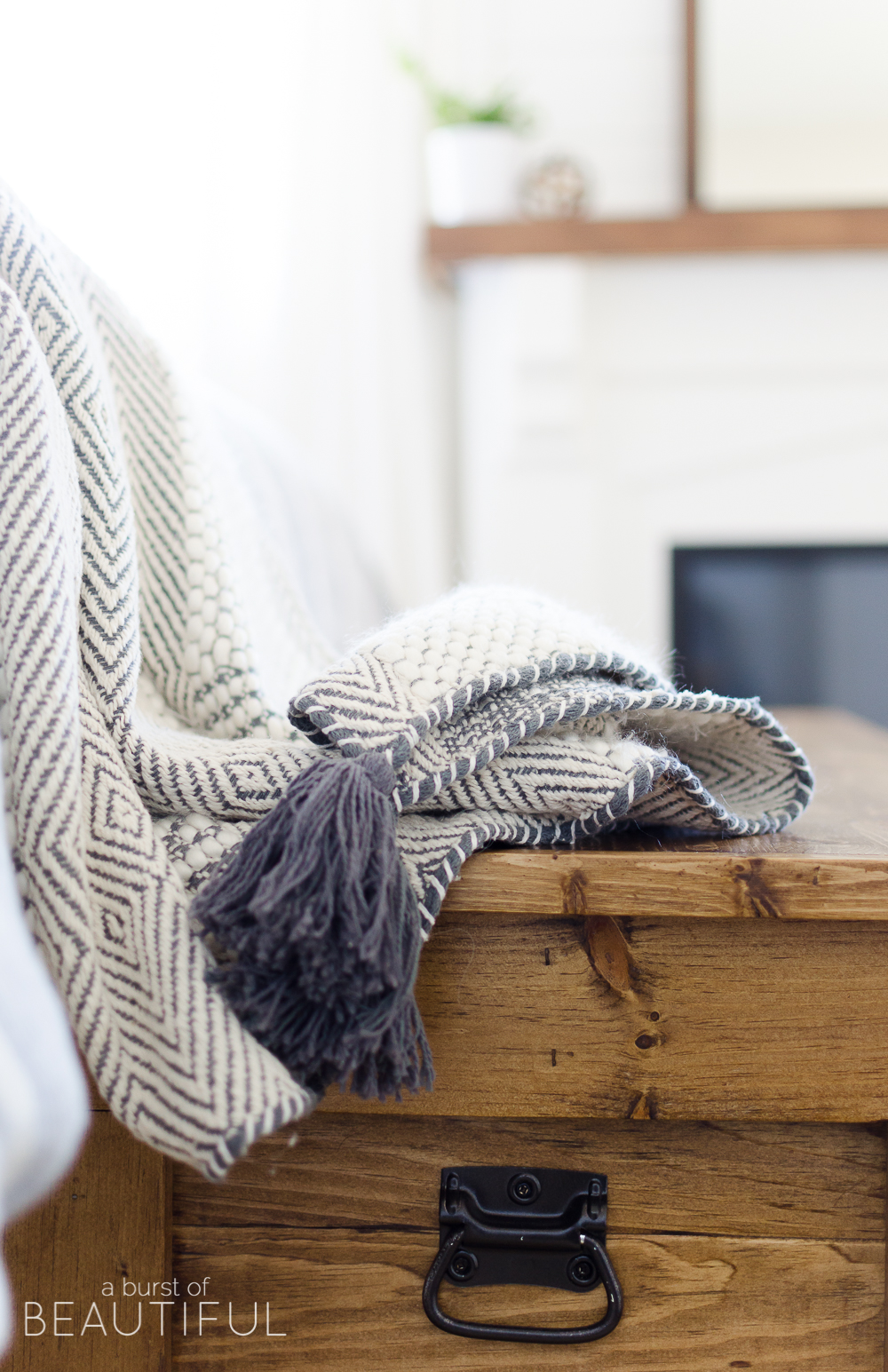 Nick stained it using Provincial color by Minwax and coated it with a satin polyurethane, so it has a wonderful rustic warmth to it.
We added these handles, a long piano hinge and chest latch for an authentic touch.


Currently, it sits at the foot of our bed and it houses all of my extra throws and pillow covers. It has lots of room for storage, and even this cute little drawer for small items.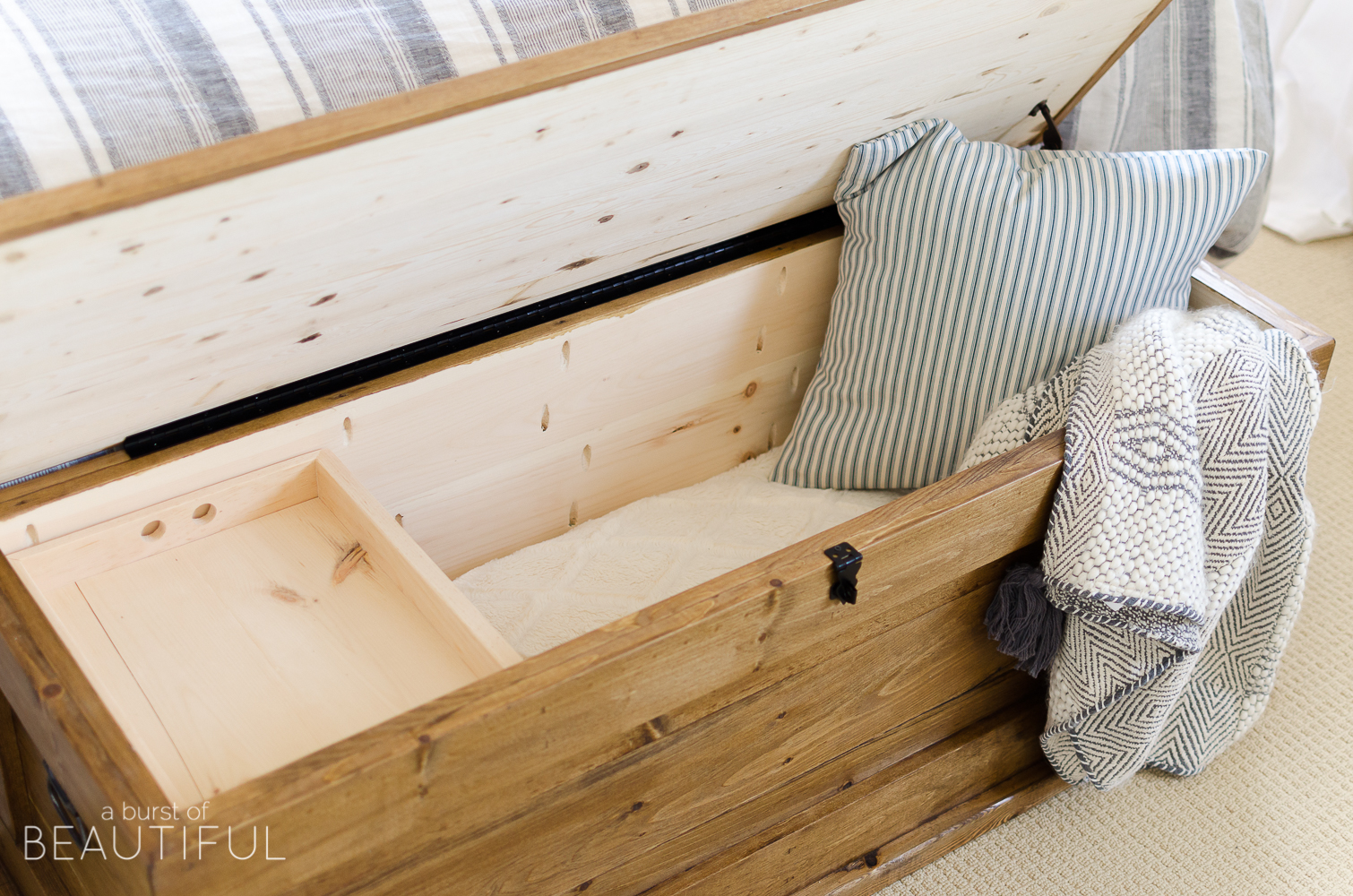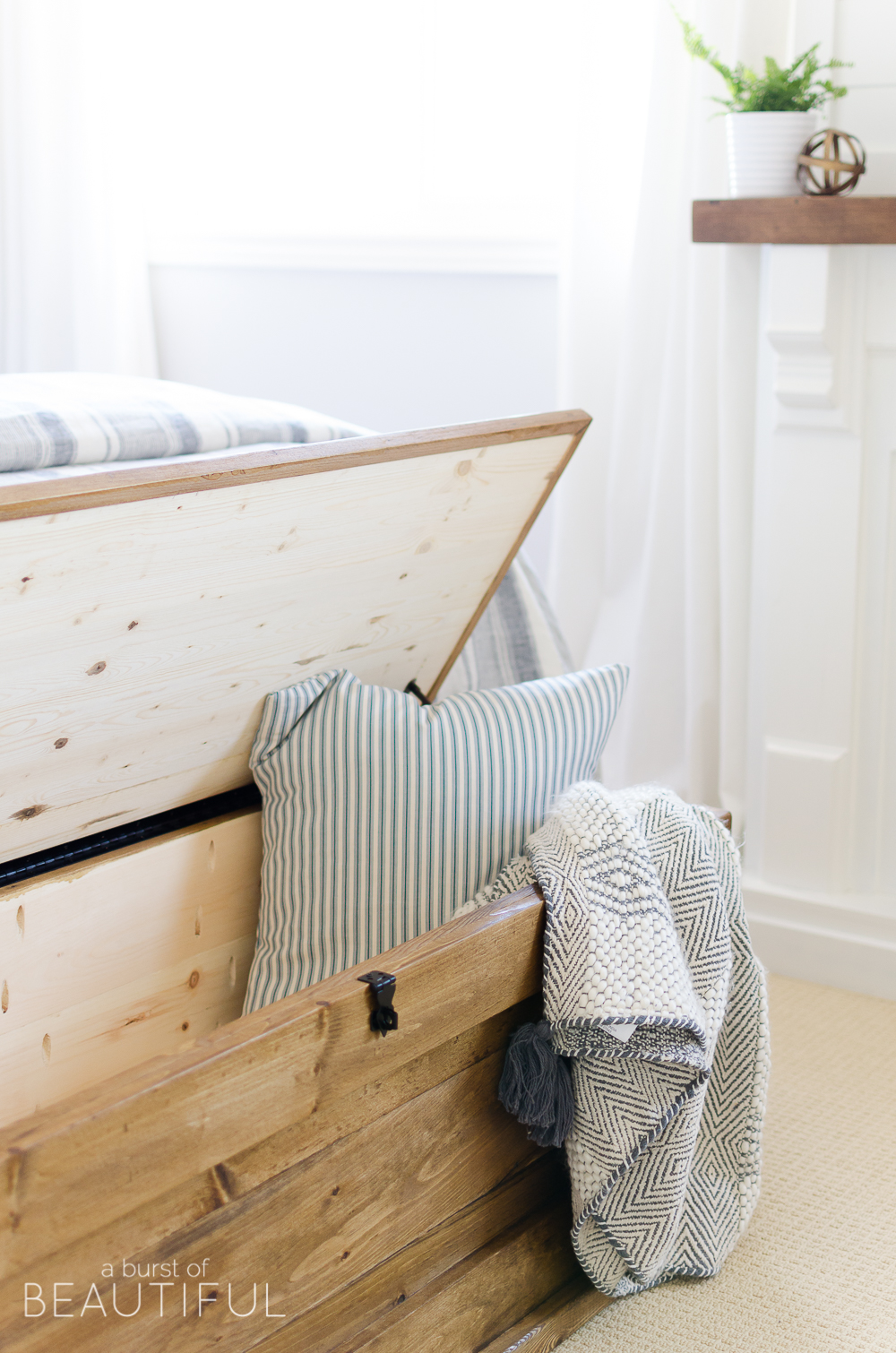 It's been so nice to finally get them out of our overstuffed guest room closet, because…something fun is happening in that room very soon! If you don't want to wait to find out, I spilled the beans on Instagram.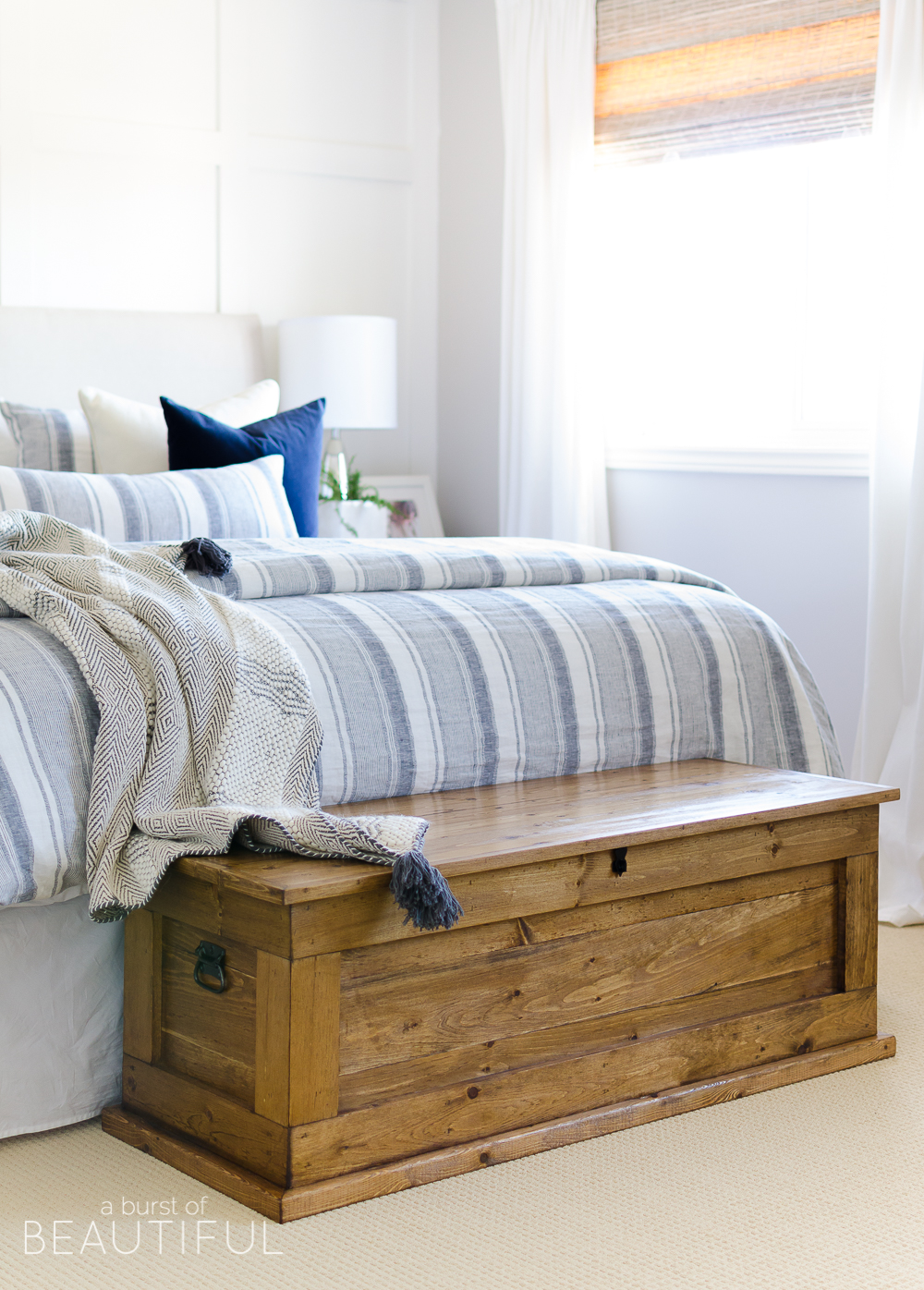 And as much as I love it in our bedroom, we've also tested it out in our living room as a coffee table. I can't decide where I love it more! Maybe Nick will just have to build a second one… 😉
You can get the free plans for our blanket storage chest at buildsomething.com. While you're there, I'm sure you'll find plenty more DIY ideas. There are plenty of free plans that you can tackle this weekend using the amazing Kreg Jig that Nick swears by as his tool of choice, and with results like this, I can't disagree! 🙂
Happy building!
CLICK FOR THE FREE PLANS