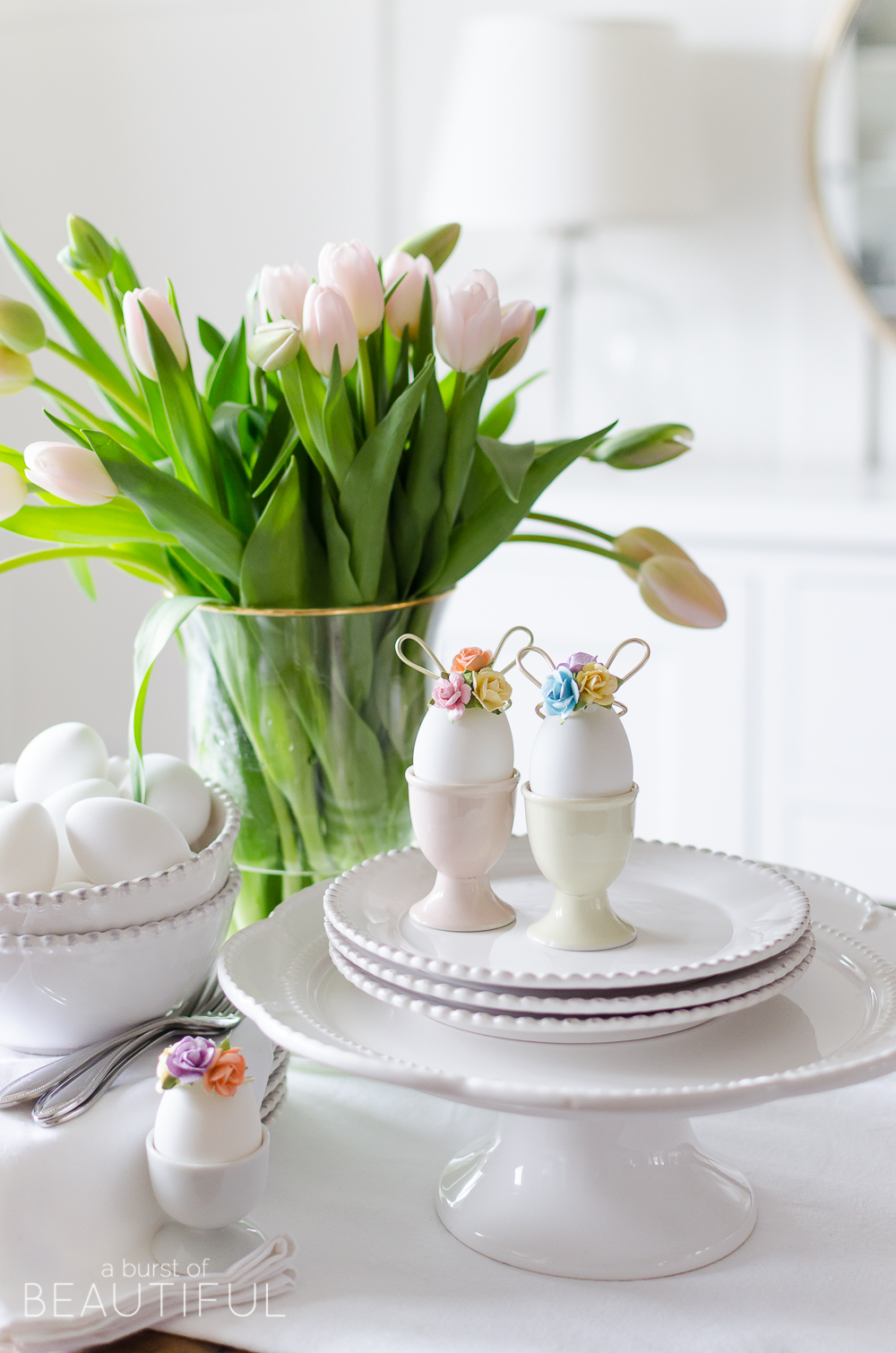 Welcome, you've stopped by on a really fun day!
We are joining a few of our favorite bloggers for an Easter hop, hosted by my friend, Annie at Zevy Joy. Each one of us is sharing a creative Easter craft or DIY project to help inspire you this holiday. Be sure to check them all out at the end of our post.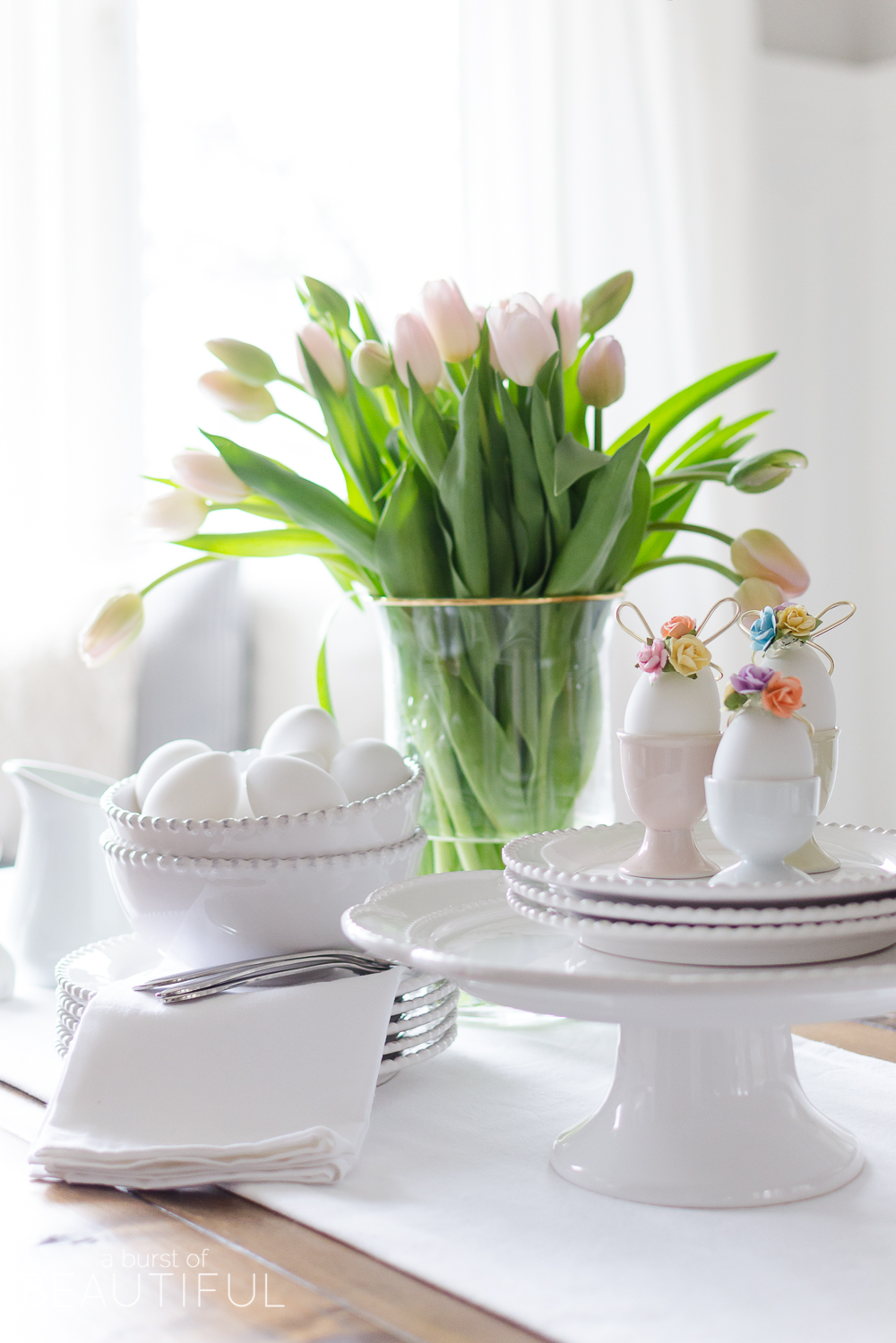 I'm not sure about you, but as soon as I think of Easter I think of sweet little bunnies.
And it's around this time every year that we usually spot our own little family of bunnies in our yard, hopping and playing, and eating the occasional carrot Nick tosses to them. Our daughter could sit for hours while watching them bounce around.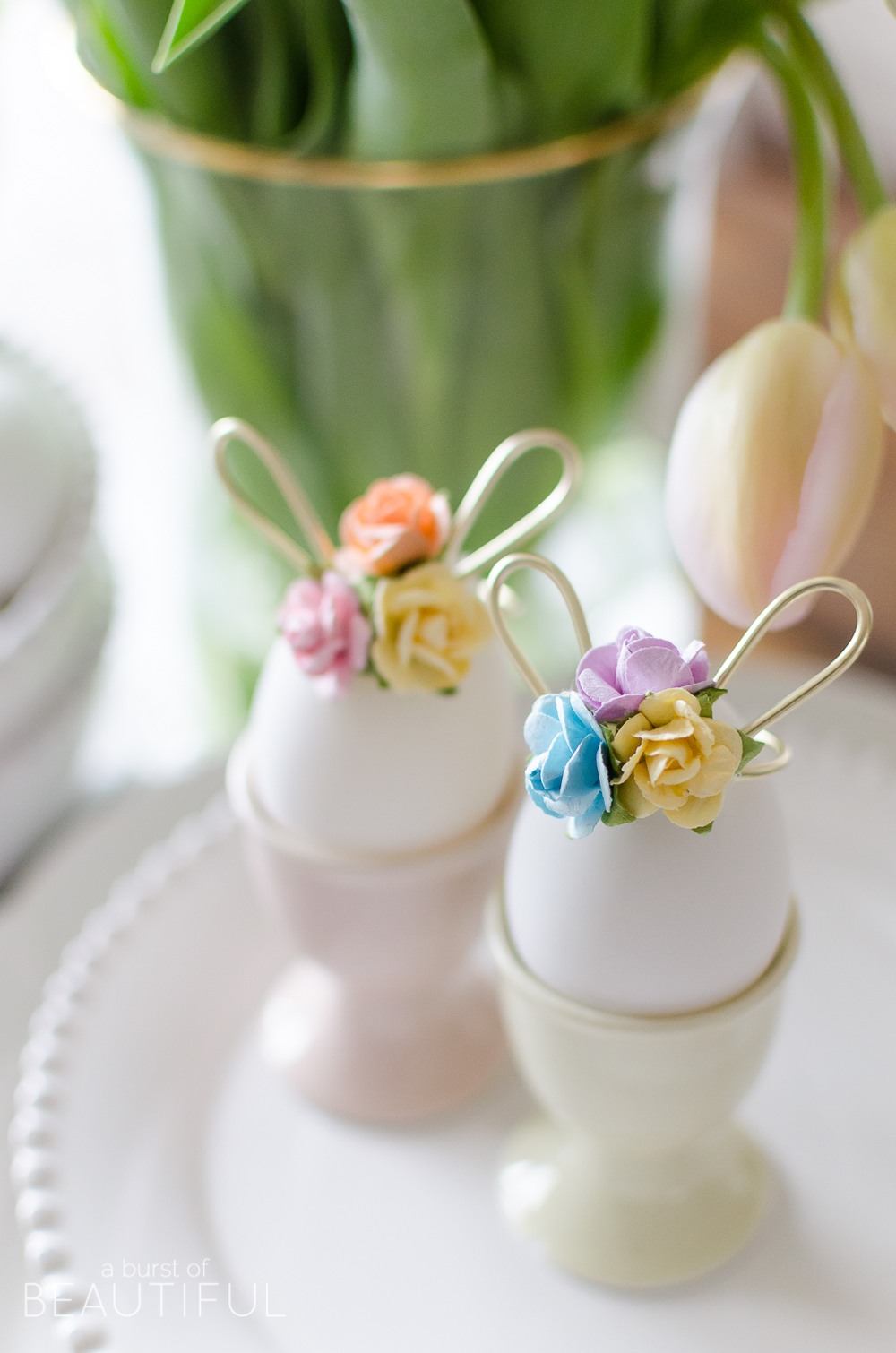 So when it came time to create a craft to share with you, my thoughts turned to, you guessed it…bunnies!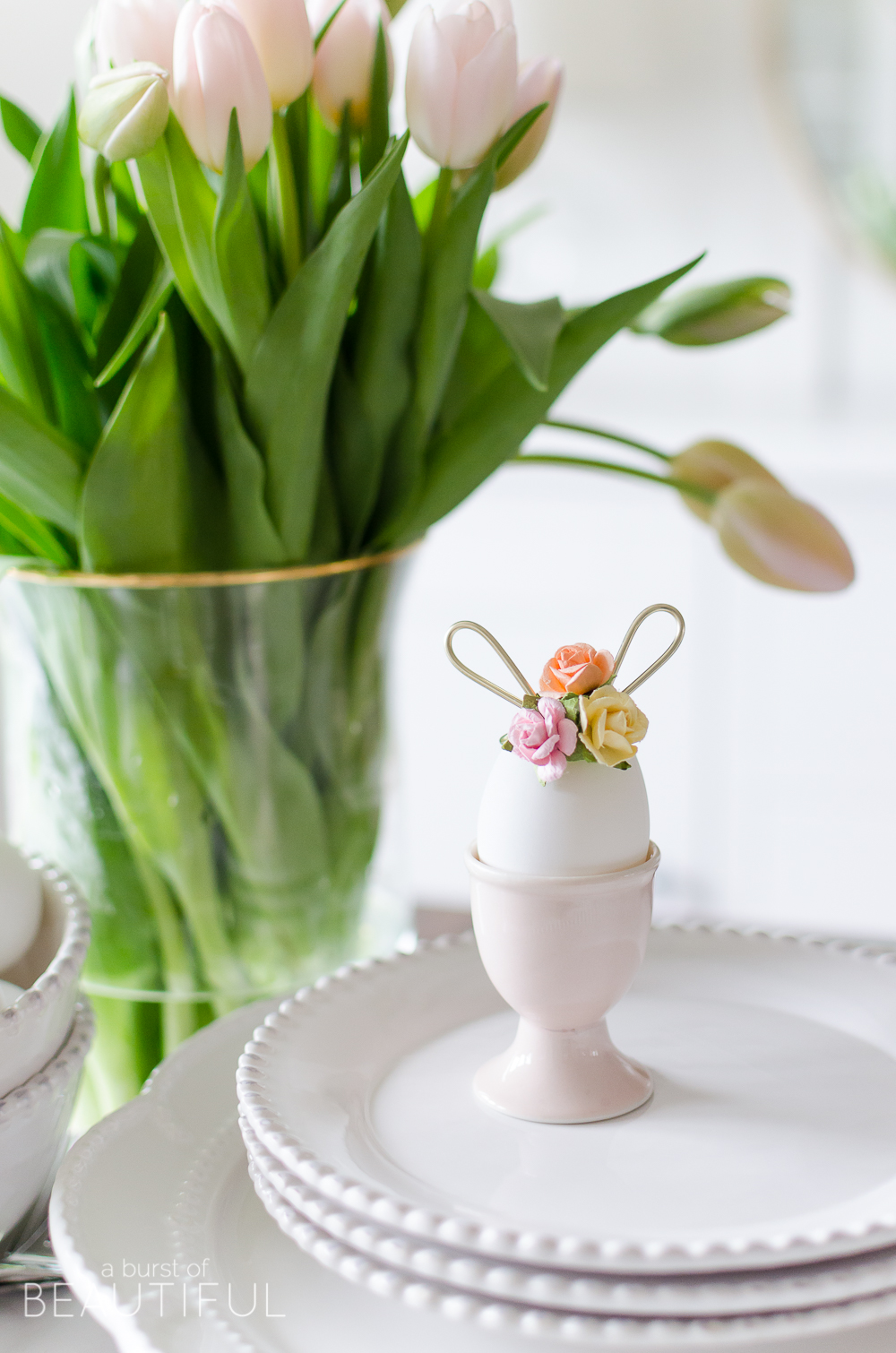 I really started paying attention to all of the adorable Easter decor and accessories floating around online and in stores. Letting different ideas form and take flight and finally, I settled on making these sweet little bunny ears as a unique way to embellish Easter eggs.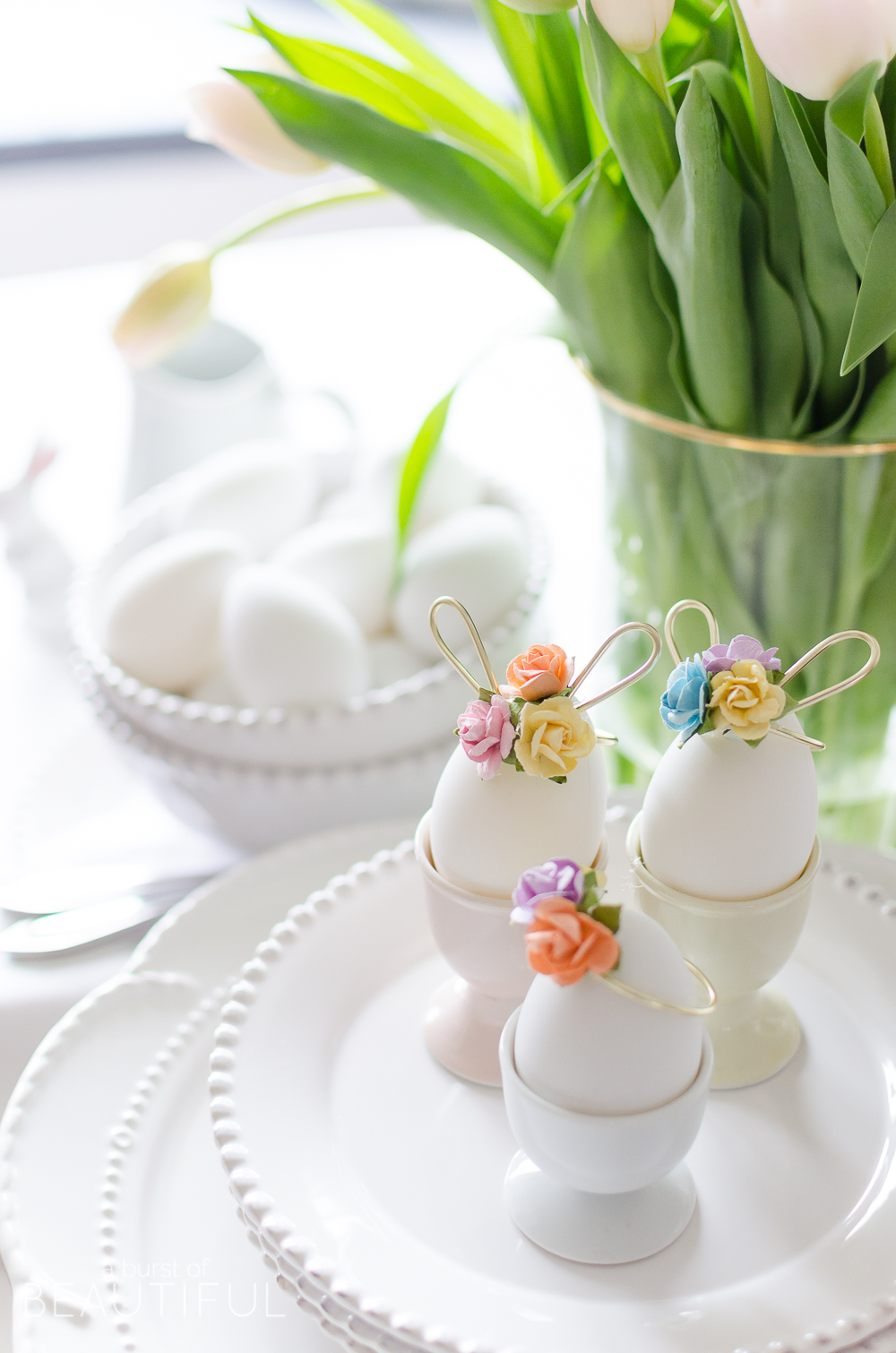 It all started with those cute Easter headbands for little girls. You know the ones, with little bunny ears and flowers on top, like this or this.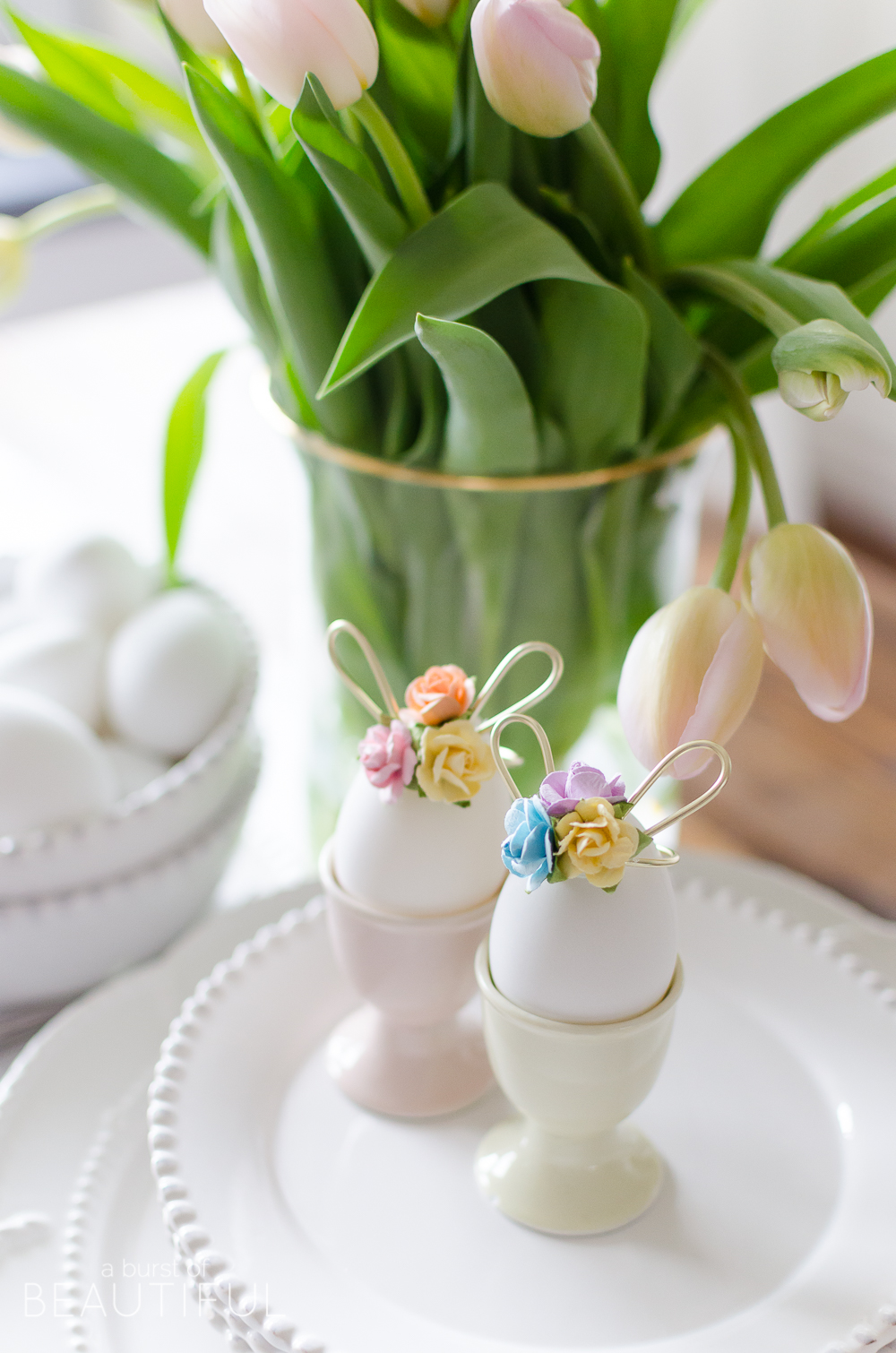 I just think they are the sweetest Easter accessory, don't you?
So I began thinking of how I could craft something similar and I came up with these cute miniature floral bunny ears. I formed the bunny ears from decorative gold wire (found in the floral section at Michaels), and topped each one with flower embellishments in pastel colors (found in the scrapbook section at Michaels).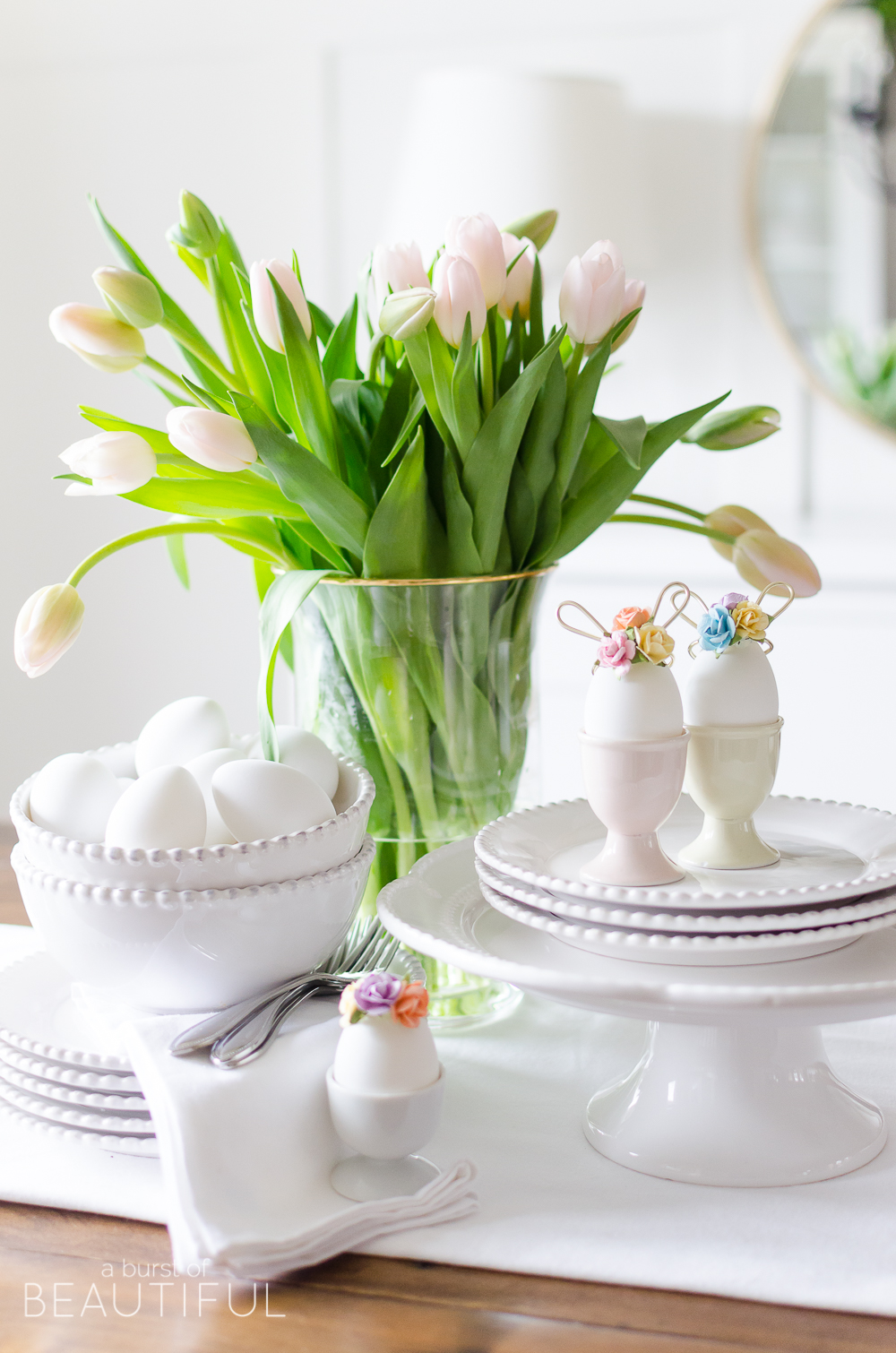 Easter Egg Decorating Idea | Mini Floral Bunny Ears
Supplies
Hot glue gun
Wire snippers
Instructions

Start by cutting the decorative wire into 4.5 inch pieces, these will form the crown portion which sits on top of the egg.
Next, cut additional pieces of decorative wire into 2.5 inch pieces, and bend at the middle to form the bunny ears.
Form the 4.5 inch pieces of wire into circles (I did this by bending around the top of an egg) and attach the ends together with hot glue. You will likely have to hold in place until the glue hardens.
Snip the wire ends off the flower embellishments and attach three flowers to the center (where the wire ends meet) of the crown, using hot glue.
Finally, using hot glue, secure two bunny ears to the crown. You'll be able to hide the base of the ears behind the flowers.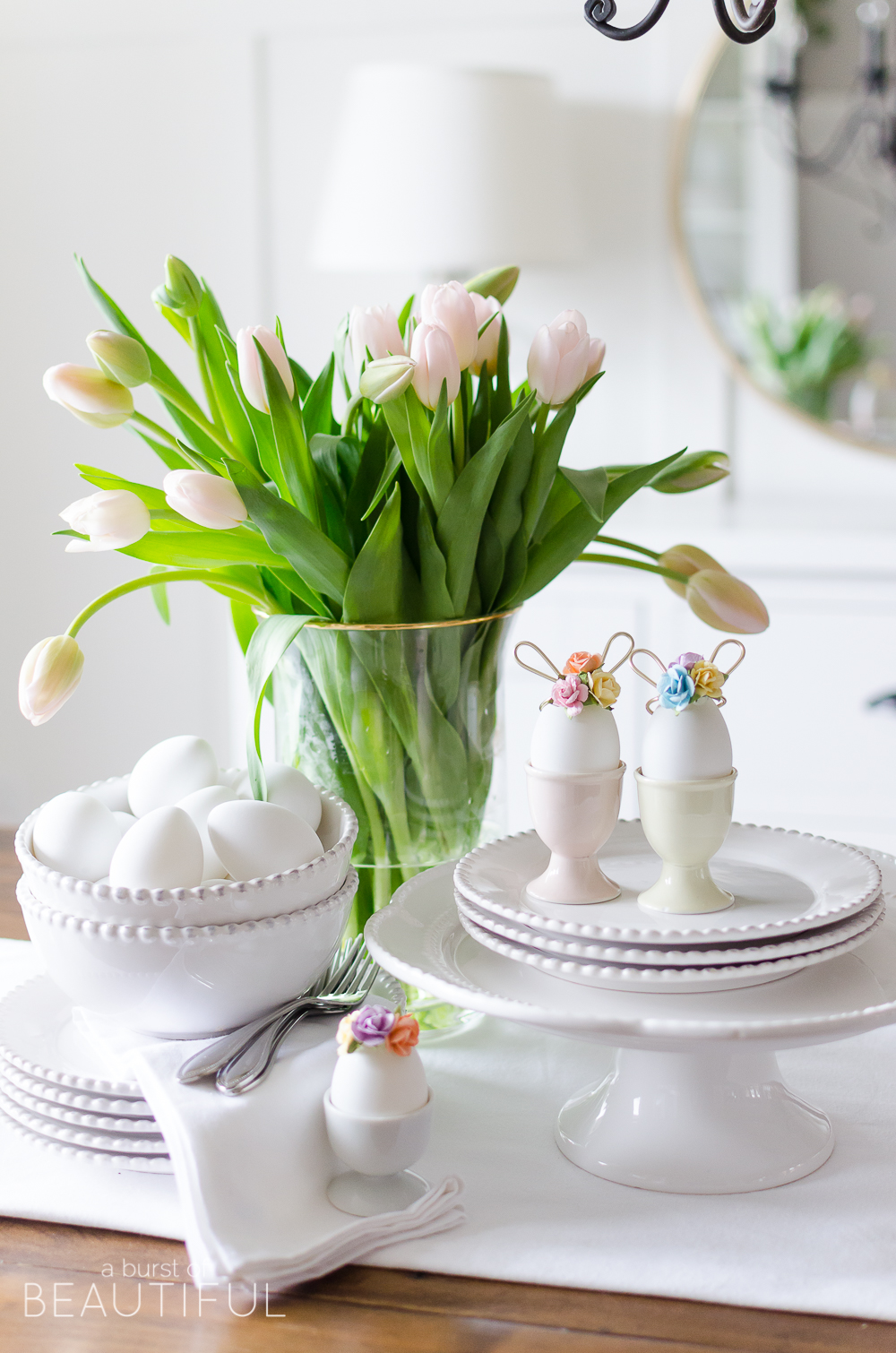 And voila! You have these adorable Easter egg embellishments. I even made a few without bunny ears to create sweet little floral crowns. These were so simple to make and they turned out so much better than I envisioned. I think they are so cute!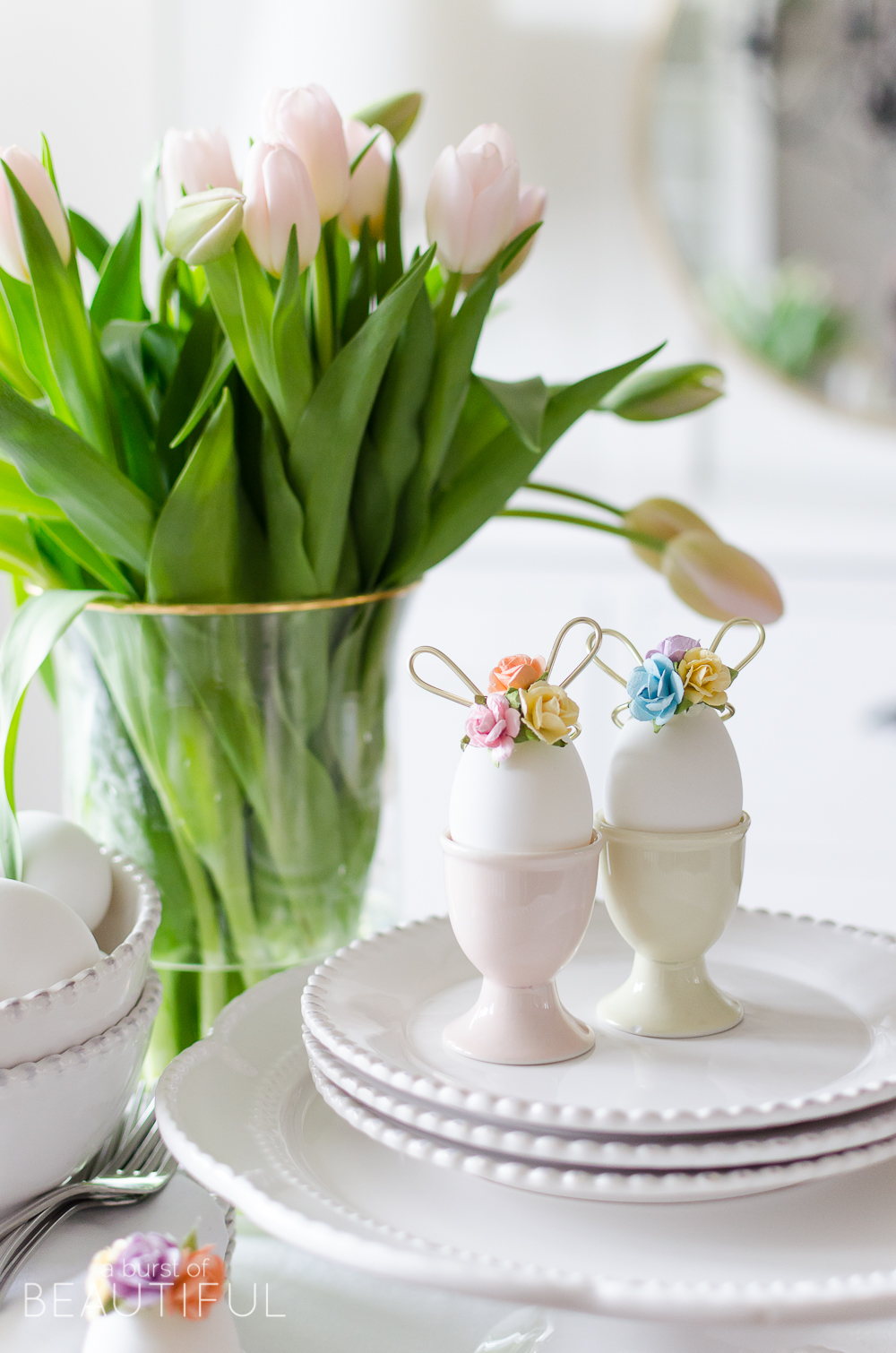 If you're in the mood for some more Easter inspiration, be sure to check out our Baby Chick Easter Printable and our Floral and Moss Easter Tablescape. And don't forget to take a peek at all of these other amazing Easter crafts…
Alicia xo

Kid's Easter Table by Summer Adams

How To Dye Eggs With Food Coloring by TIDBITS | Easter Wreath by Shades of Blue Interiors | Easter Egg Decorating Idea – Mini Floral Bunny Ears by A Burst of Beautiful | DIY Easter Sign – Hello Peeps by My Sweet Savannah
DIY Bunny Napkin Rings by Craftberry Bush | A Kindred Easter with Kindred Vintage & Co. | DIY Metallic Easter Eggs with Maison de Pax | Spring Garden DIY Easter Centerpiece by Elliven Studio
Bunny Ears Bags and Free Printable by Ella Claire | Free Printable Easter Cards by Boxwood Avenue | Simple Modern Easter Tablescape by Cherished Bliss | DIY Vintage 'Happy Easter' Eggs by So Much Better With Age

Printable Watercolor Easter Banner by Nina Hendrick Design Co. | DIY Bunny Garden Easter Basket by Zevy Joy | Easter Cake – Paleo Coconut Pineapple Cake with Topper by Nesting With Grace | Moss Wrapped Candle by Design, Dining and Diapers