Do you remember a few weeks ago when we shared our favorite neutral vintage area rugs? Are you curious to find out which one we chose? Keep reading to find out…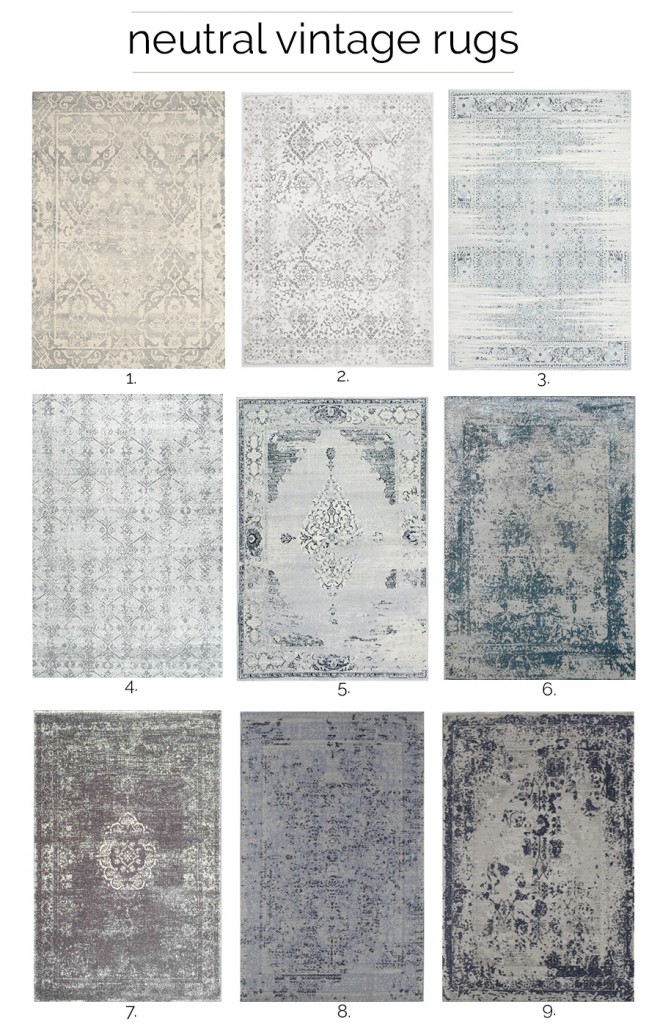 one | two | three | four | five | six | seven | eight | nine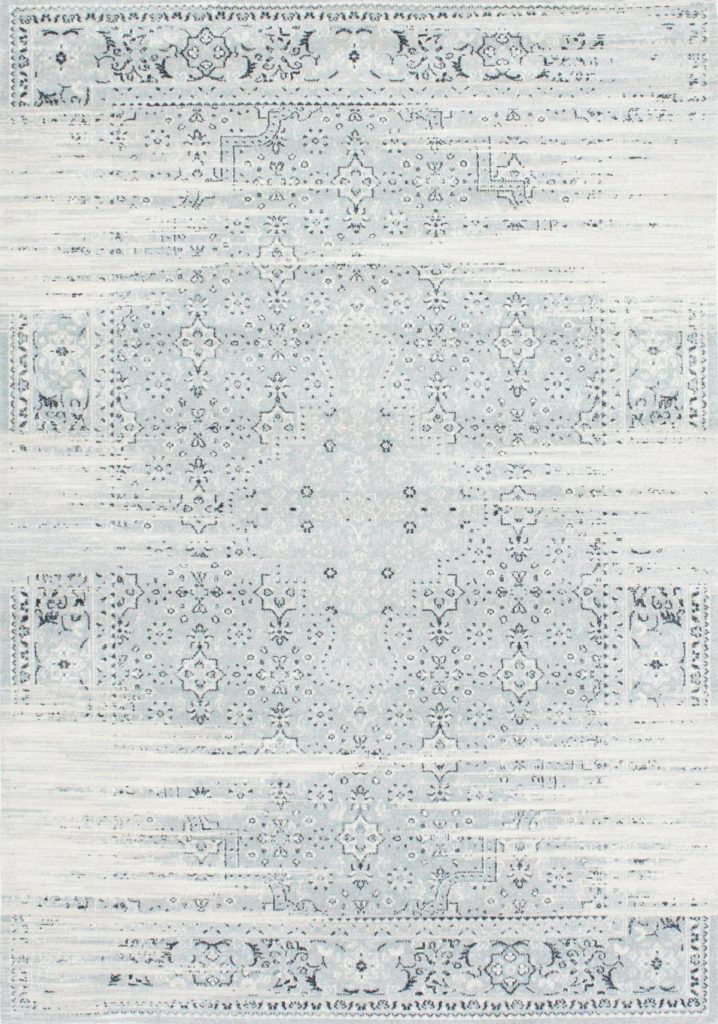 This gorgeous navy blue vintage wash rug from PlushRugs.com! Isn't it beautiful?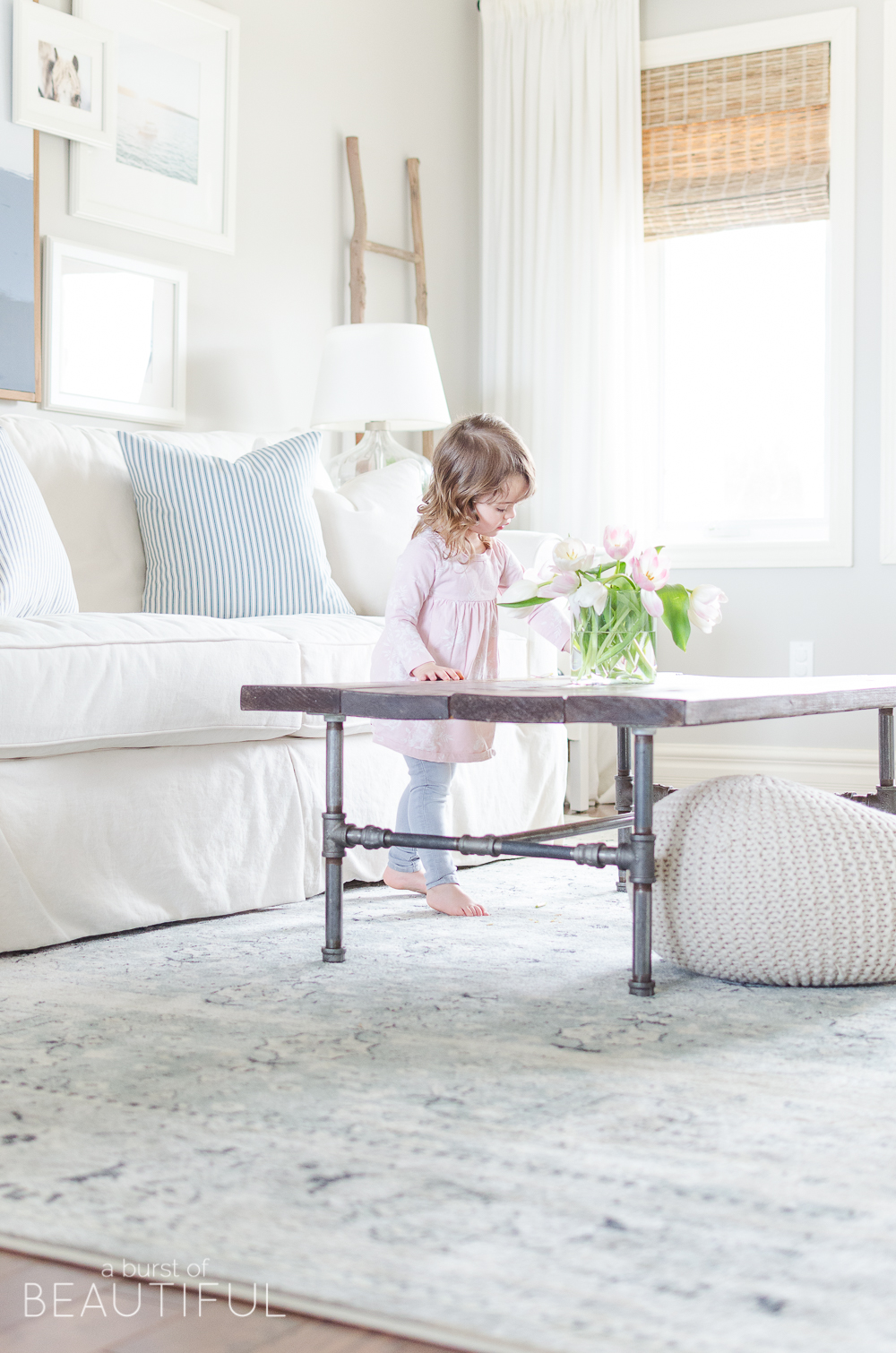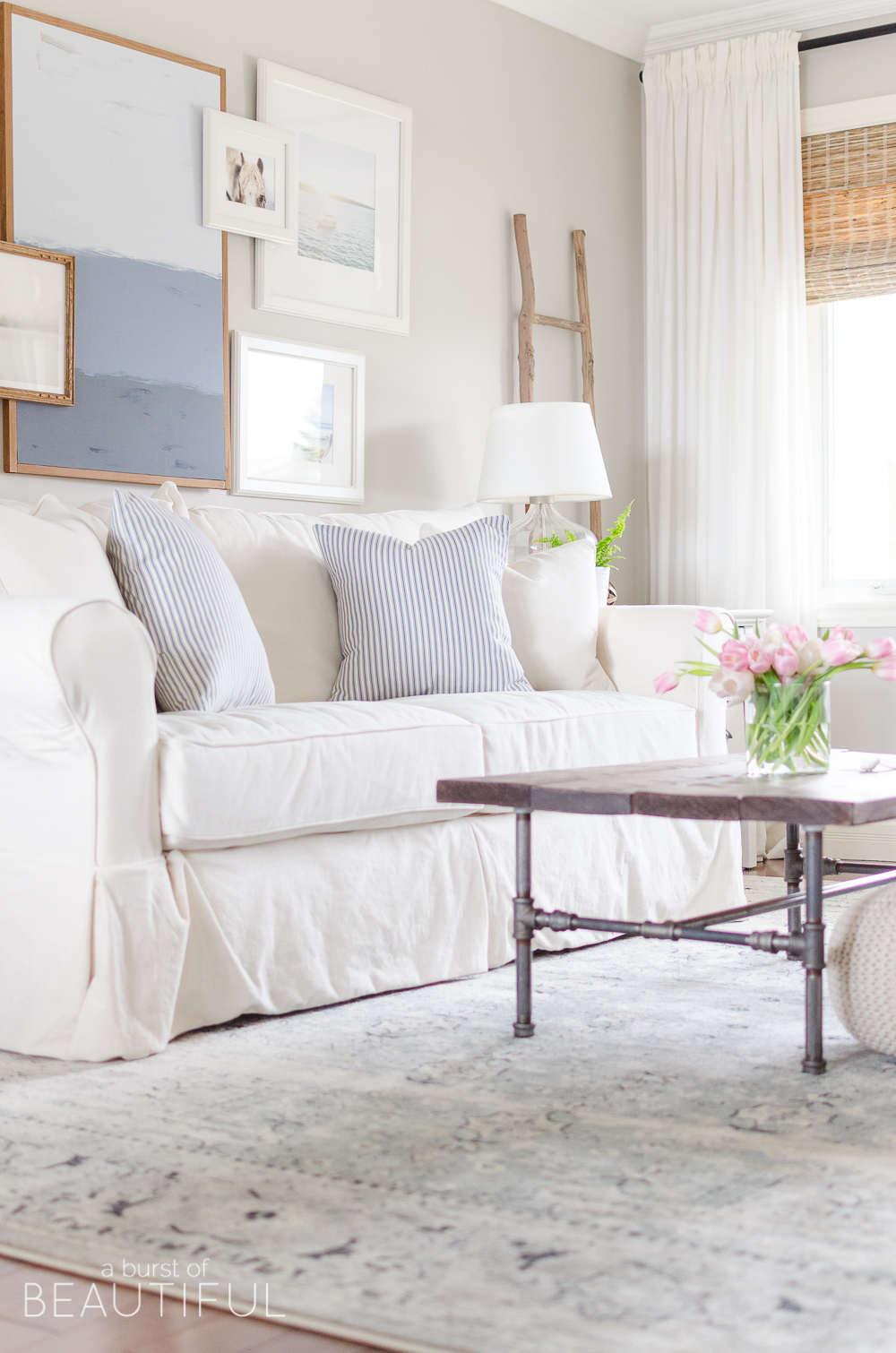 UPDATE: August 2019 – After two and a half years in our living room with two children under 5, two cats and a dog, this navy blue vintage wash rug has held up remarkably well! Any stains come out very easily and it is showing no signs of wear and tear even with all of the itty-bitty foot traffic it sees!
I was very hesitant to buy a new rug for our living room (or any room in our home for that matter) Not because I didn't want one, in fact, we had our previous living room rug for over six years.
I know, that's a long time (especially for me) and considering it was just an inexpensive rug from a big box store. Let's just say it had seen better days and I was completely sick of it.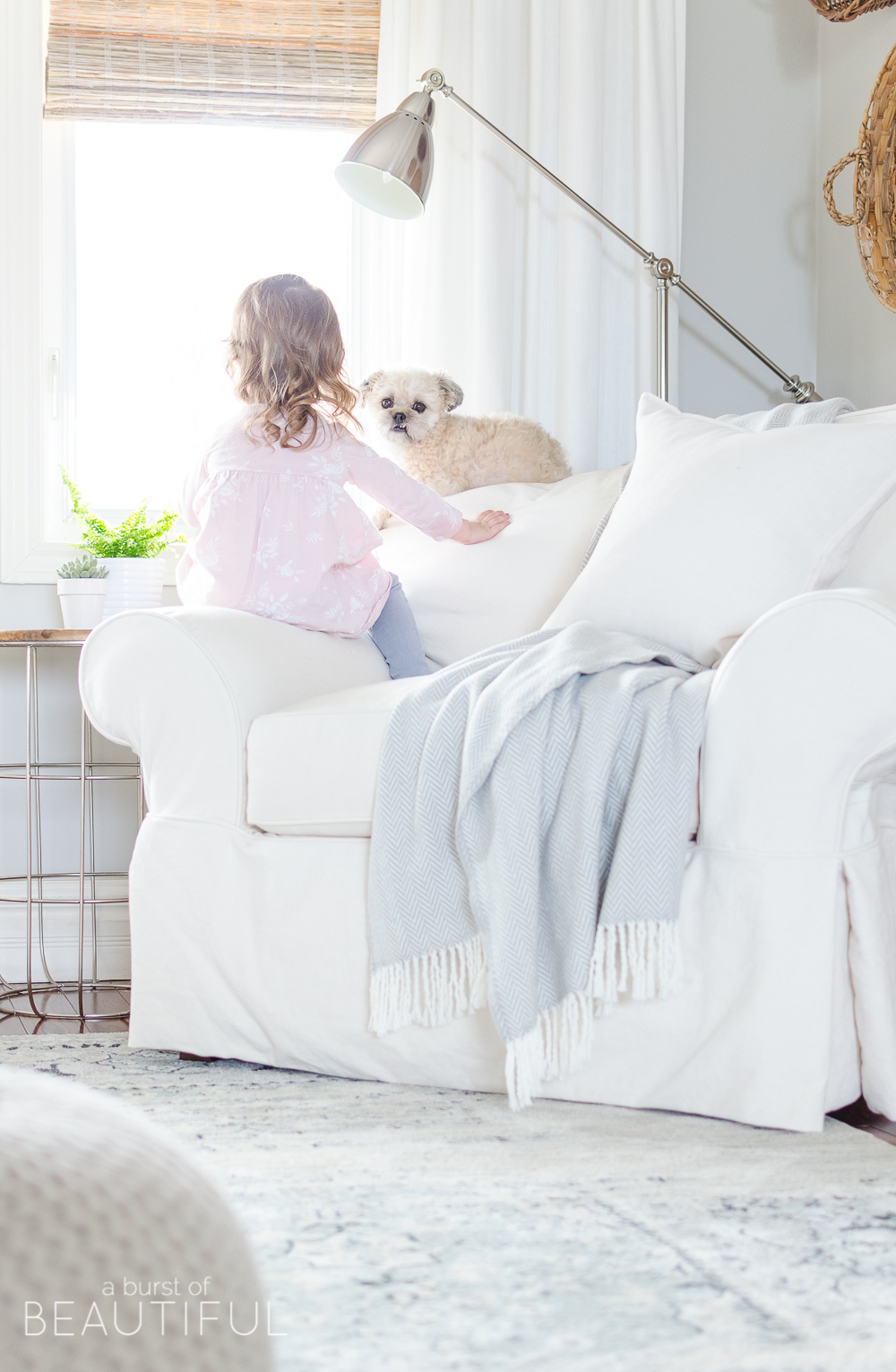 I was afraid of making the wrong choice. Even though we wanted a fairly neutral rug in our living room, I knew I wanted it to have a subtle pattern with blue hues. But I was so worried that I was going to choose a rug that had too much color or looked too busy for our home.
I was especially worried because I was ordering online and I didn't like the idea of not being able to see the rug in person to get a better idea of the material, colors, and quality.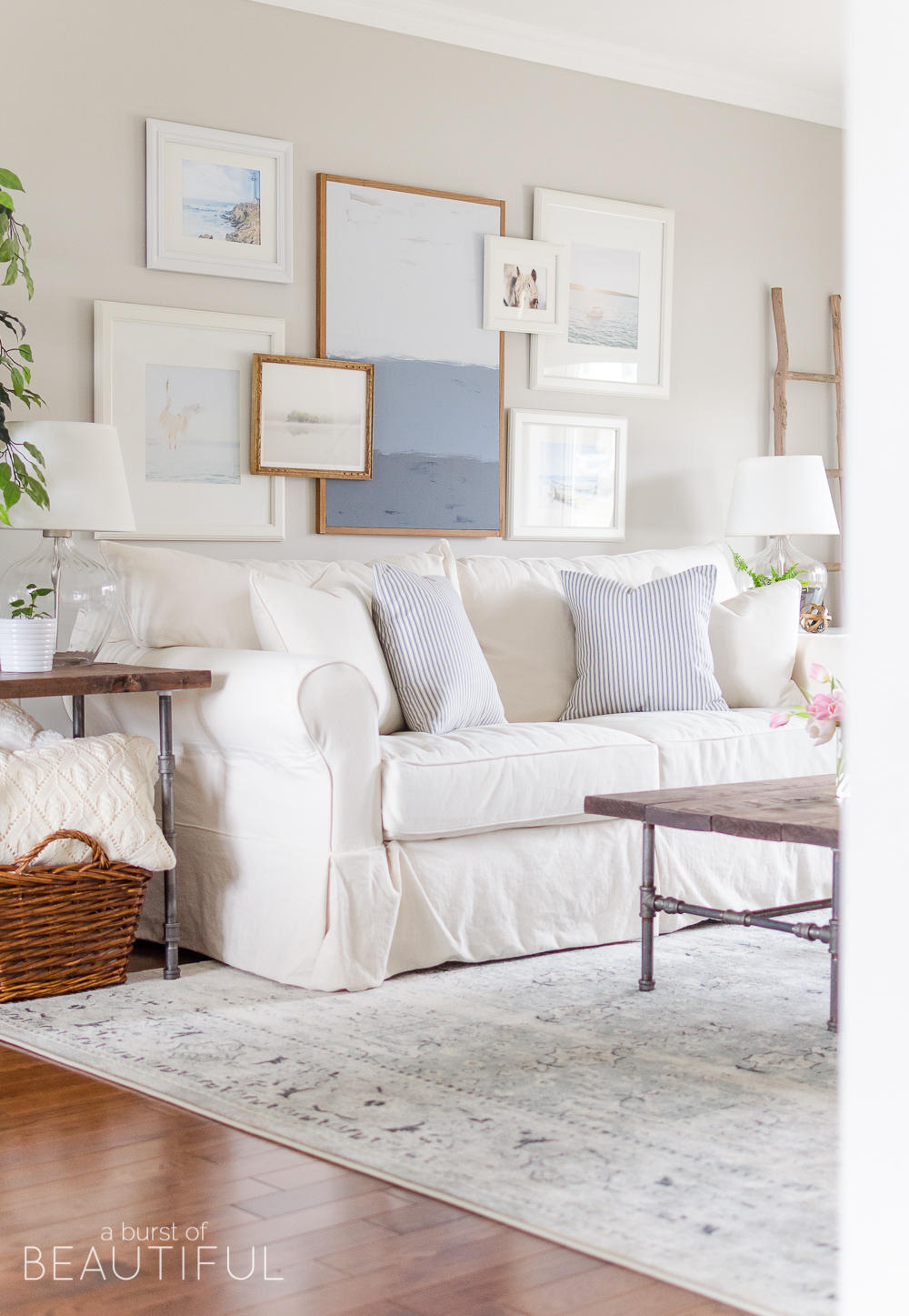 But I truly was stressing over nothing! The whole process was so simple and uncomplicated, and I wouldn't hesitate to do it again. In fact, I can't wait to chose our next rug…maybe for our dining room or daughter's toddler room. I would even love to add one to our bedroom.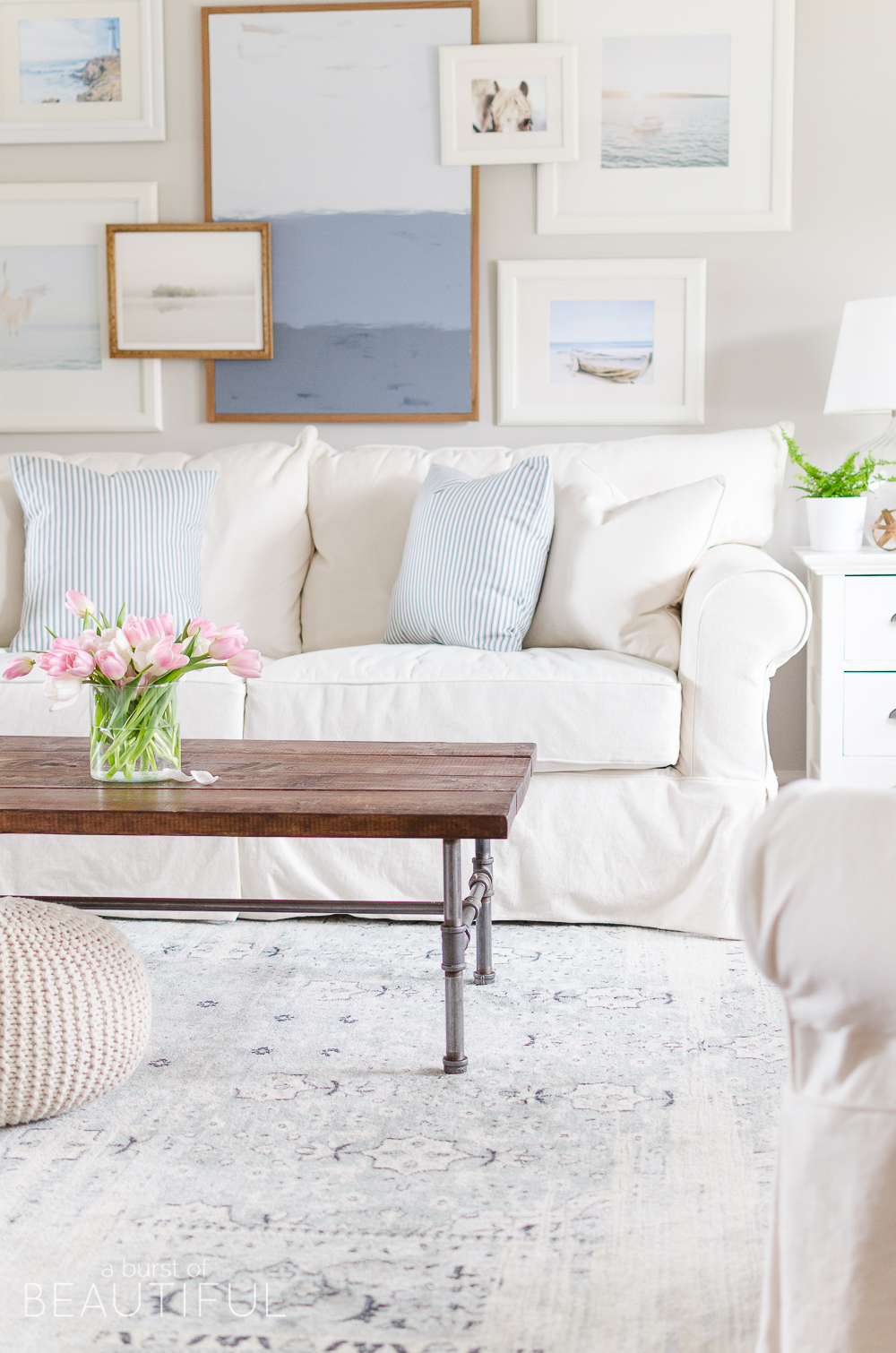 Now instead of being afraid of color and pattern, I have begun to embrace it! You've probably noticed over the past year I have been slowly adding little pops of color and very, very subtle patterns into our home and I think this rug gave me that extra little push I needed. I would still consider our home to be mostly neutral but I am learning it's fun to let a little color in. 🙂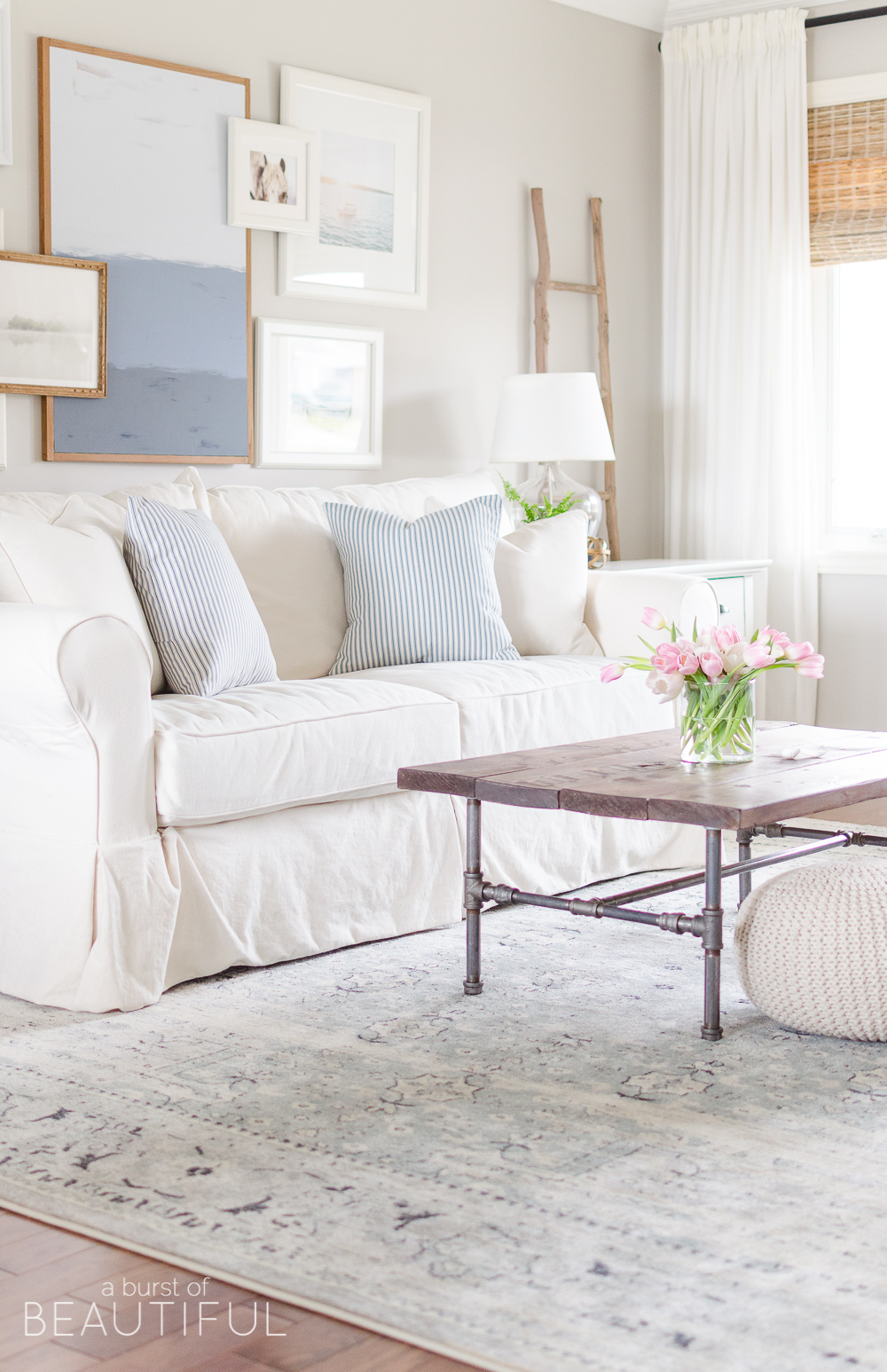 And I am simply over the moon for this rug.
It is so plush and soft, which is a huge bonus for our family as much of our playtime is spent in the living room. (Update, we finally have a playroom, see our playroom reveal here, now sitting down to play puzzles, dolls or color is so much more comfortable…for all of us.)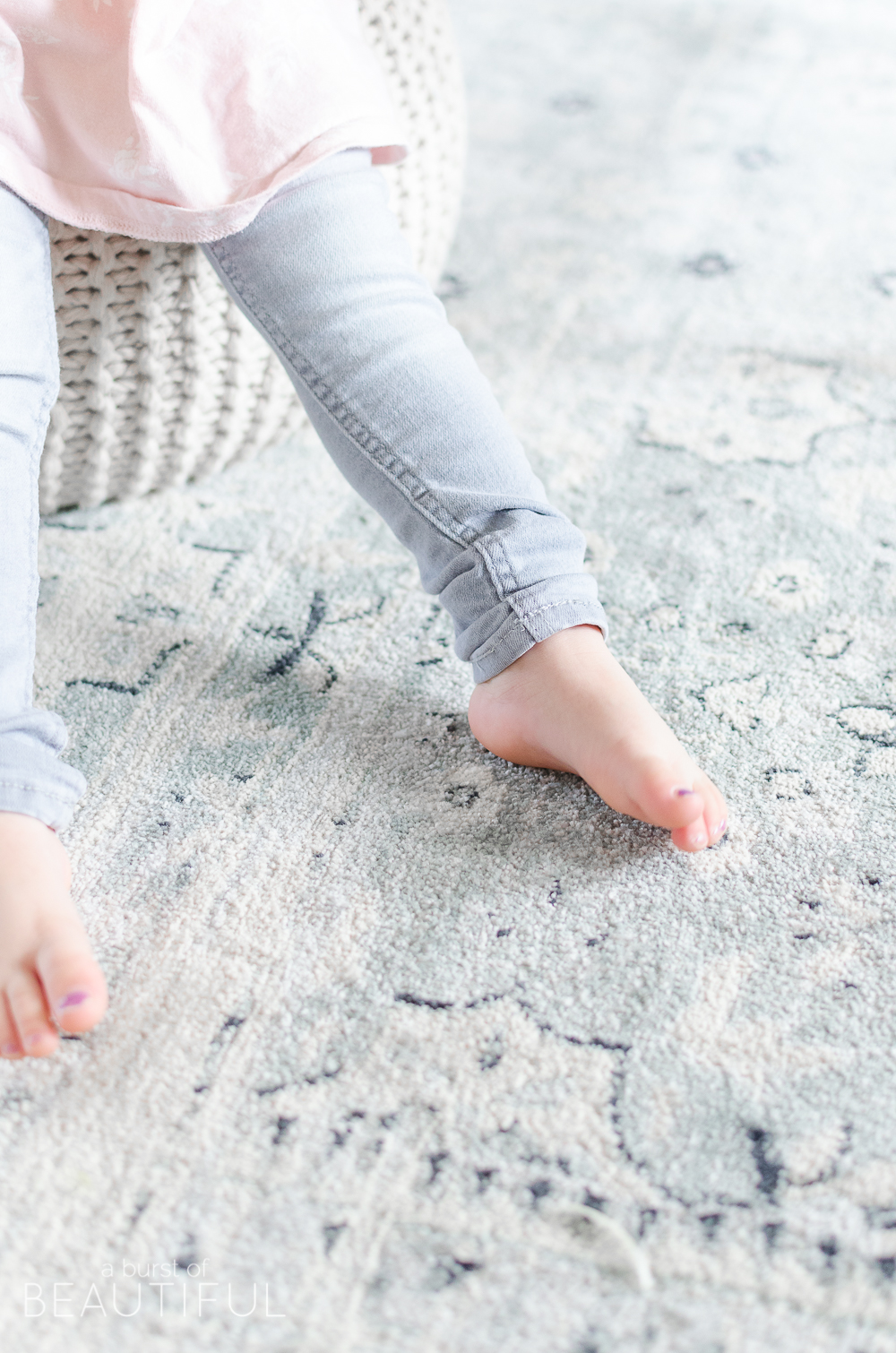 Comfort factor aside, it is truly beautiful. The style is that of a distressed vintage rug and is made up of a mix of light blue, navy, gray and cream. It's a combination of all of my favorite colors. So it is still neutral enough that adding accent pieces is a breeze.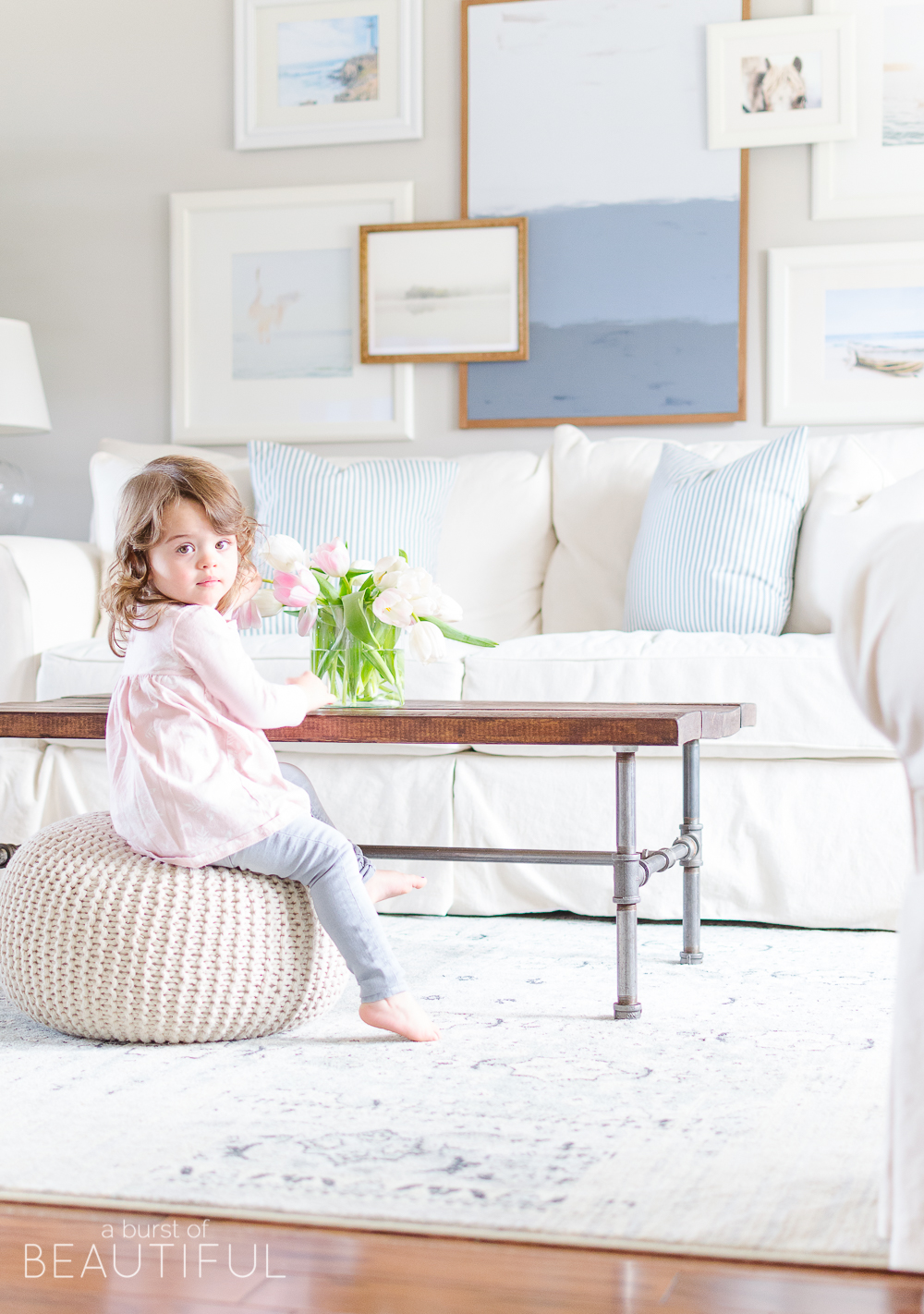 The detail and quality are excellent. It feels very elegant and sophisticated without being too stuffy.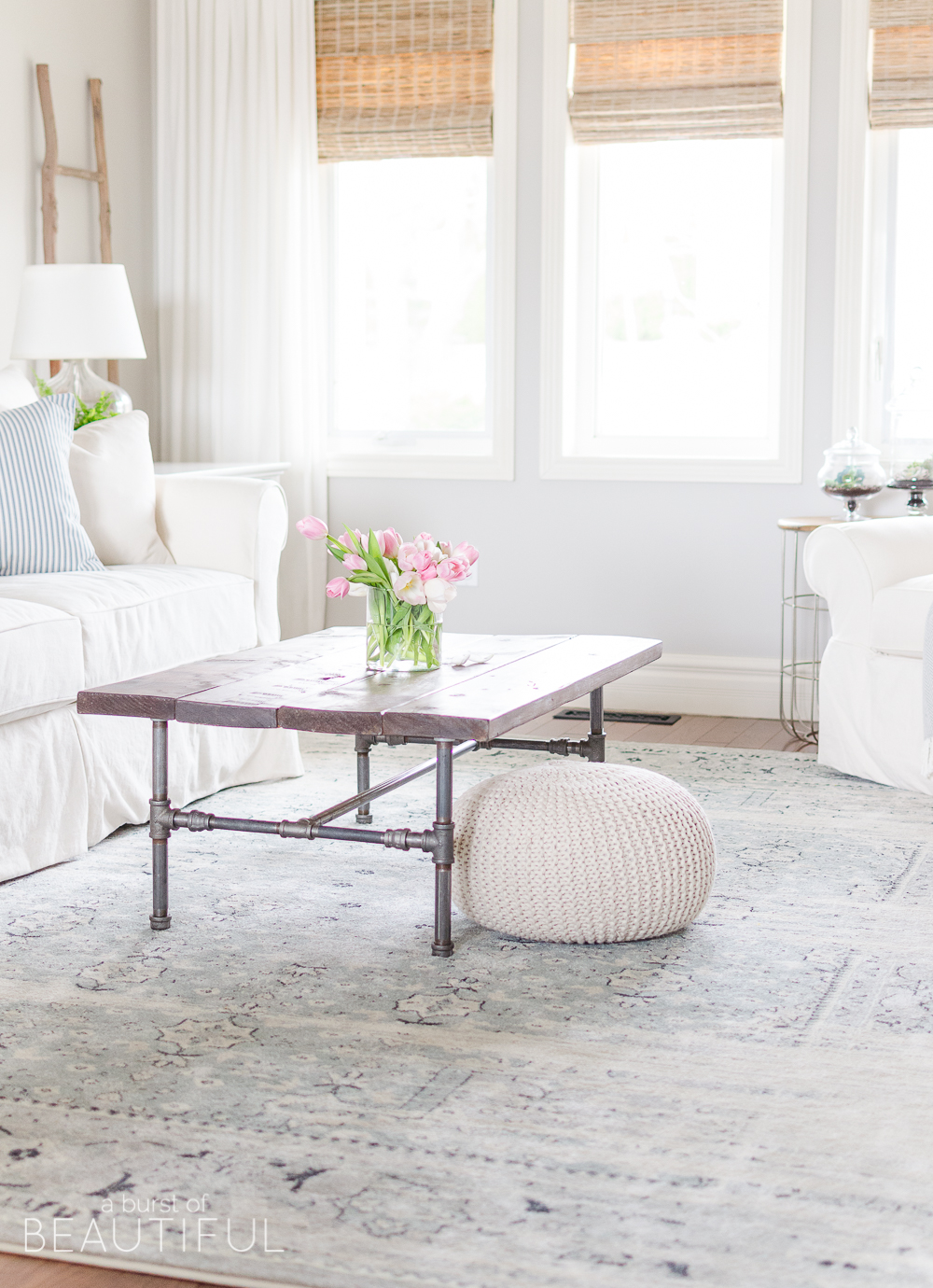 I actually almost decided on a jute rug for our living (which I still do love!). But I am so happy I pushed myself out of my comfort zone to try something new. We get so many compliments from family and friends when they come to visit. It was definitely the right choice.